27 Classic Engagement Rings That Will Never Go Out of Style
Timeless elegance? Yes, please.
We have included third party products to help you navigate and enjoy life's biggest moments. Purchases made through links on this page may earn us a commission.
A diamond, like your marriage, is meant to last forever. It's the one piece of jewelry (besides your wedding band) that you'll wear every day for decades to come. If you want a bauble that will never go out of style, consider getting a classic engagement ring. While the term is open to interpretation, a few key qualities set timeless rings apart from others. Classic engagement rings are all about the centerstone—a sparkling diamond is a must, while trendy accents (like halos, side stones and maximal band designs) are typically kept to minimum as to not take away from the show-stopping centerpiece. When looking for classic engagement rings, consider a style with a multi-faceted setting, as this can help create the illusion of even more sparkle. And while any diamond shape can be considered classic, solitaire round cuts are traditionally the most popular.
What matters most, though, is that you absolutely love the classic engagement ring you have. There's no expiration date on love, after all, so there shouldn't be for the ring that symbolizes it either. If you're ready to start shopping for classic engagement rings, we've rounded up 27 styles that are effortlessly elegant, timeless and chic—and they'll never go out of style.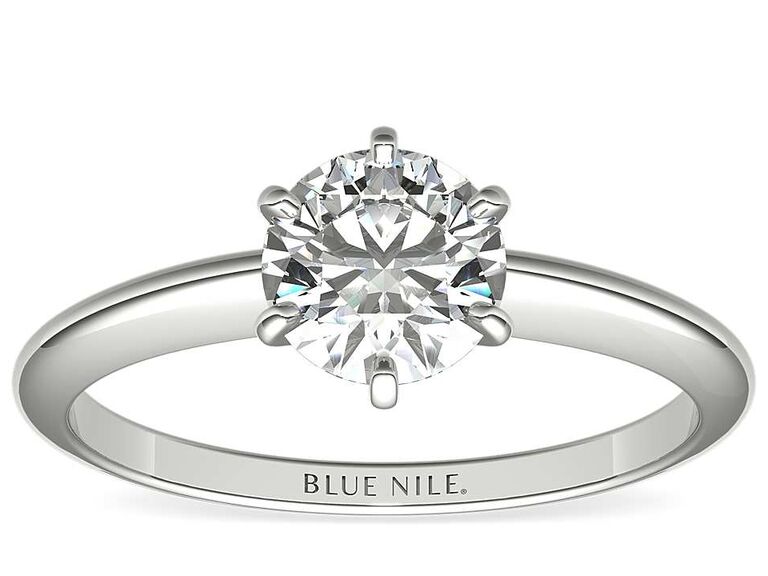 Six facets on this classic solitaire engagement ring will draw all the attention to this brilliant design. The slender platinum band ensures that the round centerstone will get all of the attention it deserves.
Blue Nile classic six-prong solitaire engagement ring in Platinum, $650 for setting, BlueNile.com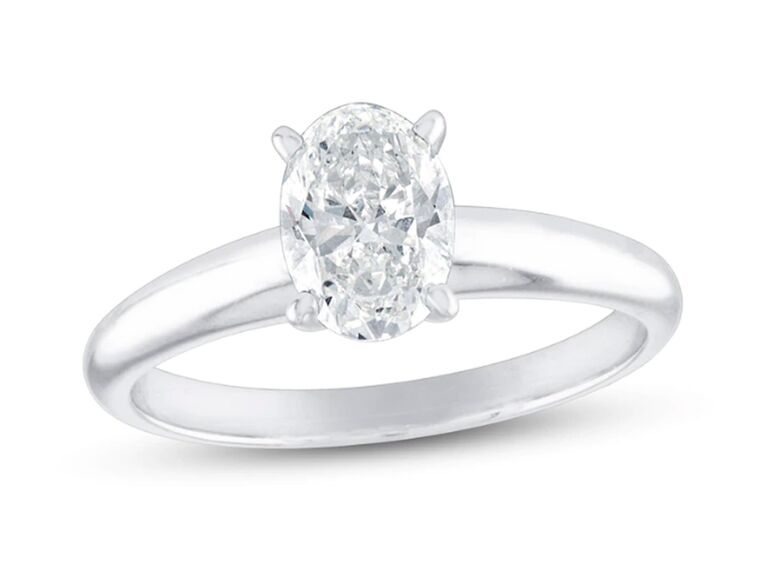 Oval-cut diamonds are regal silhouettes. (This shape was loved by both Princess Diana and Kate Middleton.) Ovals also help elongate the finger, making this a great choice for those who have a penchant for elegance. This simple, classic engagement ring puts all the focus on the one-carat center oval stone.
Kay Jewelers diamond solitaire oval-cut engagement ring in 10K White Gold, $3,000, Kay.com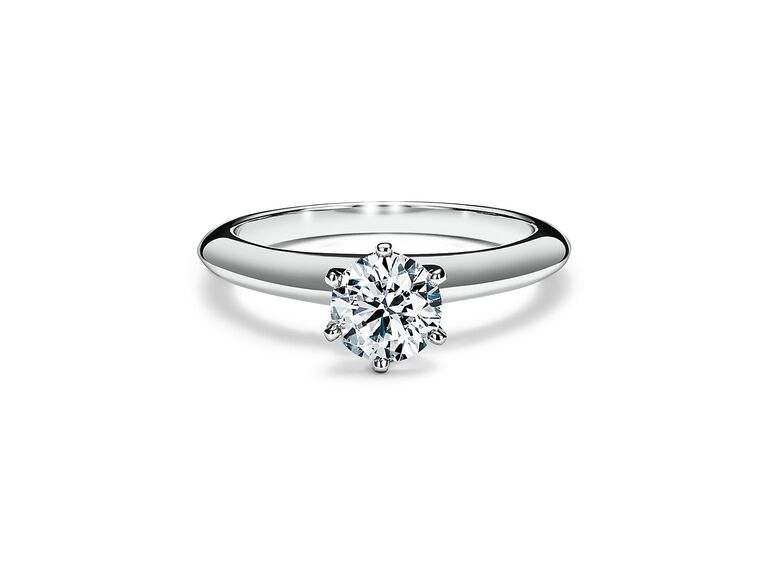 This classic engagement ring setting is one of the most iconic. Increase the carat size to upgrade the jewel's wow factor.
Tiffany & Co. The Tiffany Setting engagement ring in Platinum, $9,850, Tiffany.com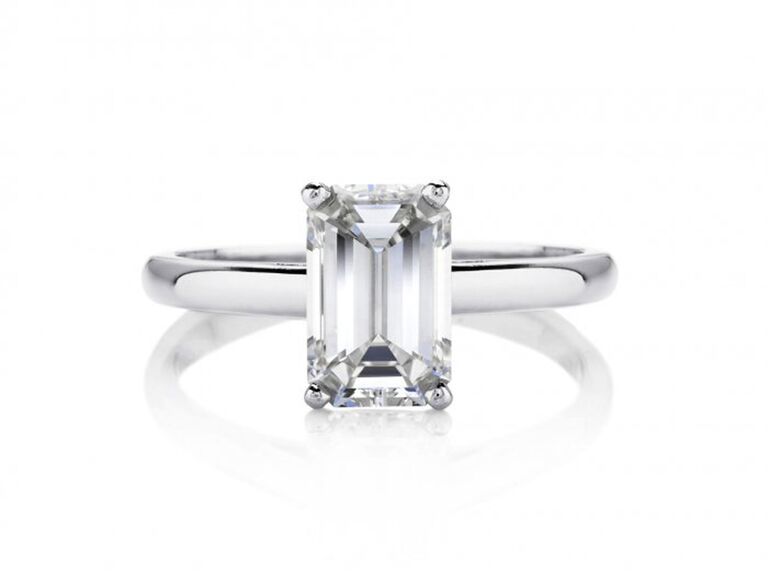 Elizabeth Taylor's emerald-cut engagement ring from Mike Todd brought widespread popularity to the style in 1957. Today, this cut is still synonymous with elegance and grace. And given De Beers' reputation as one of the most iconic jewelry companies, this is a no-fail classic engagement ring style.
De Beers classic platinum emerald cut solitaire ring, from $10,300, DeBeers.com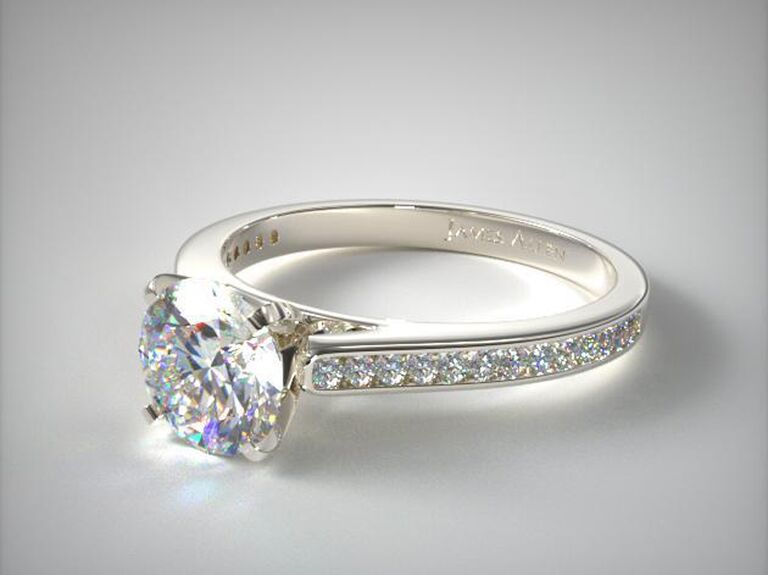 Looking for more sparkle beyond the centerstone? Shop for an engagement ring with an embellished band. Twenty-six channel-set diamonds are placed within this ring's shank, allowing it to shine from every angle.
James Allen thin channel set round shaped diamond engagement ring in 14K White Gold, $1,410 for setting, JamesAllen.com
A cluster of diamonds doesn't take away from this ring's classic feel. The dainty side stones enhance the centerpiece, rather than overshadow it. Along with the pop of color from the gold band, this ring will never go out of style.
Jared diamond 3-stone ring in 14K Two-Tone Gold, $2,000, Jared.com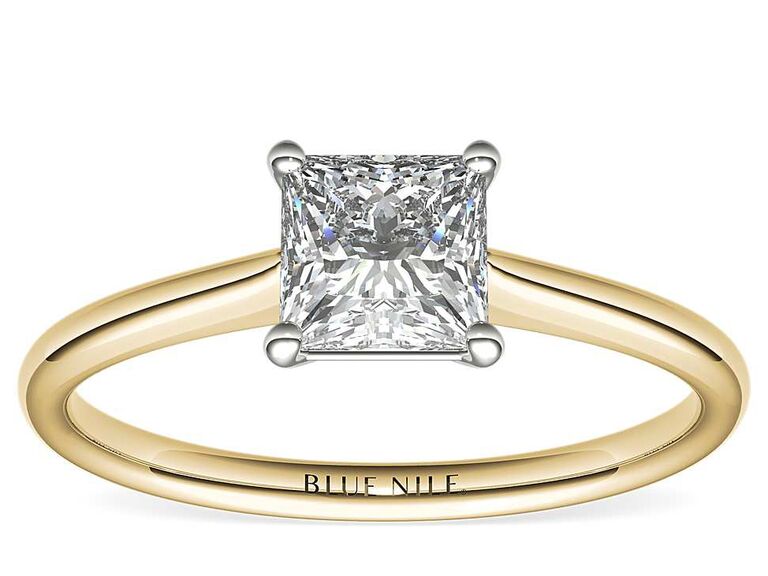 With its sharp corners, a princess-cut diamond's sparkle is second only to a round-cut stone. If you're looking for a classic diamond engagement ring with a hint of modernity, consider a princess-cut solitaire ring like this creation from Blue Nile.
Blue Nile 1 carat princess-cut petite solitaire engagement ring in 18K Yellow Gold, $4,380, BlueNile.com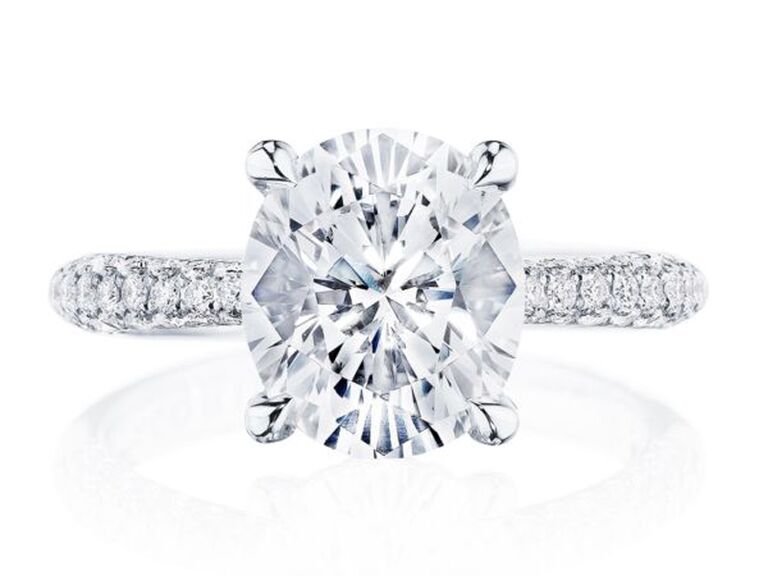 A four-prong oval stone sits atop a diamond-encrusted band in this Tacori design, making it an excellent choice for those who adore exquisite jewelry.
Tacori RoyalT oval engagement ring in Platinum, from $6,390, Tacori.com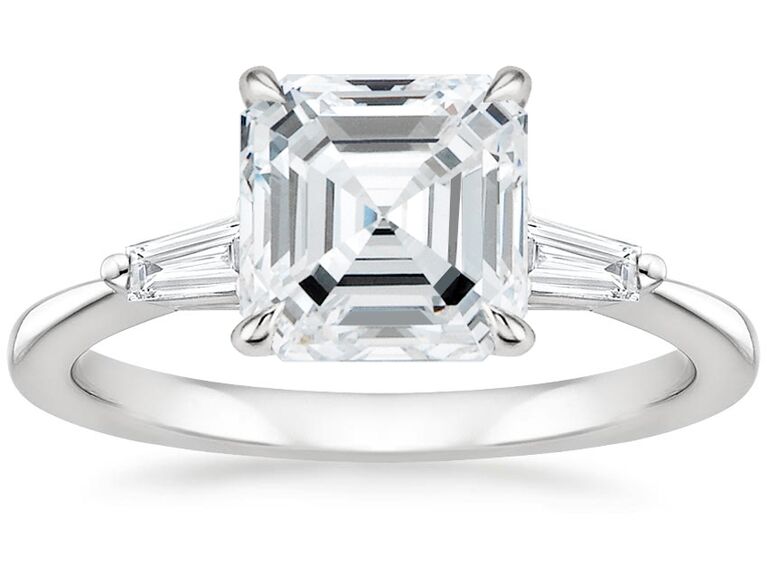 Two delicate baguette diamonds flank this ring's centerstone, which can be cut into any shape. Plus, with the ability to also choose the band's color, this ring can be personalized to fit the wearer's precise taste.
Brilliant Earth Quinn diamond ring in 18K White Gold, $1,390 for setting, BrilliantEarth.com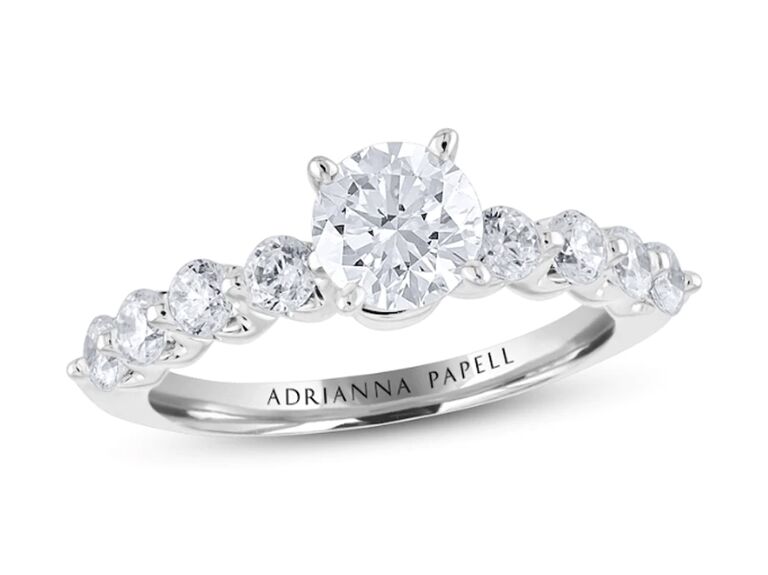 As one of the more extravagant classic engagement rings, this diamond design features a centerstone accented with eight smaller diamonds on the band. Despite the number of diamonds, the simplistic style still gives this engagement ring a classic finish.
Adrianna Papell diamond engagement ring in 14K White Gold, $6,800, Kay.com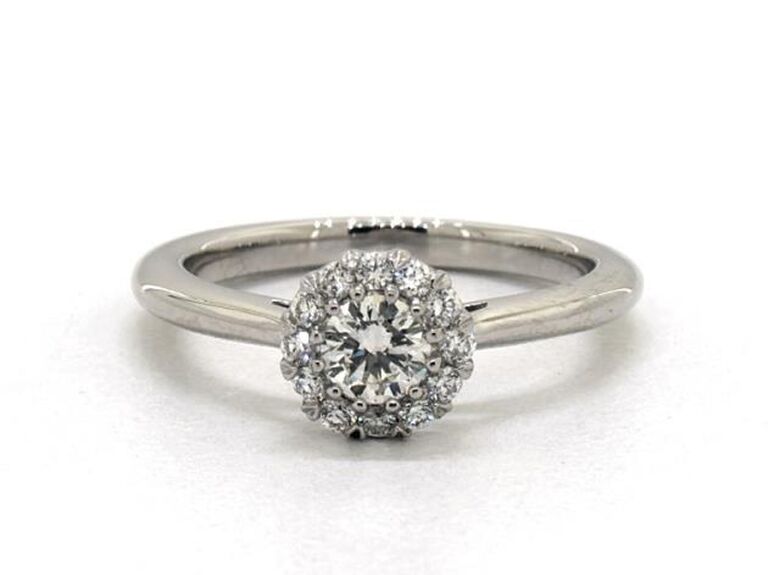 Looking for more sparkle? Consider a royal halo. This particular design includes a diamond centerstone encompassed by a "bouquet" of smaller diamonds, resulting in a brilliant ring perfect for those who like their jewelry to shimmer from all angles.
James Allen royal halo petite classic engagement ring in Platinum, $1,800, JamesAllen.com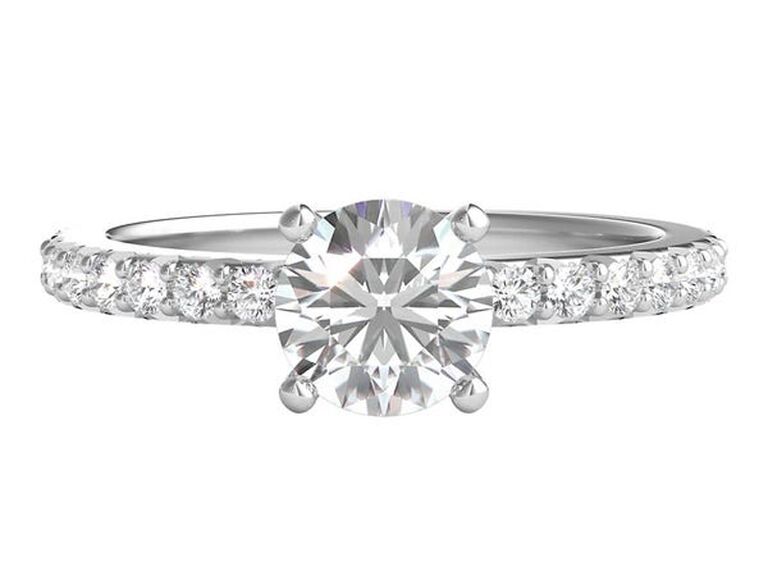 Looking for a classic engagement ring with modern flair? Opt for a lab-created diamond. While you can't physically tell the difference between a synthetic and mined stone, you'll know that your ring was created in a conflict-free process. This round jewel is placed on a diamond-encrusted band for maximum shine.
ALTR created diamond engagement ring in 14K White Gold, $3,499, HelzbergDiamonds.com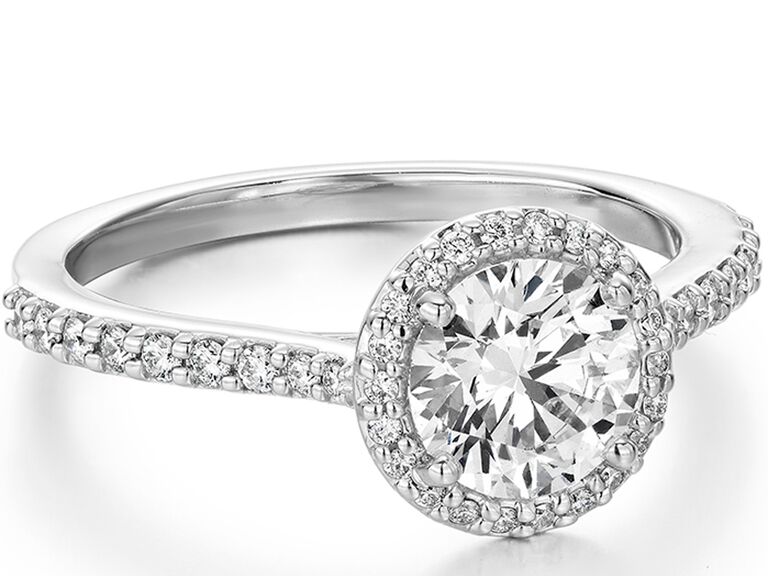 This ring's thin band allows the diamonds to truly stand out. A round center stone is placed within a halo, making this an excellent choice for those who believe more diamonds are never a bad thing.
Hearts on Fire Camilla halo diamond ring in 18K White Gold, from $3,910, HeartsOnFire.com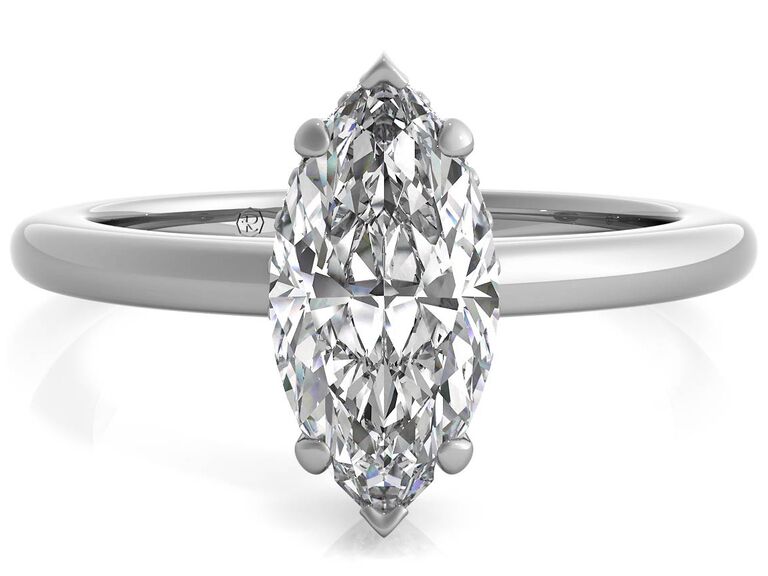 A marquise-cut diamond evokes an antique flair. For those who want to nod to the past with a ring that won't go out of style, consider a simple marquise engagement ring like this.
Ritani solitaire diamond gallery engagement ring in 14K White Gold, $1,135 for setting, Ritani.com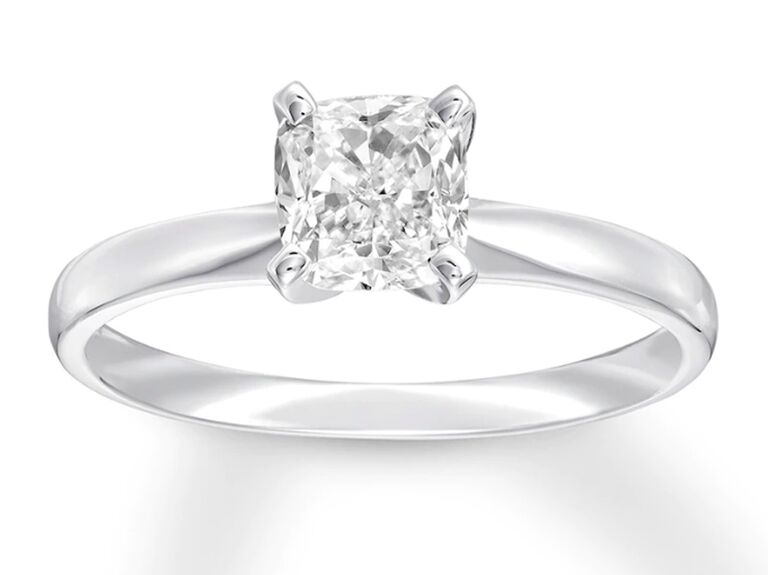 Between a square and a circle, a cushion-cut ring is a great alternative for someone who doesn't want a round ring but isn't sold on design with sharp edges. Need any more convincing? Kim Kardashian West wears a cushion-cut sparkler (which was created by Kanye West and Lorraine Schwartz).
Kay Jewelers certified diamond solitaire 1-carat cushion-cut ring in 14K White Gold, $5,899, Kay.com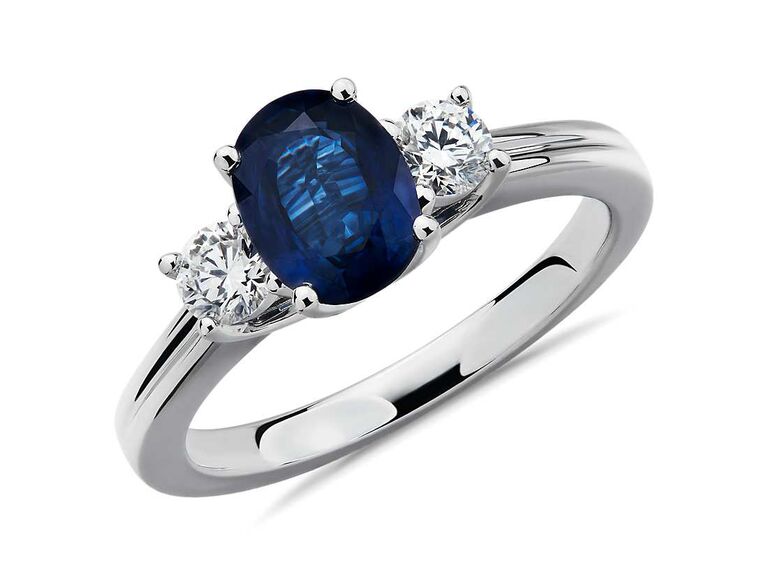 Sapphire jewels are considered classic engagement rings by many, especially since it's a stone beloved by royals. This deep blue stone is flanked by two smaller diamonds and set on a white gold band. We have a feeling this ring would be Kate Middleton-approved.
Blue Nile sapphire and diamond ring in 18K White Gold, $3,400, BlueNile.com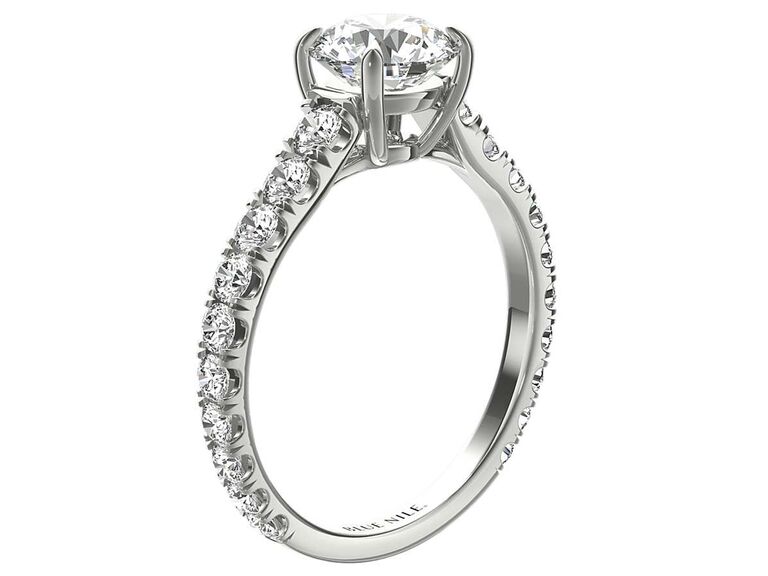 This ring's center stone rests in a cathedral gallery, meaning it'll get the attention it deserves. The pavé band serves as the finishing touch to this showstopper.
The Gallery Collection cathedral pavé diamond engagement ring in Platinum, $3,490, BlueNile.com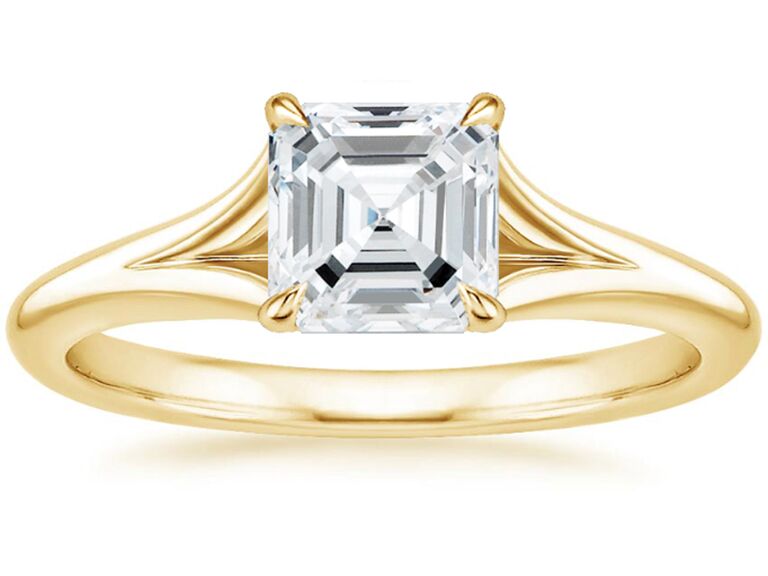 Want a classic diamond engagement ring that has a little something extra? Consider getting your stone set on a split-shank band. This design, which is worn by Beyoncé, brings a unique twist to an otherwise timeless style.
Brilliant Earth Reverie ring in 18K Yellow Gold, $890 for setting, BrilliantEarth.com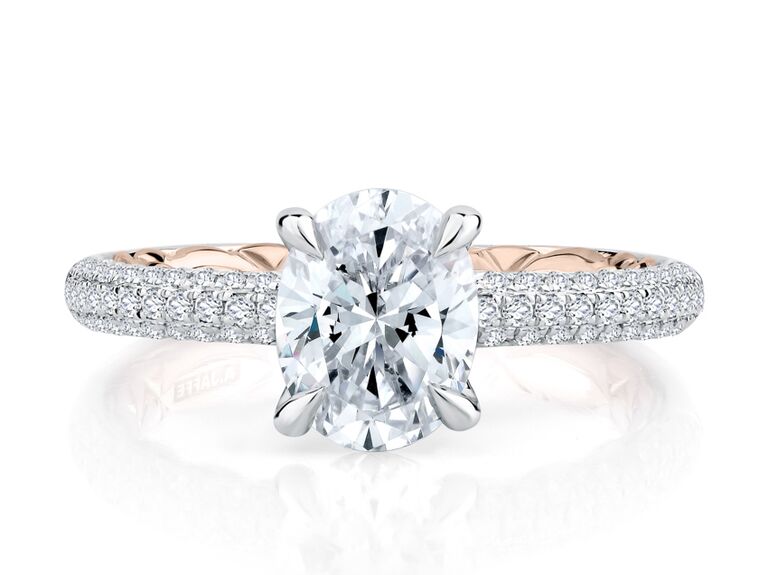 Two-tone engagement rings can sometimes be perceived as modern, especially when a rose gold hue is incorporated. However, this ring has a rose gold color on the inside, meaning you'll get to appreciate it without committing to a fully pink band. The cathedral setting features the slightest hint of the rose coloring, adding a fun touch to this otherwise classic engagement ring.
A.Jaffe opulent oval cut diamond engagement ring in Rose Gold, from $2,330, AJaffe.com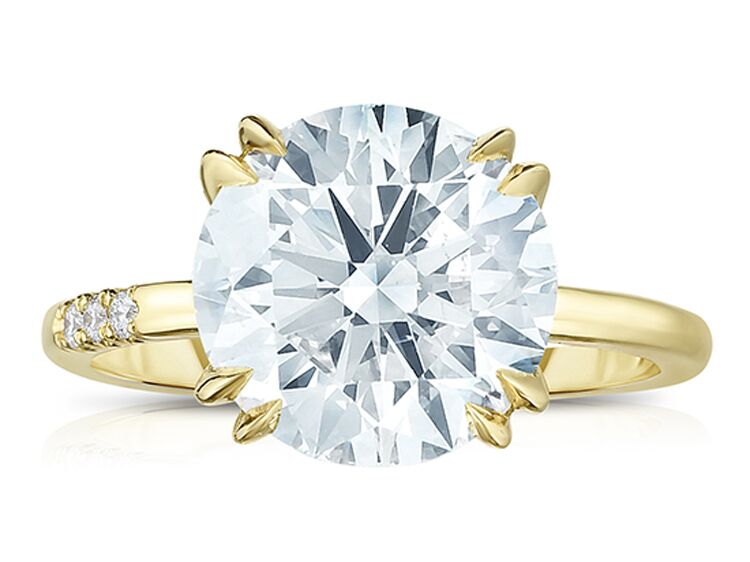 This ring's unique eight-prong setting securely fastens the solitaire diamond to the gold band, which is enhanced with three pavé diamonds for a hint of extra sparkle.
Marisa Perry by Douglass Elliot 4.02 carat round brilliant cut ring, Inquire for Details, MarisaPerry.com
Six prongs fasten this marquise-cut stone to a diamond-encrusted band. Like an oval cut, this elegant shape will also lengthen your finger and give off the illusion of a larger carat size.
Simon G TR701-MQ engagement ring in 18K White Gold, $1,980 for setting, SimonGJewelry.com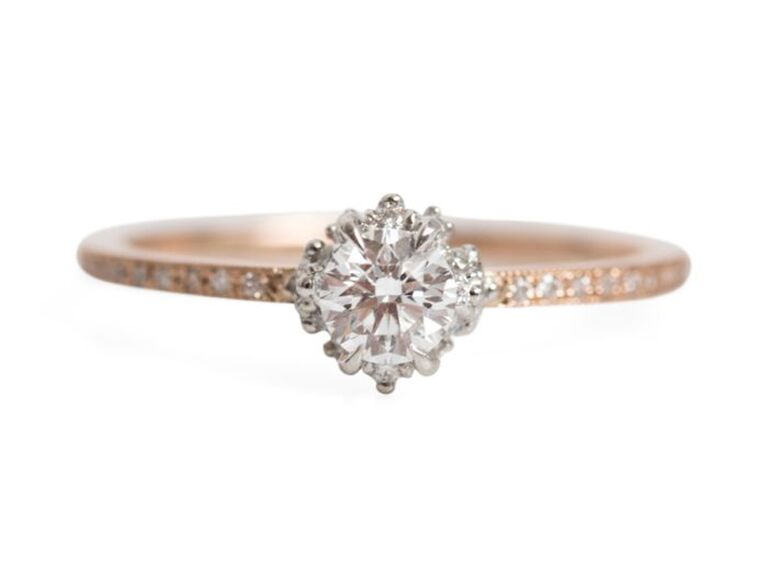 Handcrafted in Tokyo, this delicate diamond stone rests on a demi-pavé rose gold gold band. Even with its modern touches, this ring will always be a stunner.
Kataoka Japanese apricot ring supreme in 18K Rose Gold, from $5,780, CatbirdNYC.com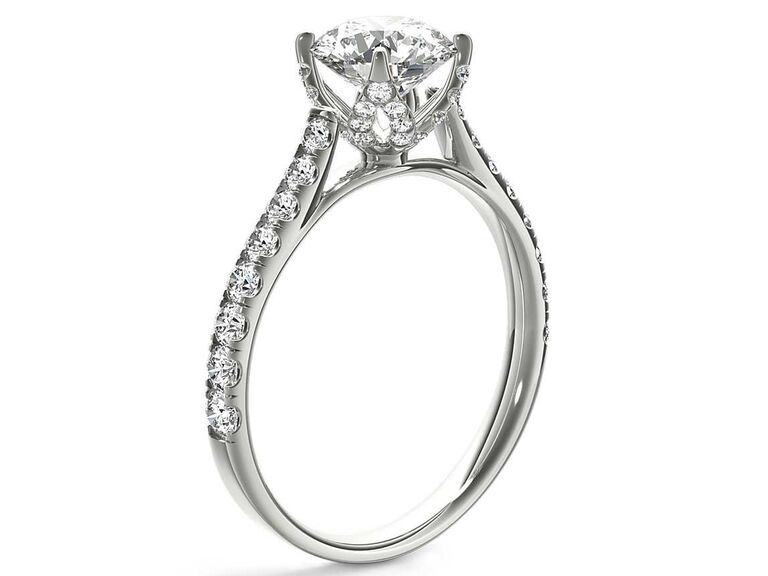 This classic engagement ring features a diamond-encrusted cathedral that surrounds the centerstone. Though you can't tell from the top, this ring features plenty of surprise diamonds underneath to give it a special touch.
Monique Lhuillier petal pavé diamond cathedral engagement ring in Platinum, $2,750 for setting, BlueNile.com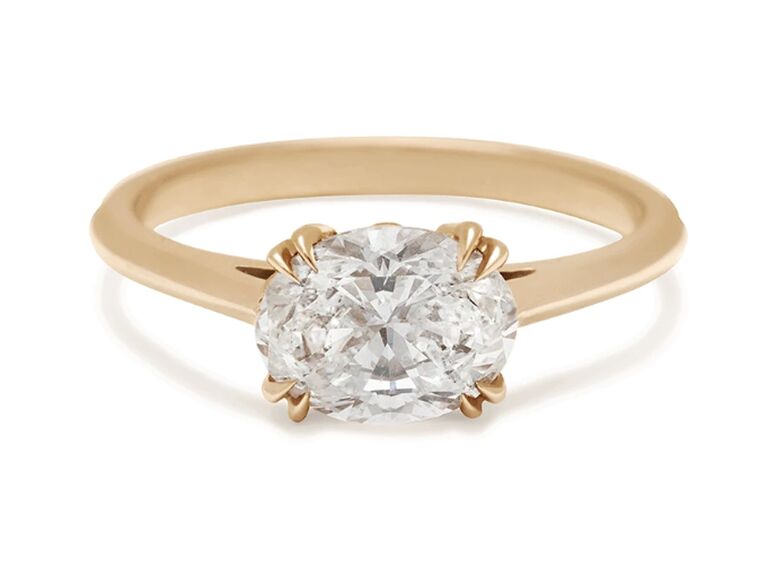 An east/west ring simply features an oval diamond on its side—a perfect choice for those who want a classic engagement ring that won't look like everyone else's.
Anna Sheffield Bea east/west solitaire ring in Yellow Gold, $12,765, AnnaSheffield.com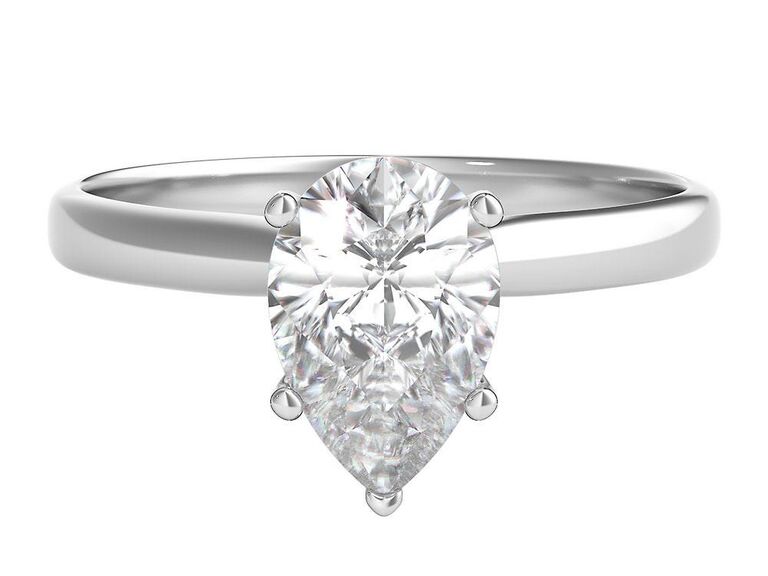 Pear-shape engagement rings date back to the 1400s. Since the type of stone is so unique, it's typically set on a simple band. This minimal design from Helzberg puts the focus right on the pear centerstone (exactly where it belongs).
Helzberg Diamonds diamond pear shaped solitaire engagement ring in 14K White Gold, $3,999, Helzberg.com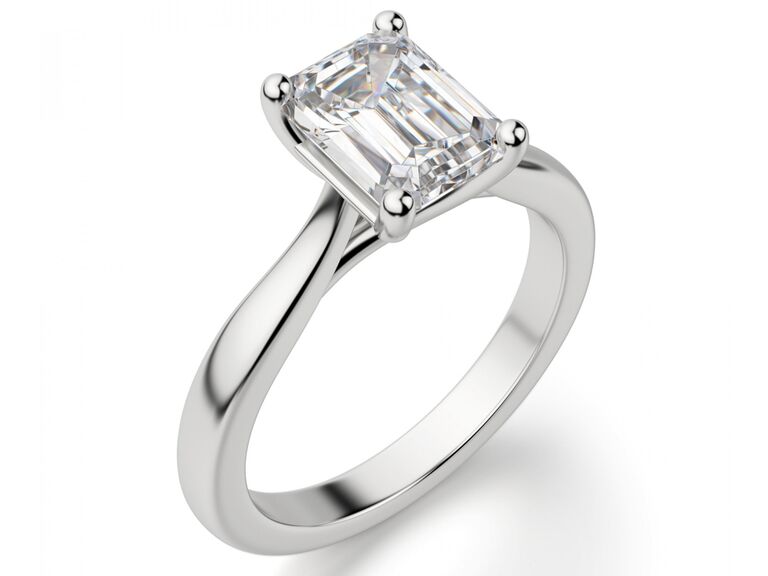 A classic emerald-cut diamond gets a romantic upgrade with this unique trellis setting. This thoughtful detail is subtle enough to let this style remain a classic choice for years to come.
Diamond Nexus Montreal emerald cut engagement ring in 14K Yellow Gold, from $1,097, DiamondNexus.com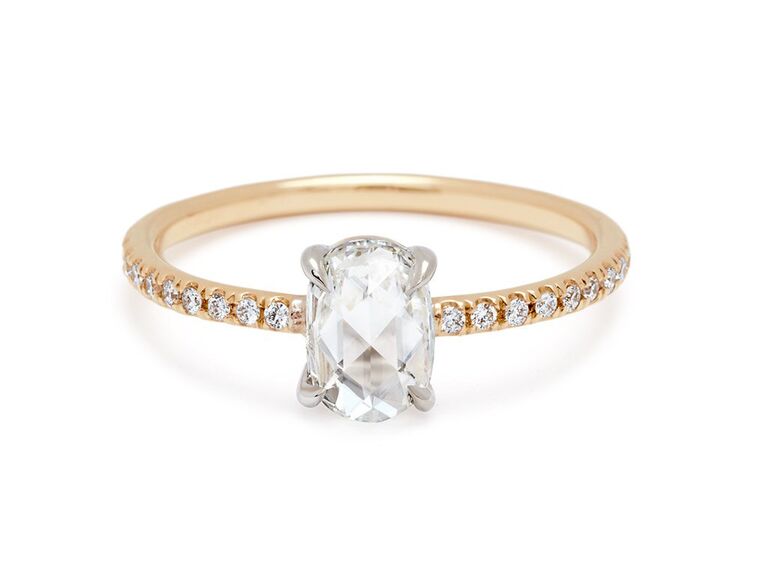 Simplicity meets elegance with this delicate ring. A rose-cut diamond sits within a pavé gold band—and with these classic elements, you'll never want to stop staring at it.
Anna Sheffield Eleanore delicate pavé ring in Yellow Gold, $9,850, AnnaSheffield.com