25 Pear-Shaped Engagement Rings That Are Beautifully Unique
Plus, find out the meaning behind this special shape.
We have included third party products to help you navigate and enjoy life's biggest moments. Purchases made through links on this page may earn us a commission.
With so many diamond shapes to pick from—from round brilliant to oval to marquise—it can be difficult to know which style will suit you best. One option that feels modern but still timeless? Pear-shaped engagement rings (also known as teardrop engagement rings). If you're thinking about selecting this shape, you might have questions about what pear engagement rings symbolize and how they compare to other ring styles.
That's why we're here; to help educate you about what you need to know about pear-shaped engagement rings. First, we're answering your most-asked questions about the diamond shape, then sharing our picks for the best natural and lab-grown pear-shaped engagement rings for your endless inspiration.
In this article: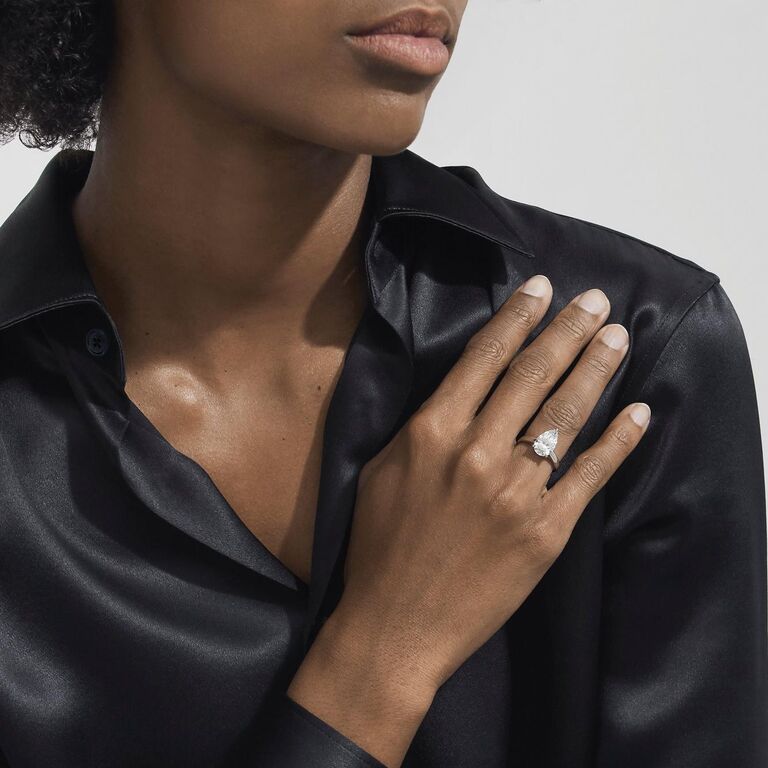 Frequently Asked Questions About Pear-Shaped Engagement Rings
For a complete rundown of what a pear-shaped ring is, how to wear one and whether they're expected to be popular in 2023, read on for our expert advice.
What does a pear-shaped engagement ring mean?
"As a more unique shape, traditionally, the pear-shaped engagement ring symbolizes originality," says Sandrine de Laage, creative director of Oscar Massin. Also referred to as teardrop engagement rings, pear engagement rings have one rounded end and one pointed end. Essentially, they combine aspects of the round and marquise cut into one distinguished style.
How do you wear a pear-shaped engagement ring?
There aren't any rules about the "right" way to wear this style, but "the most common way to wear a pear-shaped engagement ring is with the rounded bottom closer to your hand and the point pointing outwards," explains de Laage, adding that she loves pairing a pear-shaped ring with a delicate setting that allows the diamond "to truly shine."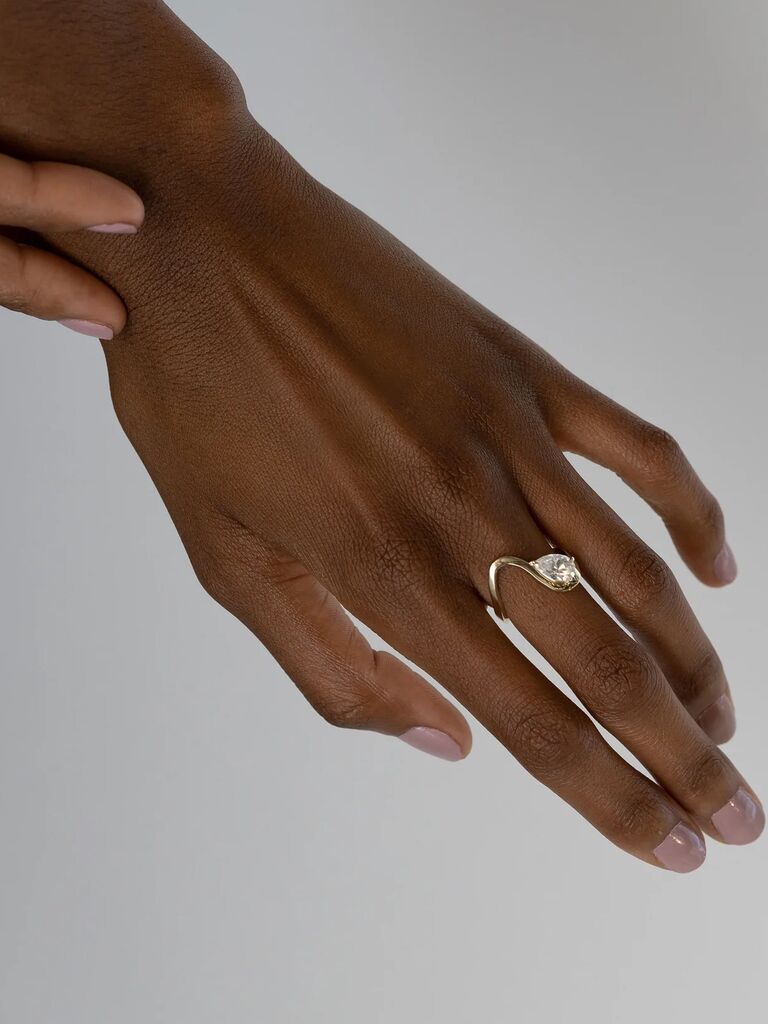 Are pear-shaped engagement rings popular?
Pear-shaped engagement rings have become a popular and trendy cut in recent years—and celebrities have taken note. Stars like Ariana Grande, Cardi B and Margot Robbie have all been proposed to with this beautiful style. Also, a pear diamond solitaire makes the perfect stand-alone if you're not into side accents or extra details.
Whether you want your teardrop diamond set on a sleek gold band, or paired with another stone for a trendy toi et moi style, the design of your pear engagement is completely yours. "At the end of the day, the diamond shape that you and/or your partner choose should be a reflection of your personal style," adds de Laage.
Our Favorite Pear-Shaped Engagement Rings
Looking for the pear-shaped diamond ring of your dreams? You've come to the right place. Keep scrolling to peruse through our favorite pear rings—all available to shop now.
1. VRAI The Signature Pear Engagement Ring in 18-Karat Yellow Gold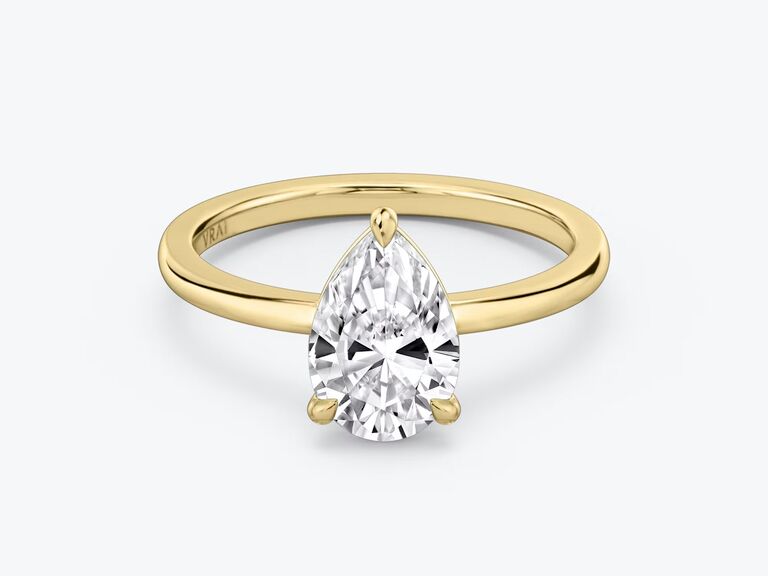 For a minimalist engagement ring that feels trendy and effortless, go for this pear-shaped sparkler from VRAI. It features a simple solitaire teardrop diamond with a plain or pavé band. The yellow gold metal feels contemporary, but you can also go for white gold, rose gold or platinum.
2. Brilliant Earth Lab-Created Sapphire Stella Lab Diamond Ring in 18-Karat White Gold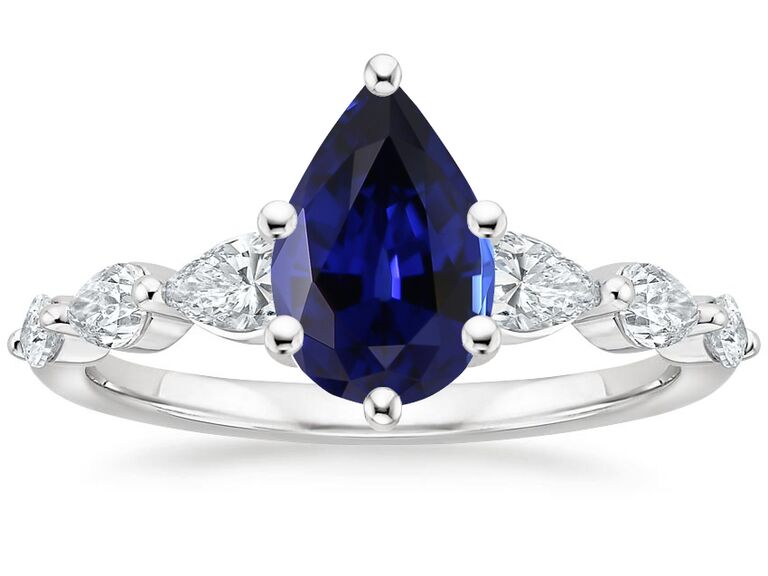 A royal-inspired take on a pear-shaped engagement ring, this sophisticated style features a sparkling lab-grown sapphire center stone framed by a cluster of pear-shaped diamonds on each side. What's not to love?
3. Verlas Unified Iconic Dewdrop Halo Ring in 14-Karat Yellow Gold
Halo engagement rings have become a go-to ring design for couples. This dazzling piece—boasted by a pear center stone and double diamond-embellished band—is no exception. Bonus: We also have an exclusive deal just for you: Use the code "Knot15" to take 15% off purchases of $500 or more.
4. Ritani Timeless French-Set Diamond Band Engagement Ring in Platinum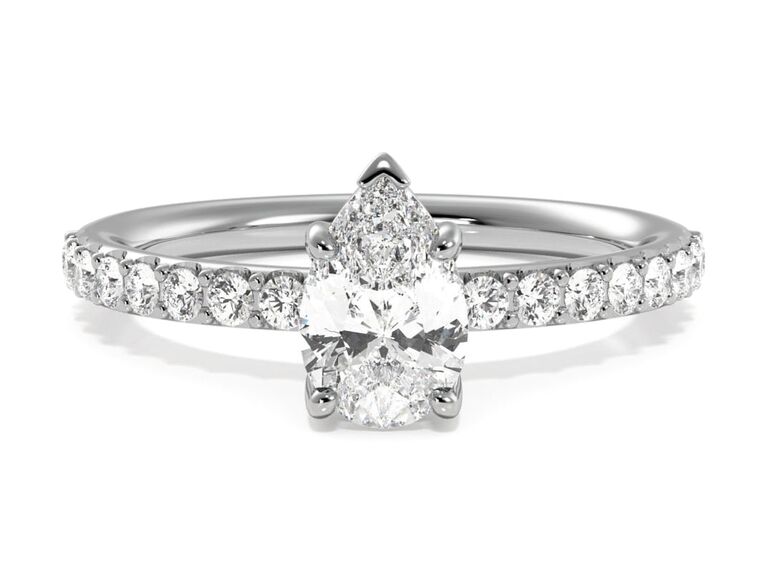 This polished design, adorned with exquisite french-set diamonds, allows the teardrop center stone to really shine. And guess what? Ritani is offering 25% off engagement ring settings through January 1. Take advantage of this exclusive holiday offer before it's too late.
5. Blue Nile Petite Twist Diamond Engagement Ring in 14-Karat White Gold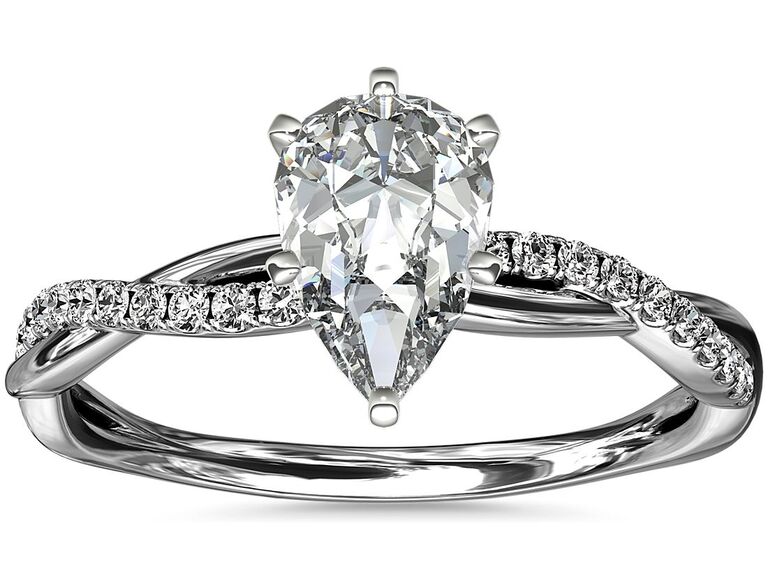 To say this twisted 14-karat white gold pear-cut engagement ring is "romantic" would be an understatement. Best of all, the look of this ring can be customized to suit your preferences, including the cut, metal color and carat weight.
6. Jean Dousett Chelsea Three-Stone Engagement Ring in 18-Karat Yellow Gold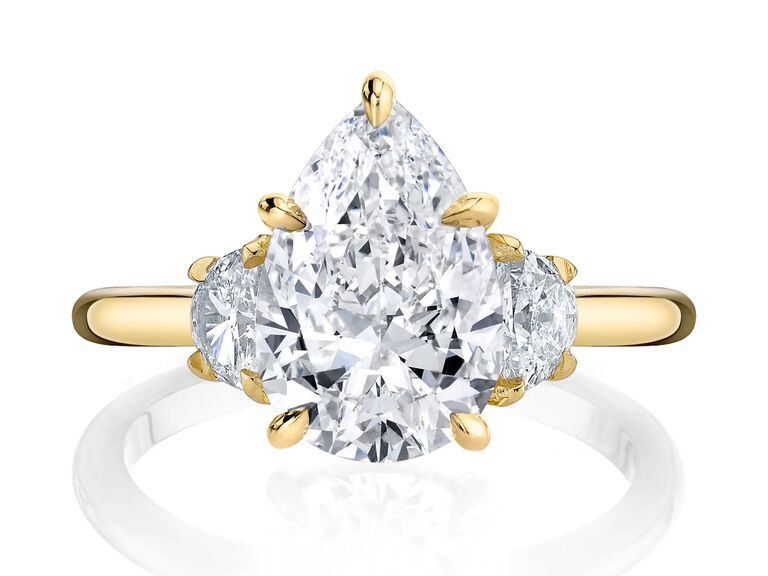 What about a three-stone engagement ring to up the wow factor? This elaborate design has a beautiful pear-shaped center diamond, two half-moon side stones and pavé diamonds embellishing the bridge and gallery. It's also available in three other cuts: round brilliant, oval and cushion.
7. Oscar Massin Couronne Engagement Ring in 18-Karat White Gold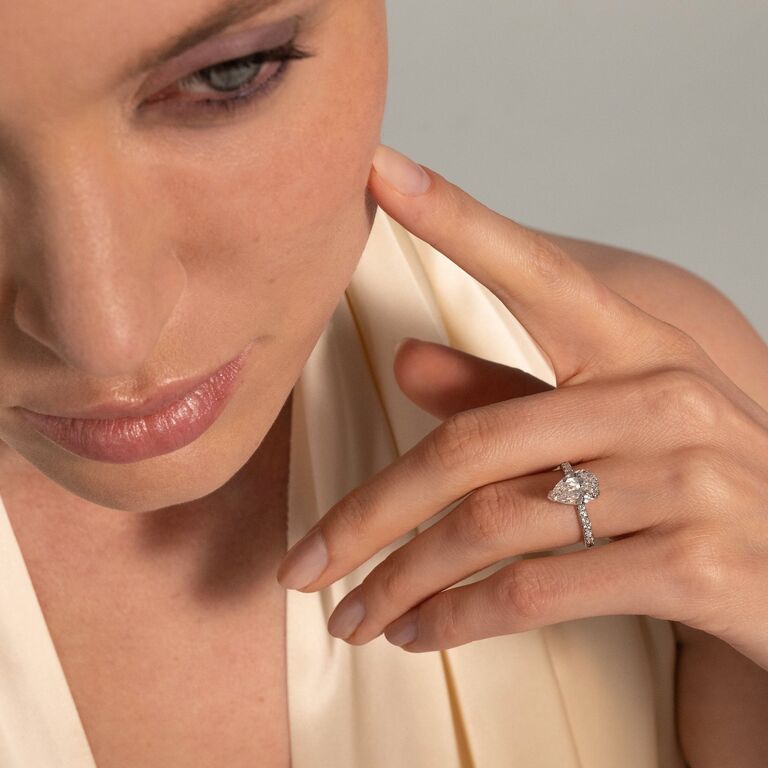 Effortlessly elegant, this lab-grown engagement ring is a streamlined style that proves that less is more. From the refined center teardrop diamond to the recycled 18-karat white gold pavé band, there's a lot to appreciate about this stunning ring.
8. Mociun Matsu Ring in 18-Karat Yellow Gold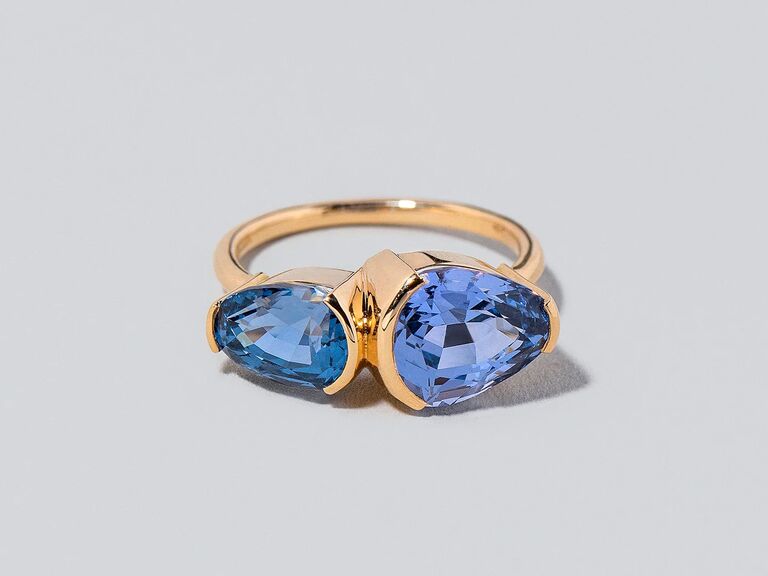 This showstopping pear diamond engagement ring has a unique appearance that makes it a one-of-a-kind style. Two pear-shaped violet and blue spinels are secured in a modified bezel setting, making it an ideal option for couples who want to break from tradition.
9. Grown Brilliance näas Pear Lab-Grown Diamond Half Bezel Stackable Ring in 14-Karat Yellow Gold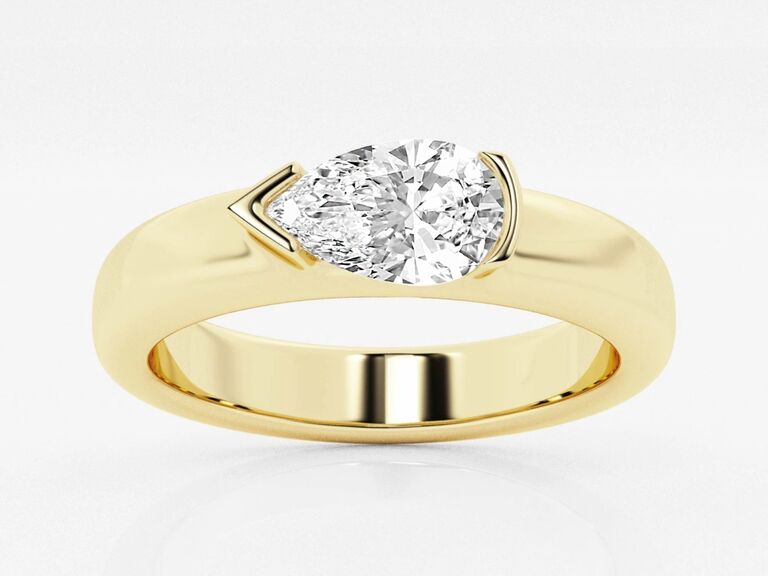 Haven't you heard? Chunky engagement rings are a trending 2023 engagement ring style. This design features an east-west pear-shaped diamond turned on its side and placed within an elegant bezel setting. Choose from a thick 14-karat white, gold or rose gold band (which is also perfect for stacking).
10. With Clarity Beloved Lab Diamond Ring in 14-Karat White Gold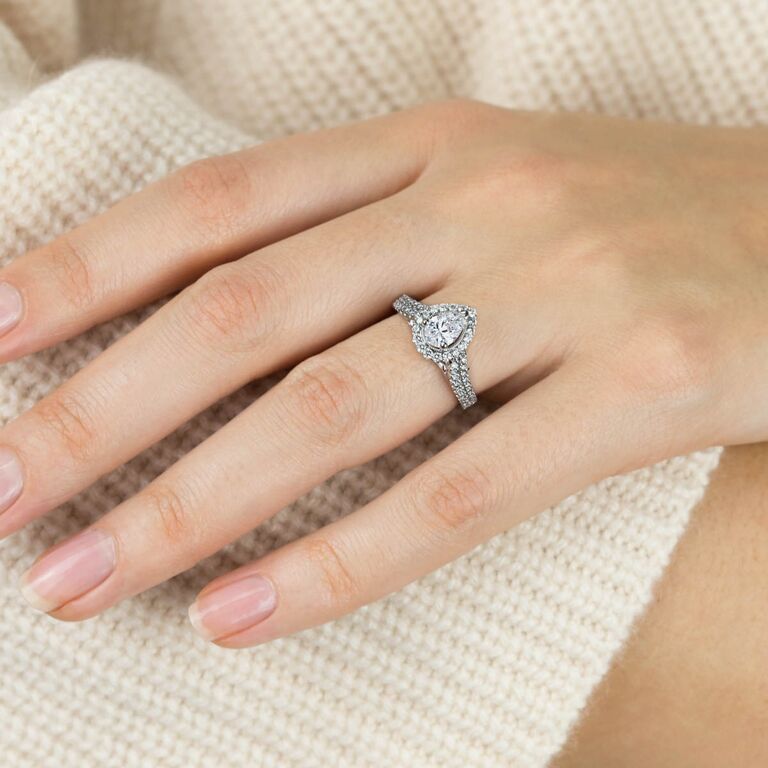 Want to learn more about lab-grown diamonds? They're more affordable and sustainable than mined stones (but you can read more about them in our lab-grown guide). This extravagant ring has two layers of pavé-set diamonds and a matching halo. Want to save some cash? Use our exclusive code "TIETHEKNOT" to receive $100 off any purchase of $1,000 or more from With Clarity's vault collection.
11. Grace Lee Petite Marquise and Pear Half Eternity Ring in 14-Karat Yellow Gold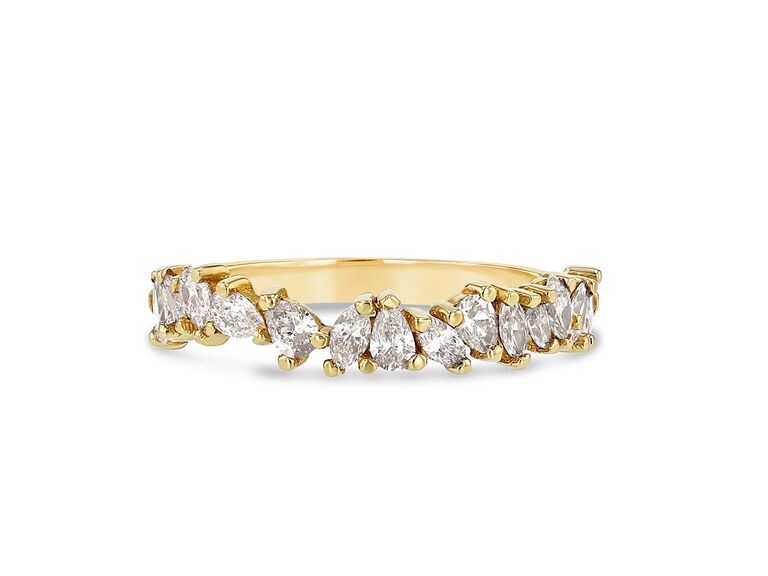 If you don't want to rock a huge rock, no problem. Instead, keep things simple with an eternity band that feels just as beautiful. This understated style is lined with marquise and pear-cut diamonds on a 14-karat gold band for an effortlessly elegant appearance.
12. De Beers DB Classic Pear-Shaped Diamond Ring in Platinum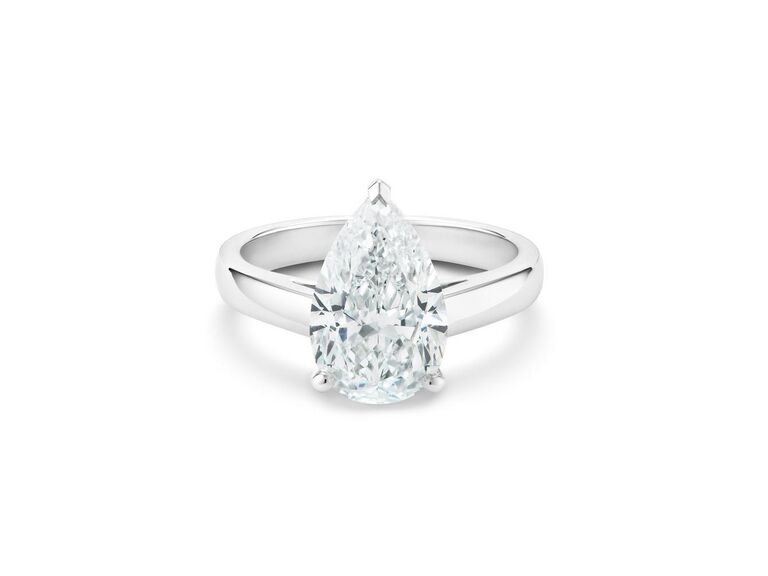 If you want the focal point of your pear-cut engagement ring to be on the diamond, you're in luck. This classic engagement ring from De Beers is a timeless style that'll last forever. The natural teardrop diamond is placed on a delicate platinum band in a polished three-prong setting. Just wow.
13. Charles & Colvard Pear Forever One Moissanite Signature Halo Engagement Ring in 14-Karat Yellow Gold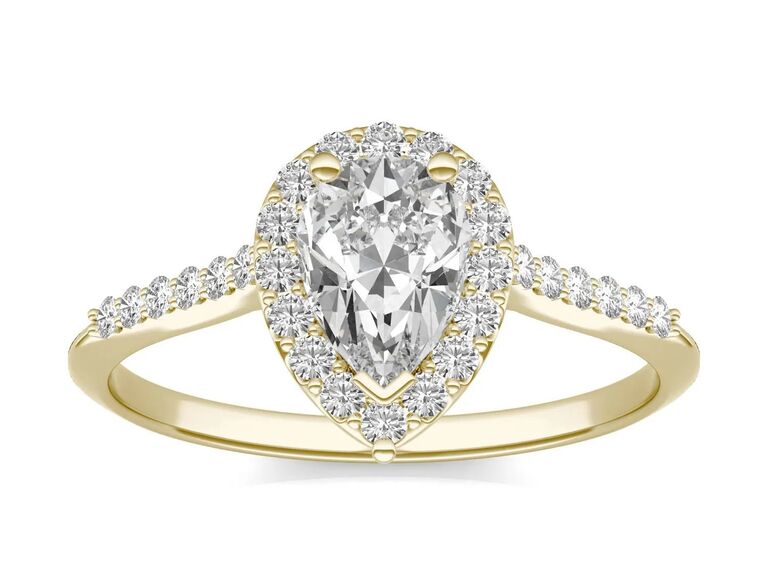 Charles & Colvard calls this ring "sophisticated and elegant"—and we can certainly see why. The pear-cut moissanite stone is surrounded by shimmering accent gems with even more embellishments on the sides. It's a statement-making piece you'll want to show off.
14. James Allen K-VS2 Pear-Shaped Diamond Bead Accent Pavé Trio Diamond Engagement Ring in 14-Karat Yellow Gold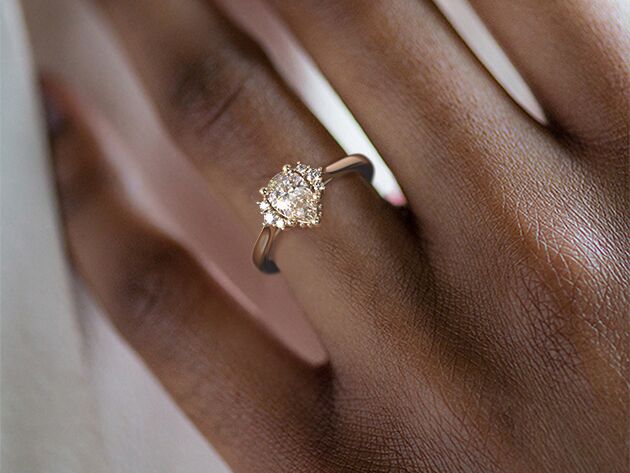 For those who want a vintage-inspired silhouette, this pear-cut engagement ring with a pavé trio accent looks like it could have been passed down through generations. Another plus? You can add a free band inscription to make it even more sentimental for your S.O.
15. Tiffany & Co. Soleste® Pear-Shaped Halo Engagement Ring with a Diamond Band in Platinum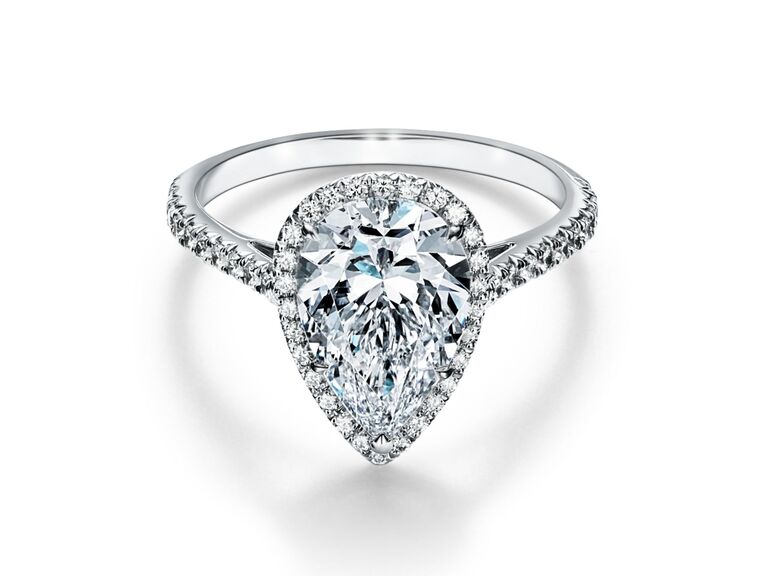 We can't get over this breathtaking pear-shaped engagement ring. The teardrop center stone radiates beauty, while also perfectly complementing the sparkly bead-set diamonds on the delicate halo setting. It's a dazzling engagement ring style that'll command every room.
16. KatKim Diamond Trace Ring in 18-Karat Yellow Gold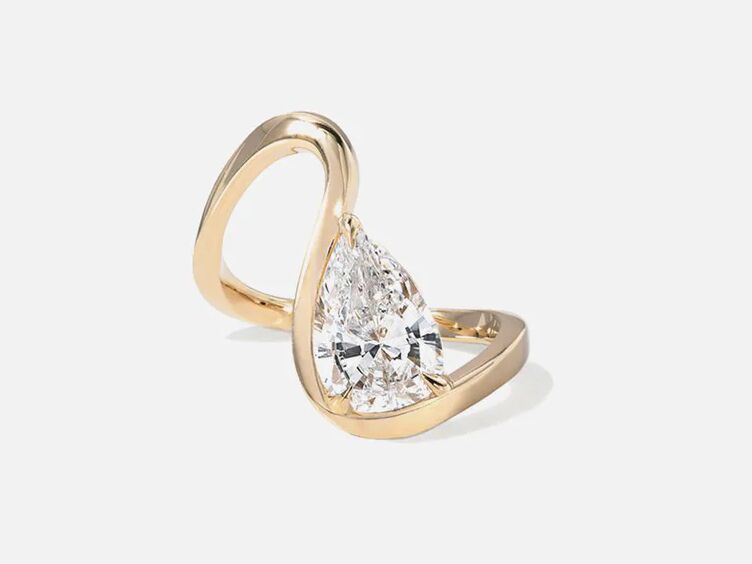 Available in 18-carat yellow, white and rose gold, this 1.2-carat pear-cut diamond engagement ring strikes the perfect balance between artsy and timeless. We're particularly obsessed with the twinking pear-shaped center stone nestled within the unique fluid gold band.
17. Blue Nile Emerald Cut Diamond Engagement Ring in Platinum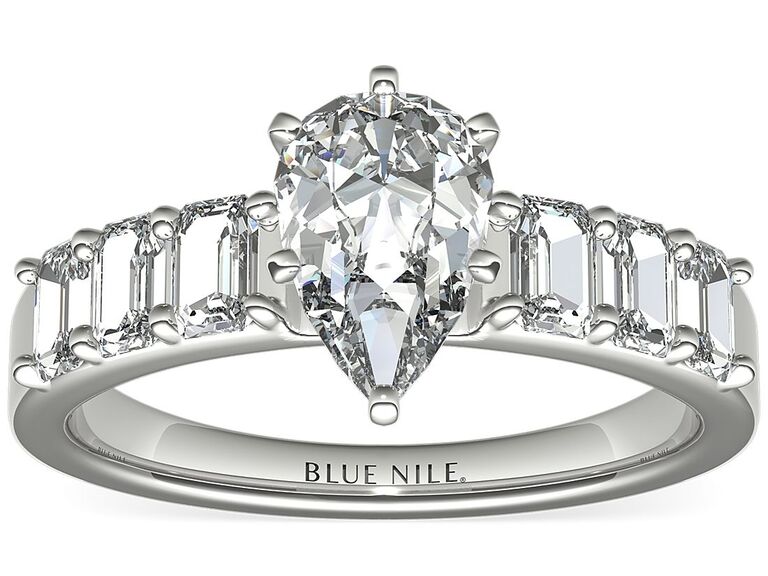 The exquisite emerald-cut diamonds placed along the platinum band of this pear diamond engagement ring kick the look up a notch. As for the striking pear-shaped center stone, its undeniable beauty speaks for itself.
18. VRAI The Halo Pear Engagement Ring in 18-Karat White Gold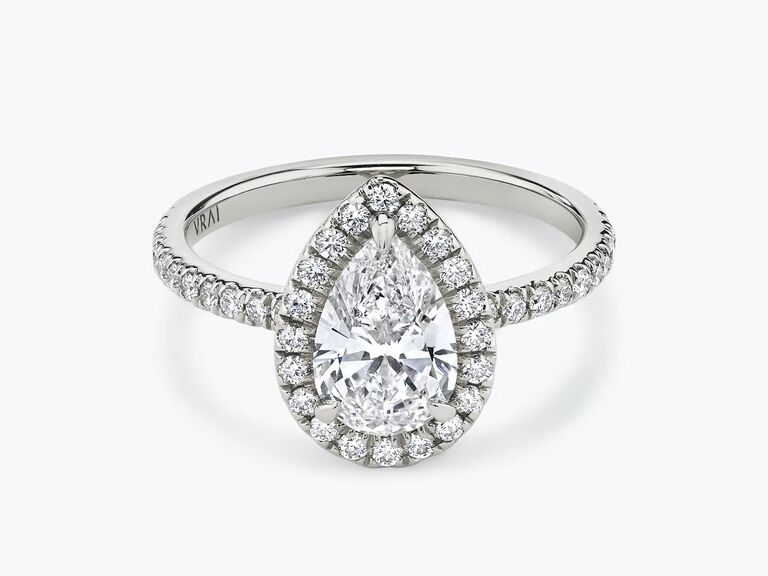 Wowza! For brides looking for an ultra-shimmery diamond ring with a teardrop diamond, they've just found it. As for your band, choose your halo size, a pavé or solid design and your preferred metal color to fully personalize the look.
19. Melanie Casey Stars at Eventide Ring in 14-Karat Yellow Gold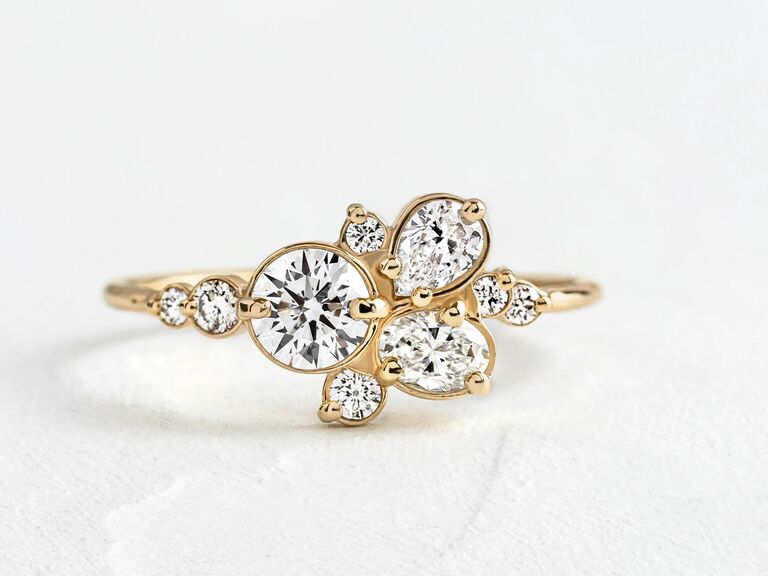 Switch things up from the classic solitaire for a diamond medley that's packed with stunning details. Featuring a cluster of pear, round, and oval-shaped white diamonds on a sleek 14-karat gold band, it's a unique style that'll stand out beautifully from the rest.
20. Gillian Conroy Teardrop Diamond Pavé Ring in Rose Gold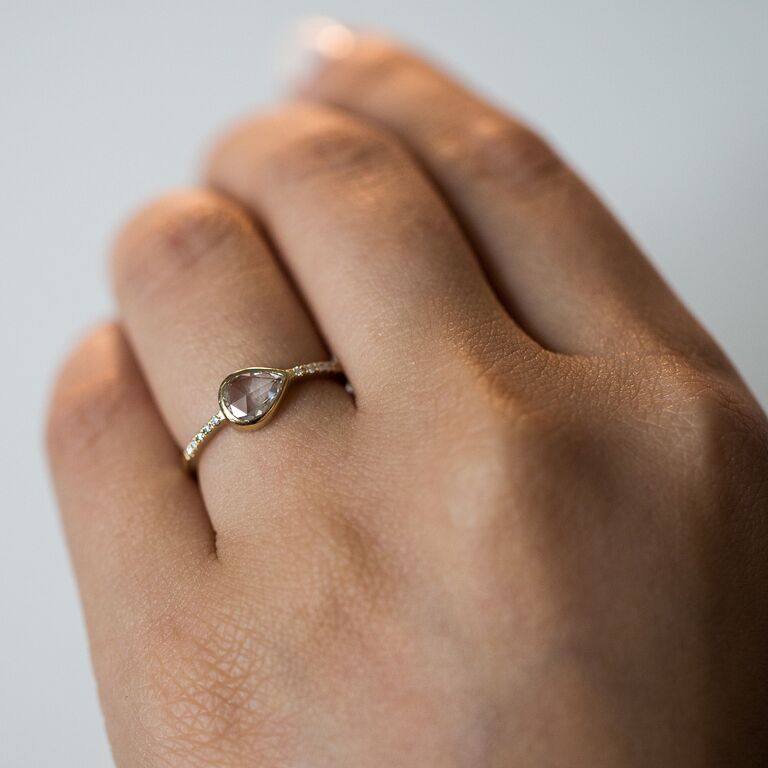 For those who prefer the look of an east-west engagement ring, this rose-cut pear diamond ring references antique craftsmanship without looking dated. Plus, the pavé accents on each side of the center stone add a lustrous touch to the angular silhouette.
21. Brilliant Earth Vienna Halo Lab Diamond Engagement Ring in 18-Karat White Gold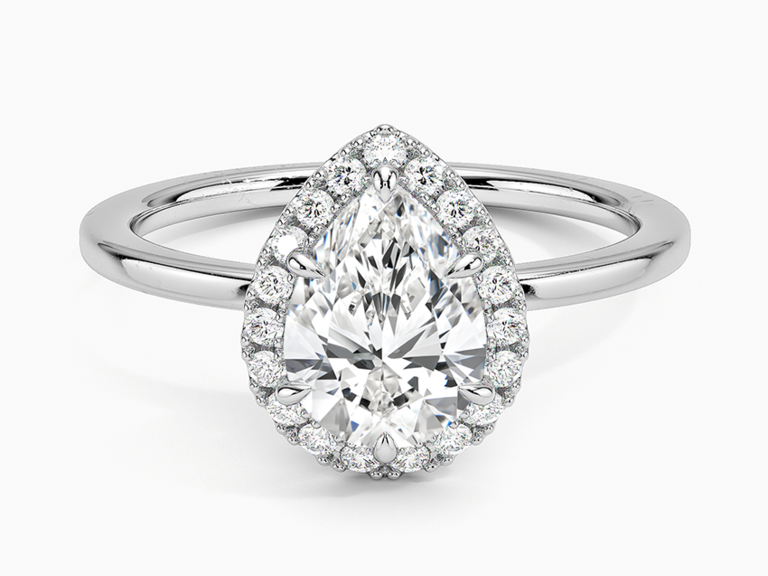 Here's another charming halo pear engagement ring design to consider. This lab-grown piece is completed with a pear diamond encircled by smaller scalloped pavé stones. Make sure to customize your carat size, metal color and carat weight to your specific tastes.
22. KatKim Emerald Trace Pavé Ring in 18-Karat Yellow Gold
Show off your individuality with an emerald engagement ring that'll elegantly wrap around your finger. Aside from the unique curvy silhouette, the 18-karat yellow gold band is adorned with twinkling round diamonds along the fluid band.
23. Shahla Karimi Two-Stone Pear Ring With Lozenge in 14-Karat Yellow Gold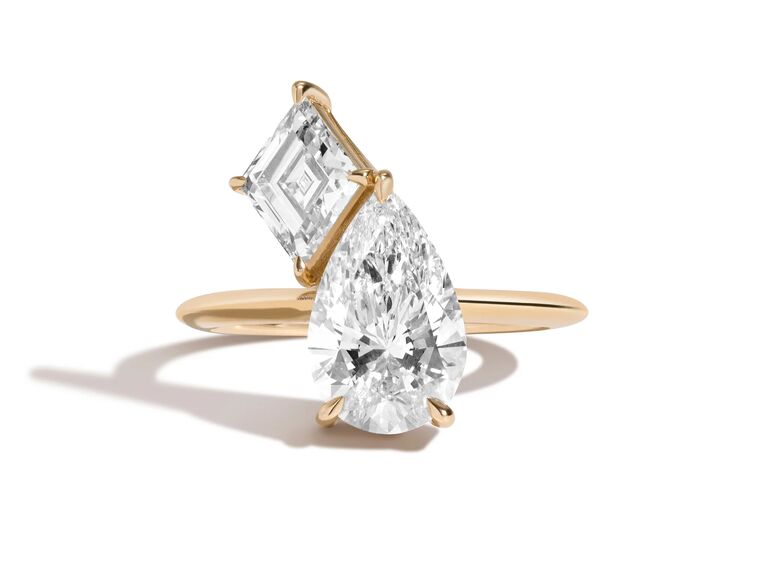 A modern take on a toi et moi pear engagement ring, this stunning double-stone design has two solitaire center stones: a lozenge diamond and a pear diamond on a refined knife-edge gold band. How gorgeous is that?
24. Tiffany & Co. Pear-Shaped Diamond Engagement Ring in Platinum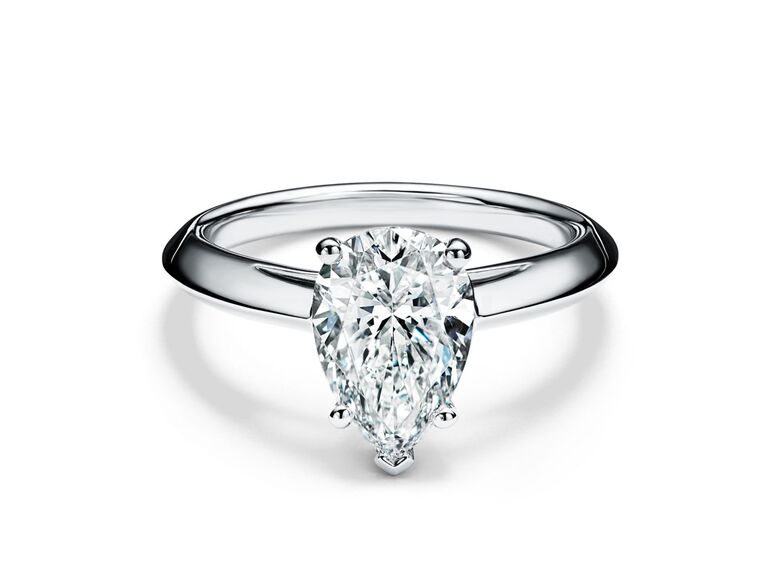 For a ring you'll gladly want to wear forever, this solitaire pear ring with a teardrop center stone is cradled in a five-prong cathedral setting with a slender platinum band. It's the perfect balance between a round and marquise engagement ring.
25. Ashley Zhang Pear-Cut Diamond Rolling Ring in 14-Karat Yellow Gold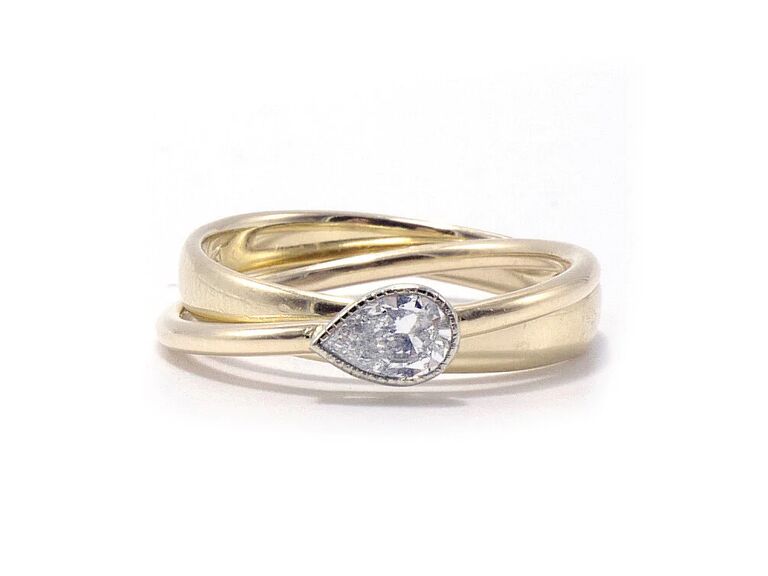 For a delicate design that still feels elevated, check out this handcrafted engagement ring by Ashley Zhang. With a .30-carat pear center stone on a slim unisex gold band, you can wear it on its own or stacked with other rings, like an embellished or plain wedding band.