These 20 Turquoise Engagement Rings Are Total Showstoppers
The perfect way to wear your "something blue" forever.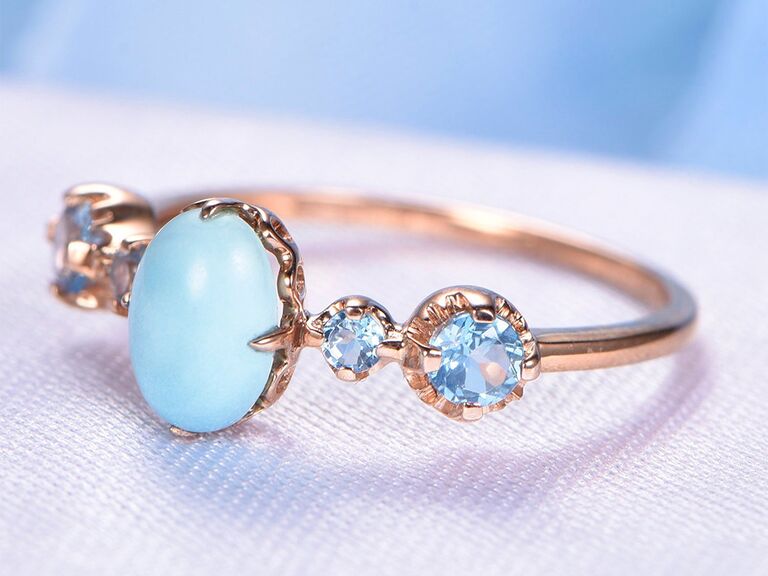 We have included third party products to help you navigate and enjoy life's biggest moments. Purchases made through links on this page may earn us a commission.
People have been fascinated with the piercing blue hue of turquoise since antiquity. Egyptians incorporated the stone into necklaces and rings, while Persians likened the gemstone's color to the heavens and covered the domes of buildings with it.
Today, to-be-weds favor turquoise engagement rings as a symbol of trust, faithfulness and happiness. The gemstone is an excellent option if you're looking for a pop of color or a bold accent stone to complement a classic diamond engagement ring style.
For those born in December, engagement bling with turquoise holds extra meaning, as they can claim it as their birthstone ring, too (it's also the gemstone of the 11th wedding anniversary). You'll often spot jewelers pairing turquoise with various other stones and precious metals, which results in unique, statement-making rings fit for traditional and modern couples alike.
If you and your person have fallen under the spell of this ancient stone, you're in luck—we've put together a handy guide with everything you need to know about sourcing the turquoise engagement ring of your dreams.
What Is a Turquoise?
Turquoise is one of the very first gemstones people started mining and wearing. The earliest evidence dates back to 3,000 B.C.E. in Egypt, where archaeologists have found elaborate necklaces and rings that feature turquoise. Because of the mineral's striking blueish-green color, many believed it symbolized heaven and that wearing it would help you communicate with the Gods.
In the 13th century, the Turkish—who considered it a talisman—brought the gemstone to Europe. Everyone started calling it "turquoise" from the French word for "Turkish." Nowadays, turquoise is associated with wisdom, enduring love, tranquility and communication. It's used all the time by energy healers for purification and to enhance intuition. Turquoise boasts natural veining (or matrix representing remnants of other rocks), which adds personality and makes every stone unique.
What to Look For in a Turquoise Engagement Ring
Turquoise is a water stone, which makes it a lot more porous than a diamond. Jewelers usually treat natural turquoise before they set it in jewelry, so it's a good idea to ask what kinds of treatments your turquoise stone has undergone. In general, the more treatments, the less expensive the stone should be (natural, untreated turquoise is the priciest).
Most turquoise stones used in jewelry have been enhanced, either for hardness or color saturation (or sometimes for both). Doing so can result in a change of color years down the line. Most turquoise stones will become darker as years pass since they will absorb skin oils, but if your stone turns yellowish, then you'll know it has plastic in it. Make sure you buy your turquoise engagement ring from a trusted seller who sources gemstones from verified manufacturers.
Alternatively, you can ask an expert gemologist to take a quick look at a ring and verify the stone's provenance for you. Some of the most valuable turquoise stones in the country come from Nevada.
Why Choose a Turquoise Engagement Ring?
If you want to purchase a classic engagement ring setting but would still like it to feature something unexpected, a turquoise stone is the way to go. The stone's distinct bright hue will freshen up any design, whether you incorporate it as a center stone or as an accent. You can also have it as an inlay on your band, resulting in a very unique look.
Contrary to popular belief, a stone with such a vibrant hue can be paired with various precious metals and other gemstones. Turquoise is very versatile, so you could certainly design a ring as traditional or as one-of-a-kind as you'd like and end up with a stunning design full of personality. Plus, because turquoise is available in quite a few shades (ranging from green to bright blue), you'll have a lot of creative freedom when choosing or designing your ring.
Turquoise Engagement Rings You Can Buy Now
From classic styles to Art Deco settings, we're rounding up the most gorgeous turquoise engagement ring styles on the market.
Marrow Turquoise Aquamarine Headdress Ring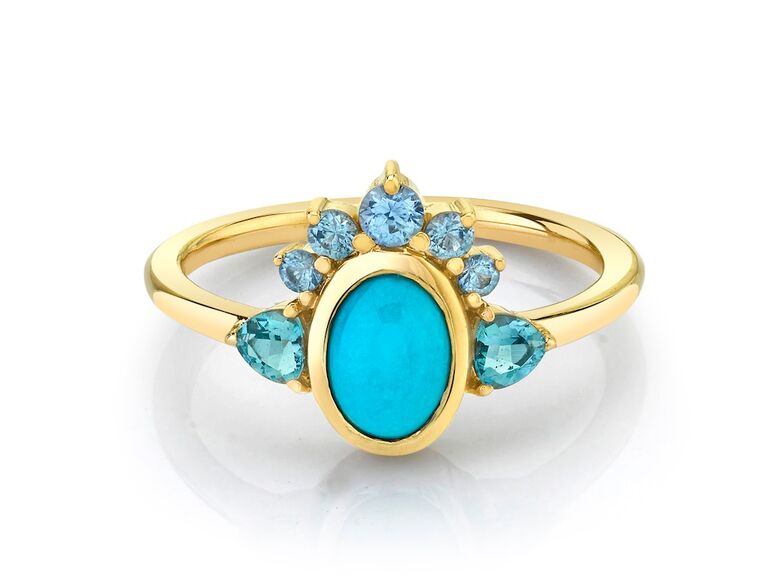 This stunning gold engagement ring features an oval turquoise center stone accented by a headdress of light blue sapphires and a duo of aquamarine gems. The result? A standout piece that's eye-catching and heirloom-worthy.
Staghead Designs Women's Engagement Ring with a Turquoise Stone Set on 14K Gold Diamond Band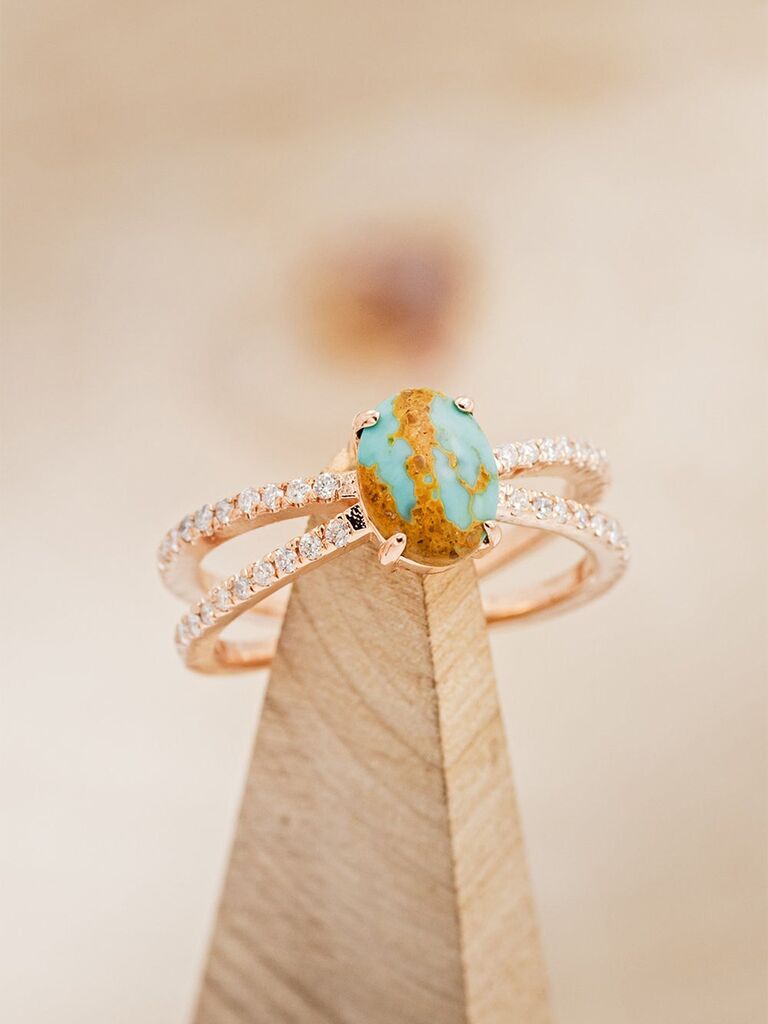 A classic design with a twist! This solitaire ring features a split gold band set with diamonds that perfectly complement an oval turquoise. The natural veining on the stone adds so much character to this beauty.
Ila Felicia Turquoise and Diamond Ring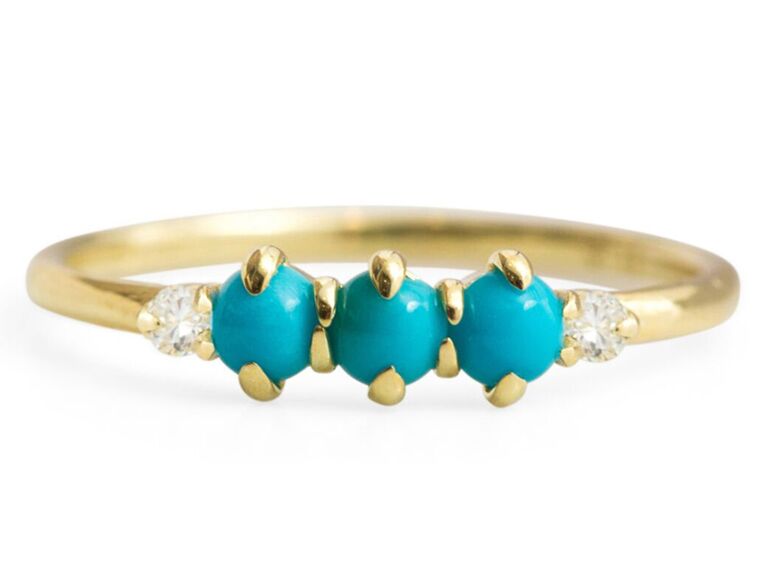 A trio of round blue turquoise stones and two tiny diamonds are centered on a delicate solid gold band for a simple yet stunning look. This piece would make for a beautifully understated engagement ring or a special way to celebrate an anniversary.
Staghead Designs The "Cleopatra" Turquoise Engagement Ring with Diamond Accents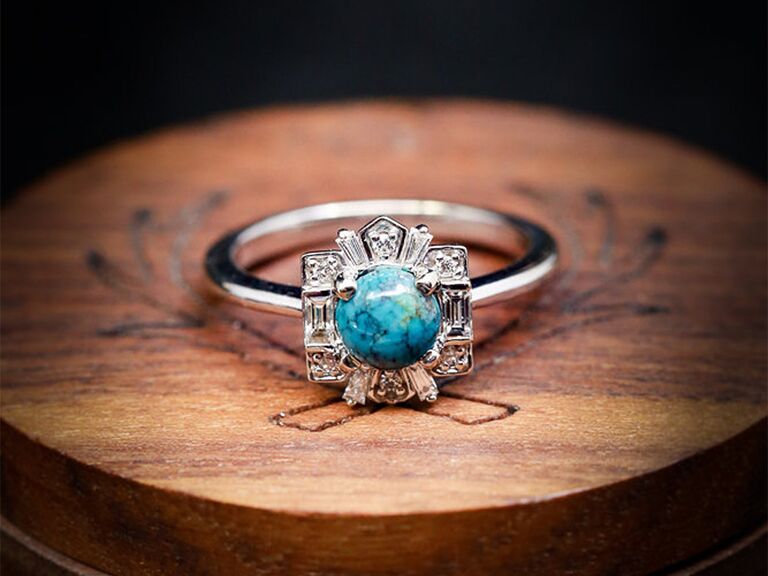 Turquoise and diamonds are a match made in heaven. This vintage-inspired diamond halo engagement ring features a natural turquoise stone center framed by several different shaped diamonds for a unique look.
Stone and Strand Turquoise Daisy Days Band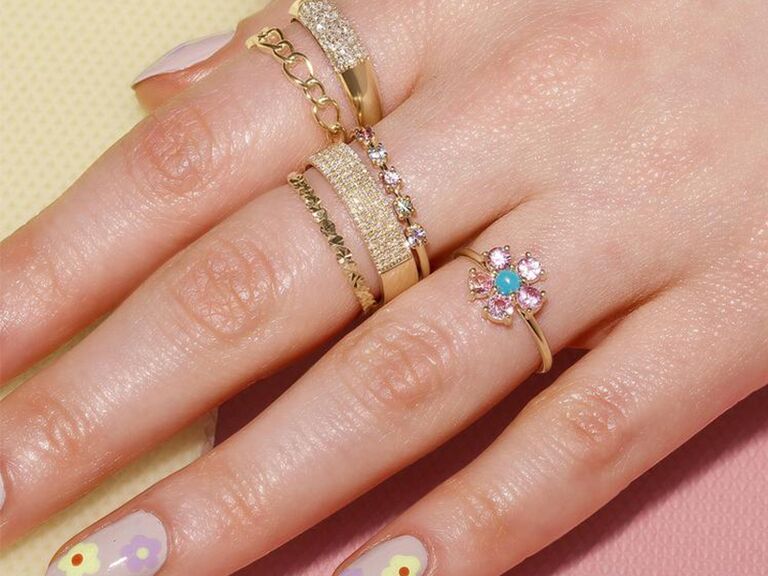 This pretty take on the flower engagement ring trend features five pink sapphires as petals framing a round turquoise stone. The 10K yellow gold band ensures the sturdy (and stunning) setting will last a lifetime—just like your love (awww).
Van Clef & Arpels Perlée Couleurs Variation Ring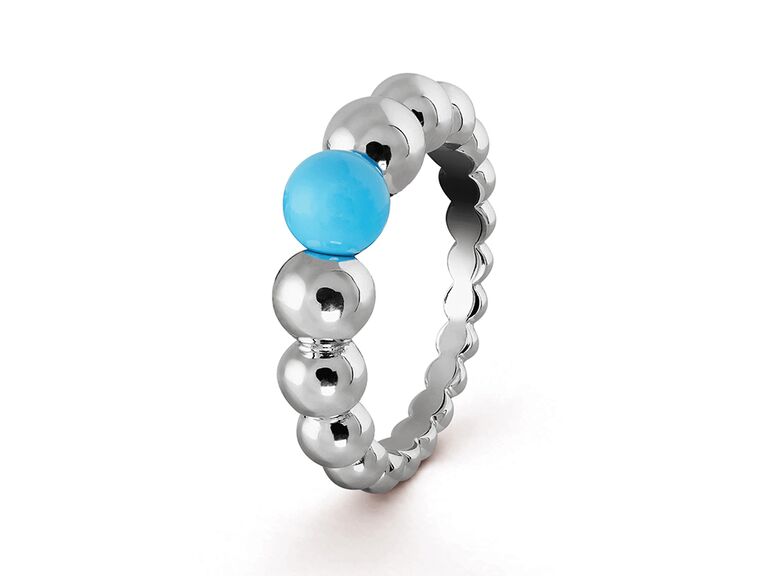 This nontraditional engagement ring oozes class. A white gold band invokes the look of beaded pearls and features a single turquoise stone at the center. Want something with a little more bling? Pair this beauty with a traditional diamond engagement ring for a unique twist on the traditional wedding band.
Dhruvi's Fine Jewelry Oval Cut Moissanite Alternative Engagement Ring and Turquoise Wedding Ring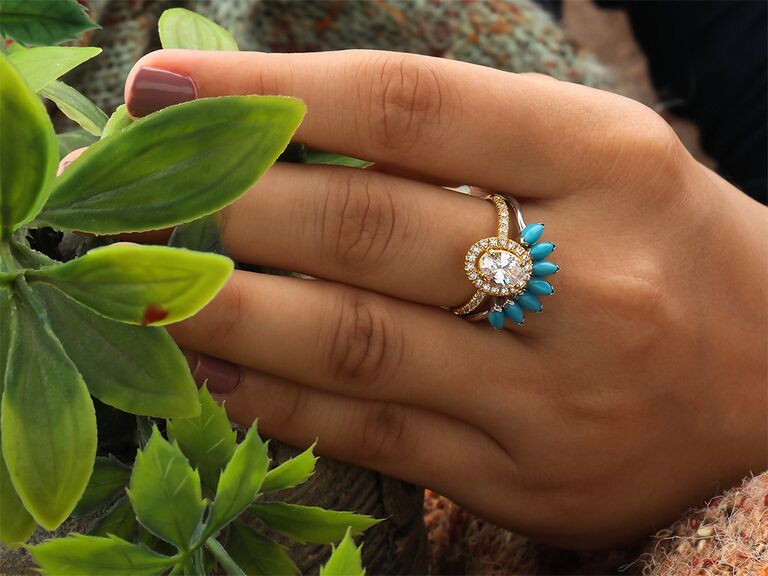 Seven marquise cut turquoise stones complement a classic moissanite halo engagement ring in this stunning wedding ring set. Your custom order can include a different type of stone for the main ring, as well as your choice of several precious metals.
Milegem Turquoise Engagement Ring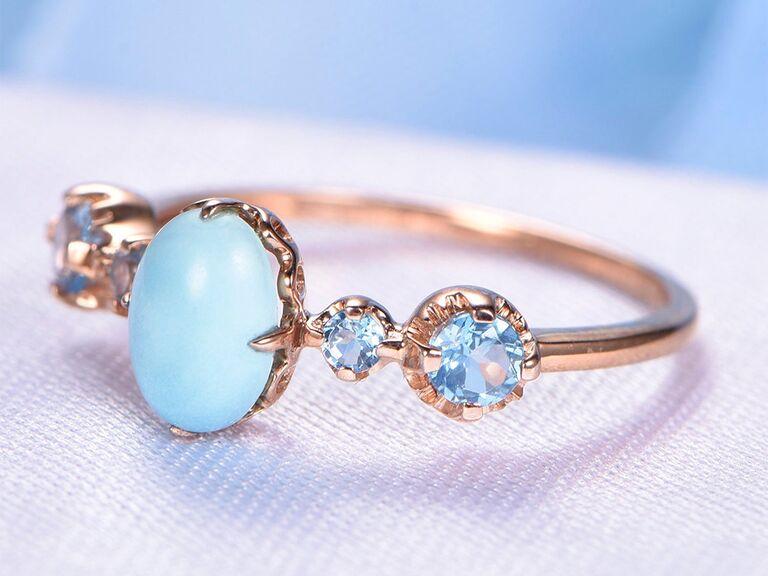 This turquoise engagement ring puts a gorgeous spin on the classic solitaire ring design. A cushion-cut Sleeping Beauty turquoise center stone—known for the uniformity of its color—is surrounded by a halo of tiny diamonds for a dazzling look.
David Yurman Chatelaine Ring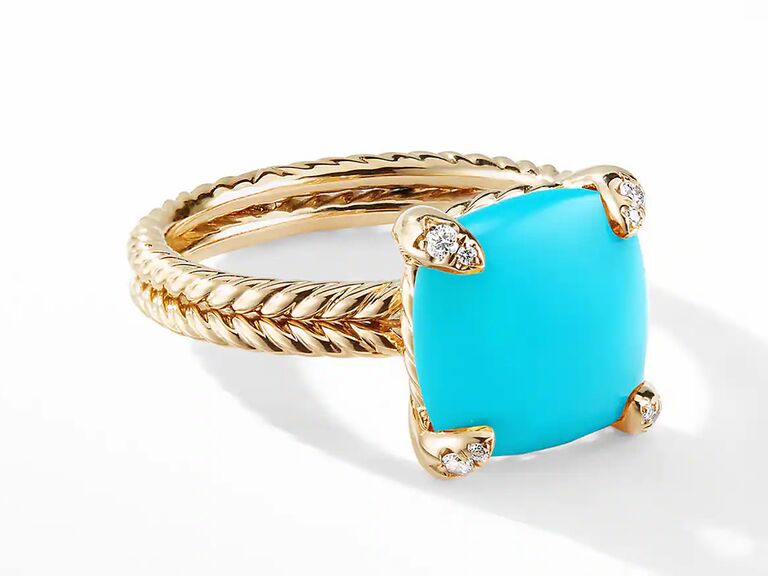 A stunning cabochon turquoise takes center stage in this solitaire engagement ring. Tiny round-cut diamonds adorn the prongs, while the yellow gold band is designed in David Yurman's classic braided motif.
Pamela Love Mini Essential Ring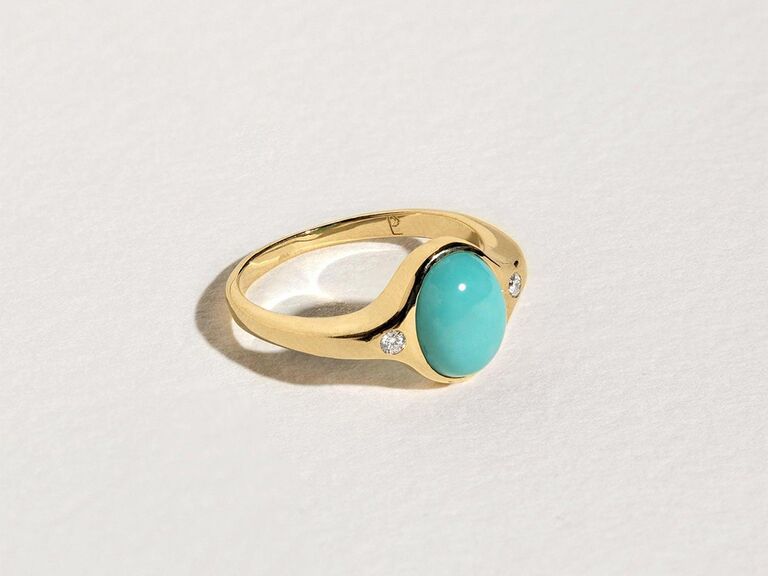 Go for a pop of bright color with this bezel-set oval turquoise ring, which is flanked by two white diamonds. It's a timeless ring style that you'll cherish forever.
Chroma Turquoise Yum Drop Ring
If you favor minimalist designs, then you'll love this gold turquoise ring. A half-carat cabochon turquoise is set on an 18K yellow gold band for a look that's equal parts bold and elegant. Bonus: This style is super budget-friendly if you'd rather dedicate your dollars to a beautiful band on the big day.
Gemologica Turquoise Gemstone Diamond Halo Ring in Rose Gold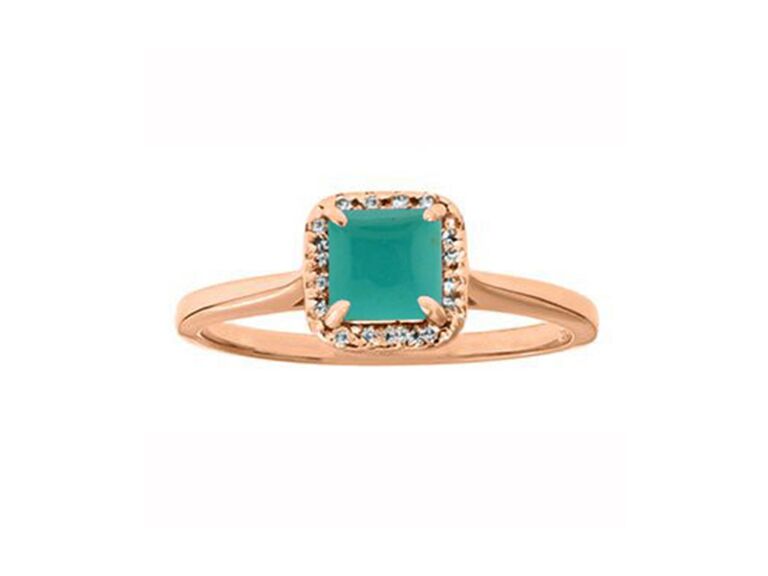 In this classic solitaire engagement ring, 16 sparkling diamonds highlight a princess-cut turquoise gemstone. The design seamlessly blends the unique stone with a recognizable engagement ring silhouette that's great for purists.
Pomellato 18-kt Rose and White gold Nudo Topaz and Turquoise Ring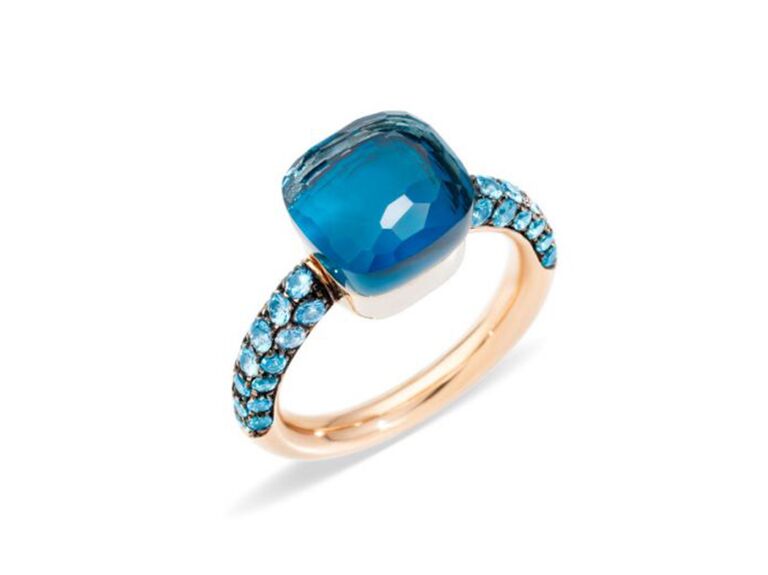 Inspired by the crystal waters of the Mediterranean, this modern engagement ring marries turquoise and blue topaz gemstones into one stunningly saturated design. The contemporary look is completed by a polished 10K rose gold band—pair it with a diamond-encrusted wedding band for even more bling.
Gemologica Emerald-Cut Turquoise Gemstone Custom Ring In White Gold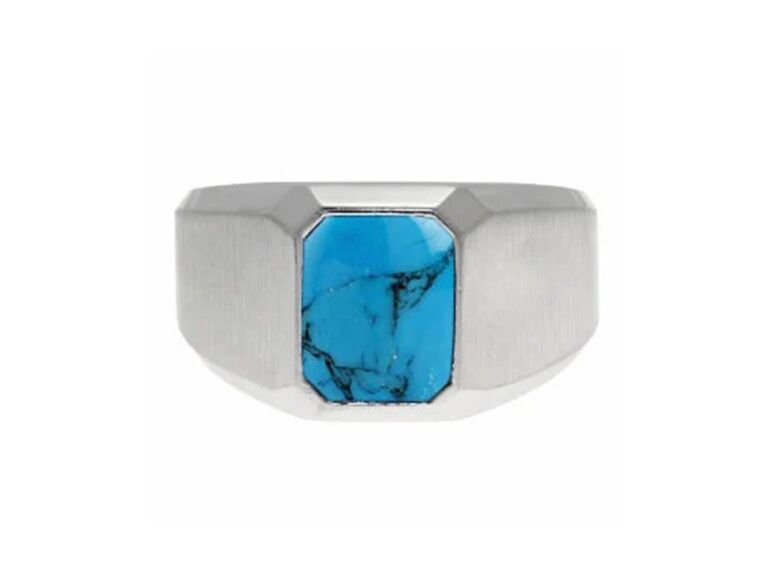 This contemporary turquoise wedding band features an emerald-cut gemstone set into a chunky white gold setting. The natural veining of the stone adds an organic element to the sleek, architectural design of the band (which comes in your choice of metal).
Elizabeth Locke 19K Yellow Gold, Sleeping Beauty Turquoise & Diamond Ring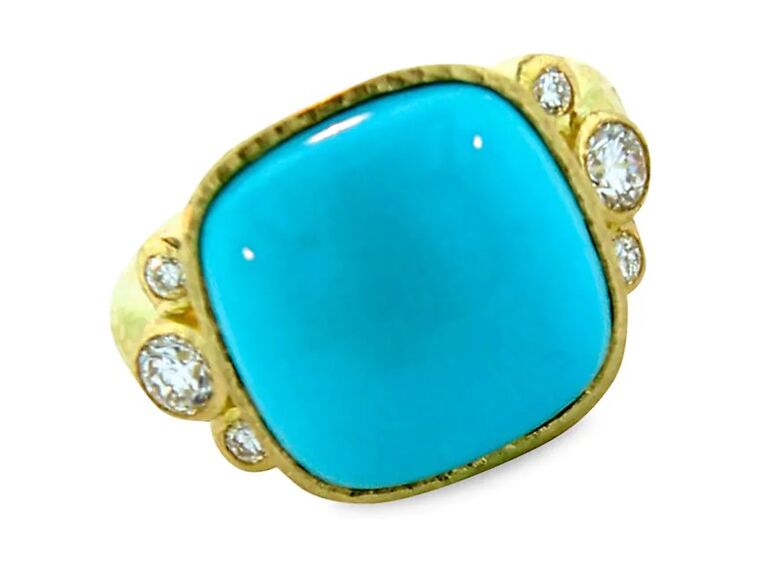 This beautiful turquoise engagement ring features a chunky gemstone at the center of a yellow gold setting flanked by a trio of diamonds. It's a weighty and unique look that's just a bit boho and earthy.
Mejuri Turquoise Round Signet Ring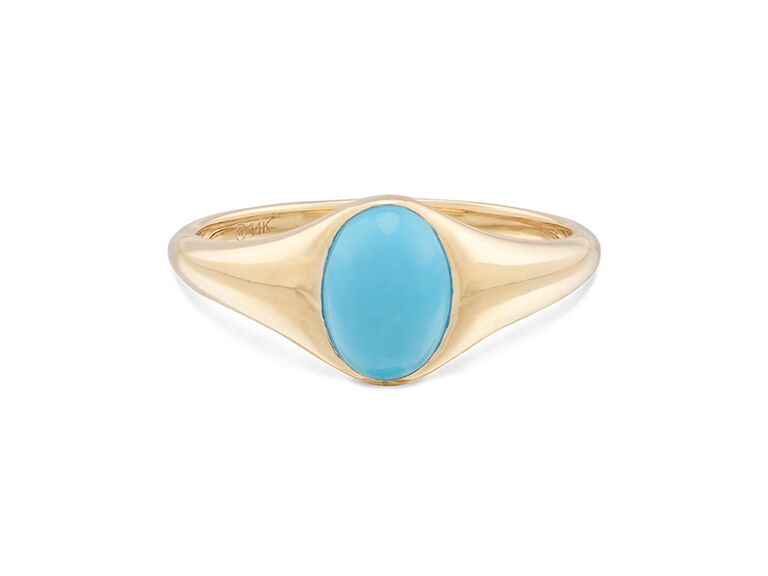 If you're looking for a timeless engagement ring style, this is it. This signet ring is cast from yellow gold and set with a round cabochon turquoise—perfect for the to-be-wed that is looking for a piece that marries old and new traditions.
Revolution Jewel Cobalt Chrome and White Sapphire Engagement Ring with Turquoise Inlay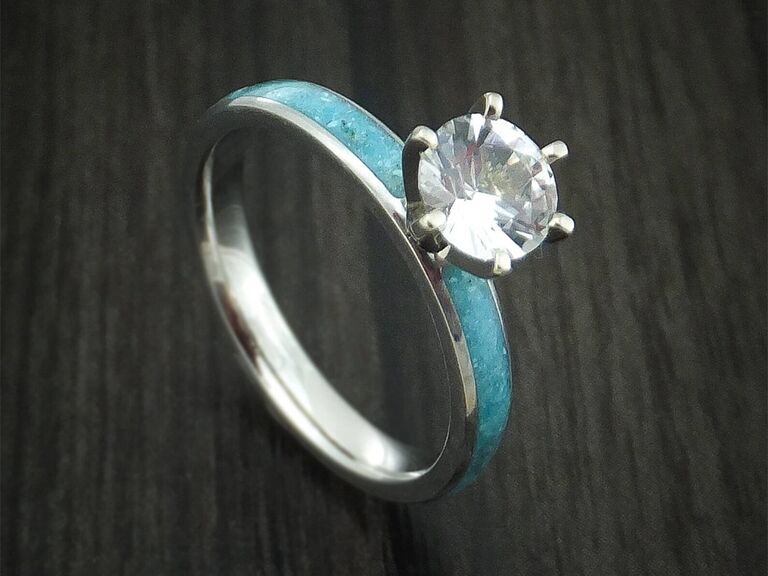 The designer of this ring took a different approach to incorporating turquoise. The main stone is a shimmering round white sapphire set above a turquoise inlay band. It's a unique piece of turquoise jewelry that will certainly turn heads.
Angara Oval Turquoise Split Shank Ring with Diamond Collar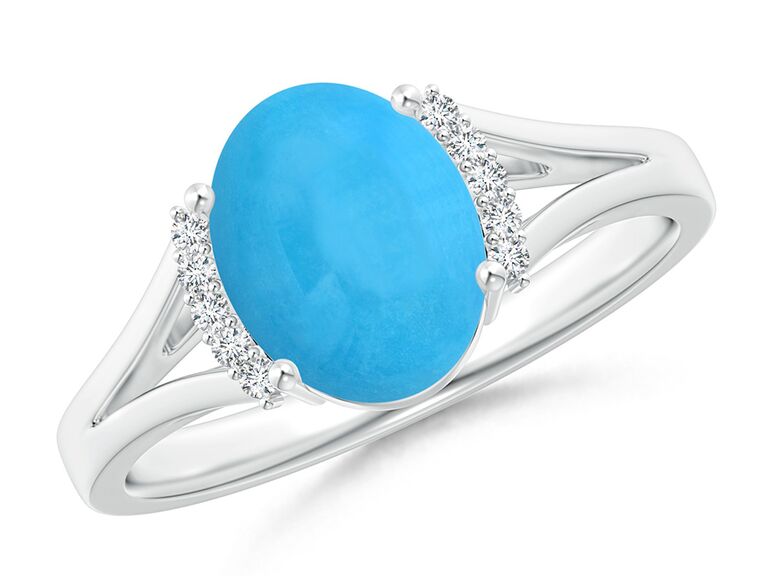 A genuine turquoise gemstone is flanked by beautiful diamond-studded collars that add an extra dose of glamour to this sterling silver engagement ring. Customize the design by selecting your favorite metal, the gemstone quality and even the carat weight.
Gems Odes Turquoise Engagement Ring
This gorgeous Art Deco-inspired bridal set features a round turquoise stone engagement ring flanked by two moissanite stones. The complimentary wedding band features a soft curve of lab-created diamonds for a glamorous update.
Belloring Vintage Pear Shaped Alexandrite Engagement Ring Set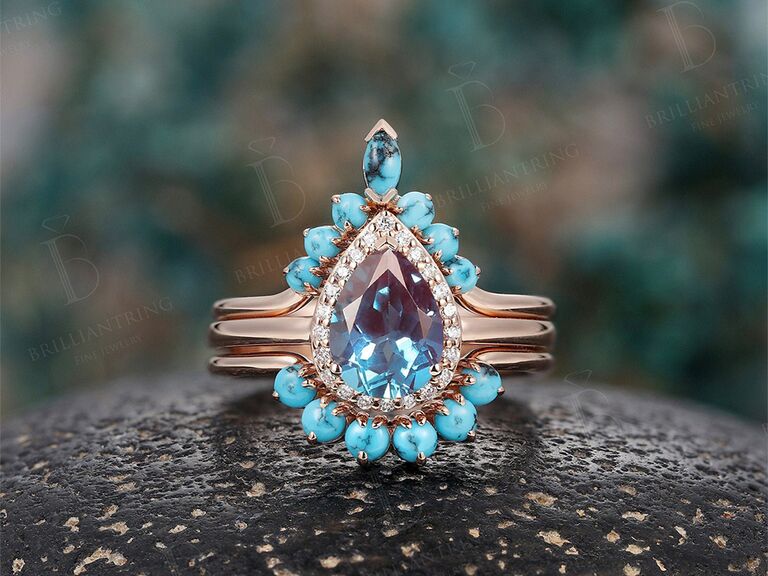 This bridal ring set demonstrates the timeless appeal of Art Deco aesthetics. A stunning Alexandrite halo engagement ring is paired with two rose gold rings that feature round and marquise cut turquoise side stones.