The Top 13 Mountain Wedding Venues in the U.S.
Exchange vows surrounded by stunning mountain views and natural beauty.
If you and your significant other love the great outdoors and love being active in nature, a mountain wedding venue might be the perfect place for your nuptials. Whether it's a private estate, a national park or luxury mountain resort, there are a plethora of venue options that offer picturesque views and mountaintop backdrops for your wedding photos. From the Adirondack Mountains on the east coast and the Smoky Mountains in the mid-Atlantic to the mountain ranges in the wild wild west, there is no shortage of mountain wedding venues.
With activities on site, many of the venues of our list below are more than just a place to exchange "I do's" but serve as a great gathering spot for a weekend getaway for your wedding guests. With many of the locations offering horseback riding, hiking and other outdoor activities you can continue celebrating after your wedding ceremony and reception. Head to The Knot Marketplace for even more awe-inspiring mountain wedding venues.
320 Guest Ranch in Gallatin Gateway, Montana
This serene and picturesque location is nestled between Big Sky and Yellowstone National Park. Say your "I do's" surrounded by majestic mountains and flowing rivers. The tranquil ranch property dates back to 1898 and boasts an old Western feel. There are multiple locations on the property that are perfect for an outdoor ceremony. Whether you want to exchange vows in a grassy meadow or riverside, there are lots of areas on the ranch that would serve as beautiful backdrops for your wedding ceremony. Continue the celebrations outside with a tented reception so you can enjoy the star-studded Montana skies as you dance the night away. If you'd prefer an indoor reception The Banquet Hall offers a log cabin aesthetic that would lend itself to a rustic wedding. When it comes to a wedding caterer, the in-house kitchen offers delicious eats that are made from scratch and with locally sourced ingredients. Team up with our chefs to create a custom menu you and your guests are guaranteed to love. Cabin and chalet accommodations are available at 320 Guest Ranch so you and your guests can make your wedding last for a whole weekend (or longer!).
Della Terra Mountain Chateau in Estes Park, Colorado
Situated on 14 acres secluded acres among the Rocky Mountains is a family-owned and operated luxury chateau. The rustic, old-world architecture set against the backdrop of the Colorado mountaintops make this an idyllic wedding venue. You'll enjoy your big day with only your closest family and friends, as this mountain wedding venue only hosts one wedding at a time. The outdoor ceremony site is set among the majestic mountain pine trees with a backdrop of MacGregor Mountain for your wedding photos. The raised brick stage and wooden trellis will make your ceremony that much more special. Gather for cocktail hour by the warmth of two fireplaces. The reception event space boasts wooden beam accents, balcony overlooks and floor-to-ceiling windows that offer panoramic views of the mountains from three sides. The Della Terra Mountain Chateau also offers a getting ready salon, luxury guest suites and romantic honeymoon accommodations so all of your guests can enjoy everything this mountainside retreat has to offer.
Sawyer Family Farmstead in Cashiers, North Carolina
There are a number of reasons that this family-owned and operated mountain wedding venue is special. The picturesque setting of the Blue Ridge Mountains, the breathtaking view of Lake Glenville and lastly, it's set on a family-run Christmas Tree. Say your vows in an outdoor ceremony atop a hill surrounded by green Frasier fir Christmas trees, mountain laurel, blueberry bushes, and grapevines. The barn on site seats up to 200 guests with a dance floor and is adorned with Tuscan lights, one-of-a-kind chandeliers, farm tables and Chiavari chairs. There is also a deck, porch and fire pit for guests to sit outside and enjoy the romantic sounds of nature. The venue offers multiple wedding packages for a range of budgets. Every couple will have access to the entire 80-acre farm from 9 a.m. to midnight and have the perk of the on-site wedding coordinator ready to assist you. Add on more planning assistance, a set-up and tear-down crew, and decor services. No matter what you decide, the team at the Sawyer Family Farmstead is ready to throw you the perfect wedding.
Omni Mount Washington Resort in Bretton Woods, New Hampshire
This luxury New England mountain resort was built in the early 1900s and is adorned with mountain-inspired decor to fit in with its natural surrounding beauty. Featuring a premier golf course, spa, ziplines and the state's largest ski area, you'll right at home at this mountain hideaway. There are plenty of event spaces on site to tie the knot. Get married on a mountaintop at the brand new Crystal Hills at Rosebrook Lodge event venue at the summit of Bretton Woods. You'll be transported by an enclosed 8-passenger gondola. At the top, the event space features floor-to-ceiling walls boasting panoramic views of the New Hampshire mountains at every turn. If staying at the base of the mountain is more your speed, consider the classic Grand Ballroom for your wedding reception. With a Broadway-style stage, oak dance floor and sculpted ivory pillars, it's the perfect location for your special day. If you want to be outside at the base of the mountain, consider the Jewell Terrace on the roof of the Presidential Wing. Directly facing Mount Washington, you and your guests will enjoy sweeping views of rich green gardens. A superior dining experience and a selection of wedding packages to choose from make Omni Mount Washington Resort a luxurious option if you're searching for an all-inclusive wedding venue for your big day.
National Museum of Wildlife Art in Jackson, Wyoming
This museum is not only unique for its location situated on a cliffside in Jackson Hole overlooking the National Elk Refuge, but the architecture of the building itself is one-of-a-kind. The museum appears to emerge from a rock and is constructed from Idaho quartzite, causing it to blend into the native terrain. The breathtaking location in the wild paired with its unique architectural design make this the perfect mountain wedding venue for a couple looking for something off-the-beaten path. The Pike and Susan Sullivan Event Hall accommodates 130 guests seated and opens up onto the Sculpture Trail Terrace, which offers direct views of the National Elk Refuge and is an ideal space for cocktail hour. The Members' Gallery Event Space displays beautiful wood floors and showcases select museum exhibitions for guests who want to take a look at some of the artwork on display at the museum. The National Museum of Wildlife Art is truly a one-of-a-kind venue for the couple that appreciates both nature and art.
Mountain Lake Lodge in Pembroke, Virginia
Celebrate your love surrounded by the Appalachian Mountains on a 2,600-acre nature preserve. You and your guests have a range of accommodations to choose from including rustic cabins and suites in the historic Main Stone Lodge. For your ceremony, choose from three picturesque locations. Mary's Barn features whitewashed wooden beams, a fireplace and expansive patio. If you'd prefer an outdoor ceremony, exchange vows under a lush canopy of trees in the gazebo, complete with a view of Mountain Lake. The adjacent stone amphitheater provides enough seating for friends and family to see your ceremony surrounded by an enchanting setting. For a backdrop of mountaintops and sweeping valleys, consider the Overlook at the Historic Clubhouse. Who can say they've been married at the top of a mountain peak surrounded by a split rail fence? Mary's Barn also doubles as a reception venue, but if you're looking for something more luxurious, the Grand Ballroom is a great option. Floor-to-ceiling stone walls and wrought iron chandeliers adorn the event space. Just off the ballroom is the Mountain Lake Veranda which offers picturesque views of the Mountain Lake and the glistening stars. The charming and quaint Mountain Lake Lodge is surrounded by lush greenery and natural beauty is the perfect secluded retreat for your special day.
Mackay Bar Ranch in Riggins, Idaho
This mountain wedding venue is only accessible via jet boat, raft or airplane, making it the ultimate secluded destination. This riverfront resort sits on the edge of Salmon River in Frank Church's Wilderness. With a required two-night minimum stay, your big day becomes a big weekend surrounded by family and friends. There are enough accommodations to house up to 34 guests and a large grassy area for tent campers. With unlimited access to jet boats, fishing, volleyball, hiking and beaches, your wedding weekend will feel like summer camp! In the wedding package you'll get all major rentals such as tables, chairs, linens and tables settings, string lighting, custom menus, and a small cake. All lodging, meals and transportation to and from the bar ranch is also included. For the ultimate outdoorsy wedding weekend, you won't regret getting hitched at Mackay Bar Ranch!
Sunday River Wedding Co. in Newry, Maine
One of the Northeast's largest ski resorts can also be the site for your big day. In the summer and fall you'll be surrounded by fresh New England mountain air, lush greenery or foliage depending on the time of year, and you'll have access to a number of ceremony and reception sites. The Jordan Terrace at the Jordan Hotel boasts a breathtaking backdrop of Sunday River's alpine Jordan Bowl. A slopeside ceremony just under the Little White Cap chairlift is another option for your nuptials, located near the resort's largest hotel, Grand Summit, if you want to be as close to the slopes as possible. Sliders Restaurant inside the Jordan Hotel offers a casual, intimate and rustic vibe for your indoor reception. Attached is a sun deck with sweeping views of the Jordan Bowl for a cocktail hour or for guests looking to get a breath of fresh mountain air. The Grand Ballroom is the resort's largest event space that accommodates up to 400 guests and boasts a more glamorous aesthetic. Lastly, CAMP, a restaurant in the Grand Summit Hotel boasts a rustic aesthetic with walls resembling tree trunks and wooden tables and chairs. If you're looking for an authentic mountain venue, Sunday River Wedding Co.'s scenic location is ideal.
Four Seasons Resort and Residences in Vail, Colorado
Set amidst the Colorado Rocky Mountains is a luxury resort perfect for your once-in-a-lifetime event. Whether you want an intimate gathering, elopement or a big celebration, the team at this secluded resort in the heart of the great outdoors is ready to make your big day happen. There are multiple event spaces to choose from. For an outdoor ceremony, consider the Pool Terrace, which features panoramic views of the majestic mountains and impressive stonework. Guests sit around the pool while the aisle lays across the top of the pool. Say your "I do's" in front of the fireplace and under a chandelier. This poolside space can also serve as a location for cocktail hour. For a large gathering, the elegant Bighorn Ballroom is your best choice, whereas the Diner Prive would lend itself better for an intimate al fresco dinner under the twinkling stars. No detail is left untouched, from an on-site wedding coordinator and floral arrangements to packages for various wedding budgets, the Four Seasons Resort and Residences is ready to host your special day.
Ancient Lore Village in Knoxville, Tennessee
In the foothills of the Smoky Mountains is a one-of-a-kind venue set on 67 acres of land. From walking trails and picturesque sunsets to the natural beauty of Boyd Hollow Falls, this all-inclusive venue is a nature lover's dream. The out-of-the-box accommodations have the feel of an ancient village. From a bungalow built 19 feet underground to a wood-themed villa in the woods beside the falls, there are dwellings that can sleep parties of various sizes. Enjoy a welcome reception or cocktail hour at Boyd Hollow Falls, which is 40 feet tall and boasts three levels of gathering ponds and a stone-covered event space at the top of the falls. For an outdoor ceremony, consider the Village Gardens, where you can exchange "I do's" in a luscious garden surrounded by stunning plants and blooms. The Woodland Terrace is an enchanting forest hideaway offers a sprawling picnic area, food truck catering and sweeping views of the Smoky Mountains, an ideal space for a low-key wedding reception. With an event team and several wedding packages to choose from, Ancient Lore Village is perfect for couples look for an off-the-beaten-path place to celebrate.
The Club at Snoqualmie Ridge in Snoqualmie, Washington
An elegant mountainside venue set offering breathtaking views of Mount Si and Snoqualmie Valley is a fabulous location for couples who want to be surrounded by the natural beauty and fresh air in the Pacific Northwest. With picturesque views of the Cascade Mountains at every turn, every photo from your wedding day will be magical. The landscaped grounds and lush green trees will make you feel like you're in a nature lover's dream. Exchange vows in an outdoor ceremony under a gorgeous arbor as your guests look on from white chairs. Move inside for your reception in the regal ballroom which offer panoramic views of the surrounding mountain tops. The wedding package comes with an event planning guide, house tables, linens, chairs and table settings, customizable bar packages, set-up and tear-down, among other offerings. Work with the on-site chefs to create a delicious menu that will leave your guests' mouths watering. The Club at Snoqualmie staff is ready to make your mountain wedding dreams a reality.
Zion Red Rock in Rockville, Utah
Choose from three private and secluded venues 10 minutes from the heart of Zion National Park for an intimate wedding celebration. Not only do you have multiple event spaces to choose from, but there are a number of activities offered to make your special day even more memorable. From fishing and hiking to sitting by the campfire and going in the hot tub, your wedding day becomes a weekend getaway for you and your guests. The first of three venues is the Zion Red Rock Oasis, which is a 14,000-square foot mansion set on 15 acres and surrounded by red rock views, is great for adventurous couples with a smaller guest list. Up to 56 guests have the option to enjoy the private lake, bike trails and private access to the Virgin River. The Zion Red Rock Villa boasts a Mediterranean aesthetic and sits on 15 privately owned acres with access to two private lakes, swimming pool, movie theater and game room. Two grand indoor event spaces with high-vaulted ceilings are ideal locations for celebrating. The Zion Red Rock Chalet is a contemporary and modern space with access to the Virgin River, perfect for tubing and other water sports. The spacious backyard offers picturesque mountain views and space for playing games. Zion Red Rock's three exclusive venues are perfect for couples who want their wedding day to be a weekend-long celebration filled with activities.
Mammoth Mountain Ski Area in Mammoth Lakes, California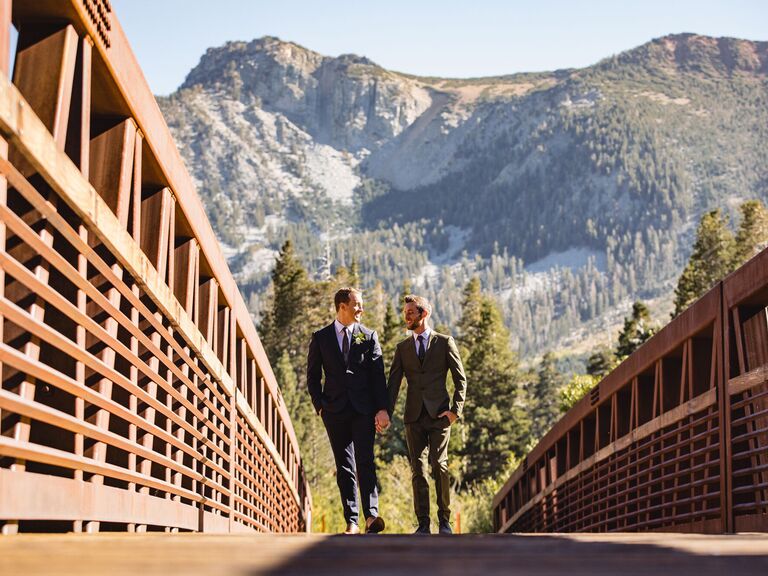 This stunning ski area is set amidst a range of towering cliffs of granite and gorgeous crystal lakes. Whether you'd prefer to tie the knot in the midst of a winter wonderland or surrounded by the lush greenery in the summer months, this California ski resort offers it all. Tie the knot at the summit of the mountain 11,053 feet high. Adventure-seeking couples will enjoy saying their vows surrounded by fresh mountain air and mountain peaks. Guests will ride to the top in the gondola and, if you want to keep celebrating at the top, the Eleven53 indoor reception area is perfect for you. The Forest Chapel over Twin Lakes is perfect for those who want to be outdoors but not as high up. Enjoy a secluded ceremony in a timber chapel and surrounded by lush trees. For celebrating, Camp High Sierra boasts an open-rafter ceiling, wooden floors and walls, and is filled with rustic charm. The Mille Cafe and Sundeck is reminiscent of a log cabin and features an adjacent outdoor deck for guests to enjoy the view. No matter where you want to tie the knot, Mammoth Mountain Ski Area has endless options for weddings of all styles and budgets.