Controversy Ignited By Kate Middleton's Wedding Dress On Wikipedia
by Heather Hall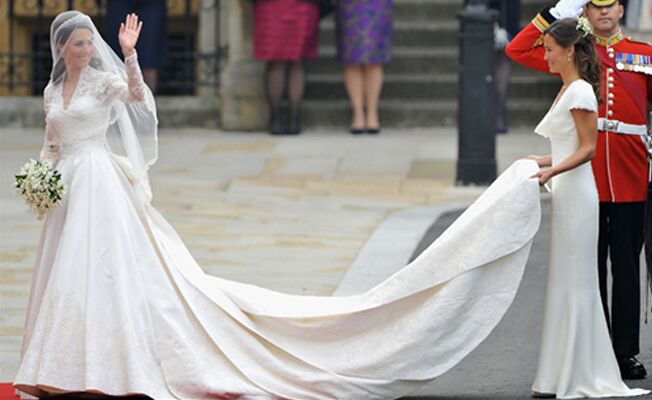 The wedding of Kate Middleton and Prince William was undoubtedly anticipated, as was the dress she would wear. Sketches by the world's top bridal designers hit newsstands as they predicted what style of dress Kate might choose for her big day. It was Alexander McQueen by Sarah Burton that she so gracefully wore and that has influenced bridal fashion.
The controversy over the fact that the gown has it's own Wikipedia page has sparked great debate since it's publication on the site, and at the 2012 Wikimania conference last week. While I will concede that it could be part of Kate's main Wikipedia page, the reasons for uproar about this are more absurd than the argument itself. This is nuts!
The page was requested for deletion immediately after it appeared. Comments included, "This is frankly trivial, and surely isn't notable enough to be on Wikipedia." Another commenter added, "The sheer presence of this article is one of the lowest points ever reached by Wikipedia! What amazes me is that there's acculturated people (since the article was well written) who has such interests, and free time to lose to devoted themselves for such totally irrelevant arguments."
Jimmy Wales, Wikipedia's co-founder and man responsible for approving the "Wedding Dress of Kate Middleton" page defended the article at last week's Wikimania conference. He referred to the gown's predicted long-term impact on fashion and said, "Fashion may seem frivolous, but it's an industry worth billions and wedding attire is a significant portion of that business."
This iconic gown, reminiscent of Grace Kelly, will influence dress designs for years, and the article is interesting, well-written, and well-referenced for those who are interested. Wales also commented on the fact that the page is welcomed by fashion students, designers, brides-to-be, and people who are fascinated with royal history.
Sadly, some not-so-loyal royal fans have placed Kate, and her dresses, up for ridicule. I say jealousy, others may say she is part of a society that is spoiled. Regardless, her grace, charm, and poise (not to mention attractive figure and sense of style), has captivated so many others. So much so, that we want to know what she is wearing, who made it, and where we can get the look.
>Check out our Royal Wedding 2011 Dress Look-Alikes for Kate Middleton
>10 Ideas to Steal from the Royal Wedding