How Your Home Organization Habits Can Impact Your Relationship
Plus, products and tips to help you out.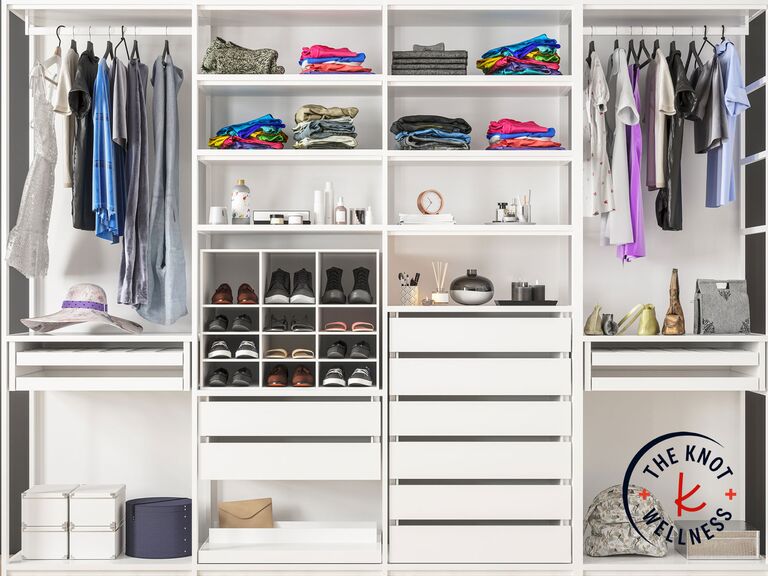 Getty Images
We have included third party products to help you navigate and enjoy life's biggest moments. Purchases made through links on this page may earn us a commission.
Moving in together is an exciting time in a couple's relationship–especially if home organization is prioritized by both parties. After all, the experience of merging lives combines everyday habits and lifestyles. It could, however, be challenging if both parties define "clean" differently, even contributing to mental and relationship wellness issues. A 2016 study from the University of New Mexico found how a messy environment is correlated to downward feelings of overall life satisfaction.

A separate 2019 survey by OfferUp (which polled more than 2,000 adults across the US) found that one in three respondents said their partner's tidiness is "extremely important." In fact, 32% replied they would rather wait in line at the DMV (you read that right) than have an argument about decluttering. The Knot Registry Awards even has a section solely devoted to organization, knowing couples need it. Simply put: having different tidying habits than your partner can be a huge stressor.

If messiness is negatively affecting your relationship (or embarrassing you when you have company, it's a sign to prioritize home organization and the art of tidying up together. Read our expert-approved tips for home organization to improve your mental and relationship wellness–you want to enhance your date nights, after all, rather than concern yourselves over clutter.
In This Article:
Home Organization Tips for Your Wedding Registry
While cleaning is often categorized as a chore, a home organization project can be a bonding activity between couples–especially while wedding planning. The building blocks of a home are often cemented through the wedding registry, especially if you're requesting organization-focused gifts to fundamentally declutter your lives. (Sleek interiors are, after all, a gift that will last a lifetime.)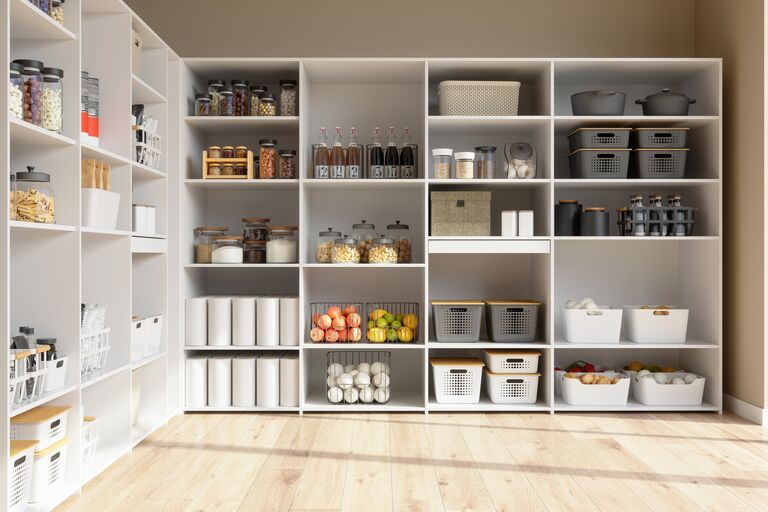 Select a Registry That Aggregates Retailers
We may be biased, but The Knot Registry is the ideal place to start. Couples have their pick across reputable home design options, many of which specialize in home organization. Partners include Wayfair, Bed Bath & Beyond, Crate & Barrel, and other recognizable brands. This way, you can compile your favorite products from a variety of retailers–all in one place.
Consider Your Style of Home
You may be merging your lives in a spacious home in Seattle or a charming Brooklyn apartment. Each couple should register for their precise style of home. Whether you're working with a seasoned design professional or you're involved in the interiors of your home from start to finish, you'll want to register for organization products and tools that match your home's layout and square footage.
Shop Registry Gifts Per Room
Once you've determined basic necessities for each space, the shopping begins. Select products to help you declutter and maximize space within your home. This could include canisters to organize dry goods in your pantry or acrylic cases for your accessories. The shoe container method (buying clear containers in bulk and taking a Polaroid of each pair of shoes) is a rather popular tip among home organizing experts. Take a look at the most chaotic environments in your home and work through each room. Then, register accordingly.
Transform the Home With Modern Organic Furnishings
Adding greenery to a home benefits the mind and, in many cases, air quality. Applicable to everyday wellness, adding an aloe vera or peace lily plant to the wedding registry is one way to enhance your living space. A 2015 study from the Journal of Physiological Anthropology found that tending to indoor plants even reduces stress. In fact, biophilic and organic furniture designs are among the biggest home decor trends in 2022. Just take it from Wayfair, which has its own dedicated wellness-at-home section.
Register for Cleaning Services
One of the best things about getting married in 2022 is the ability to register for anything you want. Here at The Knot, we want to make that as easy for you as possible, which is why we offer Cash Funds. They're a simple way to add the things you really want to your registry and allow your guests to contribute any amount they desire towards your goals. Enjoy being newlyweds by starting a cash fund geared towards a year of house cleaning services. Ask guests to contribute towards a membership with a specific company or just cash to hire someone independently. Pricing in your area a little high? Select one or two of the most highly-trafficked rooms in your home to have professionally cleaned instead.
Slowly Build Out the Space
While we live in a fast-paced world, organizing the home requires intention and time. Be patient with yourself, especially since your home won't magically "spark joy" overnight. You're already progressing towards a healthier home environment by prioritizing organization. Being intentional about tidying up also promotes relaxation (at least, according to 54%, who described that sensation). It's no secret why a messy home causes you to feel the exact opposite.
Want to start newlywed life off right in a clean and organized home? Read our tips for each room in your home, along with the most popular home organization products across The Knot Registry Store and elsewhere.
How to Organize Your Closet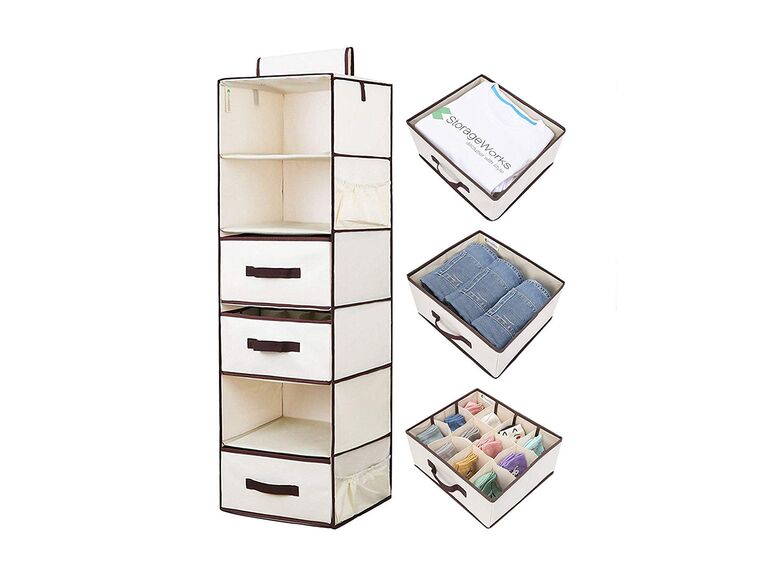 The biggest organization task will likely be your closet. You may be inundated with piles of clothing from years ago, which is why it's time to let go of that bridesmaid dress from five years ago. Tossing and compartmentalizing various pieces by season and frequency of wear can help you feel in tip-top shape with home organization. Plus, making room in your closet for other upcoming life moments, such as your bach party, is worth the clearance.
Find uniform hangers you'd like to use throughout your closet; and, if you're even more organized, arrange hangers and clothing by type. Using different sets of hangers for different kinds of clothing (jeans, sweaters and dresses) can help you to find items more easily. Couples should separate clothing by type as group placements will impact the setup of the closet.
If you're in the process of decluttering and figuring out which items can stay or go, experts recommend the hanger principle. Start by hanging all your clothes in one direction. As you wear and wash your clothes, you'll flip the hangers. At the end of six months, anything hanging the wrong way can be thrown. This trick can also be applied to books too.
Finally, if you're using your closet, in part, for storage, you'll want to place the large, heavy and bulkier items on the bottom with smaller, lightweight items up top. This will help you visually unpack what's within each container. If you need more space, invest in a canvas and cloth "shelving unit" that attaches to the bar in your closet. It's added storage for sweaters, jeans, off-season clothes and more. Add these essentials to your wishlist for an efficient closet setup.
Hanging Closet Organizer
Uniform Hangers
Five-Tier Pants Hangers
How to Organize Your Nightstand and Drawers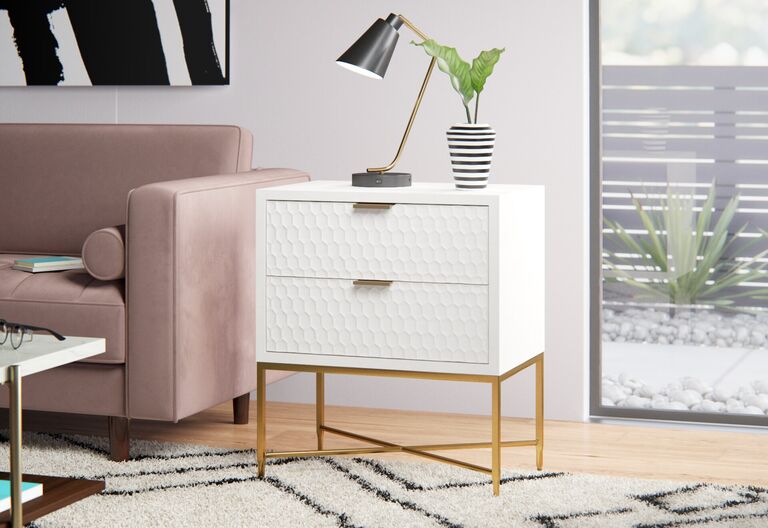 Similar to your closet, your drawers should be organized intuitively–with or without a walk-in closet. Experts agree drawers should be organized from top to bottom, based on what you wear. For example, sunglasses or accessories should be on the top shelf and shoes should be stacked at the bottom of the drawer. By organizing your drawer in the order of how you get dressed, it will prevent "decision fatigue" in the morning.
Another practical tip for maximizing the space is setting up dividers for T-shirts and undergarments, all according to fabric type, color and more. This will help you easily pull the perfect cotton blend shirt over a cashmere top on a summer day.
Finally, the overall visual direction in the bedroom should generally evoke a sense of ease. The nightstand must be organized and allude to a sturdy nighttime routine. Typically, a well-organized table includes ambient lighting, perhaps a candle and an alarm clock. A small dish may also serve as a catch-all if you tend to remove jewelry before bed. It's best, however, to leave your phone elsewhere. Sleep experts warn couples from leaving their phones by the bed as it could distract them from quality rest.
Nightstand With Storage
A Decorative Tray
Bamboo Drawer Dividers

How to Organize Your Accessories
One of the biggest impediments to an organized closet is having random scarves, sunglasses and other baubles in random spots. Jewelry, in particular, should be stored away with care. "Storage methods can often be a very personal practice," says MUJI expert Interior Advisor Manager, Kanako Hatai. "In order to ensure both parties can easily find things, have set locations for general types of items that are stored away from immediate view."
Semi-transparent storage cases across various sizes are especially helpful to have on hand. Not only can these items be used in many different parts of the home, but they're also visually appealing. This allows couples to easily identify what's in the drawers without having to open each one, while still maintaining a level of privacy.
Acrylic Jewelry Dividers
Ring Dish
Sunglass Dividers
Shoe Storage Box
How to Organize Bathrooms
You may have bottles of beauty products or care tools like nail clippers and tweezers placed in random spots. In your medicine cabinet or beauty refrigerator, you'll want to group similar items together. For example, when your partner is looking for something specific like painkillers or bandages, they know to check the medicine storage first. Your partner can also easily find sheet masks or eye creams all in one place. This reduces wasted time and friction from misplaced items.
In order to avoid clutter and to make it easier to clean, keep clutter off the sink top. If there isn't enough storage space in the bathroom, a clear storage option with casters can be a mighty and spacious addition. Finally, couples can organize the storage under the sink by utilizing file boxes, rattan baskets or a storage rack. Look to organize bottles and store electronic hair tools like hair dryers or curling rods.
A Leaning Towel Rack
Beauty Refrigerator
How to Organize Your Kitchen
Netflix's The Home Edit is popular for a big reason: decluttering closets and garages completely overhaul one's perception of the home. But nothing says organization more than a clean kitchen. Pantry organizers for grains, cereal, nuts and beyond are a must-have for kitchen cabinets–take it from one of The Knot Registry Store's bestsellers, OXO Pop Containers. (Which this editor raves about.) Uniformity adds a sense of tidiness to your overall space, even saving time when you're rifling through cabinets in search of baking powder or yeast.
Similarly, refrigerator decluttering is a home organization trend that's swept social media platforms like TikTok. Couples are often more disciplined about cooking at home and seeking nutritious meals when they have proper storage for their perishables.
You'll want to generally maximize space on your kitchen countertops unless you're showing off your KitchenAid Stand Mixer or Vitamix. The paper towel holder, for example, can easily be mounted below cabinets to create more space for cooking. Finally, garbage duty is one of those chores neither of you totally want to commit to, and trust us, the feeling is mutual. Luckily, our picks for the best trash and recycling bins make that gross to-do a little bit more bearable.
A Cabinet Organizer
Fridge Storage Solutions
Pop Containers
Dual-Compartment Trash Can
How to Organize Your Living Room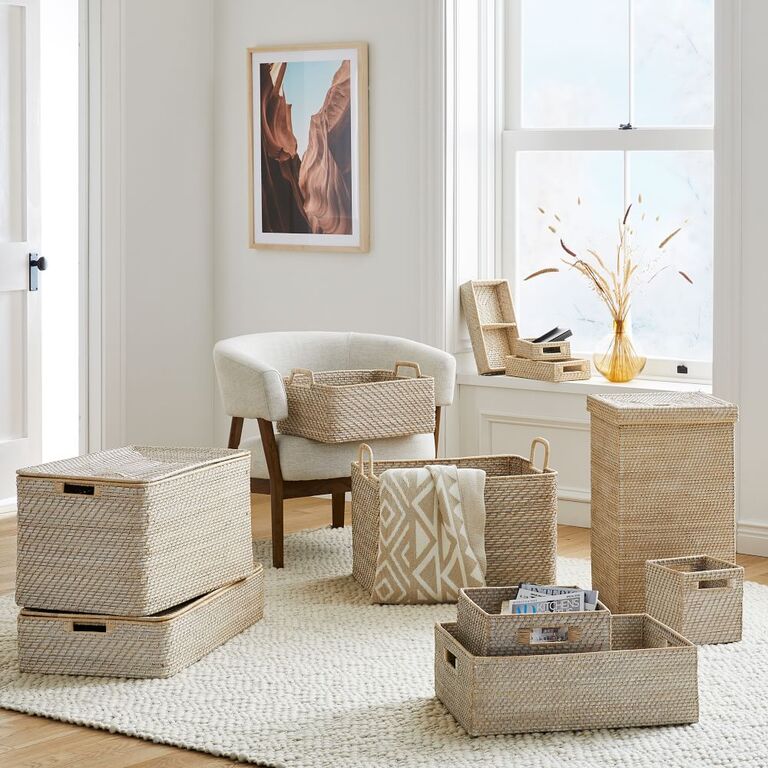 The living room is a place of dwelling and quality time. Therefore, you'll want to organize it impeccably to be conducive to discussions with your partner, along with date nights at home. You may want to add baskets and a bookshelf to create an inviting and clean atmosphere. If your living and dining rooms are combined, discuss how you'd both like to spend time at home when placing furniture. If you both prefer privacy, face the sofa away from the dining table so you both have a space to lounge separately. Do you both value frequent eye contact and conversations? Turn the sofa towards the dining space so that you would be able to communicate with your partner, even when they're not in the living room, suggests Hatai.
This room is also the heart of the home and the epicenter of all movement. Keeping the space clean is yet another home organization task you can easily master with a world-class vacuum. Believe it or not, the chore is oddly meditative and relaxing—and a sleek option with various attachments saves space and keeps your home running efficiently.
Seagrass Basket
Mid-Century Bookshelf
How to Organize Your Office Space and Beyond
With home offices becoming the new norm, couples should turn to a streamlined and efficient setting in order to separate work life. A clear storage bin is the ultimate organization tool. If you have taller ceilings in the room, you may want to invest in bookshelves, which can be used as a handy storage and design option.
Desktop Organizer
Office Accessories Organizer
Acrylic Storage Rack
Finally, remember to make it a bonding activity when organizing the home. Spend a day sorting out the things that "don't spark joy," and remember that one man's junk is another man's treasure—make the most out of the things you no longer need by reselling them and making money (for example, old electronics, clothing and shoes are all resellable).
The data found that 70% of Americans experienced a sense of accomplishment after tidying and 61% felt less stressed. Not only will you and your partner have a cleaner home and some extra cash in your pockets, but you'll probably have a more peaceful relationship in the long run. Now, that's what we call a win-win-win.