6 Perks of Having a Delayed Honeymoon
This is why you should consider postponing your dream trip.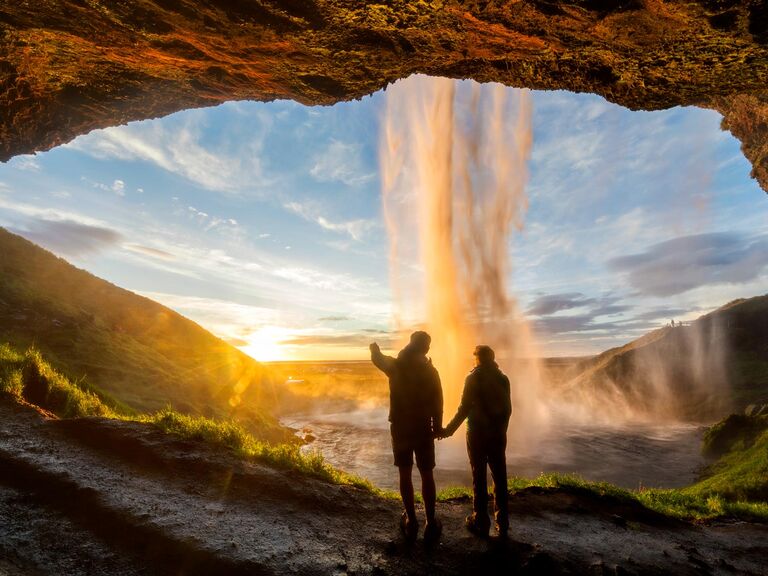 Getty Images
Maybe you've always pictured immediately jetting off for your honeymoon postwedding, riding off into the sunset hand in hand with your partner while waving goodbye to your wedding guests. And if that's the case, then bon voyage!
But perhaps the thought of finding yourself en route to an exotic locale instantly after hosting hundreds of people sounds totally stressful (you're not alone). If that's the case, you always have the option to—wait for it—simply delay it. Postponing your vacay has serious perks, and could be the perfect choice for you (whether you're feeling overwhelmed with planning stress or simply strapped for cash). Below, read the reasons to save that sweet trip for later.
1. You'll be more relaxed and rested for it.
Both preparing to get married and then actually getting married will be downright exhausting in more ways than one. And while a honeymoon is an amazing way to unwind after all that stress, you'll give yourself even more time to recuperate if you save it for later. You'll be totally at ease and won't even be thinking about the things that didn't go exactly as planned (like your cousin giving a botched rehearsal dinner speech after a few too many mojitos).
2. You have more time to save up.
News flash: Weddings are expensive. Although in this day and age, there's no longer a hard-and-fast rule on who finances the wedding, there's still a chance that you'll be paying for at least some aspects of it—whether it's your dress or your venue. So by spacing out your nuptials and your honeymoon, you'll have more time to save up additional money for your absolute dream trip.
3. You can take more time off work for your wedding.
By honeymooning immediately after you say "I do," you'll likely be using up a ton of vacation days at once, considering you might be taking off a few days pre-nuptials for preparation (which can be totally helpful) or travel (if you're having a destination wedding). If you split up the events, you'll probably get to accrue more vacation days and use less at once. Thus, you'll likely be able to take a longer trip once your honeymoon rolls around. And who doesn't want a longer vacation?
4. You'll be less stressed planning it.
On top of everything else you need to organize leading up to your wedding, you might feel downright overwhelmed trying to worry about planning a honeymoon too. If you save the trip for later, you'll have one less (major) thing on your plate during the months and weeks leading up to your nuptials, and you'll likely feel significantly less stressed while planning them both separately.
5. You can spend more time with your friends and family visiting from afar.
If you have tons of friends and family members traveling to attend your wedding, you probably won't want to immediately bid them farewell right after the reception or morning-after brunch. By saving the honeymoon for later, you'll have a few extra days to spend with them, which will surely mean a lot to them (and you).
6. You get to just enjoy married life.
Why the rush? Newlywed life will be amazing—you can take those first few months to simply relish in it, enjoy each other and maybe even get your thank-you notes done sooner rather than later. Plus, having your epic honeymoon on your calendar will just give you one more thing to look forward to and fantasize about with your partner postwedding.