Two Dozen Engagement Picture Frames to Showcase Your Love and Commitment
It's time to show off that ring!
We have included third party products to help you navigate and enjoy life's biggest moments. Purchases made through links on this page may earn us a commission.
If you're here, you or someone you love just promised to spend the rest of their lives together with their partner. What does this have to do with engagement photo frames? One of our favorite ways to celebrate that decision is by displaying a photo of the moment they said "yes," or a snap from their engagement photo session, in one of our fave engagement picture frames. These frame options highlight the commitment the couple is making while adding style to the room. Whether you want the frame to be made of wood or glass, sit on the table or hang prominently on the wall, there's something for you on this list. From top-notch frame makers like Waterford to more budget-friendly options, we are excited for you to pick the perfect frame to show off your engagement photos and ring.
Our Favorite Engagement Picture Frames
When looking for engagement frames, the options seem almost limitless. While you can always keep it simple with a plain, colored frame, we think an engagement is the perfect time to splurge just a bit to showcase your love, relationship and, of course, those engagement photos you paid for! Here are our favorite engagement picture frames that make you—and your ring—pop.
Whimsical Rotating "He Asked, He Said Yes" Engagement Frame
This wooden engagement picture frame is as unique as it is pretty. The etched heart on a chain alongside the photo reads, "He asked, she said yes." The frame, which fits a 4x6-inch photo, also comes in a classy gift box.
Modern "The Best Is Yet to Come" Picture Frame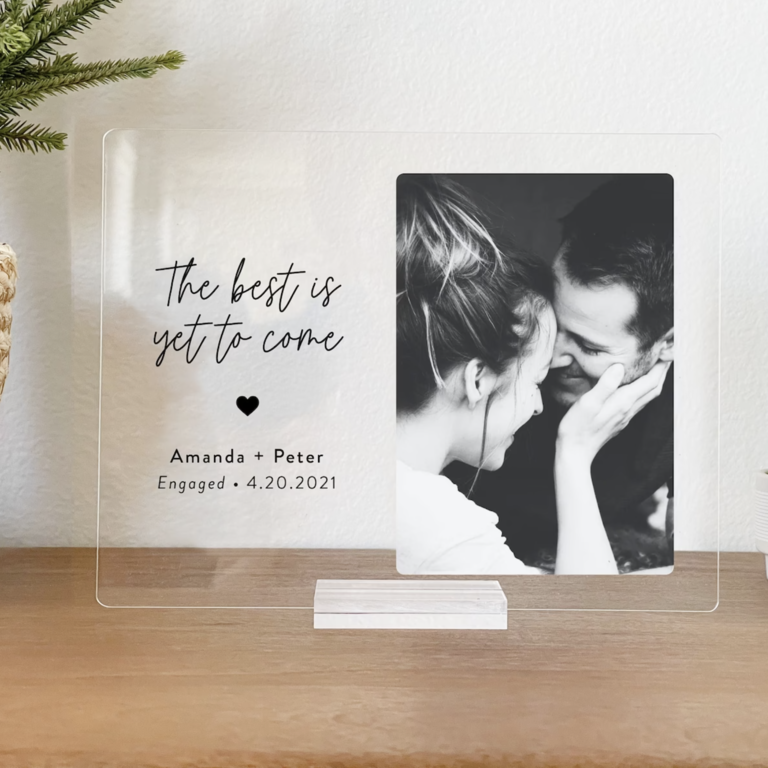 This clear acrylic frame highlights the proposal with the words, "The best is yet to come." Personalized with the couple's names and engagement date, this simple and modern gift has multiple layout options so you can get your decor just right.
Wedding Countdown Picture Frame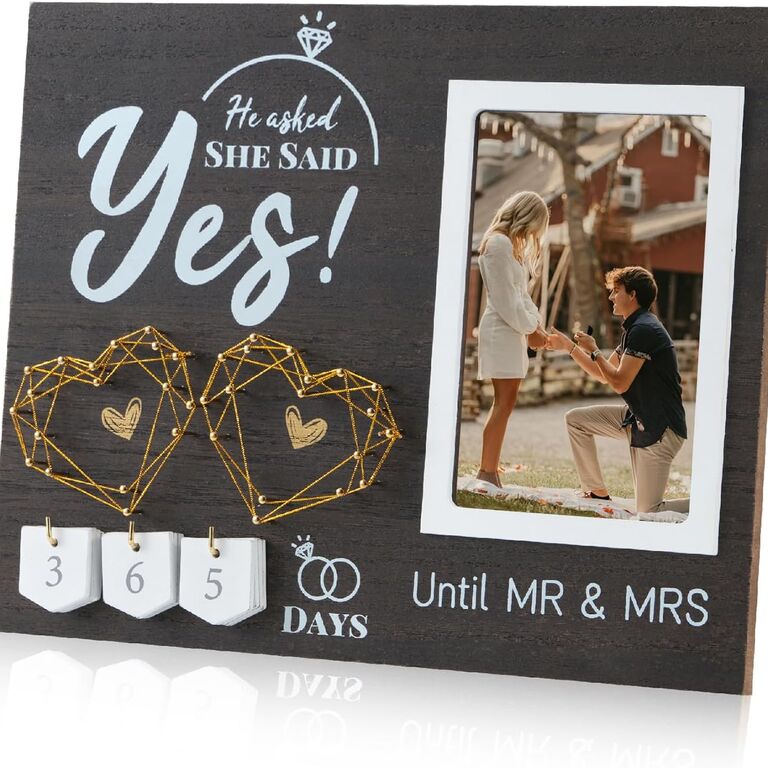 This wooden picture frame helps the couple count down the days left until their wedding day. With handcrafted string art hearts and the ability to mount on the wall or stand on a table with the built-in easel, this engagement photo frame is quite versatile.
Romantic Capiz Shell Picture Frame With Gold Accents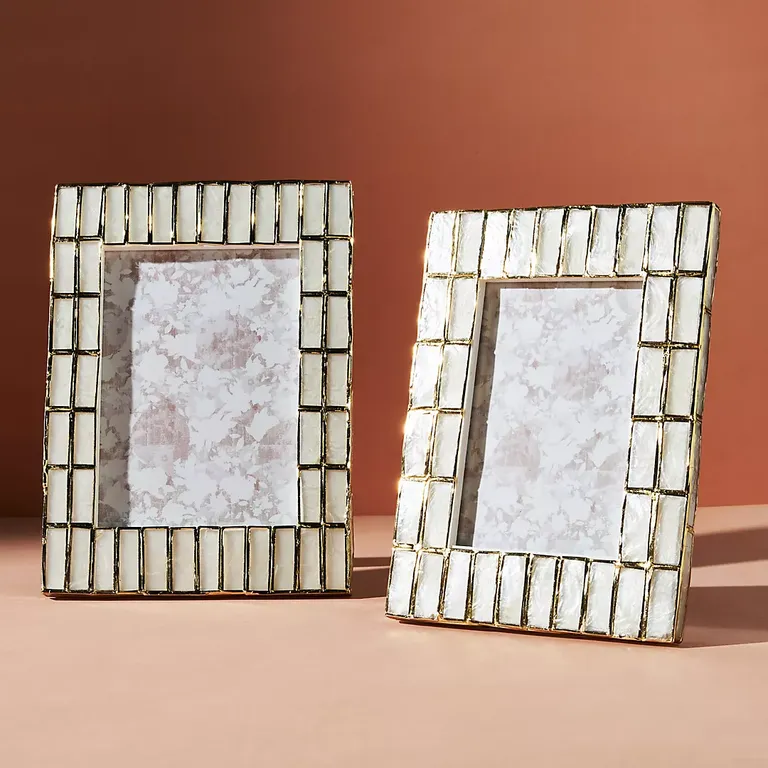 Not all engagement photo frames need to have words or extras on them. Often, simple is best. That's where Anthropologie's Heather photo frame comes in. In both 4x6 and 5x7-inch sizes, the handcrafted white capiz and brass wire border drips with timeless elegance.
Timeless Personalized Leather Engagement Picture Frame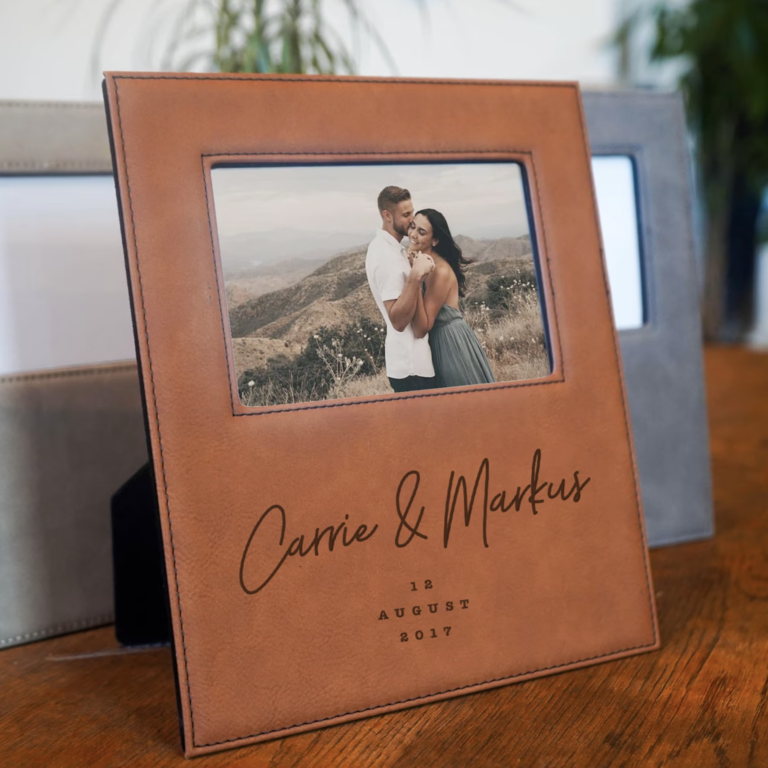 Leather is one of the most classic materials, and the beauty of this frame is beyond compare. Its fine craftsmanship is seen in the frame's personalization, which includes a few lines of text. Customers can choose between two photo sizes and either horizontal or vertical orientation.
Classic Personalized She Said Yes Picture Frame
This clean alder wood frame has been designed in Merrillville, Indiana, where the company can also laser engrave your name and engagement date under the words, "She Said Yes." It comes nestled in a gift box, making it even easier to surprise your fiancé with the perfect gift.
Adorable Rustic "Better Together" Picture Frame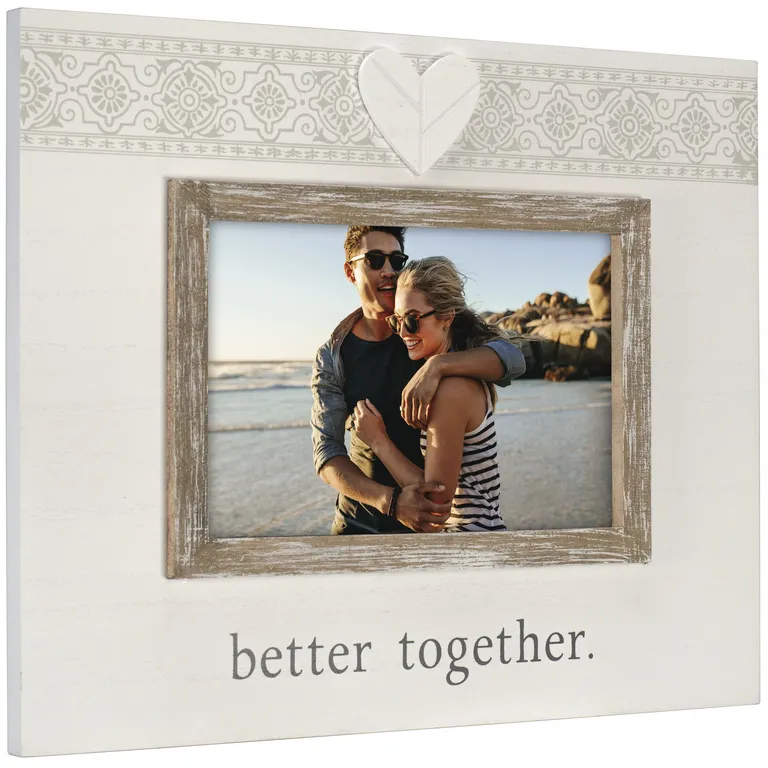 Display your favorite engagement photo with this rustic, silkscreened frame. Giving off driftwood-meets-beach-house vibes, the simple "better together" phrase reassures the couple that two is better than one.
Elegant Personalized Stained Glass Engagement Frame
This custom engraved green and clear glass picture frame from renowned glass artist J Devlin captures your engagement photo perfectly. The handmade keepsake frame can be personalized with your names and engagement date in white frosted letters along the bottom and comes ready to sit on any surface.
Outdoorsy "Let The Adventure Begin" Picture Frame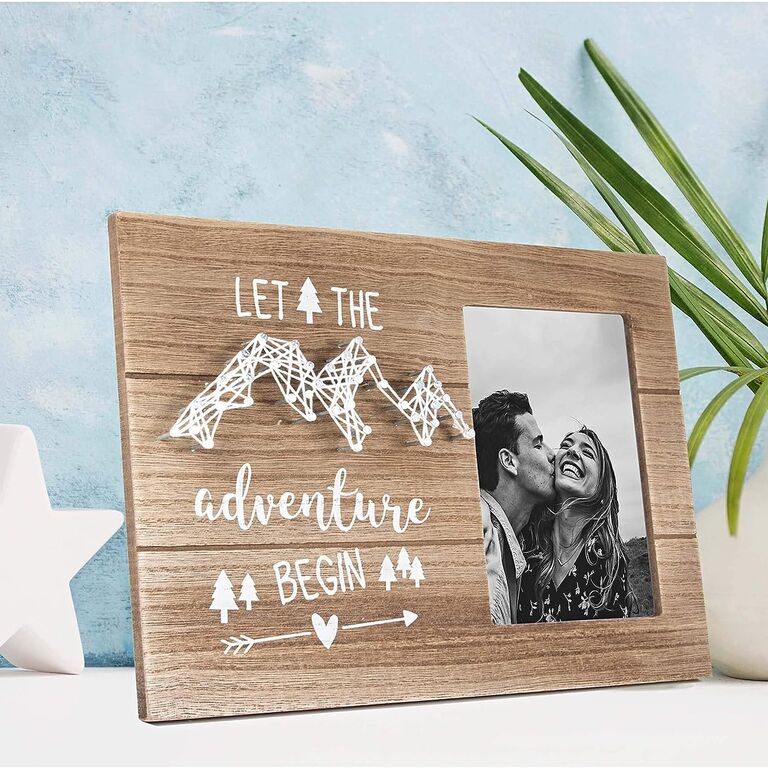 Engagement is the first step towards the grand adventure of marriage. This wooden string art frame leans into that sentiment by announcing, "Let the Adventure Begin." While this frame does come with the hanging hardware attached, it can also stand if you would prefer to display it on a table or dresser.
"He Asked, He Said Yes" Rustic Picture Frame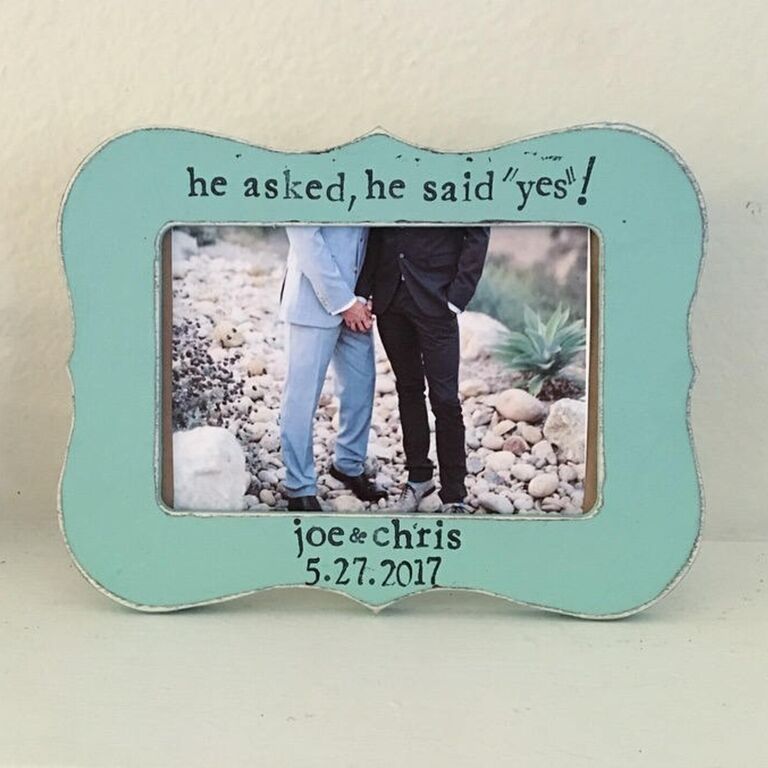 Coming in over a dozen vintage colors, this frame celebrates the joy of two people coming together. It is hand-painted, distressed and personalized by the designer in Southern California, which highlights their dedication to the craft and shows customers each order is made and packed with love.
Beautiful Personalized Wood Engaged Picture Frame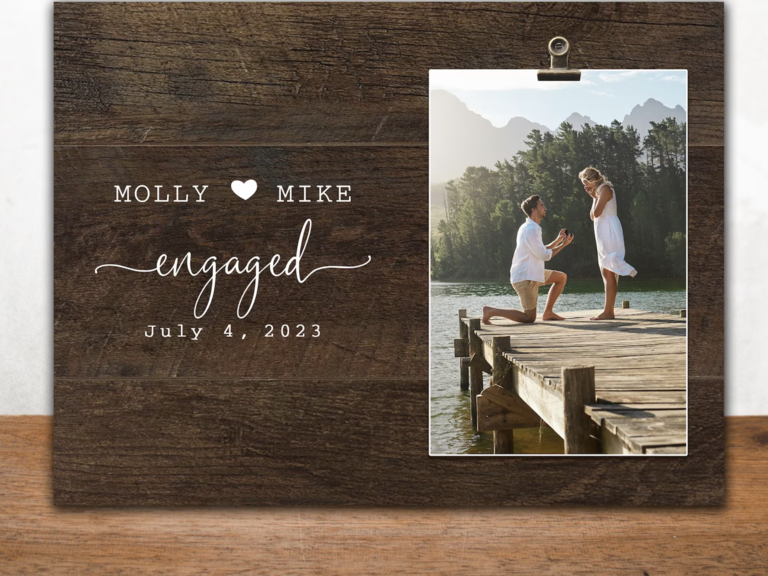 Surprise your loved one with this rustic wood frame, complete with a clip to pop your engagement photo on quickly. We love this personalized engagement frame because you can quickly switch the photo, making it easy to show off all the different shots you got from your engagement photo session.
Vintage-Inspired Mercury Glass Picture Frame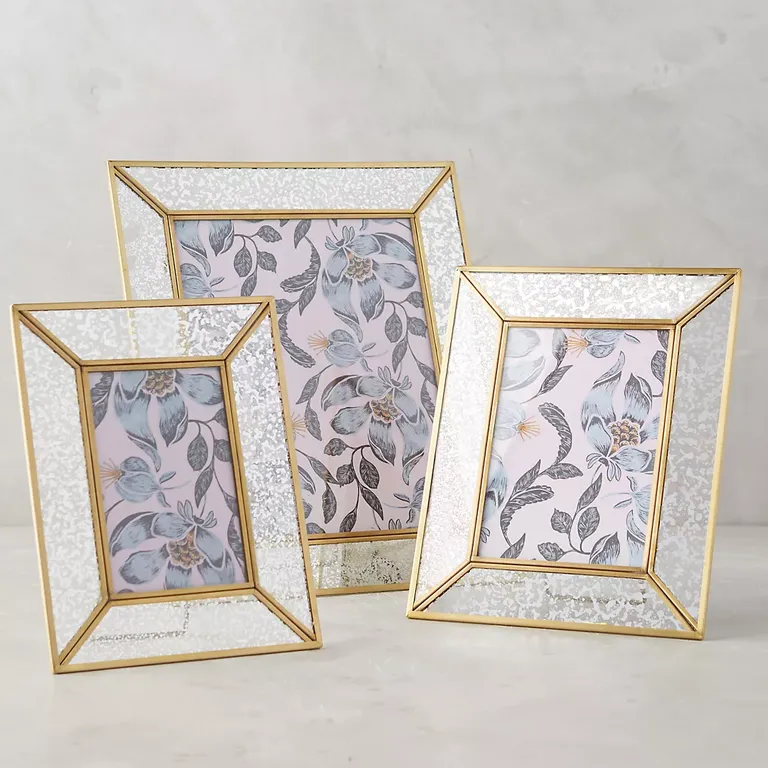 Mercury glass involves layering a silver solution in between glass layers, creating a unique, antique design. This frame harnesses this technique along with brass and iron to hold your engagement photo. The natural elements of this classy frame fit into a myriad of decor styles, making this frame as versatile as it is gorgeous.
Cute "We're Engaged" Picture Frame With Names and Date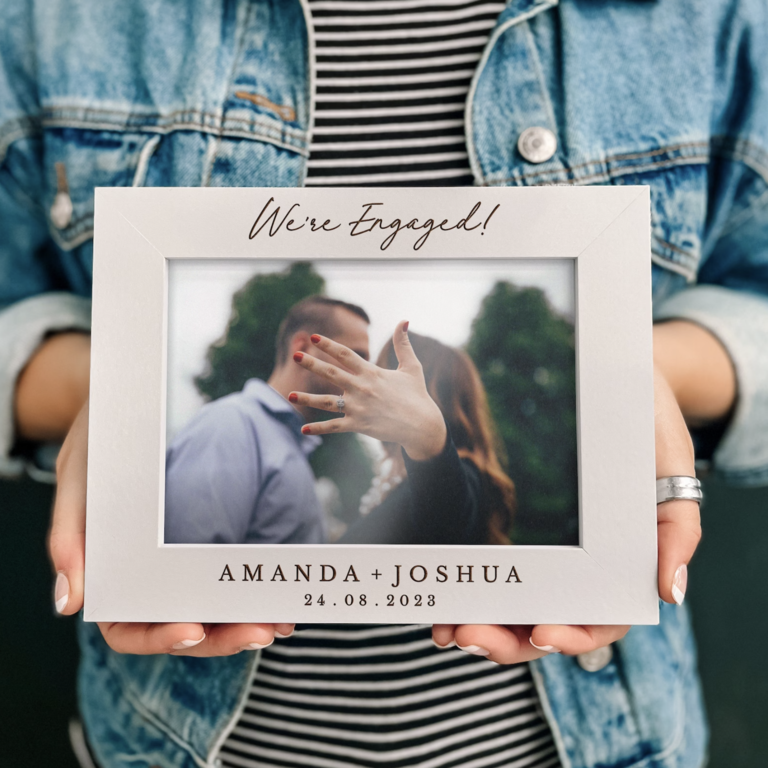 Another charming engraved picture frame announces, "We're Engaged" across the top. Available in both white and gray for a modern feel or oak for a more rustic, natural vibe, this well-reviewed and customizable frame comes in multiple sizes to make sure it will fit wherever you want it.
Timeless "We Decided On Forever" Picture Frame
This budget-friendly silver plastic engagement frame can showcase your favorite engagement photo above the words, "We decided on forever." We particularly like the silver lettering that keeps the words more muted, allowing your photo to stand out.
Stunning "You Will Forever Be My Always" Picture Frame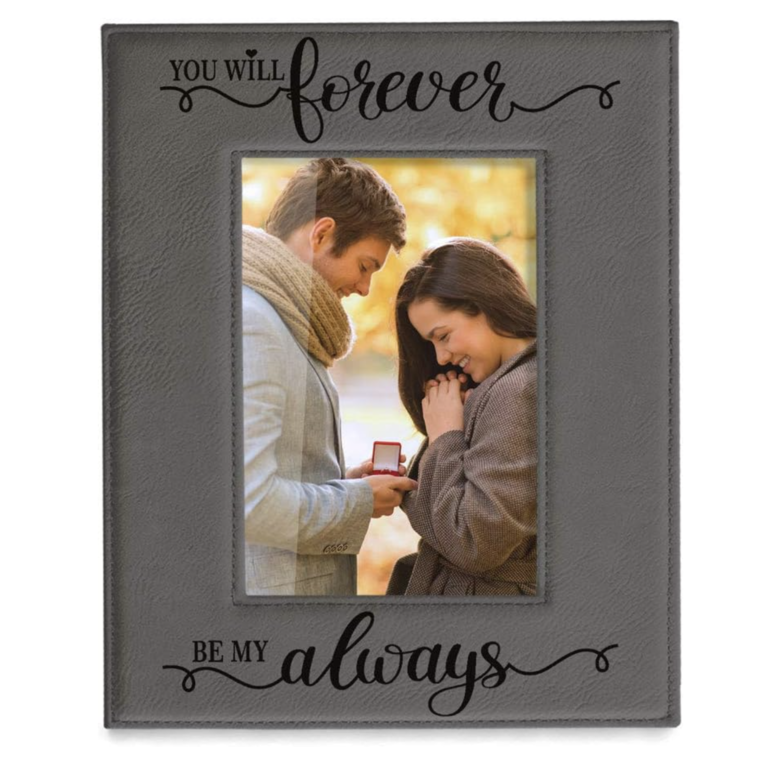 Agreeing to get engaged is no small decision. This engraved leather picture frame celebrates that with the words, "You will forever be my always." Available in two sizes, each with a proper glass front, purchasing this frame also supports a small business in California.
Modern Personalized Acrylic Engagement Picture Frame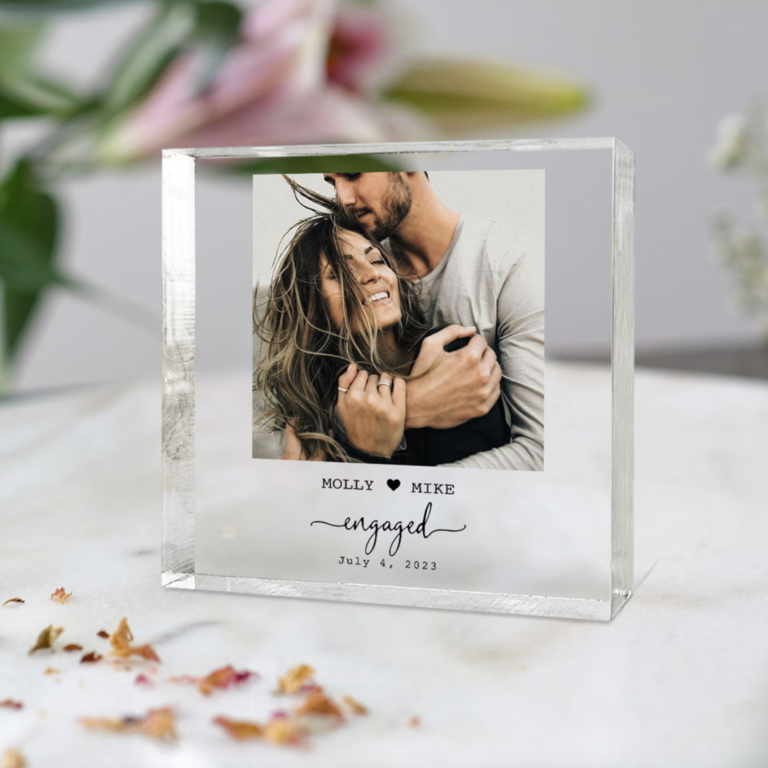 This engagement photo block comes in three sizes with your photo already enclosed in the frame. With your names, date and the word "Engaged" carved into it, this frame can stand the test of time, just like your love.
Luxurious Waterford Crystal Photo Picture Frame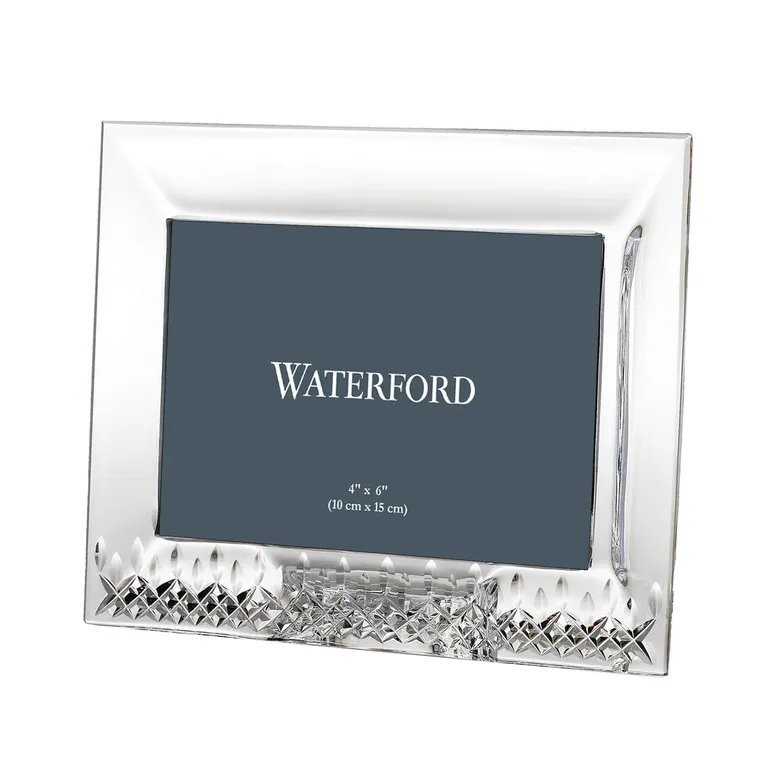 Since 1783, Waterford artisans have been creating crystal frames to showcase life's best moments. This Lismore Essence horizontal photo frame uses the classic pattern to draw the viewer's attention. The slim profile makes it easy to display on a desk, mantle or nightstand.
"The One Where He Put A Ring On It" TV-Inspired Picture Frame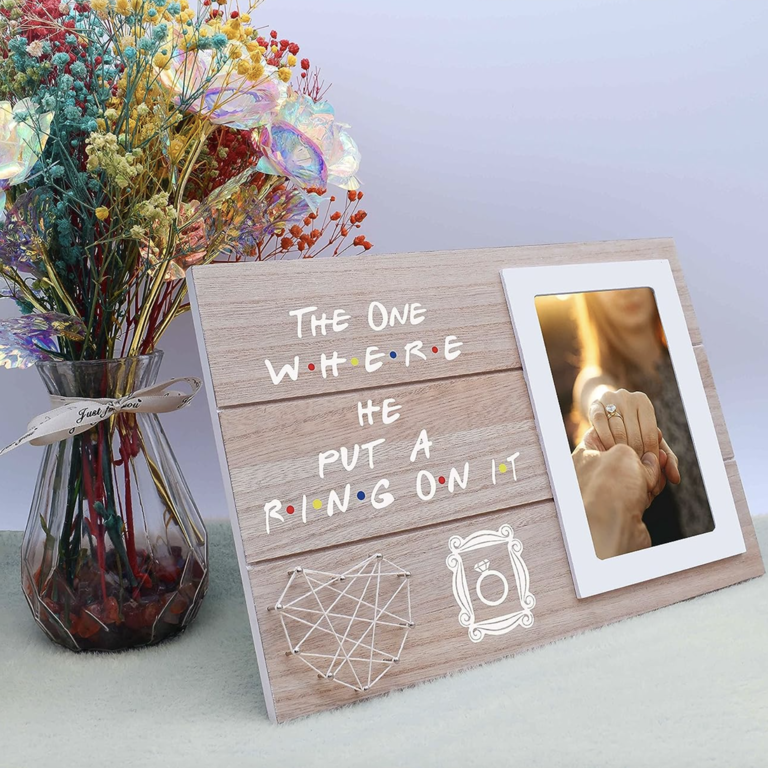 This frame is made for the couple that has binged all ten seasons of the beloved TV series "Friends" while dating. Made to highlight the moment when your life changed for the better, this cute frame displays a 4x6-inch vertical photo.
Whimsical Sparkly "Bling Bling, I Got The Ring" Picture Frame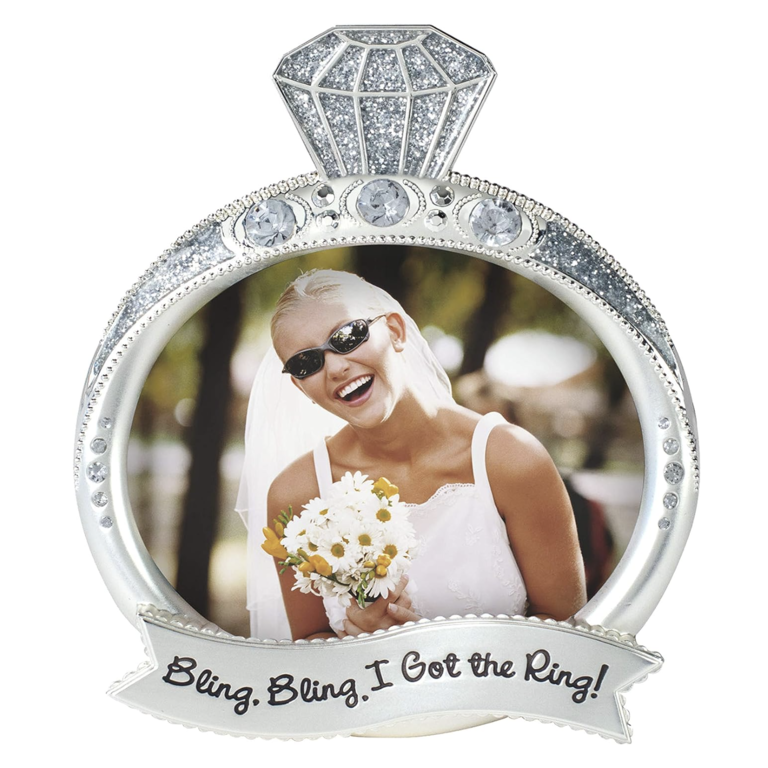 While engagement photos are first and foremost about showcasing the love between the newly betrothed, they are also a great chance to show off your new bling. This glitzy frame is a small option but very sturdy. You will have to cut your engagement photo to fit it, but if you like a little extra glam, this is the way to go.
Charming "My Dearest, I Love You Ceramic" Picture Frame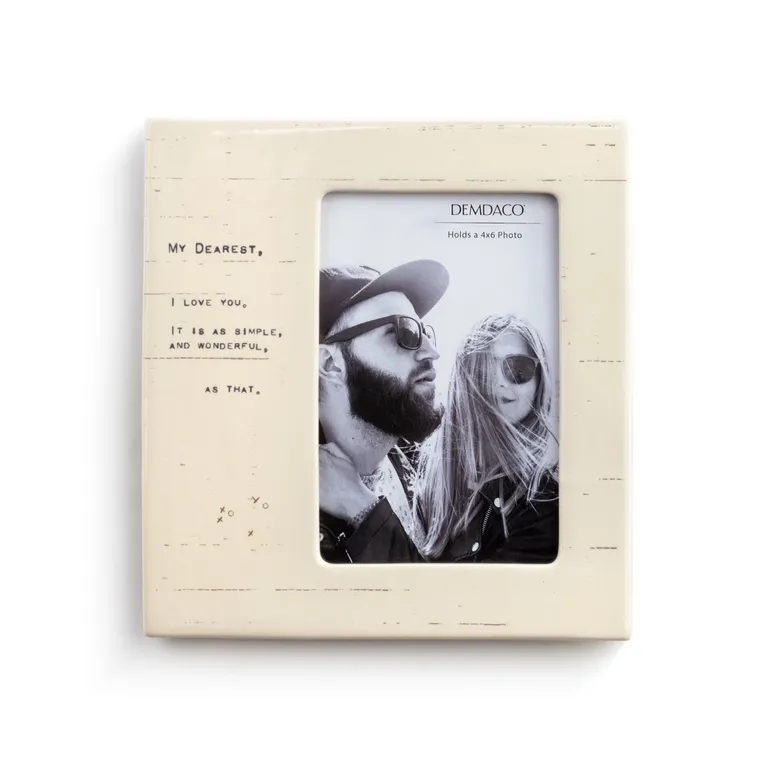 We absolutely adore this cream stoneware picture frame that holds a 4x6-inch print. The typewriter font says, "My dearest, I love you. It's as simple, and wonderful, as that." We think this frame will send quite an endearing message to your loved one, especially during such a treasured time as engagement.
Ornate Gold Picture Frame With Victorian Vibes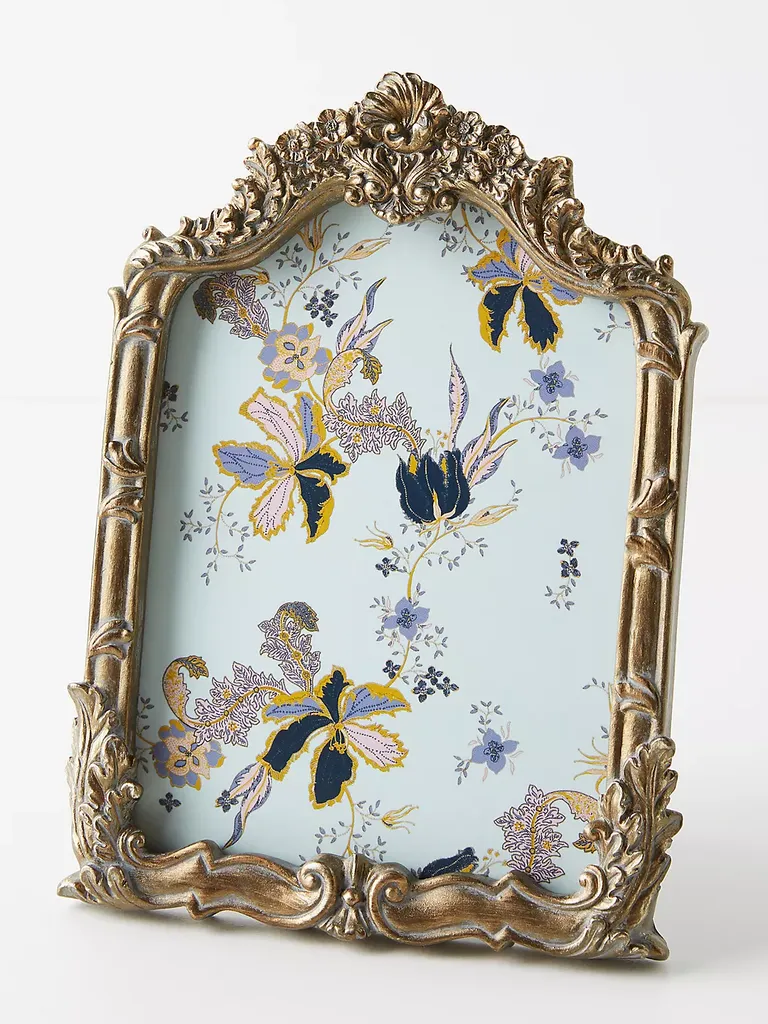 Whether your engagement photos are classy or bohemian, over-the-top or drip with simple elegance, this Anthropologie Victoria Frame can capture them in just the right light. Coming in a variety of sizes, the ornate detail and craftsmanship are only meant to highlight the people held within it.
Keepsake Customized Engagement Picture Frame With Map & Date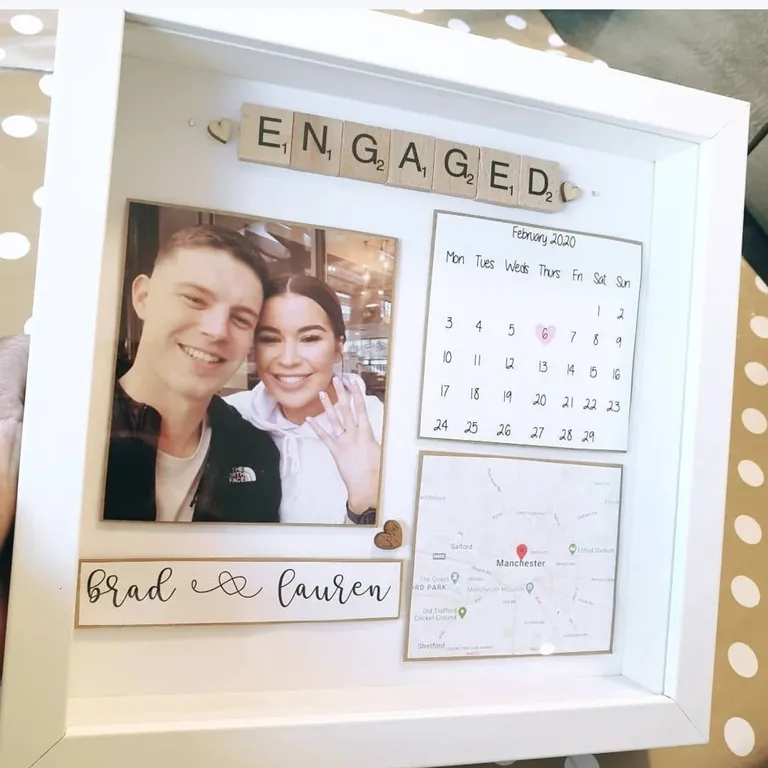 Sometimes a frame is just a frame, but maybe you want more than that. That's when this personalized sign comes in, which can hold your engagement photo alongside a calendar with the engagement date marked, as well as a map of the location the "yes" took place. You have multiple wood stains to choose from, and the shop promises to ship it on the next business day, making this both a fast and chic engagement frame option.
Unique Heartbeat-Print Picture Frame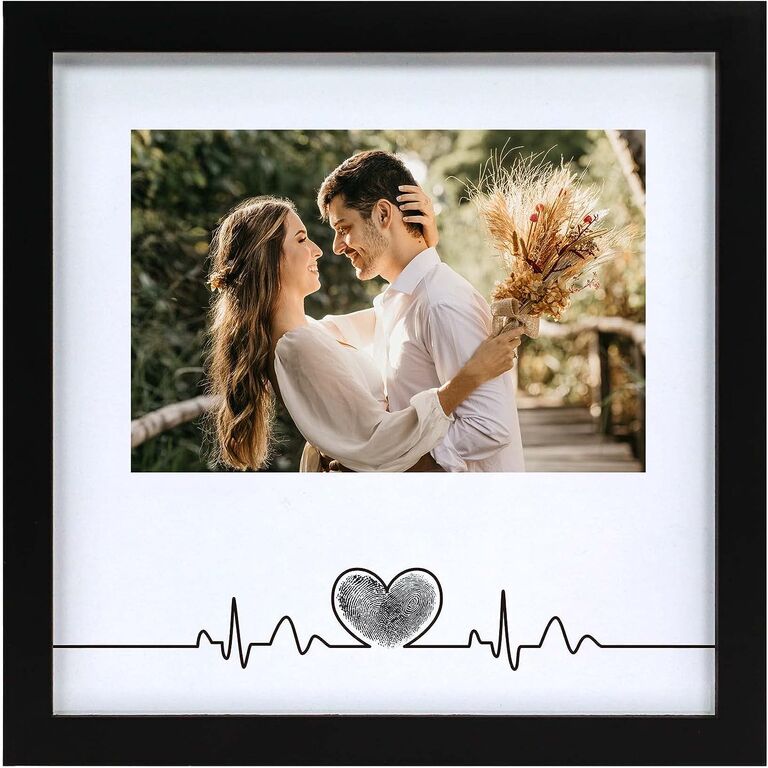 Holding a 4x6 inch photo, this black picture frame has a wide mat to help bring attention to your engagement photo. It also comes with an ink pad to put your own fingerprints on the heart on the bottom of the frame for a meaningful touch.
Elegant Silver Picture Frame With Dried Lavender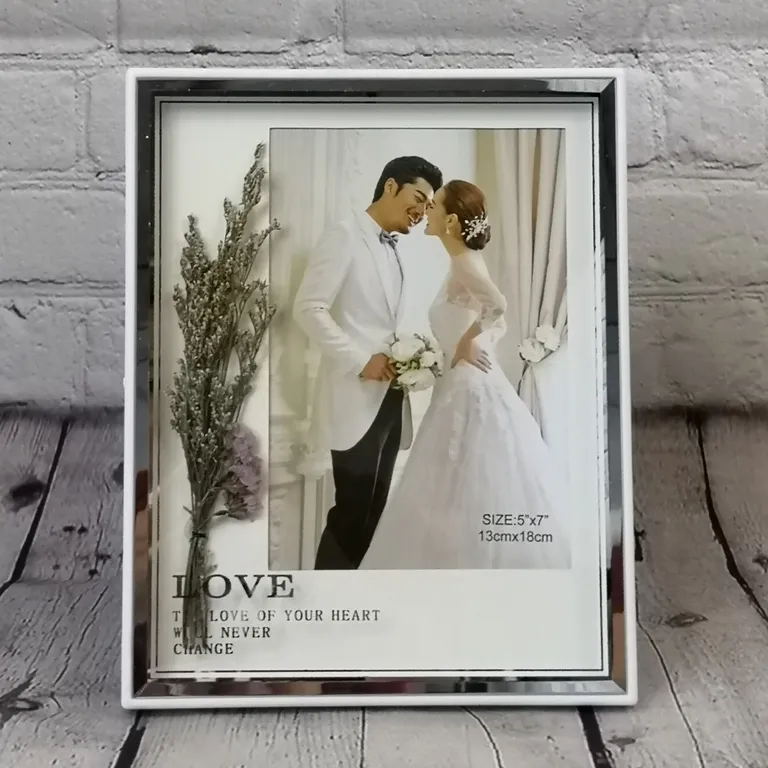 If you're looking for a frame with a bit of depth and texture, check out Le Prise's Aberdeen frame. Complete with dried lavender inside and a mirrored surface, this frame can either hold a 5x7-inch photo or an 8x10-inch print, depending on how big a statement you'd like to make.