28 Fun & Flirty Beach Engagement Photos You Need to See
Get ready to have fun in the sun.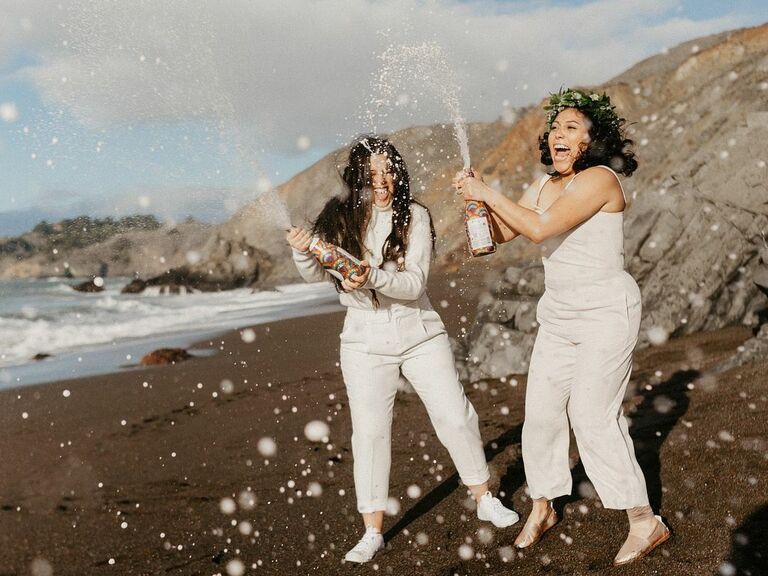 Photography: Liv Schultheis
For any coastal-loving couple, doing beach engagement photos is a no-brainer. Some couples have lots of meaningful memories tied to their times together at the beach and want to represent that in their photos. But even if you're not a frequent beach-goer, doing this type of engagement session is great because of the natural light and scenic views. So if an intimate and romantic beach photo shoot sounds good to you, read below to learn everything you need to know to prepare. From what attire to wear to what time to schedule your session, we have all your questions answered thanks to industry experts. Plus, images of real couples during their beach engagement photo shoots to inspire you.
In this article:
Attire Considerations for Beach Engagement Photos
Halie Child, luxury wedding photographer expert and owner of By Halie Wedding Photography, says to-be-weds can't go wrong with wearing neutral tones for their beach engagement photos, such as pale blues, beige and green seagrass. "Keeping your color tones soft will ensure your look is cohesive with the environment and the attention stays on you as a couple (and not the bright clothing you could have worn)." For couples who want their outfits to stand out, Child suggests they consider wearing swim attire at some point during the photo session. "For those feeling really bold, end the session by putting that beach attire into good use—in the water!" But remember, no matter what type of engagement shoot you're doing it's best to wear something comfortable because it results in you feeling more confident in front of the camera.
Photographers' Beach Engagement Photo Tips
After you've researched and found the perfect photographer on The Knot Marketplace, you might believe there's nothing left to think about before the shoot, but that's not true. There are a few things you should know before you head out to your beach engagement session so you're fully prepared. Read these helpful tips from expert wedding vendors about how to get the most out of your beach day.
Tips for Beach Engagement Photo Poses
Jenna Brisson, photography expert and owner of Jenna Brisson Photography, believes being yourself is key to gorgeous engagement photos. "Don't overthink it. Show up and try to be present with your partner and have fun. The more you two interact together naturally, the more natural your photos will look. Your photographer is there to guide you, but try not to worry too much about how you look in photos. Trust the process, trust the photographer and you'll create really beautiful images together that represent you two as a couple." Nora Sheils, wedding expert, co-founder of Rock Paper Coin and founder of Bridal Bliss, agrees with Brisson and adds, "Couples that look the most natural and happy in their environment will be captured that way in their photos. If you don't like getting wet sand on your feet, that will show in your photo, so pick a spot where you can sit and be comfortable and natural."
Tips for Beach Engagement Photo Props
We love the idea of including beach-related props during the beach engagement session. "Incorporate fun cover-ups, hats and sunglasses to accessorize. Style the session to feel like a real beach day with beach blankets and plan for a picnic or beach drink together in your beachwear," Child suggests. Use your props in action too, for some great dynamic shots. Look for sea glass or seashells in the sand, get ice cream from the local parlor and walk on the beach, use a bucket and shovel to build sandcastles or catch waves together if you both love to surf. However you and your partner choose to express yourself, it will make for some great personalized photos.
Tips for Beach Engagement Photo Weather
One of Sheils' top three tips for couples taking beach engagement photos is to check the weather. "Knowing what to expect (cold, windy, damp, hot) will allow you to better prepare for it and look amazingly calm and perfect in your photos." A little wind is great because it creates beautiful movement with your hair or outfit, but too much can send sand right into your eyes, so always keep an eye on the forecast. But with that said, Sheil wants couples to be flexible. "You might need to change your shooting days one, two, or four times! Remember the time of year you're taking photos, and be aware of storms in the area. With the storm comes the sun, so you will get your pictures taken eventually, so don't stress, or it will show."
Tips for Beach Engagement Photo Timing
Outdoor engagement photo shoots are always about timing. So if you're wondering what's the best time day to take beach engagement photos, Brisson says it's during golden hour. "This is the last hour before the sun dips below the horizon. The quality of light this time of day is beautiful, soft and more flattering. Be sure to take a few photos after the sun dips below the horizon, too. Photographers call this time of day blue hour, and the light is pure magic for photographs."
Another thing to consider is what day your photo shoot will fall since warm weather and certain holidays bring large crowds to the beach. "As tempting as it might be to plan your beach session on a mid-summer weekend, think again. Consider planning your session for a summer weekday evening or (if weekends are a must for you) in the few weeks leading up to Memorial Day or following Labor Day, before and after the crowds tend to be more present. That way, you don't have a crowd of onlookers in the background of your photos," Child says.
Beach Engagement Photo Ideas
Now that you know how to prepare for your photos, it's time to find inspiration. Look below at these 28 beautiful beach engagement photos of real couples to get in a romantic beachy mood.
Fun Beach Engagement Photo With a Dog
This couple and something blue pup are adorable, but not every beach is dog friendly. "If you're hoping to incorporate a furry friend in your engagement photos, it's necessary to confirm your beach allows dogs and if there are any time or seasonal limitations to doing so," Child advises.
Unique Boat Beach Engagement Photo
To advantage of your environment and use whatever is around you as props. This couple asked to sit on a local's fishing boat for a breathtaking photo.
Romantic Beach Engagement Photo of a Couple Holding Hands
Showcase your ring and ask your engagement photographer to take a close-up shot of your and your partner's hands. This photo is a perfect example of the most simple and romantic way to do this.
Sweet Beach Engagement Photo of Couple Kissing
These to-be-weds fit perfectly with their sandy surroundings because of their beige-colored outfits. We love their flowy and loose attire since it projects a relaxed beach vibe.
Fun Popping Champagne Beach Engagement Photo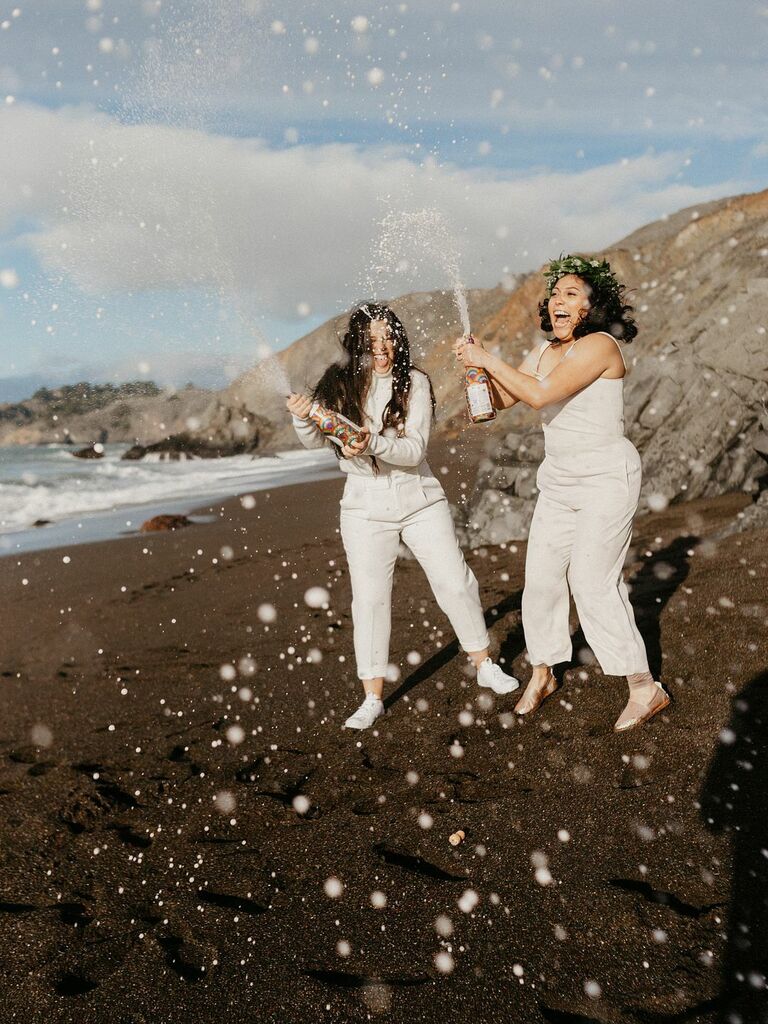 A champagne pop is a classic engagement photo shoot activity. The champagne spray is a gorgeous and unique contrast to the black sand beach.
Piggyback Casual Beach Engagement Photo
Your beach engagement photo session doesn't have to be serious. Feel free to play around and show off your and your partner's silly side.
Romantic Sunrise Beach Engagement Photo
Want your beach engagement photos to look like a still out of a romance movie? Then ask your photographer if they can take a far-off shot of you and your future spouse holding each other.
Unique Kite Beach Engagement Photo
The colorful kite in the background of this couple's engagement shoot really made their photo stand out. Consider doing this for your session with a kite that has your and your partner's initials on it.
Couple Hiding Behind a Tropical Parasol
If the weather forecast says sunny with no clouds for your beach day, bring a bag of props to shield you from some of the rays so you're not frowning in all your photos. Grab a parasol like this couple's or a vibrant umbrella to hide behind for a sneaky kiss.
Classic Beach Engagement Portrait
It doesn't hurt to get at least one engagement portrait of you and your partner. This type of photo will work perfectly on your wedding website, framed in your home or on holiday cards.
Unique Sneaky Hat Beach Engagement Photo
Even though it's similar to the parasol image above, we love the straw hat that reads, "happily ever after," since it puts focus on the to-be-weds' relationship. This is another cute way to showcase the engagement ring too.
Cute Beach Engagement Photo of a Couple Looking at the Ocean
Take the time to enjoy your surroundings. Dig your feet in the sand, listen to the crashing of the waves and have your photographer capture you doing so.
Romantic Nose Kiss Beach Engagement Photo
This beach engagement photo idea is perfect for couples who don't mind being a little silly on camera. A sweet nose kiss also works for couples who are shy about PDA.
Classic Couple Walking Down the Beach Engagement Photo
If you're nervous about your beach engagement photo shoot, start by simply walking hand in hand down the beach with your significant other. There's no need to worry about posing with this idea.
One Person Looking Back Beach Engagement Photo
Want to do a walking down the beach pose? Then don't hesitate to turn around and look right into the camera for a more personal photo.
Romantic Beach Engagement Photo of a Couple in a Blanket
Cuddle up with your boo and grab a beach blanket as one of your beach props. This is a great idea for couples taking fall or winter beach engagement photos.
Intimate Beach Engagement Photo With a Dog
If you can't imagine not including your dog in engagement photos, ask your photographer if it's okay for your pup to be in a couple of shots. Give the photographer your dog's favorite chew toy to hold behind the camera so they aren't distracted.
Couple Laughing Beach Engagement Photo
We love seeing candid photos of couples enjoying each other's company. Tell each other jokes or talk about funny memories you've had together so your photographer can capture those laughs on camera.
Couple Running on the Beach Engagement Photo
Have your "Baywatch" moment and run alongside the beach for one of your engagement photos. You can do it in casual clothes like this couple or wear swimsuits.
Sunset Beach Engagement Photo on a Boat
If you and your partner are always on the water, incorporate that love into your photos. This couple had their engagement photographer snap pictures of them hopping onto their boat before they sailed off.
Up-Close Beach Engagement Photo
Let the passion show in your beach engagement photos with an up-close shot of you and your partner. We love the idea of using this type of photo on your wedding website welcome page.
Romantic Beach Engagement Photo of Couple Kissing
Go all in and have a romantic movie moment with an intense kiss. The sunglasses on the soon-to-be groom make the beach engagement photo session natural as well.
Couple Cuddling on the Beach Engagement Photo
You don't have to stand for all your beach engagement photos. Relax, and snuggle up in the sand with your significant other as this happy couple did.
Creative Beach Footprint Engagement Photo
It was a little chilly at this sunrise beach photo shoot, but that didn't stop the couple and photographer from getting some great shots. We love the couple's footprints next to one another as they start their new journey together, so why not take the cuteness up a level and create a heart out of them too?
Couple Wearing Causal Attire for Beach Engagement Photo
Try to dress as comfortably as possible for your engagement session as this couple did. You don't want to wear an outfit that's too tight or not ideal for the beach environment because it'll show in your photos.
Casual Beach Engagement Photo of Couple Holding Hands
This beach engagement photo idea is perfect for couples who want to highlight the spectacular views of their surroundings. Ask your photographer if they can do aerial shots with a drone or scope out a beach with hills so they can capture you from a higher vantage point.
Cute Smiling Beach Engagement Photo
If looking intensely into each other's eyes elicits laughter, go with it. Candid photos of couples smiling and laughing with one another always turn out amazing.