The Best Types of Wedding Dresses for Your Body Shape
We know, there are almost too many dress options out there—but the fastest way to finding your dream dress is figuring out the wedding dress shape that works best for your body.
Shopping for wedding dresses is one of the most exciting parts of planning for your day. However, finding the right dress can also feel a little overwhelming, especially with so many different types of wedding dresses available. While most wedding dresses look gorgeous on the hanger, the truth is that certain wedding dress shapes tend to flatter specific body types.
For the record, we think you should wear any wedding dress you feel your absolute best in. But if you're curious about which types of wedding dresses might look best on your frame, take a look at our helpful guide. We'll review the most popular wedding dress shapes and tell you the types of bodies they tend to flatter.
Ball Gown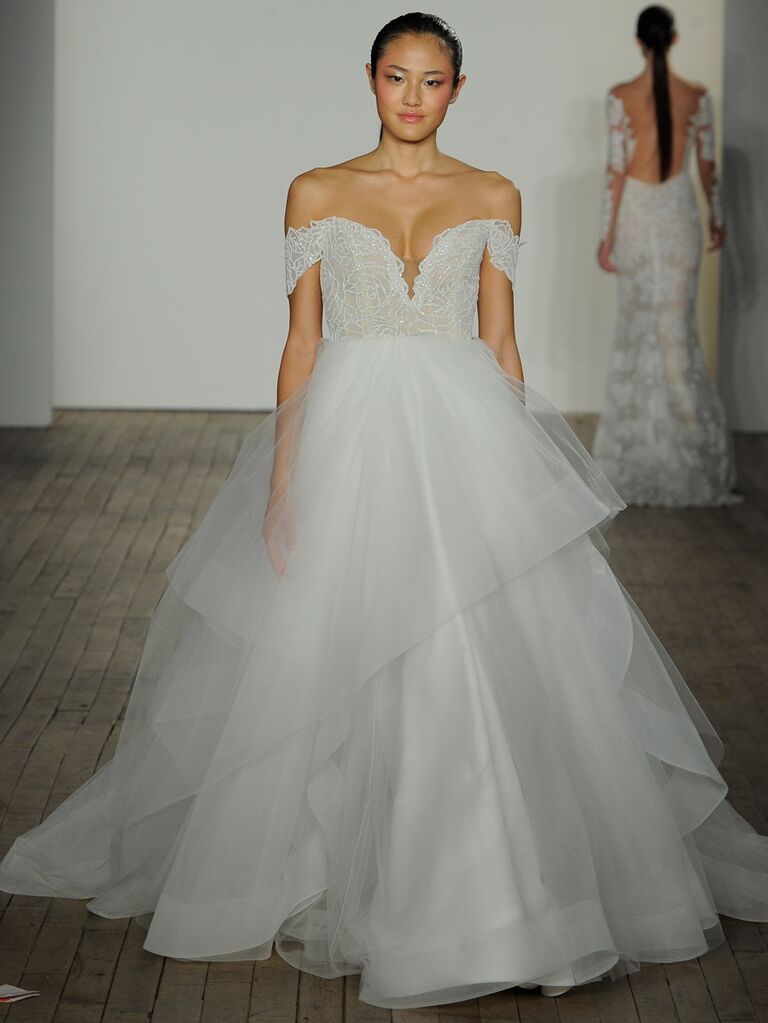 The number one distinguishing trait of a ball gown is its very full skirt. The silhouette also has a fitted bodice and is cinched at the natural waist. This is the paramount "princess" wedding dress and will appeal to brides who always dreamed of a fairytale wedding.
You'll love it if:
You have a boyish figure, since the fullness of the dress will make you look curvier. It's also great for pear-shaped brides, since it defines the waist and the skirt skims over the hips. If you're busty, you'll love how much it balances you out.
You could hate it if:
You're a petite bride. You may feel "swallowed up" by a super-voluminous dress like this one. Also, if you want a dress that flaunts your legs and your curves, this may not be the wedding dress type for you.
Dress by Blush by Hayley Paige
Dropped Waist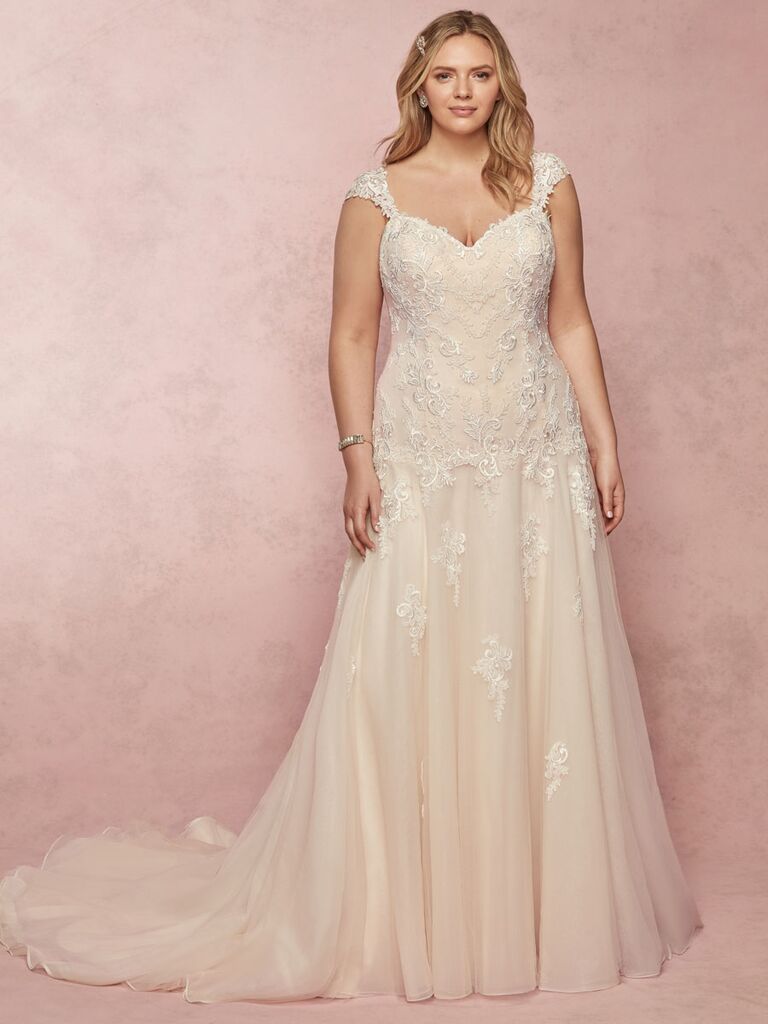 This wedding dress shape is exactly what you'd imagine—it drops and flares out slightly below the waistline around your hip area.
You'll love it if:
You want to flaunt your torso, since it hugs your waist and hips.
You could hate it if:
You have an athletic figure—you might find you look a little boxy if you don't have a lot of curves. It's also not the best dress type to highlight your hips and legs if you want to show off those body parts.
Gown by Rebecca Ingram
Sheath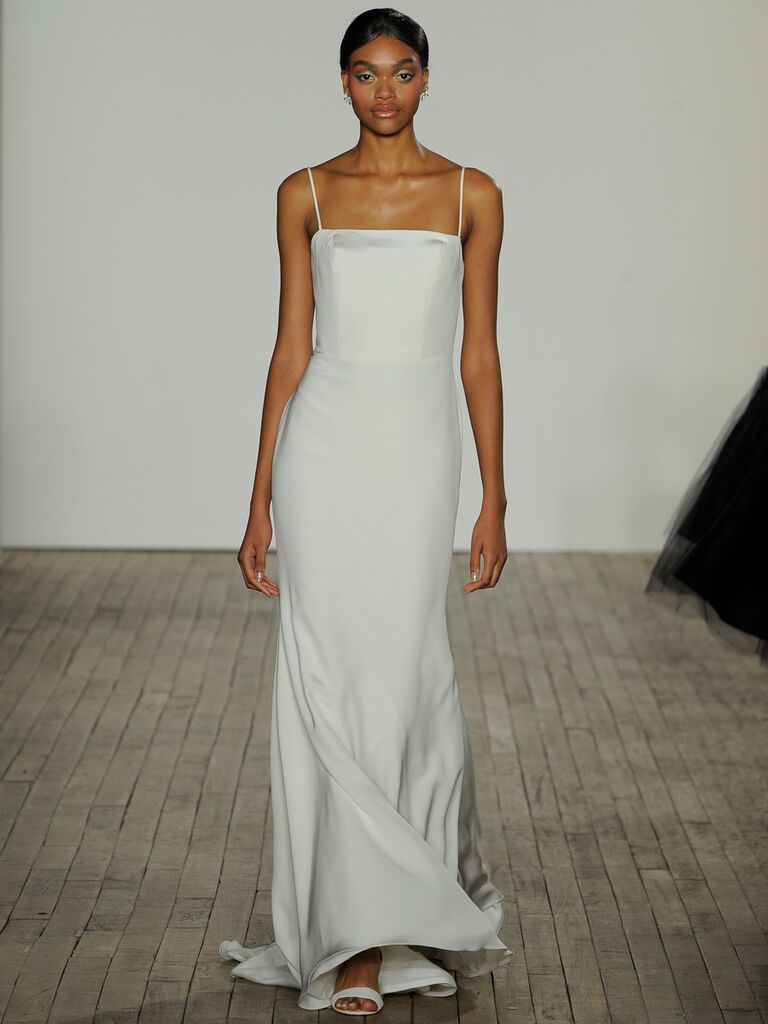 Sometimes known as a column dress, the sheath dress is a form fitting style that follows the body's natural line and doesn't flare out. It's often simple and elegant and can allow you to focus attention on your jewelry, hair or a dramatic feature of the dress (like a drop back or daring neckline).
You'll love it if:
You're petite, since this slim shape adds length. This dress type also looks great on taller brides.
You could hate it if:
You're pear shaped, or extra curvy. You risk looking a little unbalanced.Gown by Hayley Paige
Trumpet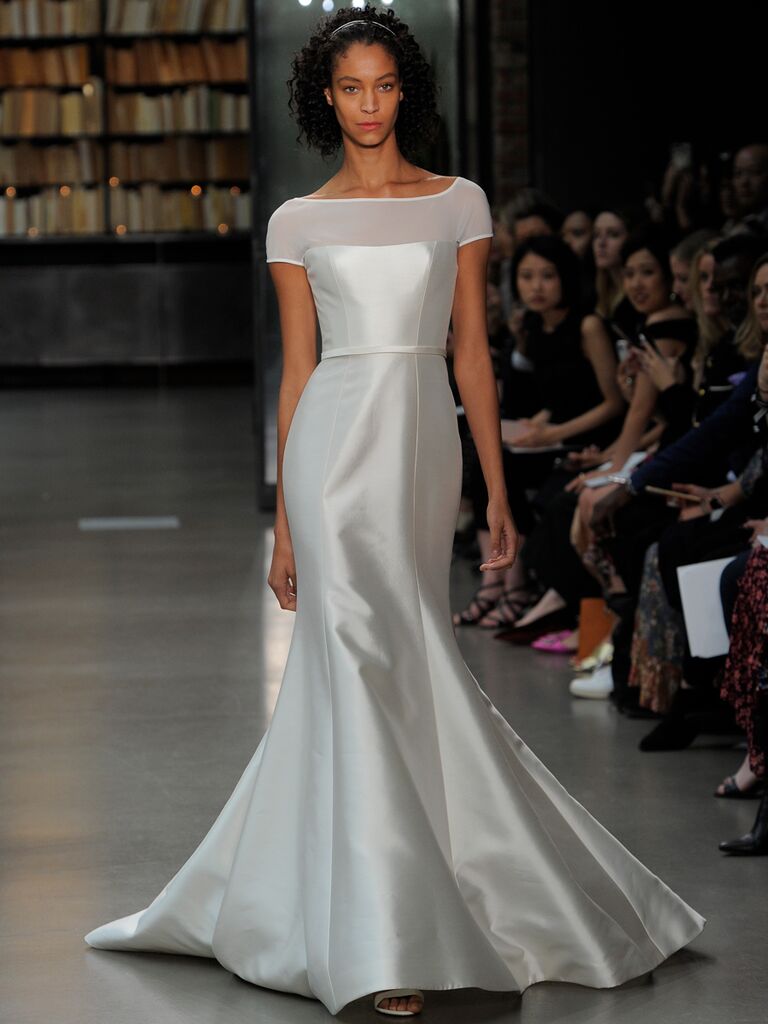 Not to be confused with mermaid, a trumpet dress will have a straight-lined skirt that subtly flares from the knee toward the hem in a trumpet shape. This wedding dress shape often isn't as restrictive as a mermaid and may be a good compromise if you want a form fitting dress with a little more movement.
You'll love it if:
You're on the curvier side and looking for a form fitting dress that's still easy to move in. A trumpet dress will show off your bust and hips.
You could hate it if:
You're not comfortable with flaunting your curves. Also, be careful if you have a rounder-shaped torso—this dress style may not flatter you.
Gown by Amsale
Empire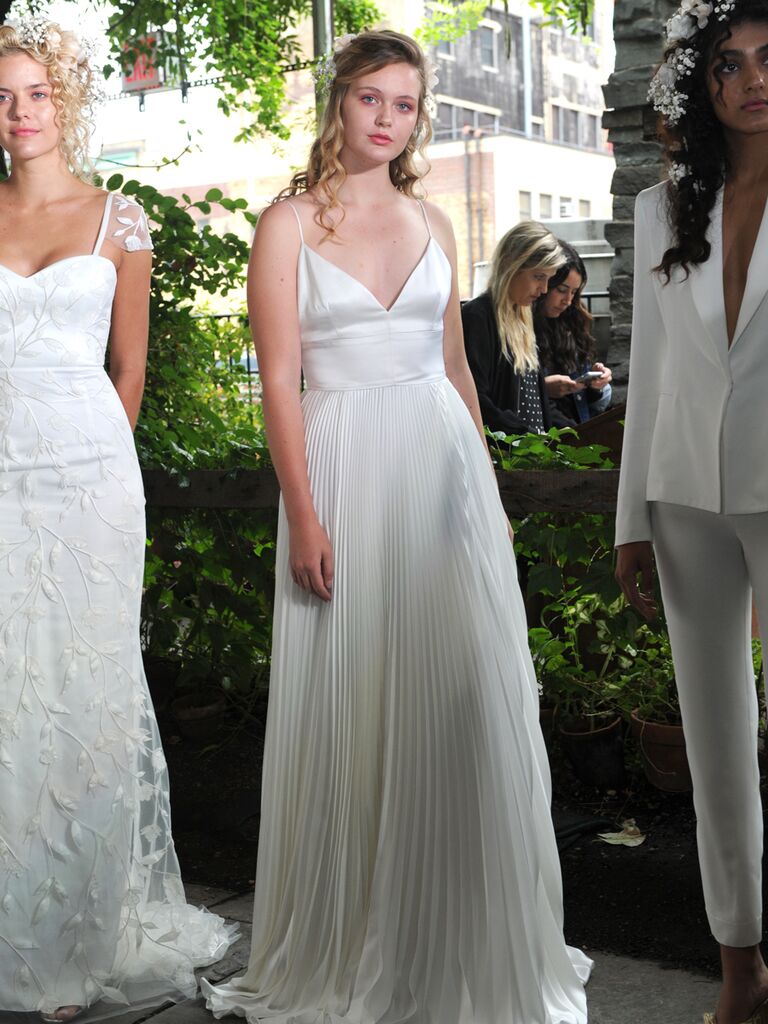 This dress type is known for its fitted bodice and waistline that hits right above the natural waist, with a loosely fitted skirt that skims the body.
You'll love it if:
You're petite. Since the style hits below the bustline and skims over your waist and hips, you'll look instantly longer and leaner. This wedding dress type also tends to accentuate the chest while deemphasizing the legs.
You could hate it if:
You're ultra curvy. This silhouette could overemphasize a large chest or full hips.
Gown by Alexandra Grecco
A-Line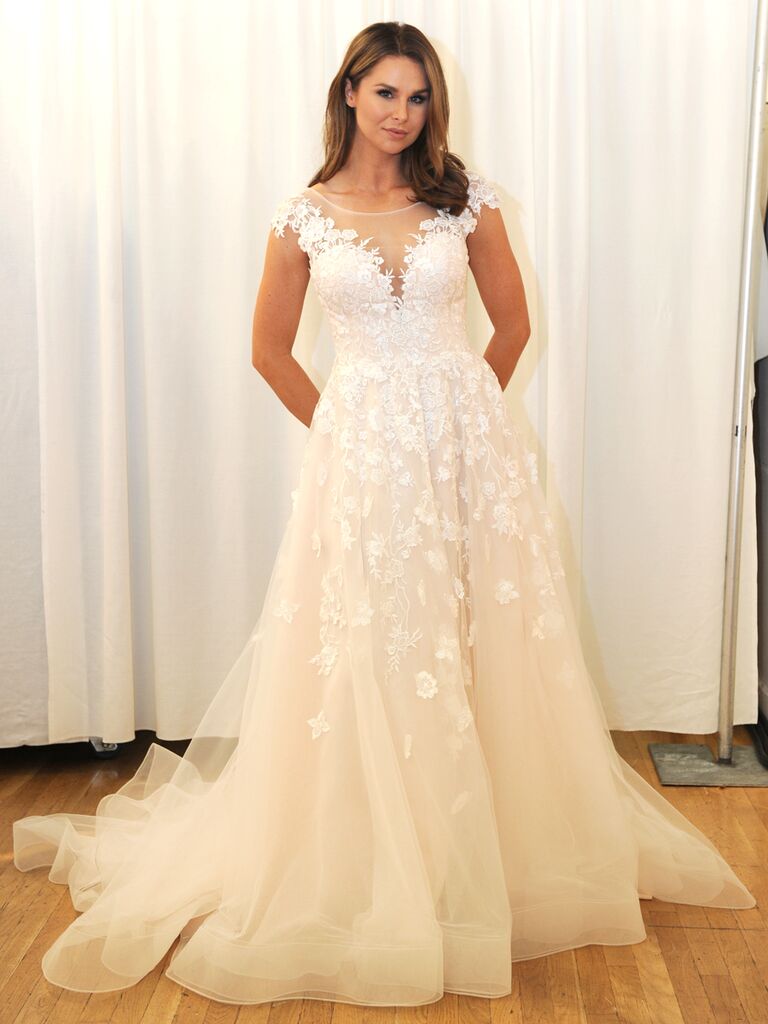 As its name implies, this cut is narrow at the top and extends out along the body in the shape of—you guessed it—an A.
You'll love it if:
You're, well, anyone! This dress type works for every body type. There's a reason it's one of the most popular wedding dress choices—it's super-flattering on almost everyone and allows tons of movement on the dance floor and beyond.
You could hate it if:
You're looking for something super sexy. The loose-fitting skirt is appealing for lots of reasons, but not because it hugs your curves.
Gown by Moonlight
Mermaid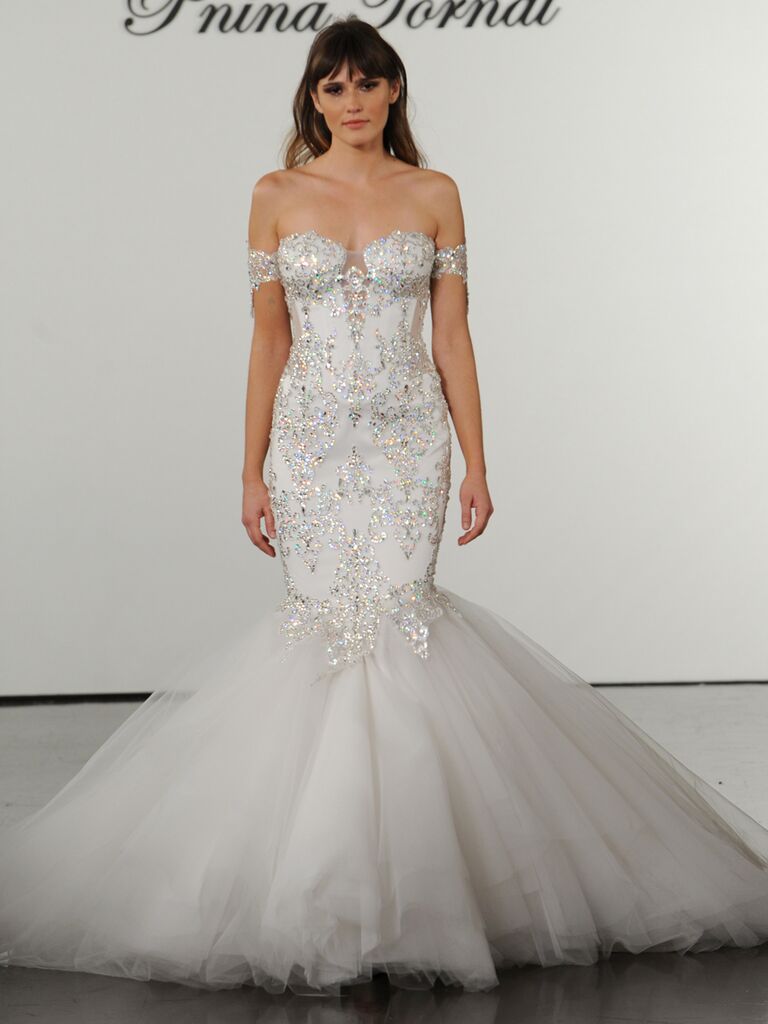 The mermaid dress is defined by a slim, tapered, curve-hugging skirt that follows the line of the hips and thighs, and flares out around the knee.
You'll love it if:
You have an hourglass figure and want to show off your curves.
You could hate it if:
You already know you don't want something tight—this style is pretty constricting.
Gown by Pnina Tornai
Tea Length
Increasing in popularity, especially among brides who are planning a low-key and relaxed wedding, the tea length wedding dress usually features a fitted torso, tapered waist and a flaring skirt that ends around the knees.
You'll love it if:
You want to show off your legs and accentuate your curvy torso. This dress also provides for a lot of movement.
You could hate it if:
Petite brides can make a tea length dress work, but only if they have the dress fitted properly. Without the right fitting, a vertically challenged bride might find that her skirt ends at an unflattering length.
How to Choose the Right Type of Wedding Dress for Your Body
At the end of the day, the right wedding dress for you is the one with which you fall in love. Though certain wedding dress shapes tend to flatter certain figures, that doesn't hold true for all dresses and all bodies. Don't be afraid to try on a variety of different wedding dress types to discover which dresses appeal the most to you. Before you head to your first bridal salon appointment, check out our top 10 things to know before you go wedding dress shopping.