Why The "Best Wedding Dress for Your Body Type" is a Myth
Plus, how to shop for your preferences with Galia Lahav wedding dresses.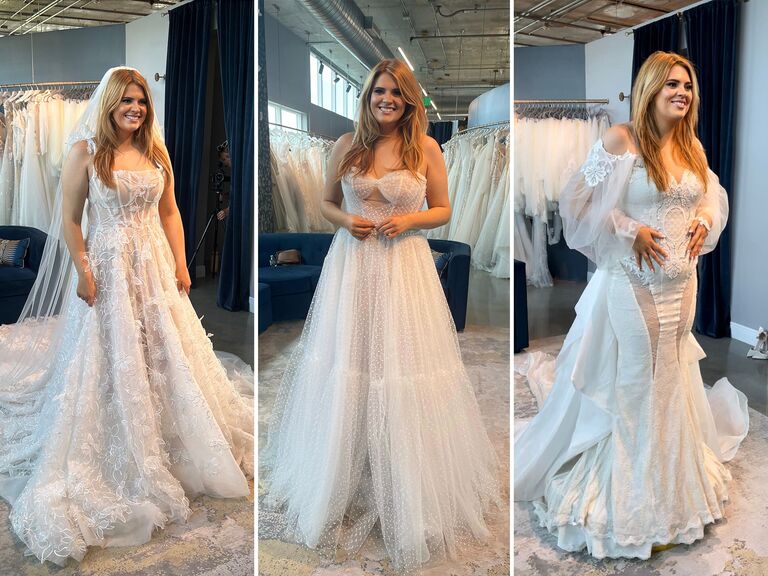 When it comes to choosing a wedding dress for your body type, there is a commonly held belief that certain silhouettes are only suitable for specific shapes. You might have heard recommendations like an A-line dress is for pear-shaped bodies or a mermaid gown is for hourglass figures. Well, I'm here to tell you that this total cap. How would I know? Well, I'm an engaged girly, and I recently went wedding dress shopping at Galia Lahav Miami. My stylist, Nicole, encouraged me to try on a variety of silhouettes, and I am so glad she did because I went into my appointment thinking I would only look good in one type of silhouette, specifically an A-line, and she proved me otherwise.
This experience got me thinking about how traditional guidelines can make us feel limited in our choices and put unnecessary pressure on finding the "best" wedding dress silhouette for our body type. In reality, embracing your unique style and focusing on what makes you feel confident and beautiful is what truly matters. Here's why the notion of finding the "best wedding dress for your body type" is, in fact, a myth. Plus, I'm going to walk you through some of the gorgeous dresses and silhouettes I tried on at Galia Lahav.
In this article:
The "Best Wedding Dress for Your Body Type" Myth
The notion of finding the "best wedding dress for your body type" is a product of a societal narrative and the desire to conform to beauty standards. Many people feel compelled to search for specific dress styles that are deemed suitable for their body shape, believing it will help them look their best on their wedding day. This pressure is fueled by our culture, which idolizes certain body types over others. With media consumption the way it is, it is so easy to fall into this mindset (I'm victim to it myself), but it's important to recognize that it is not a requirement to use these standards as a necessary approach to finding your dream wedding dress.
And I know it's hard to hear, but movies and television get a lot wrong when it comes to wedding dress shopping. They create a romanticized version of the experience, which can further perpetuate this myth. They'll often depict a dramatic dress reveal, where someone finds the "perfect" dress that miraculously transforms their appearance and elicits tears of joy. While these scenes are emotionally charged and make for great entertainment, they paint an unrealistic picture of the wedding dress shopping experience. In reality, choosing a wedding dress is a personal and subjective process that involves exploring different styles, trying on multiple styles and making decisions based on how you feel in each dress rather than adhering to preset guidelines.
What This Mindset Gets Wrong
Understanding the mindset that certain wedding dresses were only made for certain body types is incredibly misleading. When you break free of these misconceptions, you can embrace a more inclusive perspective and choose a wedding dress that truly reflects your personal style and makes you feel confident.
"Flattering" is a Made-Up Concept
The idea of finding a dress that is "flattering" based on your body type is a concept that is often romanticized but lacks a clear definition. This notion perpetuates the idea that certain body types should adhere to specific dress styles while others should avoid them altogether. In reality, beauty comes in all shapes and sizes. Instead of focusing on conforming to societal standards, embrace your body and choose a dress that makes you feel confident and beautiful, regardless of what is traditionally considered "flattering."
Your Dress Is Going To Be Made To Fit Your Body
Unless you're purchasing a sample dress, your wedding dress will be custom-made based on your measurements. This means that the dress will be tailored to accentuate your best features and fit you perfectly. The belief that certain dresses are only suitable for specific body types overlooks the expertise of dressmakers, who can create a dress that flatters your individual shape. So don't worry too much about your wedding dress size. Trust in the craftsmanship and skill of professionals who will ensure that your dress fits you like a dream.
Three Steps to Shifting Your Shopping Perspective
Instead of focusing on rigid guidelines, it's time to shift our perspective and embrace a more inclusive and empowering approach. These three steps are a starting point for transforming your shopping experience and finding a dress that truly reflects your personal style and makes you feel confident and beautiful on your special day.
1. Context: Research Your Local Bridal Salons
One crucial step in shifting your shopping perspective is to research your local bridal salons. Bridal consultants are experts in the field and can provide valuable insight and guidance throughout the dress selection process. They have extensive knowledge of the dresses they carry and can offer recommendations based on your preferences and style. Keep an open mind and look for salons that offer a diverse range of dress styles to suit different tastes and body types. For instance, choosing to shop at Galia Lahav was a no-brainer because of their wide range of silhouettes, fabrics and details. This will ensure that you pick a bridal salon that has a wide selection of styles to choose from and can find a dress that truly resonates with you.
2. Understand Your Personal Preferences
Understanding your personal preferences is essential when searching for your dream wedding dress and ideal silhouette. Instead of solely focusing on body type, consider other factors that are important to you, such as comfort, parts of your body you'd like to show off or hide and any sensory considerations you may have.
Do not be afraid to express your preferences and level of comfort to your stylist. Speaking from personal experience, this will only help them get you closer to finding your dream dress. Don't feel pressured to adhere to preconceived notions of what is "supposed" to look good on your body type.
3. Confidence: Building a Positive Mindset
Confidence is the key to truly shining in any dress you choose. I'll be the first to admit this is easier said than done, but doing so will help you have a successful and empowering wedding dress shopping experience. Here are a few simple ways you can help build a positive mindset prior to your appointment:
Practice getting comfortable seeing yourself in front of a mirror and appreciating your unique beauty. This wasn't easy at first for me, but it definitely helped to do this prior to my dress appointment.
Come up with an affirmation or two that makes you feel good, and remind yourself that you deserve to feel confident and beautiful on your wedding day.
Surround yourself with a supportive group of friends and family who will encourage and empower you throughout the shopping process.
By fostering a positive mindset, you will approach dress shopping with self-assurance and find a dress that truly makes you feel radiant and beautiful.
Wedding Dress Styles For Different Preferences
While every to-be-wed has their own vision when it comes to their ideal dress, certain preferences like sensory comfort, modesty, or overall comfort on the wedding day may have a significant influence on your decision. By prioritizing both beauty and comfort, you can select a wedding dress that allows you to fully enjoy your day and be present in every cherished moment.
If You Prefer: Modest and Classic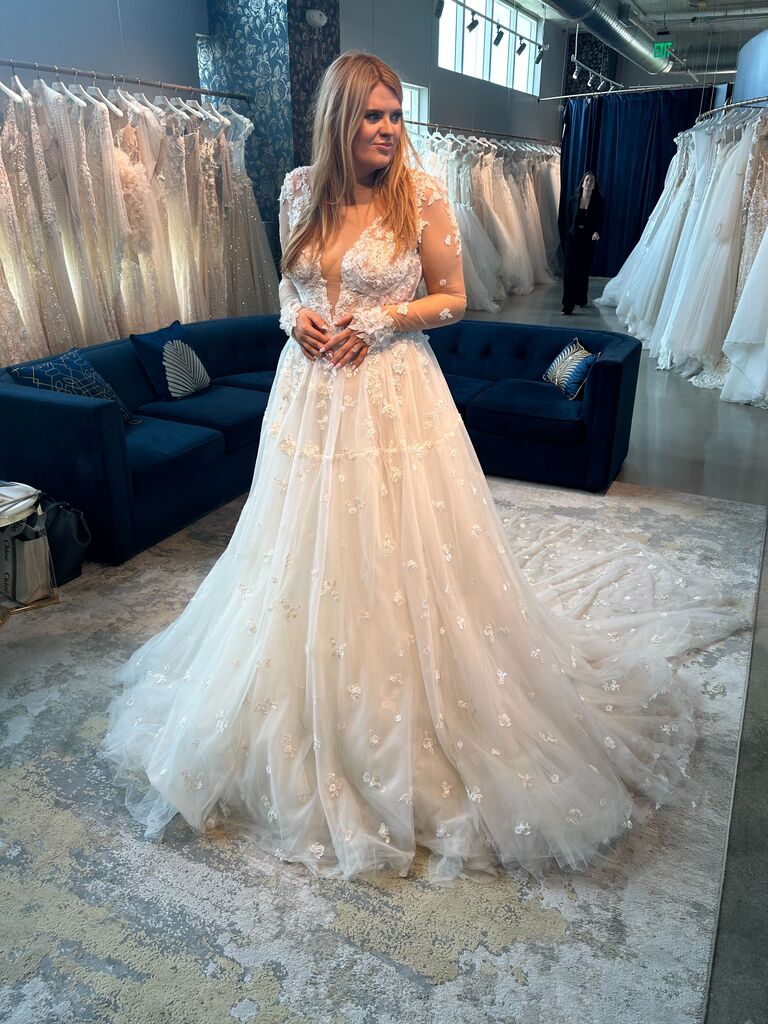 The Poet Dress by Galia Lahav is the perfect gown for those who prefer additional coverage around the chest and arms. It made me feel like I had stepped right out of a storybook. I was obsessed with the illusion sleeves and plunging V-Neckline. And guess what? Galia Lahav dresses are customizable (consider them your fairy godmother!), so if you want to raise the see-through neckline or use solid fabric on the sleeves for more coverage, they can do that.
What to look for: A-line silhouettes, high necklines
What to avoid: Sleeveless dresses, low necklines, cut-outs, fitted silhouettes
If You Prefer: Textured and Romantic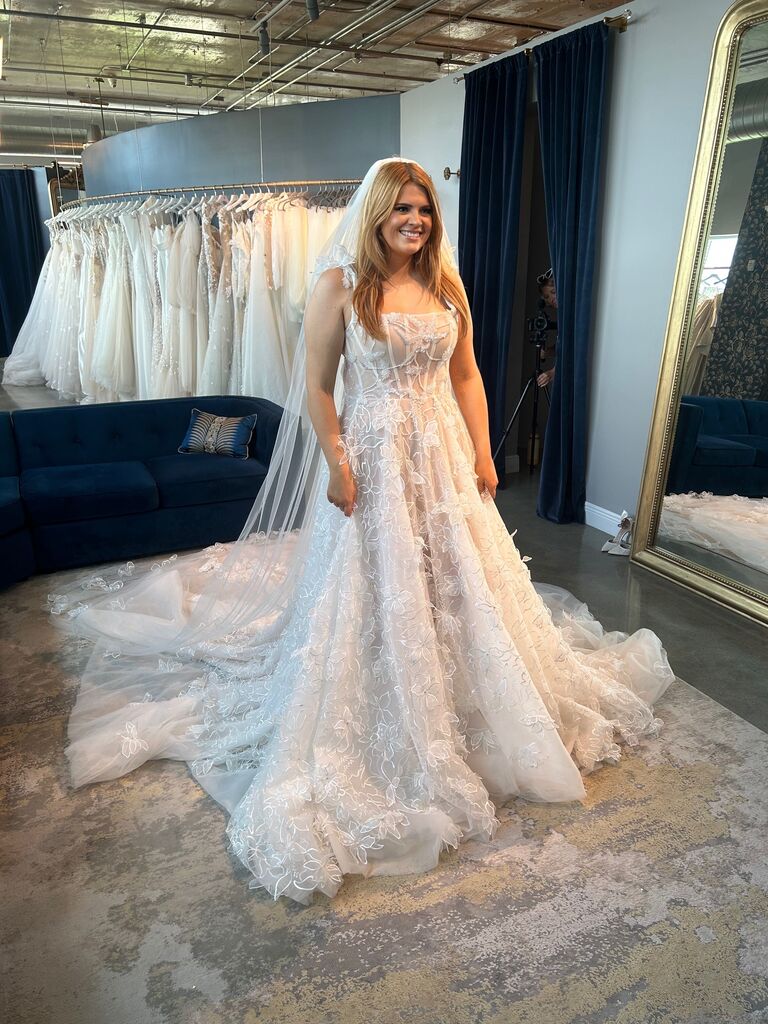 Can I let you in on a little secret? This was almost my wedding dress! Everything about Nirvana by Galia Lahav is incredible. The gown has plenty of texture for those who want it, with the star of the show being the head-to-toe 3D flower appliques. The bodice has a modern square neckline and exposed boning with a little bit of added sequin sparkle. And the matching veil for this dress was *chef's kiss.*
What to look for: 3D appliques, flowy fabrics, lace, sequins, unique details
What to avoid: Minimalist dresses with little to no detailing
If You Prefer: Fitted and Sexy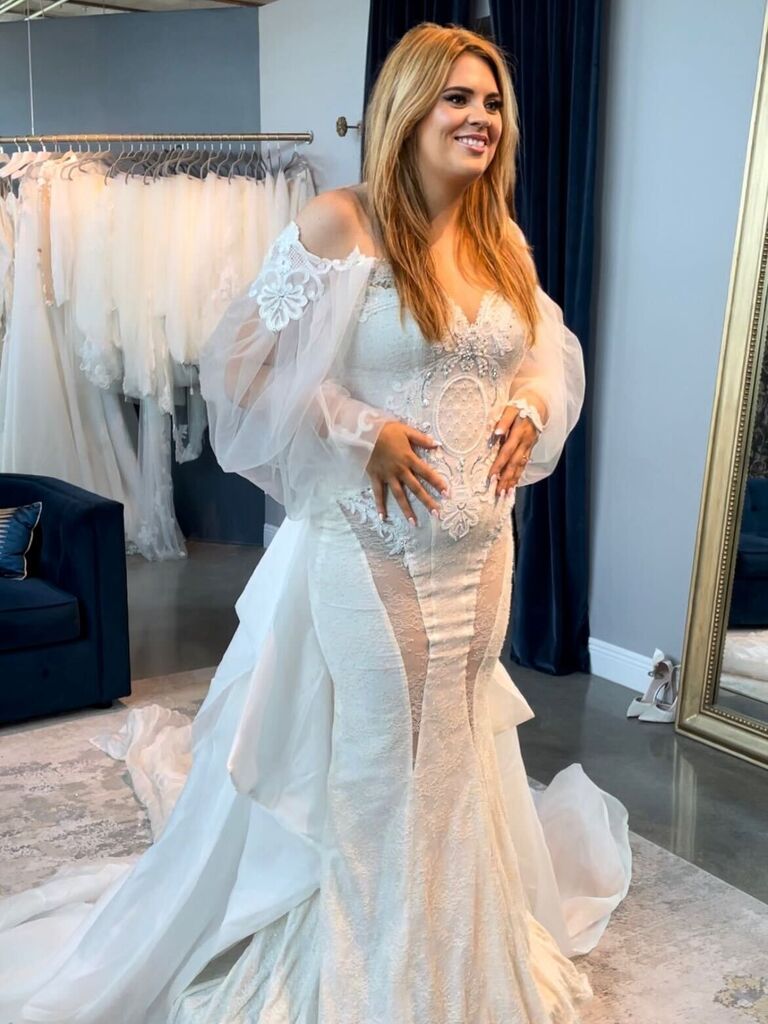 When your bridal stylist asks, "Would you like to try on Beyonce's vow renewal dress?" You don't say no! The Thelma dress from Galia Lahav is a Victorian-style dress with sheer silk sleeves and an elaborate vintage ornament that forms an off-the-shoulder sweetheart neckline. This dress is incredibly sexy and will show off your curves in all the right places. If you want to add a little more "volume" during their ceremony, be sure to add on the glamorous detachable bustle train.
What to look for: Corset bodices, Body-hugging silhouettes like mermaids and fit-and-flares
What to avoid: Flowy fabrics, ballgown and A-line silhouettes
If You Prefer: Lightweight and Playful
Okay, how fun is Galia Lahav's Gene dress? If you find yourself wanting a dress that you can move in or find tight fabrics uncomfortable, look for a dress like this one, made with breathable Swissdot tulle fabric. This pretty number was soft and sensory-friendly. And don't worry, the V-crisscross draped corset was super comfy while still giving my bust some shape. Look closely, and you'll spot the pearl-embellished straps and belt at the waist for a retro-inspired touch.
What to look for: Airy fabrics like tulle, cut-outs, unique details
What to avoid: Heavy fabrics, constricting sleeves or silhouettes, plain fabrics