11 Dos and Don'ts for Getting Ready the Morning of Your Wedding
Bring tissues, chargers and drinks (of course).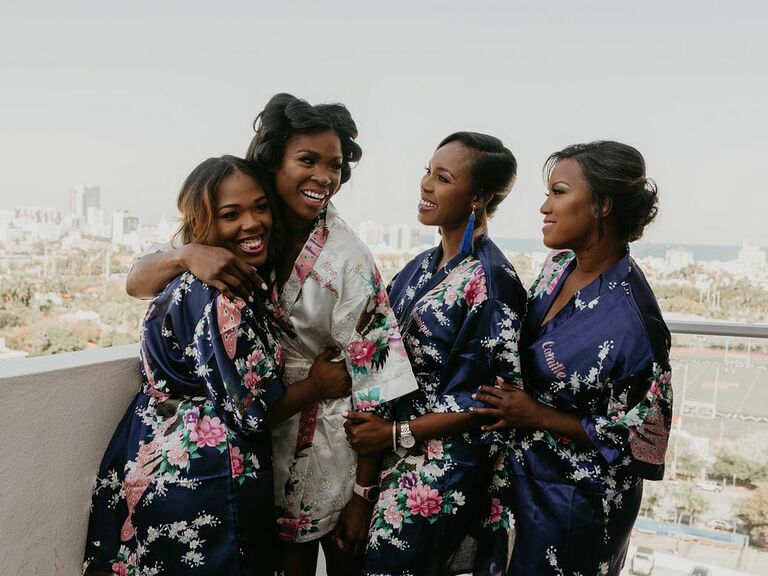 ZULIE REGO PHOTOGTAPHY
While you've prepped endlessly for your wedding, you'll also want to plan what happens before the actual ceremony. The pre-wedding events can impact your entire timeline, so it's important to plan ahead of time. When you envision getting ready on your wedding day with your wedding party, you're probably all getting your hair and makeup done, breezily sipping drinks as the photographer snaps away while your favorite songs play on a curated playlist. All of this can happen—it just takes proper planning to make sure nothing goes awry. Our number one tip? Work with a wedding planner so you can relax on your wedding day. But we also compiled additional tips to ensure the morning runs smoothly. Here are our top dos and don'ts for getting ready the morning of your wedding.
When should I start getting ready for my wedding?
This is a personal choice, but we recommend giving yourself extra time to get ready for your wedding. Allot 60 to 90 minutes for your hair and then an additional 60 to 90 minutes for your wedding makeup. We know it sounds like a lot, but you want to give your wedding hairstylist and wedding makeup artist time to set up, create the look and adjust however necessary.
You'll also want to account for breakfast, since your wedding day is going to be long. Additionally, give yourself plenty of time to wake up, mingle with your friends and take any pictures you want with your family members and wedding party. If you're having a first look, make sure your team knows so you can be ready on time. In total, we suggest starting three to five hours before your ceremony.
What do you wear getting ready for a wedding?
While getting ready for your wedding, you should wear something you feel comfortable in. You definitely don't want to be wearing your wedding dress or outfit while you get ready, as there could be accidental spills (those mimosa glasses are small). Additionally, excess makeup could fall onto your dress and cause discoloration or staining. Keep your wedding day outfit out of the way until all of the prep is taken care of.
There are plenty of outfit options for getting ready. Rock a silky, satin robe for a luxurious look, or wear matching cozy pajama sets with your wedding party. Looking for robe alternatives? Button-down shirts (regular, denim or flannel). Stay away from anything you have to pull over your head, and removing it could interfere with your hair and makeup after it's done.
Where should you get ready for your wedding?
Where you get ready for your wedding is entirely up to you. Many wedding venues have a getting-ready room where you and your loved ones can hang out. If your chosen venue doens't offer a separate space, you'll need to find somewhere else to go. We suggest looking for something nearby (maybe even the hotel you're staying in) so you don't have to worry too much about traffic and transportation in general. If you have to
11 Dos and Don'ts for Getting Ready For Your Wedding
To help make your wedding day as smooth as possible, we put together a list of dos and don'ts. Read our expert tips about getting ready the morning of your wedding, here.
1. Do: Have a Timeline
Having a set wedding day timeline is absolutely crucial to how the day will go, and it starts with getting ready. If you're having an evening wedding you may have a little leeway with getting up later, but for afternoon and early evening weddings, you'll probably be looking to set your alarm for 7 a.m. or close to it. Make a timeline with your planner, or if you don't have a planner, with your photographer, since they'll need to know when to get there to take pictures of everyone getting ready. To know when to start getting ready, begin with the time that your wedding starts or that you need to arrive the ceremony venue, and work backward. What do you need to do before then? Are you doing a first look and taking photos with your entire wedding party? Did you and your hairstylist agree that you're washing your hair the morning of your wedding? Do all your attendants want to shower the day of too? These are all important questions to ask to figure out what time to wake up. Also, keep in mind that hair and makeup can take 60 to 90 minutes each for the guest of honor, and 30 to 45 minutes each for every bridesmaid and mothers. Depending on how many stylists you're using, this can greatly affect your timeline.
2. Don't: Forget to Hang Up Your Wedding Day Outfit
The first thing you should do when you wake up is take your wedding outfit (veil included if you're wearing one) out of the garment bag and hang it up where it can breathe a bit (preferably where nobody will disturb it). Hang it as high as you can (unbustled if it's a skirt or dress) so you can see which areas need steaming the most. If you're wearing a veil, tuck the comb inside the back of the dress, and let it hang down.
3. Do: Have Plenty of Food For Your Crew (and Yourself)
Make sure to have an array of filling, nutritious breakfast or lunch options for your wedding party that will tide them over until the reception. Think: sandwiches, wraps, salads, fruit and veggie platters, yogurt and granola bars. You can preorder from any local delis or restaurants, which is a much better option than sending your wedding party out to get food the morning of. Everyone will be busy and focused on getting ready, and you'll want to spend as much time as possible together that morning.
4. Don't: Overdo The Drinks
Along with breakfast or lunch, providing mimosas, bellinis, beers or seltzers for your crew is always fun. Who doesn't love a cute cheers-ing photo op? Just be careful: Downing too many of these yummy drinks could give you a headache, an unwelcome buzz or extra kitters. Two per person is a good amount.
This also applies to coffee. While you may want a cup in the morning to wake up, having too many cups of joe could cause extra stress. Stick to water throughout the getting ready process, as you'll want to be hydrated for the long day ahead.
5. Do: Make Sure There Are Enough Outlets
If you have a large wedding party and everyone is getting ready in the same room, double-check ahead of time to make sure there will be enough outlets. Think about it: Everyone will want to charge their phone, hairstylists will need multiple outlets for blow-dryers, curlers, straighteners and hot rollers, and there may be a few steamers on hand to press all the outfits. If there are only a few, you may want to bring a power strip or two to ensure everything can run smoothly.
6. Don't: Forget Your Emergency Kit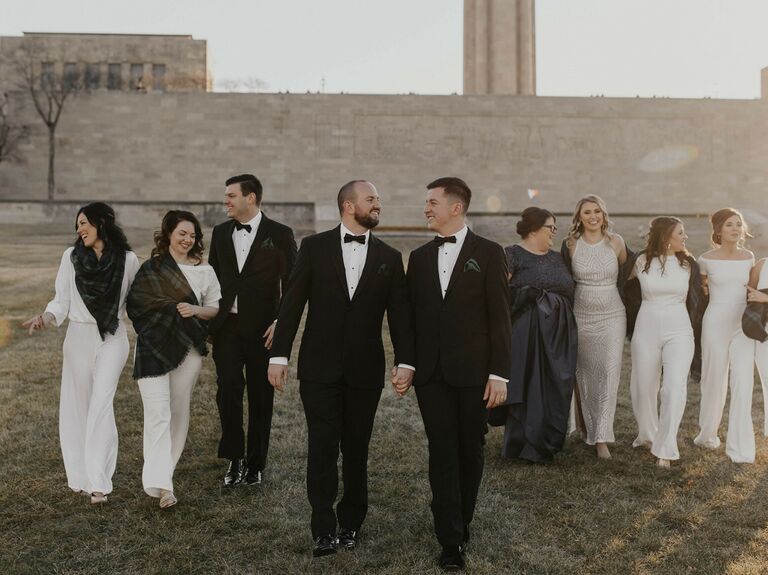 Things happen—nails chip, mimosas stain and hair droops. That's why it's important to have a day-of emergency kit for any mini-emergencies, including stain remover, breath mints, tweezers, tissues, hair spray, fashion tape and more. Pro tip: Bring a cooling eye mask for the guest of honor in case they stayed up late the night before.
Don't forget to have an actual first aid kit on hand too. While we hope there are no accidents on your wedding day, it doesn't hurt to have a stash of band aids and other goodies just in case. Safety first!
7. Do: Make a Plan For Your Phone
While you may be tempted to keep your phone in your hand at all times, that can be overwhelming. You will likely get a bunch of congratulatory text messages as well as questions from family members, wedding party VIPs and vendors. We recommend making a plan ahead of time to decide how long you'll be on your phone. Ask one of your bridesmaids to take pictures if you want the morning to be documented. And remember your photographer will likely be there to capture some great shots too.
8. Don't: Overschedule Your Morning
While it may be tempting to try and do all of your prep the morning of your wedding, that can get stressful quickly. Get your nails one the day before to save time on the actual day. If you want an actual hair cut, go a few days before your wedding to save time.
9. Do: Delegate Tasks to Your Wedding Party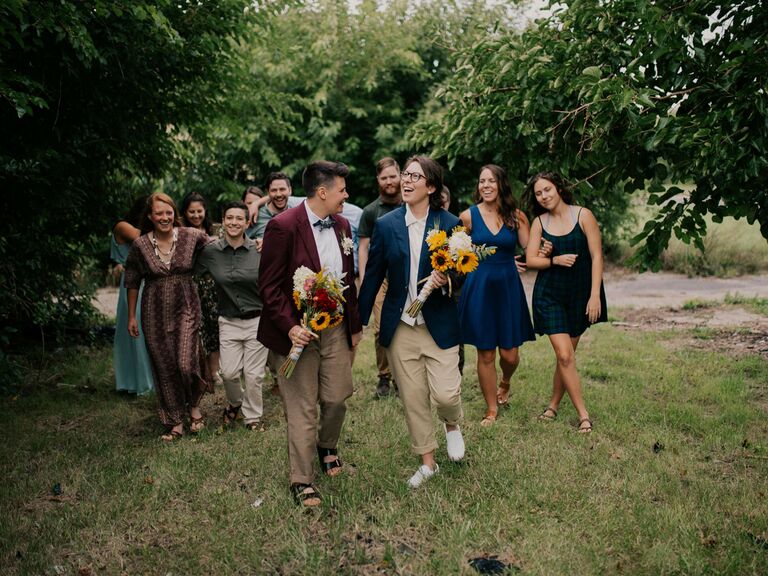 We know you want to plan the ultimate prewedding party, but you've got a lot on your plate already. Delegate smaller tasks to your friends and family members to help bring the morning together. Ask one of your friends to put together a fun playlist, and ask another to handle setting up the food. Psst: Don't forget to assign someone to beverage duty. You'll likely want to have ice to keep drinks cool, which means you'll also need a cooler.
To avoid lots of questions during the morning, we recommend giving your wedding party a full run-down on the day before you get prepped. Give them a summary of the timeline and a recap of their responsibilities so everyone is on the same page.
10. Don't: Try New Products on Your Face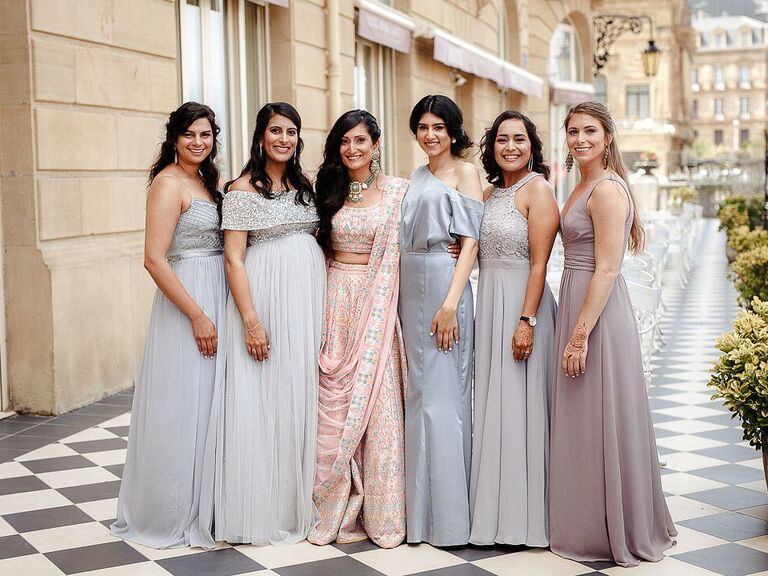 The morning of your wedding is not the time to try out a brand new face mask, moisturizer or foundation. You could have a negative reaction to the products. Stick to the products you've been using leading up to your nuptials just to be safe.
11. Do: Try to Be Fully Present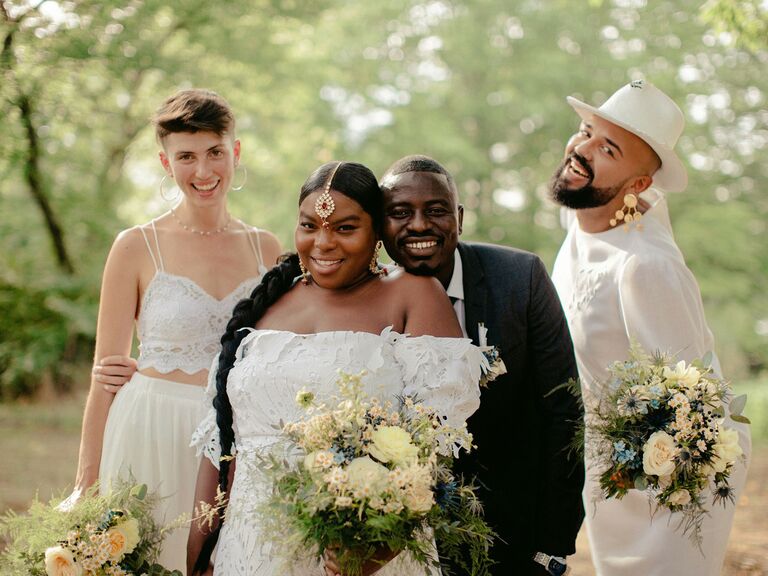 You may feel your mind wandering to all of the tasks that need to be accomplished, but we encourage you to stay focused on the moment as much as possible. Allow your vendors to show up and do their jobs (they are professionals, after all) and trust in your wedding planner if you hired one. Soak up the quality time with your friends and family members before the festivities start. It's such a special moment—take it all in.