Flower Girl 101: Everything You Need to Know
Here are some answers to the most common questions about flower girls.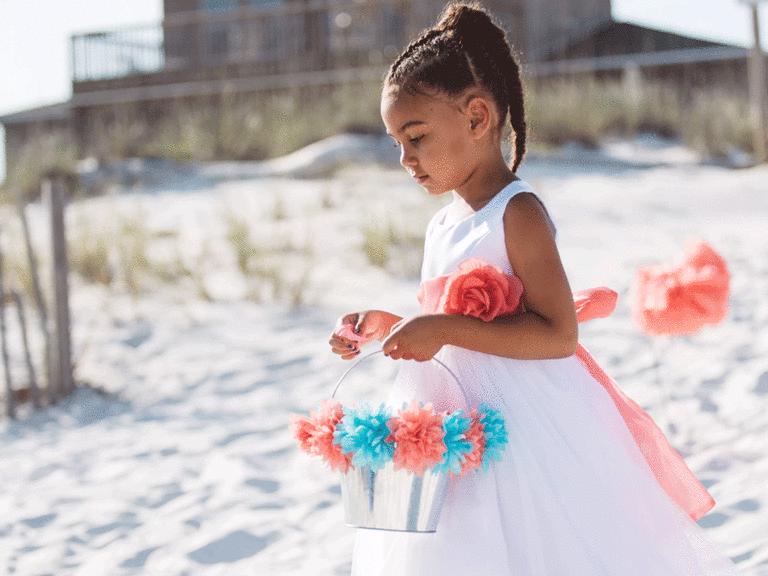 HCOPHOTOS
What's the flower girl's primary role? To be darling, of course. But rosy cheeks and ribbons aside, her cruise down the aisle requires a bit of planning and preparation. Having a flower girl is optional, but it's a nice way to make your favorite little one feel like a part of your special day. Here's an explanation of her role, how to choose your flower girl and what flower girl etiquette to consider.
In this article:
What Is a Flower Girl?
A flower girl is a wedding party role typically given to young children. The child precedes the bride down the aisle and usually throws flower petals as they go.
The flower girl is a centuries-old wedding tradition that has gradually changed over the years. Some of the earliest flower girls threw wheat and herbs or carried garlic to symbolize fertility and ward off bad spirits. In the Victorian era, flower girls wore white and carried baskets or hoops made from fresh flowers to symbolize infinite love.
What Age Should a Flower Girl Be?
Traditionally, flower girls are between the ages of three and eight years old. This ensures that the child is mature enough to accept and participate in the flower girl duties. If you're thinking of choosing a child younger than three, you'll have to find someone to carry or escort them down the aisle. If you want to include a child who's 10 years old or older, consider them for a junior bridesmaid role where they can be more involved in the prewedding festivities, like the bridal shower or rehearsal dinner. No matter what you choose, there's no right or wrong age for your flower girl—you can even enlist an adult, like a friend or grandparent, to take on the role. (Even Ross Mathews agrees, since he chose Drew Barrymore as his flower girl.)
If you want to honor a young child with the flower girl job, remember to talk about the responsibilities with the parents first. The flower girl's parents will have a lot to do before the wedding, from explaining the flower girl's duties to their little one to paying for their child's outfit. Also, the family will have to attend your prewedding festivities, like your bridal shower and rehearsal dinner, and arrive early on the wedding day. It's important to foster a good relationship with your flower girl's parents early on, since they are putting in a lot of time and money on their child's behalf.
How Do You Pick a Flower Girl?
When you're trying to decide who should be your flower girl, pick someone who you or your partner are close to, like the child of a family member or friend. You want to have a solid relationship with your choice to ensure they feel comfortable helping you on your special day. If you don't have the option of choosing a niece, a best friend's child or a daughter of your own, think outside the box. We love the idea of surprising your guests with the unexpected by having a flower boy, a petal patrol of adults or even your furry best friend walk down the aisle.
Before finalizing your decision, speak with the child or adult to see if they're interested in the role. Have these conversations with people you're seriously considering to allow them to decide if they want to accept the tasks associated with the job. The child's parents may be overjoyed with the prospect of them being in your wedding party, but the child might not like being in the spotlight. By talking with the child before making your proposal, you give the child some agency to make their own decision.
Flower Girl Duties
What does a flower girl do?
In the wedding processional, the flower girl is traditionally after the maid of honor or last bridesmaid, right before the bride processes. The flower girl adorns the aisle with flower petals (or other fun things, but we'll get into that later) as she walks to the altar. You can choose to have the flower girl stand with the wedding party or sit with her parents. Finally, if your flower girl isn't too shy, she will be announced in the wedding party reception entrances.
If you're planning an adults-only wedding and have an underage flower girl in mind, you should still invite your flower girl to the reception. It's good wedding etiquette to invite all wedding party members to the reception and the flower girl's parents won't have the burden of finding a babysitter.
Do flower girls have to throw flowers?
Even though it's tradition for flower girls to throw petals, some wedding venues restrict people from throwing anything on the aisle, including real or faux petals, seeds or confetti. No need to worry—there are plenty of petal tossing alternatives. Your flower girl can blow bubbles as she walks down the aisle, hold colorful balloons, a decorative wand, carry a sign or a mini bouquet.
Can you have more than one flower girl?
If you have a big family or just have too many candidates to choose from, you should definitely have more than one flower girl. Older flower girls can assist with other duties besides throwing petals, like holding the wedding dress train or pulling the younger flower girl(s) in an adorable wagon.
Our tip: Stick with three or four flower girls at most, so your wedding party isn't too big.
How do I help my flower girl feel less anxious about her job?
Never underestimate the power of the buddy system. We love the idea of having two flower girls or pairing up the ring bearer and flower girl so that they can proceed together, side by side. Partnering will give them added confidence. One of the parents walking down the aisle with the flower girl will help your little attendant feel secure too. Younger children often struggle to understand the weight of their roles, so having parents close at hand will keep the risk of a tantrum to a minimum.
If possible, arrange to have the flower girl attend the shower and other prewedding events to boost her comfort level around the other wedding party attendants. Seeing friendly, familiar faces on the big day will help to ease any anxiety.
We suggest you seat the flower girl's parents toward the front of the ceremony so she can focus on them and be encouraged by their smiles of reassurance.
How do I make sure the flower girl stays well-behaved during the ceremony?
For young flower girls, offer up a treat in exchange for good behavior. Toddlers will respond better to these offers if there's a visual reminder at the front of the aisle. Asking your maid of honor to hold a piece of candy or special gift is a great way to entice your flower girl down the aisle. Older flower girls, on the other hand, may be mature enough to grasp the delayed gratification of a post-wedding treat. Promise them a small toy or gift after they complete their duties, and ask their parents to be in charge of doling out the goods at the reception. Keep it all in perspective—children always bring some level of spontaneity and unpredictability to wedding ceremonies, and it could end up resulting in an adorable moment.
Once your flower girl has completed her duties, it's a good idea to have toys or games to keep her occupied during the ceremony. This is especially true for toddlers who will be seated with their parents after reaching the altar. Have snacks on hand to keep mouths full, and consider keeping a tablet or phone nearby for entertainment.
Flower Girl Expenses
Who pays for the flower girl's dress?
The flower girl's parents are traditionally responsible for paying for the flower girl's outfit and any accessories. Are you envisioning a beautiful flower girl dress that happens to be a little expensive? As a nice gesture, you might offer to cover the costs for your little attendant (if you're able to fit it in your wedding budget). If you choose an adult flower girl, they are responsible for all flower girl costs.
Our tip: Offer a couple of options so the flower girl or parents can choose what outfit they feel most comfortable with.
Should I get my flower girl a gift?
If you're buying bridesmaid proposal gifts and thank you gifts for your crew, involve your flower girl in the fun. There are numerous flower girl gift ideas to surprise them with, like an engraved necklace, luxe inflatable pool or stuffed animal. Getting your flower girl a gift is a sweet way to ask them to be a part of your big day or show appreciation for their hard work after the wedding is over.