The 30 Best Flower Girl Gifts to Help You Propose or Say Thanks
Celebrate your special helper with one of these cute presents.
We have included third party products to help you navigate and enjoy life's biggest moments. Purchases made through links on this page may earn us a commission.
Planning on having a flower girl (or flower girls) in your wedding party? Then consider finding a flower girl gift that'll make your little attendant excited and proud of their role. No matter the reason for the gift, be it a flower girl proposal gift or thank-you gift, this much is true: For one brief moment as she walks down the aisle, your flower girl will steal the show. And for a job that memorable, it's important to show your gratitude with a present that makes her heart swell. That's why we've hand-picked 30 flower girl gift ideas for every age that we know she'll love.
In this article:
Flower Girl Proposal Gift Ideas
Just like your bridesmaids and groomsmen, it's customary to ask your flower girl to be in your wedding, too. While you could simply pop the question, a small gift, or better yet a flower girl proposal box, will really get her excited for the role. Shop our favorite proposal gift ideas for your little helper below.
Flower Girl Activity Book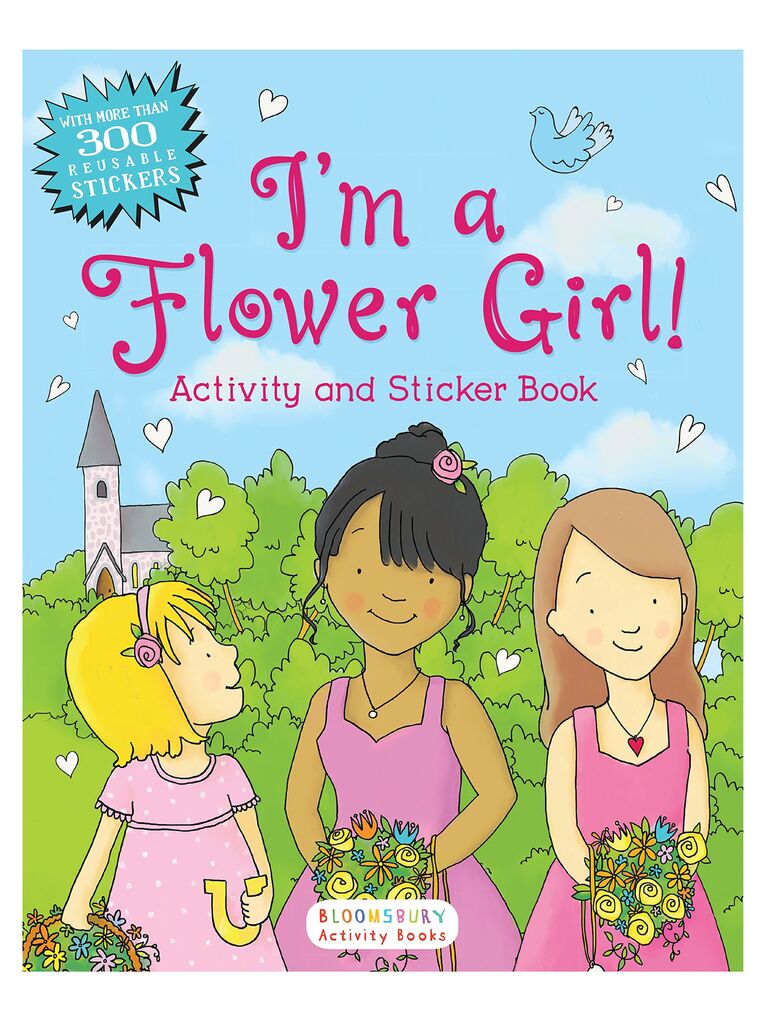 If you're shopping for a young flower girl, they'll have a lot of fun preparing for their role with this activity book. It's full of over 300 colorful stickers and pre-wedding activities, like designing wedding invitations and a wedding dress.
Elephant Stuffed Animal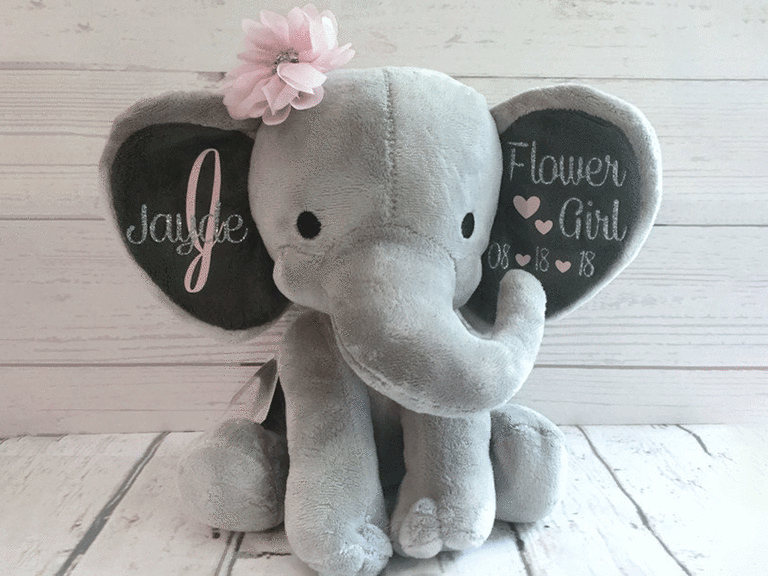 We're yet to meet a kid who doesn't get excited about a new stuffed animal—and this adorable plush elephant with a chiffon flower adornment will make a cuddly keepsake for years to come. The ears are embroidered with her name and soon-to-be accepted wedding title, plus the date of your nuptials. You can choose from multiple color and glitter options.
Sparkly Flower Girl Shirt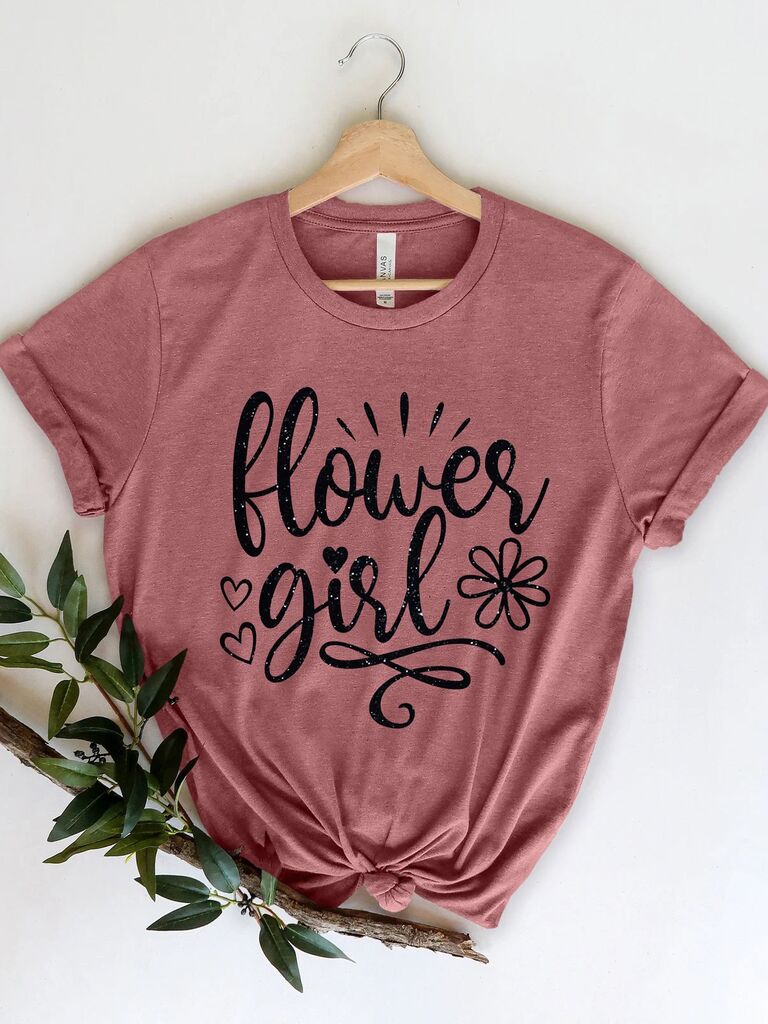 This mauve-pink decorative shirt with sparkly print will make your flower girl look (and feel) like a celebrity. Surprise her with the new outfit to wear to your wedding shower, so everyone knows her MVP status right away. It comes in infant, toddler, youth and adult sizes to fit your flower girl no matter her age.
Embroidered Jean Jacket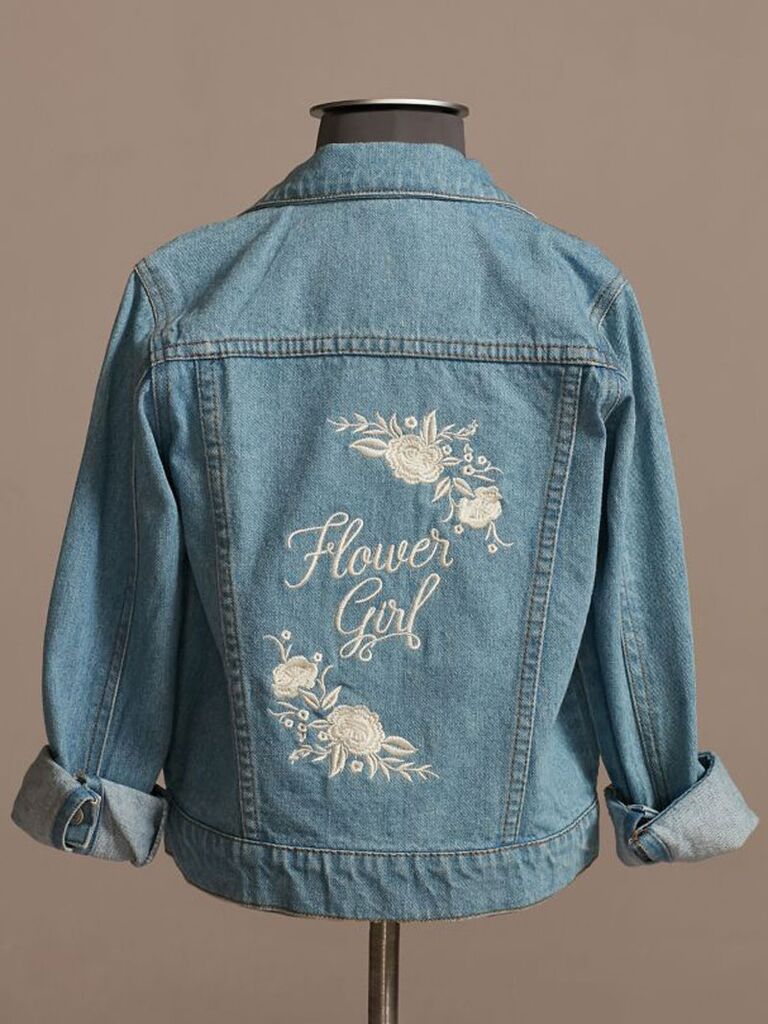 Planning a fall or winter wedding? A flower girl jean jacket might be more appropriate. This adorable option is embroidered with ivory flowers and her wedding title. She'll absolutely say yes to her ask when she sees her new swag.
Flower Canvas Tote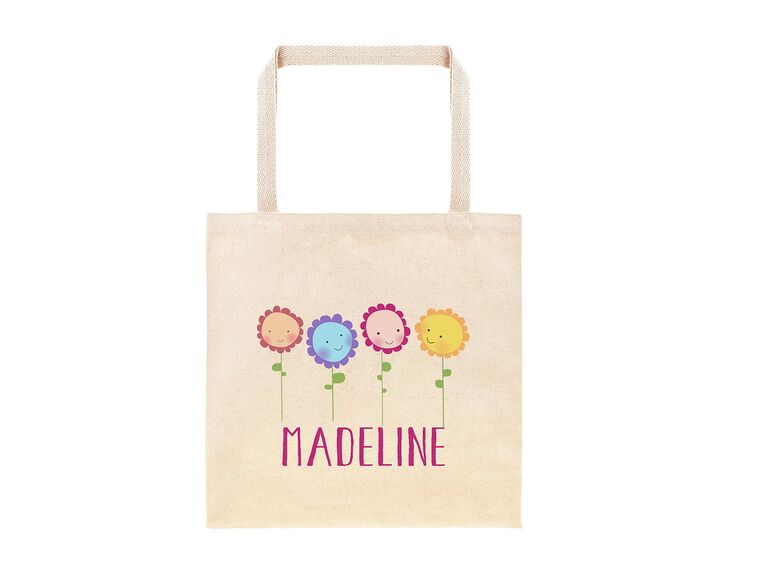 Looking for a cute gift bag for a flower girl proposal box? This sturdy canvas tote will do the job. Choose between a light or deluxe tote for heavy straps and extra space, then personalize it with her name under the smiling blooms. Stock it with a few fun items that your flower girl will love, like games, snacks and books.
Flower Girl Insulated Tumbler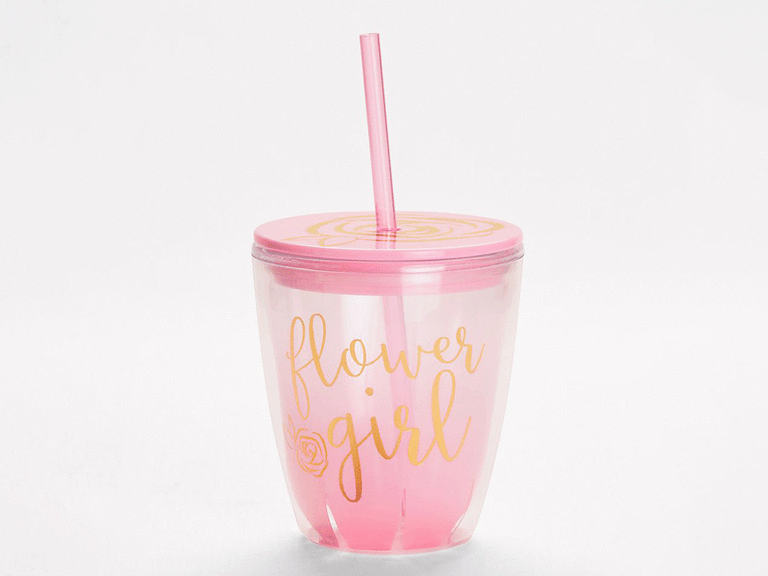 Need ideas for how to fill a flower girl proposal box? How about this pink insulated tumbler with a rose-embellished lid to make snack time a little more fun. Plus, it will look cute in photos while she's getting ready for the wedding.
Flower Crown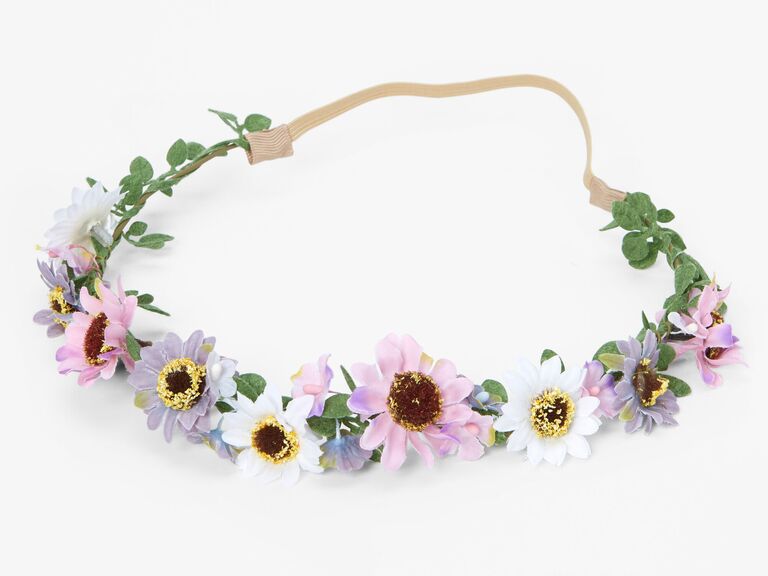 No matter how old your future flower girl is, she'll love dressing up for the role. Add this crown to her gift bag or hand it over on its own to ask her to be in your wedding. She won't want to take it off until the big day.
Flower Girl Gift Box
Not sure you want to source individual goodies yourself? Shop pre-filled flower girl proposal boxes from Etsy. This one is filled with hair ties, flower clips, sunglasses, a pearl-beaded bracelet and more. Best of all, the box is personalized with her name and there's a greeting card asking: "Will you be my flower girl?" So all the work is really done for you.
DIY Princess Wand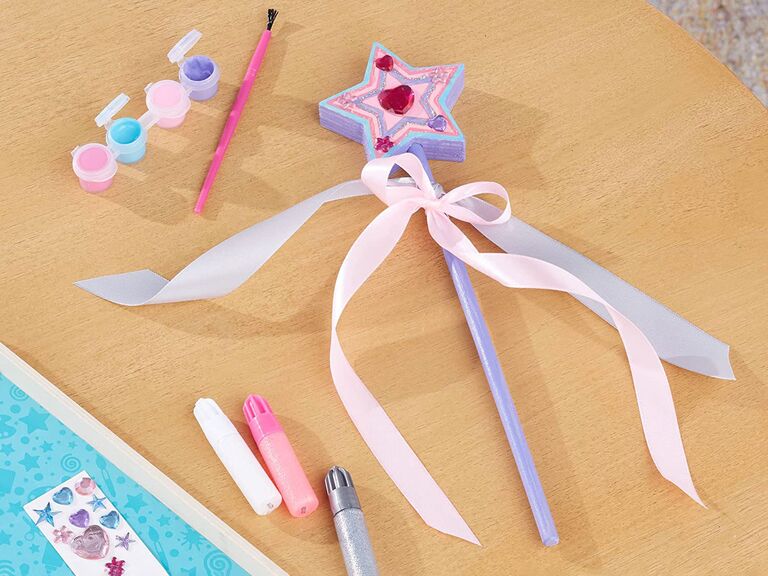 Give your flower girl a small (and fun) project to complete before the wedding: making her own princess wand. The kit comes with a wooden star, dowel, paint, gems, glitter and ribbons. Once she has the unique toy in her hand, she'll feel unstoppable as a flower girl.
Smiley Face Beaded Bracelet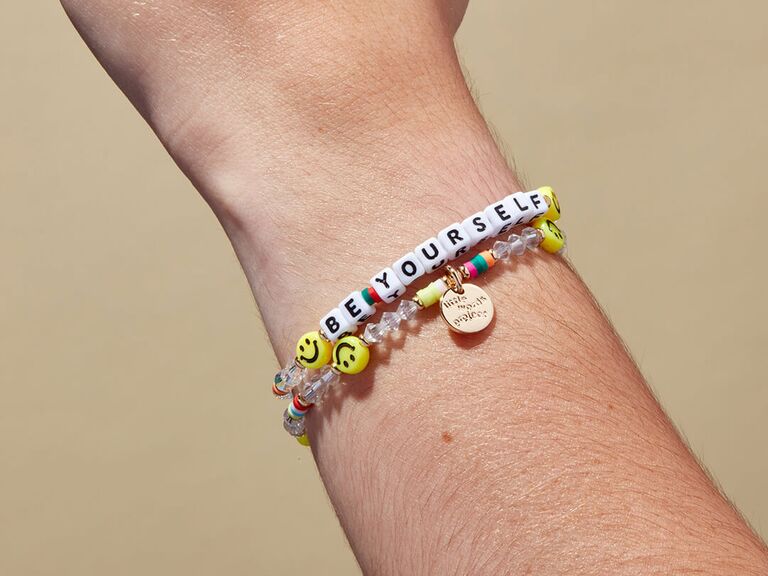 Customize a beaded bracelet with your flower girl's name, title or a short phrase. We love this option with crystal baubles patterned with smiley faces and colorful beads, since it will really show her how happy you are to have her as part of your wedding.
Personalized Wristlet
Will you be taking your flower girl shopping with you for her dress, shoes or basket? Make sure she's ready for errands with this personalized clutch. It has a shiny silver finish any glamorous gal would love and it shows off her wedding title and name.
Flower Girl Doll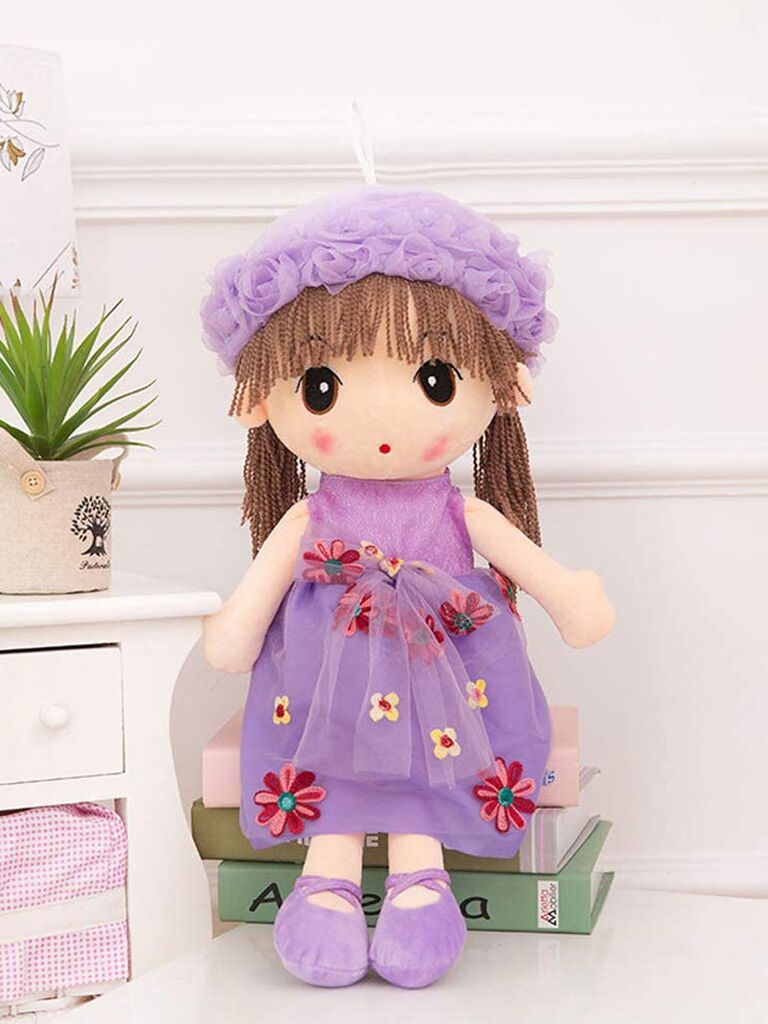 Does your flower girl like playing with dolls? She'll love practicing her own walk down the aisle with this plush toy. The doll wears a purple tulle skirt decorated with flowers and crown made from roses—likely similar to your flower girl's own special outfit.
Sparkly Backpack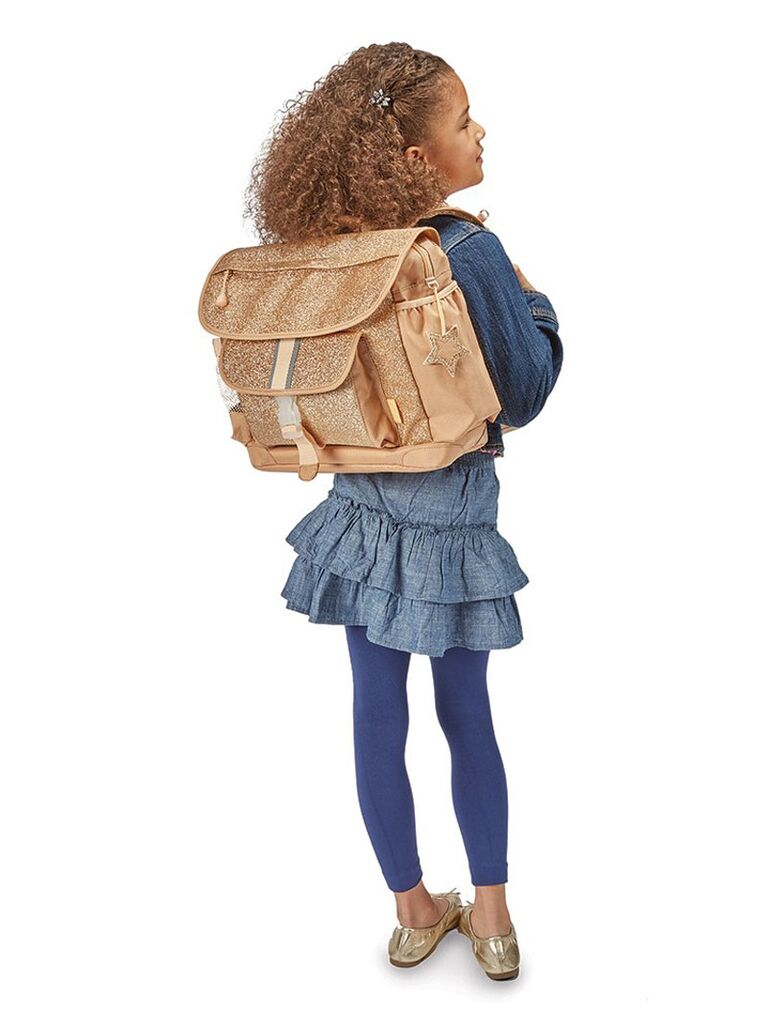 For the flower girl who loves to stand out, a glittery bag is a statement-worthy way to tote clothes for sleepovers, sports and other fun activities. Personalize the gold pack with her name or monogram embroidered on the front—choose from more than a dozen thread colors depending on her style. Just make sure to use it as a proposal gift for your flower girl so she can cart it to the wedding full of all her beauty essentials.
Glitter Hair Accessory Kit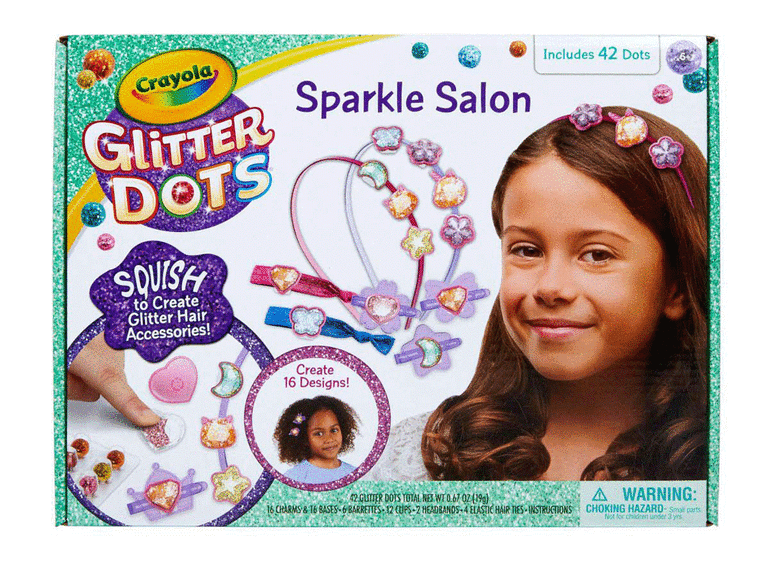 With the Crayola Glitter Dots Sparkle Salon, your flower girl can easily create their own colorful hair accessories. She can show off her creativity and style using this DIY craft set. Plus, she can wear her stunning creation on the big day.
Confetti Popper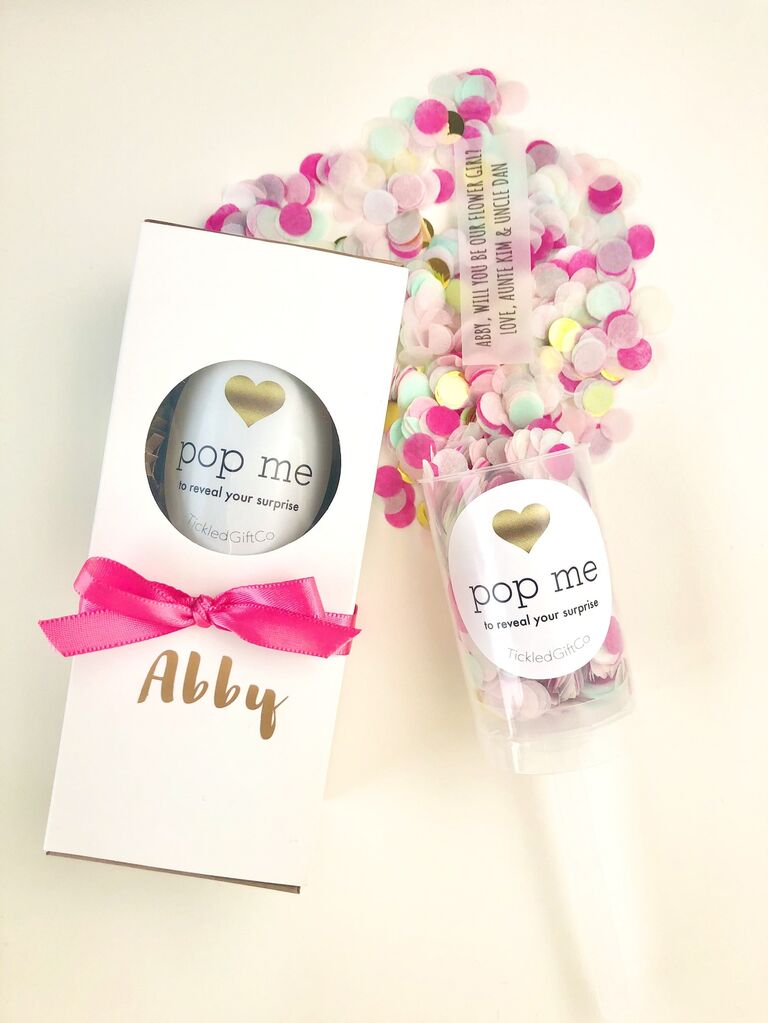 If you're looking for a super-fun flower girl proposal idea, look no further than a confetti popper to literally pop the question. Inside each cannon is colorful tissue paper and a tag with your custom message. She'll have lots of fun dancing in the confetti (and it'll make an Insta-worthy moment).
Flower Girl Thank-You Gifts
The big day has finally arrived! Tell your flower girl "thanks" with one of these sweet gifts they can be surprised with in the getting ready suite and cherish long after the wedding.
Floral Satin Robe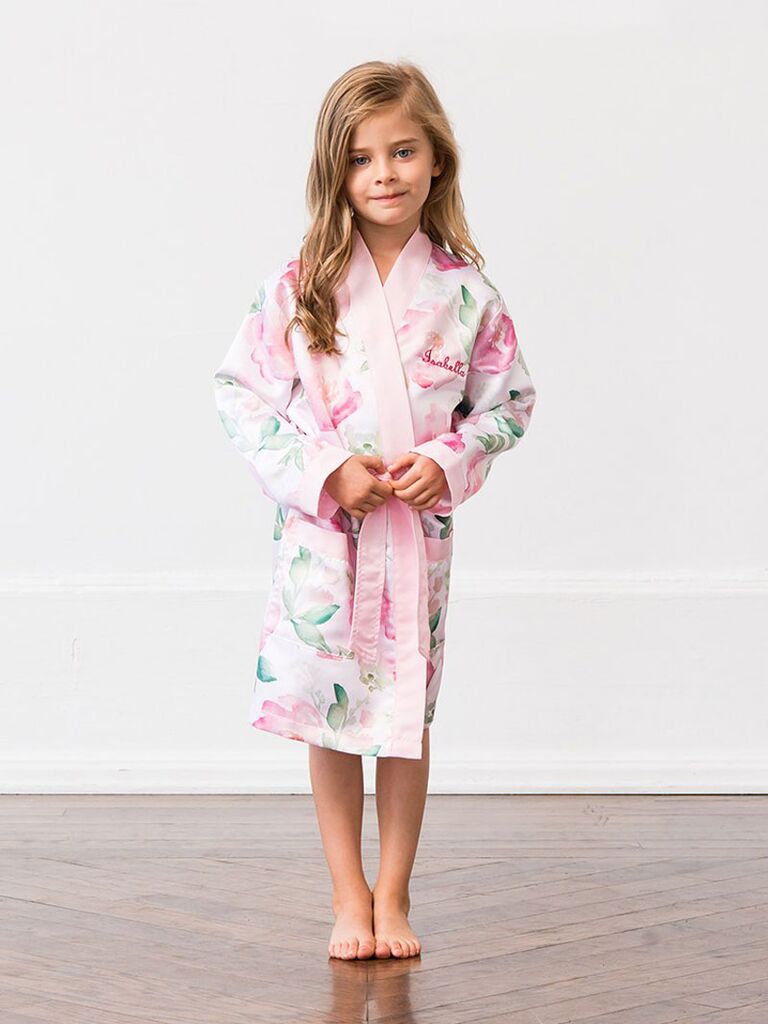 There are bridesmaid robes for when your squad gets ready, so why shouldn't the littlest attendant(s) get in on the fun too? But buyer beware: Once she slips into this pretty pink floral "big girl" robe, she might never want to take it off—even to put on her flower girl dress. There are numerous embroidery colors to choose from if you want to personalize the robe with the flower girl's name.
Personalized Wooden Hanger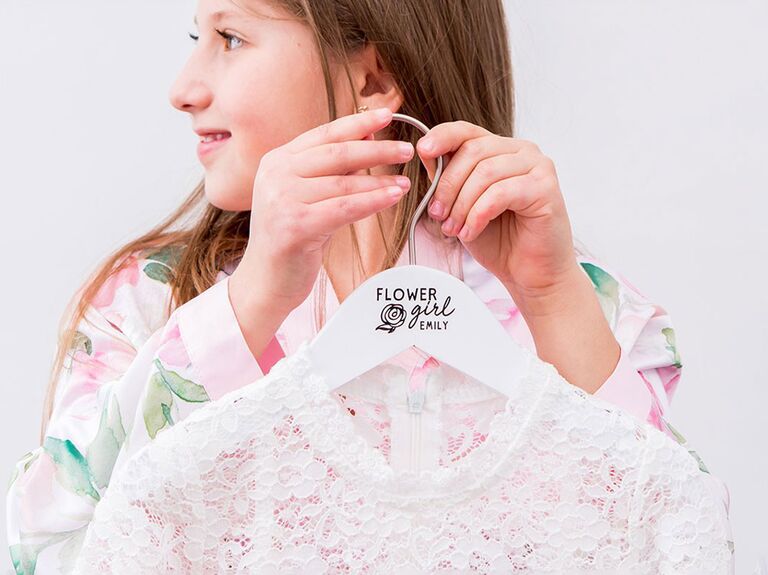 Like the bride, your flower girl also deserves her own special spot to hang her dress. This hanger comes in white or natural wood and is personalized with her role, name and—naturally—a rose. We're sure she'll use it after the big day, too.
Chiffon Flower Corsage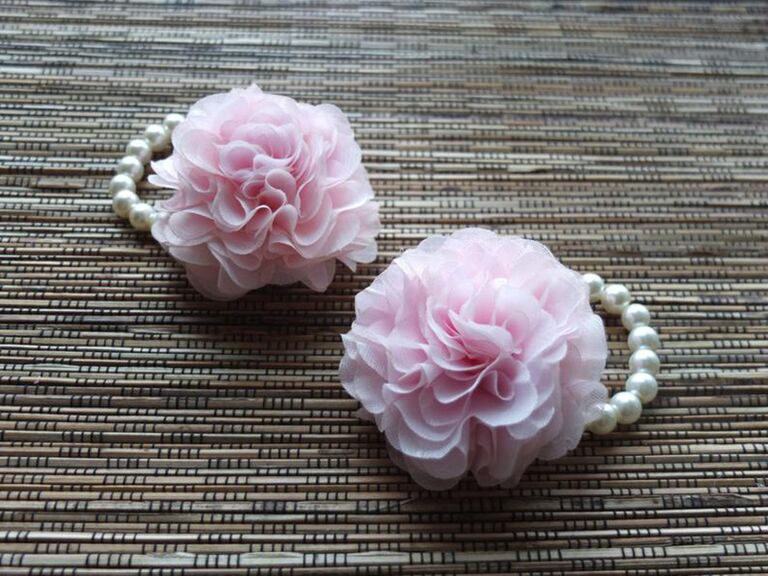 This delicate baby-pink corsage made from high-quality chiffon and ivory glass pearls is the perfect flower girl gift for her to wear down the aisle—and anytime she wants to play dress up after the wedding. The pearl strand is detachable, so the flower brooch can be used on its own, if desired. This chiffon corsage comes in numerous colors such as burgundy, Champagne and many more. (Check out these beautiful flower girl dresses to pair her corsage with.)
Retro Sunglasses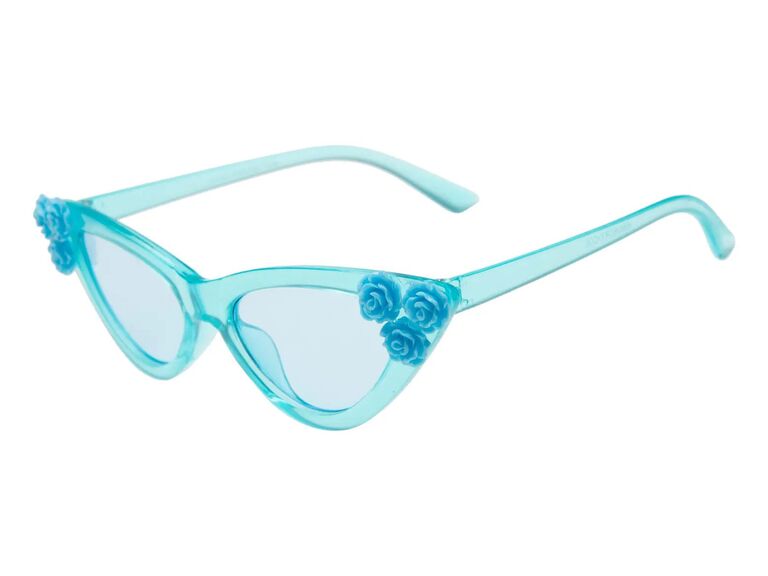 Make sure your flower girl feels confident in wedding pictures with fun props to pose with. We love these cool pointy cat eye shades that she can wear on the big day (especially if it's an outdoor ceremony) and for any other special occasion in the sunshine afterwards. We love the vintage vibes, too.
Shoot For The Moon Necklace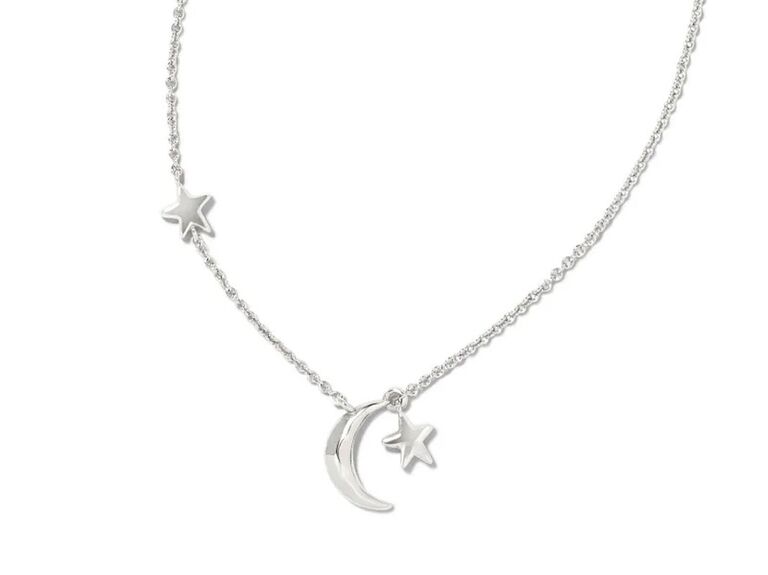 If you're looking for a flower girl thank-you gift that she'll cherish as she grows up, consider this dainty necklace. It comes in 14K gold, rose gold or rhodium-plated brass and features a moon and star charm. It'll be a constant symbol to her to always shoot for the moon. Even if she falls, she'll land amongst the stars (or you'll be there to catch her).
Unicorn Treasure Box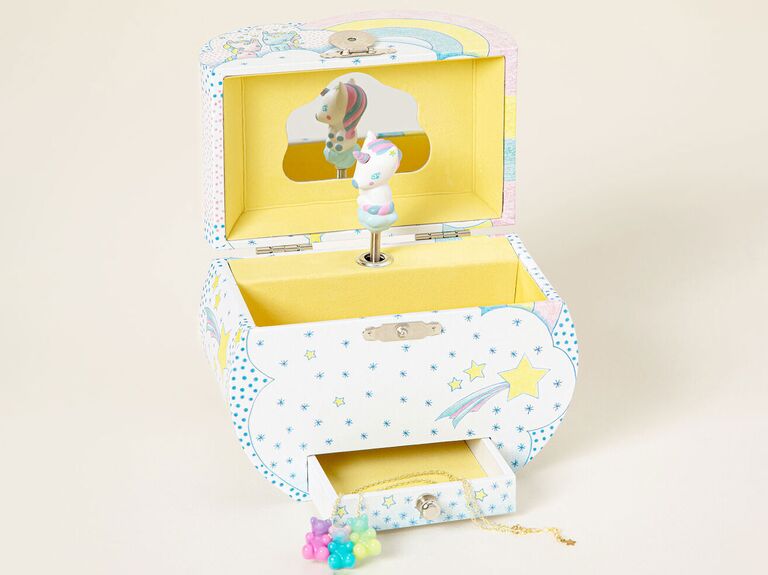 She'll need a place to store her growing jewelry collection and this adorable treasure box is just the spot for a young girl. It's decorated with clouds, rainbows and stars with a musical unicorn inside. Too cute!
Mirrored Jewelry Box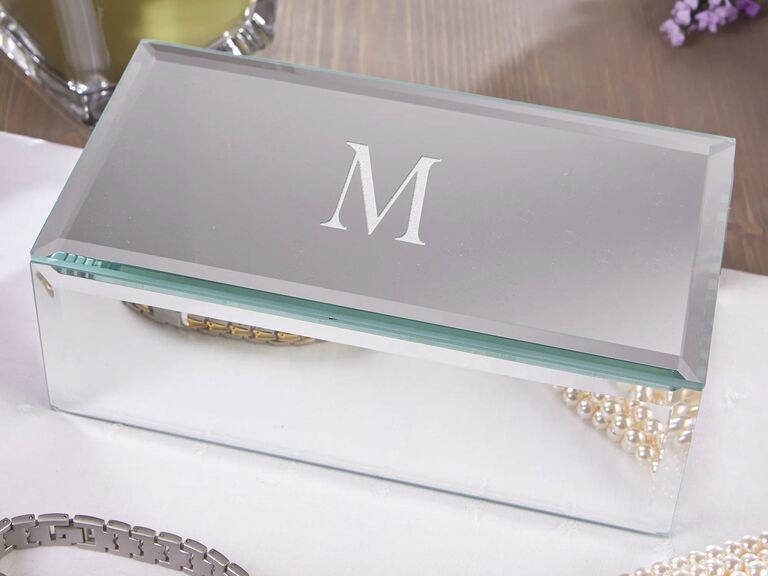 If you're shopping for an older flower girl, this simple and posh jewelry box will make her feel extra special—and she's sure to take very good care of it. The exterior is covered in mirrors with the lid personalized with her first initial or name, while the interior is covered in soft black velvet to keep her accessories safe. We bet she'll have this until it's her own turn to get married.
Chef's Apron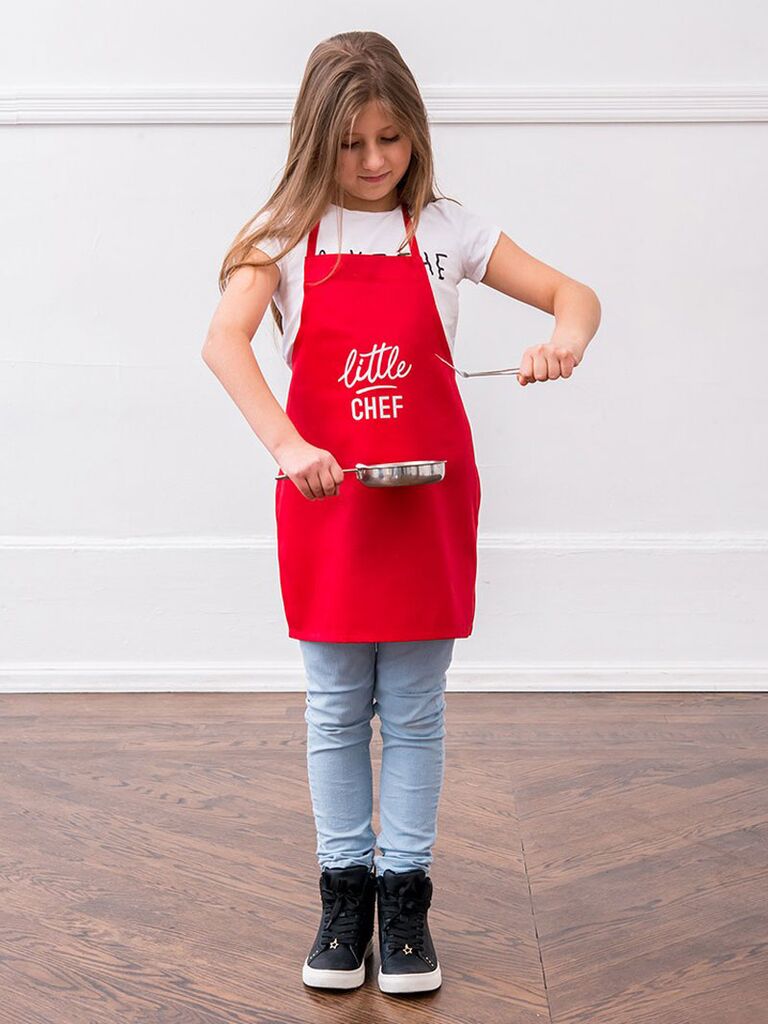 If your flower girl loves cooking in the kitchen, gift her a customized apron to play on her hobbies. Add a monogram initial or name to the apron, which is available in two colors: a white one that says: "little chef" or a red one that says: "Mom's little helper."
Cake Pop Baking Kit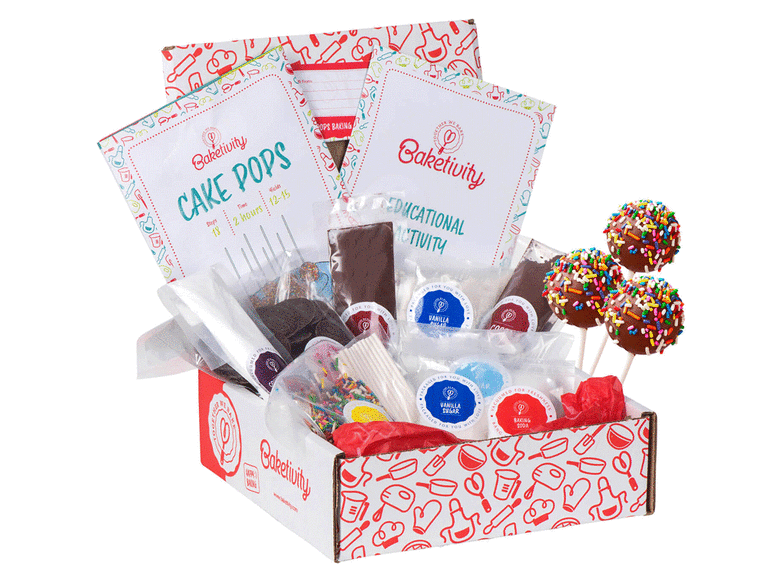 Who doesn't love cake pops? This flower girl gift idea is perfect if you have a little baker in your wedding party. The cake pop baking kit comes with easy recipes and pre-measured ingredients, so the flower girl can bake and enjoy delicious homemade cake pops. She'll definitely have a craving for these weeks after tasting wedding cake—good thing you thought ahead.
Dog Backpack
If your flower girl is in love with her furry best friend, this whimsical dog backpack is a great option for you. The backpack has plenty of pockets for her to pack snacks and books for school or pajamas for a sleepover. There are a total of seven animal backpack options for whatever the flower girl's favorite animal is, including a koala, llama and unicorn.
Floral Sleeping Mat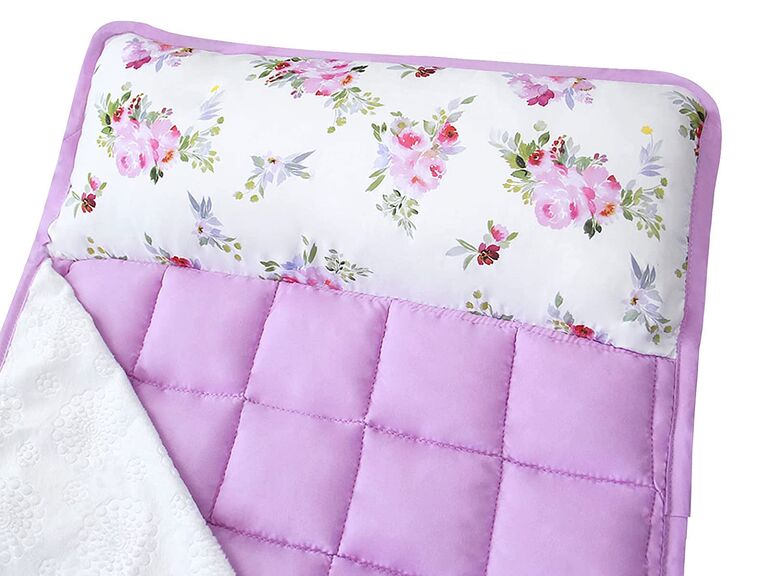 This all-in-one nap mat, printed with purple flowers, includes a built-in pillow, cuddly blanket and conveniently rolls up for easy carry. It'll be great for sleepovers or camping trips, but its first use will probably be at the reception when she gets a little tired after dancing.
Flower Pillow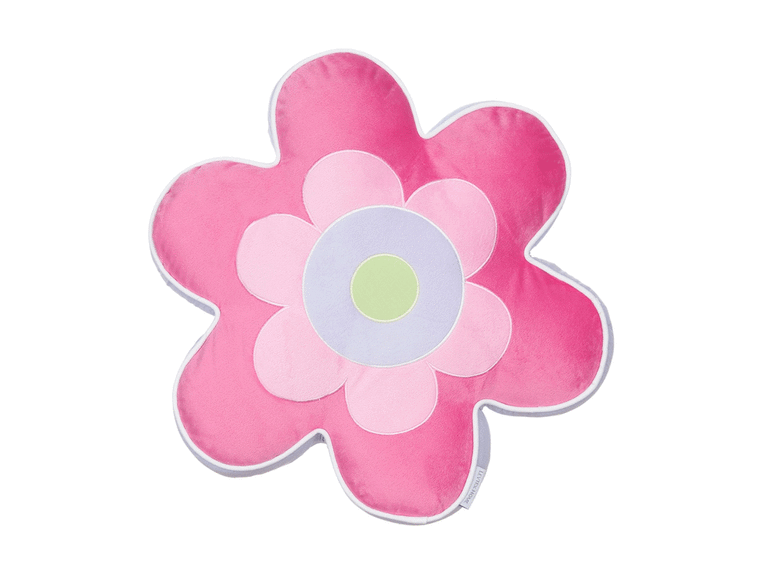 It might be a little on the nose, but why not give your flower girl a decorative flower-shaped pillow? This soft and cuddly pillow features hues of purple, pink and green to add a nice pop of color to her bedroom. Bonus points if the petals she tossed on your big day are pink.
Custom Dinosaur Book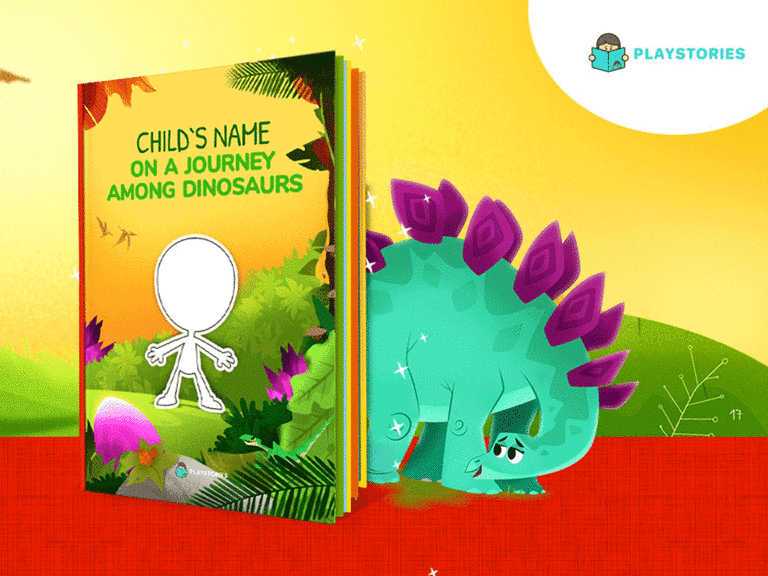 If she's a dino kind of girl, then make her the protagonist in a customized dinosaur storybook. You can make the character's features best fit your flower girl and include her name. Need even more ideas? Playstories offers other storybook options about traveling through a tropical forest, exploring the savanna and much more.
Embroidered Handkerchief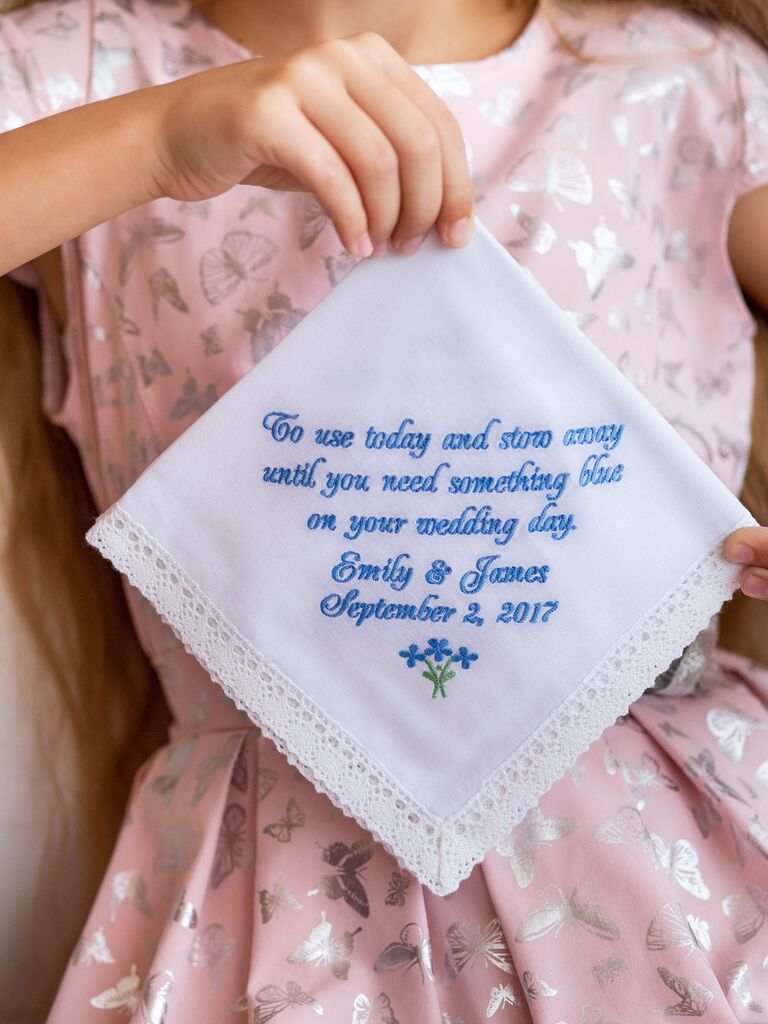 A delicate hankie with crocheted lace edges and a sweet embroidered message is an heirloom your flower girl will always treasure. You can write your own note or stick with the seller's suggestion. It reads: "To use today and stow away until you need something blue on your wedding day."
Scrapbook Album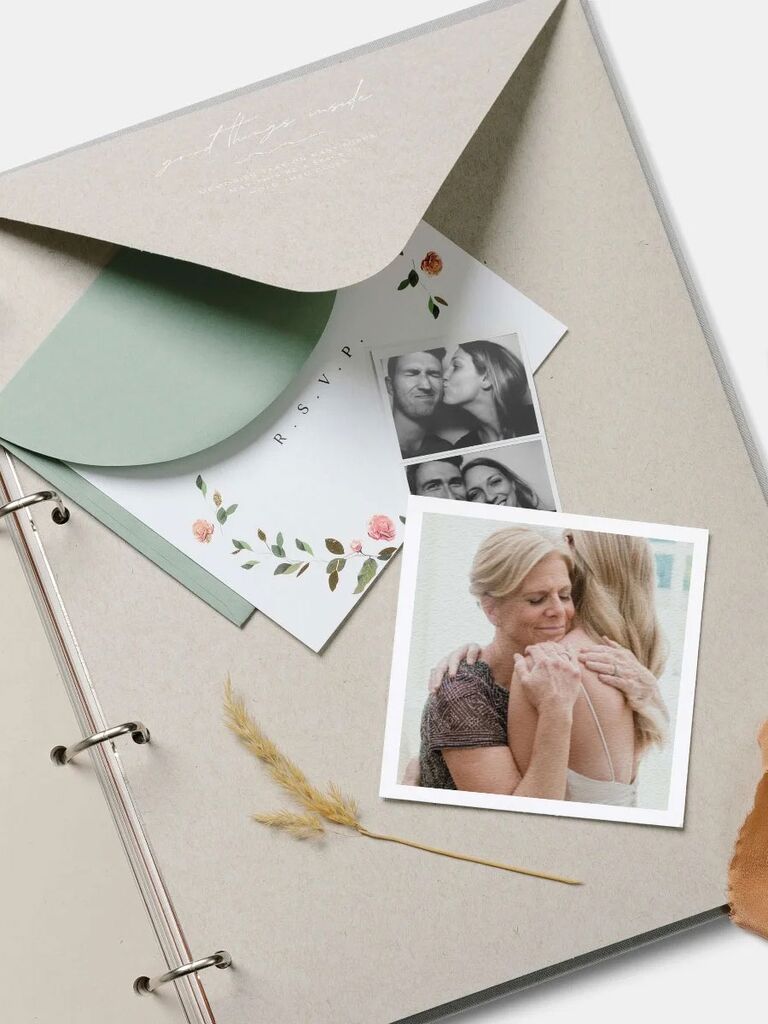 If you're looking for a really sentimental gift for your flower girl, this DIY scrapbook is just the thing to ensure she remembers the special day. You can gift it to her a little after the wedding once you have pictures to fill the first few pages with and can press in the petals she threw. Then, as she grows up, she (and her caretakers) can fill out the remaining pages. You'll all love having a memory book to look back on.