The Cutest Flower Girl Gift Ideas for Every Age
Trying to figure out what present to get your flower girl? We've rounded up some of the most creative ways to thank your special helper.
We have included third party products to help you navigate and enjoy life's biggest moments. Purchases made through links on this page may earn us a commission.
Having a flower girl (or a few flower girls) in your wedding? No matter how old your flower girl is, what her dress looks like, or if she's tossing petals or not, this much is true: For one brief moment as she walks down the aisle, your flower girl will steal the show. And for a role that memorable, nothing less than a flower girl gift that makes her heart swell will do. Browse our recommendations below, categorized by age, and prepare to be inspired.
In this article:
For Babies and Toddlers: Ages 3 and Under
Stuffed Animal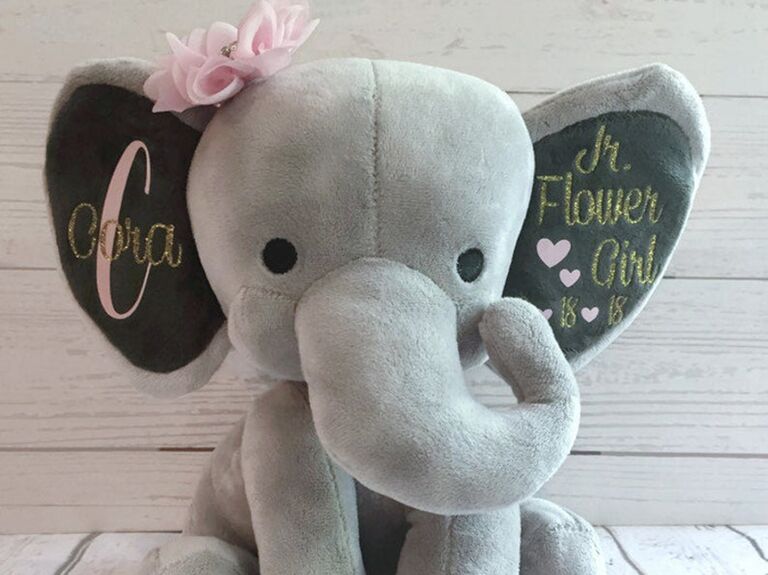 Looking for a gift for a flower girl proposal? This plush stuffed animal elephant makes a cuddly keepsake for your flower girl for years to come.
Rose & Lily's Boutique personalized stuffed elephant, $27, Etsy.com
Flower Corsage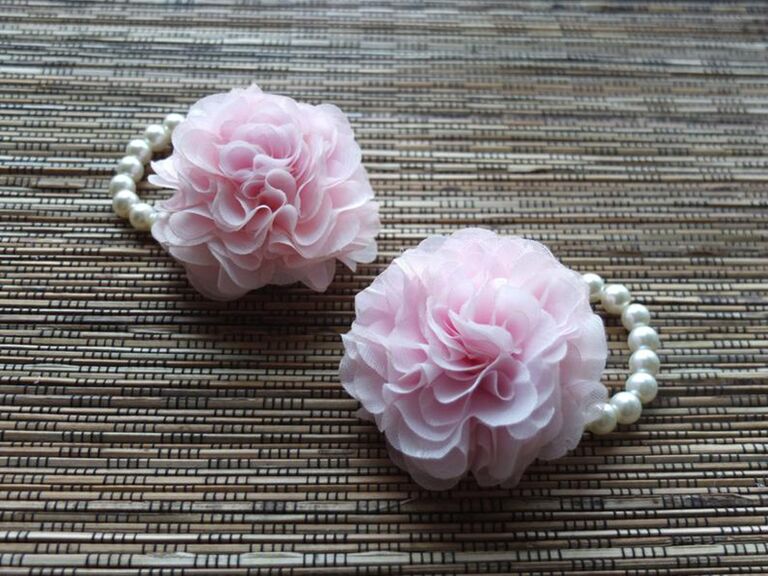 This delicate corsage made from high-quality chiffon and ivory glass pearls is the perfect accessory for your flower girl to wear down the aisle.
Love Mimosa Fleur kid size chiffon flower corsage, from $10, Etsy.com
Wall Art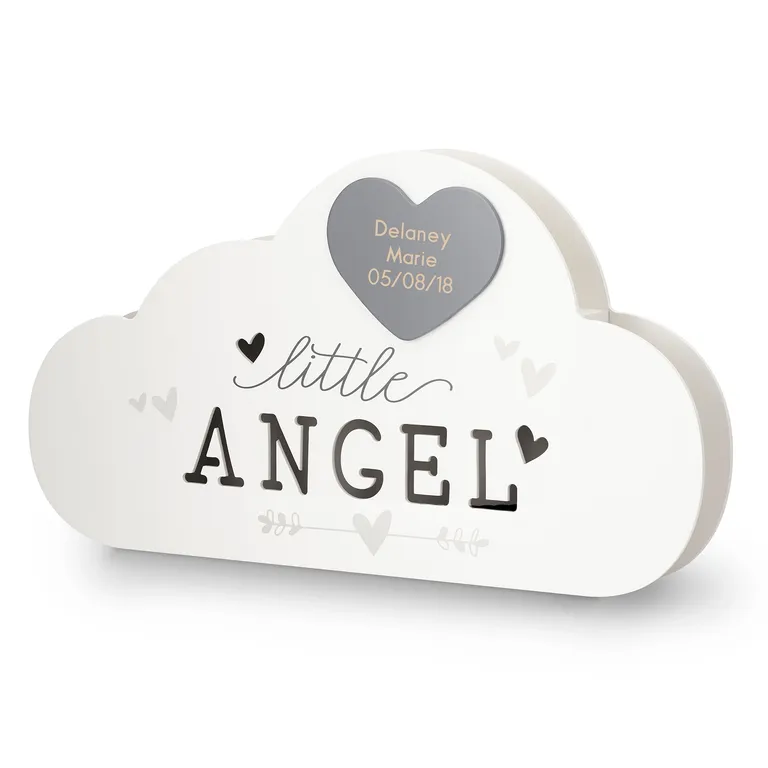 Let your flower girl know just how important she is to you with this personalized LED wall hanging that will light up her bedroom.
Things Remembered Little Angel LED light up wall art, $35, ThingsRemembered.com

Hooded Towel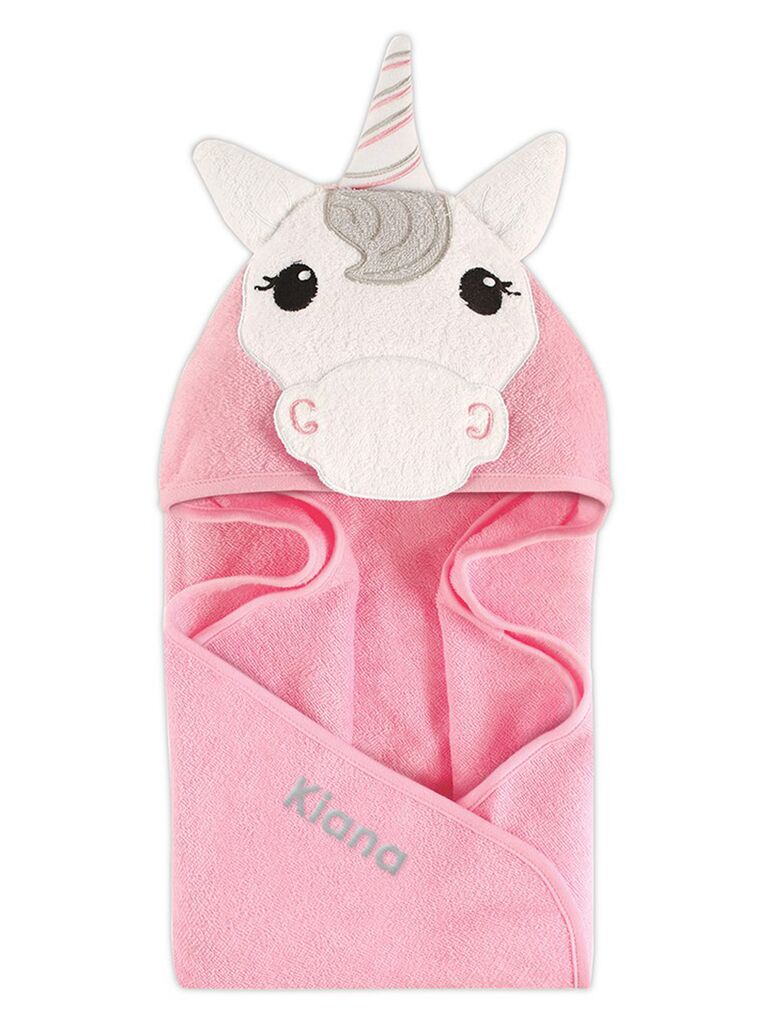 Help your flower girl transform into a unicorn with this cuddly and soft terry cloth hooded towel, which she can drape herself in after playtime in the pool or bath.
The Knot Shop animal face hooded towel in Unicorn, from $19, TheKnotShop.com
Ruffled Shirt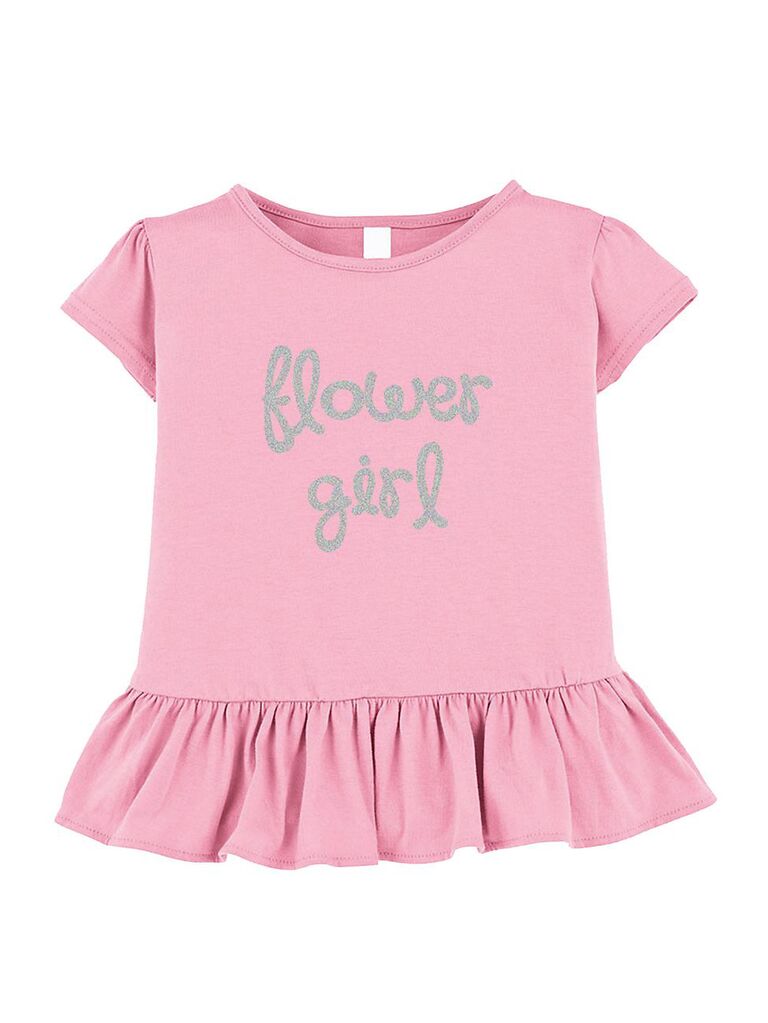 This decorative shirt with a ruffled peplum and sparkly print will make your flower girl look (and feel) like an off-duty princess. 
David's Bridal flower girl ruffle shirt, $20, DavidsBridal.com
Flower Stacker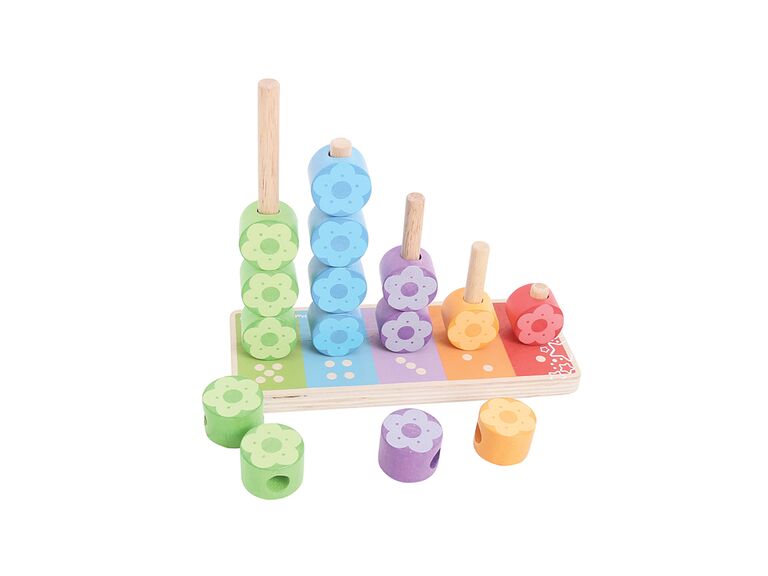 This colorful flower stacker will keep your little helper busy as you celebrate your love. This fun flower girl gift is the perfect introduction to counting for your favorite guest. 
 
BigJigs Baby My First Flower Stacker, $26, Walmart.com
Printed Onesie
She won't be the first flower girl who's too young to walk herself down the aisle. If your littlest attendant is still in diapers, this too-cute onesie is the gift for her. 
The Knot Shop cute personalized baby bodysuit in Black & Gray Flower Girl, $20, TheKnotShop.com
Sleeping Mat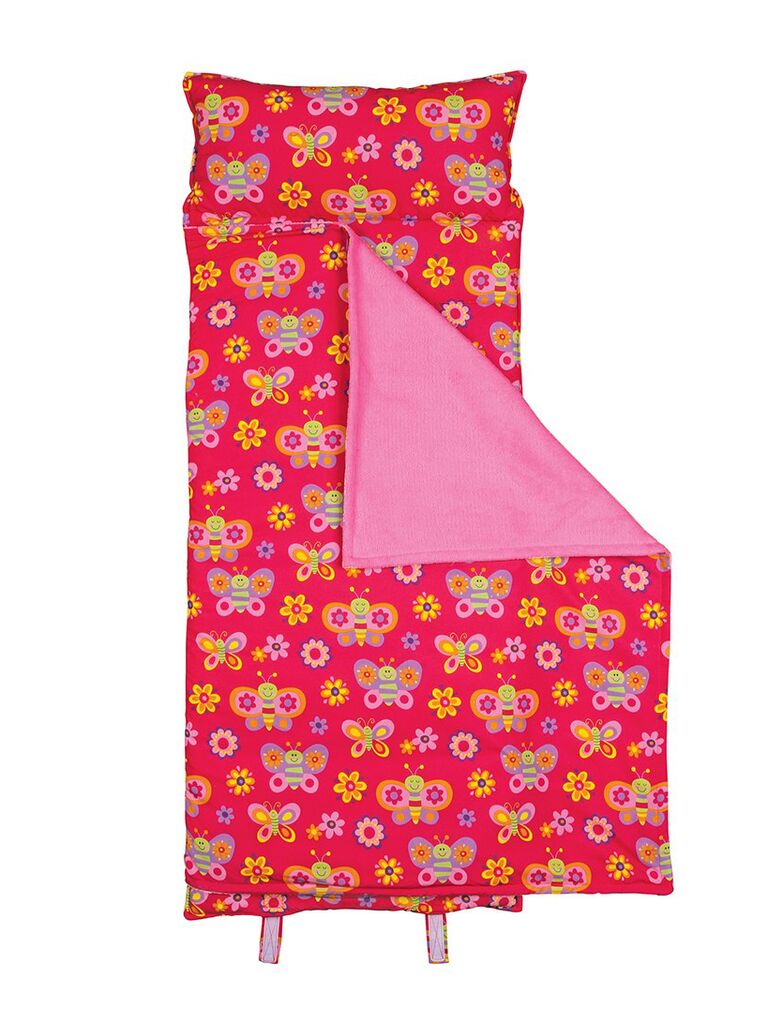 It might be your wedding day, but that doesn't mean your toddler flower girl needs to skip naptime. This all-in-one nap mat, printed with butterflies and flowers, includes a built-in pillow, cuddly blanket and a front pocket to hold her favorite toy or book. 
The Knot Shop butterfly print nap mat, from $45, TheKnotShop.com
Flower Rattle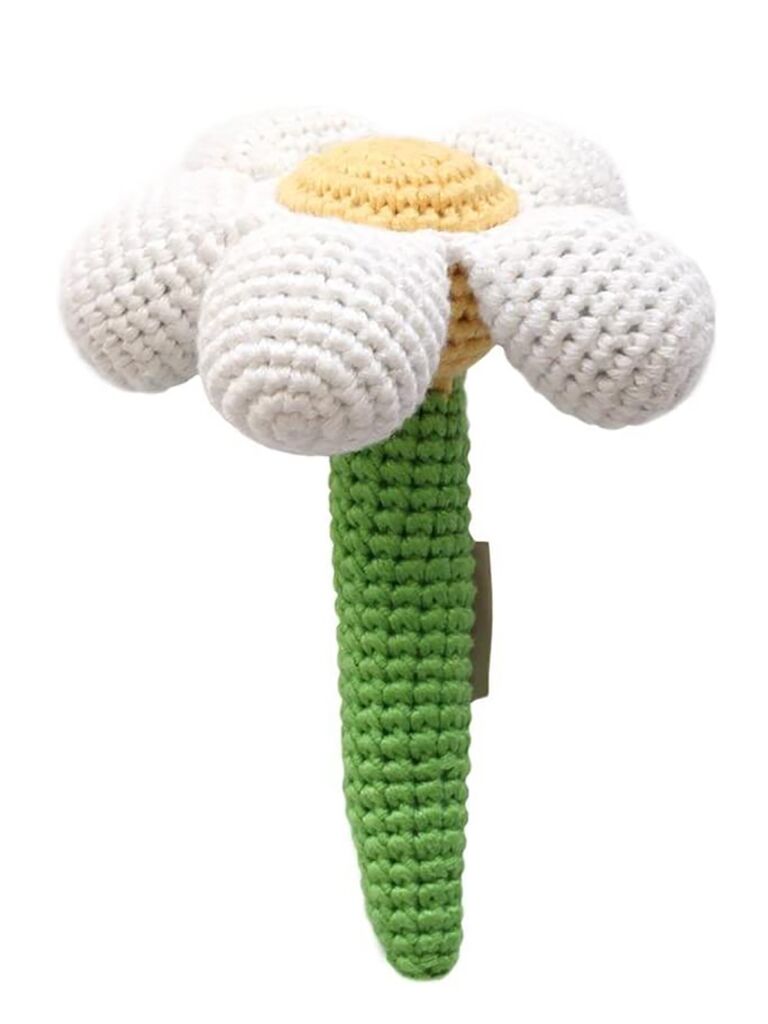 If there's a baby in your wedding party, keep your flower girl's little hands occupied with a plush, thematic rattle. 
Cheengoo organic bamboo hand crocheted stick rattle in White Daisy Flower, $15, Amazon.com
Thematic Rag Doll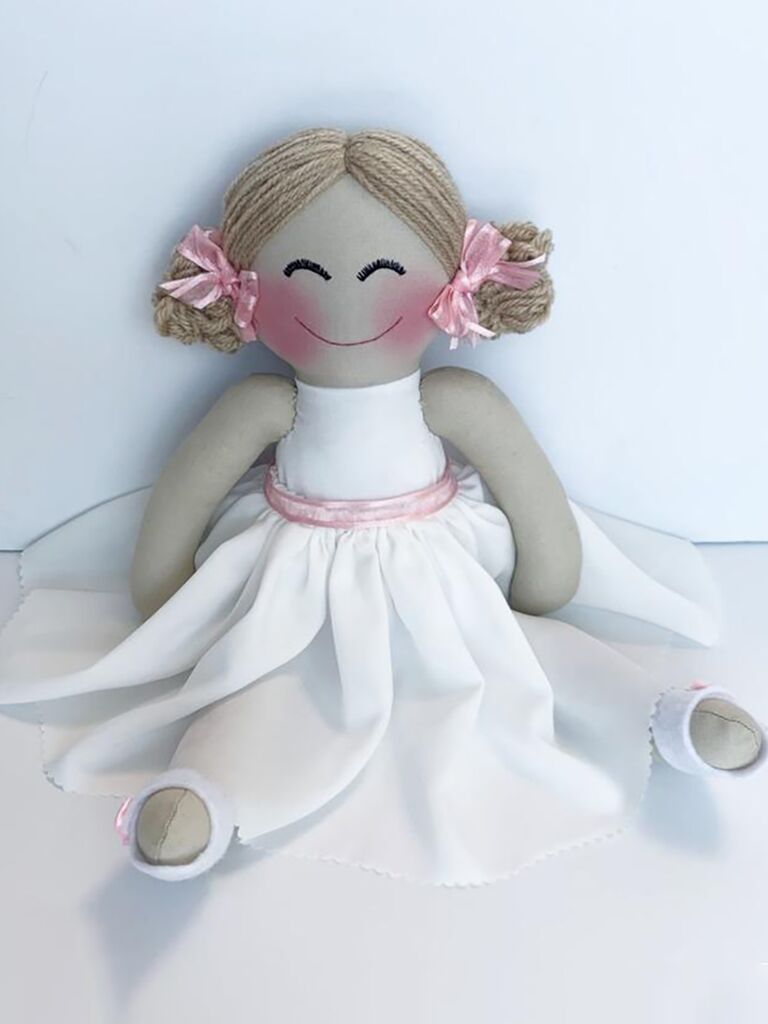 Your flower girl won't be able to resist a doll who's a flower girl too (bonus: you can customize the flower girl doll's ribbon and hair color). 
Littles by Bella flower girl doll wedding gift, $40, Etsy.com
Mini Chair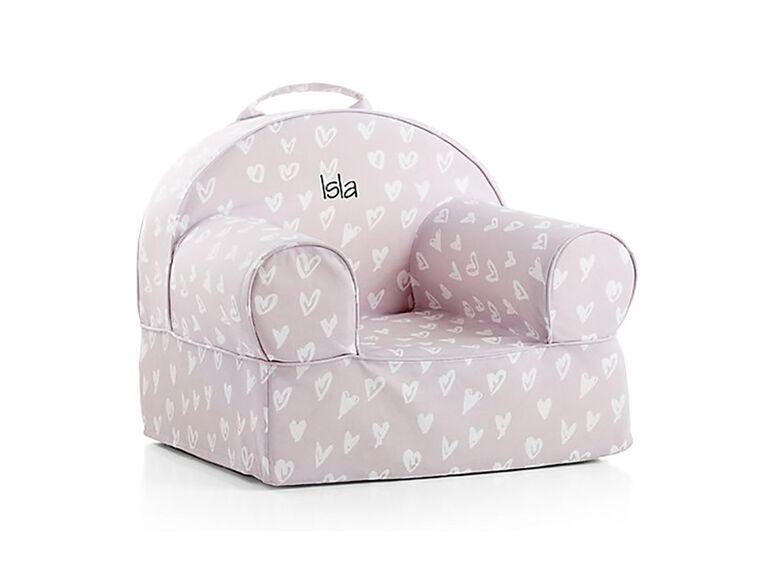 This whimsical armchair ensures that your flower girl will be sitting in style after her walk down the aisle. 
Crate and Kids small heart personalized Nod chair, $99, CrateandBarrel.com

For Little Kids: Ages 4 to 6
Custom Crayons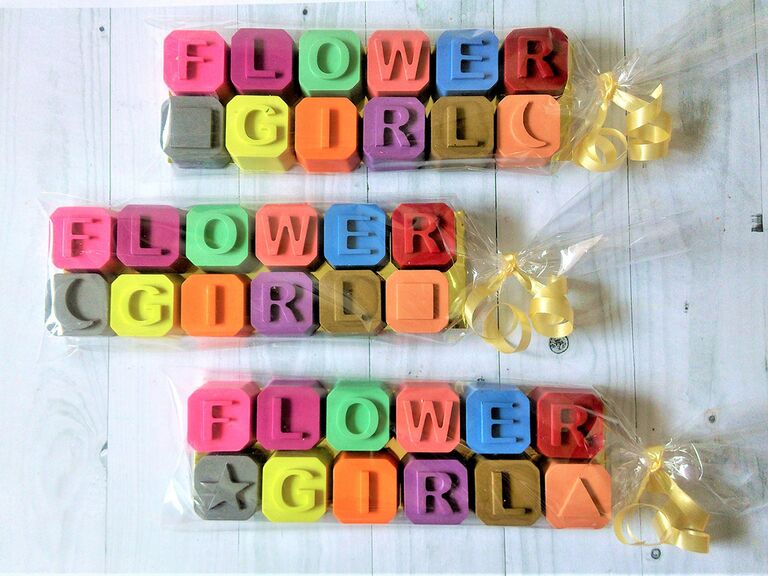 Pair these hand-poured crayons with coloring and activity books, and you have a gift made in flower girl heaven. 
Crayons By Kelly flower girl wedding crayons, from $7, Etsy.com
Activity Box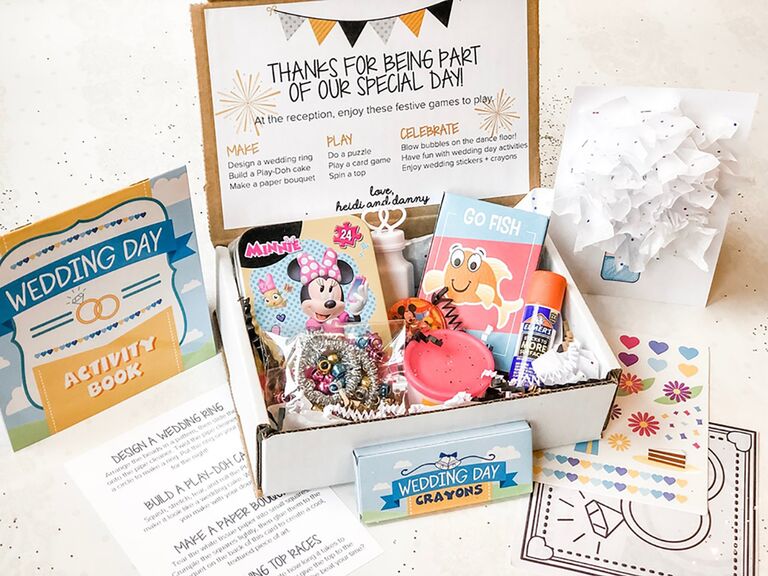 This creative wedding day kit is sure to keep your guest of honor occupied as you celebrate your love. Complete with an activity book, bubbles and even card games, this interactive gift is one for the books!
Craft and Boogie Wedding Day Busy Kit, $20, Etsy.com
Piggy Bank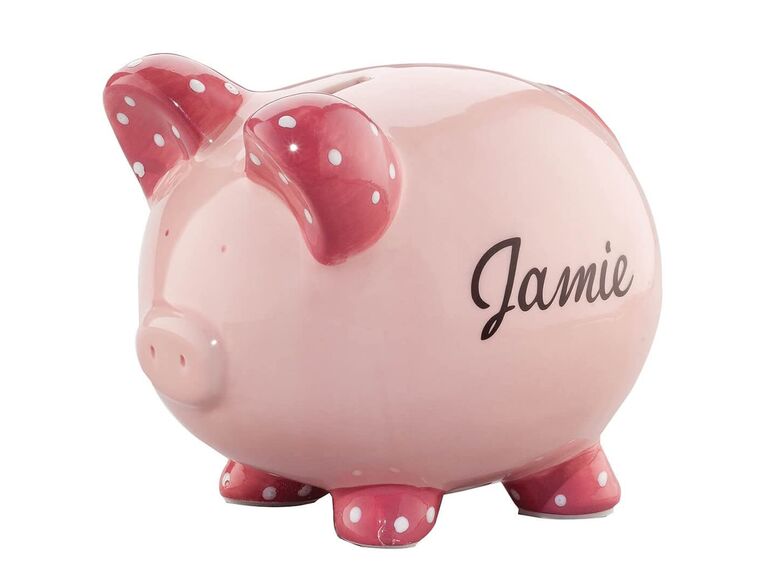 Here's an updated take on a childhood classic that your flower girl can display well into her teen years. 
Miles Kimball personalized ceramic kids piggy bank in Pink, $30, Amazon.com
Kids' Satchel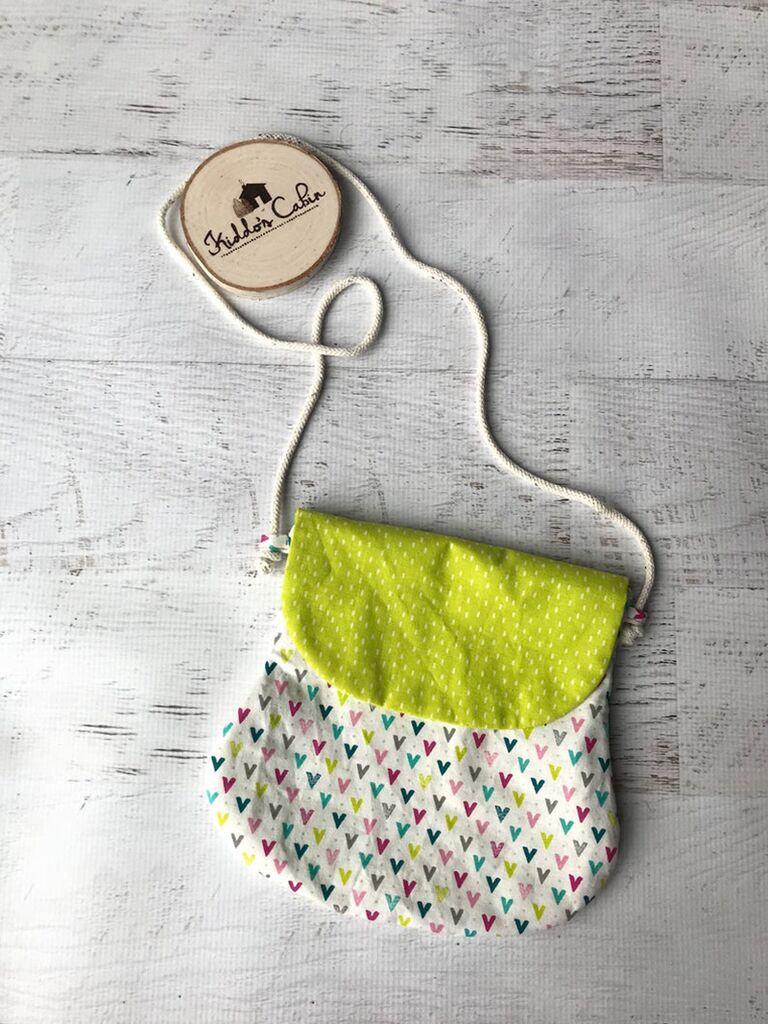 This satchel purse is made with 100% cotton fabric and can be easily adjusted for size, acting as a superb flower girl gift idea for your favorite little adventurer.
Kiddo's Cabin kids crossbody satchel, $25, Etsy.com
Satin Robe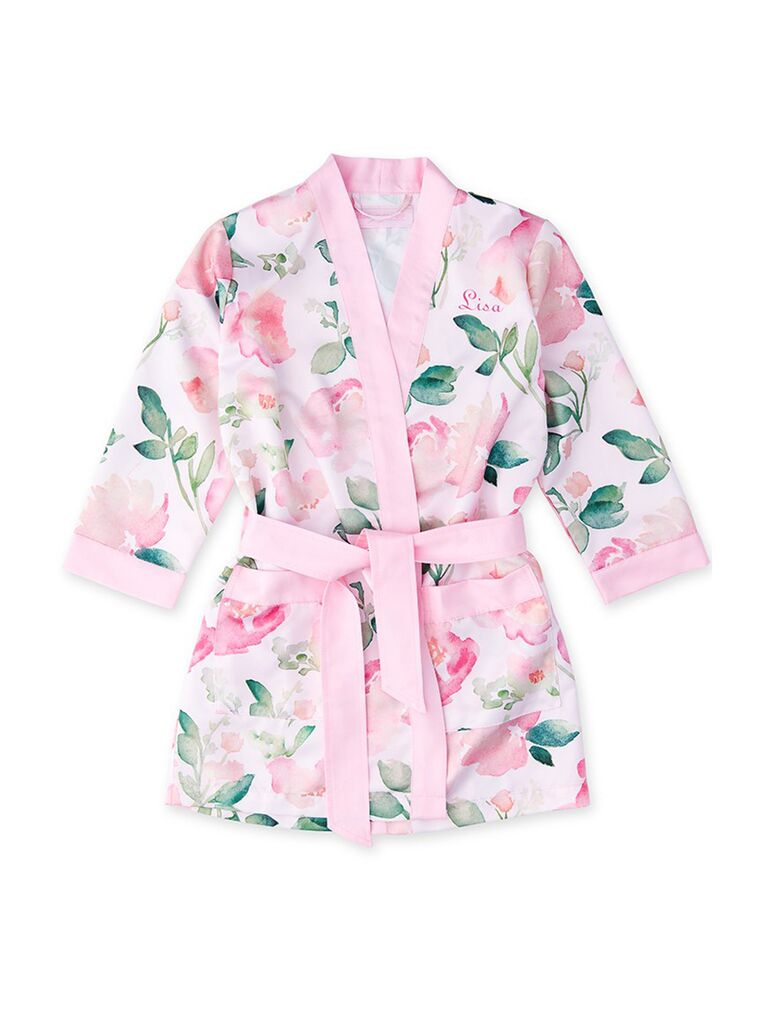 The older gals wear them when they get ready, so why shouldn't the littlest attendants get in on the fun too? But buyer beware: Once she slips into this oh-so-pretty floral "big girl" robe, she might never want to take it off—even to put on her flower girl dress. 
The Knot Shop personalized flower girl satin robe with pockets in Pink Floral, $18, TheKnotShop.com 
Glitter Sunglasses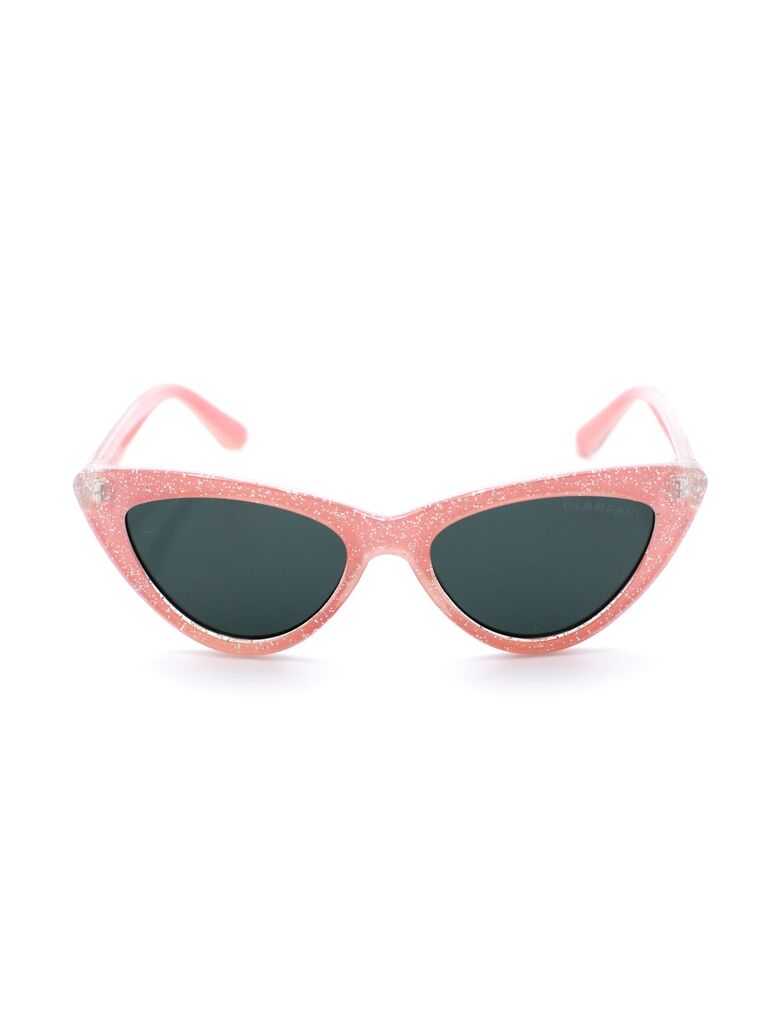 We love these cool cat eye shades that your flower girl can wear on your wedding day and for any other special occasions in the sunshine. 
GlamBaby Laila cat eye sunglasses, $30, Nordstrom.com
Hair Barrette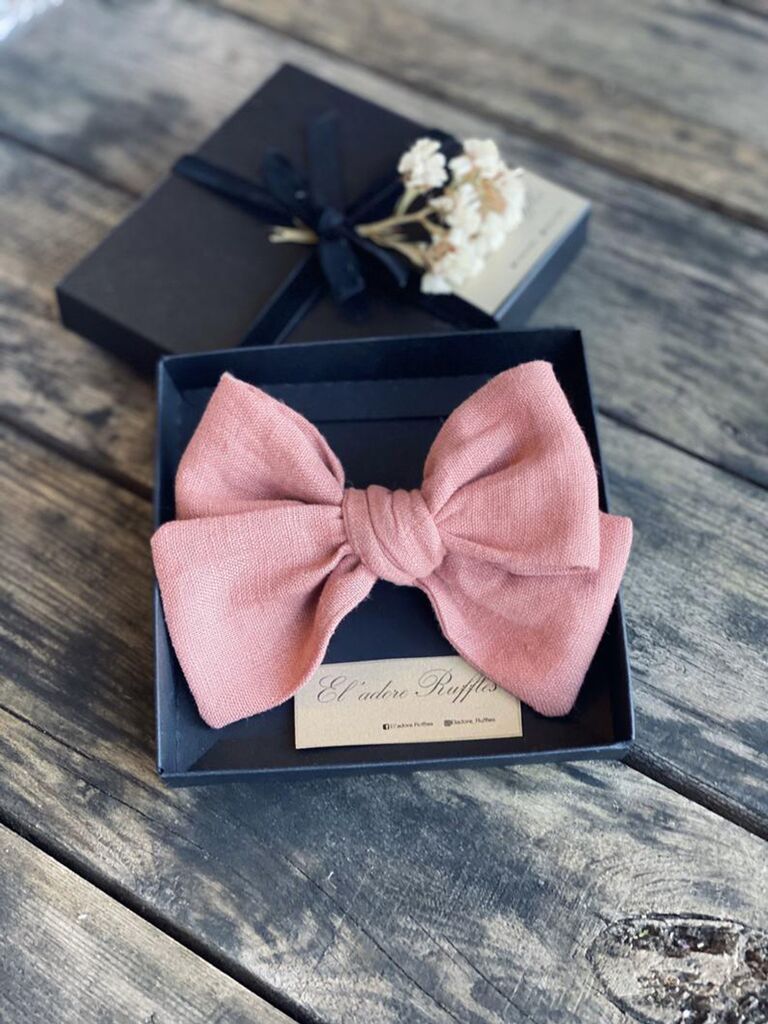 A dusky pink hair bow is a foolproof gift idea for a successful flower girl proposal. This pretty hair accessory is bound to make your flower girl feel her absolute best.
Eladore Ruffles girls hair bow French barrette clip in Old Rose, $18, Etsy.com 
Flower Girl Superhero Cape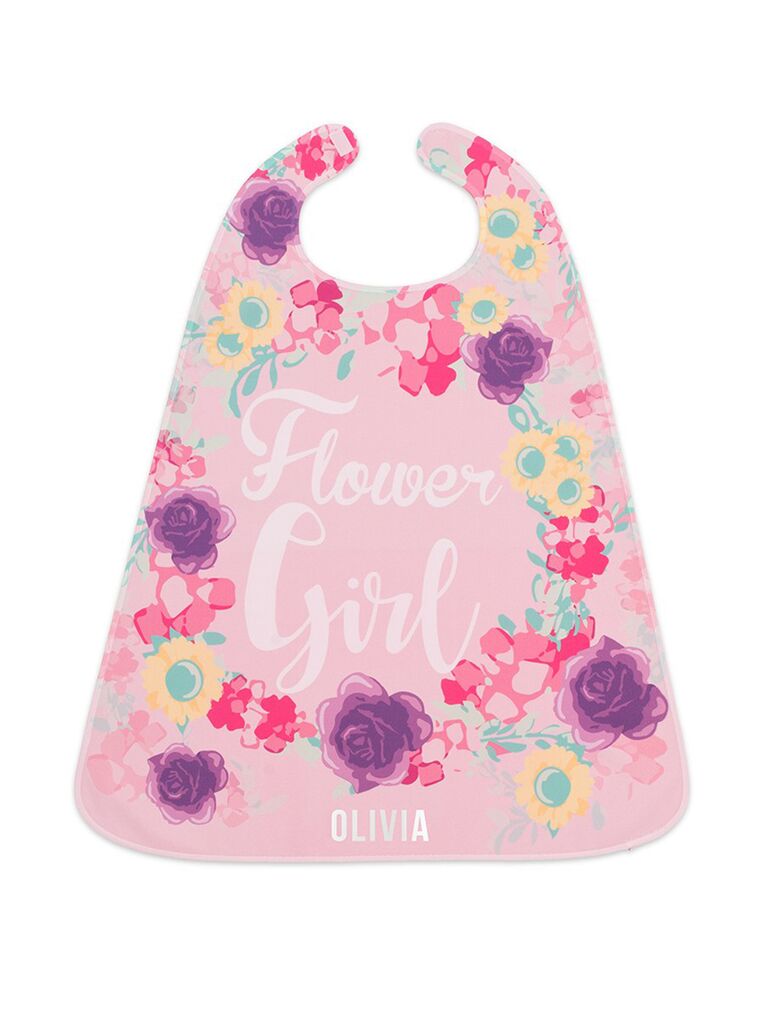 Show her you understand how important her role is as lead agent of the Petal Patrol by gifting her a superhero-style cape in a pretty floral pattern.
The Knot Shop flower girl super cape, $15, TheKnotShop.com
Jewelry Box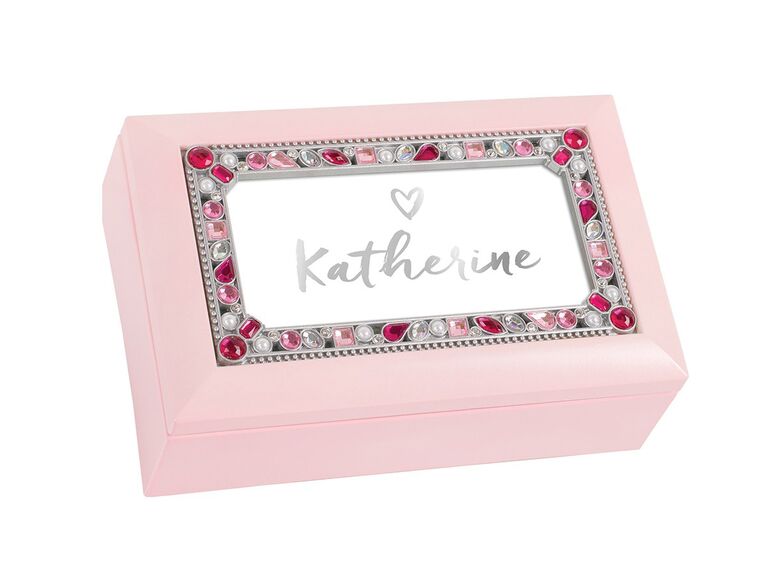 This sweet keepsake gift can be personalized for your flower girl and—bonus—plays a rendition of  "You Are My Sunshine."
The Knot Shop small jeweled music box, $30, TheKnotShop.com
Keepsake Book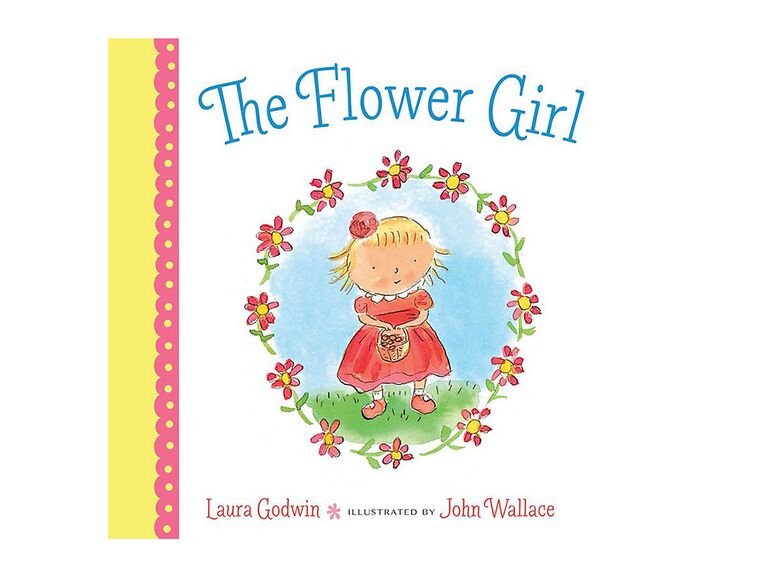 In delightful fashion, this hardcover book plays up—and playfully explains—the all-important role of a flower girl. 
Little, Brown Books for Young Readers The Flower Girl by Laura Godwin, $11, Amazon.com
Tea Set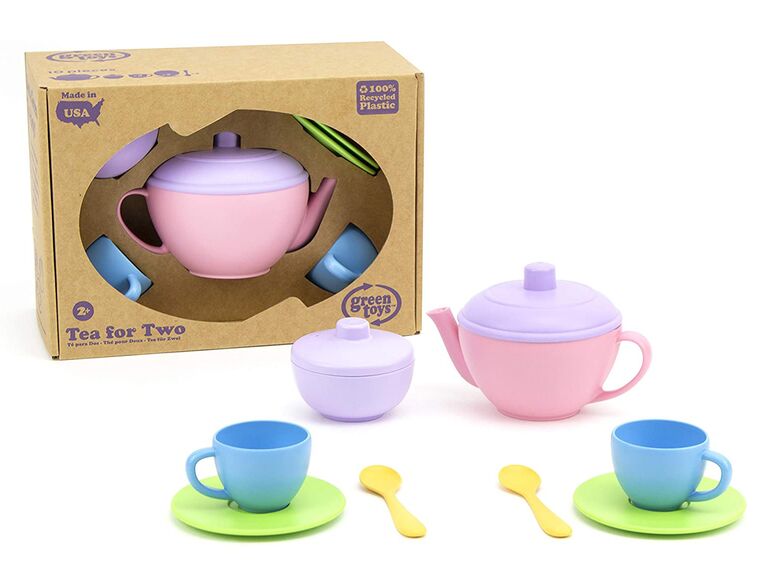 A play tea set never goes out of style. This colorful one includes all your flower girl needs for a gathering with all of her friends—real or imaginary. Made using recycled plastic, this charming set is an ideal gift for your guest of honor.
Green Toys Tea for Two, $12, Amazon.com
Animal Puzzle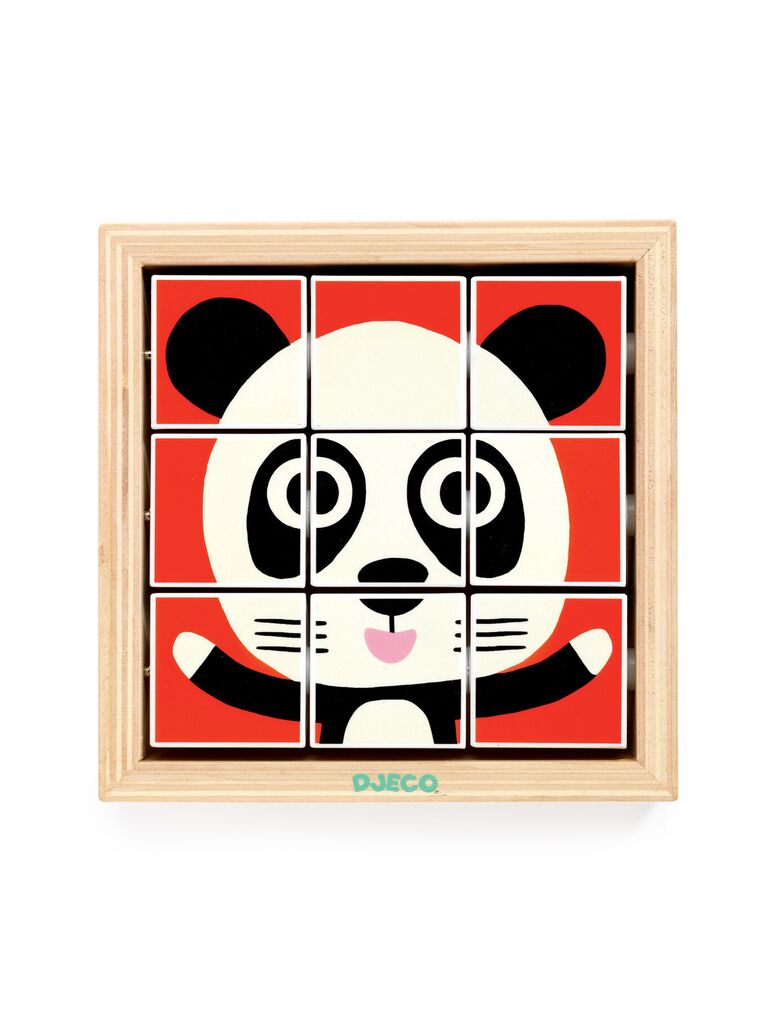 Keep your flower girl occupied during the rehearsal or reception with a wooden puzzle crafted for the burgeoning modern art fan. The animal designs are adorable.
Djeco Tournanimo 3D rotating wooden puzzle, $20, Store.MoMA.org

Flower Girl T-Shirt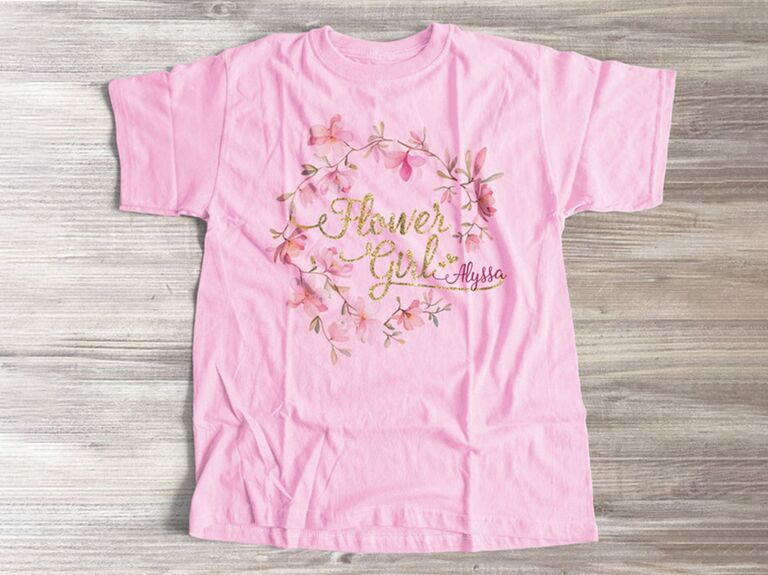 A soft cotton jersey shirt that memorializes your flower girl's role in your wedding will definitely elicit smiles. It also makes a good "Will you be my flower girl?" gift.
You're Worth It Floral Wreath flower girl personalized shirt, from $19, Etsy.com 
Kids' Apron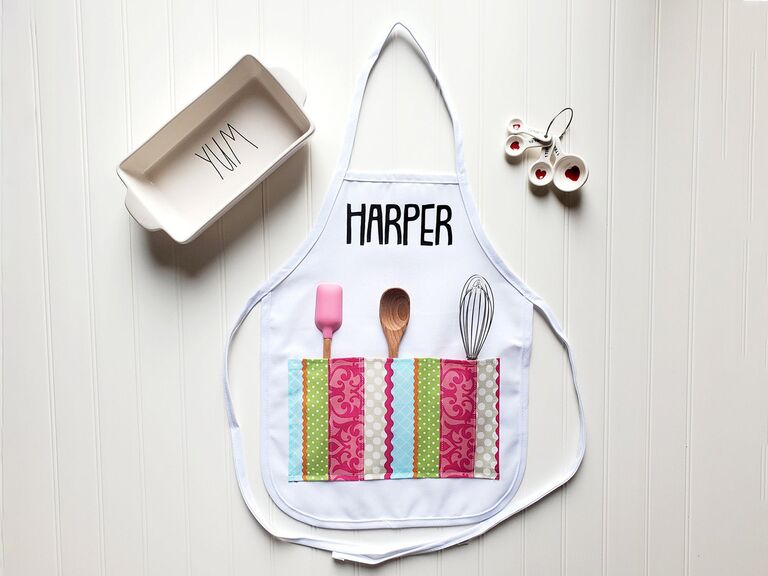 For flower girls with an appetite for cooking, this sleek and stylish apron in her size is a splendid gift idea.
Growing Roots Shop personalized kids apron, from $18, Etsy.com
Flower Girl Doll
Give your flower girl a sweet memento from being in your wedding with an elegant doll donning an equally elegant Cinderella-style ensemble. 
Lottie Dolls Royal Flower Girl doll, $25, Amazon.com
For Big Kids: Ages 7 and Up
Picture Frame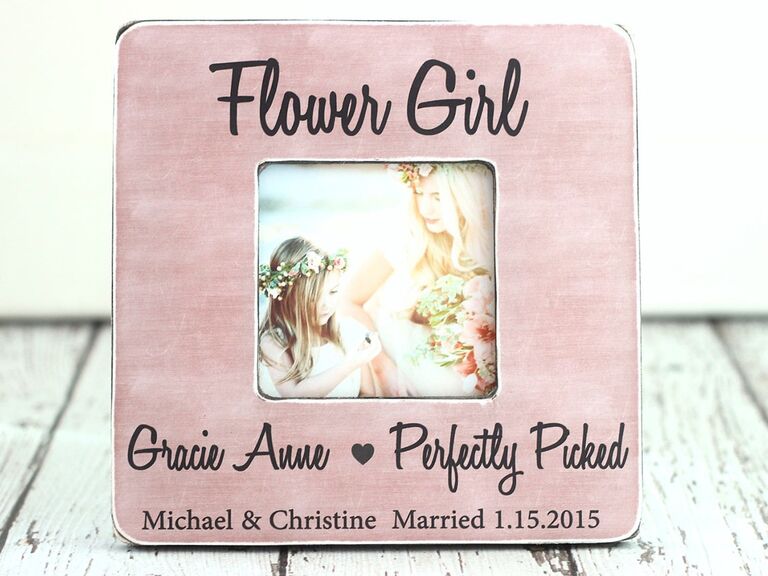 Memorialize both of your big days with a custom photo of the bride and her flower girl. 

Photo Philosophy Shop flower girl personalized rustic picture frame, $35, Etsy.com
Canvas Tote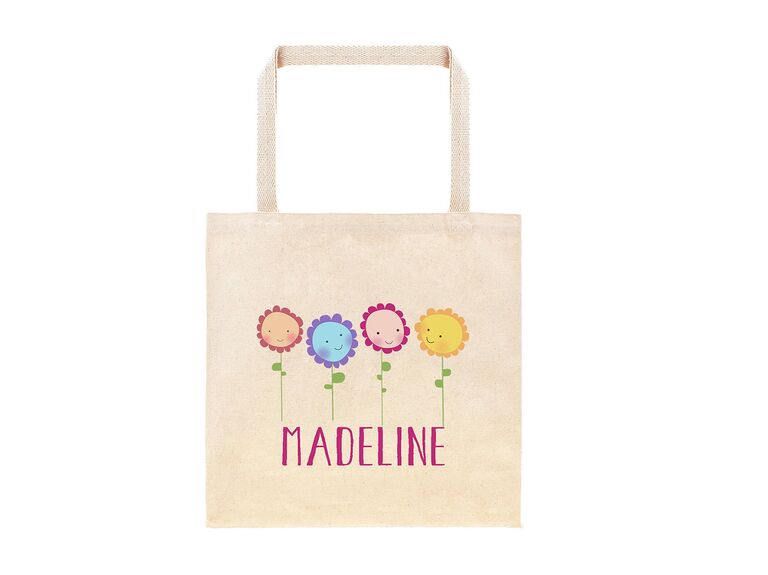 This sturdy canvas tote includes free personalization. Bonus idea: Stock it with a few fun items that your flower girl will love, like games, snacks and lip gloss. 
FINCH + FOX Happy Flowers flower girl wedding bag, from $19, Etsy.com
Illustrated Book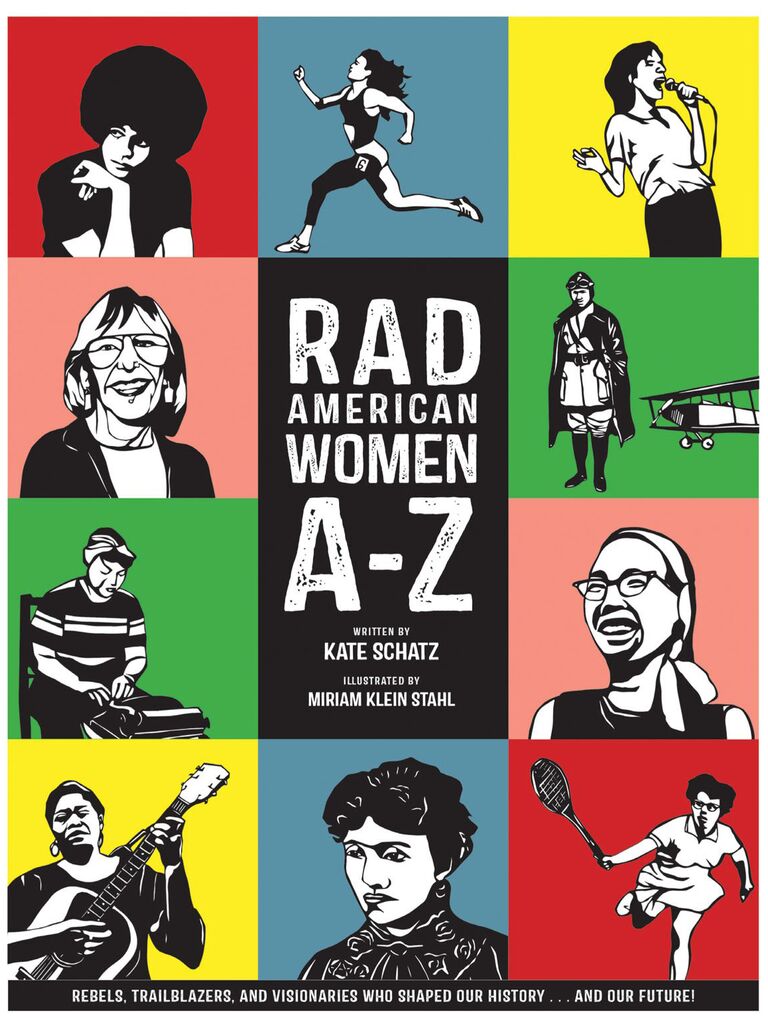 Have your flower girl celebrate the power of girlhood everywhere with an illustrated A-to-Z book that profiles amazing women in American history, from Angela Davis (A) to Zora Neale Hurston (Z).
City Lights Publishers Rad American Women A-Z by Kate Schatz, $11, Amazon.com
Flower Girl Gift Box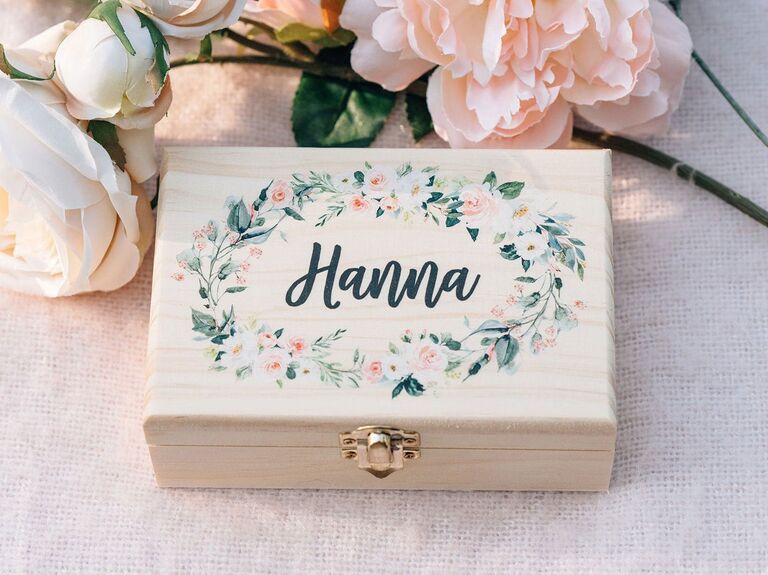 This personalized wooden gift box is a beautiful present for your little helper. With an ethereal floral design and ornate script, your flower girl will be swept off her feet with delight!
Apk Bridesmaid Gifts flower girl gift box, $18, Etsy.com
Sketch Board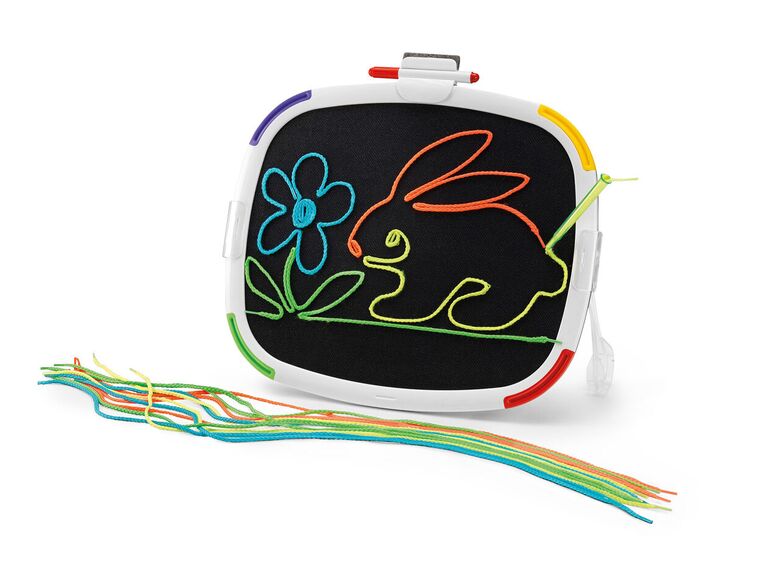 Your flower girl will have fun crafting her own designs on this double-sided sketch board, whether that's at your rehearsal or in her own bedroom. The set includes 12 assorted colored laces, 12 drawing guide sheets and an eraser pen. 
 
Quercetti Filo Tablet, $25, Target.com
Wooden Hanger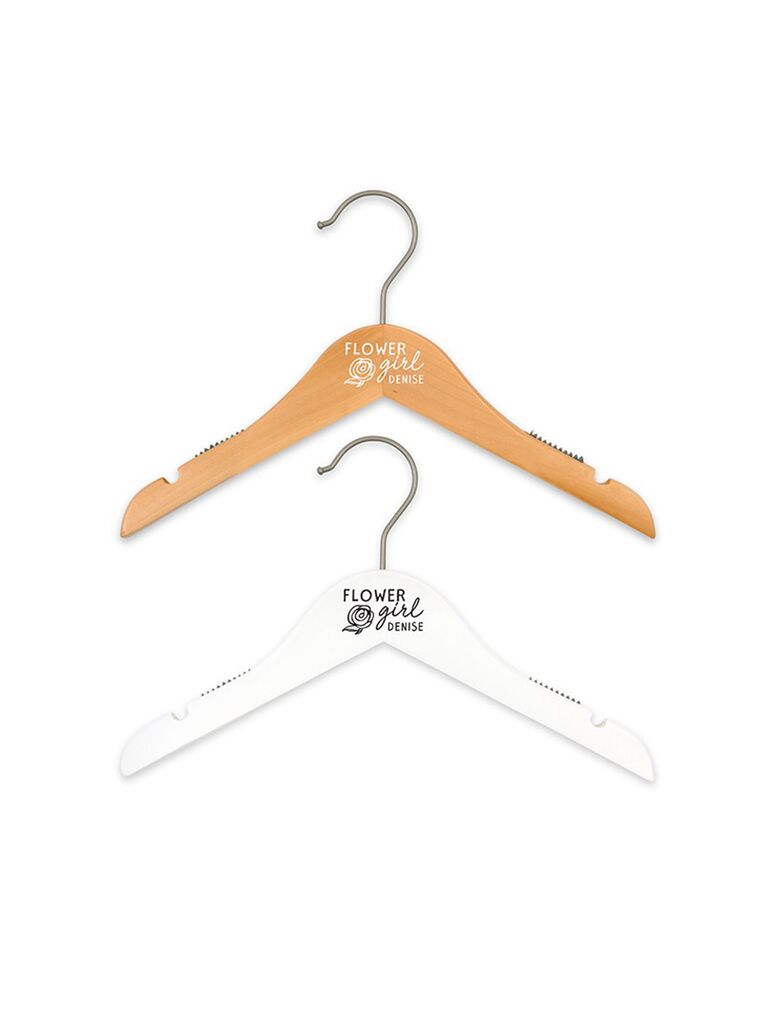 What better homage to pay a flower girl than with a token featuring a flower? This charming wooden hanger is printed with a delicate rose and can be personalized with your littlest attendant's name. 
The Knot Shop personalized wooden flower girl wedding clothes hanger in Modern Rose, $10, TheKnotShop.com 
DIY Nail Polish Kit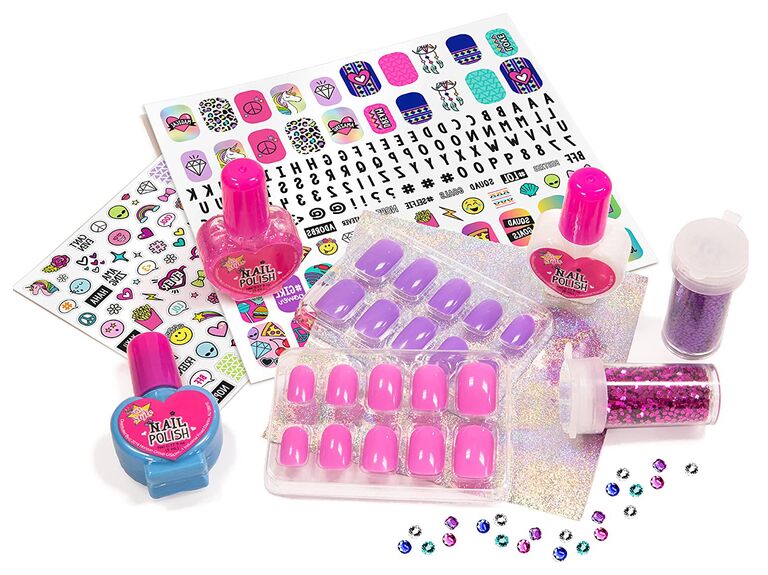 As a gift for an older flower girl, this DIY polish kit totally nails it. With two adhesive nail sets, three polish colors, glitter pots and sparkling gemstones, your flower girl will truly feel like the belle of the ball. 
Just My Style All About Nail Art, $13, Amazon.com
Compact Mirror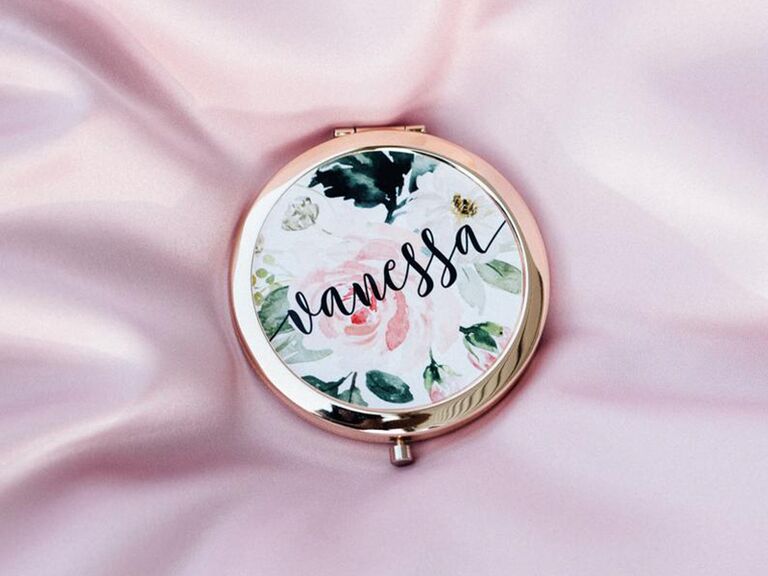 Mirror, mirror, on the wall, who's the sweetest of them all? Your flower girl, of course. 
Apk Bridesmaid Gifts personalized pocket mirror, $12, Etsy.com
Initial Charm Necklace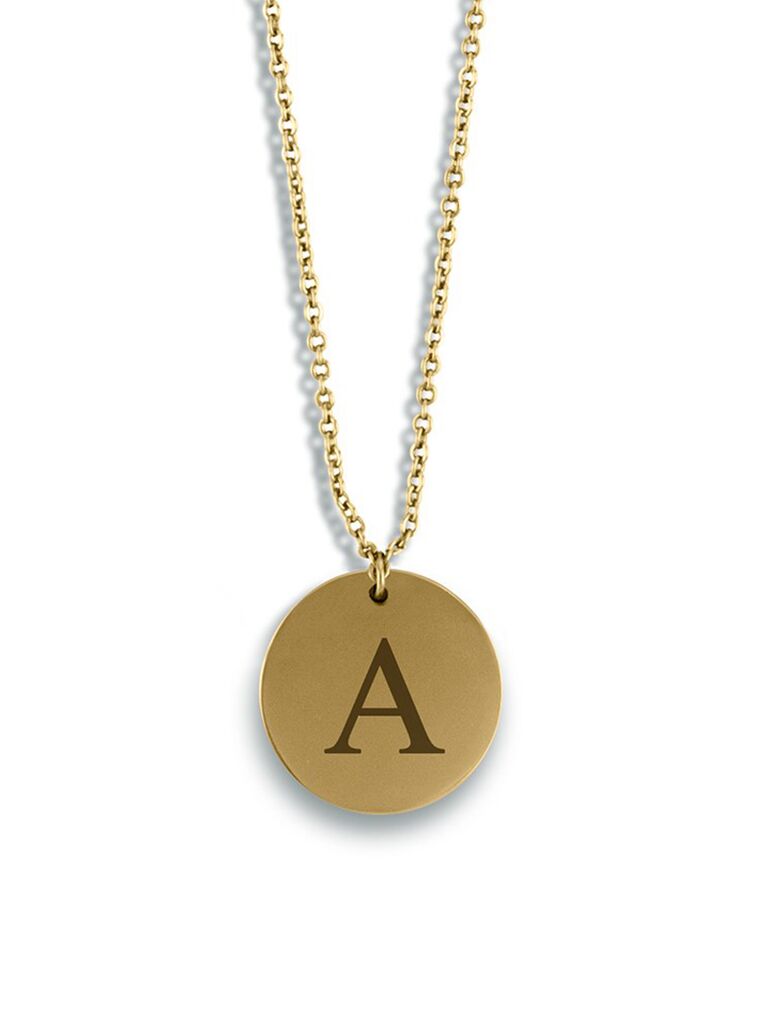 She's an angel for helping you out on your wedding day—and for looking super-cute while doing it. Show your appreciation with a monogrammed necklace complete with her initials.
The Knot Shop personalized gold circular tag necklace, $26, TheKnotShop.com 
Embroidered Handkerchief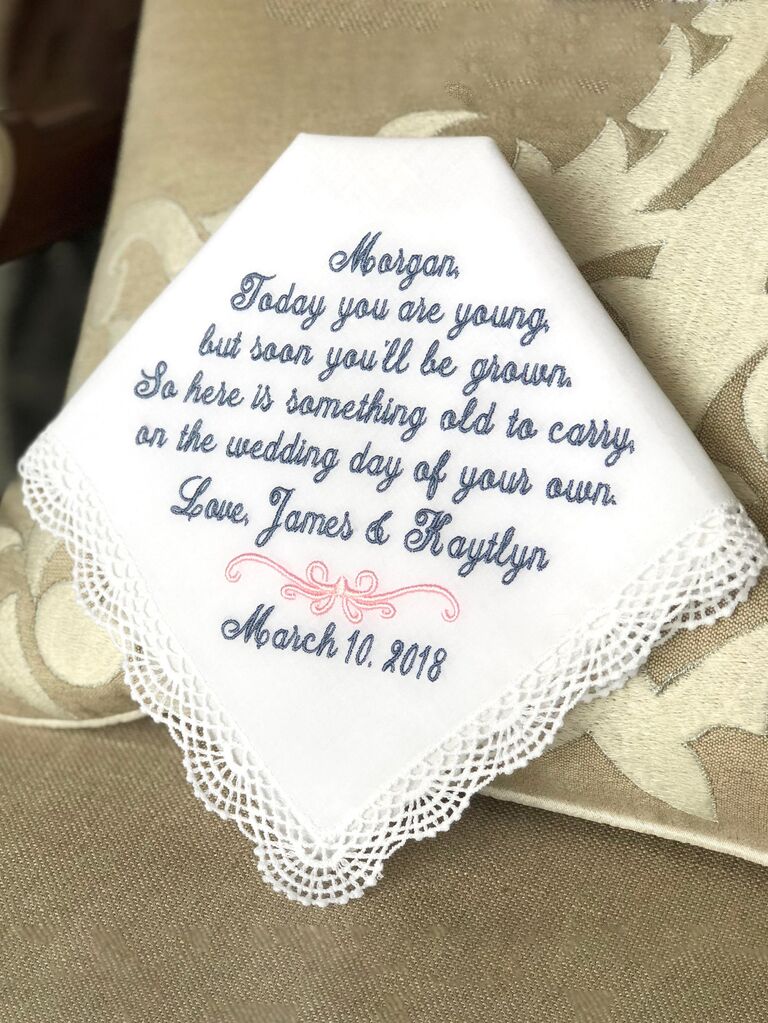 A delicate hankie with crocheted edges and a sweet embroidered message is an heirloom your flower girl will always treasure. 
Mister and Mrs flower girl embroidered wedding handkerchief, $26, Etsy.com
Duffel Bag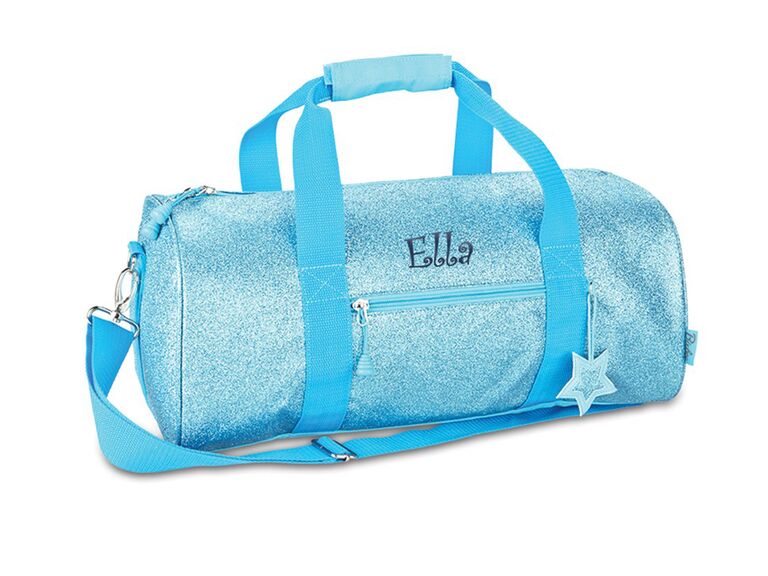 For the flower girl who loves to stand out, a glittery gym bag is a statement-worthy way to tote clothes for sleepovers, sports and more (and can also be personalized). 
The Knot Shop personalized kids glitter duffle bag in Turquoise, from $38, TheKnotShop.com
Classic Children's Literature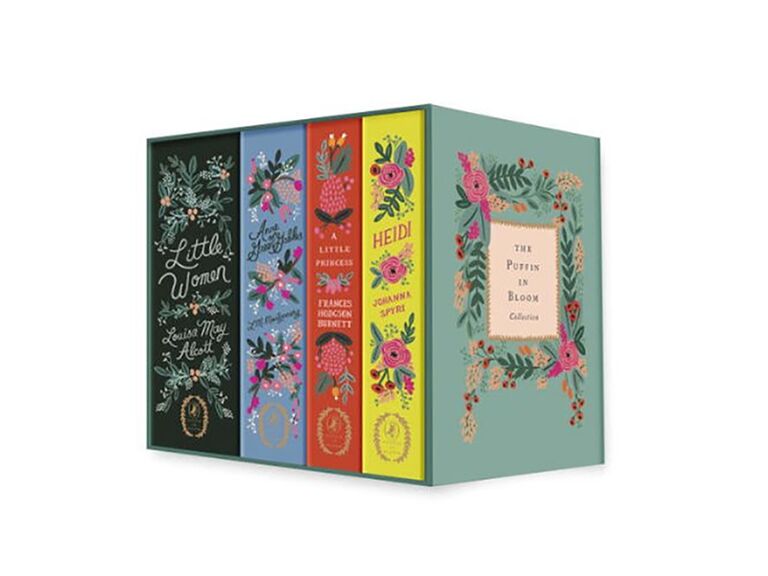 This set, featuring beautiful and elaborate cover artwork, includes the much-loved stories Anne of Green Gables, Heidi, Little Women and A Little Princess. 
Penguin Young Readers Group Puffin in Bloom Collection, $64, BarnesandNoble.com
Table Lamp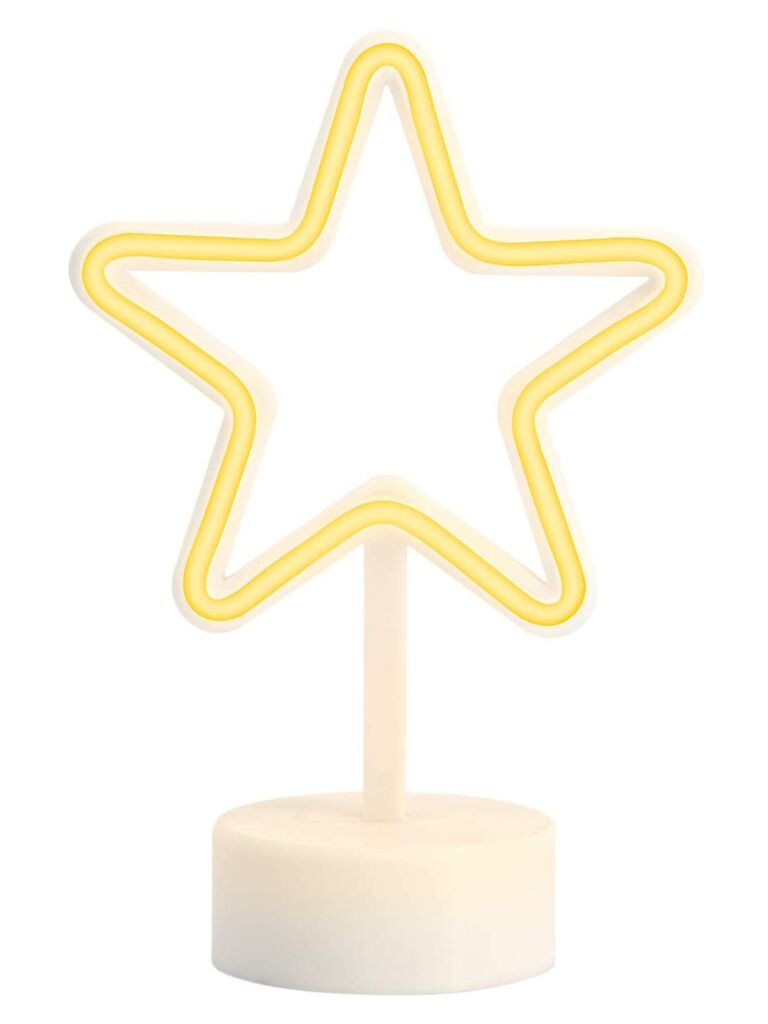 Help your flower girl up her bedroom aesthetic all while telling her she's a star with this cool neon lamp.
Amped & Co star desk light, $16, Amazon.com
Gift Bag Set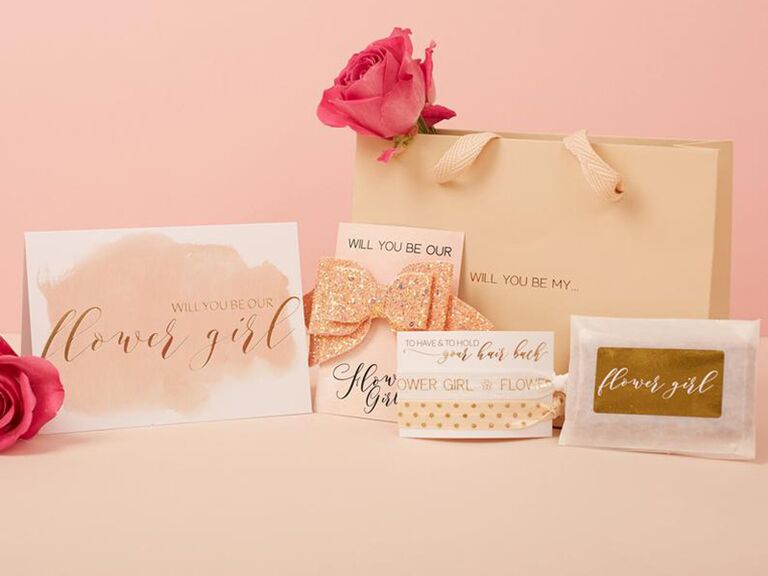 Make your special guest an offer she can't refuse with this girly gift bag proposal. Complete with a sparkly bow, ribbon hair ties and a sweet treat, this set is sure to leave a magical impression.
Team Hen flower girl gift bag set, $12, Etsy.com