A Need-to-Know List for Flower Girls
From her walk down the aisle to the photos, here's a list of all you'll need to know to make sure your flower girl is ready when it's her time to shine.
by The Knot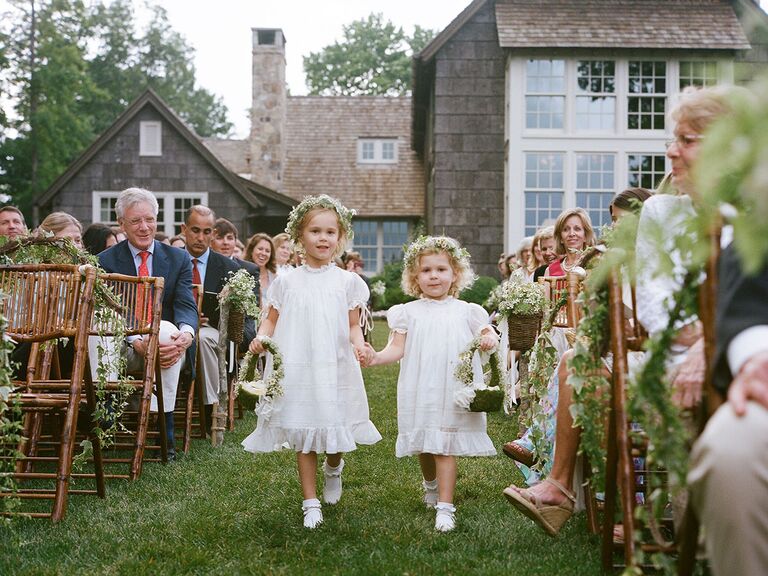 Getting Ready
It's probably best to keep the flower girl out of her dress until she's eaten, gone to the bathroom, washed her hands and finished any other potentially messy tasks. (Her mom or dad should be around to help with all that.) Have her duties explained to her again, and have her practice how she plans to hold her flowers, basket or pomander. She'll definitely feel included once she's around other dressed-up members of the bridal party, so make sure she has preceremony face time with you and your ladies. Try to keep her occupied until right before the ceremony starts. While it's not your or your attendants' job to watch her until it's time to go, if a parent can't be with her, designate someone to hold on to an "emergency kit" full of (non-messy) snacks, water or light-colored juice, and a favorite coloring book.
The Flowers
Flower girls don't necessarily need to toss petals. Instead, you can have her hold a pomander (a ball of flowers suspended from a ribbon for her to clutch), a basket of flowers or a mini bouquet that matches your own. Scattering a perfect blanket of petals is tricky, so if that's what you're looking for, have someone, like your wedding planner or florist, spread them before the ceremony. Then the flower girl can just sprinkle a few more petals on top. If the petals won't be spread beforehand, you may need to give the flower girl a few petal-tossing pointers. Have her try a few practice steps while someone explains how many petals to toss, and make sure the basket isn't too heavy for her to carry, especially if she's young. No matter what—even if there's a tiny trail of single petals, or a burst of petals at the beginning and none at the end—her trip down the aisle is sure to be one of the memorable moments of your day.
Photos
Depending on whether the flower girl loves to be in the spotlight, it may or may not be hard for her to patiently endure a drawn-out photo session. Someone should stay with her while the photographer is snapping away, unless she's comfortable with the bridal party and old enough to handle it on her own. Explain the photo process to her before the wedding so she knows what to expect, and encourage her to show her prettiest smile, even if she's tired. Tell her you can't wait to see how beautiful the pictures will look after it's all over.
The Walk
If she's younger (or very shy), walking down the aisle is probably the most worrisome part of the day for your little flower girl. Try to have familiar faces sitting in the front of the crowd next to the aisle—that way she'll be able to see them in case she needs to be (discreetly) coaxed down the aisle. Make sure she knows who to look for if she gets nervous. Try having the flower girl's favorite stuffed animal on hand and keeping it up front where she can see it. If you worry she might not make it all the way down the aisle, suggest she walk before the maid of honor instead of before the bride. That way, if she stalls or gets nervous, the maid of honor can guide her down the aisle. If the flower girl is older, she probably won't have a problem making it to the front of the ceremony, but make sure she practices her pace. All the excitement might cause her to rush.
Standing Still
Even the shortest ceremony will seem long to a young flower girl. If you think she might be fidgety, suggest that she sit with a family member after her walk down the aisle. Don't get caught up in making sure she acts perfectly—everyone loves how cute (and unpredictable) child attendants can be. If, at any point, she throws a tantrum, it's better to have someone get up and leave with her. As soon as the ceremony is finished, congratulate her on a job well done.
The Reception
The flower girl will probably be seated with her parents for the reception, not with the rest of the bridal party. Guests love to fuss over flower girls, but if she looks uncomfortable, the parents should feel free to step in and say, "We're happy you think she did such a great job; she's had a busy and exciting day." They'll probably take the hint.
After It's All Over
Talk about the day with your flower girl and make sure she has some photos so she can look back on the experience as she grows older. A special day like this will hopefully become a very clear childhood memory for her—one that she'll cherish for years to come.
Find flower girl dresses here.