10 Totally Relatable Tweets About Marriage
When #marriedlife is too funny not to share.
by Catherine Jessee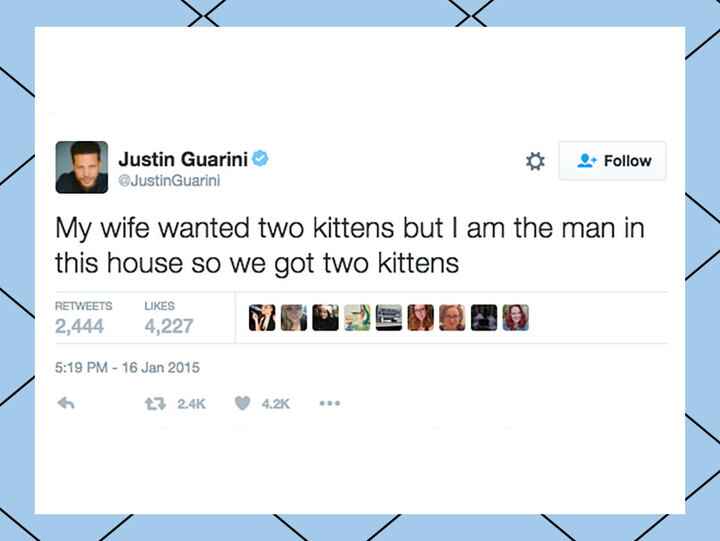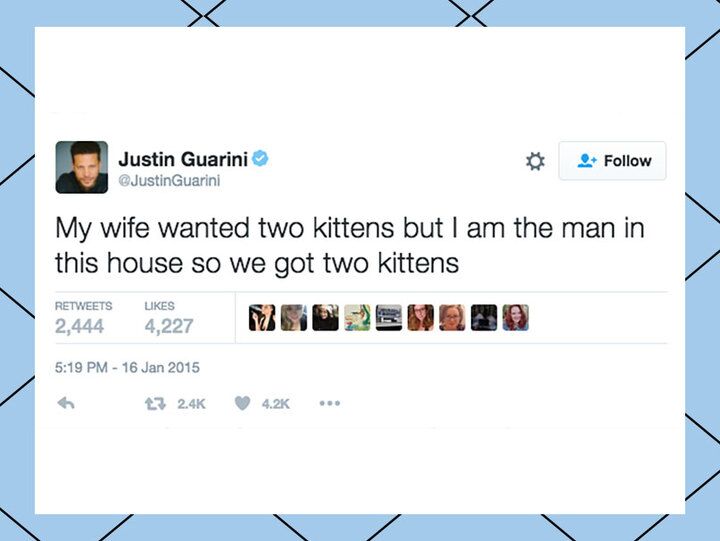 Marriage is about love and trust, but it's also about all-weekend Netflix binges and forgetting to buy milk at the store—even after being reminded on multiple occasions. These tweets from  couples sharing how hilarious married life can really be are super relatable. And they're also sweet reminders of day-to-day scenarios that make your marriage all the more special.
1.

My husband: You're wearing a robe? What, are you in a sitcom?#MarriedLife
— Duffy (@ThatYankeeChick) November 23, 2016
2.

Without headphones I couldn't listen to Taylor Swift without being mocked by my wife.
— Rock🇺🇸 (@TheMichaelRock) November 24, 2016
3.

*hears wife come home*
*trips getting out of the tub to turn the Taylor Swift playlist I'm listening to off*
— Josh (@iwearaonesie) November 23, 2016
4.

My wife wanted two kittens but I am the man in this house so we got two kittens
— Justin Guarini (@JustinGuarini) January 17, 2015
5.

WIFE: Don't go into the ball pit with the kids. You always lose your keys.
ME: *already in the ball pit* You're not going to believe this.
— The Pale Space Rider (@truegritrumble) September 1, 2016
6.

ME: I made you some coffee! It's even double filtered… fancy right?
WIFE:
ME:
WIFE: couldn't separate the coffee filters could you?
ME: no
— The Pan-Midwesterner (@panmidwest) November 16, 2016
7.

My husband doesn't seem to realize I'm mad at him which is ridiculous because I just spent the last 20 min convincing him I'm not mad at him
— Lurk 'N Stalk (@LurkAtHomeMom) November 6, 2016
8.

*watching husband sleep*

Me: "I just love him so much, he's my everyth-"

*husband snores*

Me: "I can't live like this."
— Six Pack Mom (@Six_Pack_Mom) August 28, 2016
9.

When my husband goes outside to investigate a strange noise, how long do I have to wait before un-pausing the show we were watching?
— Amy Dillon (@amydillon) December 30, 2015
10.

My husband is running errands & text-alerted me of a Christmas decor sale.. I think he's got it, you guys. #marriedlife

— Sunny Mason (@sunflowermason) November 12, 2016