10 Garden-Chic Details Straight Out of Orange County
This market mixer was full of garden-chic details—from the lush chandeliers draped with leafy greens to the flower wall covered in roses. See more inspirational details to help you get creative with your wedding flowers!
Stylish details could be spotted around every corner at this Orange County mixer! Just take a glance at the vibrant flower wall beautifully arranged by FlorUnique—bursting with colorful blooms that served as a one-of-a-kind backdrop—captured on camera by Jamie Brinkman of Jamie B. Photography. "I had Flor Unique create a stunning modern floral wall with a secret garden feel," event planner Lindsay Wiggins of Bliss Productions says. "It contributed so much to the aesthetic of the event and everyone loved taking photos in front of it." But the garden-chic details didn't stop there. Leafy chandeliers, golden circular orbs and dark metal hooks all draped with flowers added pops of brightness on the lawn of St. Regis Monarch Beach and Designer 8 Furniture Rentals provided geometric tables that displayed modern white vases filled with fern leaves. See all the trendy details below and get inspired to add some color and creative florals to your own wedding!
These Hanging Gold Orbs with Fresh Roses and Greenery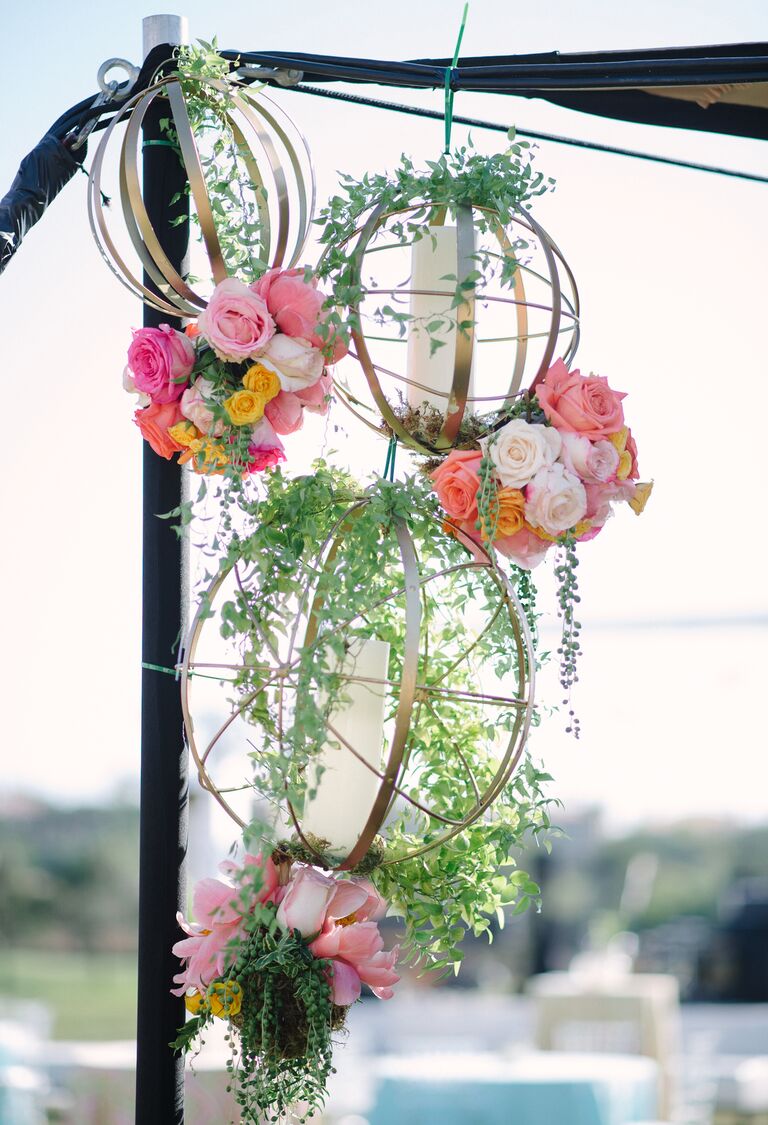 FlorUnique showered the lawn space in garden-chic decor, including the hanging decorations that combined metallics and pastels. White candles were placed inside these gold orbs, draped with leafy greens and accented with soft-colored roses.
This Geometric Table with Modern Fern Centerpieces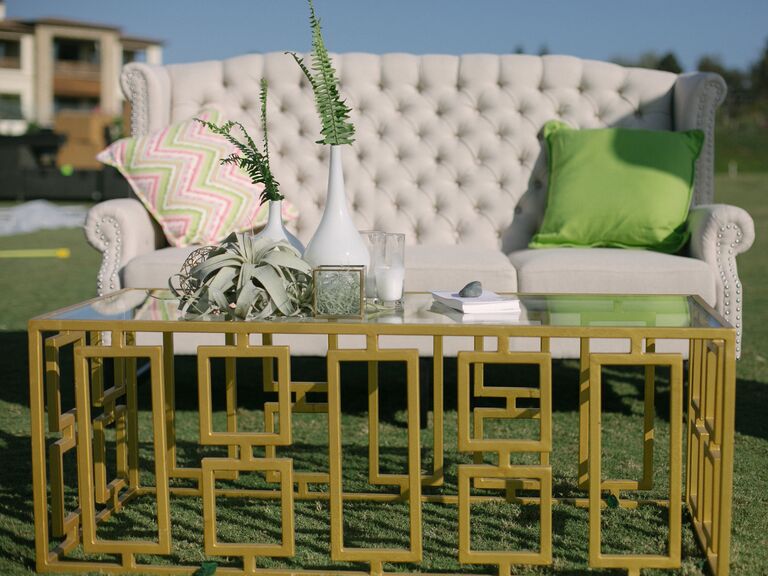 Designer 8 Furniture Rentals put together a mod-chic display using this gold geometric table decorated with fern arrangements in white sleek vases. Leafy plants and candle centerpieces were added to the mix, set up on the lawn of St. Regis Monarch Beach for guests to enjoy!
This Bursting Floral Chandelier with Fresh Flowers and Pink Blooms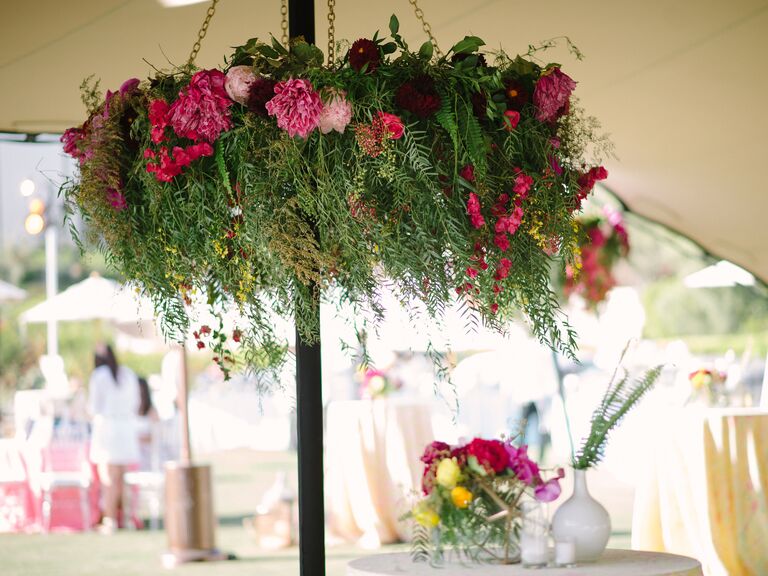 With abundant amounts of leafy greens and pink blooms, Little Hill Floral Designs outdid themselves with their hanging foliage chandeliers that brought the garden vibe to life.

This Personalized Guest Illustration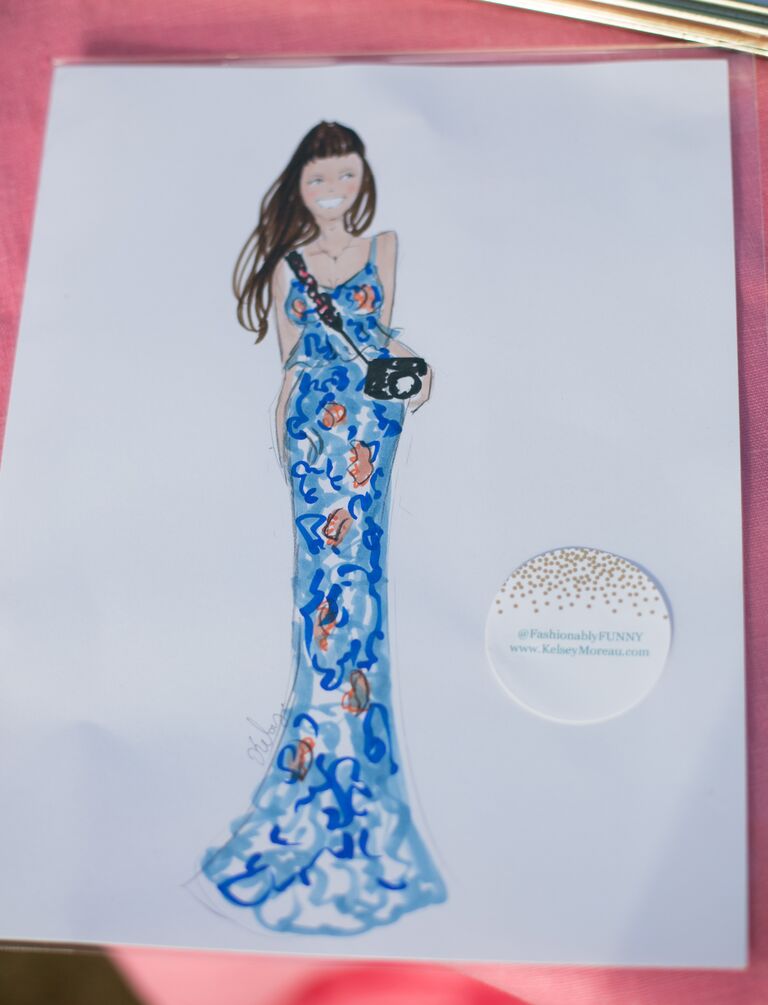 Artists from Fashionable Funny provided an interactive experience for guests to take part in—sketching party goers with vibrant colors and fashionable patterns, a great alternative idea for a wedding reception!
These Leaf-Covered Metal Hooks Accented with Peony and Rose Arrangements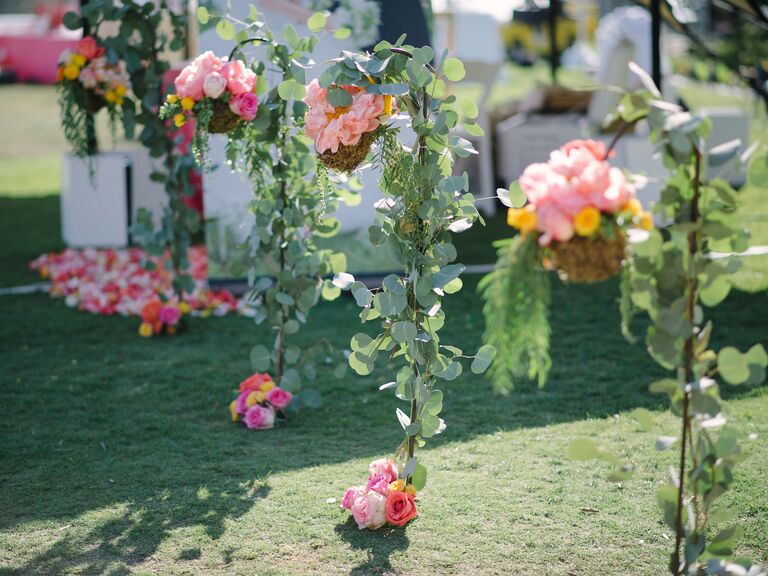 Who wouldn't love walking down an aisle lined with these beautiful arrangements? Jamie B. Photography captured Leafy vines wrapped around metal hooks, which were created by FlorUnique.
This Bright Rose Flower Wall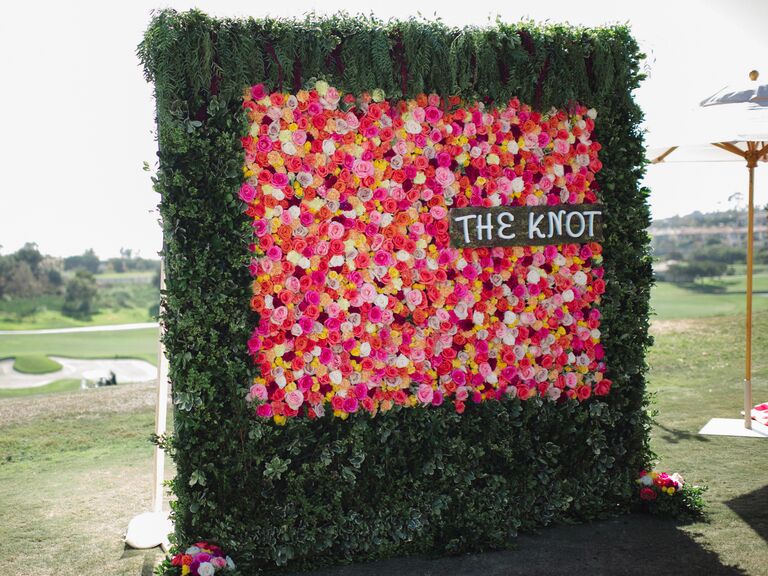 Guests were able to strike a pose in front of the vibrant flower wall bursting with color, all thanks to FlorUnique! Not only did it create an amazing backdrop for photo-ops, but it complemented the garden feel of the event.
This Dramatic Outdoor Stage with Hanging Crystal Chandeliers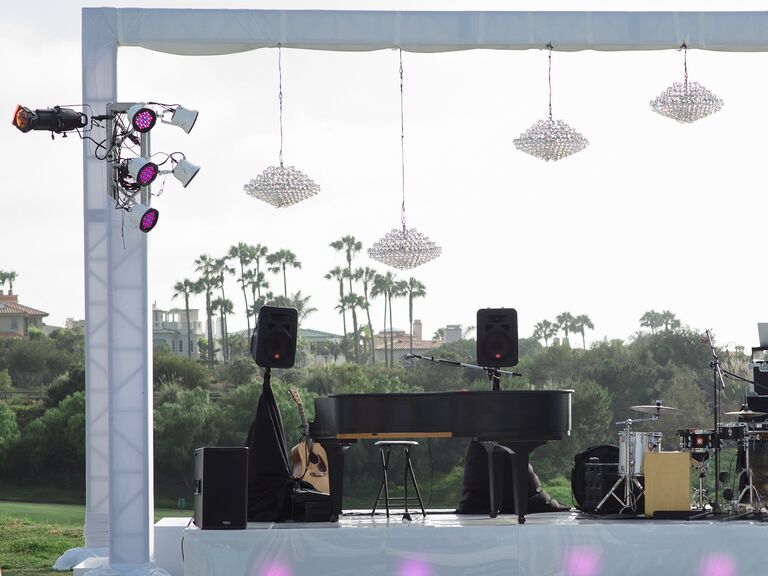 White linens covered the performance stage decorated with elegant crystal chandeliers hanging at different heights! Later on in the night, Shine Lighting illuminated the stage where Mike and Brian Productions performed onstage!
This Glass Orb Draped with Orchids, Chrysanthemums, Peonies and Roses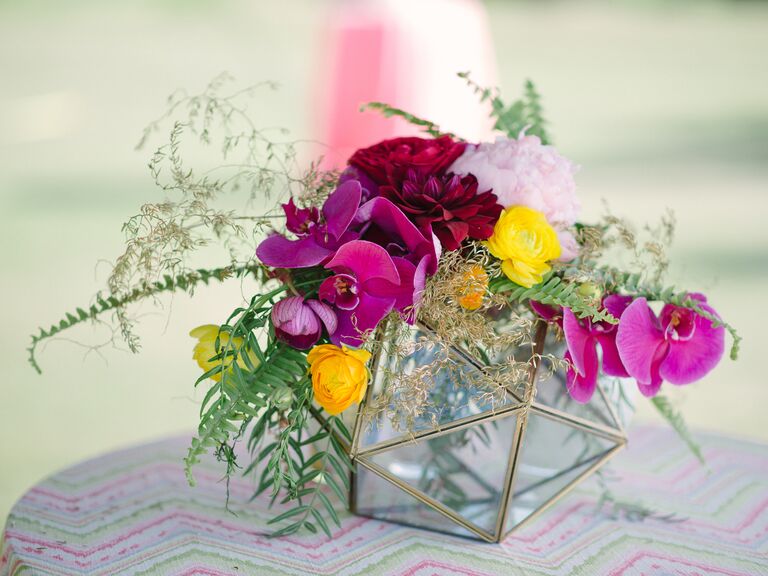 Little Hill Floral Designs continued to surprise guests with ultra-unique floral displays! Colorful flower arrangements made of orchids, roses and chrysanthemums decorated glass orbs lined with gold, displayed on top of a small table covered with zigzag-patterned linens from La Tavola.
These Fresh Mozzarella and Tomato Passed Appetizers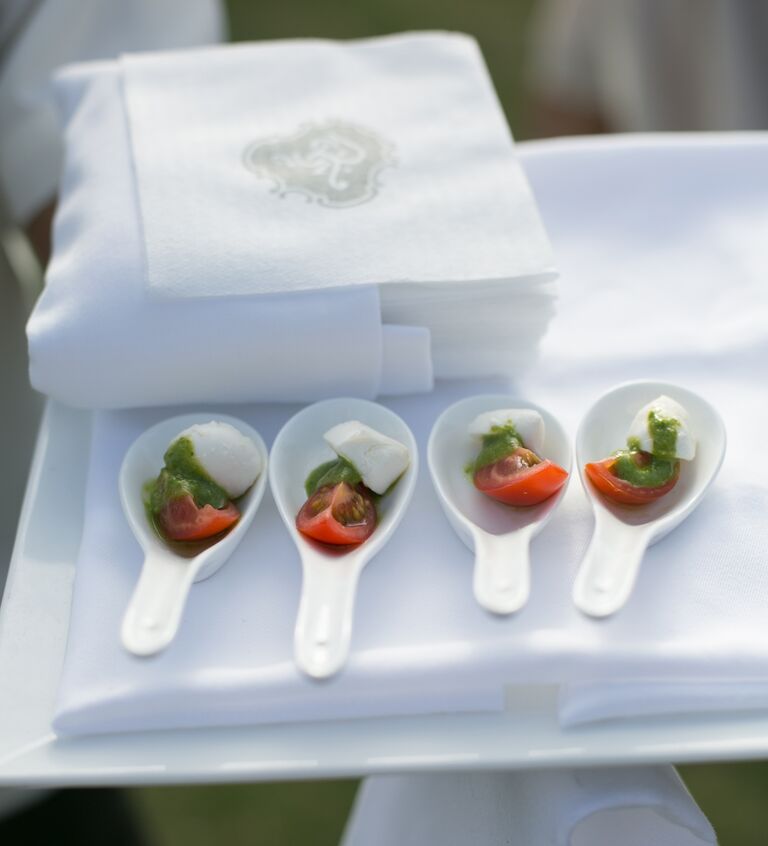 Appetizers of tomato slices paired with fresh mozzarella were arranged in white spoons and passed around for guests to enjoy—a modern spin on a traditional caprese dish. Simple white and gray personalized napkins helped create a minimalist presentation.
This Glamorous Geometric Bar with Mirrors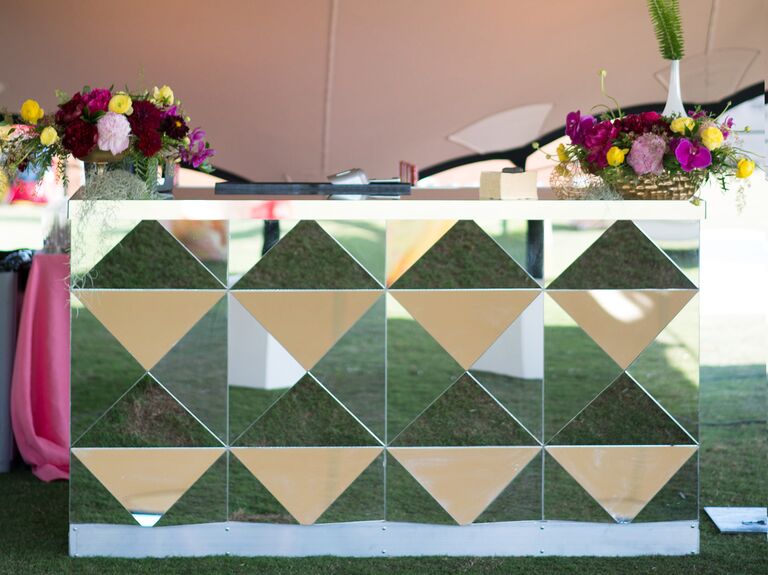 The bar had a one-of-a-kind impactful design with geometric mirrors. More lush flower and fern arrangements decorated the bar's surface, continuing the floral theme of the day!
Shout Out to Everyone Who Made It Happen!
Venue: St. Regis Monarch Beach | Photography: Jamie B Photography | Videography: Mission Visual | Event Planner: Bliss Productions | Flowers: FlorUnique and Little Hill Floral Designs | Hair and Makeup: Flawless Faces | Artist: Fashionable Funny | Stationery: Lucy Celebrates | Furniture Rentals: Designer 8 Event Furniture Rentals | Catering: The Chicory | Cakes and Desserts: Sprinkles | Music: Mike and Brian Productions | Tent Rental: Intent Productions | Linens: La Tavola | Lighting: Shine Lighting | Favors: Gold Ink Tattoo, Petals and Stones, Resqwater and Wear Jack | Molecular Bar: The Liquid Chef | Oyster Bar: Oysters XO | Ice Sculptor: Crystal Creations | Photo Booth: TapSnap | Packaging: Salt and Pepper Co. | Dance Floor: Barker Décor Service Inc.