25 Winter Wedding Favors Guests Will Happily Take Home
To have and to hold, in case they get cold.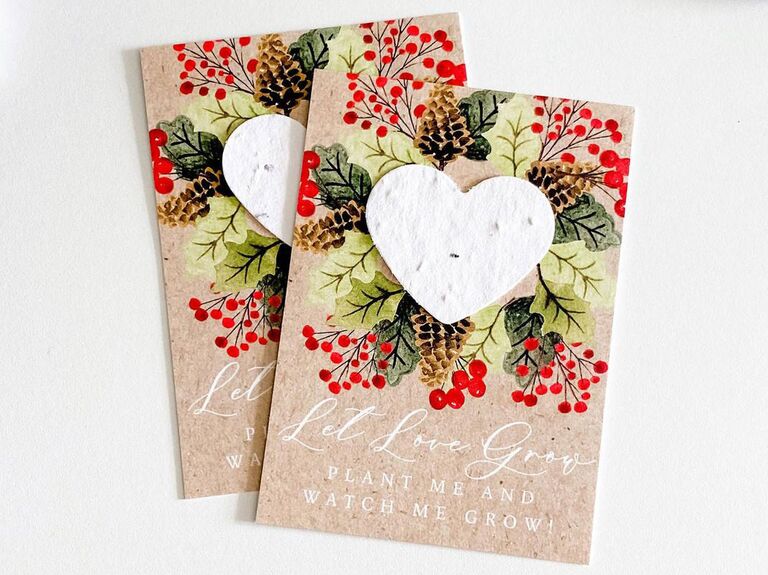 We have included third party products to help you navigate and enjoy life's biggest moments. Purchases made through links on this page may earn us a commission.
A fresh blanket of snow, inviting fires, snuggly blankets, warm hot chocolate, plenty of parties—winter is abundant with our favorite things. And all those things can inspire seriously delightful winter wedding favors. We searched the web to find small gift ideas perfect for celebrating this very special season with your guests. From soft blankets to snowflake sugar cookies, here are 25 of the coziest, most festive wedding favors for your winter wedding. Whether you're tying the knot in December or March, there's something on this list for you.
1. Hot Chocolate Spoons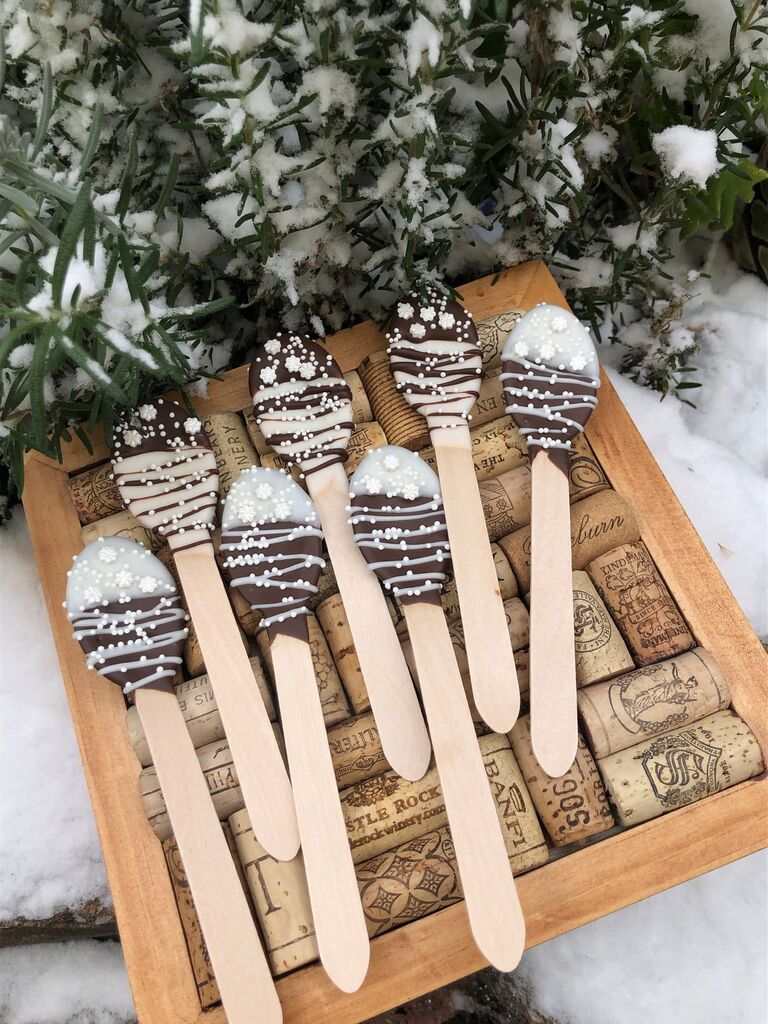 A warm cup of hot chocolate is just what your guests need as they recoup after your wedding. Let them go home with one of these chocolate-coated spoons to upgrade their usual mugs of cocoa. The snowflake sprinkles are right on theme for a wintry day.
Pikes Peak Lemonade Co. chocolate spoons for cocoa, $30 for a set of 12, Etsy.com
2. Custom Mugs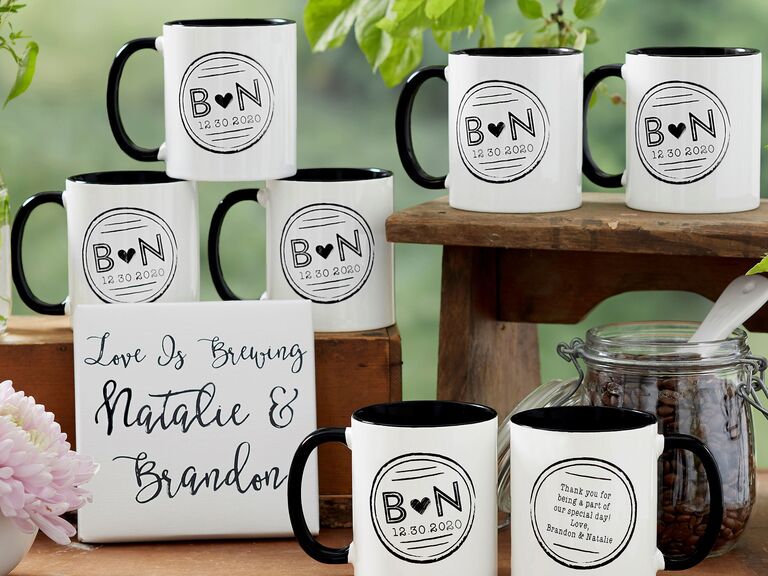 Give guests mugs with a design that represents the vibe of your big day. Why not set them up beside a hot chocolate bar, to help combat the chill?
Personalization Mall personalized wedding mug favors, $14 each, PersonalizationMall.com
3. DIY S'mores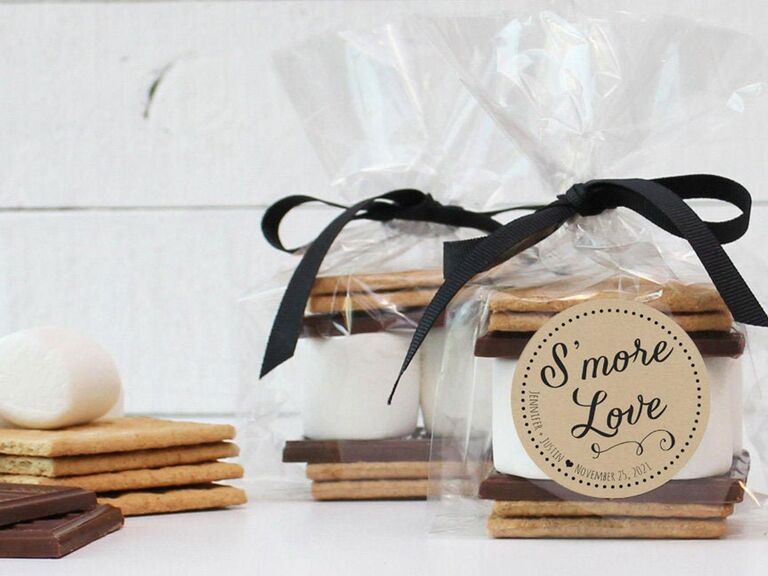 Give guests s'more ingredients wrapped up in these adorable kits and send them outside to your cozy fire pit for marshmallow roasting. They'll love the fun activity as well as the tasty treat.
The Favor Box s'mores wedding favor kits, $48 for a set of 24, Etsy.com
4. Cozy Blankets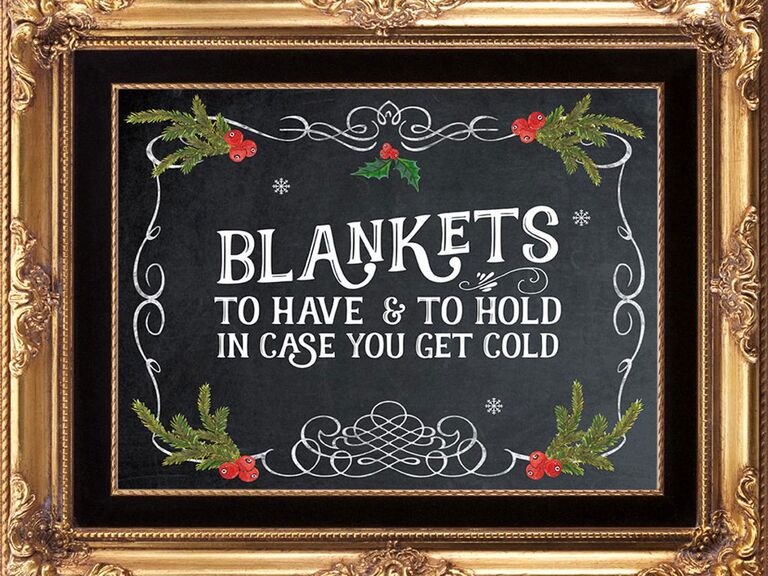 If you're having an outdoor ceremony, offer your guests cozy blanket wedding favors so they can stay warm and comfortable during your vows. Then let them take them home! Add this cute sign for the perfect finishing touch.
Our Friends Eclectic printable blankets wedding sign, $6, Etsy.com
5. Wedding Ornaments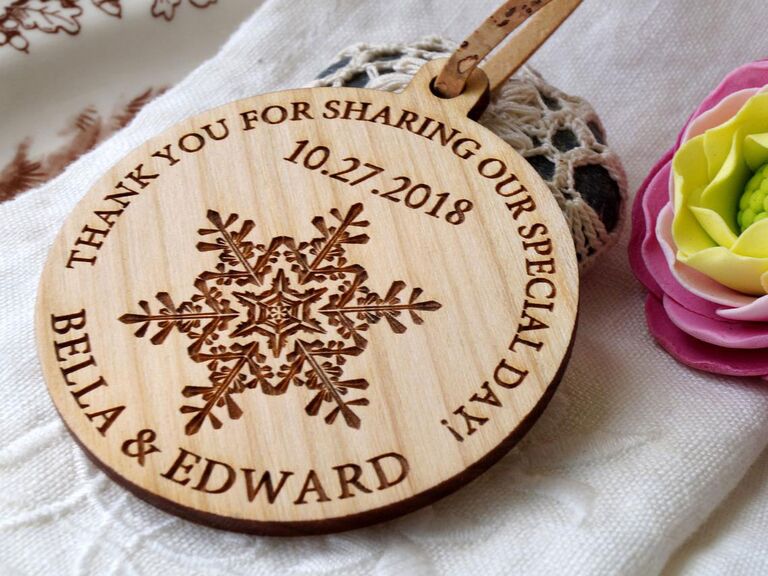 Help them celebrate the holidays with a new, seasonal decoration. If you're looking for unique favors for your Christmas wedding, ornaments are it.
Cottage Wedding personalized wooden ornament favors, from $50 for a set of 25, Etsy.com
6. Seasonal Lip Balm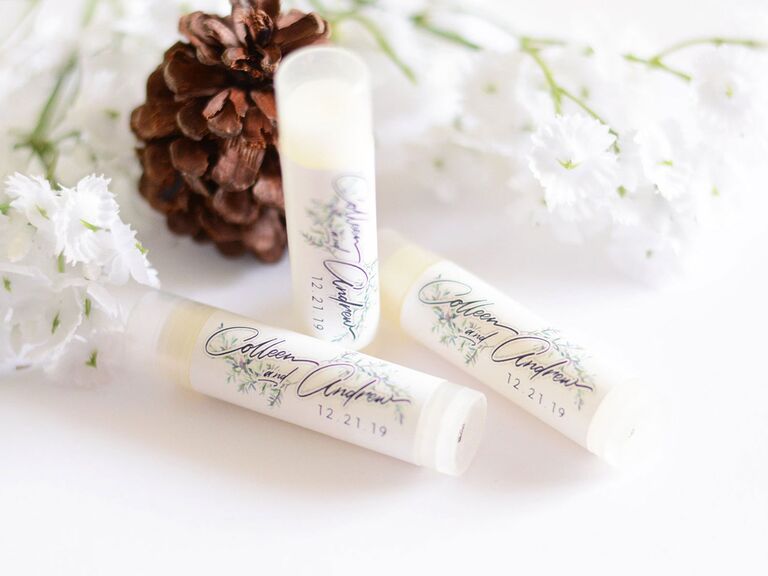 Help your guests protect their lips from the dry winter air with these thoughtful wedding favors. There are different flavors to choose from, but our favorite has to be the peppermint. Yum!
LabelsRus lip balm wedding favors in Winter Leaves, from $30 for a set of 15, Etsy.com
7. Coffee Grounds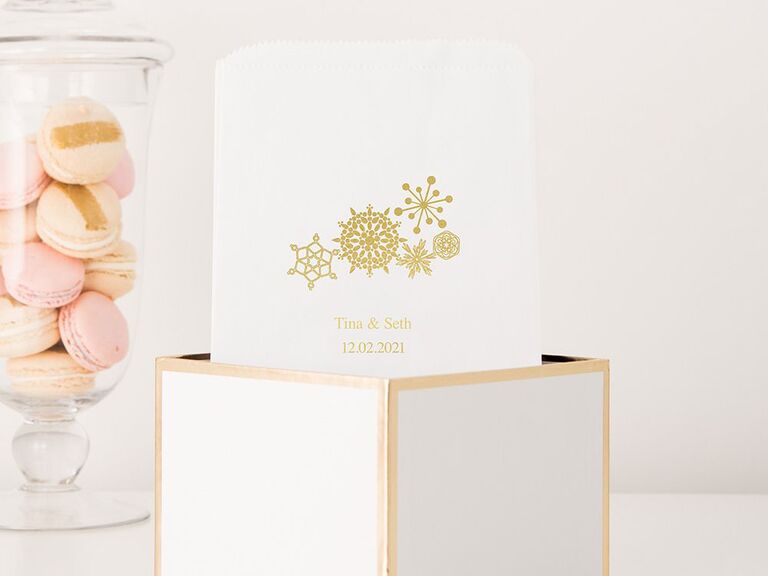 Coffee grounds in goodie bags are simple winter wedding favors your guests will appreciate the morning after your late-night reception. There's nothing like a soothing cup of joe on a cold day. If you want to go all out, opt for flavored coffee like these buttered rum-inspired grounds.
The Knot Shop Winter Finery snowflake flat paper goodie bags, $24 for a set of 25, TheKnotShop.com
8. Chocolate-Covered Pretzel Sticks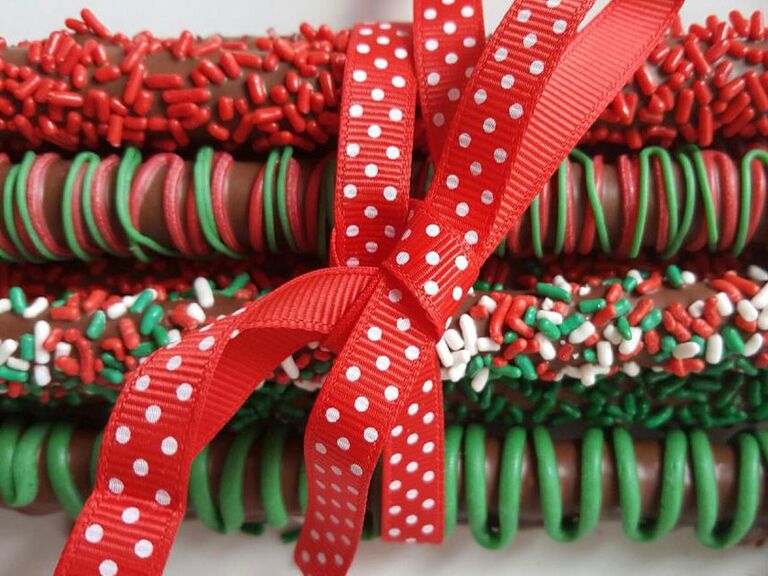 Chocolate-covered pretzel sticks are the perfect sweet-and-salty parting treat at the end of the night. Use seasonal packaging to set a wintry tone.
We're Dippin Chocolate gourmet milk chocolate covered pretzels, from $14 for a set of 12, Etsy.com
9. Festive Candles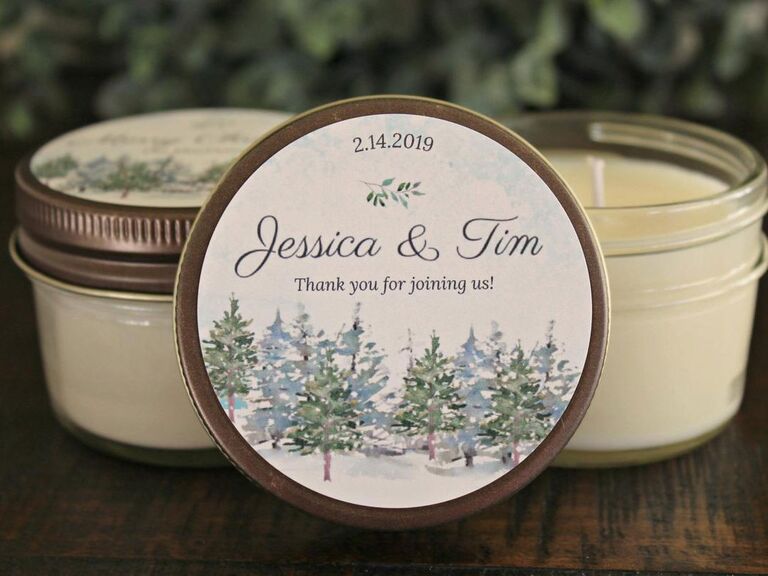 Nothing screams "cozy night in" like a lovely scented candle. Pair the winter wedding favors with personalized matchbooks for a little extra flare.
The Dancing Wick Snowy Tree winter wedding favors, $33 for a set of 6, Etsy.com
10. Snowflake Wine Stoppers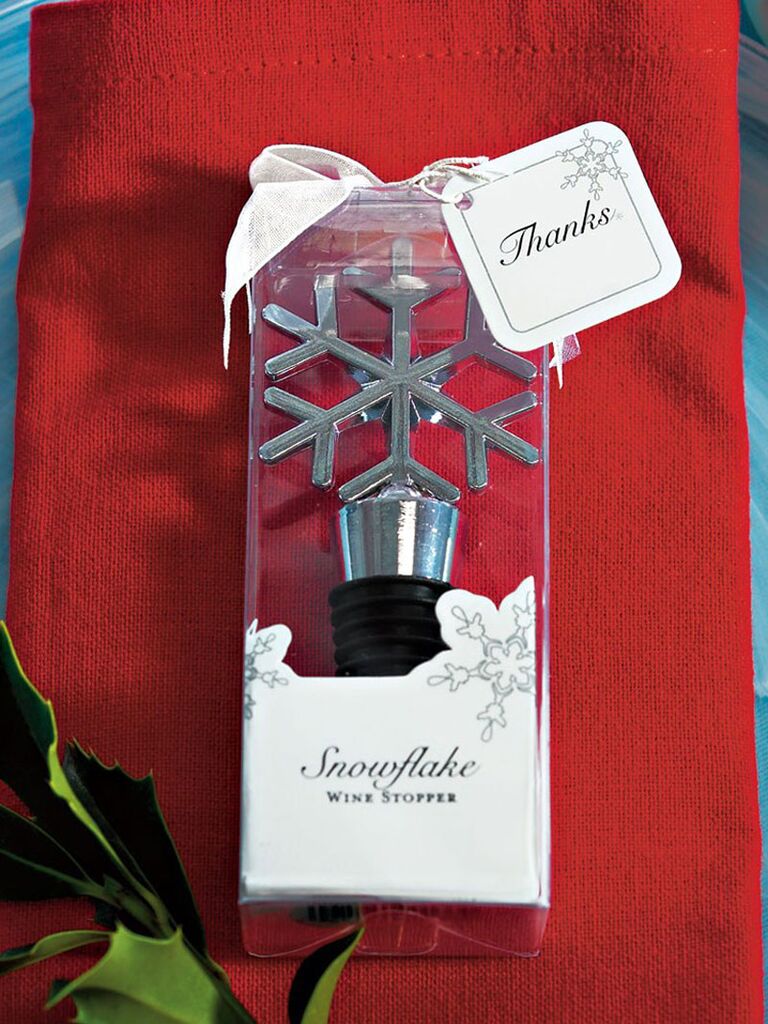 A wine stopper is a super-useful winter wedding favor to give to guests, especially in an on-theme design like this snowflake style. It comes boxed and ready to gift, complete with a tag. How handy is that?
The Knot Shop snowflake design wine bottle stopper, from $2 each, TheKnotShop.com
11. Personalized Marshmallows
Whether your guests want to toast them, pop them in a mug of cocoa or eat them straight from the packet, customized marshmallows are a unique winter wedding favor that will inspire cozy vibes.
Candy With A Twist custom marshmallows, $36 for a set of 12, Etsy.com
12. Fire Starters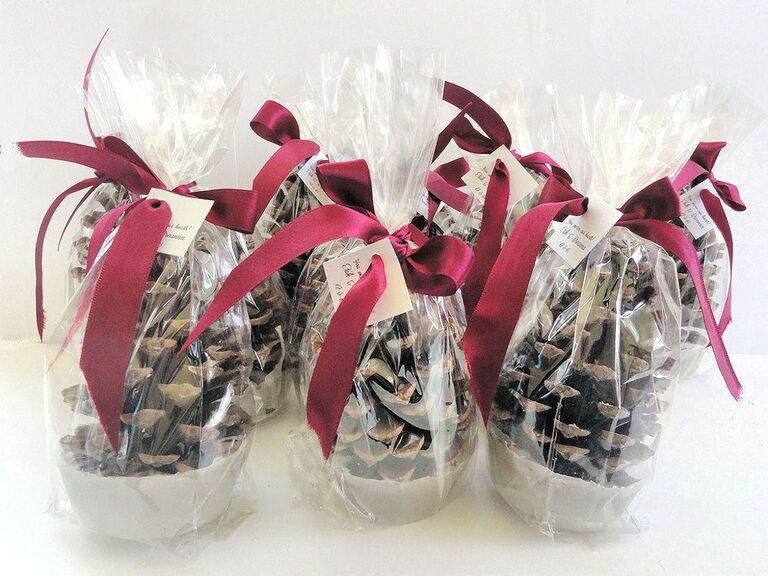 Give them the gift of a cozy night in front of a roaring fire. These pine cone fire starters come packaged with personalized tags and satin ribbon. All your guests have to do to use them is light the wick, sit back and relax.
Nature Favors pine cone fire starter personalized favors, $7 each, Etsy.com
13. Mulled Wine Spices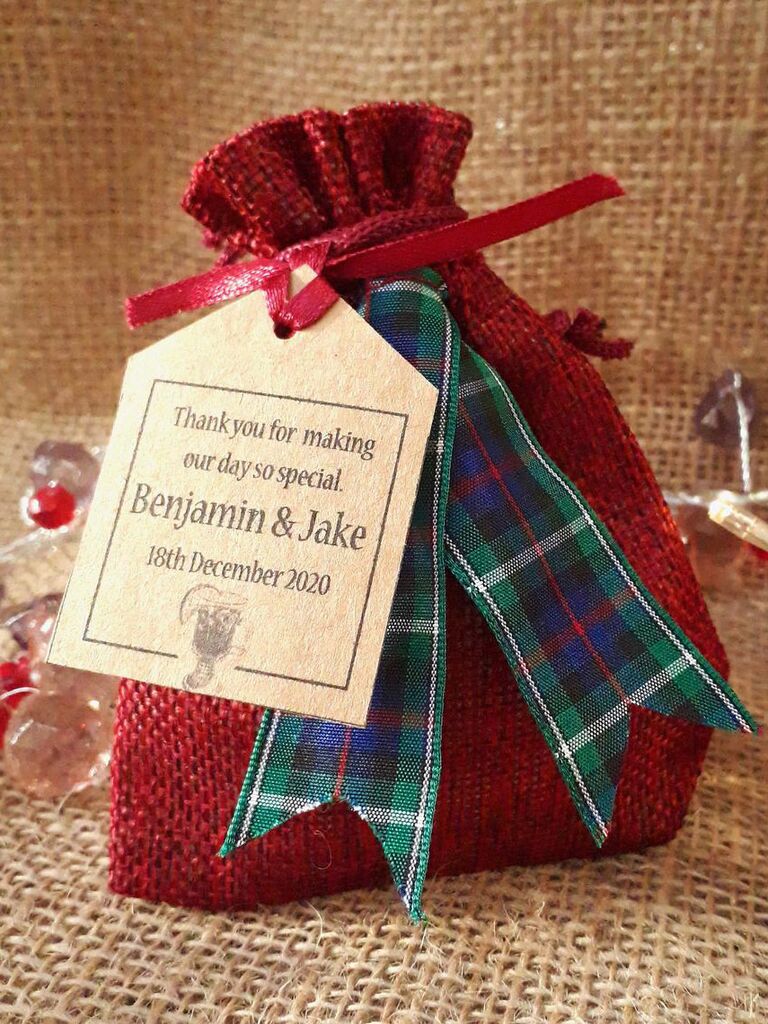 An affordable winter wedding favor that can create a batch of mulled wine? Where do we sign up? Two spice sachets and a cinnamon quill are wrapped up in a handmade burlap bag and patterned ribbon, along with a custom gift tag.
The Old Silk Road Trading Co. mini mulled wine spice party favors, $4 each, Etsy.com
14. Festive Flowers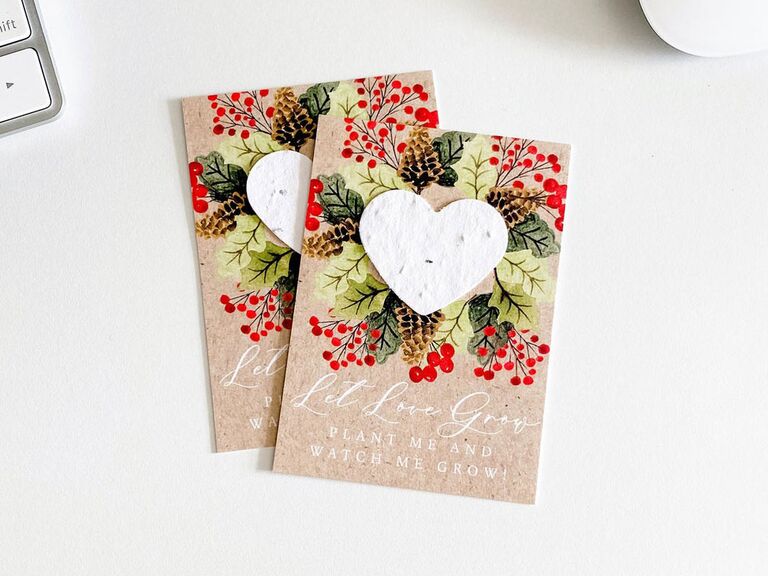 Hidden in this little paper heart are seeds for colorful wildflowers that your guests can watch sprout at home. The card is decorated with festive poinsettia, berries and pine cones to fit into your winter theme.
MV Creative Maison growNOTES Let Love Grow plantable favor cards, from $8 for a set of 10, Etsy.com
15. Custom Beer Koozies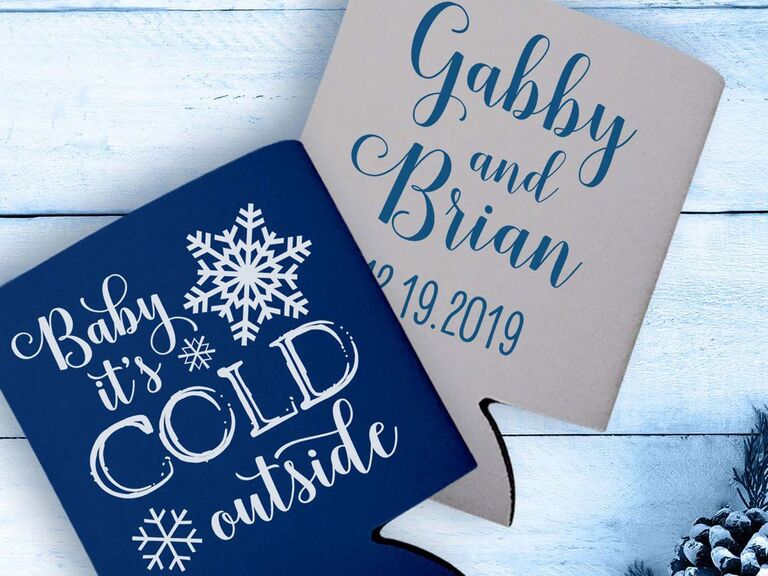 If the cold weather won't stop your guests from cracking open a cold can, then make sure they do it in style with a funny beer koozie. This style can be personalized with your names and the wedding date.
That Wed Shop personalized can cooler wedding favors, from $54 for a set of 12, Etsy.com
16. Antler Bottle Openers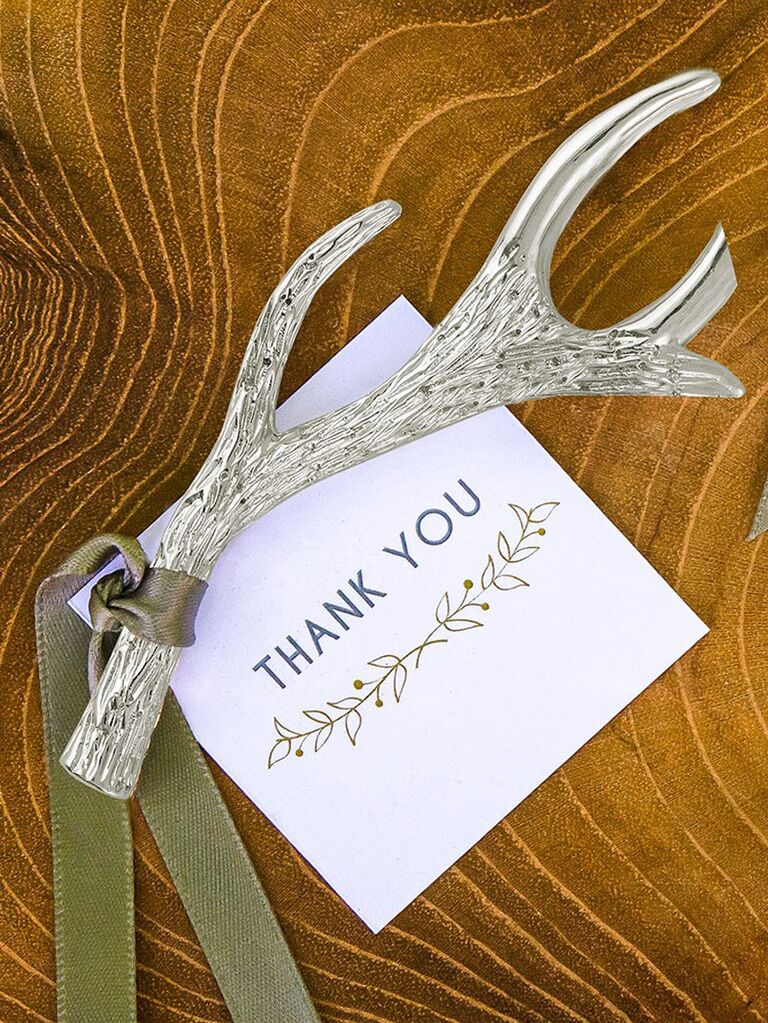 A rustic antler bottle opener is a subtle way to nod to the season with wedding favors for your guests.
The Knot Shop silver antler bottle opener wedding favors, from $2 each, TheKnotShop.com
17. Spiced Soap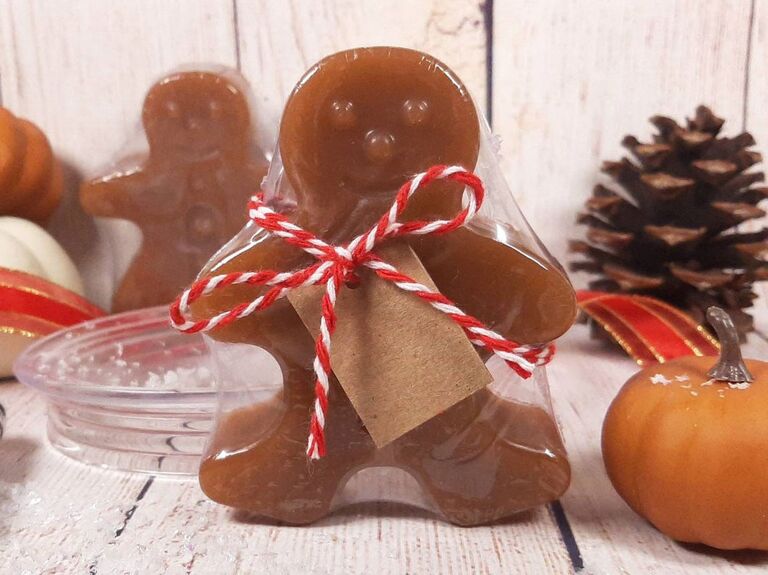 A soap as adorable as this gingerbread man will take pride of place in your guests' homes. There's a whole bunch of seasonal scents to choose from, including Gingerbread (of course) and Fireside Marshmallow.
Velvet Bubble Soaps gingerbread man soaps, $6 each, Etsy.com
18. Maple Syrup Servings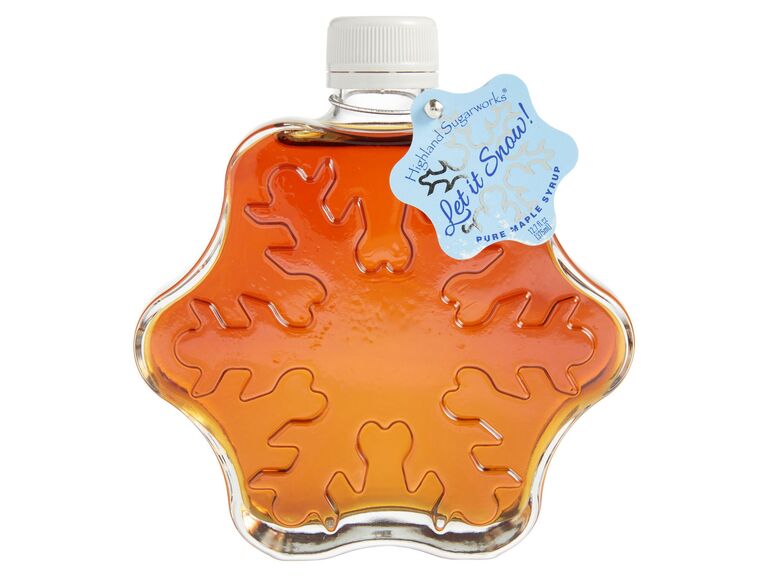 Simple gifts like your favorite maple syrup make for memorable winter wedding favors. Especially when guests can use theirs for a delicious snow day breakfast. Plus, how great is the bottle?
Highland Sugarworks Vermont maple syrup in snowflake bottle, $11, WorldMarket.com
19. Snowflake Candy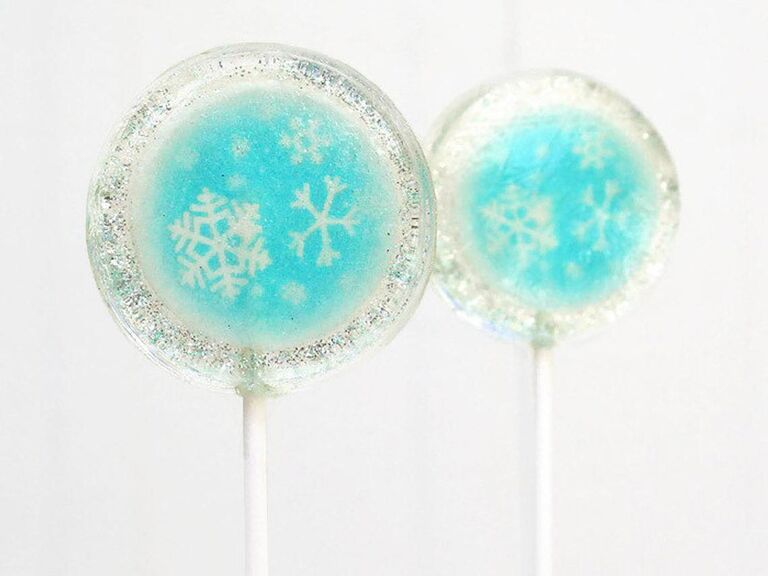 Lollipops are an affordable wedding favor every guest will enjoy. This unique glitter and snowflake design is an added bonus.
Smash Candies snowflake lollipop winter wedding favors, from $19 for a set of 6, Etsy.com
20. Hand Warmers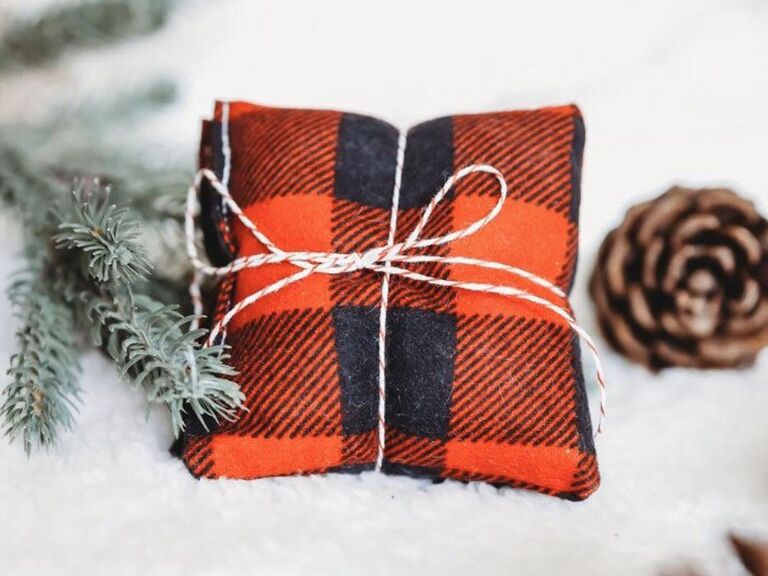 Hand warmers will come in handy all throughout winter, making this flannel-clad option an easy pick for one of the best winter wedding favors out there.
Wild Clementine Pets Buffalo plaid reusable hand warmers, $12 each, Etsy.com
21. Sugar Cookies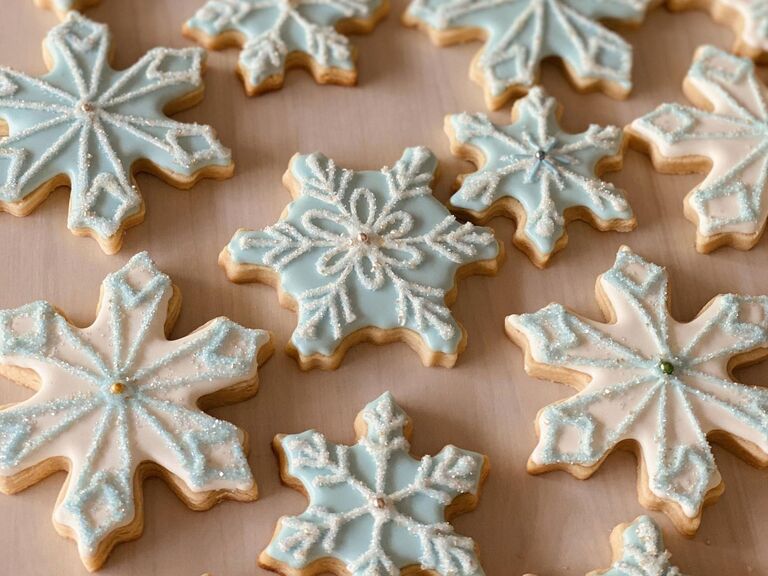 If your guests have a sweet tooth, they'll adore classic sugar cookies in a snowflake design. Every treat is individually decorated, making them as pretty as they are tasty. Package them in cookie favor bags for a picturesque finishing touch—perfect for a winter wonderland wedding.
Sugar Cookies by Anne snowflake sugar cookies, $53 for a set of 12, Etsy.com
22. Mini Bubbly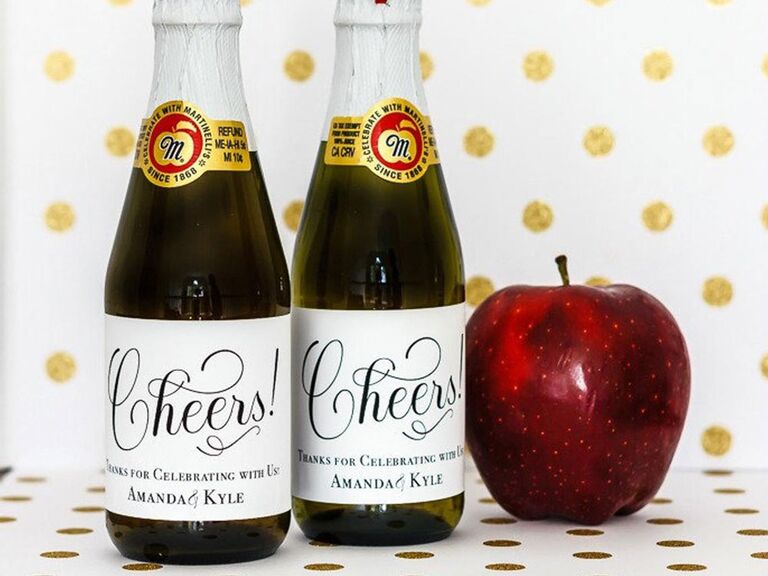 Send your guests home with a personal sip. It's the season of popping bottles, right? Customize miniature bottles of sparkling cider with a celebratory label.
Prepping Parties mini apple cider bottle labels, from $22 for a set of 16, Etsy.com
23. Winter-Themed Chocolate Bars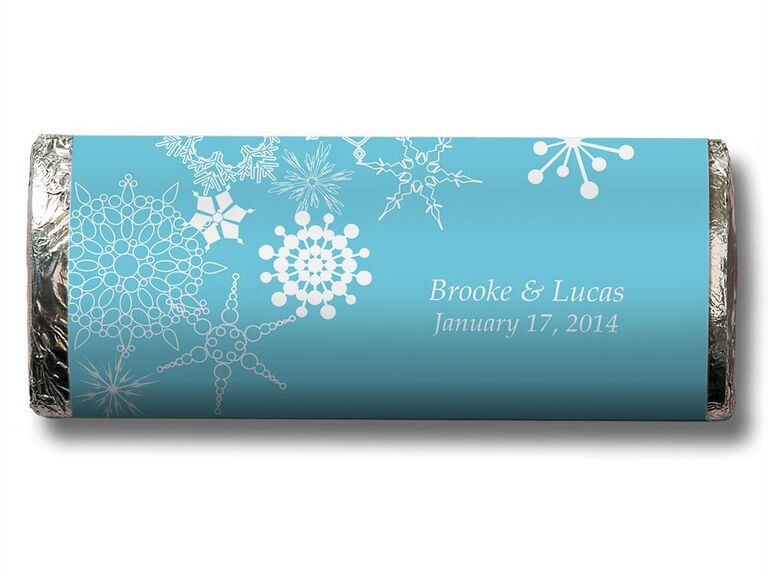 Chocolate bars are a classic option for wedding favors, so upgrade them to suit your special day. Add your names and wedding date to the snowflake-adorned wrapping for an edible wedding favor your guests will adore.
The Knot Shop Winter Finery nut free gourmet milk chocolate bar, from $3 each, TheKnotShop.com
24. Cork Coasters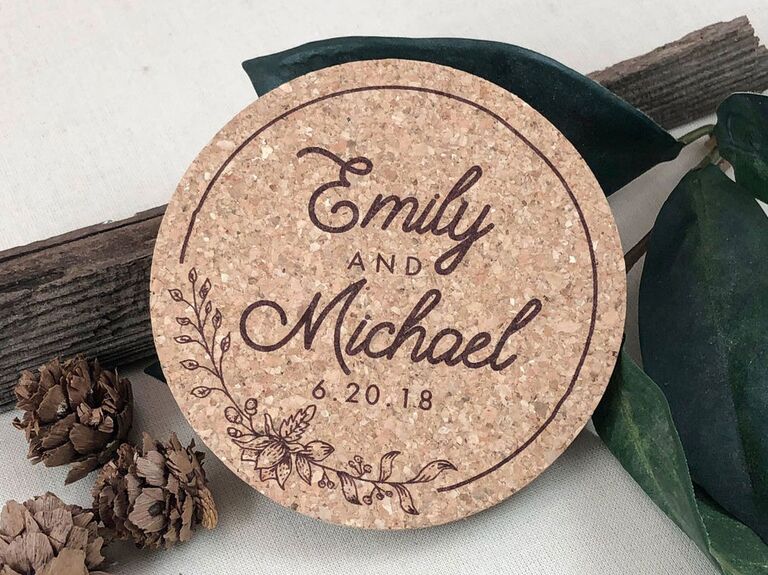 A cute coaster is a winter wedding favor that your guests can use over and over again. This design features a festive garland, and can be personalized with your names and wedding date.
Nesting Project Paper personalized cork coaster with hand drawn wreath, from $20 for a set of 4, Etsy.com
25. Gold Favor Boxes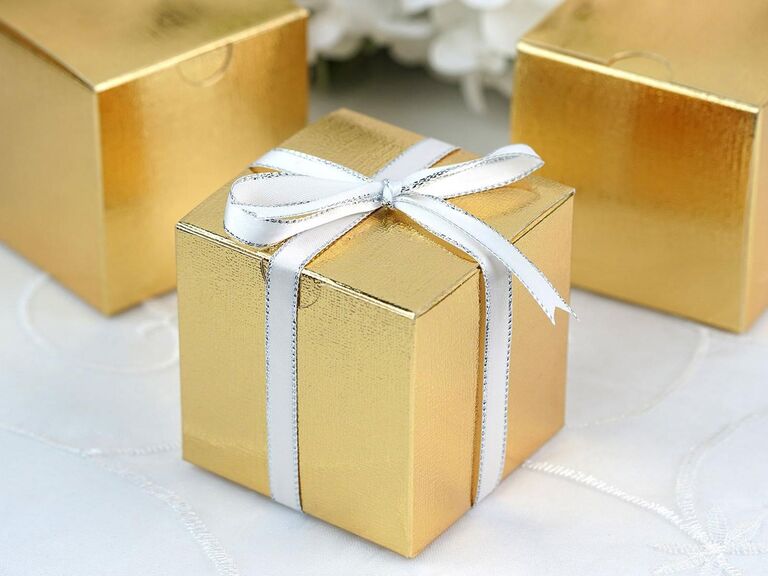 Make the presentation as impressive as the favor inside by packaging your winter wedding favors in a sleek gift box. The elegant foil finish is sure to impress your guests.
En Fete gold wedding favor boxes, $4 for a set of 5, Etsy.com