28 Winter Wedding Favors That Celebrate This Magical Time of Year
Bring some festive cheer to the table with one of these seasonal offerings.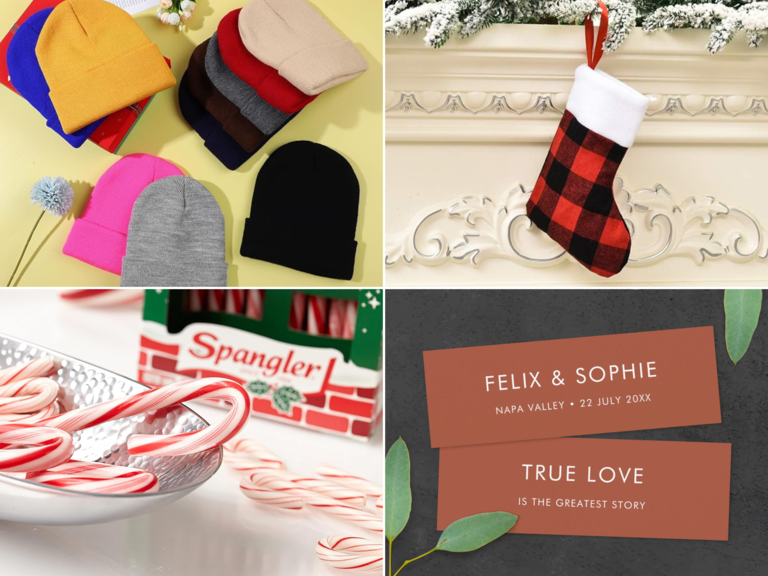 Photos, From Clockwise: Amazon, Zazzle
We have included third party products to help you navigate and enjoy life's biggest moments. Purchases made through links on this page may earn us a commission.
There are a lot of things to love about winter: freshly fallen snow, festive sweaters, snuggly blankets and, now, your wedding! Draw inspiration from everyone's favorite time of year by gifting your guests a winter wedding favor to thank them for celebrating your union. We've searched high and low to find the best small take-home gifts to complement your winter wonderland wedding. Whether you're hosting a holiday event filled with festive ornaments or planning cozy nuptials with hot drinks and warm accessories for guests, these winter wedding favor ideas will leave your loved ones feeling merry and bright.
1. Cheery Bottle Openers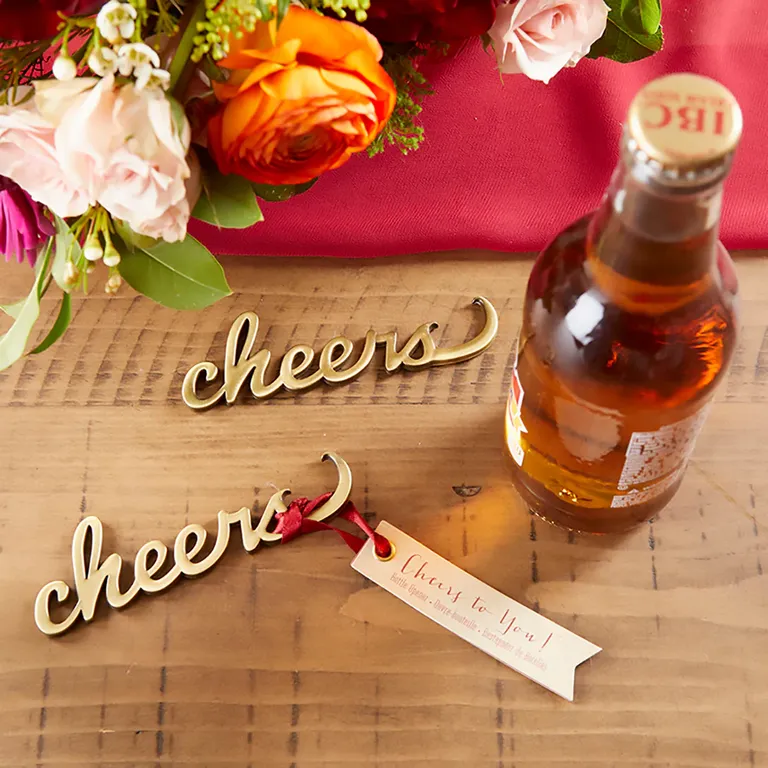 If you're looking for a festive yet practical gift for guests, this antique gold bottle opener takes first place. It reads "cheers" in elegant script and comes tied with a satin red ribbon and a thank-you tag that can be personalized for a thoughtful touch. It's the perfect way to toast your guests and bring some seasonal silliness to the table.
2. Cute Holiday Magnets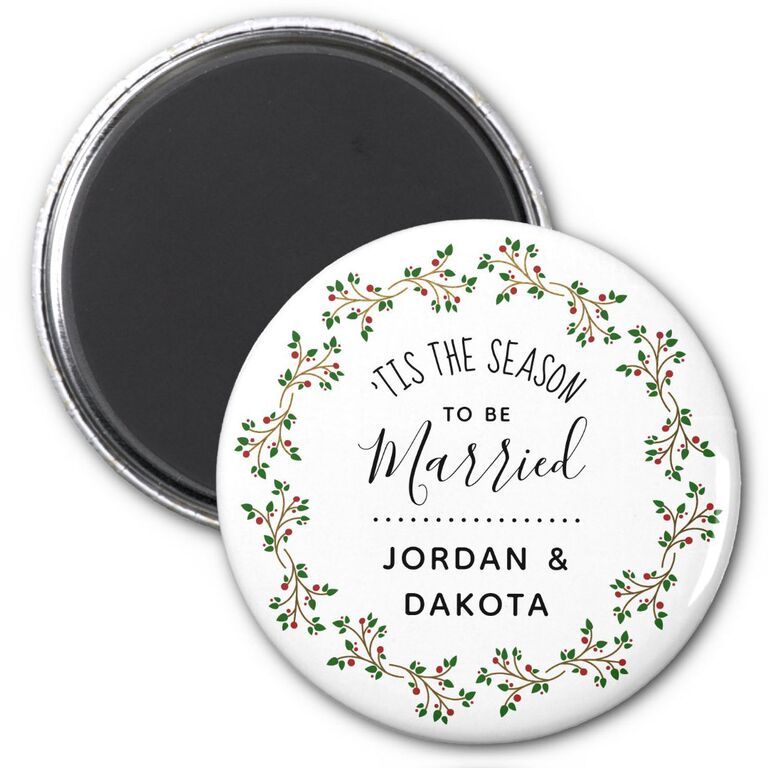 Magnets are a classic wedding favor in any season, and these are just perfect for the holidays. They read "'Tis the season to be married" with your names surrounded by holly leaves. Cute and festive, they're a sweet way to showcase your magnetic love. (Plus, with these on their refrigerator, your guests will probably remember your anniversary).
3. Festive Seed Packets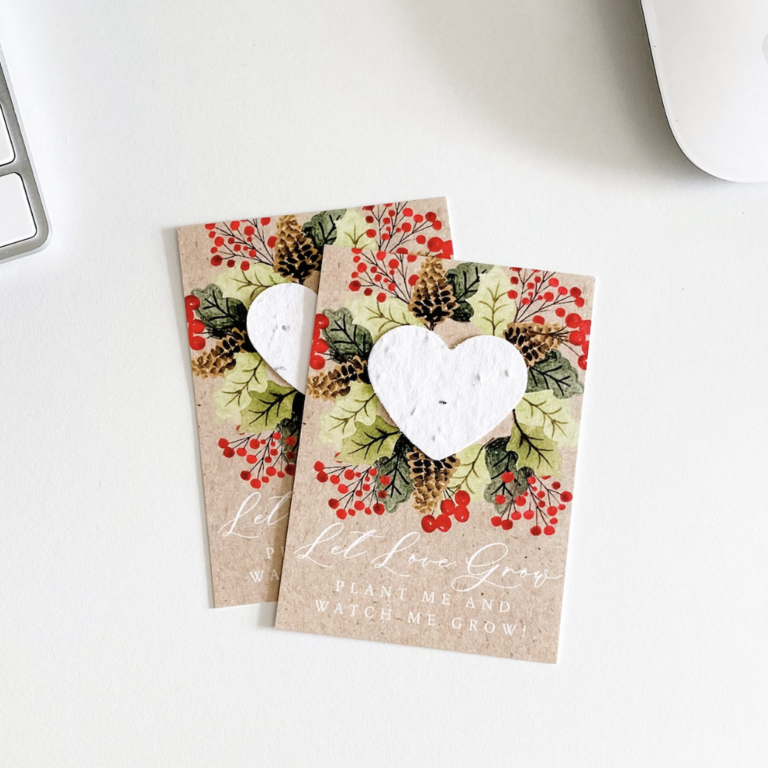 Hidden in these little paper hearts are seeds for colorful wildflowers that guests can plant once spring rolls around. The cards are decorated with festive poinsettias, berries and pine cones to fit into your seasonal theme and can be personalized with your wedding details. Once these pretty flowers begin to bloom, they'll be reminded of your winter wedding all over again.
4. Heart-Shaped Tea Bags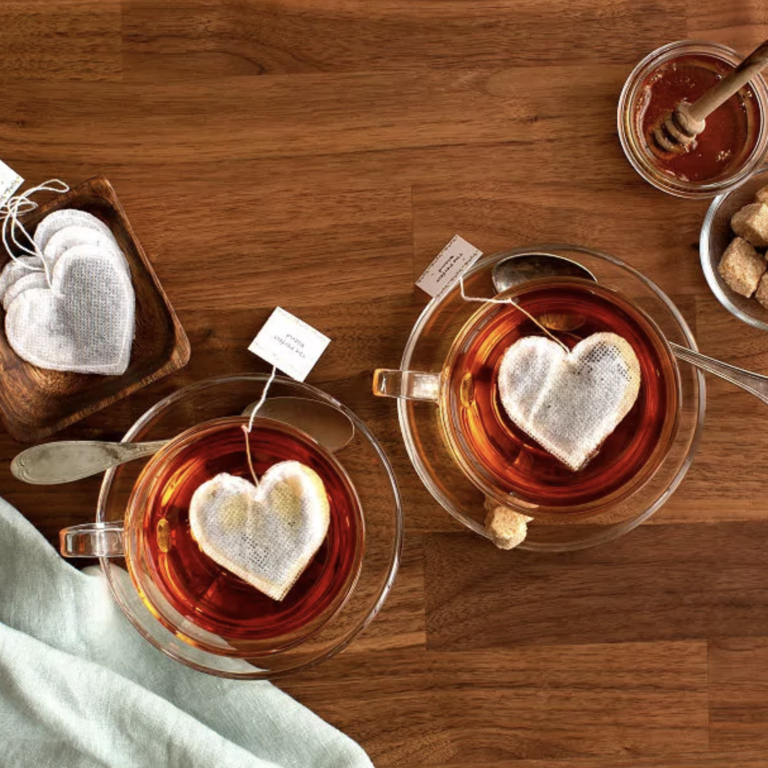 Is there anything more comforting than a hot cup of tea on a cold winter day? Treat your guests to a cuppa (and some love) with one of these adorable heart-shaped tea bags. Each one features an attached label that reads "The perfect blend" for a sweet and sentimental tribute to you and your spouse.
5. Snowflake Wine Stoppers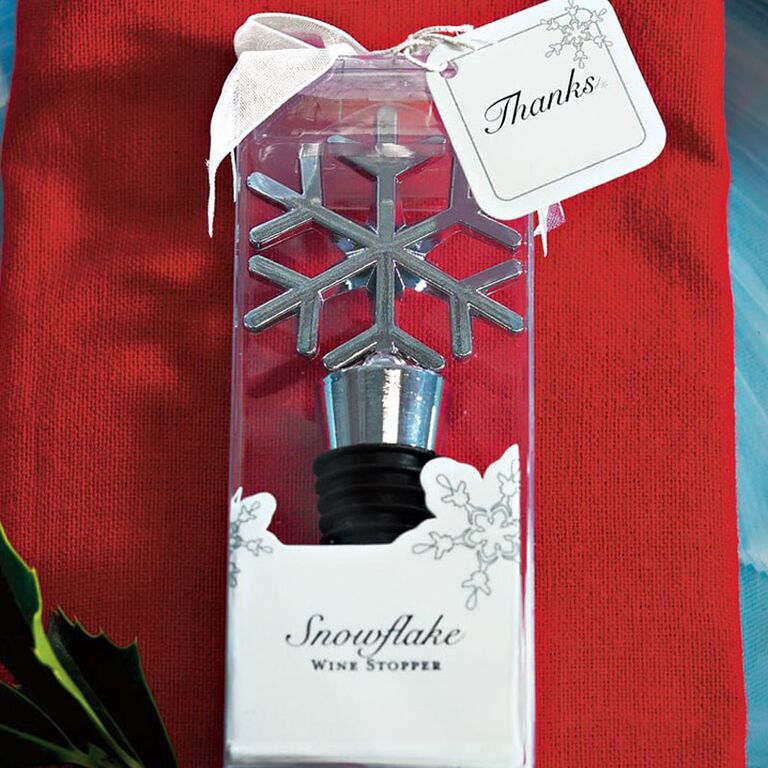 Ensure there'll be snow on the big day with these cute snowflake wine stoppers. They're a thematic and useful winter wedding favor your guests certainly won't forget on the table. Best of all, they come individually wrapped in a stylish gift box with a thank-you tag. How convenient is that?
6. Personalized Hot Sauce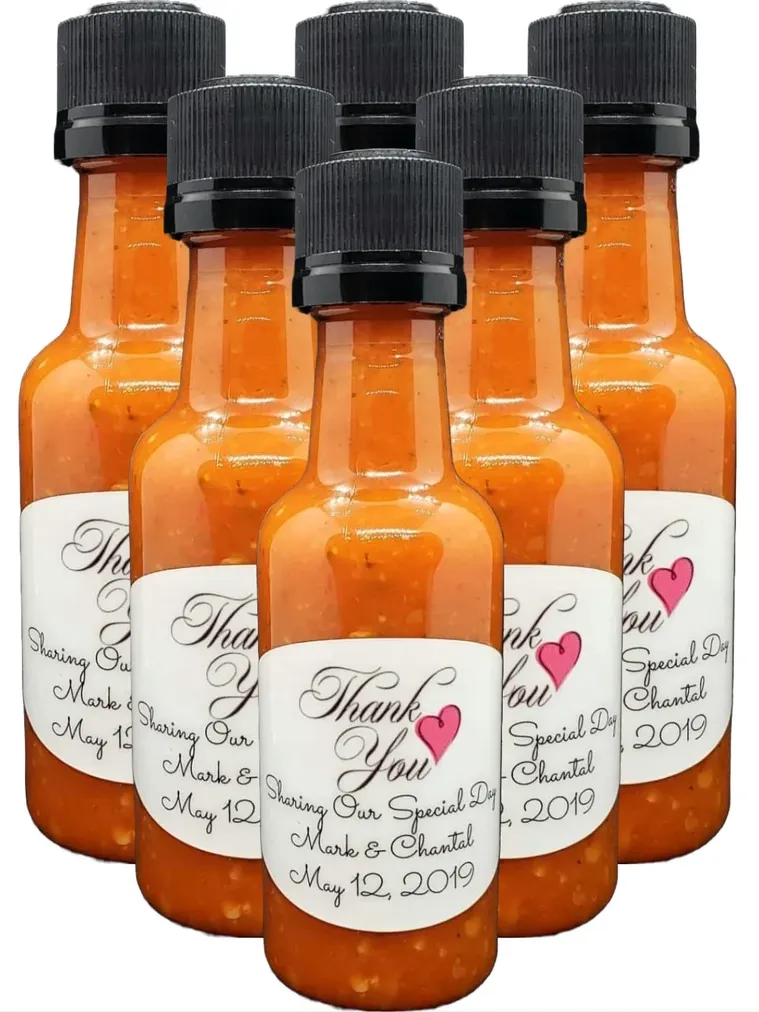 One of our favorite winter wedding favor ideas is a personalized bottle of hot sauce. Sure, it's a little outside the box, but if your guests can take the heat, they'll appreciate a bottle of the spicy stuff. Choose from four delicious flavors (ranging from mild to hot) and personalize the labels with your wedding details so they remember who to blame when their mouth is on fire. If you're feeling extra creative, you can always add a punny message, like "Thank you for spicing up our wedding day," to make your guests chuckle.
7. Wooden Snowflake Coasters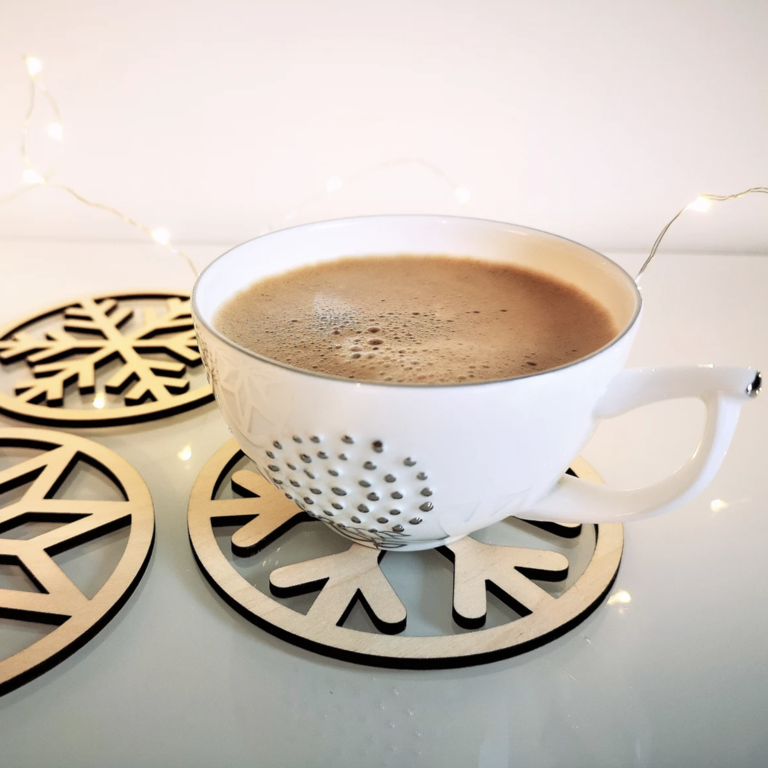 Coasters are practical gifts for guests that they can use over and over again. This natural wood design is intricately laser cut to look like a snowflake for a rustic wedding favor that is both charming and practical. Whether your guests use theirs for serving festive drinks during the holidays or sipping hot chocolate all winter long, they'll love having them on their coffee table.
8. Mini Candy Bottles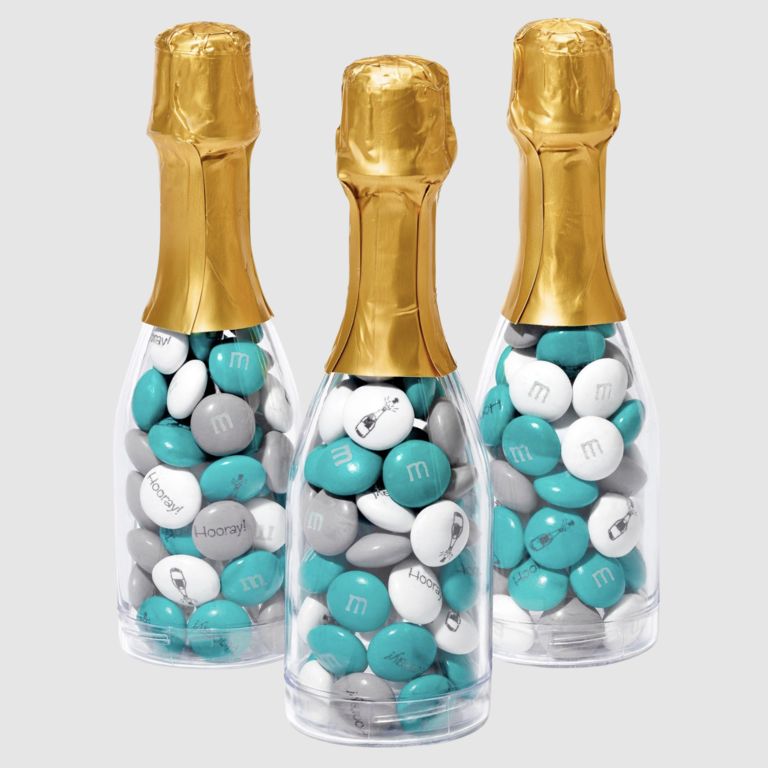 Candy is always a good party favor idea, especially for a winter wedding. These cute mini bottles are filled with delicious personalized M&Ms and look like they belong in a Christmas stocking. They're sold as sets of 20, with a two-pound bag of sweets you can use to fill each one for a fun (but easy!) wedding DIY project. Choose from a variety of colors to match your winter wonderland theme or venue.
9. Custom Plaid Matchboxes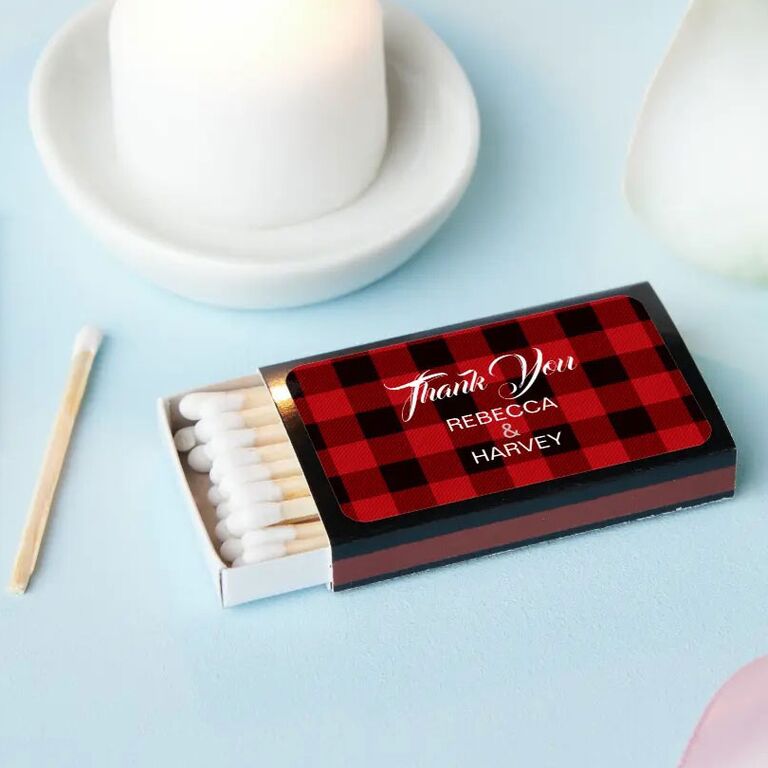 You found your match in your spouse, so now you can help each guest find theirs too—literally! These buffalo plaid matches are an inexpensive (but seriously cute) winter wedding favor idea. They read "Thank You" and can be customized with your names for the perfect personalized wedding favors. Just make sure to keep them away from the kids' table.
10. Astrology-Themed Candles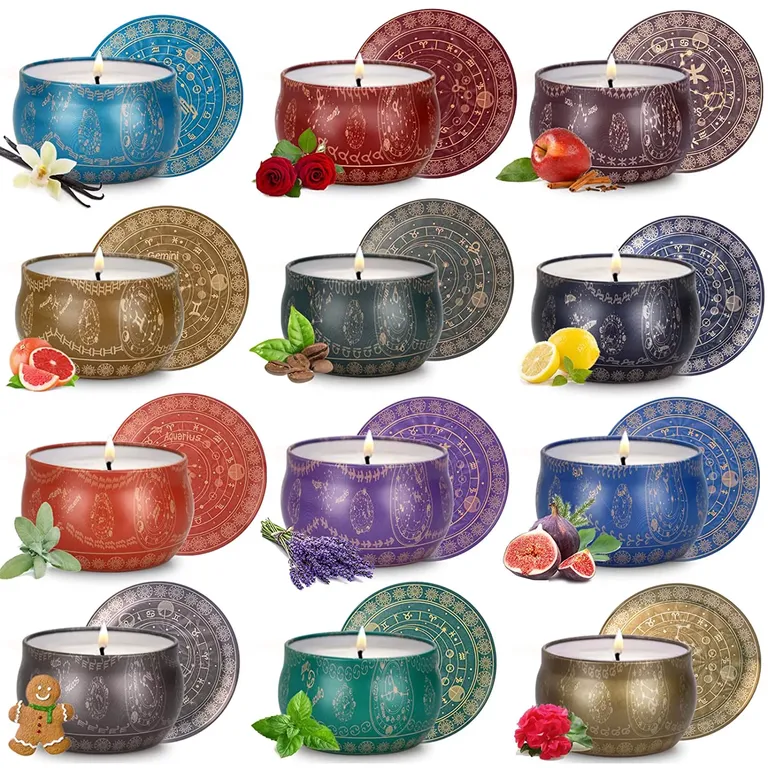 Don't be afraid to share a bit of your personality when choosing your winter wedding favors. If you and your partner love astrology, these scented candles are a great way to showcase your stellar love. Each item in this 12-piece set signifies a zodiac constellation, along with a specific color, pattern and, of course, a gorgeous scent. With festive fragrances like Christmas cookies, apple cinnamon and vanilla in the mix, they're a really cool way to celebrate the holiday season and your intergalactic interests.
11. Bulk Candy Canes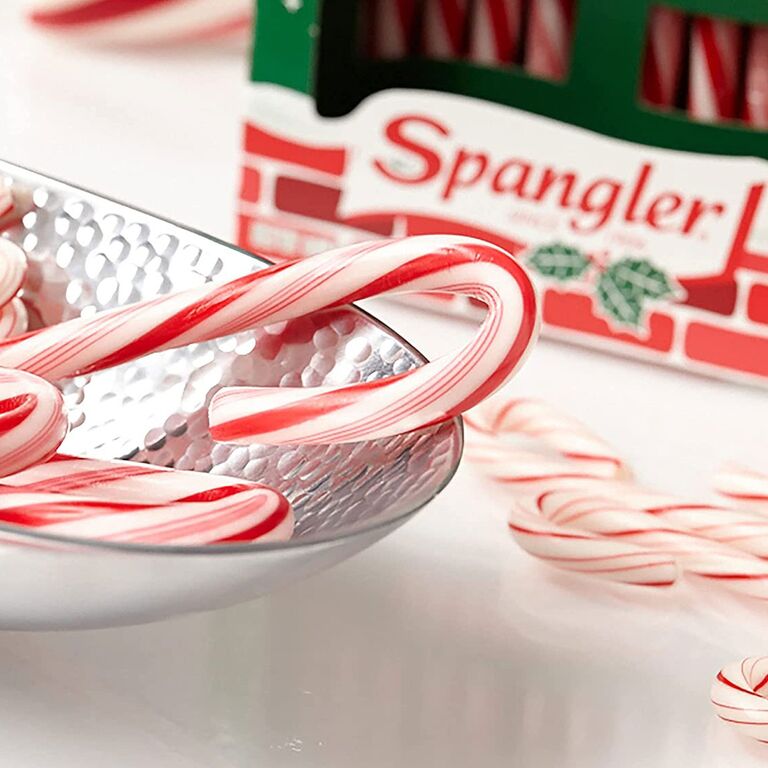 Tuck a candy cane into each guest's napkin ring for festive decor that doubles as a minty treat. Guests of all ages will be thrilled to find one of these sweet treats in their spot when they take their seats. Best of all, these individually wrapped Christmas wedding favors are sold in bulk, so they're extra affordable.
12. Engraved Wooden Pegs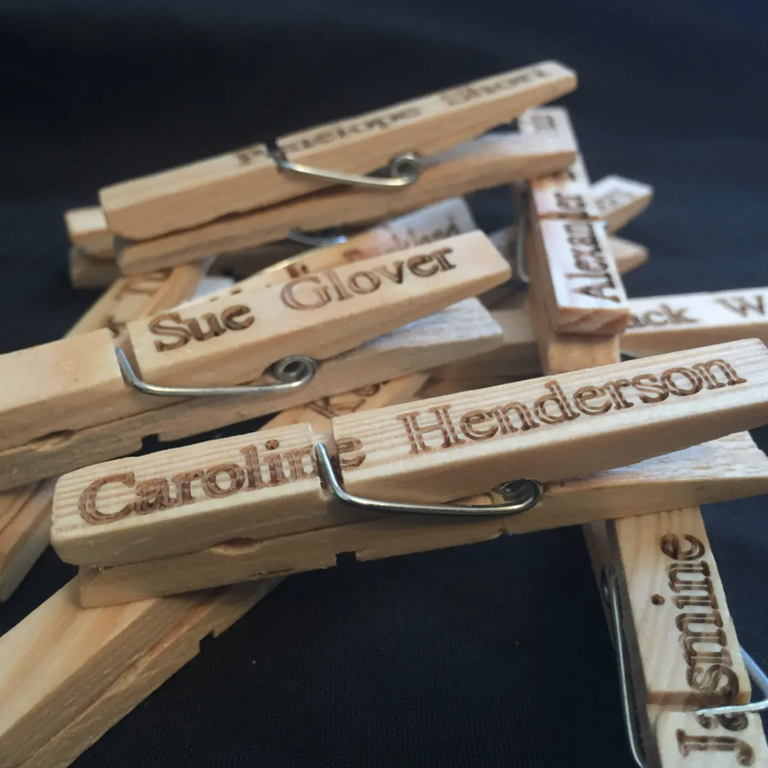 If you're planning a rustic-themed winter wedding, these engraved wooden pegs make great party favors for your guests. Have them carved with your initials and wedding date or, if you can afford to splurge a little, each of your guests' names for cute placeholders. They're simple yet practical gifts they can use later to hang up their Christmas stockings or keep their favorite snacks fresh for longer.
13. Festive Cookie Cutters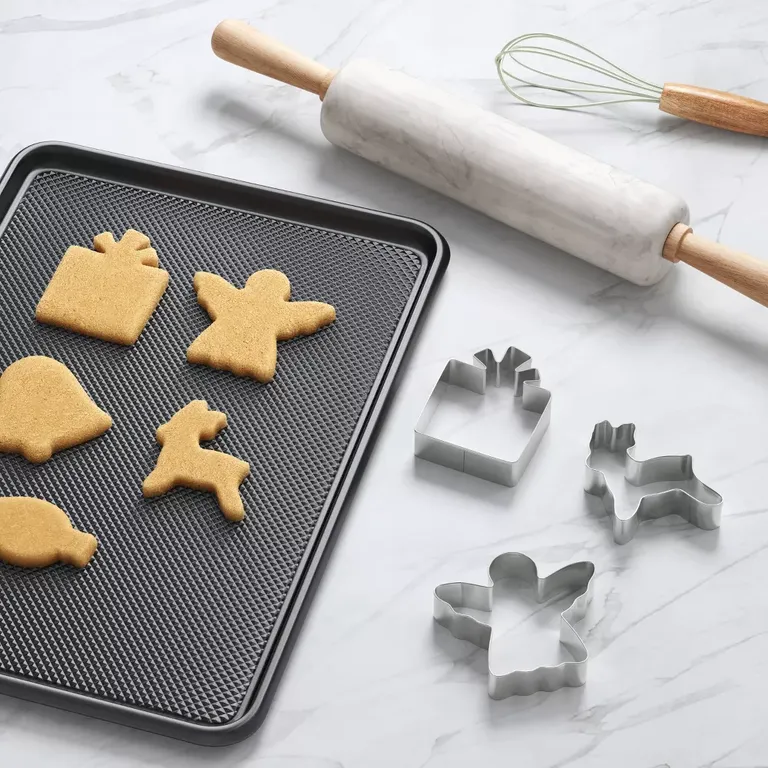 When we think about the holiday season, one of the first things that comes to mind is freshly baked cookies. These festive-themed cookie cutters make excellent winter wedding favors and are a lovely choice if you don't want to go down the personalized route. This 20-piece set includes assorted shapes, including stars, reindeer, bells, holly leaves and more—which is ideal if you want to add variety to your gifts.
14. Mini Wedding Bells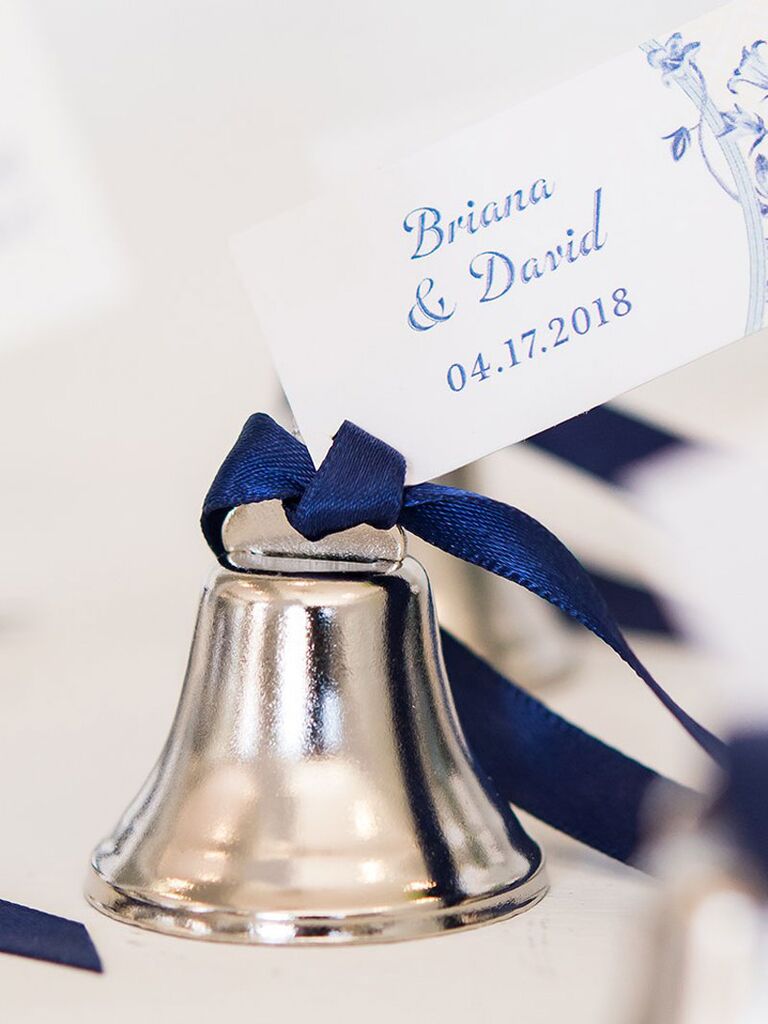 Kissing bells or jingle bells—no matter what you want to call them, these winter wedding favors are seriously cute. Put one at every place setting, then when guests ring them, it means you and your now-spouse have to smooch. Feel free to complement them with a personalized thank-you tag and a pretty ribbon for added flair.
15. Cute Espresso Mugs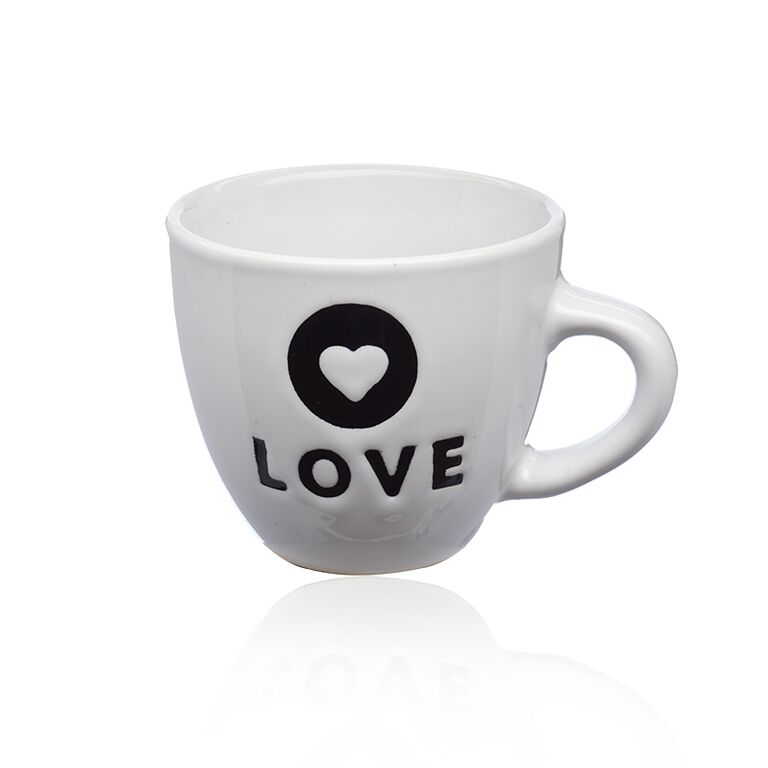 Here's a winter party favor that'll wow all the coffee lovers at your wedding: A stylish espresso mug personalized with your names, monogram or wedding date. Each one is molded from a ceramic composite and features an embossed design on the back that simply reads "Love." Choose from a variety of customization options and colors to tailor them to your wedding theme.
16. Personalized Bookmarks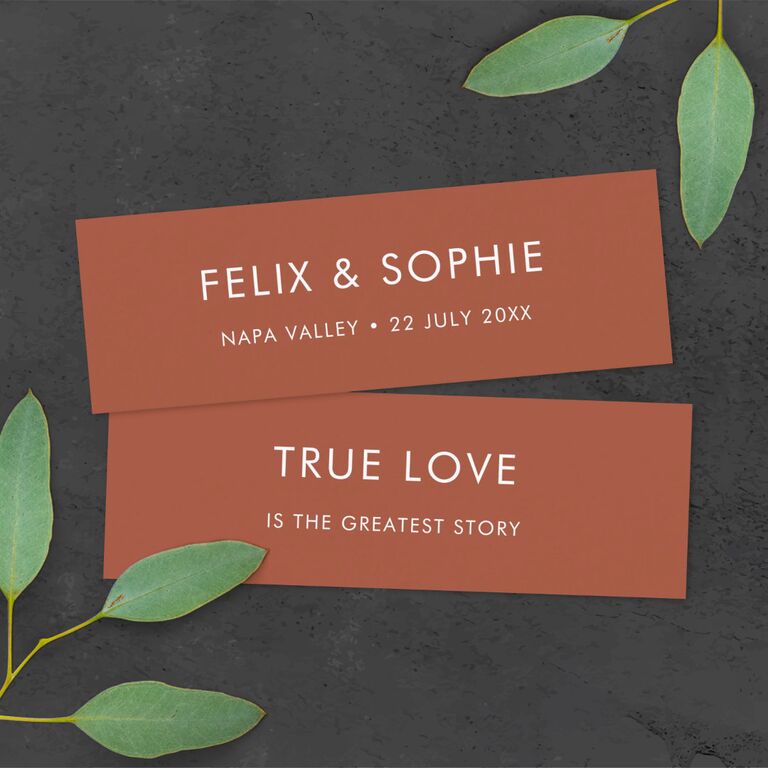 Looking for affordable wedding favors? These personalized mini bookmarks are a lovely way to treat your guests without going over budget. Customize them with your names or a meaningful quote for a thoughtful token they can tuck into their favorite book. Tip: You can adjust the design even more by changing the color, choosing a festive backdrop or adding a cute holiday motif to complement your overall aesthetic.
17. Miniature Mason Jars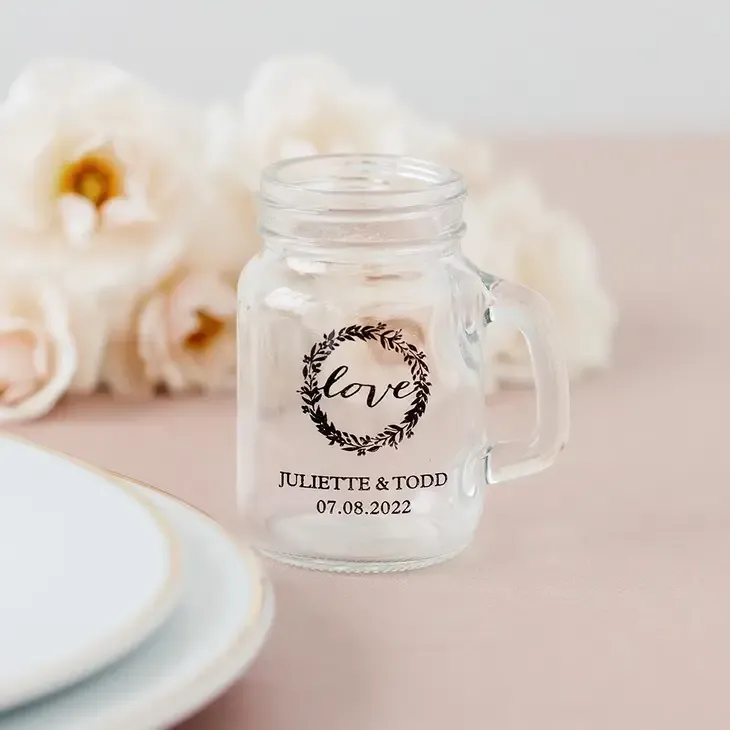 We love these mini mason jars for table settings at winter-themed weddings. These practical souvenirs are ideal for serving small shots of hot cider or holding candies and are a lovely way to remind guests of your special day. You can personalize them with a range of logos and your wedding details for a thoughtful finish. They'll make a refreshing alternative to standard shot glasses, plus they double up as table decor. Win-win!
18. Mini Christmas Stockings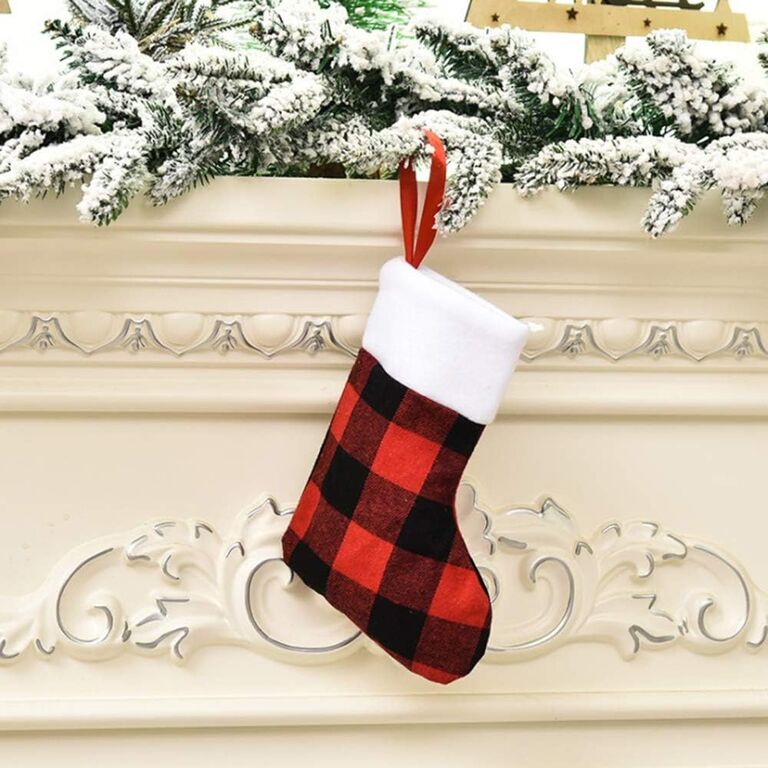 How cute are these plaid stockings? Whether you use them as part of your place settings or fill them with goodies for your guests, these Christmas wedding favors will take you to the top of the nice list. They come in sets of 24 and are also available in a festive red and green snowflake pattern if you want to mix and match.
19. Festive Essential Oils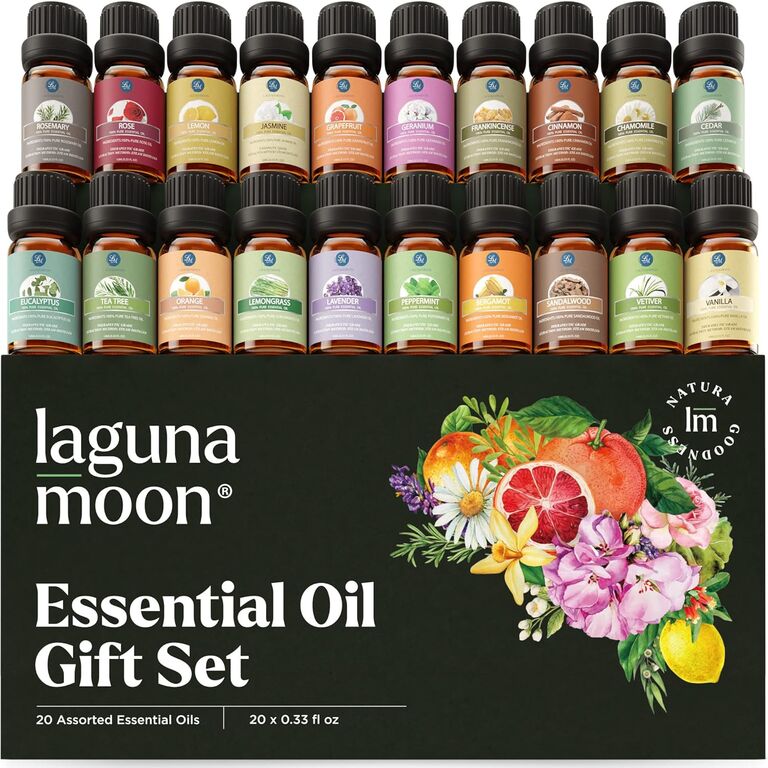 Here's a winter wedding favor idea your guests may not expect but will definitely appreciate. Each of these essential oils has a distinct fragrance, ranging from lavender and lemongrass to festive frankincense and cinnamon, but that's not all we love about them. They're also multi-purpose, so your guests can use them in diffusers at home, as a part of their beauty regime or even to make scented candles.
20. Penguin Notebooks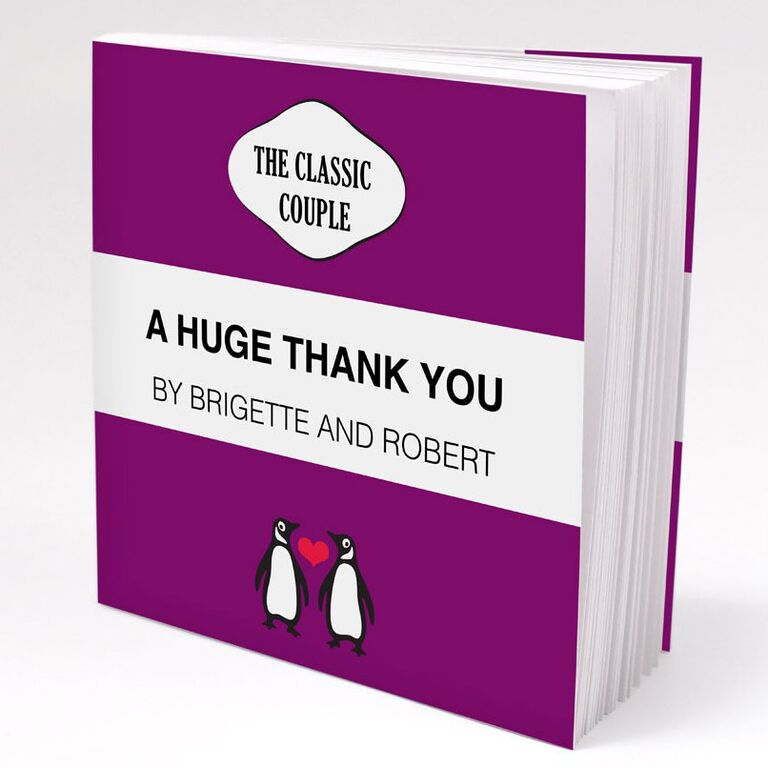 Did you know penguins can be pretty romantic creatures? They often dance and sing when they see a bird they love and some breeds even mate with the same partner for life. Add these cold-weather creatures to your winter wonderland-themed wedding with these personalized notepads for guest thank-you gifts.
21. Cozy Lounge Socks
Winter is arguably the coziest season, and nothing feels more comforting than a warm pair of snuggly socks. Make sure your wedding guests don't get cold feet with these novelty lounge socks as winter-themed party favors. They're available to buy in bulk, making them super affordable, and they come in women's and men's sizes, so you won't need to worry about the fit.
22. Mini Hot Water Bottles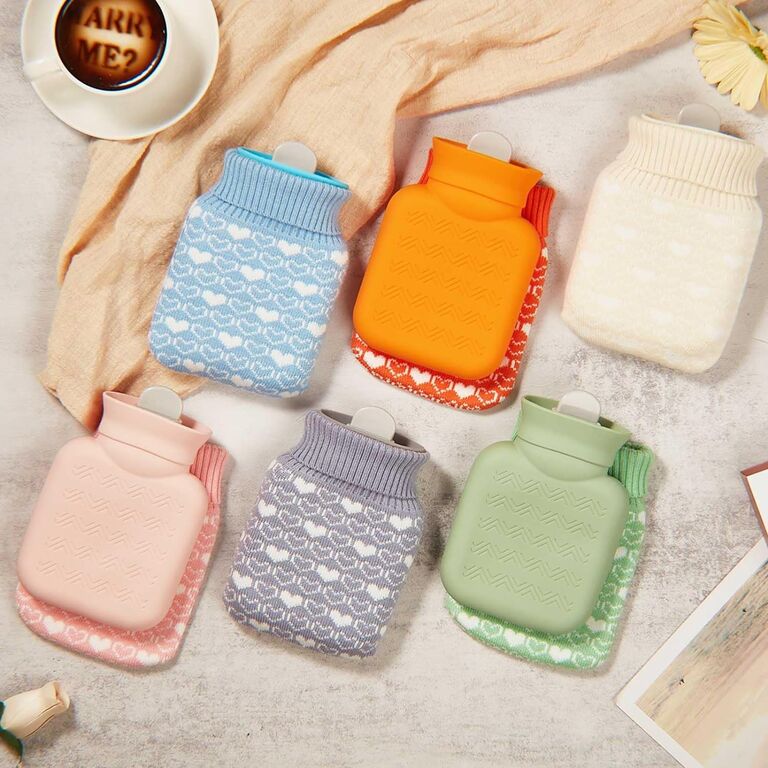 If you're staying with the cozy theme for your winter wedding, these mini hot water bottles are just too adorable not to snap up. Sold in sets of three, each one comes with a knitted cover in various colors, including grey, green, pink and blue. Just like any hot water bottle, they can be filled with water from a kettle, but that's not all—they're also safe to use in the microwave. They'll help your guests stay toasty, especially if you're planning an outdoor ceremony or a destination wedding somewhere snowy.
23. Holiday Playing Cards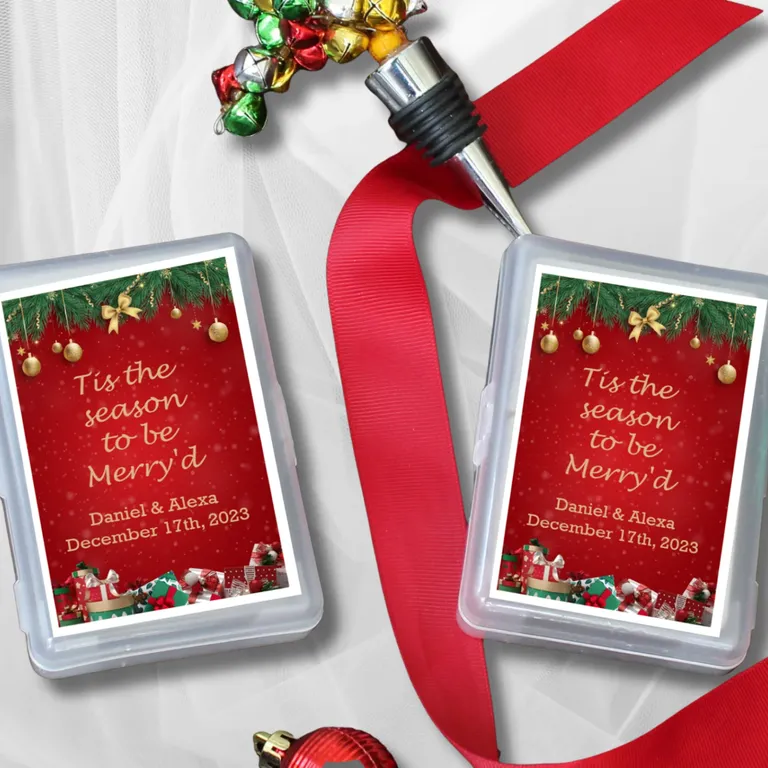 A pack of playing cards is always a good wedding favor and these just got a festive upgrade. They come in individual cases and are perfect for a holiday-themed wedding, thanks to their punny message that reads: "'Tis the season to be merry'd." Just a note: The playing cards themselves won't be personalized, but the cases can be decorated with custom labels featuring your names and wedding date.
24. Mixed Mulling Spices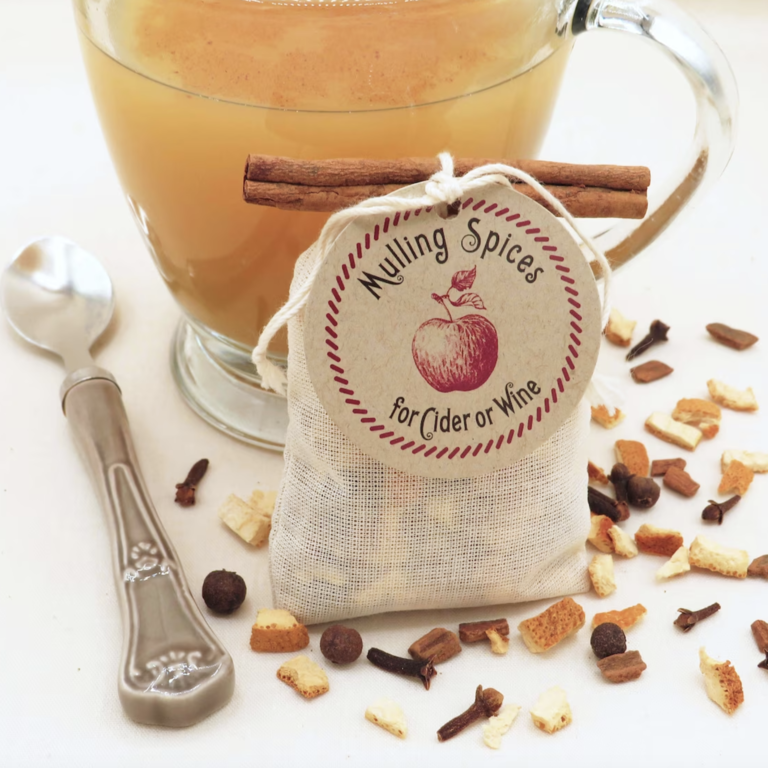 Treat guests to a soothing, comforting sip with an aromatic spice sachet. Each bag is filled with cinnamon chips, allspice, orange peels and cloves and can be steeped like a tea bag in hot cider (or wine) to make a warm winter drink right at home. They're tied with a cinnamon stick and rustic tag that can be personalized if you order more than 10.
25. Festive Hershey's Kisses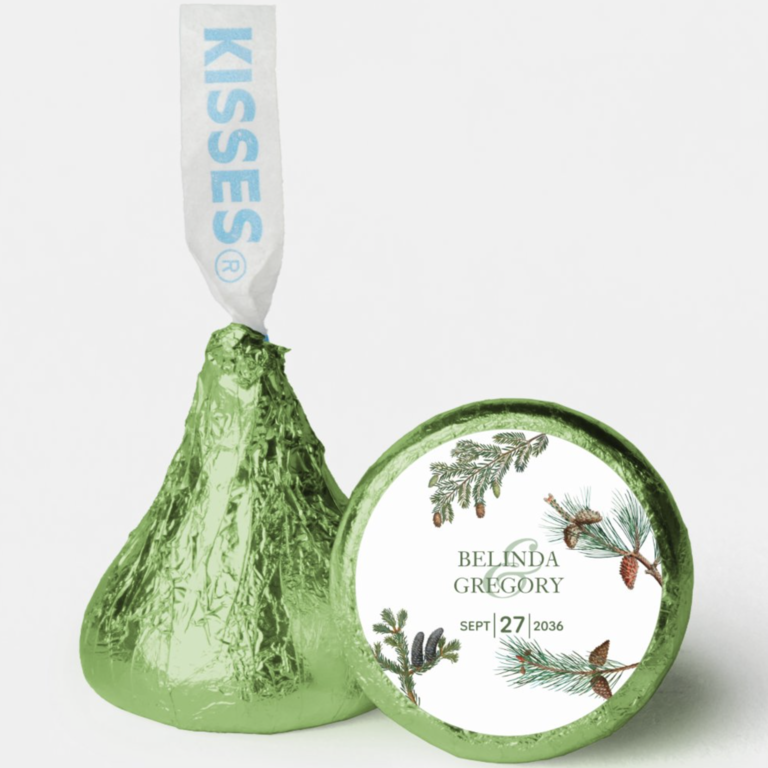 Trust us, everyone loves chocolate as a party favor. Hershey's Kisses are an obvious candy choice for a wedding and these are specifically decked out for your winter nuptials. They are wrapped in green foil (though you could choose nine other color options) and pre-stickered with your names and wedding date surrounded by pine tree branches. Our advice? Buy in bulk! Guests will be grabbing these by the handful.
26. Seasonal Fruity Jams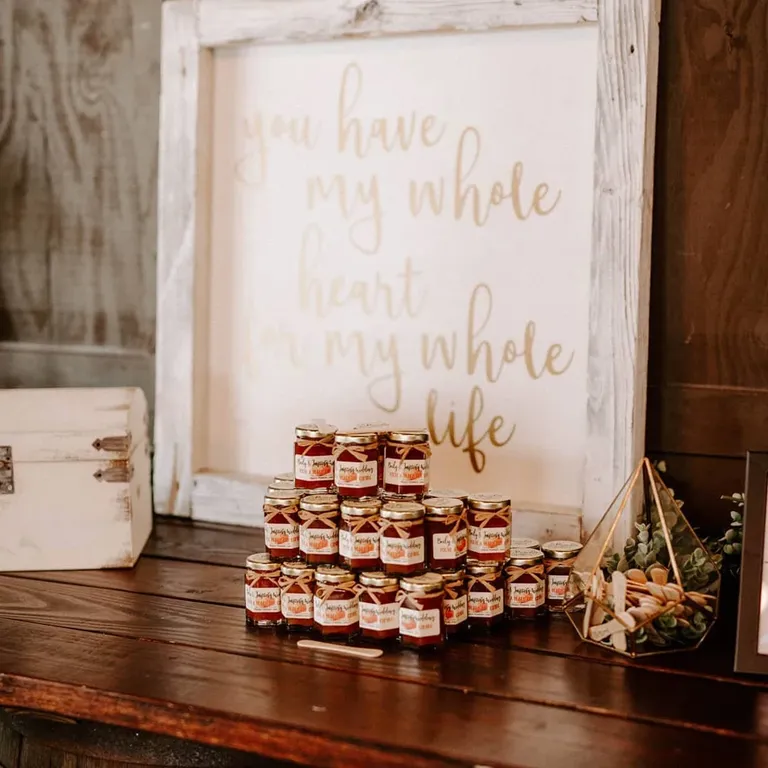 Edible party favors are a great idea, especially when they're as delicious as these seasonal fruity jams. They're available in a selection of delicious flavors, including Winter Berry, Holiday Spice and Cranberry Apple, so you're sure to find an option your guests will love. They'll make the perfect accompaniment to your rustic winter wedding, plus they're available to buy in batches of 100, so you won't have to worry about juggling multiple orders. Customize the labels with your wedding details or a heartfelt message for a bespoke finish.
27. Cozy Beanie Hats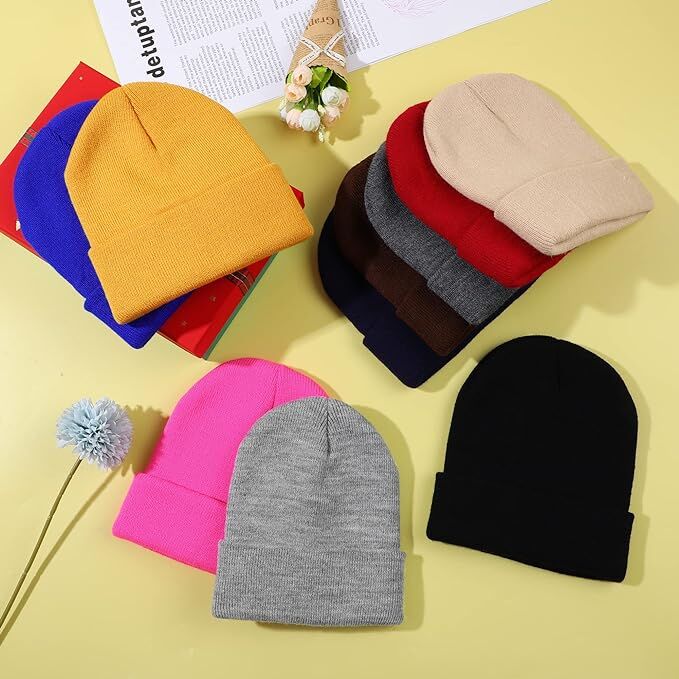 We can never have enough cozy hats in our wardrobe, which is why these knitted beanies get our vote as winter wedding favors. Whether you're having an outdoor wedding or just want your guests to come away with something practical, these unisex accessories are hard to beat. Even if they don't wear them on the big day itself, they'll get tons of use out of them afterward. They come in packs of 12 and an array of stylish colors, from muted neutrals to punchy brights.
28. Custom Wireless Speakers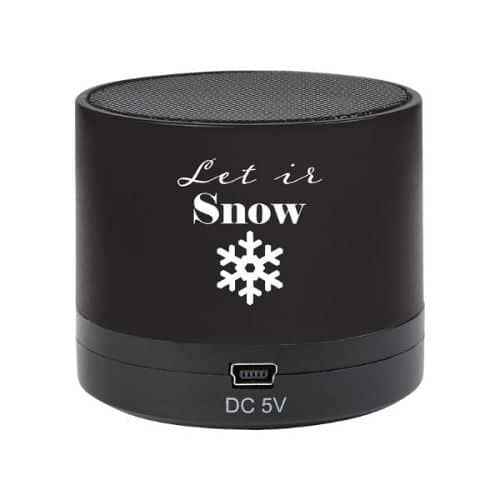 When it comes to picking out great favors for your winter wedding, it never hurts to err on the side of practicality. These wireless speakers can be customized with your names or a seasonal greeting for a thoughtful gift that guests can use to crank out their favorite tunes (holiday songs included). Pair them with a setlist from your wedding to make this simple gift even more meaningful.