The Definitive List of the Most Romantic Restaurants in Dallas for Every Occasion
Where to swoon with your special someone in the Big D.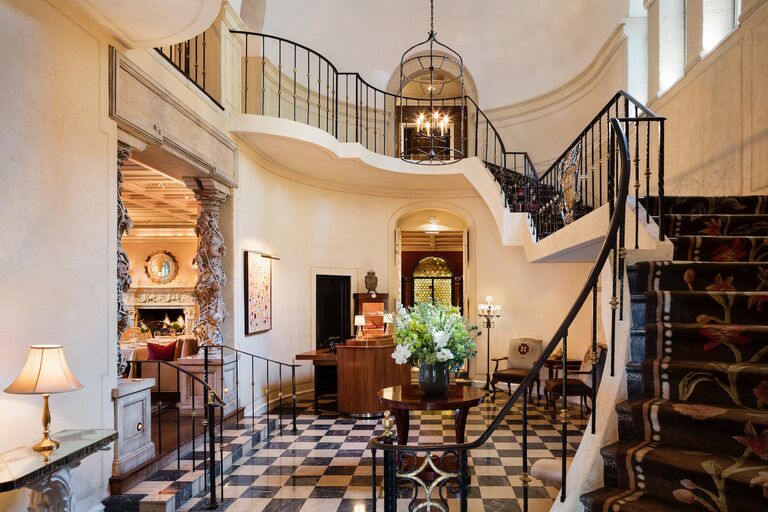 Photo: Rosewood Hotels & Resorts
We have included third party products to help you navigate and enjoy life's biggest moments. Purchases made through links on this page may earn us a commission.
For lovers, Dallas serves up a platter of romantic treats. Travelers and locals alike are able to discover a wide spectrum of restaurants in the Big D, ranging from quaint family-run digs for weekly date nights all the way up to jaw-dropping fine dining fit for a proposal. This offers up a chance for couples to experience romance in myriad ways, whether it's Valentine's Day, a proposal or your spouse's birthday.
Being in the mighty metropolis also means diversity, and the far-reaching scope of cuisines here will please all kinds of taste buds. We're talking authentic Italian meatballs with the perfect sauce, sushi cuts that'll transport you all the way to Tokyo and, of course, barbecue and Tex-Mex, both of which are best enjoyed on a patio with string lights. No matter your budget, the occasion or your boo's interests, we've rounded up the most romantic restaurants in Dallas to show the one you love just how much you care. (And if you want more where that came from, don't miss our favorite Dallas date ideas and romantic Texas getaways.)
The Knot's Top Picks for Romantic Restaurants in Dallas-Fort Worth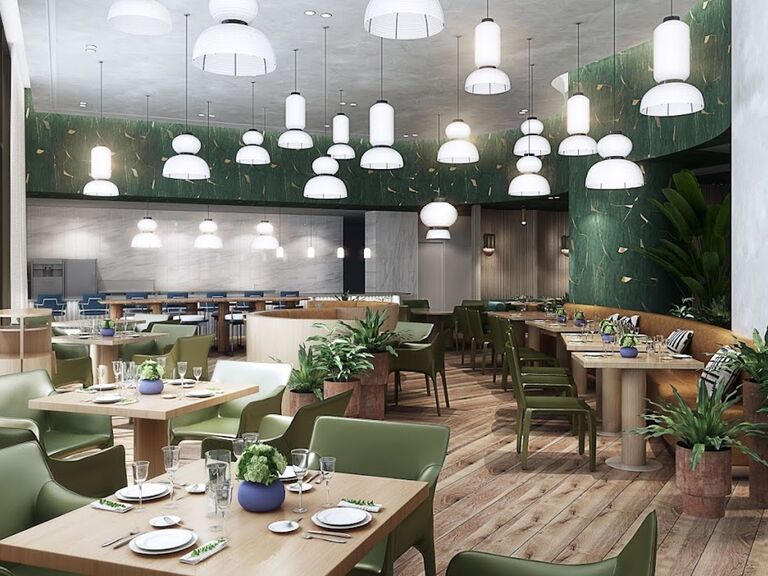 Here are our quick-fire favorite ways to a lover's heart (and stomach) in Dallas. Take it from us, they are scrumptious.
The Most Romantic Restaurant in Dallas: The Commons Club
Favorite Affordable Date Night Restaurant in Dallas: Las Palmas Tex-Mex
Best Romantic Italian Restaurant in Dallas: Sassetta
Romantic Restaurant with the Best View: Crown Block
Cozy Valentine's Day Restaurant: Georgie
Read on for our complete list of the 21 most romantic restaurants in Dallas-Fort Worth.
Crown Block, Downtown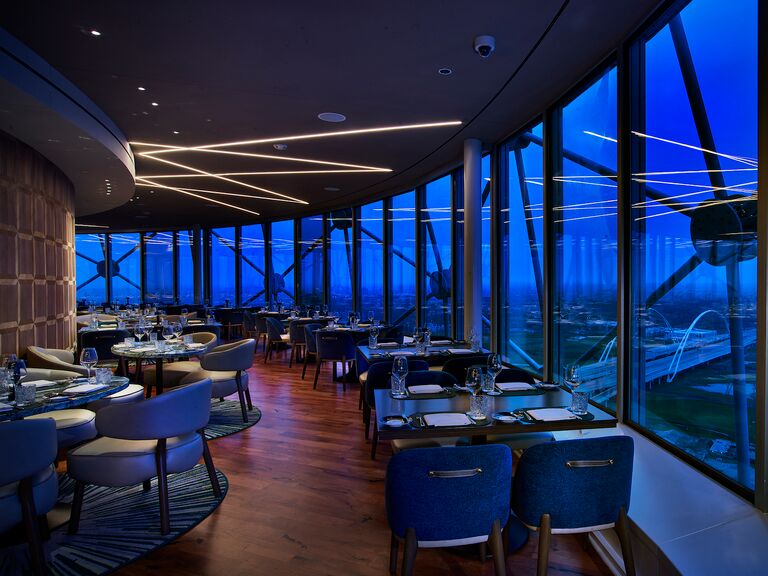 Take your relationship to the next level, literally, atop the Dallas Reunion Tower. For 45 years, this has been the Big D's skyline icon, where a number of fabled restaurants have resided. In 2023, the space breathed new life as Crown Block, a steakhouse that not only flames the meats just right but also offers a selection of plant-based mains to cater to today's evolving palate. The restaurant no longer rotates like it did before, but you'll still be spinning in a whimsical ambiance of starry romance. Try the Sam Houston chocolate for a sweet high.
300 Reunion Blvd E, Dallas, TX 75207
Ellie's Restaurant and Lounge, Arts District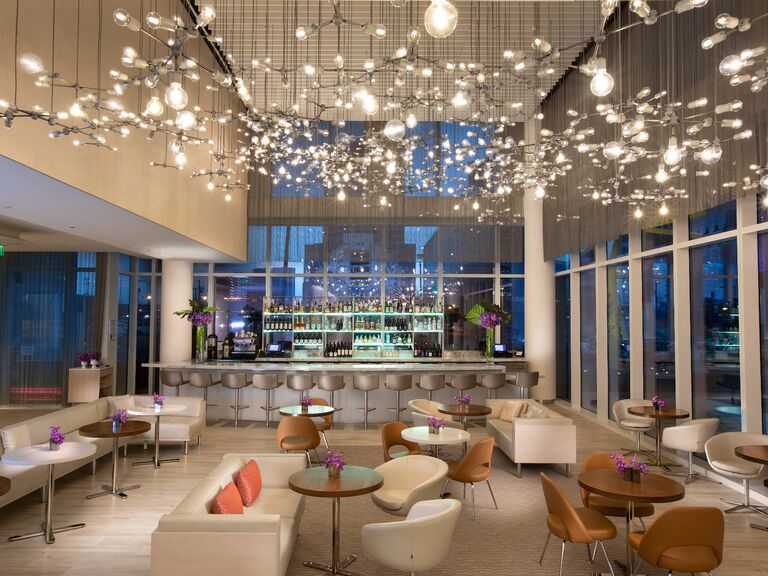 For couples with a penchant for art and design, a trip to Dallas' creative Arts District is a must. Ellie's is a wonderful extension of your trip, overlooking the Texas Sculpture Walk and even containing its own gallery of commissioned treasures by renowned national artists. Get a table out on the terrace for sweeping views, or cozy up together inside and enjoy fresh seafood paired with a glass of bubbly. The restaurant is situated within the HALL Arts Hotel, which also produces its own wine.
1717 Leonard St, Dallas, TX 75201
The Commons Club, Design District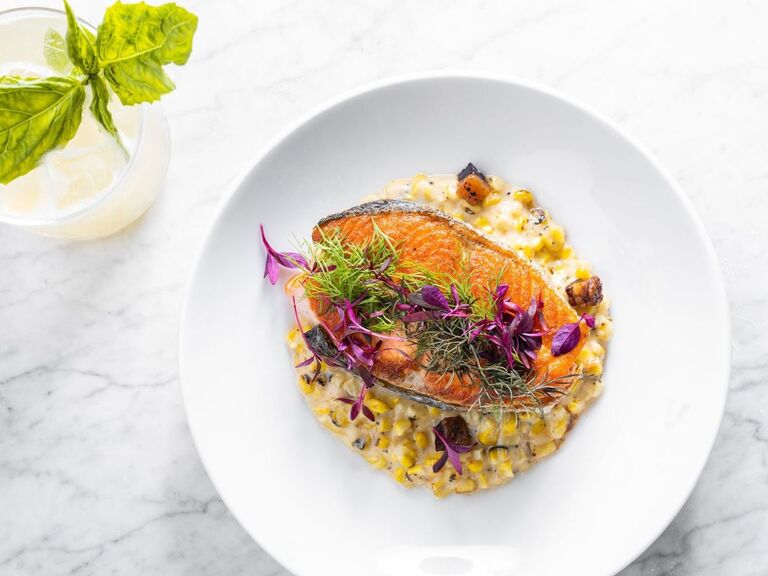 With rave reviews from the get-go, Richard Branson's Commons Club has long been a date night spot for Dallas couples. They return over and over again for many reasons. First and foremost is the food: Local superstar chefs are given carte blanche to create as they wish on whatever is in season, with sample menu items including scallops with risotto, pork belly steamed buns, and Angus filet with Texas mushrooms. Then there's the vibe: swanky and design-forward, yet still approachable. And finally, the people that pull away any sign of pretension—they're simply having a good time at the golden-paneled bar, knocking back flirty cocktails like the Spring Fling. A chameleon for many date night occasions, Commons Club is our top pick for lovers.
1445 Turtle Creek Blvd, Dallas, TX 75207
Elm and Good, Deep Ellum
Deep Ellum is a major nightlife hub for the Gen-Z crowd, so if you're planning on bar-hopping after dinner, start at Elm and Good. The cozy, tavern-inspired restaurant cooks up inventive and seasonal American fare, including wood-fired meats, handmade pasta and tons of farm fresh veggies. In the middle of the restaurant is their always-buzzing bar, which features a robust list of cocktails, wines and craft beers. When weather permits, take your post-dinner drinks out on their poolside patio and watch the Texas sunset melt before you.
2551 Elm Street, Dallas, TX 75226
Carbone, Design District
This American-Italian restaurant has been making waves all over the country, and the Dallas edition is now open and ready for couples to sport their best and slurp spaghetti together. Carbone Dallas' menu is heavy on seafood that's presented artfully and generously portioned, and thus worth the splurge. For wine enthusiasts, we suggest popping next door to Carbone Vino, their adjoined candlelit trattoria that celebrates the wines of Italy. They serve many of the same dishes as Carbone but in a bar atmosphere.
1617 Hi Line Dr Ste 395, Dallas, TX 75207
Yardbird Table and Bar, Arts District
If your Southern boo isn't one for flashy things, then Yardbird has just the table for something special yet casual at the same time. The restaurant serves crave-able American classics all day but with an elevated twist, like seared shrimp and grits and lobster mac and cheese. The star of the show is their heavenly fried chicken, layered in a golden batter with the perfect crunch. Order the chicken and waffles for a new addiction, and toast with bourbon cocktails at the bulb-strewn bar.
2121 N Pearl St St 170, Dallas, TX 75201
The French Room, Downtown
Want the royal seal of approval? You'll find a signed portrait in the hallway of The Adolphus Hotel, where Queen Elizabeth II and Prince Philip once made an official state visit. While it's unclear if and when they dined here, you'll step into The French Room knowing British royalty have indeed wandered through these halls. The elegant boudoir is decked out in marble flooring, Louis XVI-style chairs, and twin Italian Murano Glass chandeliers. They also serve a decadent afternoon tea fit for the Queen.
1321 Commerce St, Dallas, TX 75202
Las Palmas, Uptown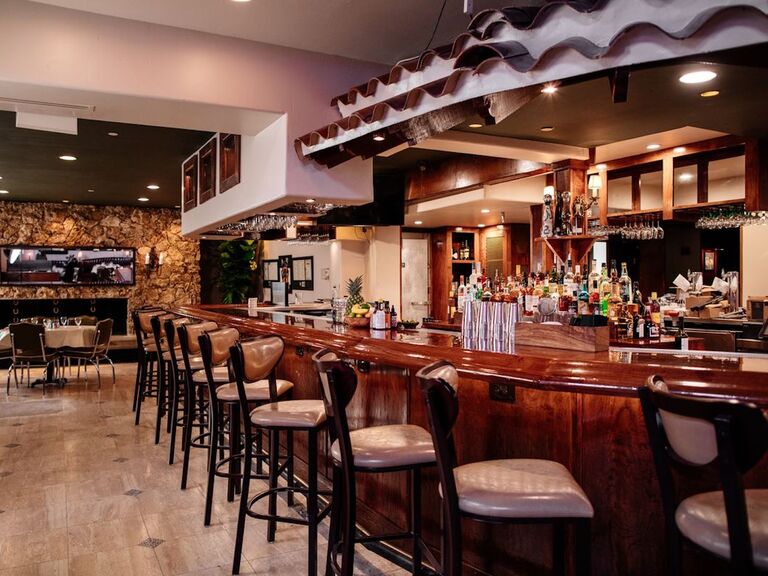 Love Tex-Mex? Then Las Palmas is your date spot. This eaterie celebrates Mexican cuisine in Texas, perfectly nailing classic fajitas, enchiladas and taco dinners just how we like them. Frozen margaritas make a table out on the patio a little bit cooler. Otherwise, guests can dine within a historic mansion full of Uptown vibes but without needing to wear closed-toe shoes. It's our pick for affordable eats (and even more so during happy hour every weekday).
2708 Routh Street, Dallas, Texas 75201
Gorji Restaurant, North Dallas
Consistently hailed as one of the best restaurants in Dallas, Gorji is an upscale joint that has romance running through its veins. The menu is centered on new Mediterranean cuisine, and there's absolutely no rush to savor every flavor—you get one of five tables all night long. We also love that Gorji pays its servers a living wage, and thus has a strict no-tipping policy. Y'all can spend less time fussing over gratuity and more time gazing into each other's eyes.
5100 Belt Line Rd Ste 402, Dallas, TX 75254
Komodo, Deep Ellum
One of the city's hot new hangouts is Komodo, with beautifully presented Southeast Asian cuisine amidst sexy club lounge vibes—this is the opportunity to get all dressed up on date night. House favorites include salmon tacos, Peking Duck and plant-based Kung Pao Chicken. Brunch is also worth a daytime visit if dim sum and Szechuan NY Strip with eggs are your date's love language.
2550 Pacific Ave Ste 120, Dallas, TX 75226
Nobu Dallas, Uptown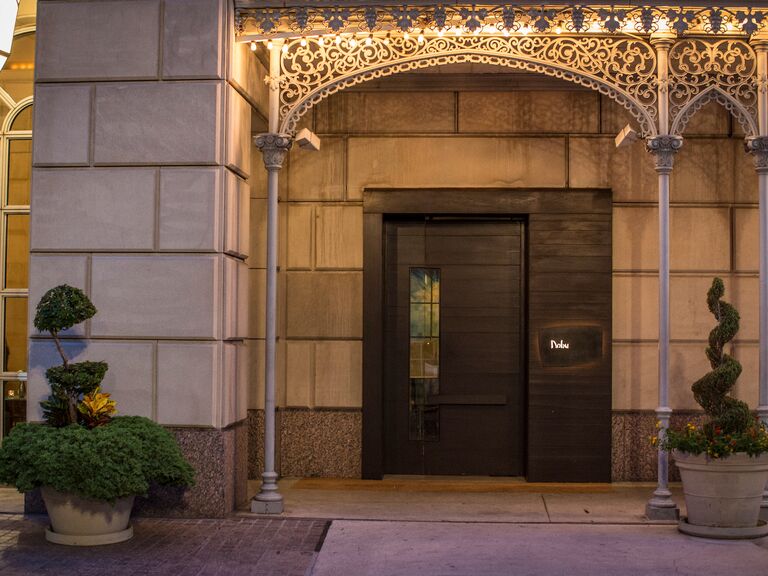 A Nobu dinner reservation is on every sushi addict's bucket list, and this glitzy outpost in DTX has the catch to impress. You'll find it tucked within Hotel Crescent Court in Uptown, behind an unassuming black door. Stepping in is like entering a swanky Japanese members club. Chef Nobu Matsuhisa's innovative Japanese cooking has earned rave reviews across five continents (his first restaurant opened in 1994 in Tribeca, NYC). If it's your first time, you have to order the famous black cod with miso or the rock shrimp tempura. For extra-special occasions, add caviar.
400 Crescent Ct, Dallas, TX 75201
Sassetta, Downtown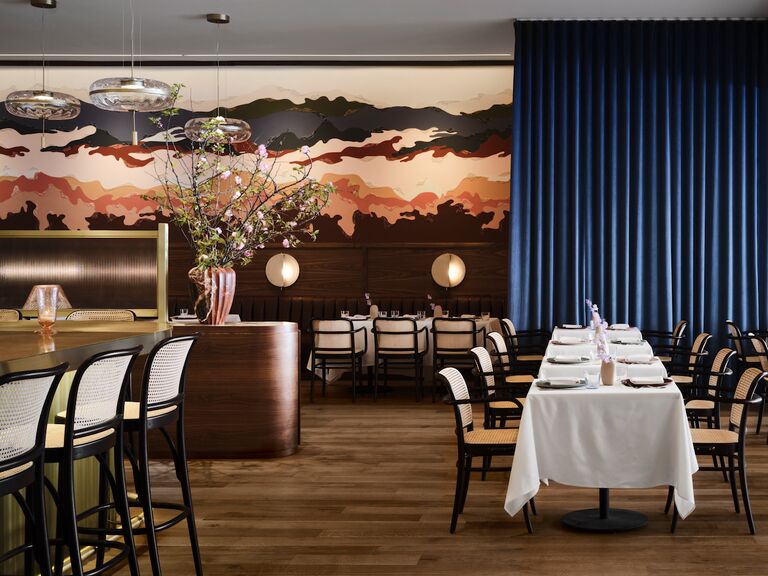 For Italian food that'll make your eyes roll back, look no further than Sassetta. The food here is inspired by the length and breadth of Italy. Think pork Milanese, Mediterranean whole branzino, decadent cheese lasagne, lobster with handmade spaghetti, and thin-crust pizza. Inside, guests dine within chic modern interiors that illuminate with a Tuscan glow (it was named one of the most beautiful restaurants in Dallas by national media). The Italian wine list is sumptuous, and there are happy hour deals on Wine Fridays.
1530 Main St Ste 100, Dallas, TX 75201
Il Modo, Downtown Fort Worth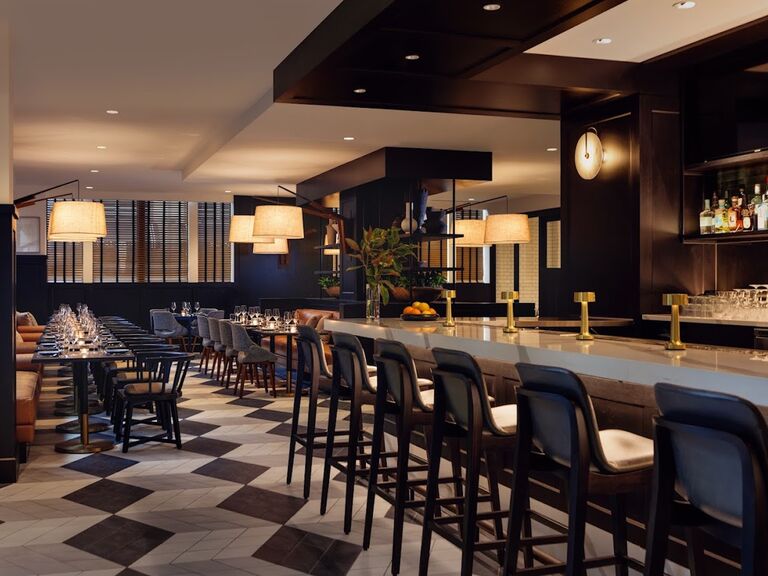 If a trip to Cowtown's rodeo is in the cards, then let Il Modo be your reward for sticking through it all in the heat. The Italian restaurant is famed for its fresh handmade pasta, which you'll see dangling out back in the glass-walled pasta room. When it's paired with sauce and dry-aged beef, the result is pure gastronomic magic. The linguine is our fave, served with littleneck clams, white wine and garlic.
714 Main Street, Fort Worth, TX 76102
Barcelona Wine Bar, Knox-Henderson
Reminisce on those glorious European getaways with an anniversary date at Barcelona Wine Bar. The tapas destination is shaped by seasonal small plates from the Mediterranean, Spain and South America, and there are about 400 wines on the list. Choose to sample them at the bar, or book an intimate table for two and feast. The menu also features charcuterie and cheese, large plates and a must-try olive oil cake.
5016 Miller Ave, Dallas, TX 75206
Georgie, Knox-Henderson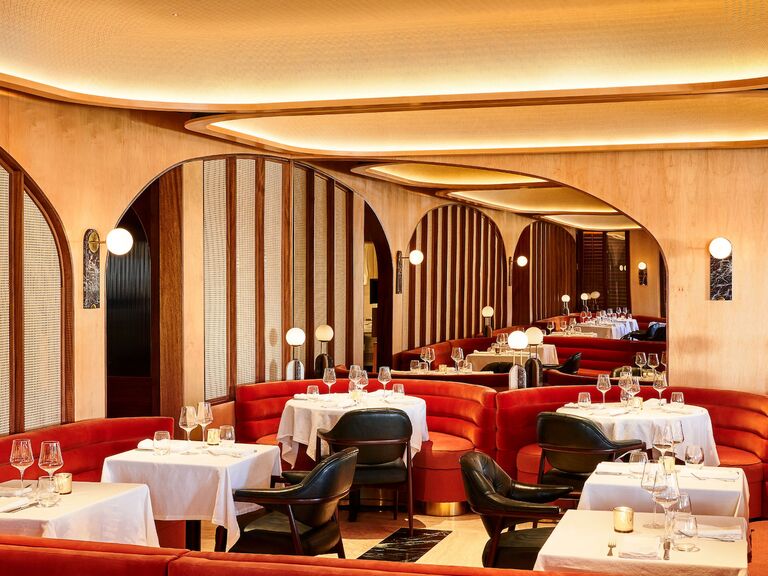 If fall's your favorite season, then you'll adore Georgie. The modern restaurant is wrapped with dreamy amber booths, coffered ceilings, rich mahogany doors and art pieces by a noted French photographer. The food's just as inviting—platters of oysters and Champagne, roasted duck and steaks fresh from the adjoined butchery are on the menu for an unforgettable meal. Or, let the chef take you on a journey; try the six-course "Taste of Georgie" menu with optional wine pairings.
4514 Travis St Suite 132, Dallas, TX 75205
Uchiba, Harwood
It all started with a little red bungalow in Austin, Texas, and now Uchi's one of the Lone Star State's great sushi legends. In Dallas, Uchiba on Maple Drive is an izakaya-restaurant-slash-bar that peddles local favorites like Tiger Cry Bao and kimchi chicken thigh skewers. Perfect for first dates, you can share small plates and get to know each other over the vast selection of Japanese whiskies available. Kanpai!
2817 Maple Ave Floor 2, Dallas, TX 75201
The Mansion Restaurant, Turtle Creek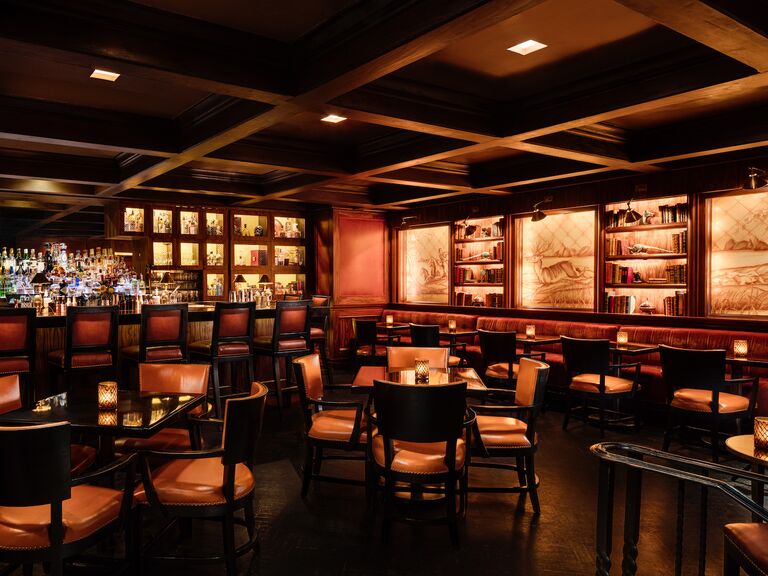 Contemporary American cuisine meets French sophistication over at The Mansion Restaurant on Turtle Creek. Proposal, anniversary or your partner's birthday, this exquisite mansion house is destined to impress—especially if you snag a table by the grand fireplace. Start with the artisanal cheese board, try the prime steaks, and finish with a slice of cheesecake. Chef's seasonal tasting menus are also available.
2821 Turtle Creek Blvd, Dallas, TX 75219
Pizzana, Highland Park
From the mastery of chef Daniele Uditi comes Pizzana—where Naples is reimagined the American way. If a casual date that features a quality slice of pie is what you envision, you'll do it in exceptional flavor and style right here. The signature slow dough is meticulously prepared and fermented for two days for a light and easy-to-digest crust. Experiment together with the vegan mushroom pizza, the vodka sauce pizza, or simply play it safe with the margherita. All are delish.
3219 Knox Street, Suite 150, Dallas, TX 75205
Wabi House, Lower Greenville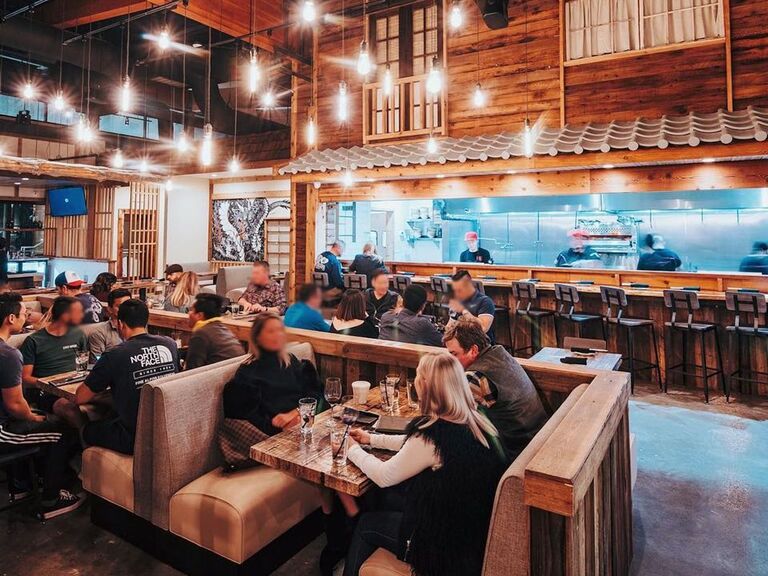 Sometimes on a cold winter's day, all you need is a bowl of ramen. On the rare chills of the year, Wabi House is like a big, warm Texan hug. The cozy ramen shack boasts a wide array of soup and noodle concoctions, including the classic tonkotsu and shoyu. For something special, try the spicy miso or the dry garlic (unless you're planning on a post-dinner smooch). Authentic small plates like takoyaki (octopus balls) and karaage (fried chicken) are also available, and there's a great sake list.
1802 Greenville Avenue, Unit 100, Dallas, TX 75206
Dragonfly, Uptown
Why go to Vegas when you can have a sprinkle of glitz right here in the Big D? Dragonfly is outfitted in fabulously bold and quirky decor. There's art and dangling lights literally everywhere, creating a night of sparkle. The food's new American with a hint of Asian, spanning classic cheeseburgers and crispy pork belly tacos. You can't visit the notorious Hotel ZaZa without a cocktail or three, and Dragonfly's got you covered no matter what your poison.
2332 Leonard Street, Dallas, TX 75201
Smoky Rose Barbecue, Forest Hills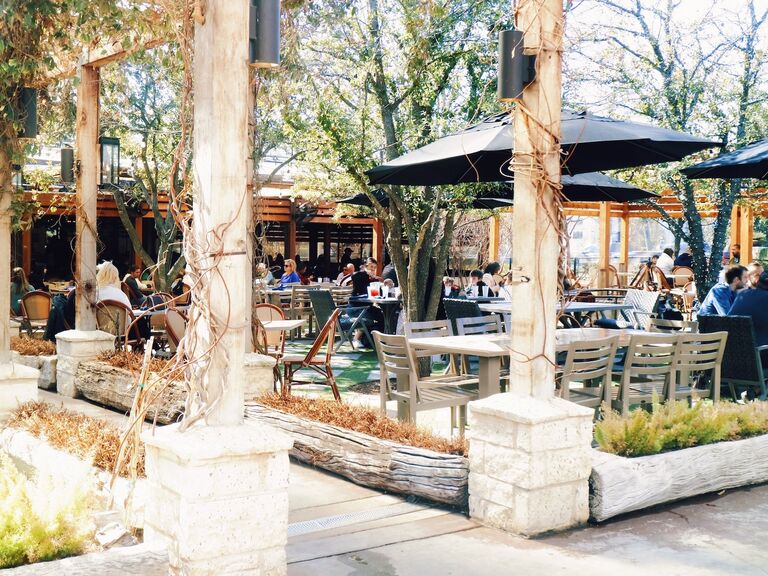 No Dallas food list is complete without barbecue. And while getting the meat sweats over a rack of ribs isn't the most swoonsome image for lovers, Smoky Rose turns up the ante for date night. The humble shack is located by White Rock Lake, and there's a gorgeous patio to take in the breeze from. Order up some of their delicious smoked brisket and plenty of booze on ice, and feast together like you just don't care.
8602 Garland Road, Dallas, TX 75218