Heidi Elnora's New TLC Show 'Bride by Design' Takes You Inside the World of Custom Wedding Dresses (Video)
The Alabama-based designer tells us all about her new TLC show, "Bride by Design."
by Ivy Jacobson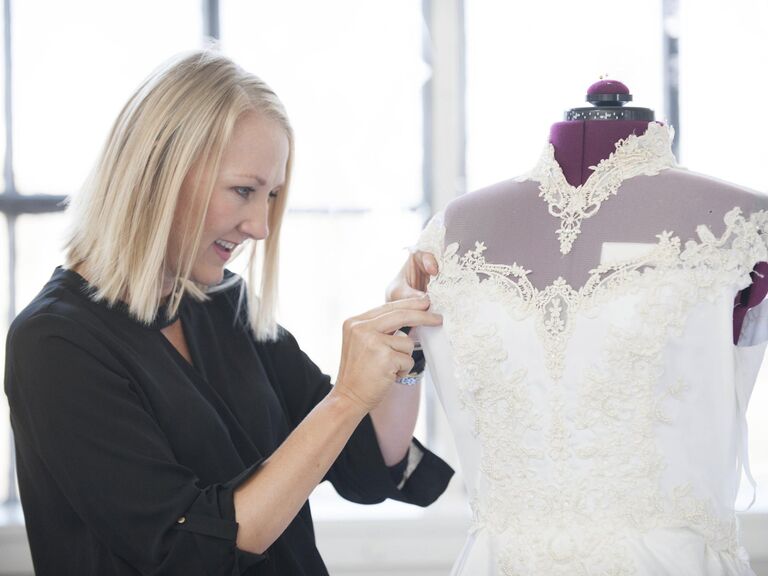 It's an understatement to say that Heidi Elnora is just a wedding dress designer, since the Birmingham, Alabama, native was a contestant on Project Runway and founded Birmingham Fashion Week all before launching her eponymous brand in 2006. And now Heidi's back on the screen with her new TLC show, Bride by Design, where she invites viewers into her bridal shop to experience what it takes to create her custom gowns from start to finish, with behind-the-scenes surprises along the way!
The Knot: Congratulations on your show! How long has the journey been start to finish?
Heidi Elnora: We did the premiere last summer and filmed 10 episodes in the fall. It's been awesome! I've learned a lot and grown a lot.
TK: What will Bride by Design mainly focus on?
HE: It'll definitely focus on the brides, and how viewers can see the process of creating a custom wedding dress from a designer's perspective. There are also a lot of different personalities on the show, like Carolyn and Leslie, who work at the boutique with me. We laugh every day – it's a very happy place. What you see on the show is very genuine -- we love our job.
TK: We can tell there's a family feel to your show and brand, since you only take one appointment at a time.
HE: It's important. Some women dream about this since they were little. We touch every single dress that comes out of Alabama. If the dress is in my shop, then I've seen it, touched it and talked about it.
TK: What do you want people to take away from the Bride by Design?
HE: That it's a positive and happy show that you can watch with your kids – my two sons Jack and Bo are proud of it and excited to see it! It's a happy light to the world. The show is super-fun, and I promise you will laugh and cry! I encourage everyone to watch.
TK: Speaking of happy, we love the fun names you give each of your dresses. How do you name them?
HE: I'm Southern, and we all have two names in the South! A first name and a middle name. So all my dresses are inspired by women I know and love. My Valerie Lynn dress is named after my mom. My best friend from high school's name is Laura, and I called her LaLa, so the LaLa Phillips dress is for her. When I think about those dresses, I think about the women behind them. And the name for my Hello Darling line came from Fashion Week in New York. My husband, Jeff, started putting the word "Darling" after my name during that trip. It was sweet and funny, and just stuck with me.
TK: Who gave you your love of design?
HE: I've always wanted to be a fashion designer for as long as I can remember. I can recall playing with red silky pajama pants when I was little, making a weird onesie hood thing with one leg! My mom, dad and grandparents always encouraged me. My heritage is interesting though, because I have ancestors from Germany who were tailors, and I know it's in my blood. It's who I was meant to be – it's just second-nature, like breathing.
TK: You wore four dresses for your own wedding in 2009 – do you think that wearing multiple gowns is becoming the norm for brides now?
HE: 100 percent. I love mini dresses, different options and multiple looks – similar to the Build-A-Bride collection. You can have a strapless dress with a lace top for the ceremony, and then remove it for the reception without spending a ton of extra money. Changing it up is fantastic – you should be able to move and dance at your reception. It's a fashion show!
TK: Did you see a hole in the bridal industry when you created the Build-A-Bride line in 2008?
HE: Definitely. I had so many brides who wanted the exact same dress: a sweetheart neckline, a fit-and-flare skirt, a low back and a chapel-length train, but with little variations here and there. And I thought to myself every time, 'Why am I reinventing the wheel?' The collection is a true opportunity to take ownership of your dress. Brides have lots of options, so I honed in on developing a 15-piece line with 25 optional add-on pieces that's going to be around forever. Build-A-Bride is the new way for brides to get exactly what they want without getting distracted. The line has basic shapes and clean lines with six different fabrics, so you can really see which style you like best. A wedding dress is all about structure and how it fits. It's very important, because if it doesn't fit you well, it doesn't have as much beauty as it could.
TK: What are your favorite trends of the moment?
HE: This spring, I am really into sleeves, low backs, silk crepes and flowy, lightweight silhouettes, similar to some of the dresses from my Hello Darling collection. For October, I have a whole other game plan! It's good.
TK: What's something true about Southern brides?
HE: They want to stay classic with their bridal look, and aren't big on trends. We're the last ones to get the trends down here! They stay focused on that timeless look that's fitted and not too risqué. And they love lace!
TK: Describe a Heidi Elnora bride in three words.
HE: She's strong, confident and sexy.
Watch the hour-long premiere of Bride by Design (two half-hour episodes for five weeks) on Friday, March 27, at 9/8 p.m. CST on TLC, and catch a sneak peek of the show here!
Based in Alabama, the heidi elnora brand is focused on being a personal and honest company as they stay true to their Southern roots. Today, the heidi elnora brand can be found in over 32 stores worldwide. With the launch of Heidi's reality show Bride By Design on TLC debuting Spring 2015, there is a new layer of the heidi elnora brand to be unveiled.From a humble beginning to bridal stores across the world, Heidi Elnora has built the acclaimed wedding gown company heidi elnora from the ground up. Her journey began upon graduation from the Savannah College of Art and Design in 2002 where Heidi was taught the couture techniques of the fashion industry. Heidi's passion for couture and the creation of timeless pieces resulted in the establishment of heidi elnora in 2006. Following the footprints of great designers before her, Heidi's gowns are recognized by their quality in construction, fine attention to detail, and feminine relevance.