How to Confidently Attend a Wedding Alone
No plus-one? No problem. Here's how to have a great time—without a date.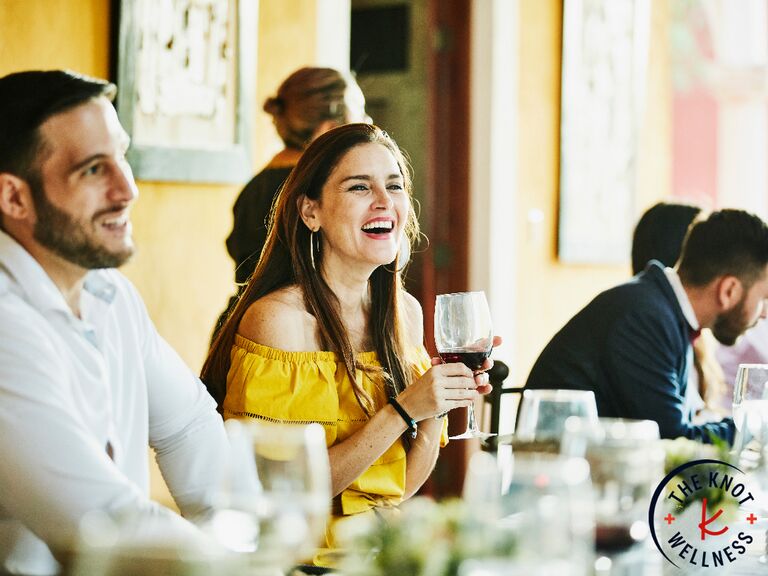 Thomas Barwick/Getty Images
If you get invited to a wedding without a plus-one, your first thought might be to send a gift and call it a day—especially if you're worried about being alone. Although weddings are fun, celebratory events, it's completely normal to feel anxious about going if you won't know many other people in attendance. But instead of immediately RSVP-ing no, we're here to encourage you to take the leap and go to the wedding by yourself…because you just might have a fantastic time.
To help you feel confident without a plus one, we've put together a comprehensive expert-driven guide on how to go to a wedding alone, filled with actionable and realistic tips to work through your anxiety and enjoy yourself. (Trust us, it's totally doable!) After all, amid the year of the wedding boom, you should feel excited to celebrate your friends, with or without a date.
Meet the Expert: Leanna Stockard, LMFT, is a New England-based therapist for LifeStance Health, a provider of outpatient virtual and in-person mental healthcare.
Don't panic… and don't immediately RSVP no.
You finally get the invitation in the mail from your old childhood friend, but you notice your name isn't followed by "and guest" on the envelope, realizing you weren't given a plus-one—but don't panic. While you might feel nervous about going solo, this shouldn't be a reason to automatically decline the invite. "It's normal to feel anxiety when you're going somewhere where you do not know many people," Stockard says. "This can especially be the case if you built a level of comfortability with bringing a plus one to a wedding."
If you're feeling the urge to skip the event, consider your relationship with the to-be-weds, and how they may feel if you don't attend. Plus, try to put things into perspective: you certainly won't be the only one without a date. "Many guests are invited without the possibility to bring another, so you will not be the odd one out," she adds. "Ultimately, everyone at the wedding will be there for the same reason, to celebrate the couple, and this is a way for you to bond with others there."
The bottom line? Weddings are a great way to meet new people and it's absolutely possible to have fun on your own. It's also important to support your friend—there's a reason they invited you.
Pinpoint why you're anxious about being alone.
If attending by yourself is really weighing on your mind, do some reflecting to pinpoint why you're feeling this way. A self-check-in will help you identify the root of your anxiety and work through it accordingly. If, for example, you're worried about people noticing you're alone, know that most people probably won't realize it. "The majority of the people at the wedding will be focusing on the couple, and not focusing on you, or anyone else," Stockard says.
Another tactic she recommends is the Cognitive Behavioral Therapy skill of decatastrophizing—in other words, tackling your most intrusive thoughts head-on. "Your 'what-if' thoughts are trying to identify the worst case scenarios that may occur in a spiraling fashion," she explains. "The practice of decatastrophizing includes identifying what you are worried about, how likely it is that this worry will come true, what the absolute worst case scenario could be, what the most likely scenario could be, and if you will be okay if your worries come true."
Identifying those fears, and ultimately proving to yourself that they likely won't be as bad as you expect, will help you rationalize those pesky worries. "Instead of constantly going through all of the potential 'what-ifs,' this helps you determine the worst case scenario, and conclude that it is not likely going to happen—and even if it does, you'll still be okay."
Ask the couple if other solo friends will be in attendance.
One other easy way to squash your "what-if" worries? Talk to the couple after receiving your invite to see if you'll know any other guests in attendance. Directly asking them upfront can save you from months of worrying—and even if you don't have an existing connection on the guest list, they may be able to put you in contact with another person going by themselves so that you know someone ahead of time.
Arrive with another guest if possible.
Similarly, consider asking around to find a potential rideshare opp. If you can arrive with another guest, you'll feel much more confident walking in with a buddy. Don't underestimate the power of sending a text (or even an Instagram DM) to another guest you know will be in attendance. They might be feeling nervous about going alone too, and making the connection ahead of time will take a huge weight off your shoulders. Also, guests love carpooling to cut down on costs—it's a fact.
Brush up on small talk skills.
One way to ease your anxiety about going to a wedding alone is to brush up on your small talk skills. Being able to strike up a conversation with a stranger is a learned trait, and it's something you can certainly hone in on leading up to the nuptials. Plus, we'll let you in on a secret: small talk doesn't have to be scary. In fact, according to Stockard, it's a science. "Go prepared to the wedding with questions to ask other guests," she suggests. "This could include questions of things that you are interested in getting to know about the other guests, or even things you are hoping other guests will ask you about."
When the wedding day actually arrives, take some deep breaths, repeat a few confidence-boosting mental affirmations, and start talking. Stockard suggests kicking off the conversation by introducing yourself, and asking the person how they know the couple. This will lead to follow-up questions, thus opening the door for shared connections, common interests, and a more elaborate conversation. And, if it comes down to it, there are a few trusty topics that always get people chatting: "It may sound cliché, but commenting on the weather or the food can be another way to slowly introduce yourself to others at the wedding."
Dress confidently.
Here's another hack for going to a wedding alone: dress your best. According to Stockard, prioritizing your physical self-care is a sneaky way to feel good, which will ultimately help you have a better experience. Because, let's be real—it's impossible to not exude good energy when you're wearing a killer outfit that makes you feel like million bucks. "Prioritize your physical self-care," she says. "Do the things that make you feel good about yourself; put on your best outfit, do your hair, wear your nicest fragrance. The classic phrase 'look good, feel good' may help with your overall feeling of confidence."
Avoid being glued to your phone.
It's tempting to pull out your phone and mindlessly scroll on Instagram when you feel uncomfortable, especially when you're in a crowd. But to make the most of going to a wedding alone, do your best to unplug. "Staying on your phone is likely a maladaptive coping skill that you've developed to disengage from the present and help ease your anxiety," Stockard advises. "But by not being present at the wedding, you may miss opportunities for small talk. Plus, you might enjoy the experience less."
Another con? Hiding behind your phone may keep others from making small talk with you. "Being present at the wedding creates the opportunity for others to approach you because you won't appear preoccupied or uninterested," she adds. "Keep your focus on the couple you're there to celebrate. Smile, enjoy their wedding bliss, and attempt to keep a positive attitude."
Make friends with your tablemates.
If you don't know everyone sitting at your table, introduce yourself to them. You never know who else might be feeling awkward about being alone, or who could become a new friend. "Be on the lookout for any other guests who are also there without a plus one," Stockard suggests. "This can be an opportunity to buddy up with someone who may feel the same as you."
Dance in group numbers.
Once the party really gets going, have fun! You're there to celebrate and have a good time, so get on the dance floor and engage in the party. If dancing makes you nervous, try to join a group number—nothing bonds wedding guests quite like a passionate performance of the Cupid Shuffle. This will get you up, moving and interacting with others without the awkwardness of joining strangers on the dance floor or half-dancing alone on the sidelines. Once you're out there, you'll have a newfound dance floor camaraderie, which'll keep you engaged with others all night.
Have fun.
You're attending the wedding to celebrate love and a couple you care about, so give yourself permission to enjoy the evening. Remember: You're never as awkward as you feel, so let loose and don't take yourself too seriously. "Stick to a few drinks, enjoy yourself, and dance," Stockard says. "You're attending a wedding, so have fun with the couple you're there to celebrate!"