How to Book Your Honeymoon Flights and Hotel
Before you start dreaming of drinks on the beach, here's how to square away your honeymoon travel and lodging plans.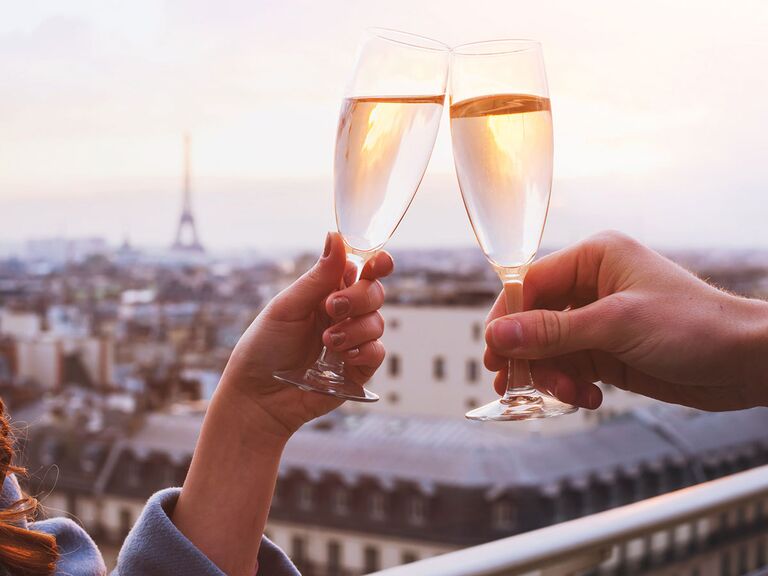 iStock
Whether you take your honeymoon right after your wedding or wait a bit, booking your honeymoon flights and hotels is a super-exciting step in the planning process. Not only does it set the tone for your getaway—a sleek city penthouse, a secluded mountaintop villa or an oceanfront cottage—but it gives you something relaxing to look forward to after you tie the knot. After you've chosen your honeymoon location, here's everything you need to know to get there.
When to Book
It's a safe bet to book your honeymoon about six to eight months ahead of time. Booking early means you have a good selection of rooms and options—booking later on may save you money with last-minute deals, but it can also be risky because tours, rooms and restaurants may be all booked up. (If it's a swanky suite or dining experience you're looking for, those are often the first to go—usually to other honeymooners.)
How to Book Your Hotel and Flights
If you want as little stress as possible, consider using a travel agent. There are tons of large agencies and smaller boutique companies to work with for a one-stop experience, so price shop around. Being the experts, travel agents can save you money and hassle given their relationships with hotels and knowledge of different travel packages and discounts (plus, there's a good chance your hotel will be more attentive knowing the travel agent booked you and that you're on your honeymoon). Be honest about your budget and priorities and they'll let you know the scoop on sales and the most cost-efficient times to book travel to your particular destination.
If you'd rather plan your trip on your own without a travel agent, consult honeymoon travel guides in The Knot magazine, online and through apps to get a sense of the location you're considering, favorite hotels in the area, transportation options and more.
When it's finally time to call, if possible call the hotel directly instead of using a toll-free reservations number. Customer service reps for an 800 number may have never even been to the hotel you're booking and may not be able to tell you which room has the best view or what promotions and packages are offered at a specific location.
As for flights, have you been using a credit card to charge wedding expenses, or have frequent-flyer points through airlines? Now's the time to redeem them for your airline tickets, hotel stays or any upgrades. Call your credit card company and ask about partnerships, allow plenty of time for the points to be transferred and remember that blackout dates may apply. If you don't have enough points to cover your flights, do price comparisons among different airlines—and if you can be flexible with your dates, you may find better deals. (You can even add some of your honeymoon travels to your wedding registry!) Purchasing insurance for your tickets is also a good idea, just in case of weather, natural disasters or other issues out of your control.
And when you call to make any reservations—either at the hotel or for your flight—mention you're booking for your honeymoon. You could score a free upgrade.
Don't Forget to Ask About Hotel Packages
An add-on package can enhance your stay and spare you some stress. Not only does it pull together indulgences that you don't have to worry about organizing—like a chilled bottle of champagne and fresh flowers in your room when you arrive, daily breakfast included in the price of your stay, or a few planned excursions—some also take care of headaches such as tips or airport transportation, should you require it. Evaluate a package based on whether it will save you money (how does the price compare if you'd paid for each item à la carte) and on your interest in what's included. Check on the quality of items included—a bottle of Andre may not be the "champagne" you envisioned, for instance.
Issues to Consider
Check-in/Checkout Times
Ask about the check-in and checkout times and make sure they align with your arrival and departure times (or if they do early check-ins or late checkouts). You don't want your plane to land at noon and not be able to check in until 4 p.m.
Hotel/Room Location
If you're going on a tropical honeymoon, be aware that some resorts don't have beach access on property and it may be a short drive away (in this case, transportation is most likely provided by the hotel). Similarly, if you're looking to roll out of bed and right into the pool, make sure your room is positioned where you want it.
Amenities
Check that the hotel and room has all the amenities you're looking for, whether it's 24-hour room service, plush robes or an indoor pool. This also includes the bed size you want—and for your honeymoon, nothing but a king-size bed will do! (Also make sure you're not getting two twin-size beds pushed together to create a king.)
Find the hottest honeymoon destinations for 2017 here.
Check out these five honeymoons under $2,500 here.