The Ultimate Guide to Planning a Fun Lingerie Bridal Shower
Read how to add more naughty than nice to the bride's party.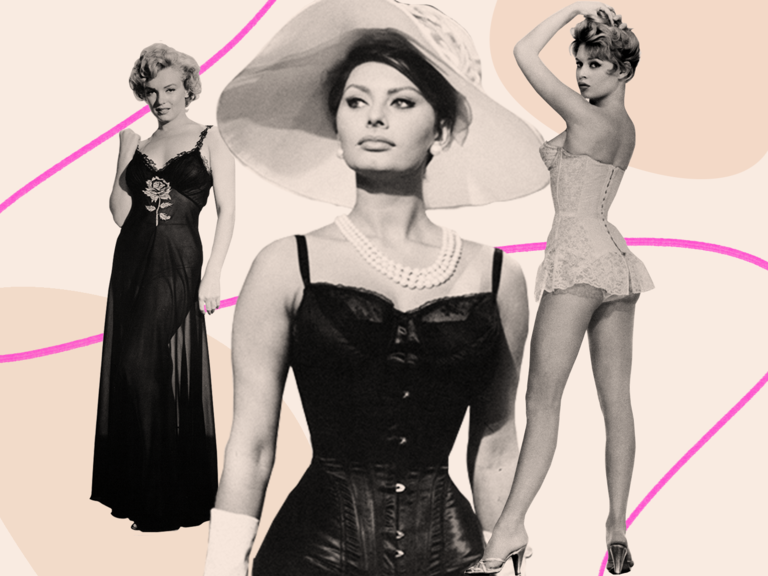 Getty | Design by Tiana Crispino
If the newlyweds-to-be are all set with kitchenware and bath towels, skip tradition and have a lingerie bridal shower instead. This type of party involves the bride and their closest loved ones. The guests give new sexy clothing and accessories to the bride for the wedding night and beyond. But before you dive head first into planning this event, you'll need to know how to navigate the etiquette surrounding it. So continue reading to get all your bridal lingerie party questions answered, plus an expert-backed step-by-step guide to throwing the perfect flirty shindig that everyone will love.
In this article:
What Is a Lingerie Party?
"A lingerie shower is an event where lingerie is the primary gift given to the bride-to-be. It's a fun and cheeky twist on the traditional bridal shower, where housewares and registry items are usually the most popular gifts," Kim Forrest, senior editor at The Knot Worldwide, explains. A lingerie bridal shower, also known as a lingerie party, also involves slinky robes, massage oils or other romantic accessories as gifts. The party allows the bride to be pampered with beautiful pieces for their wedding night, honeymoon and after. This can be a more laid-back affair than a traditional bridal shower, and it only works if the bride is game for the idea—and if their guests wouldn't turn their noses up at or be embarrassed by a party with a sexy theme.
Lingerie Shower Frequently Asked Questions
If you want to throw a spicy lingerie shower for the future bride, you might have a few questions about how to go about it the right way. Read below to get answers so your event is fun and exciting instead of awkward.
Who Hosts a Lingerie Shower?
Traditionally, a bridal shower is hosted by the bridal party, with the maid of honor taking the lead. "These days, the bride's mother or other relatives can host a shower as well, but it's a little awkward to have your mom, aunt, grandma, etc. host a lingerie shower—but if it works for you, go for it," Forrest says.
Who Is Invited to a Lingerie Shower?
As the host, you should ask the bride who they want on the guest list before sending any bridal lingerie shower invites, especially since this an intimate event––pun intended. In general, typically, only the female friends and relatives of the bride are invited, but any gender can be at the event as long as the bride is comfortable with it.
Where to Host a Lingerie Party
When planning festivities focused on unmentionables, location is key. Hosting a lingerie bridal shower where the bride and the guests feel comfortable is important because it allows everyone to have the freedom to have as much fun as possible. That may mean hosting the party at the bride's house, a friend's home or a venue with private event space. Another venue option is to bring the party to the intimates. Some lingerie shops offer lingerie party services where the guests can pick out items from the shop's collection, with bubbly in hand, while in the bride's company, which ensures the bride will like the gift. If appropriate, some brides even try on outfits in front of their loved ones to get their opinions before the final purchases.
When to Have a Lingerie Shower
"A bridal shower is typically held between five months and two weeks before the wedding. I recommend hosting a lingerie shower on the earlier side, so that the bride can wear their gifts on the wedding night and honeymoon," Forrest says.
How to Plan a Lingerie Shower
Now that you know the basics and etiquette behind lingerie showers, it's time to start planning one. Do these seven steps to pull off the best lingerie party for the bride-to-be.
Choose a shower date.
Consider combining the lingerie shower with another prewedding event if the guest list for both occasions is the same, like a bachelorette and lingerie party. And of course, make sure the shower date doesn't interfere with the bride's schedule or their VIPs' so everyone can be in attendance.
Pick a venue.
We highly suggest picking a private space for the bridal lingerie shower since this type of event at a public venue, like a restaurant, will without a doubt, result in nosey glances from strangers. If you want to host an evening affair, having the party at the bride's or someone else's home is great because the bride doesn't have to worry about bringing intimates or sex-related gifts with them if everyone wants to go out drinking after the party.
Ask the bride for their lingerie sizes.
The shower host has to ask the bride what their lingerie sizes are so the guests can get the perfect fit. Also, ask the bride if they have any allergies since latex, commonly used in sexy clothing or sex products, and certain scents used in massage oils, perfume, candles or bath items can be an issue for people with sensitive skin.
A registry isn't required, but it's helpful if the bride is particular about their intimates. If the bride doesn't want to make a registry, ask the bride what their favorite brands or stores are so you can tell the guests.
Send lingerie bridal shower invitations.
"If the bride doesn't have a lingerie registry, sizing information may be shared with guests on the shower invitations, on an insert or the host may provide guests with the information when they RSVP," Forrest says. You should send these invitations at least one month before the shower date so guests can have plenty of time to shop for the bride.
Organize fun shower games.
What's a lingerie party without a few games? Try out one or more of these bridal shower game ideas that are guaranteed to induce laughter:
Two truths and a lie: Pass out index cards, pens and pencils. Encourage each participant to jot down two true experiences and one false. Go around the circle and read each card one at a time. The group will then guess which of the statements is a lie. Bonus points if you tailor this classic party game to your lingerie bridal shower theme by sharing stories about your love lives.

Musical lingerie: This game transforms the classic party game musical chairs into something a bit racier. Place a piece of lingerie in several layers of wrapping paper and pass the gift around a circle of participants while music plays. When the music stops, the person holding the gift must unwrap a layer. Whoever is last to unwrap must don the lingerie over their clothes and model for everyone. It's a surefire way to get your guests giggling.

The bride says: Secretly jot down everything the bride says as they open up gifts. Don't tell them you're doing this. Trust us, the responses will be much better without looping them in. Once all the presents are opened, read off the list as a silly preview of what the bride will say on the wedding night. The more ridiculous the phrases, the better.
Craft a delicious drink and food menu.
No lingerie bridal shower would be complete without tasty snacks and drinks to enjoy. Depending on your overall theme, you may want to serve light appetizers, a few desserts or a full-course meal. When it comes to planning the ultimate shower, the sky's the limit, so consider serving slumber party snacks like pizza and popcorn, a charcuterie board, a cheese fondue station or wine and chocolate pairings.
Hand out flirty shower party favors.
Even though bridal shower party favors aren't a necessity, they are a nice way to thank your guests for participating in your event. You can stick with the sexy theme of the party and hand out candles that melt into massage oils, personalized chocolates with each guest's initials on them or monogrammed silk robes.