22 Sexy Bridal Shower Gifts That Go Beyond Lingerie
These presents are equal parts naughty and nice.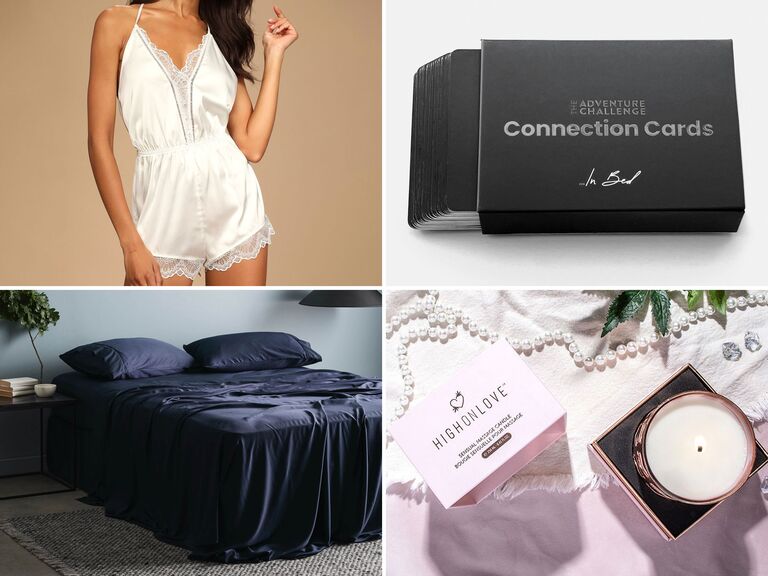 We have included third party products to help you navigate and enjoy life's biggest moments. Purchases made through links on this page may earn us a commission.
You received your invite and marked your calendar, and now the date is fast approaching—it's almost time to celebrate the soonlywed in your life! If that excitement has come with a side of panic (what should you bring?!), don't worry. We've rounded up sexy bridal shower gifts that are sure to surprise and delight.
But before you grab your credit card, it's important to consider when you can buy naughty gifts for a bridal shower and when it's best to go the classic wedding shower gift route. If it's expected to be a very traditional event (ahem, with very traditional family members in attendance), the bride-to-be may not be entirely comfortable unwrapping risqué presents. In that case, always start your gift search on the couple's wedding registry.
On the flipside, if you happen to know the bride and her loved ones will get a kick out of a few saucy gifts, go for it! There are even some types of parties where sexy presents for the guest of honor are expected, like a lingerie shower. Check out our favorite sexy wedding shower gift ideas below, from tried-and-true favorites like honeymoon lingerie to more subtle (read: totally not cringe) presents like a candle for setting the mood.
Pretty Lace Romper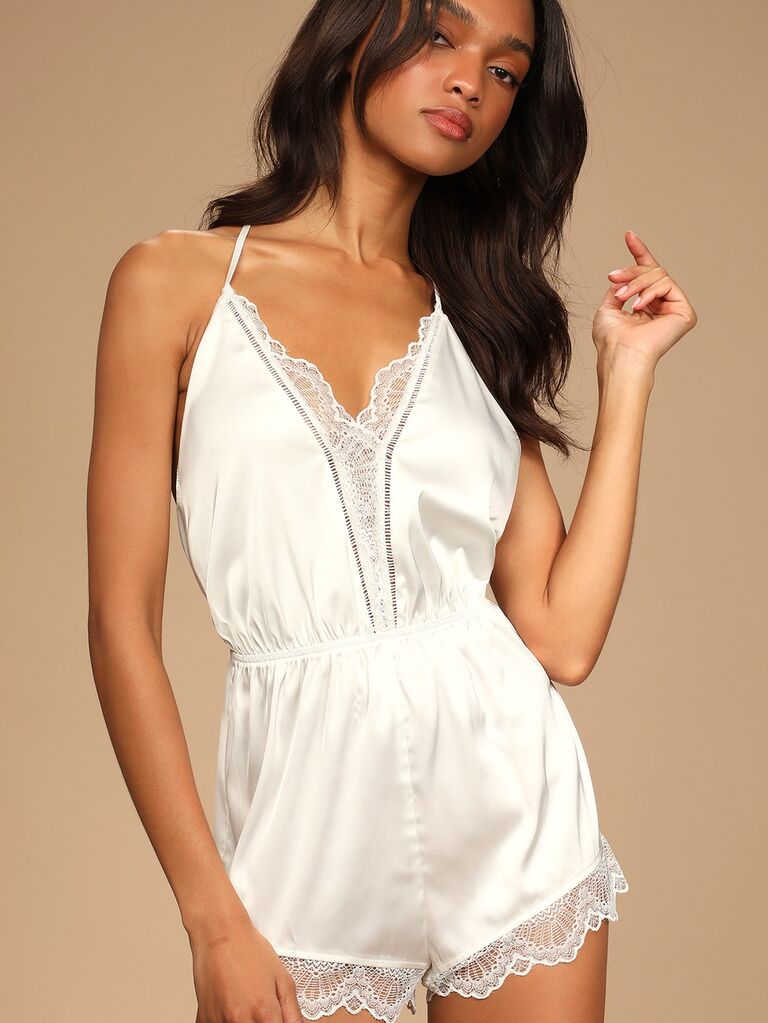 When it comes to choosing a sexy gift for the bride, lingerie is almost always a winner. Bonus points if it's a wedding-worthy shade of white she can wear on her wedding night or honeymoon. This surprisingly affordable romper artfully walks the line between classy and drop-dead gorgeous. The silky satin material feels romantic and elegant, while the open back and lacy V-neckline add a sultry edge.
Unusual Art Kit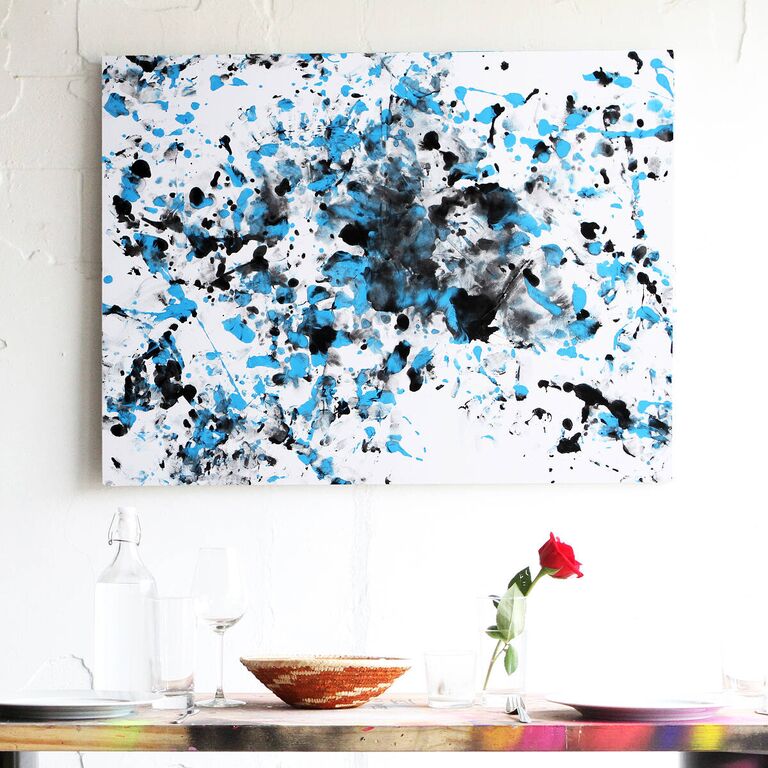 Wedding shower gift etiquette doesn't oblige you to choose a gift for both lovebirds, especially if it's not a couples shower. That said, it can be a thoughtful gesture to give something intended for the two of them. That's where this creative idea comes in. Jeremy Brown's Love Is Art kit comes with a canvas and three different colors of non-toxic paint for creating an intimate work of art. This one's sure to keep things spicy after the honeymoon.
Sensual Massage Candle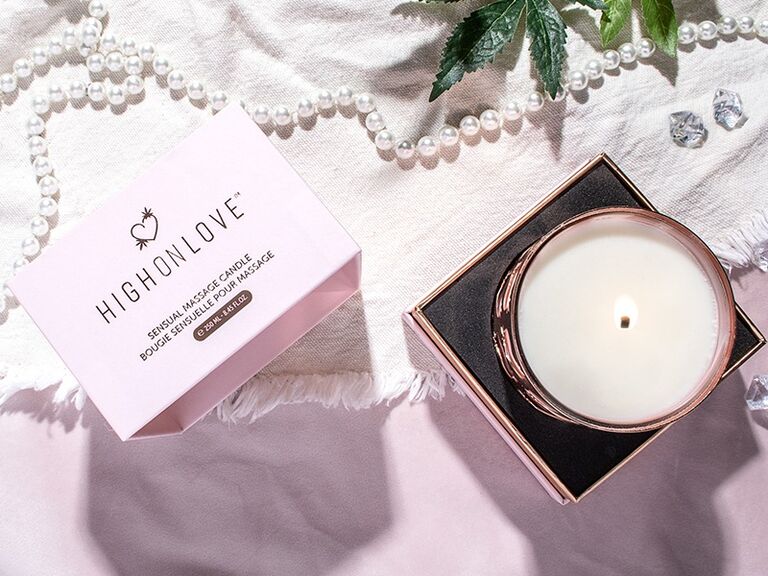 Ever heard of a massage oil candle? Once the wax has melted and the flame is extinguished, the oil can be poured onto the skin for a luxurious, sensual massage. It's great encouragement for the couple to embrace physical intimacy in new and exciting ways. Plus, the candle has an amazing scent while it's burning. You're basically giving them two gifts in one.
Sexy Personalized Undies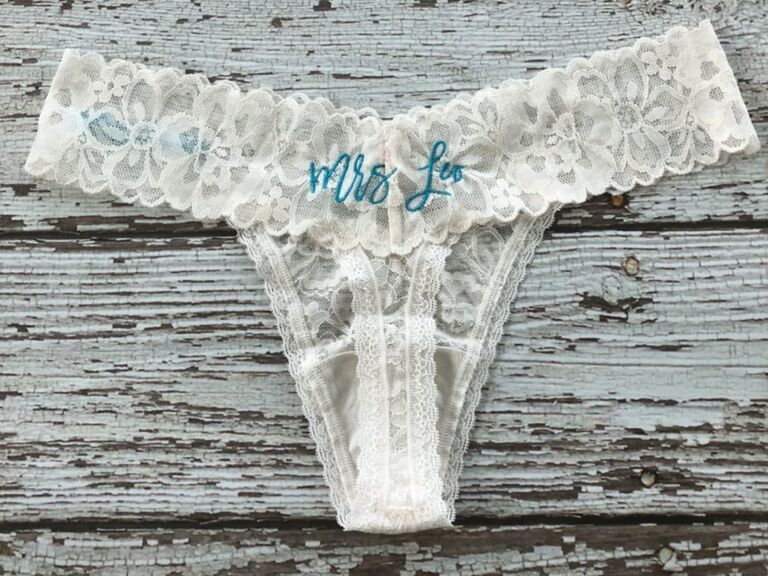 We couldn't make a list of naughty gifts for the bride without including some wedding night-worthy undies. This lacy lingerie is personalized with her soon-to-be title and last name (if she's changing it, that is). Alternatively, you can have them embroidered with the wedding date (or include both!). Who knew lingerie could double as a thoughtful keepsake?
Intimate Conversation Cards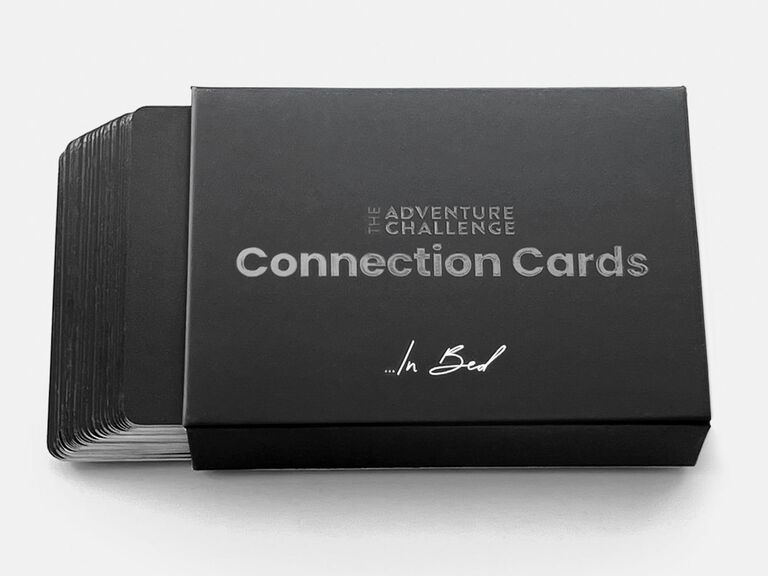 Encourage the happy couple to keep exploring each other after the big day with The Adventure Challenge's "In Bed" connection cards. The intimacy-boosting deck contains 50 questions and prompts designed to spark open and honest conversations about their sex life.
Silky Bed Sheets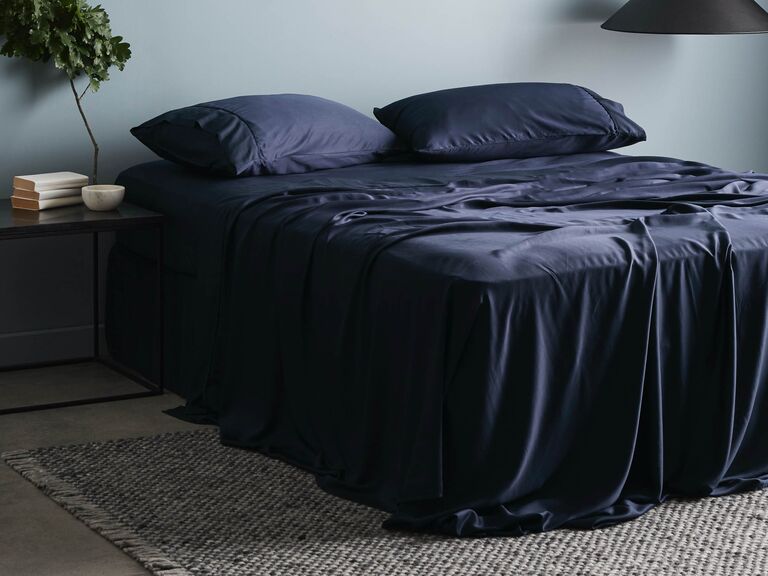 Naughty wedding shower gifts don't have to be obviously sexual. If you'd rather keep things low-key, choose a present that doubles as something practical. You'd totally find a luxurious set of bed sheets on a typical wedding registry, which is what makes this gift idea a surefire win. Check the couple's wish list to see if there's a specific set they have their eye on. If not, consider these silky sateen linens by sustainable lifestyle brand ettitude. Crafted from cooling, eco-friendly bamboo, they'll add a sultry edge to any bedroom.
Naughty Date Night Supplies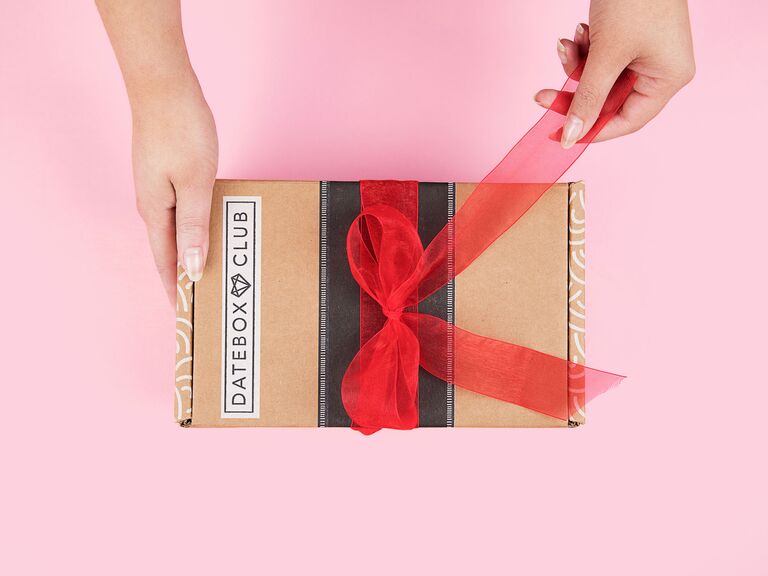 On the hunt for a sexy bridal shower gift that is obviously sexual? This genius date night box makes bath time a whole lot more fun. Stocked with bath bombs, a massage oil candle, a spicy deck of cards and some interesting, on-theme toys, it's a gift they'll be really excited to dig into.
Cute Bridal Chemise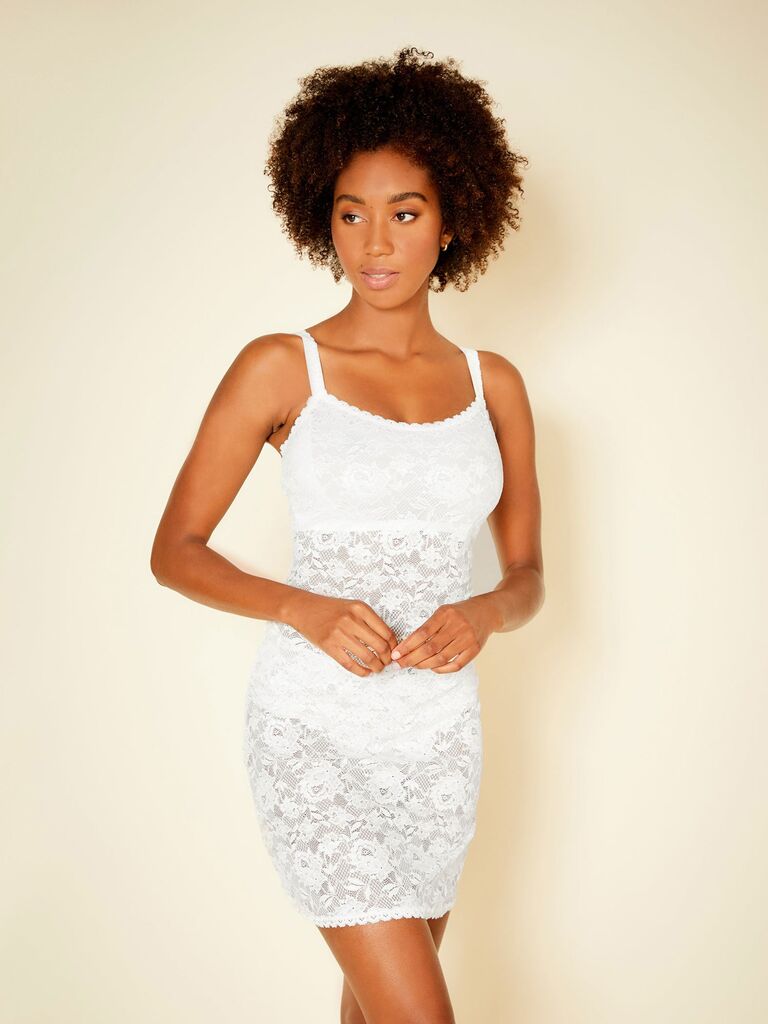 Here's another sexy-meets-elegant piece of lingerie that's totally appropriate as a wedding shower gift. This lacy chemise comes in not one but two fitting hues for a bride-to-be: wedding white and powder blue. It's available in both regular and curvy sizes from S to XL.
Alluring Scented Candle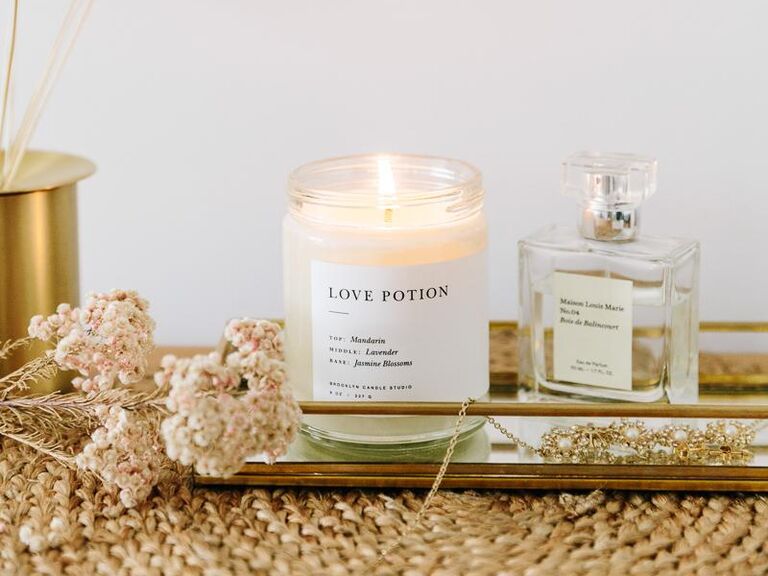 Some of the best naughty bridal shower gifts are less "naughty" and more "nice." Help the happy couple set the mood with this clever pick. It's a sweet-scented candle featuring notes of jasmine, lavender and mandarin. All together, they create a tantalizing, wildflower-inspired fragrance that this Brooklyn-based studio has fittingly dubbed: Love Potion.
Cheeky Date Night Game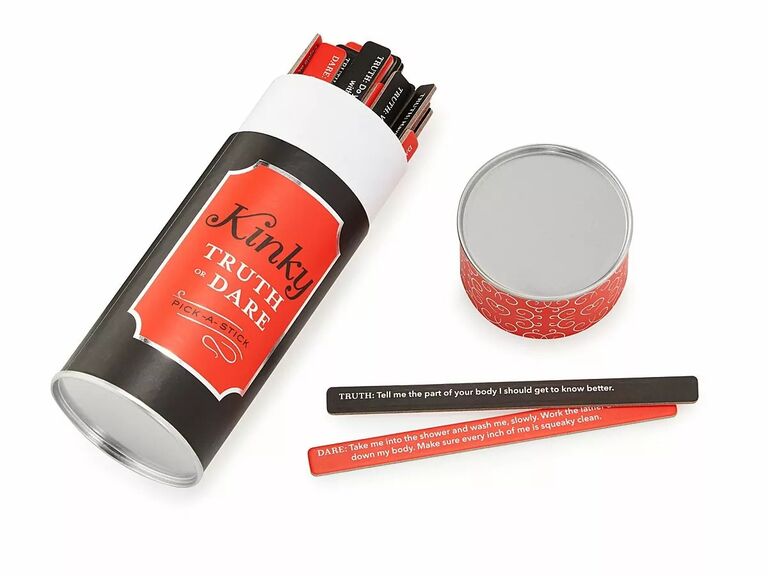 Heat up the couple's next game night with this fun naughty bridal shower gift. This grownup version of "truth or dare" is packed with 100 racy prompts, including 50 intimate "truths" and 50 seductive "dares." Trust us, it'll give them hours of enjoyment.
Stimulating Lip Gloss
This isn't just any lip gloss. Firstly, it's designed to plump and hydrate for an irresistibly kissable pout. On top of that, the unique formula increases sensitivity—and not just on the lips. Any intimate areas they come into contact with will benefit from a little extra excitement. It's a saucy gift for the guest of honor that their fiancé can enjoy too.
Romantic Getaway Gift Card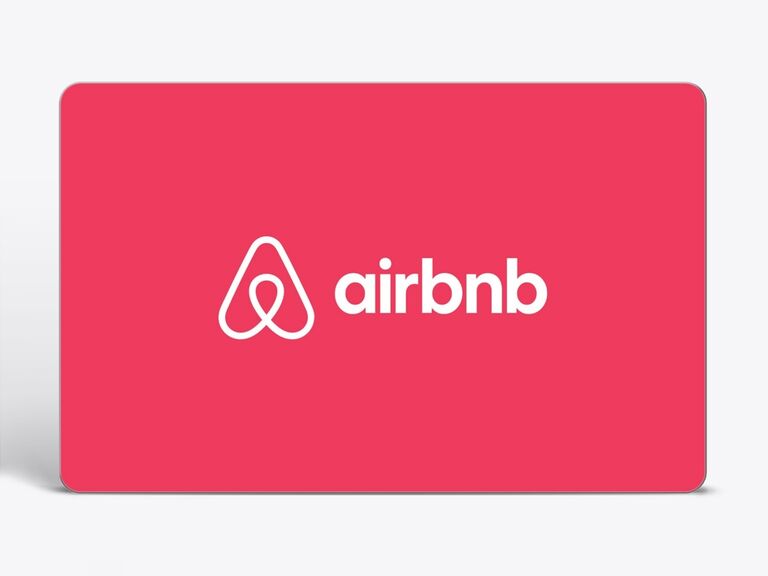 Here's another sexy bridal shower gift that's on the subtle side. Treat the lovebirds to a romantic getaway courtesy of Airbnb by giving them a gift card for the service. They can use it to plan an intimate mini-break before or after the wedding. The Knot Registry Store offers gift cards worth $50 up to $300.
Sultry Satin Robe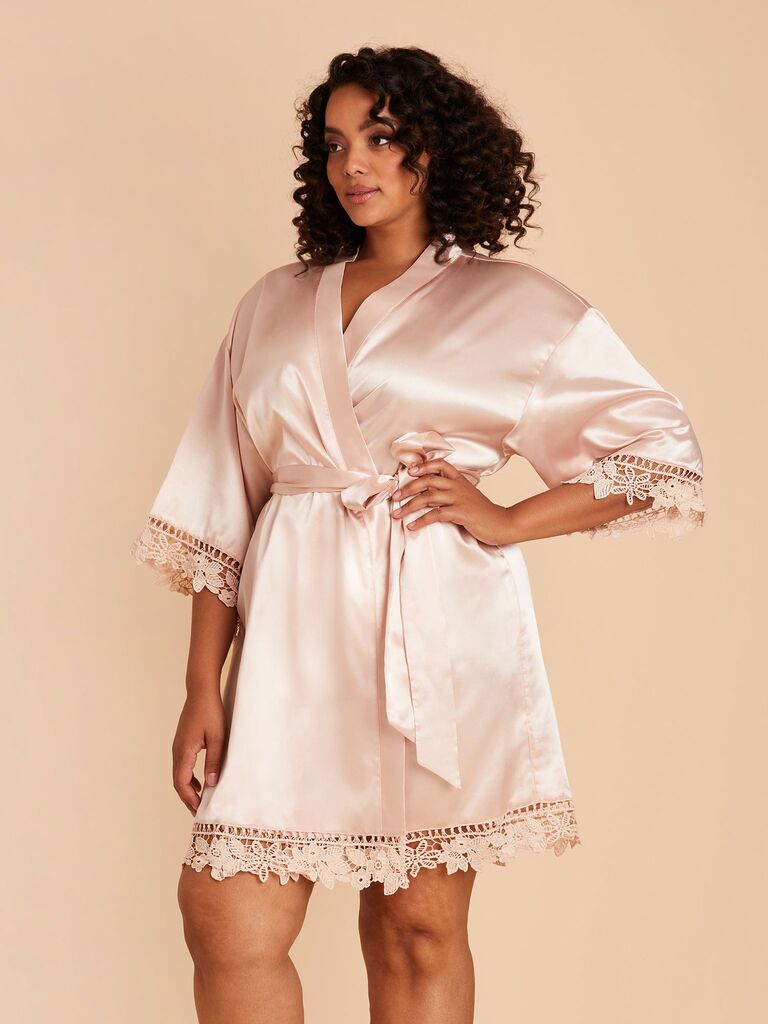 A short, silky robe can be sweet or sexy—it all depends on what's going on underneath. This pretty lace-trim robe will pair adorably with some bridal PJs on the morning of the wedding. But it's also a sexy addition to her honeymoon wardrobe, especially with a peek of lingerie on show. For just a little extra dough, you can personalize the back with her name. Choose from over 15 chic colorways, including white, bridal blush and three "something blue" hues.
Hydrating Massage Oil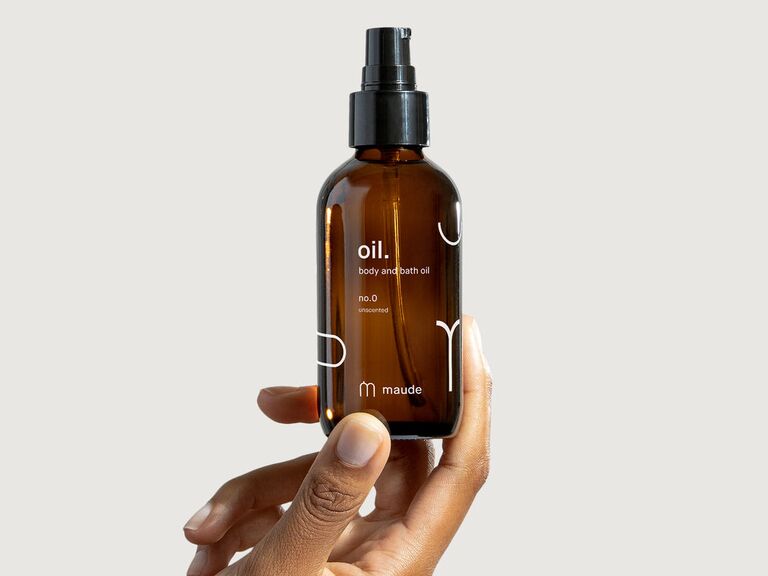 Maude's massage oil is super versatile, since it doubles as a moisturizing bath oil. That means the guest of honor can enjoy it by themselves as well as with their partner. Made from an organic blend of jojoba, coconut, argan and castor oil, it'll add some serious luxury to at-home massages.
Aphrodisiac Cooking Class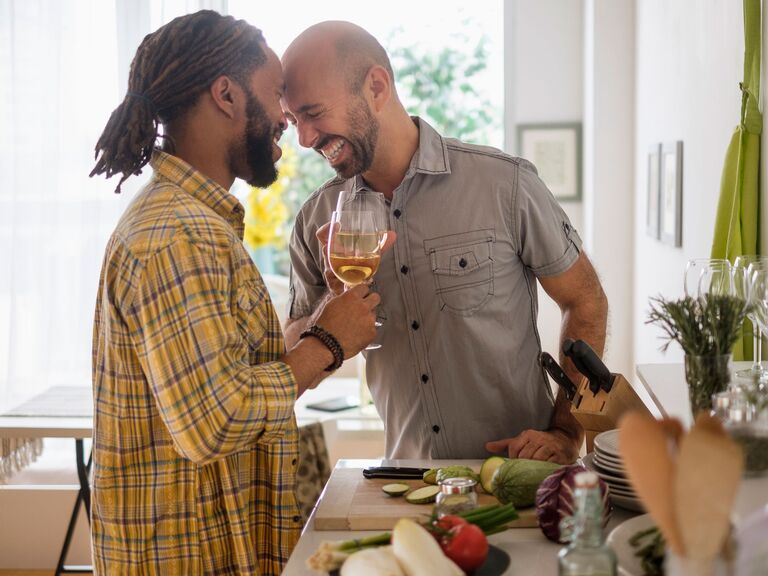 How's this for a saucy wedding shower gift idea? Show the couple you really thought outside the box to come up with a creative (and surprisingly sexy) present they can both enjoy. Uncommon Goods' virtual aphrodisiac cooking class is a fun experiential gift that'll get them all geared up for a romantic date night in.
Silk Sleep Mask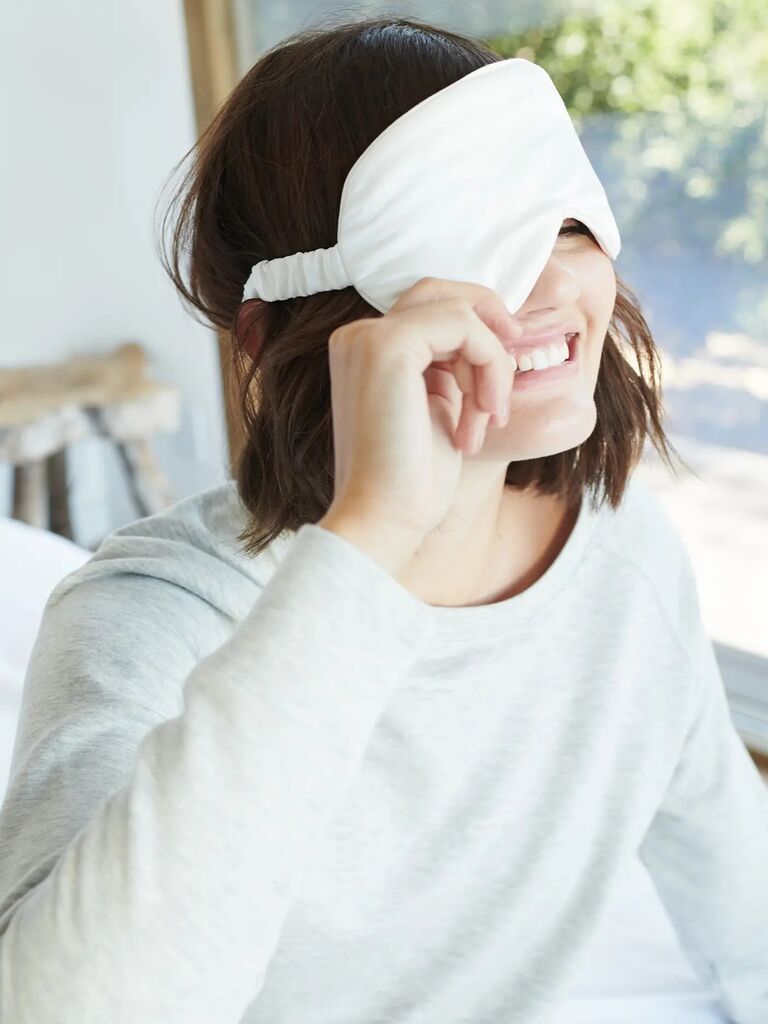 File this one under: naughty gift ideas for the bride that don't feel naughty. If you're on the fence about whether a sexy gift is the right call, choose something that's not overtly sexy. A pampering silk eye mask is sure to help your bestie get some quality shut-eye before the big day, but it secretly doubles as a blindfold that can be used in the bedroom (if you know what we mean).
Libido-Boosting Adaptogens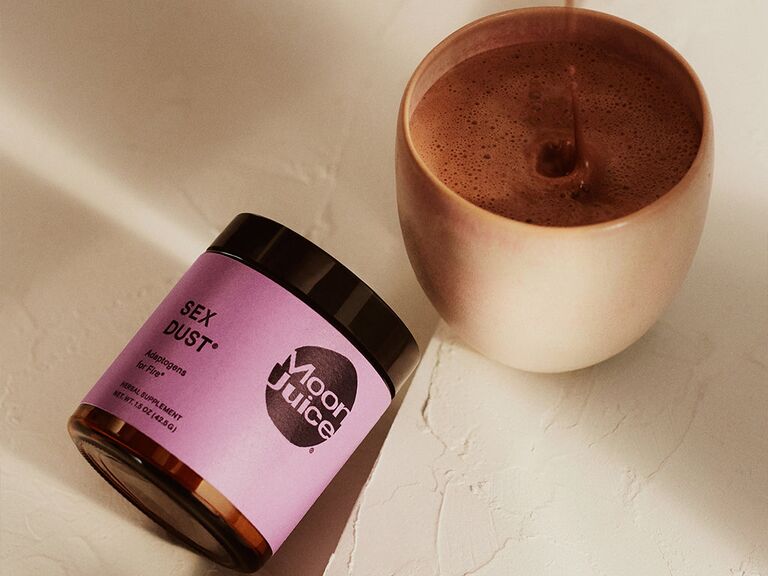 Here's a unique gift for any wellness-obsessed to-be-wed, especially if they're a fan of holistic medicine. Moon Juice's Sex Dust is a carefully formulated blend of adaptogens designed to support balanced hormones, a healthy libido and greater creative energy.
Barbie-Inspired Swimwear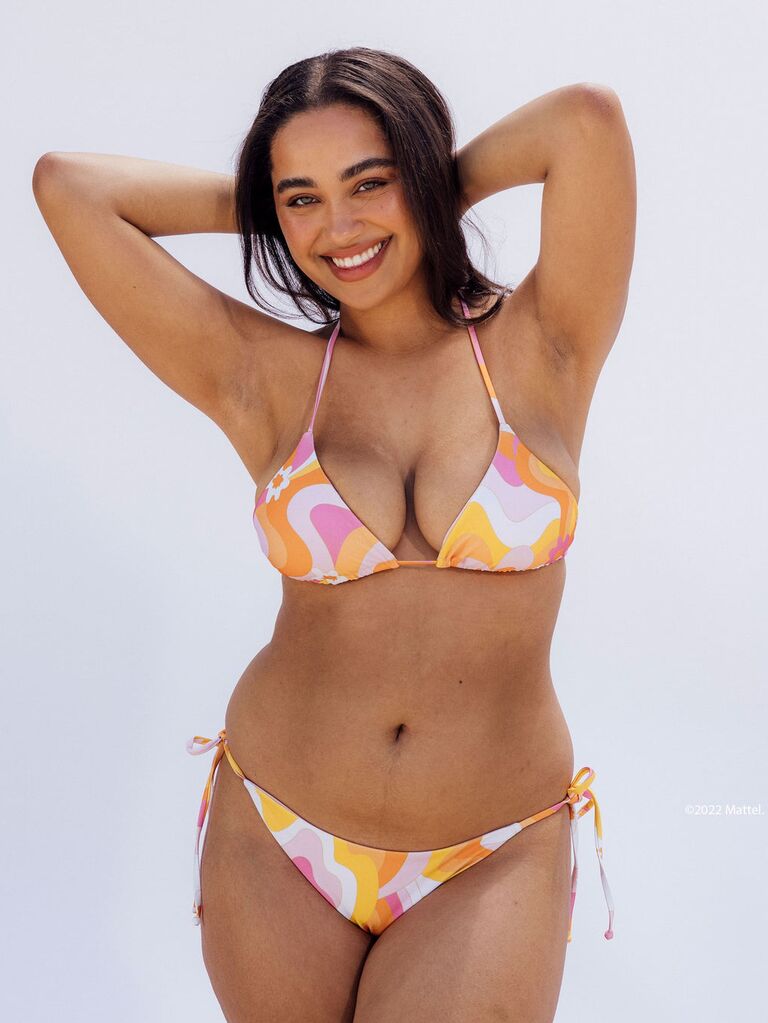 Lingerie isn't the only direction you can go in when it comes to sexy bridal shower gift ideas she can wear. Why not treat the bride-to-be to some cute swimwear for the honeymoon (and beyond)? This sexy bikini embraces the Barbiecore trend and features a sultry triangle-cut top and adjustable briefs.
Couples Sex Journal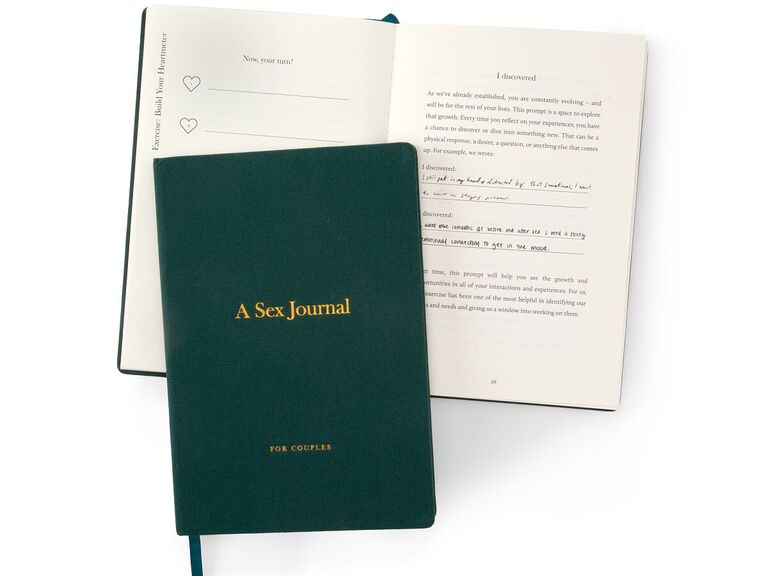 A sex journal is a really thoughtful gift for a couple, especially one about to embrace a big relationship milestone. Levina Li and Caleb Spaulding's journal is filled with thought-provoking prompts that'll encourage them to keep connecting and practice intimacy on different levels. The result? A stronger relationship (and better-than-ever sex).
Wedding Day Garter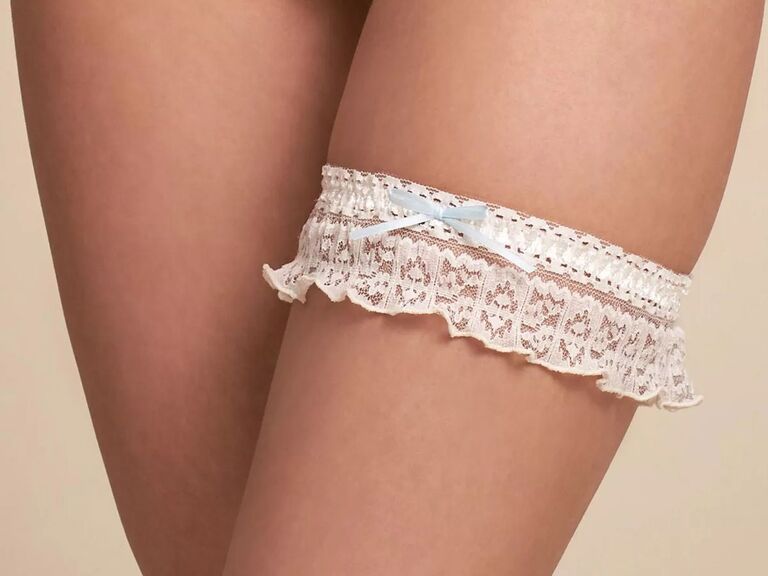 Looking for naughty bridal shower gift ideas she can wear on the wedding day? Gift your bride-to-be bestie her garter. This sexy option is complete with a pretty blue bow, meaning it can double as her something blue.
Romantic Lip Kit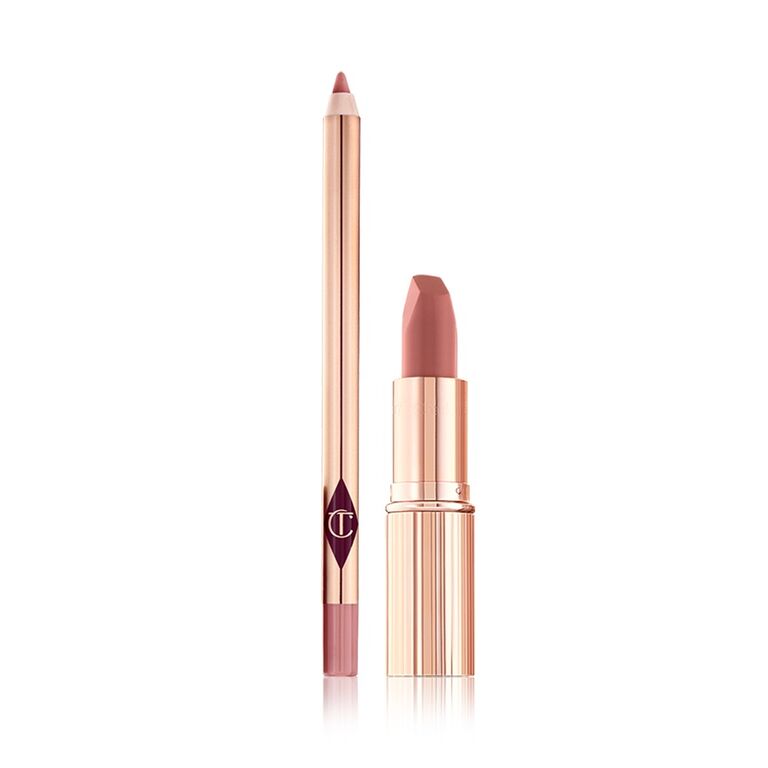 The gift of a seductive pout is another creative, out-of-the-box idea. And what could be better than Charlotte Tilbury's universally loved Pillow Talk lipstick? This coveted gift set includes a lipstick and liner in one of three signature Pillow Talk shades. It'll come in clutch on future romantic occasions like date nights and anniversary dinners.
Luxe Lingerie Subscription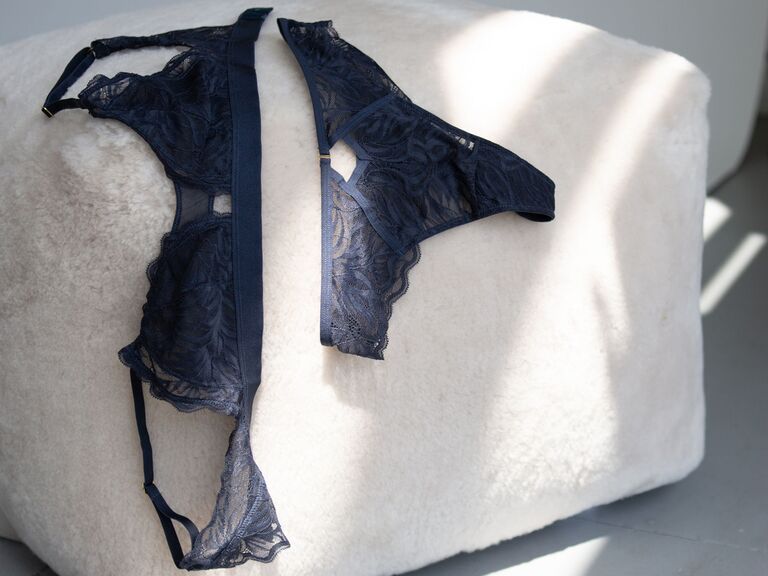 Buying lingerie for someone else can be tricky. Guessing the right size and their preferred style might feel like a lot of pressure. If you're unsure, we've found the solution: Just sign them up for an Underclub subscription! Before any of the site's pretty designer lingerie is shipped, the recipient completes a style quiz (meaning they'll be completely in charge of choosing the right size and styles).