How to Write a Love Letter to Your Special Someone
Shakespeare? Byron? They'll have nothing on you.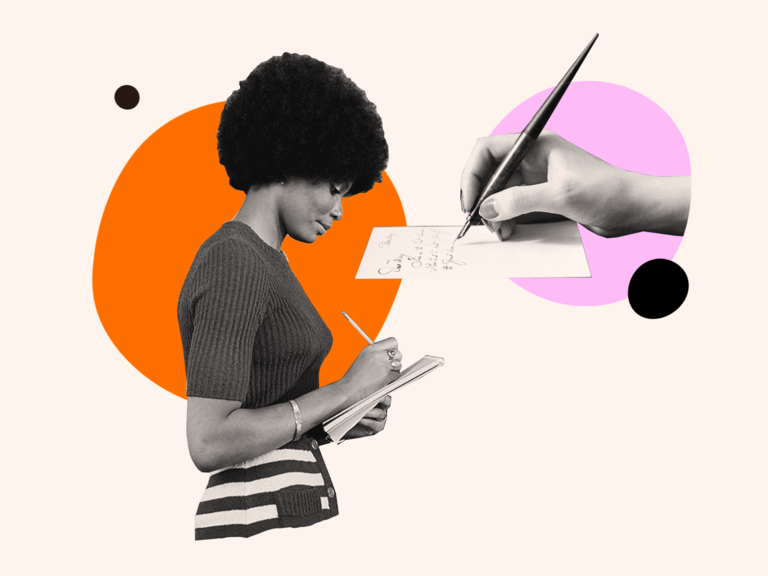 Getty | Design by Tiana Crispino
Sure—you can type out a mushy text or pick up a super-sentimental greeting card to convey to your sweetheart how much you care, but nothing will give them butterflies like a full-blown love letter. And if you're wondering how to write a love letter like the pros, we're here to help (it's us, we're the pros).
Though you may have infinite shared memories, a laundry list of their adorable idiosyncrasies and boundless dreams for your future together knocking around in your head, it's not always easy to put your feelings about the object of your affections into words. That's why we've penned this guide, which not only breaks down the anatomy of a winning love letter, but also provides some love letter examples that range from notes to your crush to epistoles to your forever person. We've also included a few helpful prompts to get you into the romantic mindset, because it's much simpler to listen to what's in your own heart than to try and summon Shakespeare's ghost to help you out with the writing. (We're kind of over the whole "Shall I compare thee to a summer's day?" trope, anyway.) You can do better than the bard—just take note of our tips and tricks below.
In this article:
What to Say in a Love Letter
You've got the love, now it's time to let those romantic feelings flow through your pen. Here's exactly what to write in a love letter and where to place each sweet sentiment—from the beginning, to the middle, through the end of your message. Cupid should be taking notes.
How to Start a Love Letter
Starting always feels like the hardest, but when it comes to the format of a love letter, it's actually relatively easy. First things first: set your intention on why you're writing this letter to begin with. Of course, it's to express how much you care, but is it also a special time like Valentine's Day or an anniversary? Are you a long-distance couple looking for a little epistolary romance between weekends together? Are you dating casually and looking to take things to the next level? Writing to say "I love you," just because? Or are you not a couple yet at all and you're making your first move as your crush's not-so-secret admirer?
It's important to take stock of all of these circumstances while writing a love letter because, depending on your relationship and the occasion, the tone will shift. That said, it's always a safe bet to address the recipient using their first name, preceded by either a classic "dear" or "my." If you're going for a playful tone, feel free to use a pet name that's personal to you. And if you're writing to someone who reads historical fiction and watches period dramas, then add an old-timey flourish with an opening like "My Immortal Beloved" (borrowed from Beethoven) or "My Adored [Girl/Boy/Person]"—taken from the 1845 Victorian letter-writing book, The Parlour Letter-writer, and Secretary's Assistant.
For your opening sentence, circle back to that initial intention and reference your reason for writing. Also, while you might be tempted to scrawl your most romantic thought on the page straight away, we prefer to set the mood with a meaningful sentiment that gets the letter on a slow burn track—so you can build with each paragraph and save that swoon-worthy declaration for the end. Here's what we mean:
It's been three weeks since I've seen you last, but I still can't shake the butterflies I get from being wrapped in your arms.
Today, we celebrate two years together—and my love for you has grown deeper and stronger each and every day.
I'm just missing you a bunch today.
Love Letter Prompts
One of the most important rules of how to write a good love letter is to make it personal. Little details about the recipient's personality (how much you love their dimples, the way they get a skip in their step when they're excited) are lovely, as are silly anecdotes about the two of you (that time you won trivia as a team of two, how you dominated the dance floor at your friend's wedding). But don't forget to dig a little deeper here and include some more-serious notions along with the sweet and lighthearted ones. Remember, this is a romantic love letter for their eyes only, so tell them the things they might not hear from you as regularly as a simple "I love you."
Consider the following prompts to get some love letter ideas:
When was the first moment you felt a spark with them?

Speak about a cherished memory from an average day you spent together alongside a special occasion memory to show the range of fun times you have as a pair.

How have your feelings for them grown since you've known them?

Name a non-physical trait you think is special about your partner.

Describe how you hope they feel when they are with you (safe, supported, adored).

What's something they do every day that makes your heart flutter?

Reflect on a hardship you've supported them or they've supported you through.

Reference an inside joke the two of you share.

What makes the relationship between the two of you so special compared to others you've seen or experienced?

What experiences are you looking forward to in the future together?
How to End a Love Letter
You've spent a few paragraphs reminding your love of all of the good times you've shared together and why they're so special. Now it's time to conclude your letter with a statement and sign off that leaves them with a full heart. This is where you should go big, dig deep and make sure they know just how much they mean to you before they tuck your note away somewhere for safe keeping. If you're in a serious relationship, tell them what your hopes for your mutual future are. If you're about to walk down the aisle, reaffirm how much you're looking forward to forever with them, because they truly have your whole heart. And if you're writing to a crush, this is where you should make your big date pitch—you can even add a cheeky "check 'yes,' 'no' or 'maybe'" for a touch of 1990s romcom cuteness.
As far as how to sign a love letter goes, feel free to keep it simple with "Yours" or "All my love." We also love a flirty "XO," if your message leans more lighthearted. You can also take a page out of the pop culture book and use a romantic quote from their favorite novel, TV show or film. We're partial to the "Ever mine, ever thine, ever ours," sign off from Mr. Big on "Sex and the City" (by way of Beethoven). Here are some examples of how to end a heart-touching love letter:
You make the world around you more beautiful.
Yours,
Jared
You are the love of my life—always and forever.
All my love,
Diane
My love, I will do all I can to keep you laughing, smiling and safe every day.
Eternally yours,
Cathryn
Love Letter Examples
Now that you've got some cute love letter ideas from our advice above, it's time to see our tips in action. Check out some examples of short notes using our love letter template, so you can see exactly how to write a letter to someone you love, someone you're dating or just someone you're crushing on.
To Your Crush
Dear Lexi,
First off, I'm so lucky to have you in my life. I always knew we'd be good friends since the first time we met, reaching for the same muffin at the campus coffee shop, and now we have enough fun memories together to fill a book series. The way you send me good morning memes always starts my day off right and makes me think of how much I love your laugh, how it makes everyone in the room crack a smile. I admire your drive, too. You make me want to be the best person I can be.
All that said—I'm really into you, in a "more than a friend" way. I know we were planning on catching a movie this weekend, but would you be down to make it an official date? Check "yes," "no" or "maybe" below.
Yours,
Sasha
To Someone You're Dating
My Bunny,
I can't believe it's been one year together already! It feels like time is moving even faster than when we were running to escape that surprise rain storm while walking the beach last summer (and we were definitely sprinting at the speed of light to get back to the house). With you, every day seems like an adventure, every laugh sounds like a symphony and every hug feels like heaven.
I've loved you more and more each day—all 365 of them—and can say with full confidence that I can see you by my side in the future, an incredibly bright future.
You have my heart,
Jax
To Your Fiancé
I'm just writing to say I love you. Why wait for a special occasion to say it when you make every day feel like a holiday? My heart skips a beat each time your dimples pop out when you smile and swells with love every time I hear your keys jingling outside the front door when you're home from work.
I am counting down the days until we meet at the altar, walking away hand-in-hand as husbands. You're the still point in an ever-turning world.
All my love,
Byron
To Your Spouse
My One and Only,
Happy Valentine's Day! What'll this be, our 15th one together? We must've eaten over 10 tons of chocolate truffles together over all of those years. You make me feel so loved each and every day and I will do everything in my power to make you feel just as supported, reassured and unabashedly special.
You still give me butterflies. And I wouldn't want to go through life with anyone else. I am yours—now and always. I love you so much, my forever valentine.
Your adoring spouse,
Kit