A Foolproof Formula for Writing a Letter to Your Husband on Your Wedding Day
Your love note is sure to spark a smile and a happy tear or two from your groom.
There's so much effort that goes into putting together a wedding—from coordinating with caterers, to fussing with flowers, to making sure your wedding party feels appreciated—and it's easy to get wrapped up in the particulars of planning and forget to reflect on what this all really means. That's why we love the tradition of penning a handwritten note to your husband, wife or spouse-to-be on the wedding day. Not only is reading a love letter before the walk down the aisle helpful for quelling any prewedding jitters (since your sweetie won't be able to give you a squeeze if you've chosen to get ready separately), but it's also a wonderful way to recenter and remember why you both have chosen to build a beautiful life with each other. Plus, when you put your feelings into words, your partner can read your message again and again whenever they want to remember the magic of your big day.
If you need a little guidance on what to write in a letter to your husband on your wedding day, we've put together a template to help you cover all the bases and spark some ideas about what special moments, memories and mantras you'd like to incorporate. And for even more inspiration, we wrote out a full example, so you can see how it all comes together. You'll be a master of epistolary romance in no time (and likely spark a few happy tears from your husband-to-be, too).
In this article:
Wedding Day Letter to Your Husband Template
Follow this formula for a heartfelt letter for your groom to read on your wedding day. With these tips, you'll write a meaningful message that's filled with past memories, future plans and so much love that will continue to blossom well beyond the vow exchange.
1. A Sweet Opening Greeting
It might seem like a small thing in the grand scheme of your wedding letter to your groom, but the way you choose to address him sets the tone for the rest of the message. If you'd like to opt for something more traditional and sentimental, "To my husband on our wedding day" is a classic choice. But if you have a special (or silly) nickname for your husband, feel free to use it here. Being called by a pet name offers a personal touch that we know will make him smile and immediately put him at ease.
2. The Reasons You Love Him
First things first: Let your husband-to-be in on the many reasons why you're so in love with him. You can mention more general qualities that you adore about your soon-to-be spouse, like the fact that they're caring, charismatic and driven, but we recommend including specific examples of their character and personality to show how deep your love runs. For example, tell them how much you admire their devotion to their favorite hobby, how they give the best hugs, how you could recognize their silly laugh—even in a crowd. Include reasons why you're proud of them and ways they inspire you. Note: It's great to share how they make you feel in your note to your groom on your wedding day, but be sure to lead with mentioning qualities about your husband that are all his own.
3. Your Favorite Memory From the Past
Is there a moment in your relationship that you look back on and think: "Yeah, that's why I love him?" Remind your husband-to-be of that special memory in your wedding day letter. This anecdote can be as emotional or as lighthearted and as small or large as you'd like. Think: your first date, your first "I love you," a time when you were both doubled over with laughter. This can also be an opportunity to give your husband more perspective on how your love has grown and strengthened over time. Maybe he didn't know you decided you loved him when he took a 20-minute Uber to your apartment just to squish a bug for you or when he plucked your favorite cereal from the top grocery store shelf without you having to ask.
4. Your Hopes for the Future
Now that you've reflected on the past, it's time to look toward the future (and all of the milestones you're looking forward to experiencing as a married couple). We're sure you're going to cover some good ground here if you're writing your own vows, but this is the chance to get a little more personal. (Remember, only you two will know what these letters say, so don't hesitate to embrace the super silly and the ultra sentimental.) Inside jokes are always welcome here, too.
5. Your Excitement for the Present
You're getting married to the love of your life today! Embrace those butterflies and finish off your wedding day love letter to your husband by keeping the focus on the present—tell him what you're feeling at this special moment before all of the festivities kick off, what you're most excited for, how you can't wait to see him looking slick in his tux and for that first kiss as a married couple. Overall, indicate how excited you are to be on this journey with him.
6. A Closing Reminder
You can always sign your message with a timeless "Love" or "All my love," but we say dig a little deeper and end on a meaningful note. Try a sweet reminder like "Don't forget to breathe" or "I am so very lucky to love you."
Optional Extras
Add a P.S. section with a little joke to finish your note with a smile. ("You'd better be wearing those cuff links I gave you," etc.)

Pair your love letter with a wedding day gift.

Present the letter in a frame or slotted into the first page of a photo album or scrapbook, which you can later fill with your favorite wedding photos or other romantic mementos.

Send it over with a drink or snack—we recommend a hot tea or flirty shot of his spirit of choice.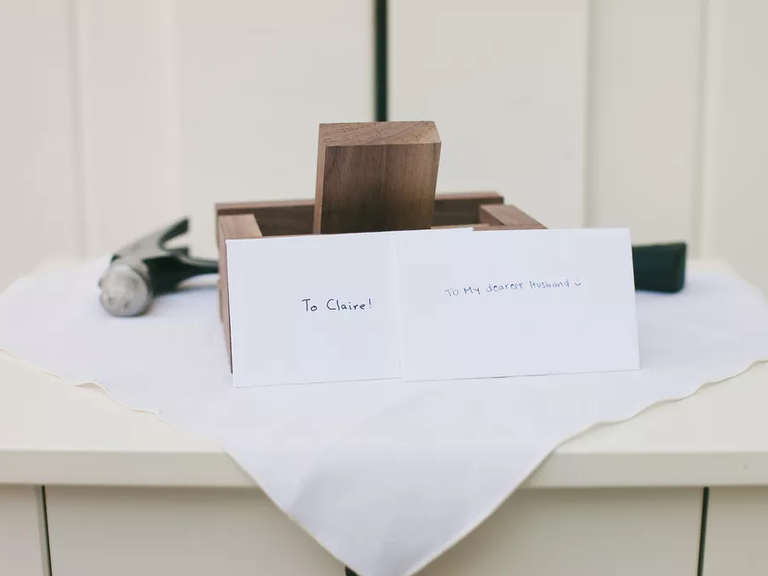 Letter to Your Groom on the Wedding Day Example
Now that you've learned how to compose a heart-fluttering, day-of-the-wedding note to your groom, read through this sample letter to see how the stories and memories you've chosen to mention will all come together.
My Bunny,
Every day I think to myself how you make the world around you a better, more luminous place to be. I am forever in awe over your ambition, your strength, your smarts and your big heart. I love the way you hold the door open for everyone (no matter how big the crowd is) and how your eyes light up when we talk about what books we're each reading. I love your never-ending hugs and your silly dance moves. And I even love the way you always win when we keep score while watching "Jeopardy." (I'll beat you someday!) I love all of you with all of my heart.
Remember the first time we told each other "I love you?" It was in the parking lot of the little coffee shop in your hometown when we were housesitting for your parents. I knew I loved you months before, ever since we rescued that bunny from the middle of the street in front of your apartment. That's some soulmate stuff.
I can't wait to spend the rest of my life with you—to call you my husband. We have so much to look forward to in this life together, from building our first home together to finally getting our bulldog. And as we grow old together, I promise to always care for you, keep the fridge well-stocked with oat milk and to turn on the heated blanket before you crawl into bed.
I'm so excited to marry you in just a few short hours—I have butterflies in my stomach in anticipation of locking eyes with you at the opposite end of the aisle. I know my cheeks will hurt from smiling so much and it'll take all of my willpower not to just kiss you right away and not wait for the official "I do"s. And along with all of the sparks and excitement and the anticipation, I also feel a profound sense of serenity, knowing that you're the one I'm going to spend my life with, that you're the one waiting on the other side of those church doors.
Take a breath and know you have my whole heart. I love you so much,
Your (Almost) [Wife/Husband/Spouse]