Everything You Need to Know About Getting Married in Idaho
Look to The Knot for local details about getting married in Idaho, from choosing your wedding venue to getting your marriage license.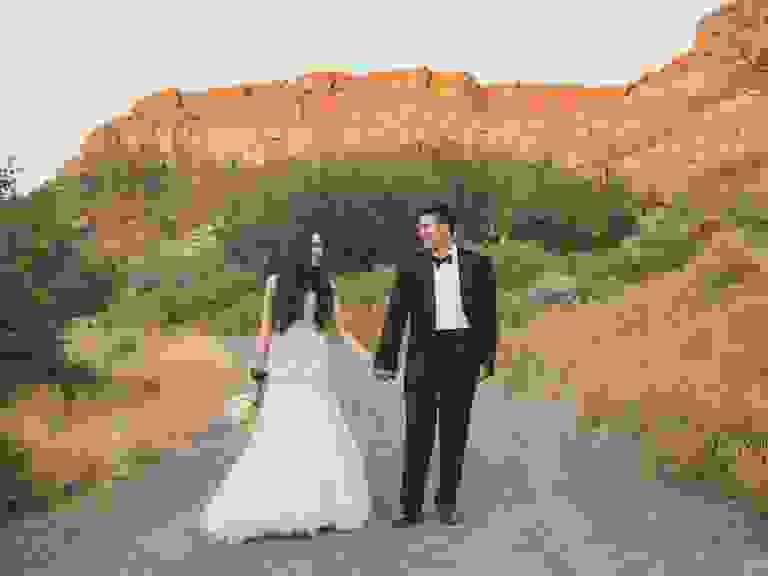 Kendra Elise Photography

Ultimate Guide to Getting Married in Idaho
With a diverse blend of mountains, forests, meadows, rugged river canyons and plains, the state of Idaho offers much in the way of natural beauty. Located in the Pacific Northwest region of the United States, Idaho is the 43rd state admitted into the Union and one that people love for its outdoor adventure opportunities set against the backdrop of rustic communities and scenic vistas. Because of the vast supply of gemstones found within the Idaho landscape, the state has earned the nickname The Gem State. Known for growing some of the tastiest spuds in America, Idaho has also been called the Potato State. Idaho's motto, Esto Perpetua (Latin for "Let It Endure Forever") exemplifies the love Idaho residents have for their home.
From Pocatello in the southeast part of the state to Coeur d'Alene in the northwest panhandle, Idaho makes a beautiful place to get married. Couples looking for the location that meets their needs enjoy a number of unique indoor and outdoor wedding venues in Idaho. Follow along with your wedding checklist to make sure everything is done on time. However, before booking wedding chapels in Idaho or searching for an Idaho wedding photographer, it's a smart idea for you to gather more information about wedding trends, costs and marriage licensing in the state.
Top Wedding Trends in Idaho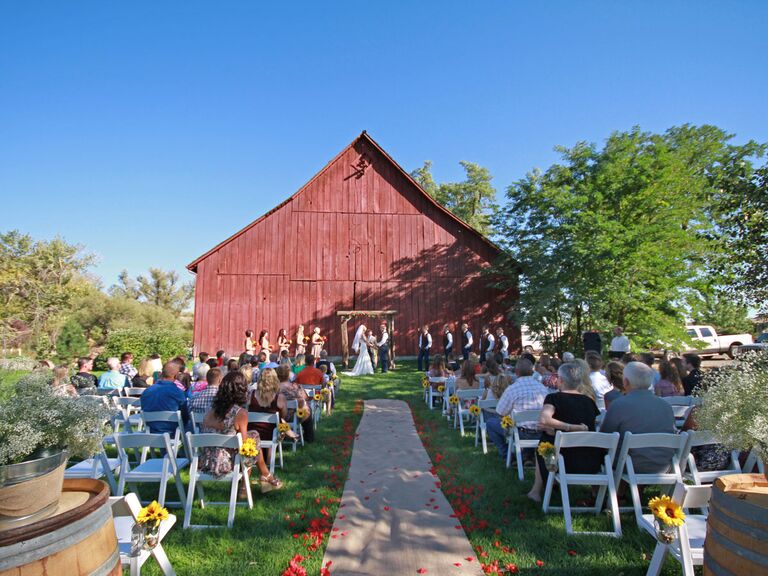 With stunning natural beauty found across the state, outdoor weddings are certainly favorable. Popular types of Idaho wedding venues include lake lodges, farms, ranches, vineyards, golf courses, and city, state, and national parks. Fresh-picked flowers make for must-have wedding decorations—daisies, roses, tulips and violets bloom in abundance during the warmer months Idaho couples who choose to wed indoors often enjoy bringing the outdoors in by picking venues with lots of natural light and adding flowers, greenery and potted plants.
Because much of the state of Idaho is rural, many couples here opt for a rustic wedding theme and enjoy injecting a little country charm into ceremonies and celebrations, especially in their attire—from flannel shirts to cowboy boots. Wire, reclaimed wood, burlap and twine are often used for décor, and wedding trimmings include bouquets of daisies in mason jars, burlap table runners and string lights. Couples load beverages into galvanized tubs, whiskey barrels or even canoes brimming with ice for fun and easy access.
Idaho Marriage Rates and Wedding Costs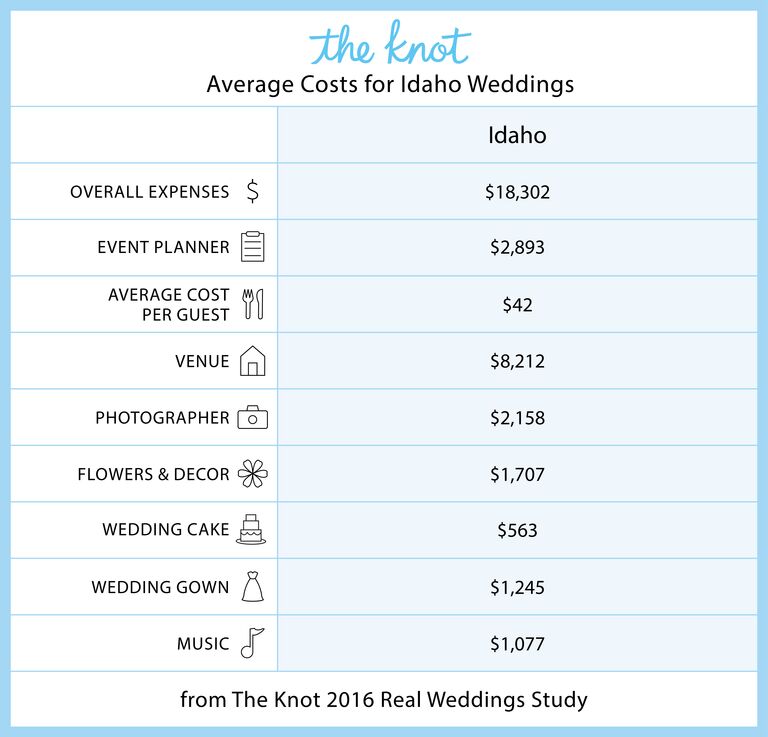 Planning a wedding can be a lot of fun, but affording it is another story entirely. No matter which type of wedding venue you choose or what type of theme fits your personalities, make sure you've created a budget and that you're sticking with it. The Knot Budgeter can help keep you on track. But before you take that important step, here's a little background info on how many couples are tying the knot in Idaho, plus what you can expect to pay for common wedding costs in Idaho, as reported by The Knot 2015 Real Weddings Study.

Marriage Statistics in Idaho
Planning a wedding in Idaho takes from 10 to 11 months on average. Although Idaho couples tend to enjoy adding a little bit of rusticity into a wedding celebration, 54 percent prefer a semiformal atmosphere. Those who opt for a casual ceremony come in at 24 percent, and just 15 percent of Idaho couples have a black-tie event. On average, Idahoans spend $16,045 for a wedding, excluding the honeymoon and engagement ring, and the average cost per guest amounts to about $124. Reviewing a typical cost breakdown for various wedding categories helps you know what to expect when planning your own wedding ceremony and reception.
Budget Breakdown: Average Costs for Various Wedding Categories

Breaking down costs helps you prioritize what categories are the most important when it comes to planning at just about every stage, whether you're just starting out on your quest for the right barn for your reception or you're sampling bites of cake contenders. The Knot Budgeter makes a useful tool for just this purpose. The table below illustrates what Idaho couples typically paid for various wedding categories in 2015 to provide a clearer picture of what you can expect.
Knowing costs for weddings is worthwhile, but before you tie the knot, you should also understand exactly what it takes to make a marriage legal in this state.

Top Cities in Idaho to Tie the Knot

Couples enjoy a number of Idaho wedding locations for celebrating their nuptials. Two popular cities where you might want to tie the knot in Idaho include:
Make It Legal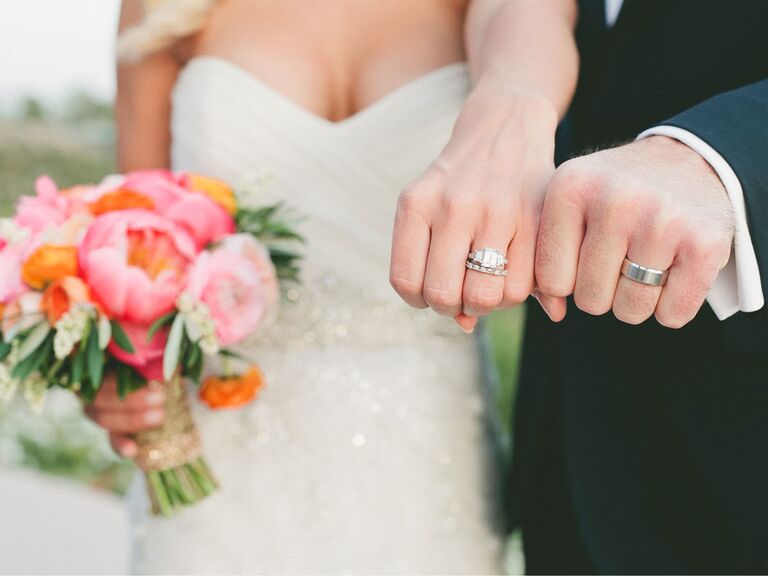 Understanding the ins and outs of getting an Idaho marriage license and any permits that might be needed for Idaho wedding venues helps keep your wedding planning process smooth and easy.
Getting an Idaho Marriage License
Obtaining a marriage license in Idaho does not require you to live there, but you and your future spouse must appear in person together at the County Recorder's office and pay a fee of at least $30 in cash (most offices don't accept checks or credit cards), or more on Saturdays in some counties. The County Recorder's office in any county issues marriage licenses without an appointment. Each of you needs the following forms of identification to obtain your Idaho marriage license:
A social security card or a letter from the nearest office
A current driver's license, passport, original birth certificate or state-issued identification card
While blood tests are not required for you to get a marriage license in Idaho, you do need to read a sheet on AIDS information and sign a marriage license affidavit. Your Idaho marriage license may be used immediately, and there is no expiration date.
Age Requirements
To get married in Idaho, individuals under the age of 16 need parental consent (in person or via a notarized statement) and consent from a judge. Individuals who are 16 or 17 years of age need only parental consent (in person or through a notarized statement).
Permit Requirements for Idaho Wedding Venues
Certain wedding venues in Idaho may require permits—this includes national parks. To apply for a park permit, contact the permit office specific to that park, which you can find at NPS.gov. Because permits differ from park to park, some may require your application in advance anywhere from a few weeks up to a year, and some parks do not issue permits at all during the busy seasons in spring and summer. To determine if you need a permit for a private wedding venue, contact the facility's owner or manager.
Who Can Solemnize a Marriage In Idaho
Before you can get married in Idaho, you definitely need to know who can preside over your wedding ceremony according to the law. In the state of Idaho, the following officials can solemnize a marriage:
A priest or minister of the gospel - any denomination
A current or retired justice of the supreme court
A current or former governor
The current lieutenant governor
A current or retired court of appeals judge
A current or retired district judge
A current or retired magistrate of the district court
A current mayor
A current federal judge
A current tribal judge of an Idahoan Indian tribe
A person approved by an official act of an Idahoan Indian tribe
Name Change
If you decide to change your last name, start at the Social Security Administration. Filling out an application on the SSA website results in your new social security card arriving within a few weeks after you submit the paperwork. Getting a driver's license with your new name requires a trip to the local local DMV with your new social security card (and current driver's license). Then, you can use your new social security card and driver's license to change your name on your passport, bank accounts and credit cards.
You should also provide your new last name to your work payroll department, voter registration, the post office, utility companies, and mortgage and insurance companies. For a reasonable fee, you can avoid all of the work above by filling out one quick, easy form at HitchSwitch.
It's All About Timing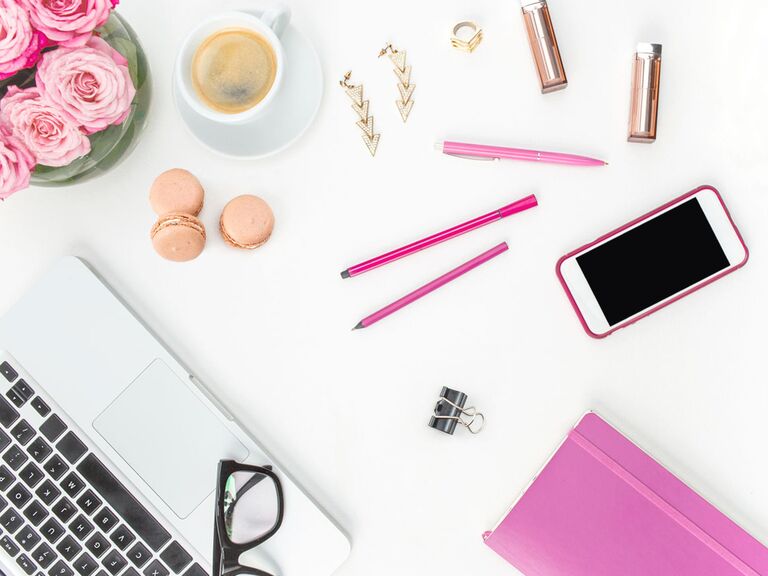 Because of pleasant, dry weather conditions, it is not surprising that 54 percent of couples who marry in Idaho prefer summertime weddings. According to The Knot 2015 Real Wedding Study, slightly more than half of that number opt for fall weddings, and the remainder choose winter and spring for their wedding festivities.
The Four Seasons in Idaho
If you like things hot, hot, hot with a hefty dose of bright sunshine, an Idaho summer wedding could be just the ticket. In the southern part of Idaho, near Boise, high summer temperatures range between 80 and 92 degrees Fahrenheit on average. Up north, near Coeur d'Alene, high summer temperatures range between 73 and 84 degrees Fahrenheit. Between north and south Idaho, early spring temperatures are roughly 44 degrees Fahrenheit on average, and residents experience between one and two inches of precipitation.
In the northern part of Idaho, the weather cools in the fall, and average high temperatures range from 48 down to 32 degrees Fahrenheit. Here, you can count on some pretty cold winters with an average high of 38 degrees and enjoy almost 11 inches of snowfall on average, so if you want to set your scene against a blanket of sparkling white snow, this is the time to do it. In south Idaho, fall and winter temperatures are much milder, with average highs ranging from 77 degrees Fahrenheit in September down to 37 degrees Fahrenheit in January.
Idaho Wedding Times to Avoid
In order to ensure comfortable lodging for your guests and better availability for Idaho wedding venues, you may want to steer clear of choosing wedding dates around national holidays and special community events. Popular events in Idaho that might affect your hotel and venue rentals include:
Idaho Winter Carnival, McCall, (late January – early February)
Lionel Hampton Jazz Festival, Moscow, (late February)
Lewiston Dogwood Festival, Lewiston, (April)
Idaho Shakespeare Festival, Boise, (September)
Teton Valley Balloon Rally, Driggs, (early July)
Snake River Stampede, Nampa: mid-July
Festival at Sandpoint, Sandpoint: early August
Shoshone Bannock Indian Festival, Fort Hall: mid-August
Art in the Park, Boise: early September
Great Guest Experiences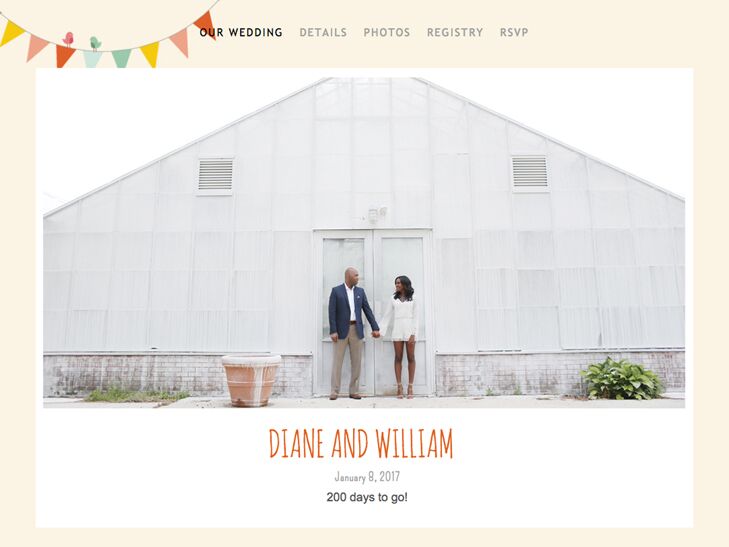 The most successful wedding planners make guest comfort a priority. A special kids' room set up near the reception area offers even the smallest guests (and their parents) a chance to have fun and relax. You can staff the room with a babysitter or two and provide a television, DVD player and plenty of children's movies, games, toys and art supplies to keep kids entertained. Adding soft blankets and pillows allows children to nap, which can be a welcome option during all the excitement around them.
An adult lounge area gives couples and their guests a place to relax away from the action. In true Idaho fashion, comfy couches, chairs, ottomans and end tables make ideal furnishings here. Baskets of complimentary flip-flops in a variety of sizes allow your guests to take their shoes off when the weather is warm. A sunscreen-and-sunglasses station keeps guests extra protected from the bright light. Remember to make use of the Free Wedding Website tool on The Knot to create a registry for guest convenience and let them know about all the fun touches you're having at your event.
Around the State: What to See in Idaho
With diverse natural beauty and a variety of historic and cultural offerings, Idaho makes a wonderful state for your out-of-town wedding guests to explore. Whether learning about birds of prey, hiking in the Idaho wilderness or taking an exhilarating roller coaster ride, there's something for wedding guests of all ages. Favorite Idaho attractions to check out include:
Hells Canyon National Recreation Area
Shoshone Falls
The Idaho State Capitol
Schweitzer Mountain Resort
Lava Hot Springs
Craters of the Moon National Monument and Preserve
Frank Church River of No Return Wilderness
Bear Lake State Park
Lake Pend Oreille
Priest Lake
Lolo Pass
Old Idaho State Penitentiary
Silverwood Theme Park
Old Mission State Park
Idaho Potato Museum
World Center for Birds of Prey
Finding Your Way: Idaho Travel Information
Currently, there are no direct international flights in or out of any airport in Idaho. The largest airport serving the southern part of the state is located in Boise, which has service to most major cities in the western region of the country and Minneapolis and Chicago. People who live in north Idaho usually depend on Spokane International Airport in Eastern Washington to get to Idaho after longer flights. Additional airports in Idaho include the Friedman Memorial Airport near Sun Valley and the Idaho Falls Regional Airport.
Several interstate highways allow for easy travel by car in Idaho: I-90 serves the Coeur d'Alene area, I-84 passes through Boise, and I-15 serves Pocatello and Idaho Falls residents. Sandpoint is the only city in Idaho you can get to by train. Daily runs take travelers to Glacier National Park, Portland/Seattle, Chicago, Milwaukee and St. Paul/Minneapolis.
Go Local: Food and Favors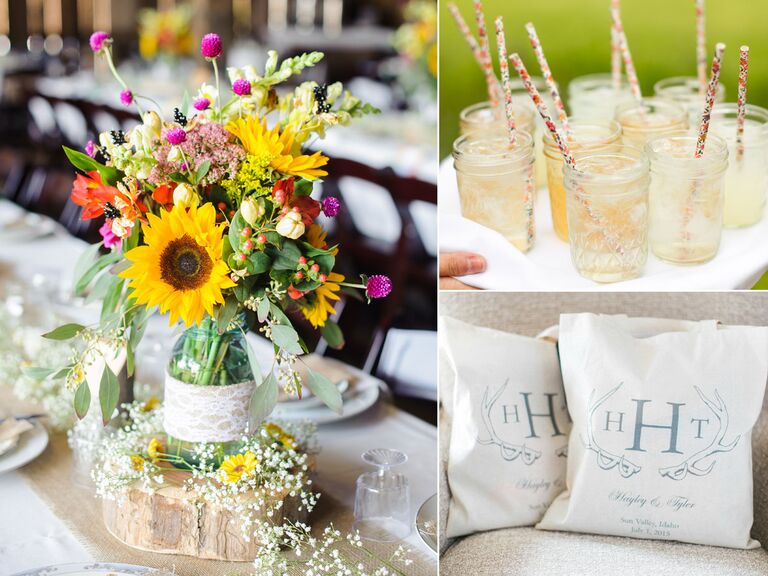 From just-picked fruits and veggies and freshly dug potatoes to ranch-raised beef, Idahoans take pride in their delicious, hearty local cuisine. Couples and their chefs who source fresh seasonal products for wedding reception fare give guests a true Idaho experience. Fun, state-inspired wedding favors also make your guests feel right at home.
Idaho Flavors: Unique Regional Food and Wine
Although the humble yet versatile potato definitely comes to mind when discussing Idaho cuisine, the state has much more to offer. A cornucopia of farm-fresh fruits, vegetables, meats and herbs commonly graces dining tables in many Idaho homes and restaurants. Due to the plethora of streams, rivers, lakes and forests around the state, a number of game animals also provide local dinner fare, including steelhead trout, Chinook salmon, deer, elk, pheasant and quail.
Age-old riverbeds, high altitudes and hot, arid summers in Idaho's Snake River Valley allow growers to cultivate hearty grapes for a variety of local wines. From chardonnay to merlot, serving Idaho wines at your wedding reception gives your guests a taste of fruity local flavors. Many wineries, such as the Snake River Winery in Boise and Colter's Creek Vineyards between Moscow and Lewiston, include tasting rooms for guest excursions and leisurely samplings before or after your wedding festivities.
Local Idaho residents and visitors also enjoy experiencing a number of food festivals throughout the state. These include:
Emmett Cherry Festival, Emmett: June
Wallace Huckleberry Heritage Festival, Wallace: August
Taste of Coeur d'Alene - Coeur d'Alene: August
Sun Valley Harvest Festival, Sun Valley: September
Idaho Food Festival Oktoberfest, Boise: October
Idaho Favors: State-Inspired Gifts for Wedding Guests
Swag bags always make guests feel important, so consider stuffing bright gift bags (in your wedding colors, naturally) with Idaho-inspired goodies for your attendees to take home. Local gourmet potato chips and Idaho microbrews make fun surprises for adults, and sugar cookies cut in the shape of the state of Idaho make yummy treats for kids. Idaho keychains, charms, pendants, pins, stamps and bumper stickers also make fun state-inspired wedding favors.
School- or sports-inspired wedding favors make great options if you and your future spouse are alumni of Idaho colleges or universities. Boise State Bronco golf balls, pennants, stickers, pins, patches, charms or lanyards make colorful additions to guest bags and include a dash of your personal history too.Check out The Knot Shop for other personalized favors.
City Guides
Wedding venues in Idaho differ depending on the area. Located in very different parts of the state, Boise and Coeur d'Alene have much to offer when it comes to beautiful and unique Idaho wedding locations. Check out The Knot Marketplace for more venue inspiration.
Boise
As the largest city in Idaho, Boise is located in the southwest part of the state. The populous metropolitan area known as the Treasure Valley combines five Idaho counties and the cities of Boise, Nampa and Meridian. Most of Boise is flat, which makes it ideal for a day of walking around if your guests choose to explore, and the landscape slopes downward toward the western part of the city. Northeast of the community, the Boise foothills stretch from the edge of the city limits to Eagle, Idaho, which is home to several exciting parks bordering the Boise River.
This part of Idaho offers a number of warm-weather options for your wedding ceremony and reception. Outdoor wedding venues in Boise, Idaho include a variety of beautiful parks, golf courses and other outdoor sites like the Idaho Botanical Garden.
In addition to many clubs, hotels and event centers, unique indoor venues in the area include the Boise Depot and the Idaho Old State Penitentiary. When it comes to wedding chapels in Idaho, Still Water Hollow in Nampa offers a picturesque white chapel for a country-chic wedding. With other charming features like a large barn and rustic outbuildings, this venue has varied options for indoor and outdoor ceremonies and receptions, and you'll have no problem setting up whatever unique decorations you've chosen.
For local vendors in and around Boise, check out:
Coeur d'Alene
Couples looking for wedding venues in North Idaho often turn to Coeur d'Alene. Located in the Northern Idaho Panhandle, this beautiful city sits on the north shore of Lake Coeur d'Alene, which explains its apropos nickname, Lake City.

Taking up a good portion of the downtown area, the Coeur d'Alene Resort makes a favorite wedding venue with options for makeup, stylists, flowers, transportation, lodging, wedding photography and more. Other great wedding venues in North Idaho include the Estate at Elk Point in Coeur d'Alene, the Riverview Mill Ranch in Post Falls and—again aptly named—The Hitchin' Barn near Spirit Lake.
For local vendors in and around Coeur d'Alene, check out:
The Boise and Coeur d'Alene areas merely scratch the surface when it comes to wedding venues in Idaho. Additional Idaho communities where you can find your ideal wedding venue include Bonners Ferry, Hailey, Idaho Falls, Lewiston, McCall, Moscow, Mountain Home, Pocatello, Sandpoint, Sun Valley and Wallace.Check out more Idaho wedding inspiration here.
Don't forget to download The Knot Wedding Planner app—it's a must-have for on-the-go planning.
Download for iOS: Wedding Planner App by The Knot

Download for Android: The Knot Wedding Planner