Is It Rude to Have a Small Ceremony Followed by a Large Reception?
If an intimate ceremony before a big party is your ideal celebration, make sure you do it right without stepping on any toes (we'll help you).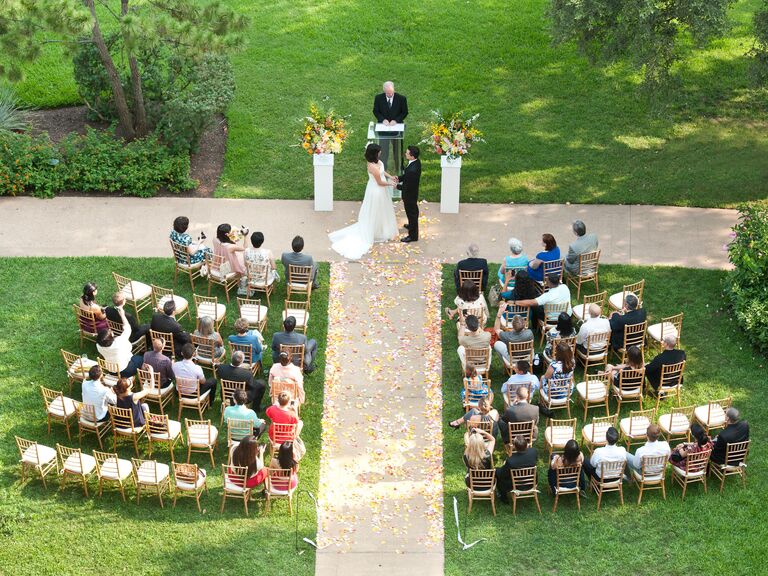 Q Weddings
If you're dreaming of a small, intimate wedding ceremony followed by a larger reception later on, you're not the first—and you're definitely not the first to wonder about the etiquette surrounding this type of celebration. It's not an unheard of wedding style at all. To keep a tight-knit ceremony atmosphere (and the budget under control), many couples host large parties after eloping or having a quiet destination wedding. While traditional etiquette rules don't forbid going this route, you'll want to tread carefully when it comes to invitation wording and guest lists—you don't want to rub anyone the wrong way. If you've made up your mind to do it this way, here's how to approach it.
Actually Keep Your Ceremony Intimate
Whether your ceremony venue is tiny or you're a shy couple trying not to make a spectacle of your vows, if you're not inviting a large portion of guests to the service, then you should truly keep it intimate. That means including, at most, your immediate family, wedding party and/or closest VIP friends only. Inviting only half of your guests to the ceremony will make the remaining half feel second fiddle. And even though it's generally understood that the wedding reception is the more costly portion of the evening, it's hard not to feel like you aren't as important as the guests who were invited to all the events.
4 Alternatives to Consider
1. Choose a Destination
If you're keeping things small because you only want the people around who matter most, consider cutting the entire guest list down and saying "I do" at a destination that gives you a built-in excuse for only inviting certain people to the entire celebration.
2. Check Out Other Venues—Just in Case
If your ceremony location has a capacity issue, that's definitely more understandable, but it still doesn't take away that feeling of being a second-choice guest. Before settling on a ceremony venue, do some research to find out if other ceremony locations in your area accommodate more guests. If you're set on your location, that's totally okay. This is one thing people understand even if they feel like they wish they were included.
3. Keep the Whole Wedding Moderately Intimate
Our best advice would be to invite everyone you'd like to have around you (within reason) to both parts of your wedding—it's the easiest way to avoid hurt feelings. And again, if you're set on having a smaller ceremony, stick with a family-only policy. Adding in equations about which people get to come to the ceremony, and which people don't, based on how often you interact with them or how long they've been friends just gets murky. Drawing the line at family members is a clear action that's easy to follow and hard to argue.
4. Host the Party on a Later Date
This way, you put a little distance between each event so your reception guests understand that your ceremony was a smaller, more private affair—and now it's time to party.
How to Plan a Small Ceremony and Large Reception
Invitation Wording
Most importantly, send out two different sets of invitations. One set should go to the people invited to both wedding events, and the other should go to the people invited only to the reception. To word the reception-only invites very formally, go with something like this:
"[Names of the couple] request the honor of your presence at a celebration of their marriage Saturday, the tenth of January at seven o'clock at the Rob Roy Country Club in Mount Prospect, Illinois."
This way, guests will understand that the wedding itself will have already taken place.
Be Ready to Explain
This is honestly par for the course for any wedding, regardless of style or size, but be prepared to field questions about when the ceremony is taking place. Let guests know you're exchanging vows in a limited space with family only, but want to party with a larger group postceremony.
Small weddings deserve all the style and personality of a big bash—take our fun Style Quiz to find your customized wedding vision, plus the right pros and expert advice to pull it all off