35 Intimate Small Wedding Ideas That Will Elevate Your Celebration
Time to get close and personal.
If you're aiming to celebrate your love with 50 or fewer people, you're planning an intimate wedding, which means you'll need small wedding ideas. And with so many things you can invest in, a unique food experience, stationery, reception decor and more, it might be hard to figure out which aspects of your wedding you should focus on to make it special. With the help of two wedding industry experts, we've gathered some of the best ways to make your small wedding stand out. Remember, just because you're wedding will be on a smaller scale doesn't mean it can't have a big impact.
Have a Small Wedding Cake
Just because it's your wedding doesn't mean you need a cake with multiple layers. Ask your baker for a small wedding cake which is a perfect idea for a small wedding with a small guest count.
Give Guests Small Wedding Welcome Bags
Giving welcome bags or boxes is a small intimate wedding idea your guests will love. Put everything your guests will need or appreciate while honoring you and your partner's marriage in the vessel of your choice. Consider adding items that speak to your relationship or things that relate to your wedding's location.
Hire a Private Chef
Having a private chef is one of our favorite wedding food trends and small wedding dinner ideas. If you love unique food experiences, put some of your wedding budget money towards hiring a private chef to cook you and your loved ones top-notch cuisine.
Set Up a Small Wedding Lounge Area
Keilah Stallsmith, owner and lead planner of Bespoke Socials, believes tables and chairs are large items that demand lots of attention, so why not get creative with their texture, colors and patterns and give them their own space? A lounge area is perfect for guests to chill in after or before dinner and get to know one another.
Customize Your Small Wedding Drinks
Customizing different aspects of your wedding will always be a good small wedding idea. This bride and groom commissioned portrait illustration stickers and put them on their wedding drinks.
Choose a Unique Small Wedding Reception Venue
Whether you want your nuptials to be indoors or outdoors, don't be afraid to think outside the box for your venue choice. We love this poolside small reception idea, especially if jumping in the pool is on your wedding day to-do list.
Have a Backyard Small Wedding Ceremony
McMichen believes getting married at home (or a loved one's home) will always be special. A backyard wedding is a sentimental venue that truly emphasizes the phrase "home is where the heart is."
Celebrate Cultural Traditions
Depending on how big a couple's wedding is, it might be hard to make time to incorporate all the cultural traditions important to them. At a small wedding, you can spend time honoring and sharing your heritage with your closest loved ones.
Consider a Restaurant for Your Small Wedding Venue
"Restaurants, especially those that hold sentimental value to the couple, are a favorite venue option for small weddings," Heather McMichen, a wedding design expert and owner/creative director of Pearl & Sky, says. This happy couple celebrated their elopement at their favorite college diner since it matched the vibe and food they wanted for their after-party.
Have a Private Vow Ceremony
A private vow exchange is when you and your partner say your vows to one another, before the wedding, ceremony or during the honeymoon, without guests around. This small romantic wedding idea is ideal for to-be-weds who want to up the intimacy factor a couple of notches.
Choose a Small Wedding Party
Some couples have nuptials so small that a wedding party wouldn't make sense because all the guests would be standing next to them. But if you're planning a wedding with more than 10 guests, don't hesitate to select a miniature crew of VIPs.
Book a Boutique Hotel
"I'm also a big fan of getting everyone together at a boutique hotel or vacation rental. It sort of goes in the opposite direction of the 'cake and champagne' reception, extending the festivities out over a full wedding weekend. Everyone gets a lot of quality time together with vacation vibes," Stallsmith says.
Hand Out Personal Small Wedding Favors
Since you want a petite wedding, you may have extra room in your budget to personalize. Send your guests off with special and memorable wedding favors they will love.
Try a Long Estate Table
A long estate table is great for to-be-weds who want a family-style dinner since it makes it easier to pass food among one another. This type of reception seating also promotes sharing and personal conversations.
Send Small Wedding Invitations With Ornate Calligraphy
There's a possibility that hiring a calligrapher might be a big cost if you're sending more than 50 invitations. With a small wedding guest list, it can be a nice personal touch that doesn't take away from the majority of your budget.
Break Tradition With an Extended Cocktail Hour
"I've seen a lot more couples opt for the ceremony and cocktail hour format. There's no traditional reception with speeches and a dance floor. Instead, guests mingle in a beautiful environment for a couple of hours with music, drinks and light bites. It's chill yet elevated, low-stress and fun," Stallsmith says.
Plan a Small Destination Wedding Weekend
"Consider making a vacation out of it. Destination wedding weekends are popular for couples hosting weddings of all sizes, of course, but they can be even more of an adventure with an intimate guest count," McMichen suggests.
Hire a Food Truck for Your Small Wedding Dinner
If you're the type of person that loves going to food truck parks on the weekends, consider having food truck wedding catering. This small wedding dinner idea is a popular way to showcase your and your partner's favorite foods.
Get Ready Together at Home
For couples that would rather spend time together before the ceremony, get ready with one another before you say "I do." This is a perfect and convenient option for anyone having their wedding at home.
Hire Tableside Service
"Offer tableside service of your favorite, seasonally available, over-the-top accouterments like caviar or shaved truffles," McMichen suggests. If you're aiming for an elegant vibe, this is the right small intimate wedding idea for you.
Include Family Heirlooms
No matter the size of the wedding, incorporating heirlooms is a sweet way to acknowledge one's family. Silver, china and jewelry are just a few things you can include that you and your guests will appreciate.
Handwrite Your Small Wedding Menus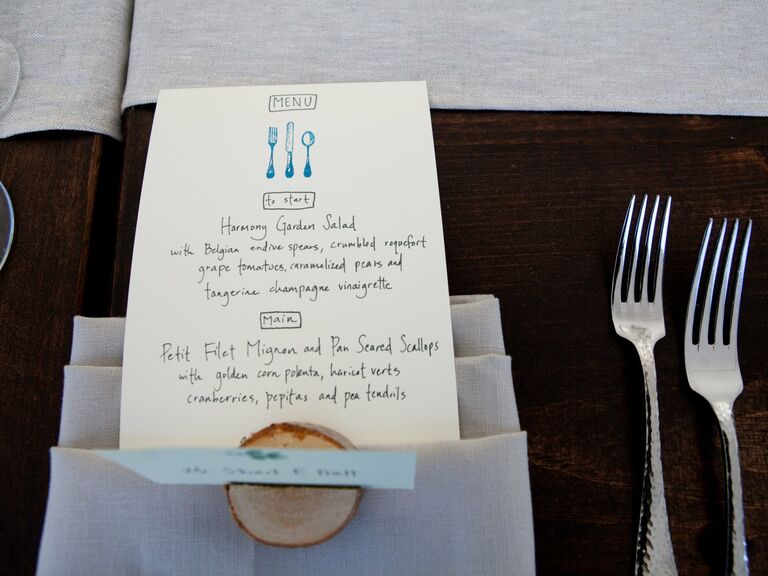 Since your wedding will have a small guest list, think about handwriting some of your stationery. This will go a long way toward making your tablescape stand out.
Book Live Music
At a petite wedding, you can hire a small live band or musician to give a one-of-a-kind performance to you and your crew. Use The Knot Marketplace to find live musical talent near you.
Display Your Small Wedding Itinerary
Even though you'll be hosting a small group of guests, it's still helpful to show what the day's festivities will include. Use this signage as an opportunity to incorporate your wedding theme, as this rustic couple did.
Offer Tasty Food Stations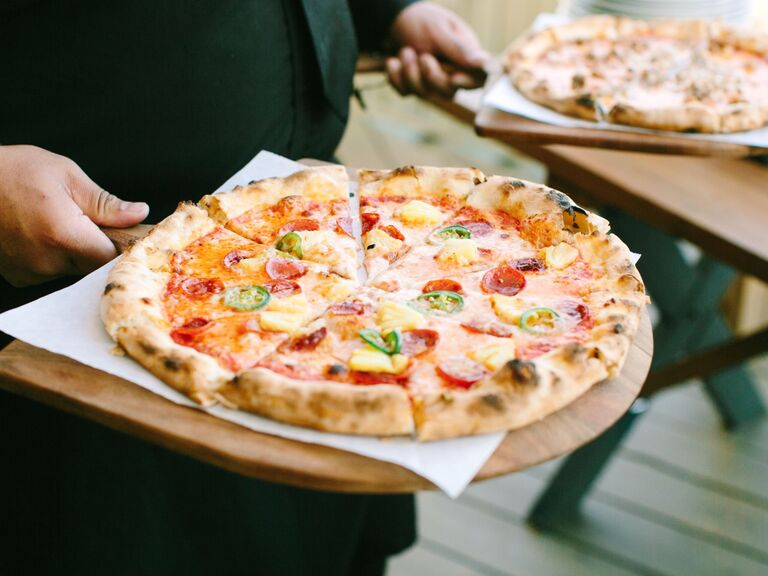 Having wedding food stations, especially interactive ones, is a great idea for small weddings because it makes your miniature gathering feel like a big affair. Have fun with your partner and caterer making a menu that will inspire excitement and hunger.
Pick a Unique Small Ceremony Location
Book your small wedding ceremony at a venue where you and your guests don't feel swallowed up by the large space. Stallsmith loves rooftops, greenhouses, art galleries and arboretums for small weddings.
Elevate Your Small Wedding Reception Decor
Invest in customizing your reception decor as much as possible for an unequaled design. At this elegant backyard wedding, the happy couple wanted to pay homage to their Korean traditions. Each chair had an acrylic name sign with a pressed flower and bojagi wrap tied to it, which is used on special occasions to cover food and presents for loved ones.
Hang Your Small Wedding Centerpieces
You want your guests to be able to talk and interact without large centerpieces in the way. Try suspending your florals, candles and more above the table for an ethereal vibe and the chance to see who's sitting across the table.
Personalize Your Small Wedding Place Cards
Another small wedding idea you can have fun with is making unique wedding place cards. We love these splattered ink place cards the couple made to fit their "Clue" and "Marie Antoinette" theme.
Have an Intimate Garden Dinner
Dine amongst nature during your garden-themed small wedding. Create a tablescape that has plenty of lush greenery and blooms to play off of your surroundings.
Consider a Table of Remembrance
Since you'll be getting together with your closest loved ones, take the time to honor the ones that couldn't make the wedding. A table of remembrance is one of the many meaningful ways to pay respect to people who have passed away.
Go All Out With Your Small Wedding Tablescape
"You can get really playful and make each table design different, even highlighting a different 'hero color' within your larger palette. Just be sure to consider the grounding elements that will unify the overall design," McMichen advises.
Offer Individual Sweet Treats
Instead of having your guests grab one slice from a small or one-tier wedding cake, ask your baker to make personal cakes for each guest. This idea is best for couples with guest lists of 10 and below.
Include Your Pet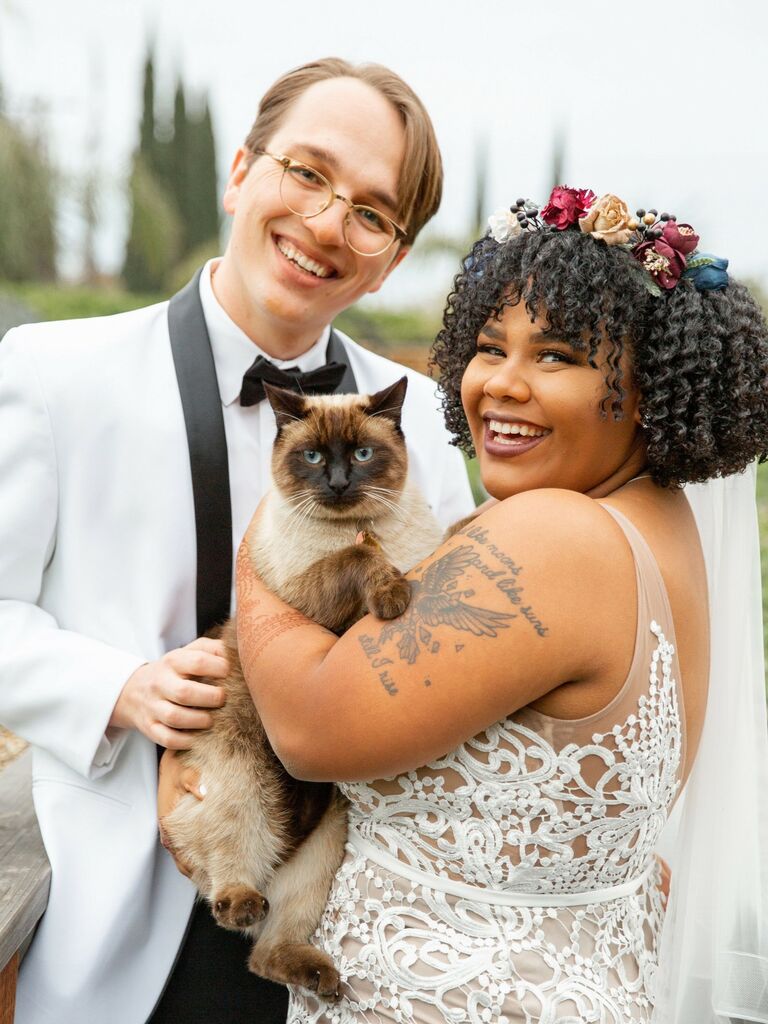 Who doesn't dream of including their precious pet in their wedding? Let your animal companion be in the spotlight with you and your significant other.
Plan Outdoor Small Wedding Games
Wedding games are a great way to help your guests break the ice and have fun while doing so. If you're having a small indoor wedding, try printable games. For an outdoor celebration, try ring ross, giant tic-tac-toe or cornhole.