A Comprehensive Guide to Planning a Small and Intimate Wedding
Less can be more.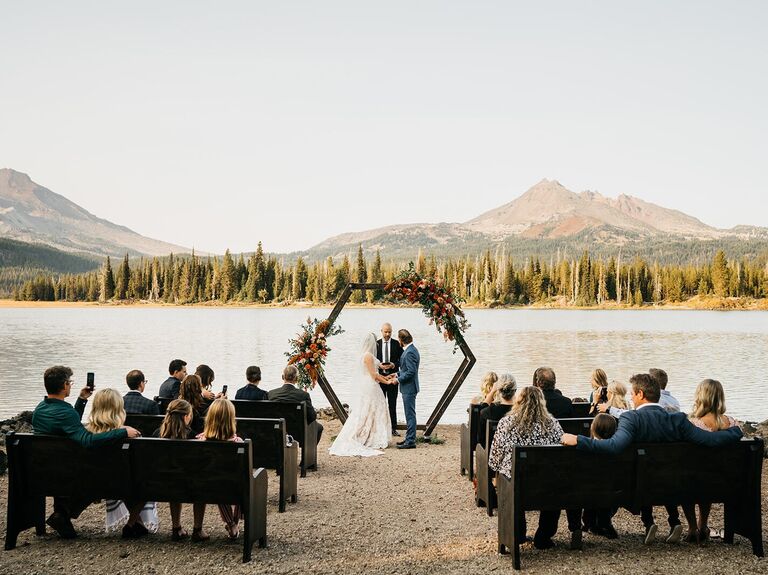 While weddings are typically known as big events with 100 plus guests, small intimate weddings are quite common. Lately, they've been trending since they allow couples room for more personalization, are typically more eco-friendly and decrease planning stress. If that sounds good to you and your future spouse, read on to learn more about what's considered a small wedding, who to invite and where to host one. Plus, get tips from small wedding experts on how to plan an unforgettable intimate celebration.
In this article:
What Is Considered a Small Wedding?
The average wedding guest list size in the US was 117 in 2022, according to our internal data, which is considered a big wedding. According to Alisha Reicks-Sturgill, wedding planning expert and marketing manager of The Indigo Bride, a small wedding consists of 50 people or less. "It's everything you'd expect from a traditional wedding, but smaller. Typically a more intimate affair, the guest list can be any amount from 10-40 guests, no more than 50. Generally, small weddings will include components of a larger traditional wedding day, yet on a smaller scale, typically with a more relaxed, chill vibe." The fewer people you invite, the more intimate the event can be, but it's entirely up to you.
Who Do You Invite to an Intimate Wedding?
If you want to know how to keep a wedding small, the first step is to make a short guest list. Include immediate family members, like parents, grandparents and siblings, close friends and generally people you can't imagine not being at your wedding. Since it's an intimate celebration, "you'll be able to celebrate with your nearest and dearest without the 'obligations' of having to invite extended family or coworkers or friends you've lost touch with," Amy Nichols, owner and wedding planner expert of Amy Nichols Special Events, says. If you have room in your wedding budget, you can allow your guests to have a plus-one, but keep in mind that your headcount can grow quickly. Before sending out invitations, talk with your partner about your stance on plus-ones. Typically, plus-ones are reserved for significant partners (meaning the couple is engaged or married). Establishing this guideline is a surefire way to keep your guest list small.
Where to Have a Small Wedding
With a limited guest list, your wedding venue options open up. "We recommend that couples be open to having their wedding at non-traditional venues. Consider a lakeside ceremony with a reception at a restaurant instead of a typical wedding venue with unachievable guest minimums and/or food and beverage minimums," Reicks-Sturgill says. (Psst. Use The Knot Marketplace to help you find your dream venue.) And if you're feeling guilty about limiting the number of guests yourselves, choosing a wedding venue with a strict capacity can take the pressure off of you. Plus, it gives you the incentive to whittle down your guest list.
One of the drawbacks of throwing a small wedding is that certain costs are fixed, like a venue's site fee. "This cost won't be lower just because you have 50 guests instead of 200. That said, often venues might have smaller spaces geared towards more intimate weddings, and they may come with lower price tags," Nichols explains.
How to Plan a Small Wedding
Planning a small, intimate wedding may seem straightforward, but it can be difficult to pull off logistically. To help make the process easier, we rounded up expert tips for planning a small wedding you'll love.
Set a budget.
Just as you would for a bigger wedding, you need to create a budget based on your wants and needs for your nuptials. Your wedding style, venue, guest size and what you can afford all come into play. Sit down and have a serious conversation with your partner about how both of you want the wedding to look so your budget is allocated properly.
Hire a wedding planner who specializes in small weddings.
Since you have more freedom with your decisions it may seem overwhelming when you start the small wedding planning process, but you don't have to do it alone. Hire a small wedding planner to organize the wedding of your dreams. "We can help with design, provide ideas for personalization, help with venue/vendor bookings and work through the logistics for multi-location celebrations. Just because you're planning a smaller-scale wedding, doesn't mean that you shouldn't have the guidance of a professional planner," Reicks-Sturgill says.
Limit your guest list.
We've discussed what essential loved ones you may want to include on your guest list, but what about wedding party members? While having a wedding party is a long-standing tradition, you don't have to have one—especially if you're trying to keep the guest list small. Instead of a wedding party, focus on curating a list of the most important people in your life.
And we know it can be difficult to tell someone they won't be invited to your wedding, but it's best, to be honest. You can always find other ways to include extra people in a separate celebration. Britt Rogers-Hanson, founder of Run Away With Me and specialist in elopements and all-inclusive microweddings, says one of the top things couples love about small weddings is having fewer guests. "Having an intimate experience with people you love is what we see couples enjoy most. You have time to talk to people, and you're not running from table to table greeting people."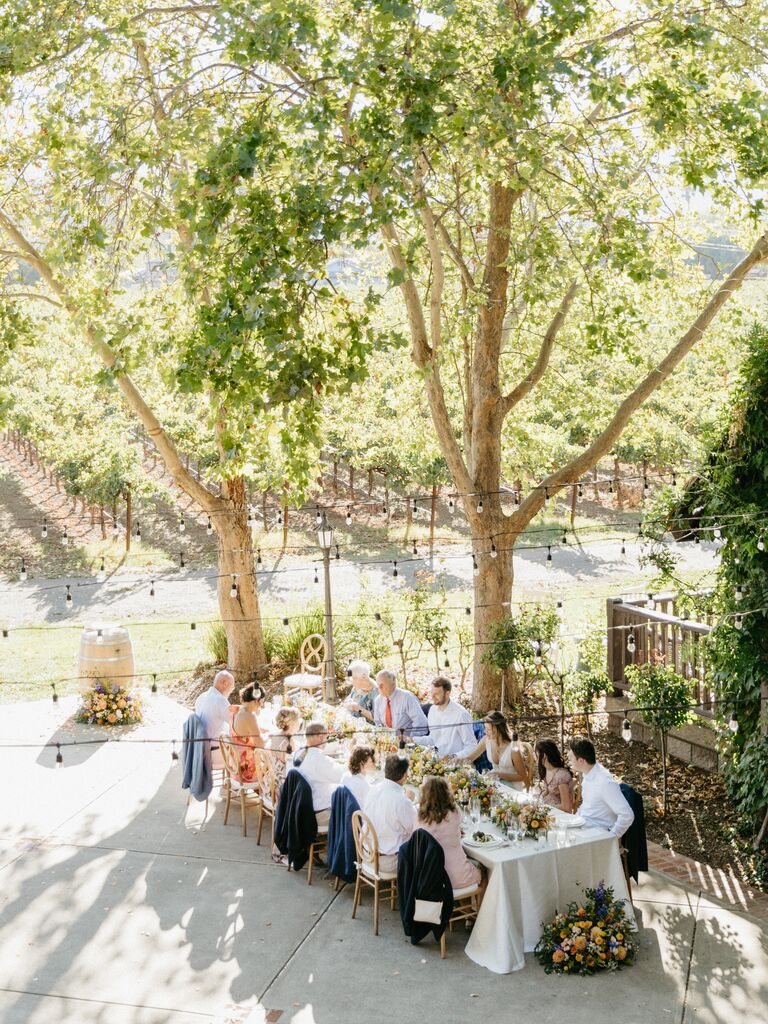 Personalize your wedding as much as possible.
Since you're hosting a small wedding, you can put your money towards upgrading your decor, venue, food and much more. You'll have the flexibility to cater to what you and your partner want. Nichols says small touches like personalized favors or handwritten notes for each guest are special because they make your event more unique and make a difference in the guest experience.
Your options for wedding favors open up with a smaller guest list too. Instead of looking for wedding favors under one dollar, you can splurge on something more personal. Consider items like pink Himalayan salt shot glasses or bags of your family's famous chocolate chip cookies.
Skip what isn't true to you.
There may be a time you and your partner wonder if having an intimate wedding is a good decision, whether it's because of outside opinions from loved ones or feeling guilty for being unconventional. Rogers-Hanson wants to-be-weds to know it's okay to break the rules and do what you want. "Go where you want to go. Don't do anything to please anyone else. Have the wedding you want as a couple. Do something a little different that you couldn't do with 100 guests." Just remember to stay true to yourself and not be afraid to add (or leave out) wedding traditions as you see fit.
Have an intimate wedding ceremony.
Most wedding ceremonies only involve a few guests (such as the couple's parents, siblings or closest friends). However, if you're having a small wedding ceremony, you can involve more of your guests. Depending on the size of the event, you can have everyone read a line of a special reading at the ceremony or have them stand and encircle you as you exchange your vows. "Asking your officiant to have the guests be involved in the ceremony, whether they're blessing rings or setting their intentions for the couple, can be a beautiful spiritual moment. Having guests somehow invested in the marriage is really unique and can be great at a small wedding," Rogers-Hanson says.