How to Plan an Unforgettable Small Wedding
Less can be more.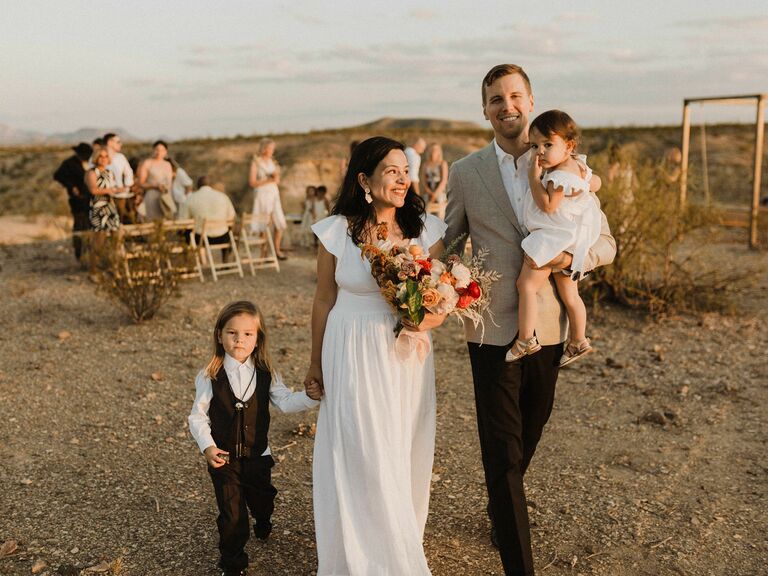 LIGHT AS GOLD
While weddings are generally believed to be big events, small weddings are quite common. They're trending lately, as having a limited guest list is one safer way to get married in light of the coronavirus pandemic. But couples often gravitate towards small weddings because they're typically more cost-effective and eco-friendly. If you're hosting a petite party, we've rounded up our favorite small wedding ideas and planning tips to help get you started.
Couples who've reimagined their original plans because of COVID can still make the day as special as they'd hoped it would be. In fact, a smaller wedding is an opportunity to create an extremely intimate and personalized experience. That's true if you're choosing to have a small wedding voluntarily too. Not only can small weddings save you money, carbon emissions and stress, it'll also allow you to socialize more with your guests. If that sounds good to you, read on to see our favorite small wedding ideas and our best planning tips.
What's considered a small wedding?
According to Jenn Johnson, CEO of EPIC Presentations, a small wedding consists of 50 people or less. However, she says the less people you invite, the more intimate the event can be. You can make it a hyper personal event by inviting 20 to 40 people, or you can have a VIP-only guest list of 10 loved ones. It's entirely up to you. Given the limited guest list, small weddings are often hosted at a destination. However, considering the current circumstances, most intimate celebrations are local.
Where can I host a small wedding?
Hosting an intimate wedding is all about finding the right space. Even with only a handful of guests, you want your wedding venue to feel full. To achieve this, seek out small and cozy environments versus large, spacious venues. Head over to The Knot to see venues in your area and filter your options based on guest capacity. In just seconds, you'll be able to review all of the nearby stunning spots that will bring your small wedding vision to life. Maybe you want a small garden affair or a ceremony at your favorite wine bar. A destination wedding is an option for when guests feel more comfortable traveling too.
How to Have a Small Wedding
Planning a small wedding may seem straightforward, but it can be difficult to pull off logistically. To help make the process easier, we rounded up tips for how to have a small wedding.
Be Selective About Your Guest List
This one seems obvious, but it can be challenging in practice. First, remember that there are certain people you don't have to invite to your wedding. Next, reference local and national guidelines around social gatherings so that you have a clear understanding of what's allowed. You may want to celebrate with 50 people, but some venues may only allow 20 to 30 people, so keep that in mind as you create your guest list. While it can be difficult to tell someone they won't be invited to your wedding, it's best to be honest. You can always find other ways to include other people in your celebration too.
Choose a Venue With a Strict Guest Capacity
If you're feeling guilty about limiting the number of guests yourselves, choosing a venue that has a strict capacity can take the pressure off of you. Plus, it'll give you an incentive to continue to whittle down your guest list.
Skip the Wedding Party
While having a wedding party is a long-standing tradition, you don't have to have one—especially if you're trying to keep the guest list small. "Allow yourself to [forego] a wedding party," Johnson says. "Include only your closest family and your tight group of besties [on the guest list]." In lieu of a wedding party, focus on curating a list of the most important people in your life.
Be Strict About Plus Ones
If every invited guest brings a plus one, your headcount can grow quickly. Before sending out invitations, talk with your partner about your stance on plus ones. Typically, plus ones are reserved for significant partners (meaning the couple is engaged or married). Establishing this type of guideline is a surefire way to keep your guest list small.
Invite Others to Virtually Attend
Another idea is to turn to technology—especially in light of coronavirus. "Have your ceremony on Zoom if you want to include more people or if some family members don't want to travel and/or [others] people don't feel safe attending a social gathering," Johnson says.
Couples can still implement the idea of a virtual wedding once gatherings become safe again too. If you're trying to keep the headcount down, inviting people to dial in virtually is a wonderful solution. They still get to watch you exchange vows, and you get to keep your guest list small.
Plan Two Events: One Small and One Big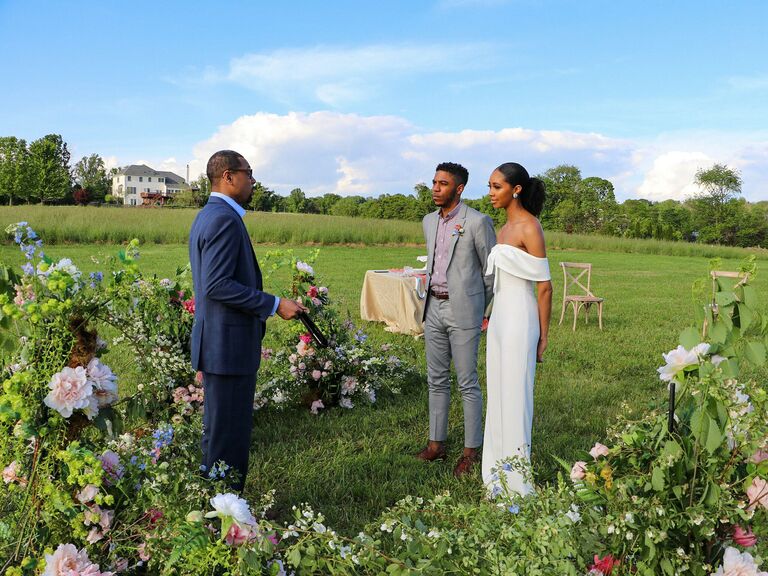 If an intimate ceremony is most important to you, create a separate, larger guest list for the reception—just inform your guests of the arrangements. If you want the whole event to be intimate, you might choose to have a large, casual reception a month or so after your wedding. Of course, this means paying for another event, but it can be fun to have a bigger crowd gathered in a more relaxed setting. And the best part is you won't be expected to serve a six-course meal to all your guests at this kind of celebration.
Small, Intimate Wedding Ideas
So you've put together your small guest list. Now comes the fun part: adding in personal touches for an unforgettable, intimate wedding.
Personalize Your Wedding Stationery
Since you're sending out 50 or less save-the-dates and invitations, use the opportunity to create an ultra-personalized stationery suite. Order custom engagement illustrations off Etsy for your save-the-dates that depict you and your partner, your wedding venue or your home. For your invitations, choose colors, wording and designs that feel authentic to you. (Psst: The Knot Invitations allows you to customize the text on your invites to make it sound as if you're delivering it yourselves.)
Select a Meaningful Venue
With a limited guest list, your wedding venue options open up. Think outside of the box for your small wedding's location. Book time at your go-to brewery or exchange vows inside a stunning greenhouse. Invite your guests to a hidden beach inlet, your favorite art gallery or your childhood backyard. The options are endless, but one effective way to narrow the search is to think about your relationship. Consider the place you met, got engaged, said "I love you," or dined at for those many date nights.
Get Your Guests Involved in the Event
Most weddings only involve a select few guests (such as the couple's parents, siblings or closest friends). However, if you're having a small wedding, you can involve more of your guests. Depending on the size of the event, you can have everyone read a line of a special reading at the ceremony, have them stand and encircle you as you exchange your vows, seat them at one big table at the wedding reception, or have everyone attend the rehearsal dinner.
Infuse Your Love Story Into the Wedding Menu
Fewer plates means more food options, so craft a menu that's tailored to your love story. Include food inspired by your go-to date night restaurant, special family recipes or the location of your wedding. Or, simply create a menu full of your favorite foods. If you're total foodies, book a few food trucks with different dishes for your guests to peruse. Or, if you love comfort food, serve your guests your favorite pasta or pizza dish. It's another way to make your guests feel more connected to your love story.
Focus on the Small Details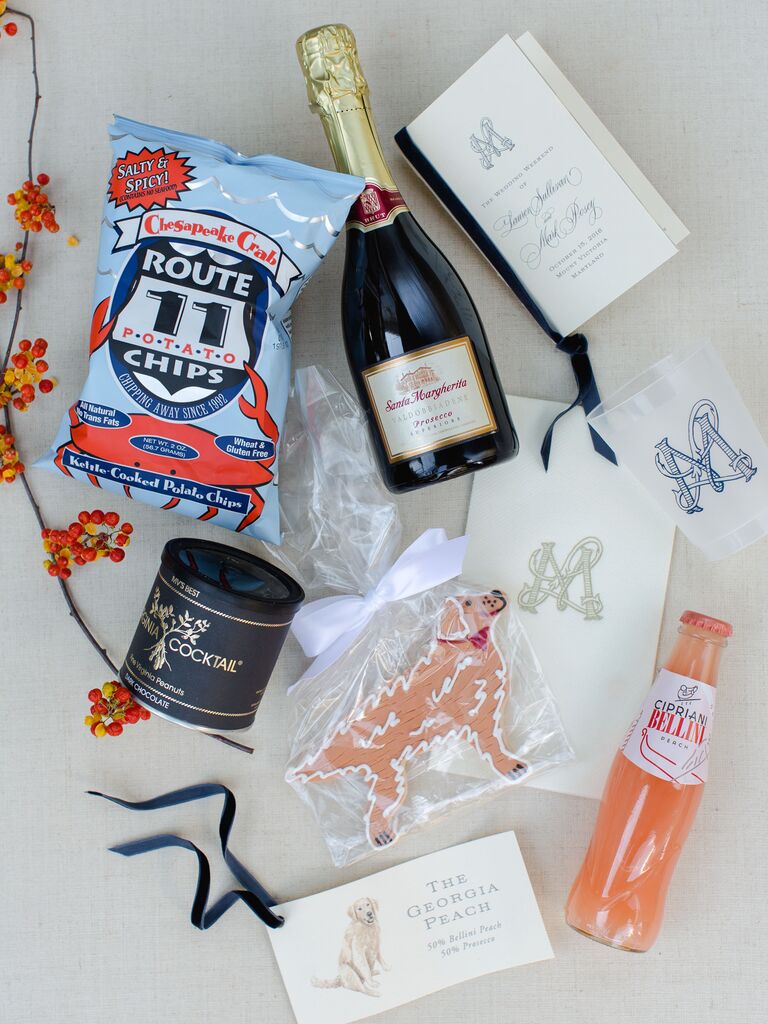 Small touches like table place cards, thank you notes and favors can make a real difference in the guest experience. Johnson recommends thinking about ways to incorporate small, personal touches into your wedding. For example, she says you can use your family's heirloom china or silver for the table setting or distribute hand-written notes to all of your guests. "Place them at each table setting letting guests know why you're glad they're here and thank them for coming," she advises.
Your options for wedding favors open up with a smaller guest list too. Instead of looking for wedding favors under $1, you can splurge on something more personal. Consider items like Himalyan pink salt shot glasses or a bag of your family's special chocolate chip cookies.
Plan an Entire Wedding Weekend for Your Guests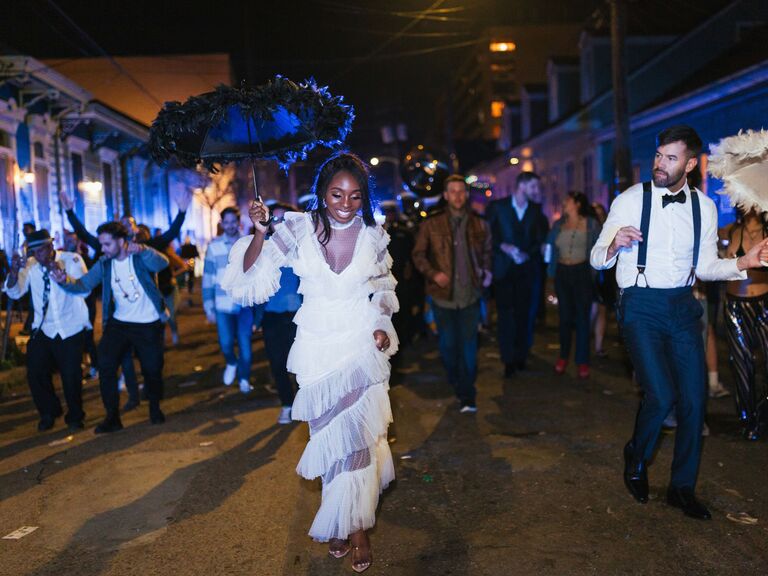 Hosting an intimate wedding with a handful of guests means you may actually have time—and additional funds—to spend on other activities or events throughout the weekend. Host a welcome get together at your favorite local brewery, invite everyone for a picnic at a nearby park the morning after your celebration, or plan a group activity, such as a hike or bike ride. Take advantage of this time to thank every one of your guests for coming. If you're hosting a wedding during the coronavirus pandemic, we recommend scouting outdoor activities your guests can enjoy or offering them local suggestions they can enjoy on their own.