The Pros and Cons of Wearing a Wedding Veil, According to The Knot Editors
Pro: The photos will be epic.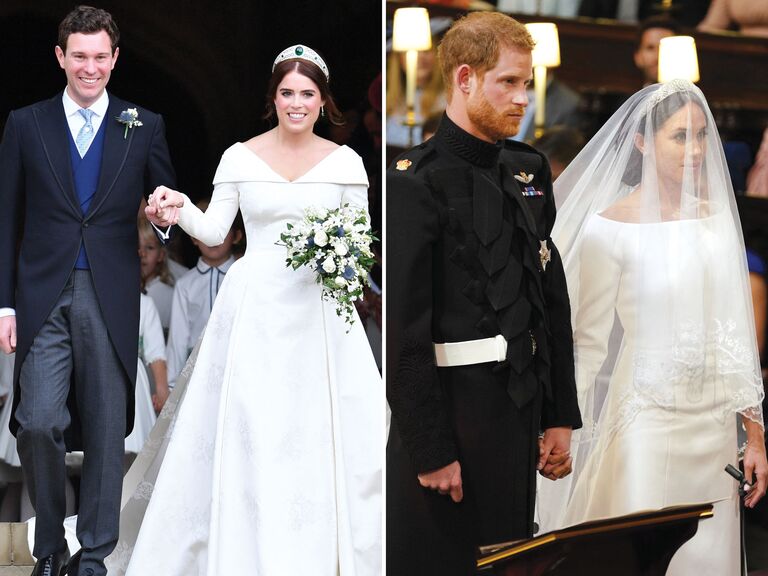 Shutterstock/Getty Images
Veil or no veil—that's the question. As you plan your wedding outfit, you might wonder if you have to wear a veil with your dress. A veil can be the perfect finishing touch for your outfit, but you might also feel like it's unnecessary if you're going for an easy, no-fuss look. And while some brides want to wear a veil because it's a popular tradition, the original meaning doesn't resonate with everyone. But here's the good news: There are no steadfast rules when it comes to wedding fashion, so whether or not you wear a veil is completely up to you. Since it's your wedding, you should wear an outfit that makes you feel like your best, most confident self (with or without a veil). If you're on the fence about wearing a headpiece, we're here to help. Below, The Knot Editors break down the top pros and cons of wearing a veil on your wedding day. We share everything you need to take into consideration to finalize your wedding outfit, so read our tips (and real-life advice!) to make a decision that's right for you.
Pro: Veils make for epic pictures.
It's hard to forget the aerial image of Priyanka Chopra's 75-foot-long veil or the blusher covering Kate Middleton's face before she walked into Westminster Abbey. Talk about bringing the wow factor. In both instances, these celeb brides donned veils for their vow exchange before taking them off to party the night away. You certainly don't need to wear a veil for the entirety of your wedding celebration, but adding one to your ceremony hairstyle ensures you'll end up with stunning, romantic wedding photographs that'll quickly turn into cherished heirlooms. Pro tip: make sure your photographer has access to your veil while you're getting ready. The ethereal aesthetic of veils makes them a great styling accessory for detail shots of your wedding jewelry and invitation suite. —Hannah Nowack, Real Weddings Editor
Con: If you're having an outdoor wedding, proceed with caution.
I'll start this by saying: I love veils and was so excited to wear a gorgeous, floor-length style on my wedding day. However, I spent much of my outdoor backyard wedding trying to tame the stunning piece of tulle, which was constantly being whipped around by the wind and stepped on by my wedding party members' muddy shoes. While this did make for some beautiful and memorable photos, it was a source of stress throughout the day. And at the end of the ceremony, after my husband and I kissed, I turned my head to face my guests a little too quickly and my veil literally flew off my head. The strong breeze picked it up and carried it away, never to be seen again. So while I think wearing some sort of headpiece is kind of a must, buyer beware: If you're having an outdoor wedding, you might try a shorter veil or alternative headpiece (and make sure it's pinned on tight!). —Kim Forrest, Senior Editor
Pro: They bring romance and drama to your walk down the aisle.
If you're choosing to see your partner for the first time down the aisle (or at the end of whatever gorgeous ceremony setup you choose), the big veil reveal is such a romantic and dramatic moment that you'll never forget. Plus, if you're getting a little teary-eyed as you walk towards your partner, you'll have plenty of time to pull yourself together under the veil. —Sarah Hooper, Social Media Manager
Con: It's another accessory to fuss over.
Even if you are the most minimalistic bride ever, there are just a lot of parts when it comes to your wedding day attire—dress, shoes, undergarments, jewelry, etc. Not to mention, all of those parts need to look picture perfect. A wedding veil is just one more thing to remember to steam and prep and not tear or step on. When I got married, I accidentally brushed up against a patch of grass full of stickers during my first look—my wonderful bridesmaids spent close to 20 minutes picking these out of my train (I do have to admit, those pictures are priceless). And had I had a veil, my poor friends would have been stuck doing this for half an hour! —Morgan Gibson, Digital Director
Pro: A veil can transform your look.
If you're not sold on the idea of wearing a second reception dress but you do want to switch up your style, a veil will transform your dress from the ceremony to the after-party. Wear it during your vows for a more traditional look, then take it off (and consider switching your hairstyle or adding a fun accessory, like a bridal headband) to give your outfit a quick and easy transformation. —Sarah Hanlon, Associate Editor
Con: Wind… again.
Okay, to list nature on here twice might seem like overkill, but it's that important! Like Kim said, if you're having an outdoor ceremony you've got to remember that windy weather is a very real threat to your perfectly placed veil. This was why I specifically opted out of wearing a veil for my waterfront wedding, and I am so glad I did. There was a breeze blowing through our ceremony, and to overheated out-of-town wedding guests, it was a welcome respite from the Florida heat— but if I had been wearing a veil, it would have been at best a distraction, at worst a disaster! —Morgan Gibson, Digital Director
Pro: Your wedding is likely your only opportunity to wear a veil.
Veils are special because they're a once-in-a-lifetime kind of accessory. Headbands, hair pins and fascinators are all fancy dress options you can wear to galas, cocktail parties or even New Year's Eve, but there is something inherently romantic about an accessory specifically meant for your wedding day, and all the symbolism and tradition (some of it outdated, but some of it really beautiful) that goes along with it. And, it's a low-stakes kind of accessory. If you opt for a veil only to find it's particularly cumbersome or unwieldy, you can always remove it. —Shelley Brown, Senior Fashion & Beauty Editor