Everything You Need to Plan a Jamaica Honeymoon
The land of reggae, Seven Mile Beach and Blue Mountains is a honeymooners dream.
Ruth Peterkin/Getty Images
We have included third party products to help you navigate and enjoy life's biggest moments. Purchases made through links on this page may earn us a commission.
A Jamaican honeymoon isn't just for those who enjoy the ease of an all-inclusive beach resort vacation. The island nation is also rich with options for natural adventures, world-class luxury and historical sightseeing. Newlyweds can enjoy Jamaica's beautiful beaches by simply picking a honeymoon package at any one of its countless destination hotels.
If you're not on the East Coast of the US, flying into Jamaica can be challenging, as nonstop flights might not be available from your airport. Nonstop flights from New York to Jamaica take about four hours, while Floridians can get there in less than two hours. One-stop flights can range from seven hours long from Arizona to 10 or more hours long from Los Angeles.
Travelers from the US who've not been to countries hard hit from the COVID-19 pandemic, such as India or Brazil, can enter Jamaica with a travel authorization form and negative COVID-19 test taken within three days of their flight. Jamaica has also created "the Resilient Corridors," which are tourist hotspots where strict safety precautions are in place, including social distancing and mask wearing.
Is Jamaica Good for a Honeymoon?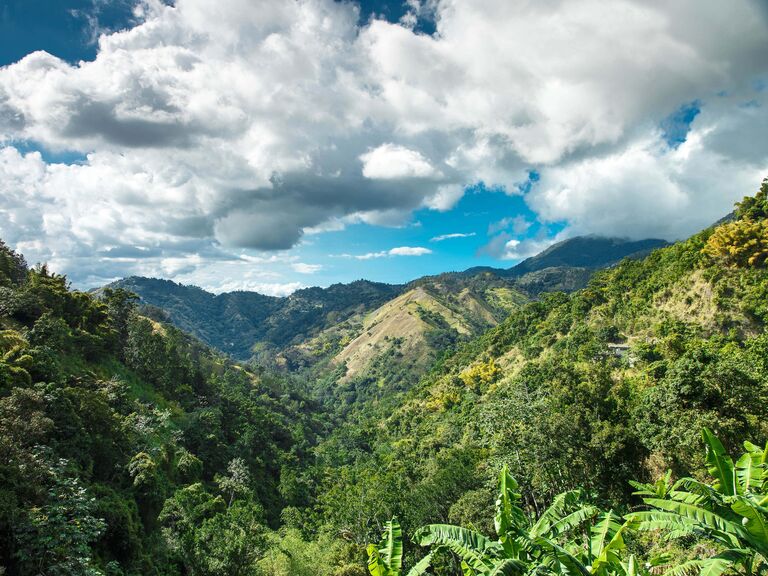 Pros of a Jamaican Honeymoon
The best beaches in the Caribbean sea, inclusive honeymoon packages and rainforest adventures are some of what make a Jamaica honeymoon ideal for newlyweds. Plus, all the options for couples resorts and hideaways make planning your trip much easier.
Cons of a Jamaican Honeymoon
Choosing Jamaica as a honeymoon destination requires some research on how to travel the country safely. The US Embassy in Jamaica provides a list of areas to avoid, and nighttime travel is discouraged. You'll want to stick to touristy areas, and you'll also want to guard your things while moving around. If you're a couple that likes to explore cities and go off the beaten path, Jamaica might not be a safe choice for you.
The Best Times of Year to Go on a Jamaican Honeymoon for Good Weather
Jamaica's hurricane season is in the fall, so booking some time between November to March is ideal. Peak tourist season is in from January to March, so if you like to avoid crowds, December might be most enjoyable.
Places to Visit in Jamaica for a Honeymoon
The international airports of Jamaica are in Montego Bay, Kingston and Ocho Rios. Montego Bay is about 50 miles east of Negril and its famously gorgeous natural beauty, about 60 miles west of Ocho Rios and about 105 miles northwest of Kingston. While all three airport hubs in Jamaica have plenty to offer, there are standout destinations and honeymoon resorts in and around each.
Things to Do During a Jamaican Honeymoon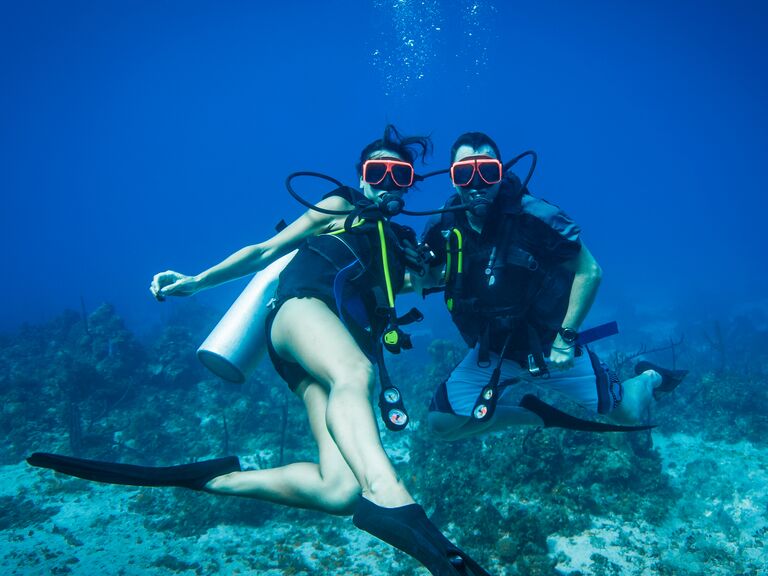 Luminous Lagoon in Montego Bay
About 23 miles east of Montego Bay is the Luminous Lagoon, where dinoflagellates in the water light up at night to create an electric blue glow. There are boat tours to the lagoon, which can include swimming and dinner, throughout the area.
Seven Mile Beach, Negril
This famous beach actually stretches about five miles, but its beauty certainly isn't exaggerated. The waters are calm and crystal clear, the sand is pristine and water sport adventures are all around if sunbathing isn't your thing.
Dunn's River Falls, Ocho Rios
This natural wonder provides hiking trails and swimming holes amid water splashing over large cascading rocks. You can take a dry or wet hike to the top of the falls, and there's also local food, a tropical garden, and a beach in the area. Be sure to wear water shoes if you choose this climb, as the rocks are slippery.
Blue Mountains, Kingston
Jamaica's lush Blue Mountains comprise the country's longest mountain range, and hiking trails are available for all levels. The mountains are a UNESCO world heritage site on account of their biodiversity and history. The range was once an escape for indigenous peoples escaping slavery, who created hiding spots and trails to isolate themselves.
Catamaran Cruises
Catamaran cruises come in several styles. There's reggae cruises, including some that come with dinner, if you like a floating dance party. But if you want a calm snorkeling adventure, you can take a catamaran to the Bogue Lagoon Fish & Bird Sanctuary with an instructor. All tourist spots in Jamaica have a range of catamarans to suit your taste.
Rose Hall
Montego Bay is also home to Rose Hall, an allegedly cursed plantation mansion on a hilltop overlooking the sea. You can book a day or night tour of Rose Hall, depending on your capacity for spookiness. The surrounding area's golf courses and luxury resorts are also an attraction, but most tourists visit Rose Hall for one of the best oceanfront views in Jamaica.
Water Sports
Rafting, scuba diving, snorkeling, sailing — when it comes to water sports, Jamaica has it all.
Best Hotels and Resorts in Jamaica for a Honeymoon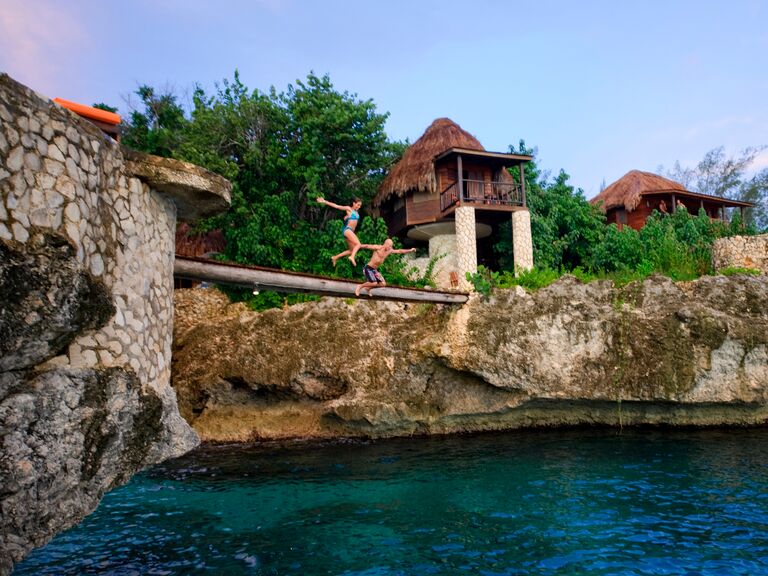 Half Moon, Montego Bay
Half Moon luxury resorts boast private beaches and swimming coves amid luxury villas and large cottages, all of which include butler service. There's also an equestrian center for horseback riding at sea and day tours to popular destinations like the Bob Marley Museum in Kingston or unique locations like the Zionist organic farm.
The Caves, Negril
This luxury all-inclusive resort, which won a 2019 TripAdvisor Traveler's Choice award, is built into caves standing amid an awe inspiring cerulean sea. The boho-chic suites seem to float right above the water, while wifi and air-conditioning provide modern comforts. For a truly romantic experience, The Caves' private candlelit dining is a must.
The Fleming Villa, Ocho Rios
This villa named after Ian Fleming, author of the James Bond novels, provides a taste of Jamaican history on a private beach 10 minutes from the similarly coined airport. The stay includes butler service and private cook, and the GoldenEye resort is also a few steps away. There are two separate cottages available outside of the main building, and the total capacity of the villa is 10 adults.
Sandals Royal Caribbean, Montego Bay
The on-the-water bungalow collection comprising this adults-only, all-inclusive luxury resort is its own private island. There's butler service, heavenly inspiring scenery, including white sands and peacocks, and scuba diving adventures available nearby.
Sandals Royal Plantation, Ocho Rios
This Sandals location provides luxury suites at different levels, including some with private swimming pools, and large private villas with butler service. The Oceanfront Verandah Butler Suite is a great choice for honeymooners seeking a beachfront locale with 24-hour room service.
Other Sandals all-inclusive, adults-only luxury resorts: Sandals Ochi, a huge beachfront property with 16 restaurants and 11 bars, is also located in Ocho Rios, while Sandals Montego Bay rests on a private beach that includes coral reefs and diving areas. Sandals Negril stands on Seven Mile Beach, and the resort is top-rated for its eco-friendly practices.
What to Pack for a Jamaica Honeymoon
According to Sandals, there is one thing you don't want to pack for Jamaica, and that's any camouflage-print clothing, as it's illegal among civilians.
In addition to beach and summer clothes, Sandals also recommends packing a nice dress with heels or a suit with closed-toe shoes for locations with a dress code. Water shoes, waterproof electronics, plug adapters and a money belt area also recommended. Insect repellent and sunscreen are a must, as are any extra medications and travelers' health insurance.