The Complete Guide to a Magical Montego Bay Honeymoon
Experience Montego Bay's magic, from the beaches and all-inclusive stays to a slew of outdoor adventure options.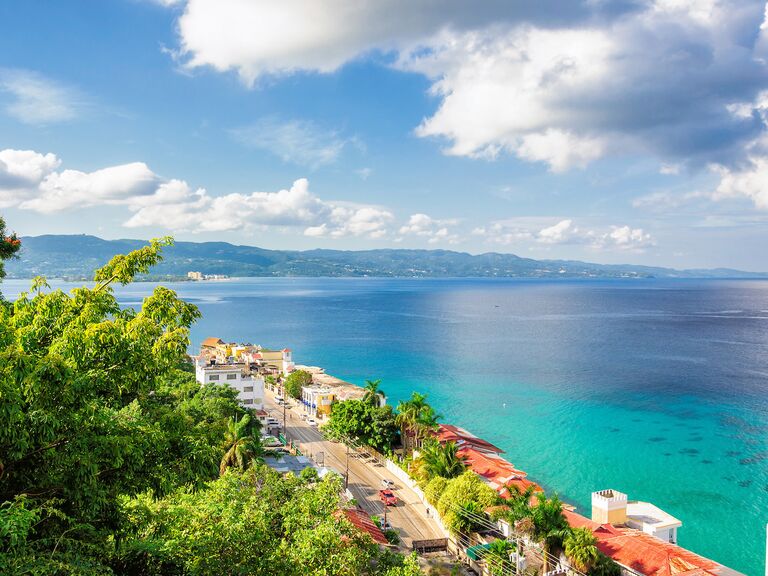 Shutterstock
We have included third party products to help you navigate and enjoy life's biggest moments. Purchases made through links on this page may earn us a commission.
Jamaica's third-largest city is tucked away on the Caribbean island's northern coast. There's little you can't find here, be it white sand beaches, world-class golf, art galleries, restaurants, nightlife, and adventure, making a Montego Bay honeymoon memorable and worthy.
Couples are in for a good time. Getting there is easy when flying into Sangster International Airport. Montego Bay's proximity to the airport is most appealing–couples don't have to fret about a long drive to the hotel. When it comes to accommodations, there's a variety of options as you select your home away from home: boutique hotels, mega all-inclusive resorts, five-star hotels, and rental villas.
Is Montego Bay Good for a Honeymoon?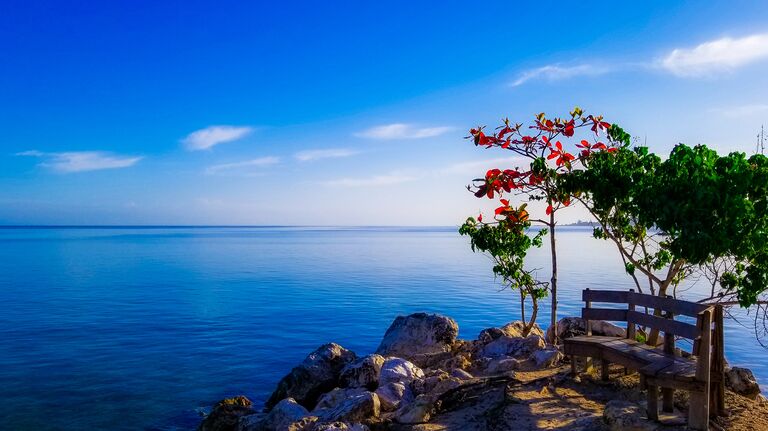 Pros of a Montego Bay Honeymoon
"MoBay," as it is affectionately called, strikes a nice balance. You get a cosmopolitan vibe with the shops, restaurants, and bars, but there are also beaches, all the water sports you could ever want, and gardens for bird watching and strolling. There's plenty to make you both happy. Jamaica is an easy jaunt from the states, especially for those in the South and East Coast of the US.
Cons of a Montego Bay Honeymoon
The truth is Montego Bay is loaded with tourists. You might get hassled on the beach or in town by people trying to sell you their goods. They don't mean any harm, but it can spoil the mood if you encounter one too many.
The Best Times of Year to Go on a Montego Bay Honeymoon for Good Weather
Year-round the temperatures in Jamaica can be balmy. Summers, though, with humidity and 90-degree temperatures can be tough. If you two aren't up for sizzling heat, the late fall and winter months are cooler. While it's still around 80 degrees, it's less humid and more pleasant. Crowds from the US, however, do sweep through during the winter months starting with the holidays. Keep in mind, also, that from September through December Jamaica can be quite rainy.
Things to Do During a Montego Bay Honeymoon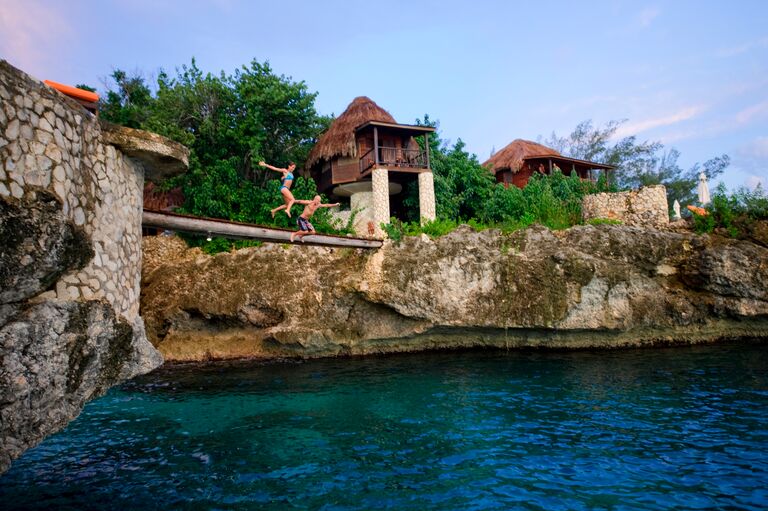 Take a Dip in Doctor's Cave Beach
The water is turquoise, the sand, white and powdery soft, and there's a bit of history. In 1906 an English chiropractor named Sir Herbert Barker claimed the waters had healing properties. Word spread and people flocked to the beach in search of natural healing. Though there's no proof, but a refreshing and relaxing environment is guaranteed.
Tee Up at Cinnamon Hill Golf Course
The Cinnamon Hill Golf Course is an award-winning 18-hole course with views of the sea from the hillside. It's also a trip down memory lane, with perspectives of the Rose Hall Great House, the burial plot of English poet Elizabeth Barrett Browning, and the waterfall that was in the James Bond movie Live and Let Die.
Adventure in the Rainforest
Deep in the rainforest of the Great River Valley is the Chukka Jungle Outpost on a 2,000-acre plantation. The Expedition Safari is all about immersion into nature. Hike, refresh yourself in a cascading waterfall, zipline in the jungle, or river tube.
Take a Day Trip to Negril
Negril is a mere 90 minutes away. You'll be glad you made the drive. Spend some time chilling on the picturesque Negril Seven Mile Beach. A bonus for couples is a scenic look at the five miles of cliffs that line the area. The vibe in Negril, is laid back, casual chic, with fun spots like Rick's Café where you can watch the uninhibited jump from the cliffs into the sea while catching the most incredible sunsets with a craft cocktail in hand.
Explore Montego Bay Marine Park
Snorkel and dive at coral reefs in the protected waters of Montego Bay Marine Park. You can also take bird-watching, lagoon, and glass-bottom boat tours to spectate wildlife.
Hit the "Hip Strip"
Gloucester Avenue, now called Jimmy Cliff Boulevard, though people still call it Gloucester, is the center of action in Montego Bay. It's a mile-long stretch of fun. You'll hang with locals and tourists going in and out of the restaurants, bars, hotels, craft markets, Fort Montego, shops and more. Make a point to pop into Usain Bolt's Tracks & Records. Not only is the food delicious, but it's also a lively sports bar.
Best Hotels and Resorts in Montego Bay for a Honeymoon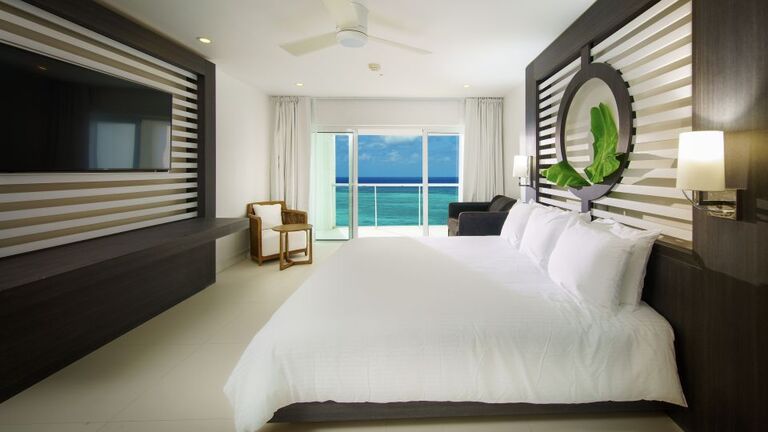 It's your honeymoon, splurge. Eclipse at Half Moon Bay is the kind of place couples will be reminiscing about on their 30th wedding anniversary. You're immediately struck by the elevated lobby with its unobstructed views of the sea. Take your pick of luxury with a stay in the Great House, estate homes or cottages. Stare into each other's eyes without interruption over a private dinner at the overwater Sunset Gazebo, or arrange for a candlelit dinner on a private balcony or patio. The romance (and pampering) continues at the 68,000-square-foot Fern Tree Spa, beloved for its overwater bungalows and ideal for a couples' massage.
This all-inclusive boutique hotel is on Doctor's Cave Beach with the Hip Strip at its doorstep. It's a cultural experience with an art collection, photography and more to tell the story of Jamaica throughout the hotel. Make your way to the rooftop pool and take in the views of the beach. Show yourselves some love with time at the Irie Baths and Spa, with subterranean plunge pools that recall ancient baths. Finish off with a couple's massage.
On 400 acres along the coast, with a private beach, waterpark, golf course, spa, 11 places to eat and drink, and entertainment every night, what more could couples want when it comes to ease and options during the honeymoon? The property also boasts tennis courts, two outdoor pools, kayaks and paddleboards.
There's fun to be had on the beach as well as the lazy river. Here you get a twofer, you stay here and get to enjoy all that the adjacent Royalton White Sands has to offer. When you two are ready to chill, head to The Royal Spa.
Sandals Montego Bay is romance with a capital "R." The adults-only all-inclusive along the shoreline of a private beach is a honeymoon haven. You'll be enraptured with the over-the-water bar and swim-up bars. You can even get a free wedding in the over-the-water wedding chapel with a three-night stay. Enjoy the many activities that are included in your stay like scuba diving, snorkeling, wakeboarding and waterskiing.
What to Pack for a Montego Bay Honeymoon
Pack several swimsuits, shorts, tanks, sundresses, button-downs, sunscreen, hats and sunglasses. You'll want a few nice outfits as some of the restaurants at the resorts have a dress code. A crisp collared shirt, maybe even a tie, dress shoes, sandals or heels and a dress that impresses (or two) are good ideas.