The Definitive Guide to an Ocho Rios Honeymoon
Experience authentic Jamaican culture in Ochi.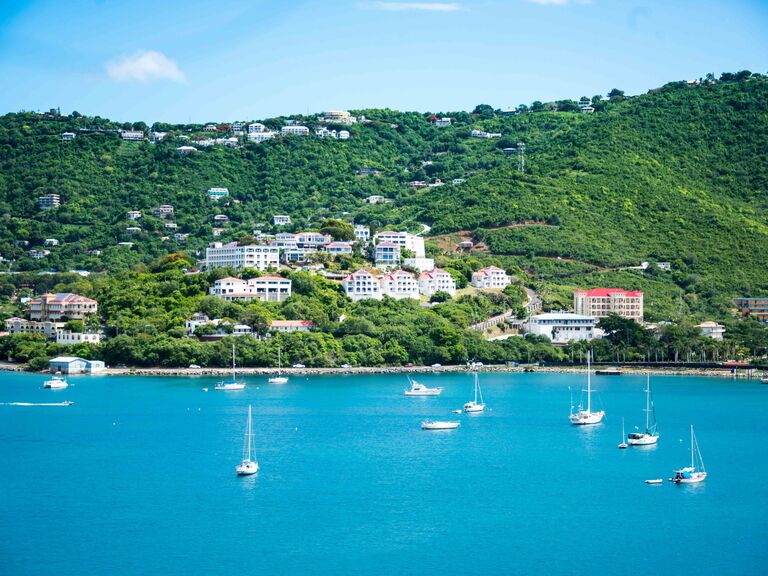 Getty Images
We have included third party products to help you navigate and enjoy life's biggest moments. Purchases made through links on this page may earn us a commission.
Local laws may restrict service availability to all. See the Equality Index for more information.
Ocho Rios is on Jamaica's north coast. What was once a fishing village is one of Jamaica's hot spots. With an eclectic mix of waterfalls, an adventure park, jungle terrain, romantic restaurants, a bustling nightlife and high-end shopping, an Ocho Rios honeymoon will keep couples busy.
Along the coast, you'll find resorts, boutique hotels, villas, condos and apartments. The town center is bustling with a backdrop of reggae music playing from cars or the mom-and-pop shops that dot the streets. You may even catch a whiff of ganja or jerk chicken, glimpsing into the real Jamaica.
While there are five-star hotels in "Ochi," it's very much an ideal place for couples who want to experience authentic Jamaican culture. There's a lot of history. Marcus Garvey called Ocho Rios home, while Bob Marley's birthplace and burial grounds are in the hills above Ocho Rios. This destination is far more than just beautiful beaches. Here's your complete guide to an Ocho Rios honeymoon.
Is Ocho Rios Good for a Honeymoon?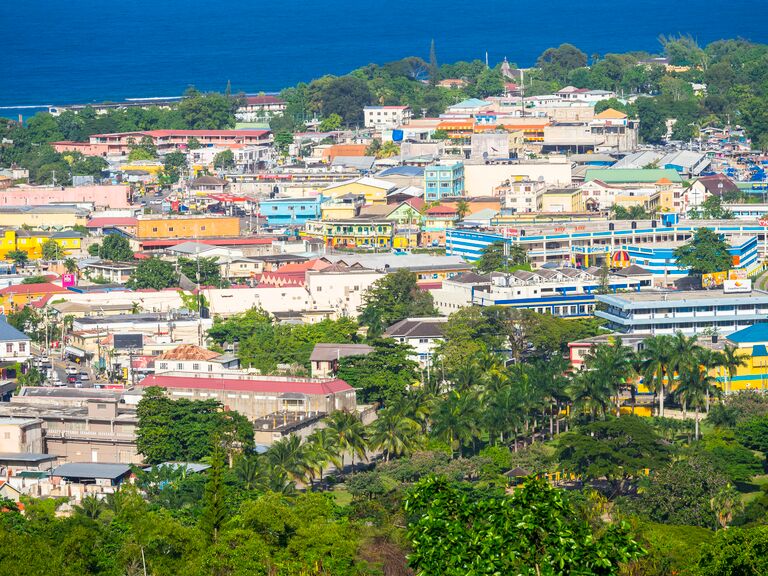 Pros of a Ocho Rios Honeymoon
Getting there is easy from the states, especially from the South and East Coasts. Fly into Sangster International Airport and it's about a 90-minute drive to Ocho Rios.
Expect great beaches, water activities like jet skiing or paddleboarding. You won't be able to go long without spotting one of those party boats, where the music is blaring, the rum punch flowing, and everybody's having such a good time you wish you were too. Ochi is about the party and its vibrant food scene, including great options for Jamaican, Indian and Italian fare, or simply, fresh seafood.
Cons of a Ocho Rios Honeymoon
It's great to have everything you need at your resort, and it can be tempting to stay there during your entire visit. Some couples prefer it, in fact. But you may miss the chance to experience real Jamaican culture.
The Best Times of Year to Go on a Ocho Rios Honeymoon for Good Weather
Year-round, the temperature in Jamaica is largely balmy. Summers are humid with 90-degrees-Fahrenheit temperatures, which can be tough for some. If you two aren't up for hot-hot, the late fall and winter are cooler seasons. While temps are still around 80 degrees, that time of year is less humid. Keep in mind however, that from September through December, Jamaica can be quite rainy.
Things to Do During an Ocho Rios Honeymoon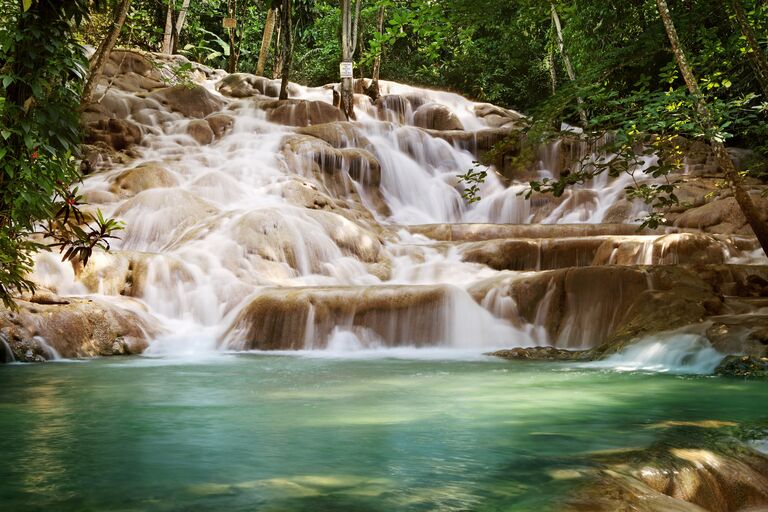 Take in Dunn's River Falls and Park
This natural wonder is 180-feet high and 600-feet long. At the foot of the falls is a white-sand beach. Climb tiers of limestone that step down 591 feet in a series of cascades and pools, and couples won't need to worry about the heat. The water is cooled by shade from the rainforest, creating a refreshing experience for all. See why Dunn's River is one of Jamaica's top attractions and a must-do during an Ocho Rios honeymoon.
Make Your Way to Mystic Mountain
If you're a couple who can't get enough of adventure, put Mystic Mountain on your itinerary. Start your fun with a ride on the SkyExplorer Chairlift up to 700 feet above sea level. Marvel at the coastline and town below. Get your blood pumping on the bobsled, ragamuffin rides, rope course, ziplines and more.
Take a Catamaran Cruise
If you're in Ochi for more than a few hours, you'll see a catamaran bobbing along on ocean with everybody having a good time. Book a romantic cruise at sunset or sunrise by asking your concierge for tour operators.
Seek Serenity in Shaw Park Botanical Gardens
When you're in the mood for peace and quiet, go for flower power in the Shaw Park Botanical Gardens. They're in the hills overlooking the Caribbean Sea and Ocho Rios. A waterfall cascades down a rocky course with gorgeous plants everywhere. It's so romantic that Shaw Park is a popular, local wedding spot.
Head Off the Beaten Path for Natural Beauty
About 15 minutes from the heart of Ocho Rios in Rio Nuevo is Sugar Pot Ruins Beach. The Sugar Pot Ruins, once a sugar mill, is today home to rustic structures, lush vegetation and sparkling water. The beach is stunning and you two will practically have it to yourselves as the locals haven't exposed the secret just yet. (That stays between us.) The restaurant serves incredible local fare like jerk chicken and escovitch fish, plus the rum punches are reasonably priced. This might be one of your favorite honeymoon memories.
The Best Hotels and Resorts in Ocho Rios for a Honeymoon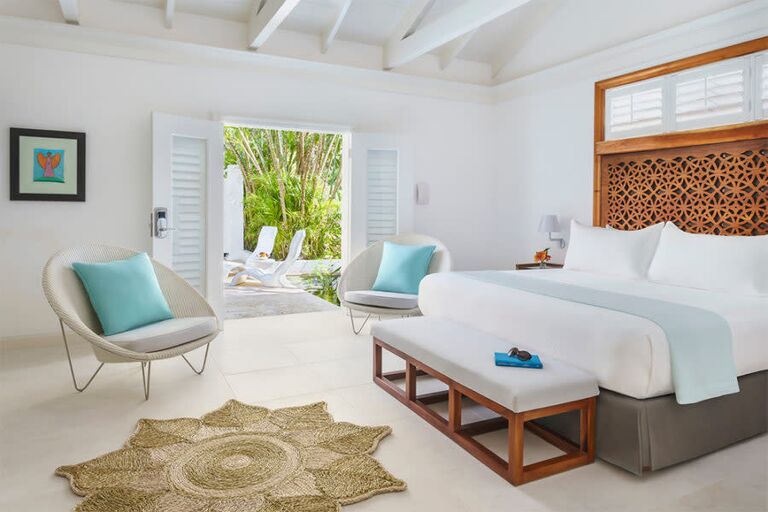 Talk about a place tailor-made for romance. Love is in the air at this all-inclusive that's about five miles outside of Ochi Rios. The property'sOasis Spa is a special experience for massages and peace. Given its location, couples can enjoy a dip in the sea, one of the resort's four pools or their own quiet time in a hot tub. Dine by candlelight with ocean views at Bayside restaurant or cozy up by candlelight at Eight Rivers, where you have a fine meal to the melodious sounds of a soprano saxophone.
This boutique hotel could be taken right from a steamy romance novel. You'll love the antiques and the intimacy as there are fewer than 50 suites and cottages. The resort's private beach is one of Ochi's best. Then there's your cottage atop a bluff, with an ocean view, private infinity plunge pool and outdoor shower. Enjoy afternoon tea and anticipate a great meal, international fare with Jamaican twists, at the Terrace Restaurant with its oceanfront location and nightly entertainment.
This all-inclusive, adults-only resort on 100 acres is home to 16 restaurants and 11 bars, including a speakeasy. Couples can play tennis or beach volleyball, and indulge in their fair share of water activities like kayaking, paddleboarding, scuba diving, and snorkeling. There's professional instruction for water sports too. The resort offers access to the nearby Sandals Golf & Country Club, where honeymooners can indulge in theRomeo and Juliet-themed one bedroom villa, which comes with its own private pool.
An actual hidden gem, Hermosa Cove is right off busy Main Street and requires making a few twists and turns before arriving in paradise. Tucked along the coast is a private haven, a collection of about a dozen villas and a treehouse, each more dramatic than the next. There's a lighthouse on the property, centuries-old trees and Christopher's restaurant, which comes with ocean views and the best meals in Ochi. The Honeymoon and Romance package means champagne upon arrival, a longboat trip for a picnic lunch on a remote beach, massages in the seaside spa pavilion, and a sunset dinner on a private beach.
What to Pack for an Ocho Rios Honeymoon
Pack several swimsuits, shorts, tanks, sundresses, button-downs, slacks and other dinner clothing options. To shield yourselves from the blazing heat, remember sunscreen, hats, sunglasses. In fact, nice outfits are encouraged as some of the restaurants at the resorts have dress codes. Business casual attire and a head-turning dress (or two) is a good idea. Couples should also pack sneakers, especially if they're partaking in adventure activities.