8 Questions to Ask While Planning an Accessible Wedding
Disability rights activist Judy Heumann shares her first-hand tips and suggestions.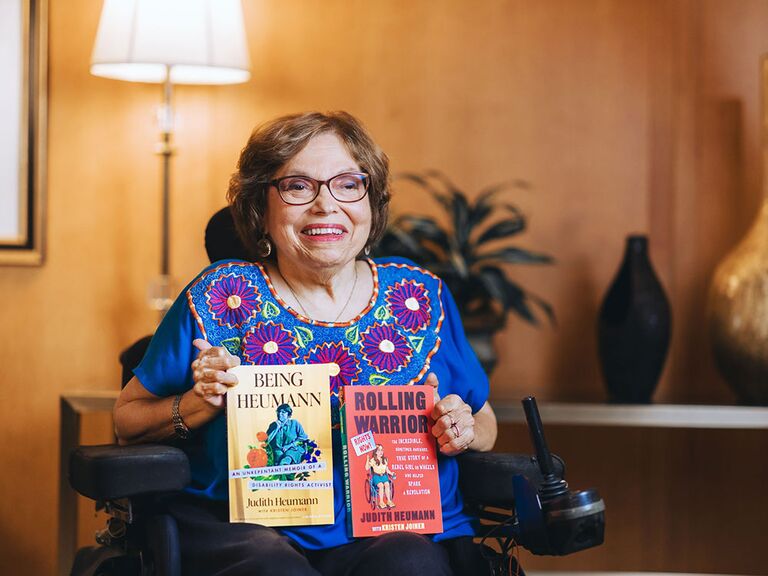 Courtesy of Judy Heumann
Judy Heumann is an award-winning activist and author whose latest book, Being Heumann: An Unrepentant Memoir of a Disability Rights Activist, is a story of fighting to belong in a world that wasn't built for all of us. The icon sat down with Senior Weddings Editor Hannah Nowack for The Knot Fall 2022 and opened up about her own wedding. She also shares the questions couples should ask themselves while wedding planning to ensure their celebration is as accessible as possible.
I grew up in a society where the disability rights movement was just beginning to emerge. My battle with polio as a child, in the 1950s, led me to start advocating for disabled people. Clearly, a lot has changed in terms of public policy in the last 40 years, but I believe there's still much to be done. I care deeply about intergenerational work and educating younger people about accessibility, especially since disabilities are not always visible. I've found that the "out of sight, out of mind" mentality contributes to a stigma around disabled people that I'm working to dismantle in all arenas, the wedding industry included.
I met my now-husband, Jorge Pineda, in 1991, and we got married a year later in California. We actually had two weddings, a civil one and a religious one, to celebrate our marriage. The process of planning our own weddings taught me a lot about the steps couples can take to make their nuptials more accessible to disabled people.
A decision I'm grateful we made was to hire a wedding planner. She listened really well to all of my thoughts and concerns, which helped make the wedding planning process a success. We had 32 people in the wedding party, many of whom were in wheelchairs, so it was especially helpful to have someone coordinating our big day. Planning with disabilities in mind isn't a cookie-cutter endeavor, but there are some questions you can ask yourself to make sure your own wedding is accessible for all guests.
1. What types of disabilities do your guests have?
Not everyone has a visible disability, and there is no one-size-fits-all approach to accessibility. If you have deaf guests attending, you may need a sign language interpreter present, while you would have to make different accommodations for visually impaired people. Understanding the unique needs of your wedding is the first step toward identifying how you can accommodate everyone.
2. Are people comfortable disclosing their disabilities?
Some people are afraid to reveal their disability if they feel like it isn't significant. As the hosts of a wedding, you can invite guests to share what they're comfortable with, helping ensure everyone is at ease. The RSVP cards in your invitations are a simple place to gather information from guests. You can ask about food allergies and also include a spot for guests to share any other information that would be helpful. Even considering the legibility of the stationery you're sending guests is key to improving accessibility. Is the font easy to read for those who may have limited sight? Doing your due diligence ahead of the wedding will go a long way in making sure everyone is comfortable.
3. Do your vendors have experience working with disabled people?
In addition to making accommodations for my own disability, it was important to me that the wedding be accessible to all of my guests and vendors. Part of that involved hiring both vendors with accessibility experience as well as disabled vendors. Our DJ had a disability and needed extra space for his music booth. If you have entertainment that you plan to place on a stage, it's important to think through how easy it is to get onto the stage. As you interview potential vendors, ask about their experience as well as accommodations they might need. In the end, you want to find a vendor who is open to working with you and meeting your needs.
4. How accessible are your venue and rentals?
When it comes to finding a venue, you want to book a place that will enable your guests to participate. Accessibility can inform other decisions too. What is the height of your guest-book table? If it's too tall, wheelchair-bound guests won't be able to write you notes. We had a lot of guests in wheelchairs at our wedding, so we made sure to rent a larger dance floor to give everyone space. At the tables, we removed chairs at the places of guests who were in wheelchairs. Even the amount of space between tables will impact the freedom that those with limited mobility feel during the wedding. Each of these decisions involved special planning based on the specific needs of our wedding.
Also keep in mind the transportation to the venue. Having your ceremony and reception in one spot, instead of requiring travel between two locations, might be a way to make the day feel more accessible. Our bigger wedding was held at the University of California, Berkeley, and we made sure to recommend hotels to out-of-town guests that we knew were close by and wheelchair accessible.
5. How accessible is the food you're serving?
Asking about food allergies on your RSVP cards is one of many ways to ensure that everyone can enjoy the meal. It's also important to consider the style of food service you're planning. Some details are small and simple—like reminding servers passing hors d'oeuvres to bend down as needed so guests in wheelchairs can easily reach the appetizers. And then on a larger scale, if you're having a buffet instead of a seated dinner, wheelchair-bound guests may need extra assistance from servers
6. How accessible are the restrooms?
One question I had while wedding planning was how I would use the restroom. My planner helped me come up with the idea of making my dress have two parts. The skirt section had a slit down the back so it could be easily removed. I also made sure that our guests could visit the restroom.
During a site visit, check the paths to the restroom and look for steps, rocks, uneven ground or anything that would be hard to navigate with a walker or wheelchair.
7. How are you seating disabled guests?
Where people are seated can have a big impact on their ability to enjoy the wedding. You don't want guests to feel stuck, so ensure the ceremony aisle and walkways throughout the venue are easy for them to maneuver. Also think about where you seat guests who are hard of hearing. They should be close to the speakers and, if you have one, in sight of a sign language interpreter.
8. Do you feel empowered to make the accommodations your wedding deserves?
Ultimately, in establishing what accommodations you need to make for a wedding, it really comes down to creating an openness between the couple and the vendors. You should feel empowered to have these discussions in advance, so you've covered all the bases when the wedding day comes along.
Please note: The Knot and the materials and information it contains are not intended to, and do not constitute, medical advice and should not be used as such. You should always consult with a medical professional about your specific circumstances.