My Path to the Altar With T1D
Bride-to-be and type 1 diabetic Ariana Frayer shares her journey.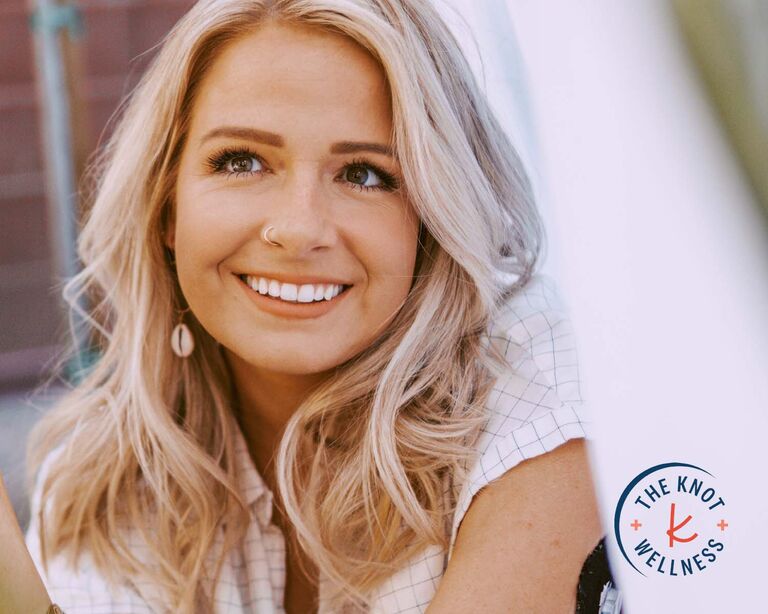 Courtesy of Ariana Frayer
Ariana Frayer is a bride-to-be and type 1 diabetic. She's also a lover of the outdoors and small-business owner designing merch to inspire those with T1D through Cup of OJ Creative. The to-be-wed sat down with Senior Weddings Editor Hannah Nowack for The Knot Summer 2022 and opened up about planning a wedding while living with diabetes—without letting her chronic illness become an unwanted guest.
I was diagnosed with type 1 diabetes when I was 10 and had no idea how it would impact my life. My condition means that my body doesn't produce enough insulin, which helps blood sugar enter your cells to get used for energy. Without insulin, my blood sugar can get too high or too low and can be a huge risk to my health. As a result, I inject myself with insulin multiple times a day and constantly monitor my blood sugar.
Now, at 28, I'm thriving as a small-business owner while documenting my journey with T1D on social media. My mission is not to let my chronic illness stop me from doing what I love, like hiking and being active every day. I like music festivals, going out with friends and having fun—and I never want my health dictating what I can or can't do.
My partner Adam (who I met on Twitter!) and I are getting married in September 2022 in Massachusetts. Just like I share my life with T1D online, I want to share my wedding planning with the world as well.
Wedding dress shopping got me thinking more about showcasing my health journey on the wedding day. While dress shopping, my future mother-in-law started snapping pictures of me trying on dresses. She said, "I'm going to get the Dexcom in a photo, since it's visible through the dress." I hadn't considered how you might see the outline of my Dexcom monitor, which measures my blood glucose levels and tracks them via an app on my phone. But as she took photos of the outline through the fabric, I began pondering the role I wanted my condition to play in my wedding.
I ultimately fell in love with an A-line dress (with pockets for snacks) that won't necessarily show off my Dexcom. But I do want to celebrate my health journey as part of my wedding. I want getting-ready pictures where you can see my Dexcom. I want to remember, years from now, the role T1D played at the time in my life when I said "I do."
I've always fit my diabetes into my life, not the other way around. My hope is for my wedding day to be the same.
Beyond my dress, T1D will affect other decisions around my big day. I inject myself with insulin six or seven times a day, usually in my arms, and if I do it in the same place, scar tissue builds up. In the months before the wedding, I'm going to inject my insulin in different parts of my body to reduce inflammation. That's not something many to-be-weds would have to consider during their prewedding wellness routine. Getting a facial? Sure. But as a T1D bride, this is something I needed to plan out.
Food is another big planning priority. I'm going to schedule what I will eat and when. I'll start with a breakfast that has substantial carbohydrates to keep me going. One of my bridesmaids is also a type 1 diabetic, and I've appointed her my official glucose monitor for the day. She'll have my phone to track my blood sugar, so I don't have to worry about it, handing me a Capri Sun if I begin to dip. Lastly, to ensure I can enjoy myself at the reception, I'm having a low-carb cocktail as my signature sip.
My biggest concern is that the ceremony goes smoothly and without interruption. I would hate to have to stop everything to chug a juice box—though it would be very on-brand for me.
I've always fit my diabetes into my life, not the other way around. My hope is for my wedding day to be the same. Will my blood sugar go low at some point? Probably. Is my sugar going be perfect? Probably not. As long as I don't let my blood sugar levels cloud my entire experience, that's what matters to me. Obviously, your diabetes is your health, and you should take care of it (with a physician's guidance). Even though your blood sugar may fluctuate, you may misplace the rings, and Aunt Sally may be late—it's just one day. I'm not going to beat myself up, but enjoy every moment.
Please note: The Knot and the materials and information it contains are not intended to, and do not constitute, medical advice and should not be used as such. You should always consult with a medical professional about your specific circumstances.