How This Couple's Wedding Accommodated Deaf Guests and Celebrated the Signing Community
Plus, tips on what to consider when planning a wedding with deaf guests.
DC-based realtor Jennifer Kalis chose to say "I do" in American Sign Language, her first language, as she often feels more at ease communicating in sign. An OHCODA (only hearing child of deaf adults), Jen comes from a deaf family and wanted her wedding vows to honor the signing community. She shares tips from her experience planning a minimony with deaf wedding guests.
"Although the DC War Memorial represents many milestones shared between Todd Bissey and me (first date, first kiss, first 'I love you' and the spot of our proposal), it wasn't initially going to work as a wedding venue," says Jennifer. "However, as we reimagined our nuptials and shrank the guest list due to the pandemic, this spot on the Mall became perfect for our August 27th wedding. It wasn't only important to Todd and me that the nuptials be safe and follow COVID-19 guidelines. They also needed to accommodate our deaf guests and celebrate the signing community that means so much to me. I have five generations of deafness in my family; it is a big part of who I am and where I come from. My identity is deeply connected to the signing community, a fact I wanted to honor with each step of planning."
Qualified Interpreters Are Key
"Communication access was really important to me, so we hired three interpreters," says Jennifer. "My parents had a dedicated interpreter, allowing them to talk freely to anyone. My best friend from college attended and she was able to catch up with them without needing me to translate, an opportunity she hasn't previously had. I also wanted my sister, her wife and their two kids to have an interpreter. My niece is an OHCODA like me, as her brother (my nephew) is deaf too. I wanted her to be able to enjoy the day and not be put in a position to potentially interpret. Having a qualified interpreter is crucial and hiring one shouldn't be an afterthought. Allowing at least one month's notice is a good rule of thumb, since qualified and certified interpreters can be hard to come by."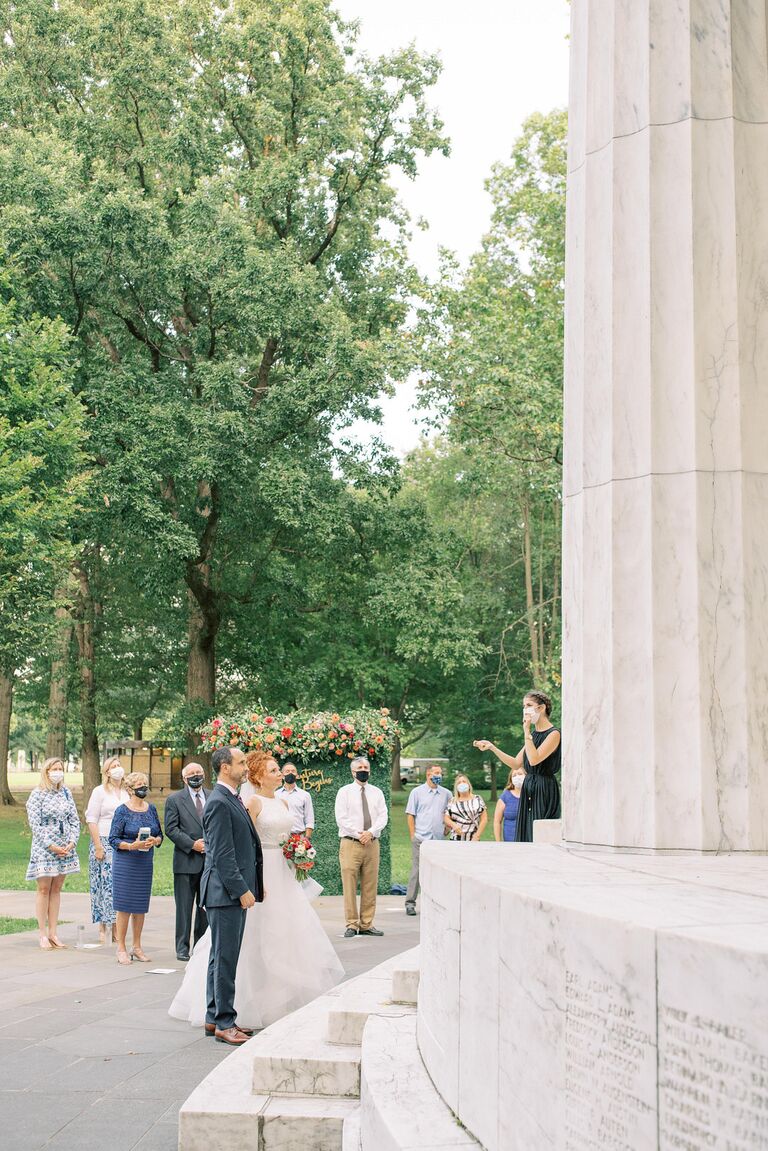 Prep Your Vendors
"We gave the interpreters copies of the ceremony and speeches ahead of time so they had time to prepare, instead of going in cold," notes Jennifer. "Another step we took to ensure everything went smoothly was to instruct the A/V person to hand the microphone to the interpreter during the speeches, not to my parents. This may seem like a small detail, but it's a component that could easily be overlooked and cause some awkwardness during the wedding."
Plan Out Sight Lines
"Markers on the ground instructed guests on where to stand, which had the twofold benefit of helping with social distancing while giving everyone good sight lines," explains Jennifer. "We also switched the setup and had my family standing on Todd's side so they could see me and watch me sign my vows."
Consider Deaf Vendors
"In addition to making sure all our guests were as comfortable as possible, we wanted to support the deaf community through the vendors we selected," says Jennifer. "Notably, we hired Debby Elliott, a deaf ASL musical performer I'd seen at a friend's wedding. I knew I had to have her at my wedding, so she was the first vendor I confirmed. And it was so worth it as my entire family was able to enjoy our first dance, while Debby really brought the meaning and beauty of the song to life."