The Ultimate Maine Honeymoon Guide for a Quaint and Quiet Getaway
For spectacular scenery and seafood, head to Maine for a romantic honeymoon.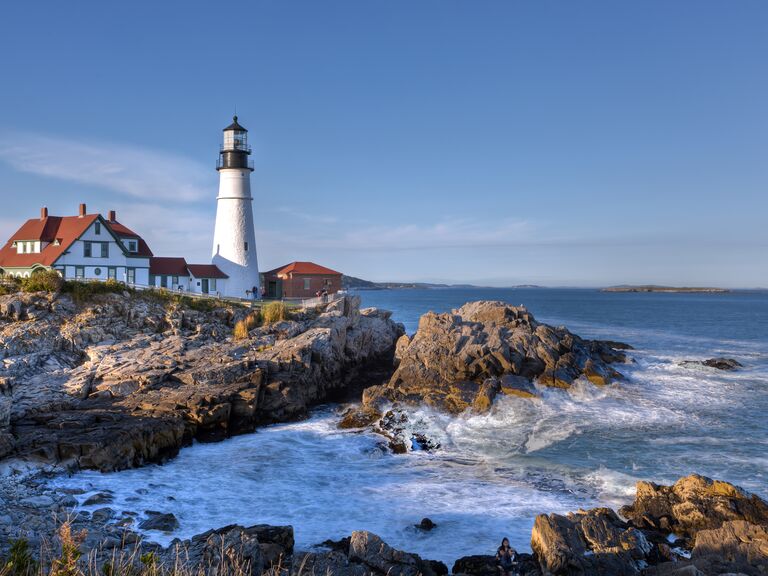 John A. Anderson / Shutterstock
Stunning vistas are the ideal backdrop for a romantic honeymoon—and Maine has them in spades. With verdant forests and rocky cliffs abutting the Atlantic Ocean, this uncrowded state stuns with unspoiled beauty, along with sophisticated coastal cuisine and luxurious inns. Read on to experience the very best the state has to offer for your Maine honeymoon.
Is Maine Good for a Honeymoon?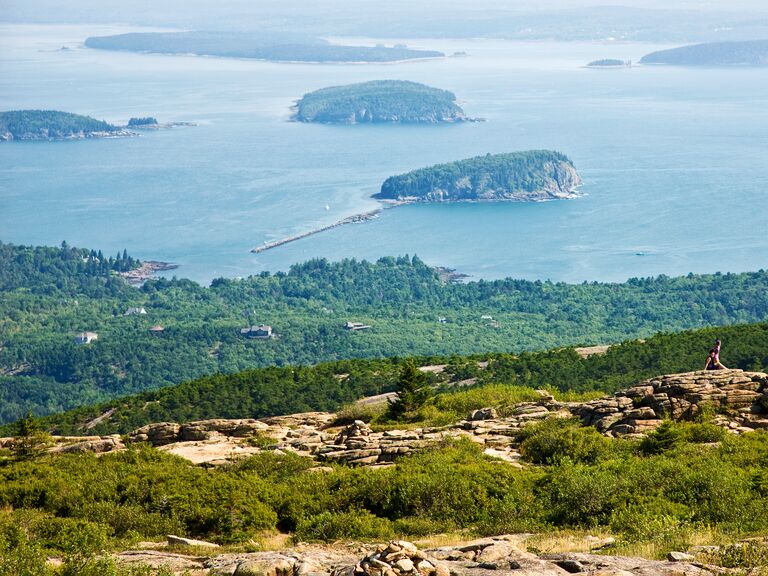 If you're a nature-lover, you'll find Maine the ideal setting for your ultimate romantic getaway. The entire state is picture-perfect, from the hiking trails at Acadia National Park to the small-town coastal charm of Ogunquit and Kennebunkport. Maine is easily accessible by car (the preferred method of transportation for views and road trip honeymoons). Honeymooners are also able to fly into the Portland airport.
Pros of a Maine Honeymoon
If you and your sweetheart crave time alone in nature, consider Maine your ideal honeymoon destination. One of the least populous states in the U.S., Maine offers lighthouse-dotted coastline, coastal pitch pine forests, and quaint towns. In addition to taking in the most jaw-dropping scenery, you'll have abundant opportunities to hike and boat. Meanwhile, you'll feast on fresh, coastal cuisine (think: lobster rolls, fried clams, and blueberry pie) and stay at romantic inns, B&Bs, and resorts.
Cons of a Maine Honeymoon
Since Maine is a domestic location, you might regret not heading somewhere more exotic. Plus, those drawn to bustling cities and fancy nights on the town could be disappointed by Maine's low-key nature.
The Best Times of Year to Go on a Maine Honeymoon
Summer is an ideal time to visit Maine. During the warm months, you can take a boat tour, spend time at the beach, or hike. That said, autumn delivers dramatic fall foliage, which you can soak up during romantic walks or carriage rides through the woods.
Cities and Towns to Visit on a Maine Honeymoon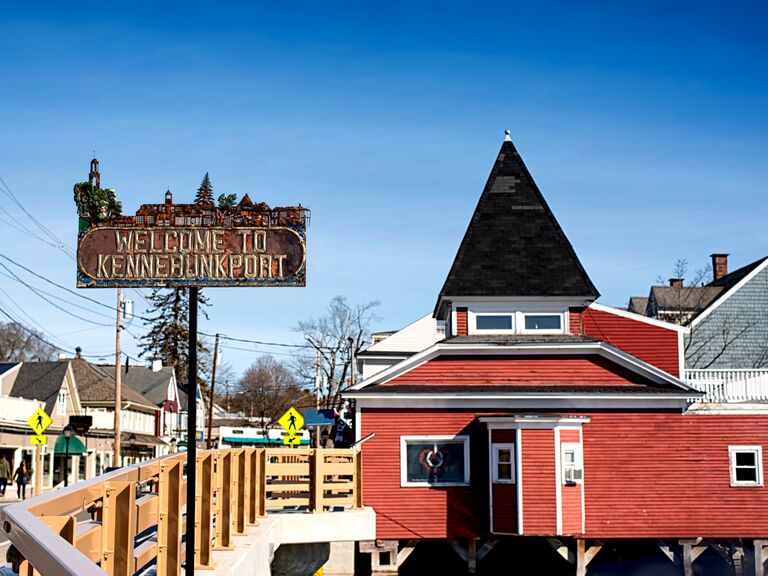 For the most romantic trip, honeymooners should stay on the coast of Maine. Begin in Kennebunkport and drive north to Portland and Bar Harbor, perhaps taking a few day trips along the way.
Kennebunkport
This charming, coastal town is famous for housing Walker's Point Estate, the Bush family's oceanfront summer retreat. Kennebunkport, a photogenic and resort-friendly stop along the coast of Maine, offers everything from water sports to excursions like fishing, sailing, kayaking, and experiencing a hands-on lobsterman boat. For a scenic outing, head to Cape Porpoise, a working fishing village, to watch fishermen haul in their traps. Then, to explore a quintessentially Maine site, visit Goat Island Lighthouse.
Portland
Maine's largest city is a veritable foodie destination. Wake up with potato donuts from The Holy Donut. Then, dine at one of the city's many acclaimed restaurants, such as Fore Street or Central Provisions. To get your drink on, Hogge suggests booking a tour with Maine Brews Cruise and stopping by Urban Farm Fermentory, a taproom with 16 house-made kombuchas, ciders, and meads.
As with all coastal Maine towns, the water is a draw. Rent a kayak from Portland Paddle and row through Casco Bay, take a ride on the Casco Bay Lines ferry, and visit Portland Head Light, one of the world's most photographed lighthouses.
Camden
A quaint town with a postcard-perfect harbor on Penobscot Bay, Camden is an ideal midpoint between Portland and Bar Harbor. Head to the High Street Historic District to take in charming Victorian-style architecture. Don't miss the garlic fries at Franny's Bistro or the memorable farm-to-table cuisine at Primo Restaurant in nearby Rockland.
For the ultimate romantic day trip, drive to the bustling harborfront town, Boothbay Harbor (about one hour away), then take a ferry ride to scenic Monhegan Island. About ten miles off of the coast, the small rocky island will transport you back in time. With miles of walking trails and no paved roads, cars, or streetlights, it couldn't be more unspoiled or serene. (For a rustic experience that will make you feel you've traveled back in time, stay overnight at one of its inns.)
Bar Harbor
Make this walkable town your home base while you explore nearby Acadia National Park, which encompasses 50,000 acres of towering trees and rocky coastlines. Arrive early in the morning, to watch the sunrise from Cadillac Mountain, the East Coast's highest point. Then, climb the Beehive Trail or take a leisurely walk around Mount Desert Island. Rest your feet with a bounteous meal of popovers, lobster stew, and Maine wild blueberry sorbet at Jordan Pond House. Then, at night, observe the Bass Harbor Head Light, on the southern tip of the island.
Things to Do During a Maine Honeymoon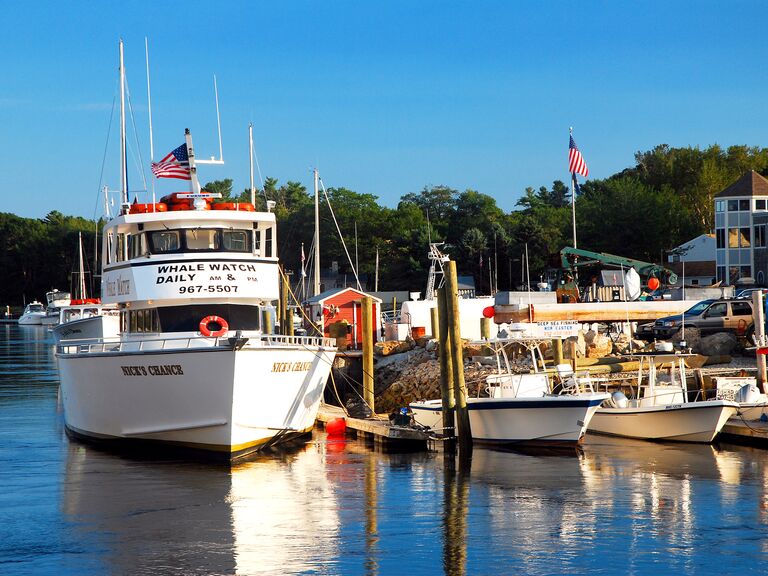 Believe it or not, Maine offers a range of activities, especially for couples who appreciate the rugged splendor of the Northern Atlantic Coast. Corinne Hogge of Pack Up + Go, which plans surprise vacations across the US, spotlights honeymoon activities below.
Take a Boat Tour
Departing from Kennebunk, New England Eco Adventures offers several trips on its 30-foot-long, 14-seat boat, including whale watching. Meanwhile, with Bar Harbor Whale Watch Co, you can choose from tours focused on whale-, seal-, or puffin-watching, lighthouse-viewing, or lobster fishing.
Hike
Acadia National Park isn't the only must-visit when it comes to hiking trails. Look for moose in Baxter State Park (home to Mt. Katahdin) in north-central Maine or venture to Camden Hills State Park in Camden (in mid-coastal Maine).
Go to the Beach
Several coastal towns, like Kennebunkport and Kennebunk, Ogunquit, Old Orchard Beach, and Wells, offer the traditional sandy beach experience—complete with a side of lobster. With its soft, white sandy beach and gentle surf, Ogunquit Beach is particularly compelling (don't miss its charming fishing village, Perkins Cove, reached via the Marginal Way footpath).
Feast on Local Seafood
Maine is famous for its lobster—for good reason. Try the fresh local catch steamed with drawn butter or in a lobster roll. The latter stars lobster meat (usually with butter and lemon) piled inside a grilled hot dog-style bun. Also order fried clams or clam chowder, ideally from a casual spot, like The Clam Shack in Kennebunk. Since the state is also known for its berries, you can't go wrong with capping off your meal with blueberry pie.
Best Hotels and Resorts for a Maine Honeymoon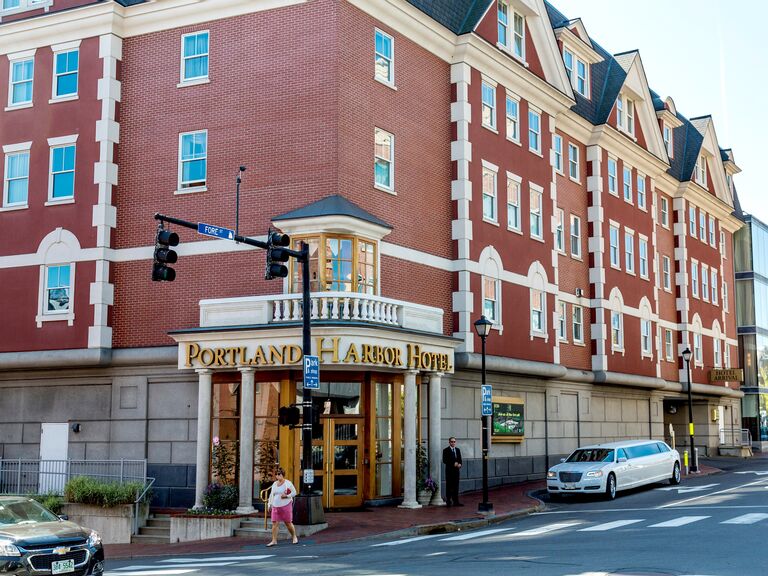 Nestled in the woods and minutes from Goose Rocks Beach, this luxury resort offers two outdoor pools, a treetop spa, and organic dining at its on-site restaurant. Book a one-bedroom bungalow, with a stone fireplace, plush king bed, and marble shower.
Not only is this 150-year-old inn charming and luxurious; it also offers a wealth of only-in-Maine experiences. Guests can take a private cooking class or cycling tour, participate in a traditional Maine lobster bake, sail, or venture on a lighthouse or lobster excursion. The inn restaurant constantly changes the menu in concert with the seasons.
Check-in at one of the four small boutique inns in this collection, all constructed through the early nineteenth century. The centrally located bed & breakfast, close to Dock Square, features gardens and a spa.
Located right by the harbor, this nautically themed hotel offers a wide range of guest rooms and suites with modern amenities, some with jacuzzi tubs or fireplaces. Guests can eat at its Blue Fin restaurant and, in the summer, listen to live music by local musicians.
Couples will quickly spot the iconic, yellow facade building after a 30-minute drive from Portland and a ferry ride over to Chebeague Island. This charming, otherworldly resort reflects the historic, coastal nature of Maine's lobstering communities. The inn has a lodge-like ambiance straight out of an L.L. Bean catalog, including its complimentary beach cruiser bicycles for use to explore the beauty of this small island. (A word of caution: there is no air conditioning here, but the salty breeze keeps it cool.)
Housed in a historic building that was originally home to a newspaper, this centrally located spot nods to its past with newspaper-inspired décor. Part of the prestigious Marriott Autograph Collection, it's the best hotel in Portland, says Hogge. Dine on the premises at UNION or Inkwell, a coffee and cocktail bar and pastry shop.
Situated on Mount Desert Island, this elegant hotel is located a mere bike ride away from Acadia National Park. Consider a vacation package, like a comfortable Deluxe King Room. Experiences include a lobster bake at the Bar Harbor Inn or a sunset cruise through Frenchman Bay.
What to Pack for a Maine Honeymoon
With so many opportunities to walk, hike, and bike, travelers should bring comfortable walking and hiking shoes, plus athletic clothing. You'll want to pack swimwear if you're visiting Kennebunkport, especially since the water along Goose Rocks Beach is exceptionally warm during the summer.