20 Matching Promise Rings for Couples Who Are in It for the Long Haul
We've found bling for you and your beloved.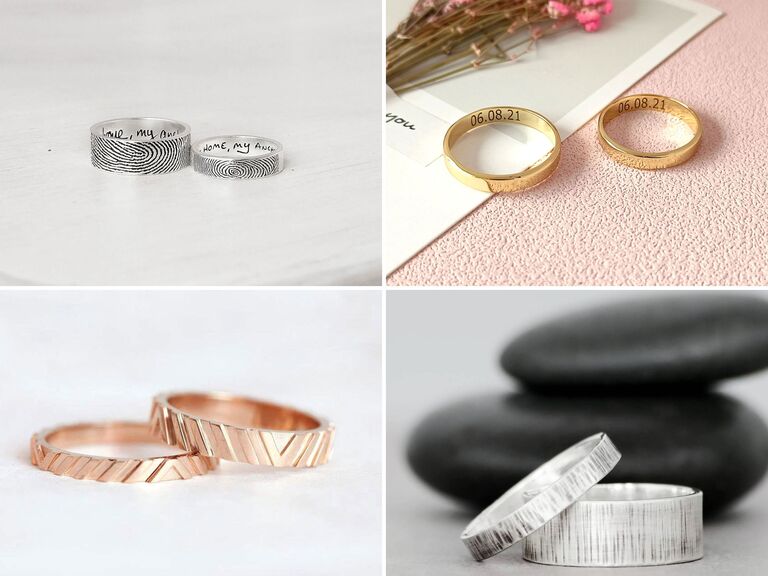 We have included third party products to help you navigate and enjoy life's biggest moments. Purchases made through links on this page may earn us a commission.
If you're planning to give your special someone a concrete sign of your commitment, but you're not exactly sure where to start, you've come to the right place. We've rounded up a wide assortment of matching promise rings for couples to shop—or at the very least, draw inspiration—from. Wearing rings as a symbol of love and commitment is a pretty established tradition, and it's not just for married couples. Any doting duo can don matching couples rings in honor of their bond.
But first, what counts as a "promise ring" anyway? Really, anything goes! The key is to buy something you and your partner actually like. You'll probably want to wear them all the time, so it's important that they reflect your individual tastes. We've rounded up lots of unique and cute promise rings for couples below in a variety of styles, so you're pretty much guaranteed to find a set you love. (But if not, don't worry. Really, any type of ring can be a promise ring, as long as it means something to you and feels like a good representation of your relationship.)
A few final tips: If you're not sure if matching promise rings are right for you and your S.O., read up on the history and meaning of promise rings before picking one out. Oh, and don't forget to measure your ring sizes before you buy.
Grace Personalized His and Hers Promise Rings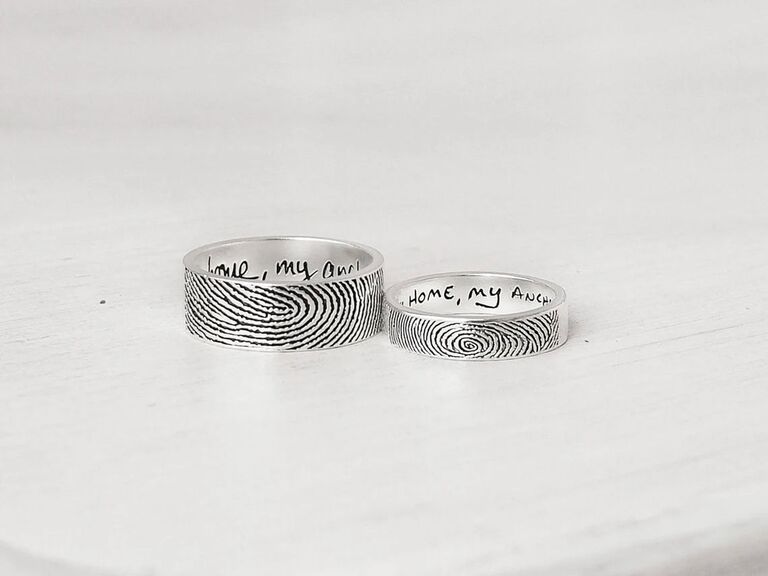 Etsy has lots of cool (and surprisingly affordable!) promise rings for couples. This unusual set is made with high-quality sterling silver that's stamped with each of your fingerprints and complete with a personal message. You can have the text engraved in your own handwriting by sending the Etsy seller a scan or photo of it. You will also need to send images of your fingerprints taken with ink, pencil or a similar method. The end result is a super-meaningful set of rings that'll let you always carry a part of each other wherever you go.
Blue Nile Petite Twist Diamond Eternity and Beveled Edge Matte Set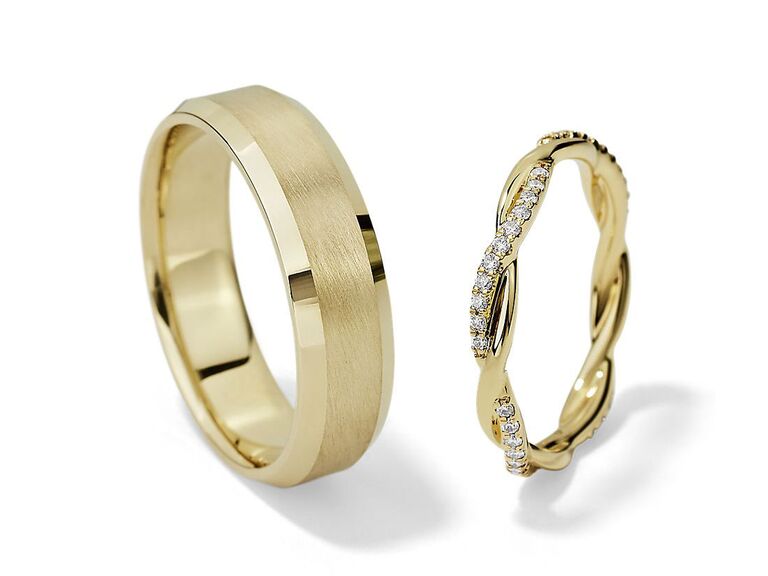 Looking for something a little more high-end? This promise ring set will see you both shine. The set includes a beveled-edge band in matte 14-karat yellow gold and a dainty diamond eternity ring with an intricately entwined 14-karat gold band. It's a sophisticated choice that's perfect for any couple who appreciates classic style.
Thorum Whiskey Barrel Promise Ring Set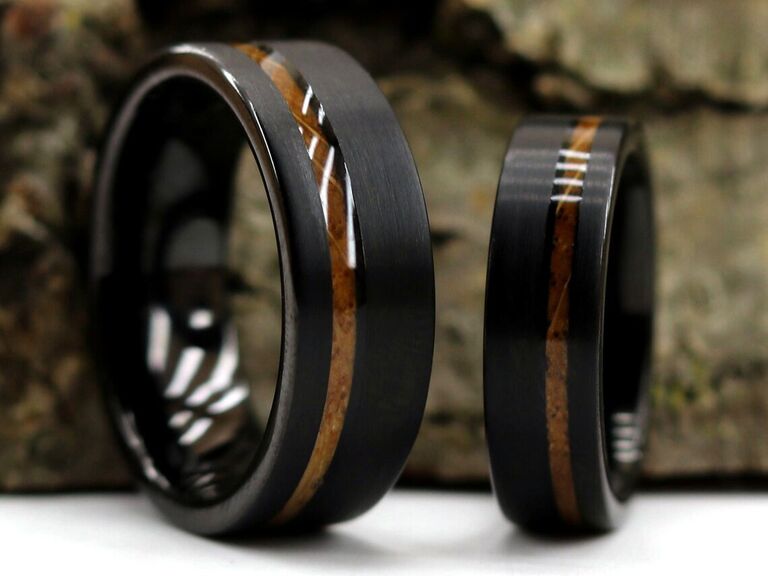 This couples promise ring set is made from tungsten metal and wood. They have a somewhat rustic finish that feels right on theme for lovebirds who love the outdoors. The most unique feature of these rings is the chic wooden strip around the middle. It's made from reclaimed whiskey-barrel oak, making each piece of jewelry truly one of a kind. It's an extra-nice touch if you and your other half enjoy whiskey.
Star Wars Fine Jewelry Celestial Love Rings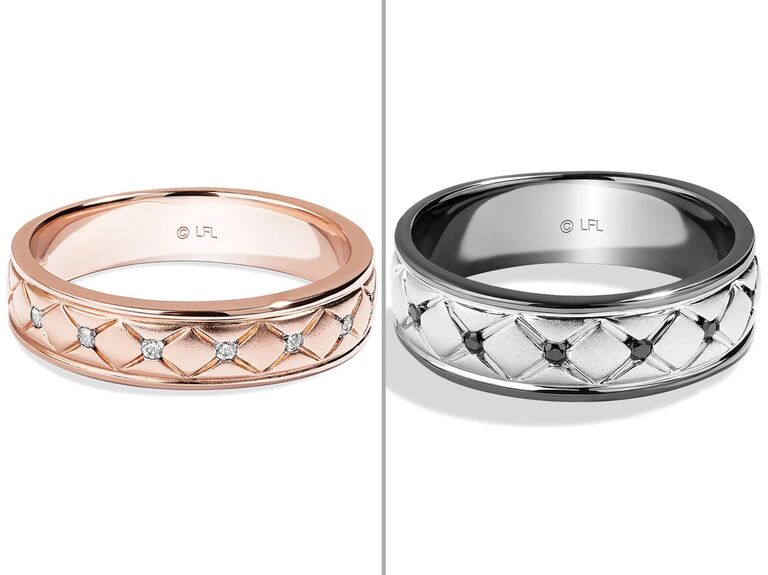 Are you and your other half big Star Wars fans? If your answer is heck yes, we've got the perfect promise rings for you. Inspired by the iconic "I love you," "I know" dialogue in The Empire Strikes Back, these stunning rings are a beautiful tribute to your relationship. The "I love you" band is made with 14-karat rose gold and white diamonds, while the coordinating "I know" ring is made with 10-karat white gold and black diamonds.
Vrai The Baguette Infinity Band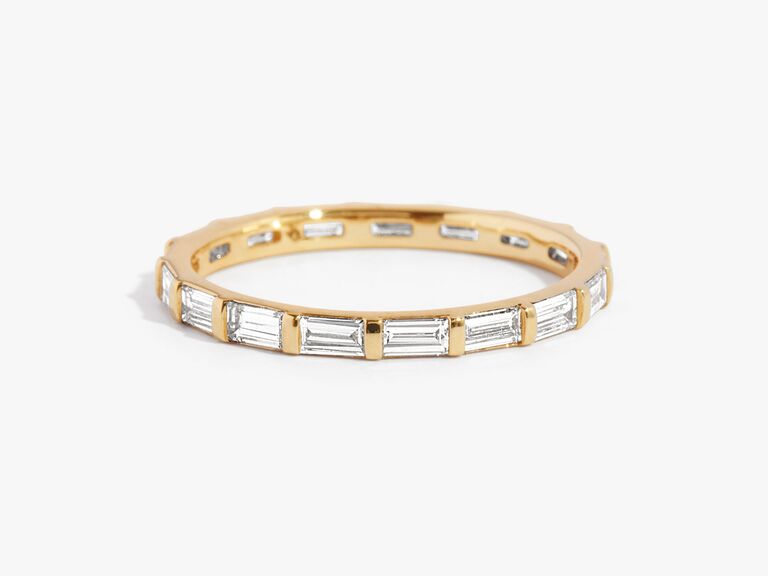 Want your bling to be a perfect match (just like the two of you)? Make your own couples promise ring set by picking up two of the same ring. This unisex infinity band will look equally stunning on both your hands. It comes in sizes 4.5 to 10 and is available in white gold, yellow gold, rose gold or sturdier (but slightly more expensive) platinum. The baguette-cut diamonds bring a unique edge to the otherwise dainty piece of jewelry.
QALO Engravable Classic Silicone Rings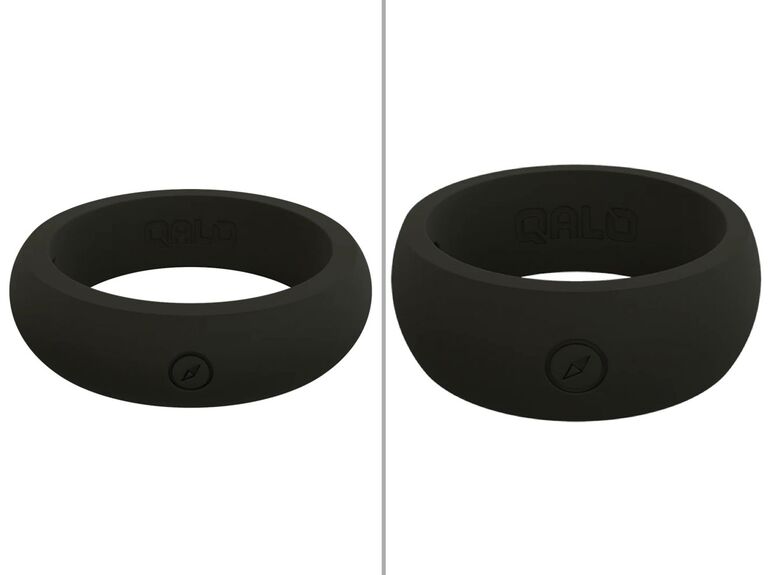 Silicone matching promise rings for couples are an unusual but practical choice. Both the men's and women's rings come in black or gray, making it easy for all kinds of couples to mix and match. Silicone rings have risen in popularity over the last few years as a clever alternative to jewelry made from precious (but delicate) metals. They're a great option for active couples who enjoy a lot of outdoor pursuits or who work in professions where regular jewelry can get in the way. Often, couples will buy silicone bands in addition to regular fine jewelry rings to wear while working, traveling or exploring the outdoors.
Capucinne Fine Jewelry Dana Wedding Ring Set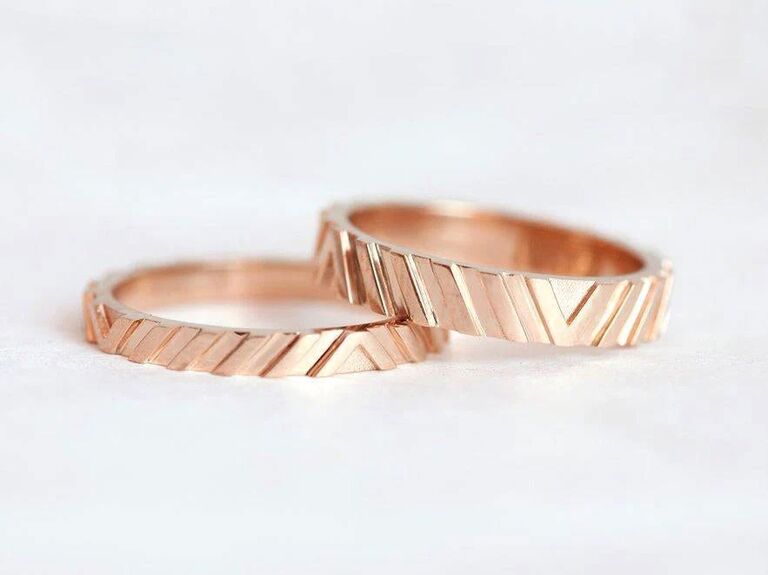 Not into over-the-top bling but don't want something boring either? We understood the assignment. These textured rose gold promise rings are great for couples who appreciate subtlety. Both bands are made with 18-karat solid gold, with one coming in at 2.6 millimeters wide and the other at 4 millimeters wide.
Manly Bands The Superman and The Wonderwoman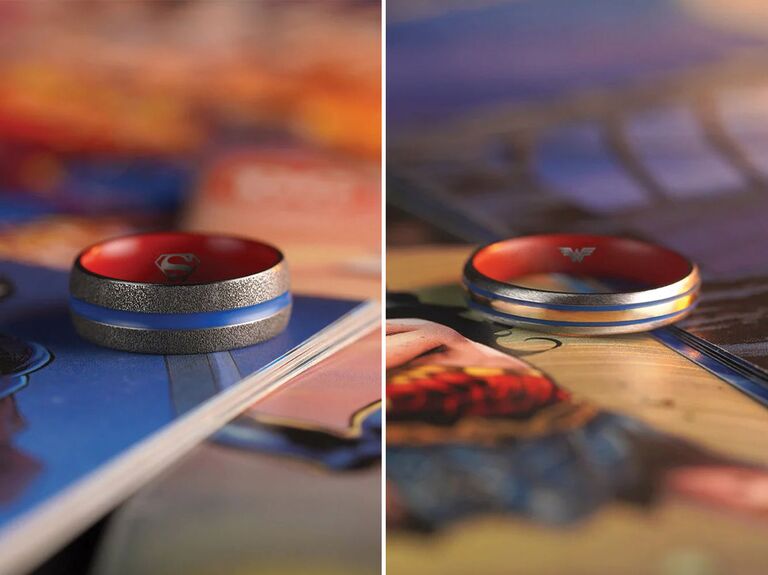 We bet you didn't know that there are matching men's and women's rings inspired by your favorite superheroes. These promise rings are a must if you and your S.O. are both die-hard DC stans. The Superman band is made from cobalt chrome complete with a ceramic inlay and sleeve in the superhero's signature shades of blue and red. The Wonder Woman band has a similar design, but complete with a 14-karat yellow gold inlay. Both rings feature their respective superhero logos on the inside of the band.
Yhtanaff Mountain Matching Rings for Couples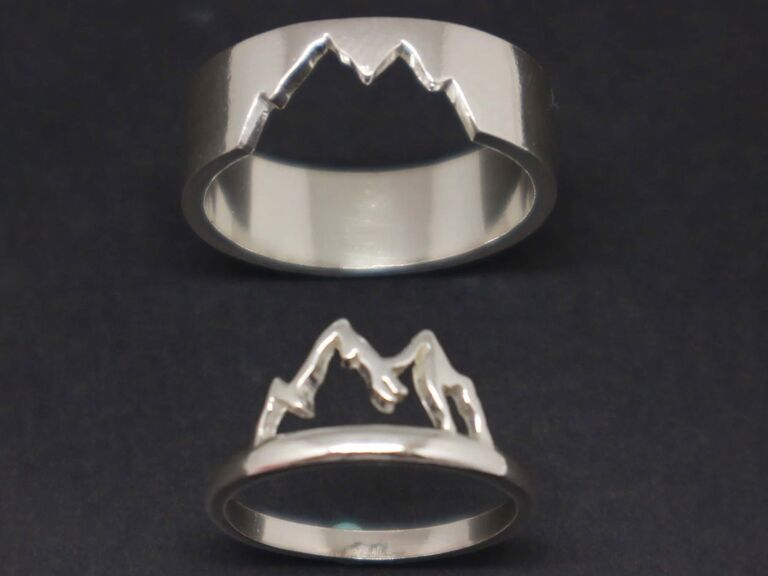 How about these cute matching rings for couples as promise rings? In many ways, being in a relationship is like climbing a neverending mountain. You're always lifting each other higher and higher, but you'll never reach your peak—things just keep getting better. The 925 sterling silver rings cleverly fit together when not on your fingers. It's a sweet reminder that you belong together (even when you're apart).
Kay Jewelers Diamond Heart Promise Ring and Diamond Infinity Ring
Your promise rings don't have to match exactly. If you have slightly different preferences, choose jewelry that's not an exact match but still works really well together. Exhibit A: These diamond and gold rings. Both pieces have diamond and rose gold details, but one has a white gold band and two side-by-side hearts while the other has a rose gold band that twists into an infinity symbol. They're both equally romantic and complement each other beautifully.
Land of Fantasy Sun and Moon Matching Promise Rings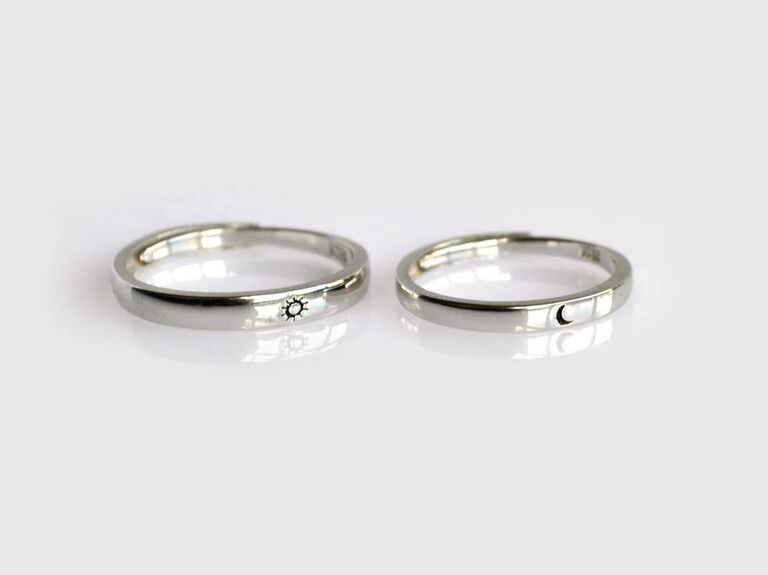 Your love was written in the stars, making these celestial rings a fitting tribute. Each 925 sterling silver band is engraved with a simple but sweet image of a sun or crescent moon. What better way to show your S.O. that they light up your world?
Disney Enchanted Fine Jewelry Aurora's Tiara and Prince Rings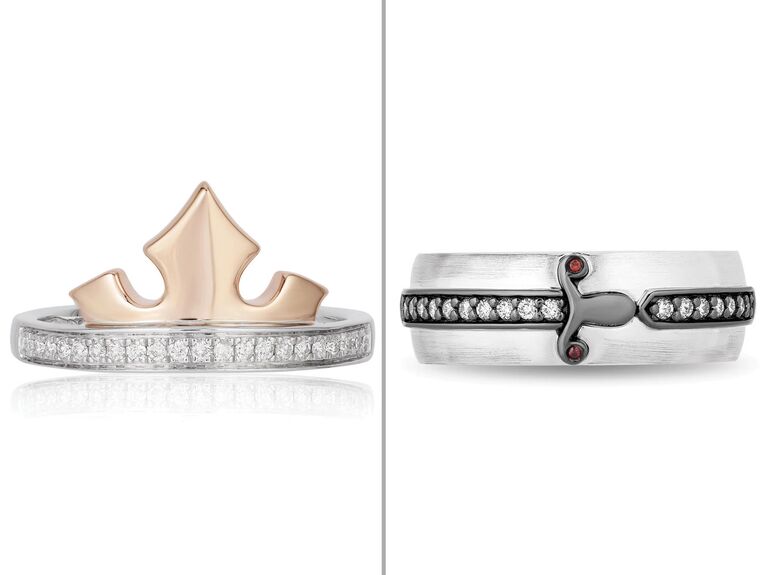 Feel like your love story could rival that of a royal Disney duo? Embrace the fairytale vibe with this gorgeous ring set inspired by Princess Aurora's tiara and Prince Phillip's sword. The Sleeping Beauty-inspired rings each have their own unique accents. The Aurora Tiara ring has a rose gold crown detail and the Aurora's Prince ring boasts two dazzling garnets.
Mejuri Cursive Letter Ring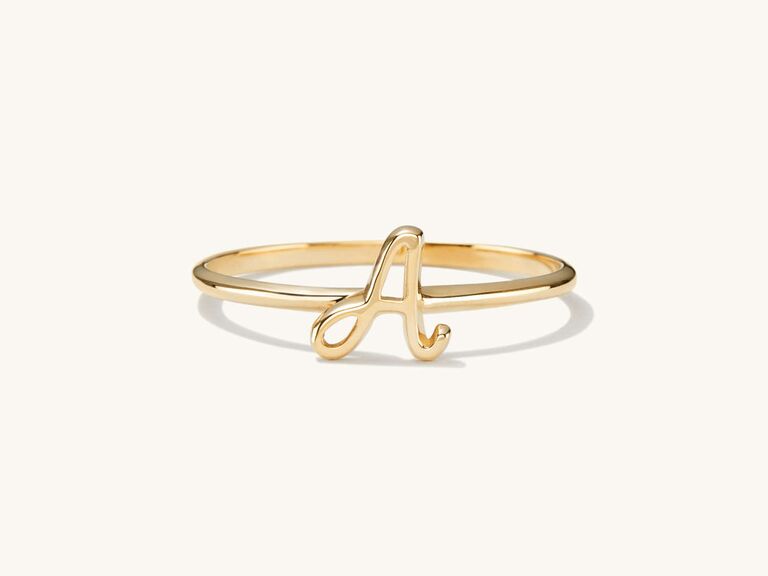 Here's another cute ring you buy two of to twin with your other half. Have a 14-karat gold ring personalized with your first initial for your partner, and get one with their initial for you. The ring comes in sizes 4 to 10 and features dainty cursive writing.
Simone Shop Art Personalized Couple Rings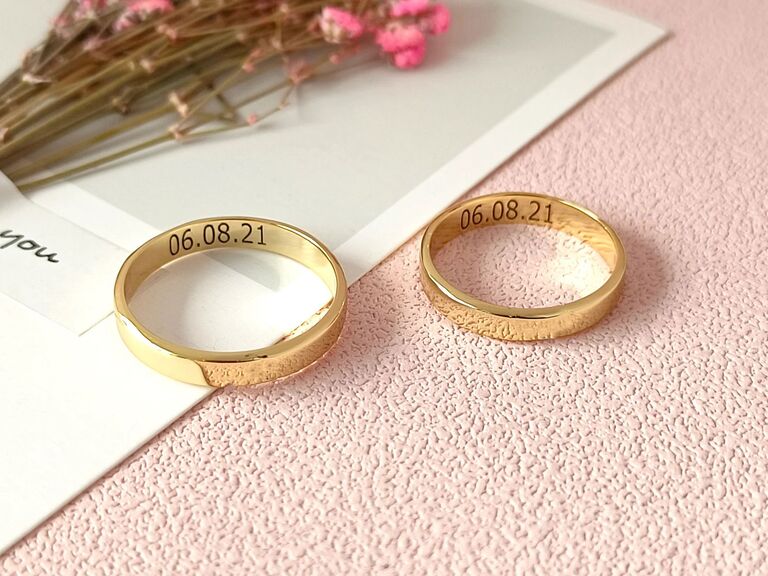 Only you and your S.O. know the intimate details of what makes your relationship so special. These rings are a sweet reflection of that, with space for a meaningful date, custom coordinates or romantic phrase hidden on the inside of the band. On the outside, they have an understated silver, gold or rose gold finish.
Auvere Polished Double Barrel Ring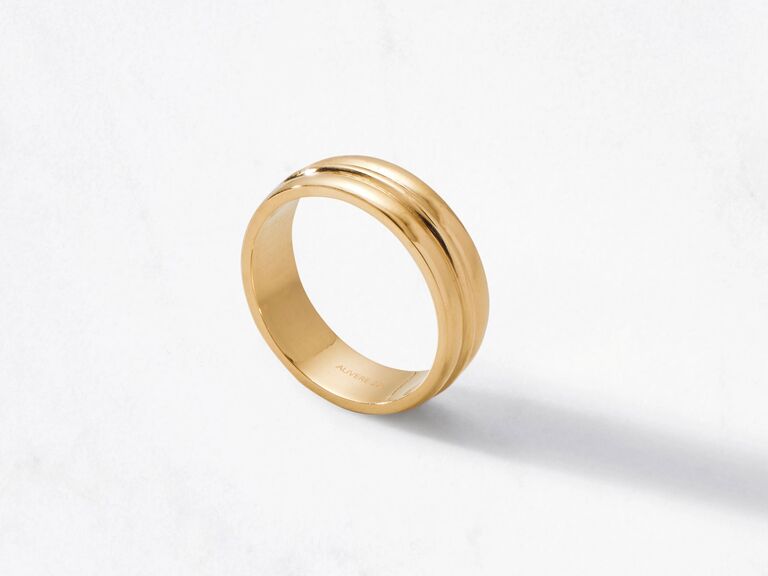 Here's another unique unisex band you can make your own matching promise ring set from. This eye-catching double-barrel ring is made from shiny 22-karat yellow gold and comes in sizes 5 to 12. The site describes the double-barrel design as "a duo of circles set in perpetual motion." It'll make for stylish matching promise rings for men or women.
Moonkist Designs Hammered Matching Promise Rings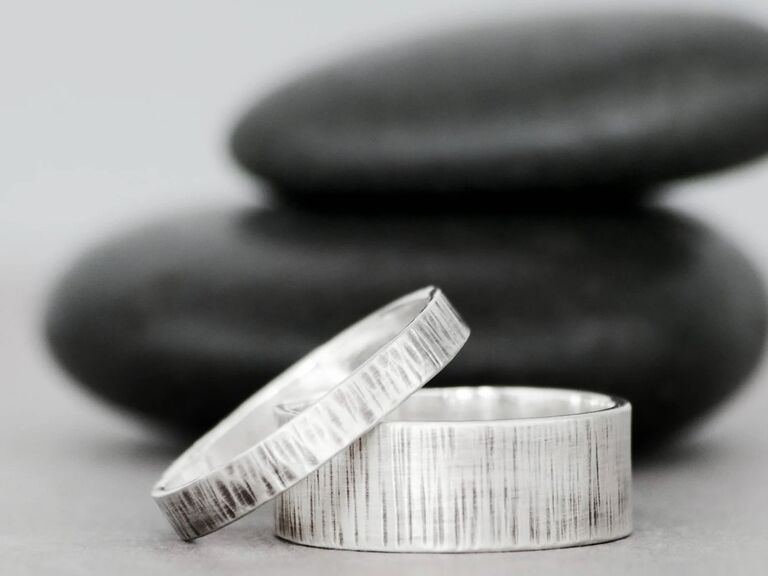 Hammered rings have a cool, textured finish that looks like it was created by a hammer—how's that for a testament to the strength of your love? The set includes a wide band (8 millimeters) and a narrow band (3 millimeters) made from sterling silver. Bonus: You can have your promise rings engraved with a special message, your initials or the date you met.
Kay Jewelers 14-Karat Yellow Gold Claddagh Ring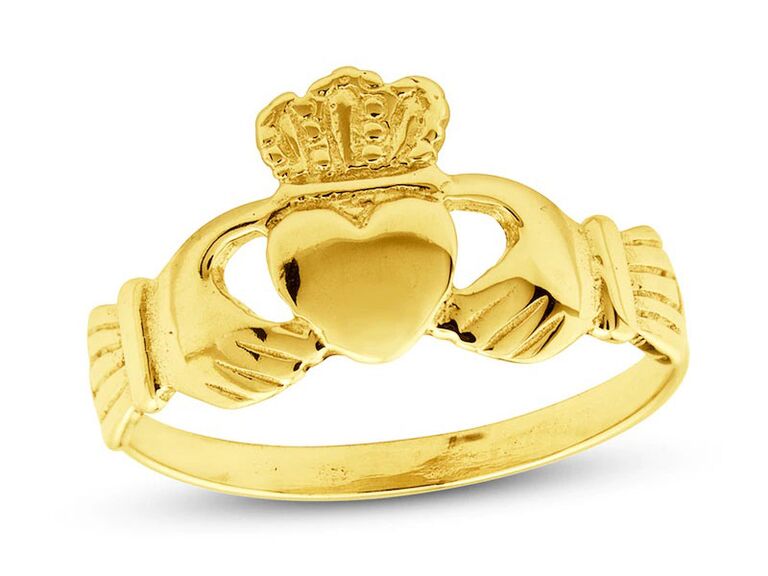 Claddagh rings are traditionally given in friendship and love—something you and your S.O. both have in abundance. This Celtic-inspired style is a unique promise ring for couples who appreciate symbolism and like their accessories to stand out. The ring is available in sizes 5 to 9. Get one each for you and your partner so you can match.
Gardenia Jewel Titanium Kissing Mickey and Minnie Couple Rings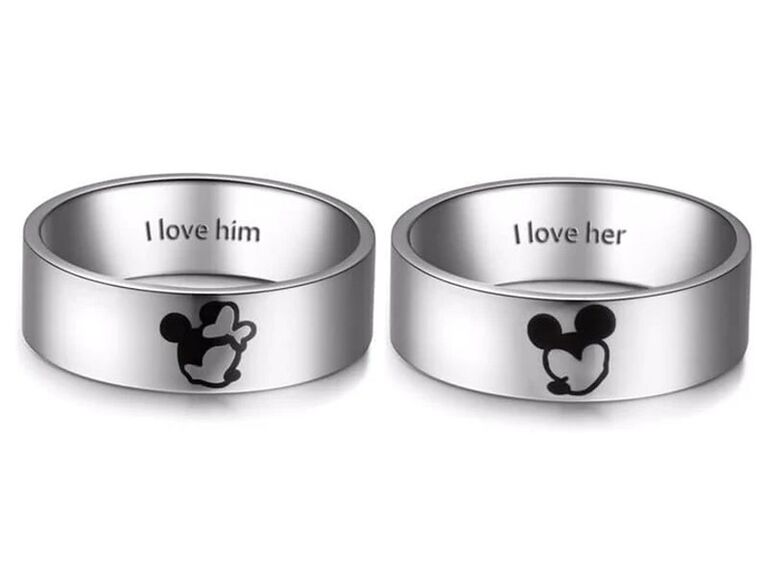 Disney lovers, we've got another adorable promise ring set for you. These titanium matching couple rings are super cute (and super affordable). One band has a silhouette of Minnie Mouse and is engraved with the words "I love him," and the other has a silhouette of Mickey Mouse and has the words "I love her." (Awwh!)
Blue Nile Riviera Sapphire Diamond Eternity and Blue and Black Engraved Set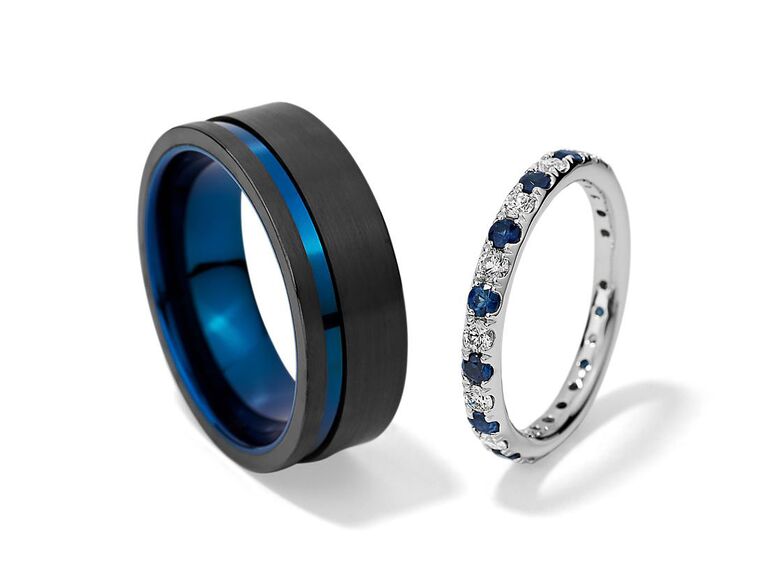 Blue Nile's coordinating promise ring sets are incredibly eye-catching, and this platinum and tungsten set is no different. The platinum band is studded with sapphires, which ties in perfectly with the tungsten ring's bright blue inlay.
Capucinne Fine Jewelry Bora Coordinate Ring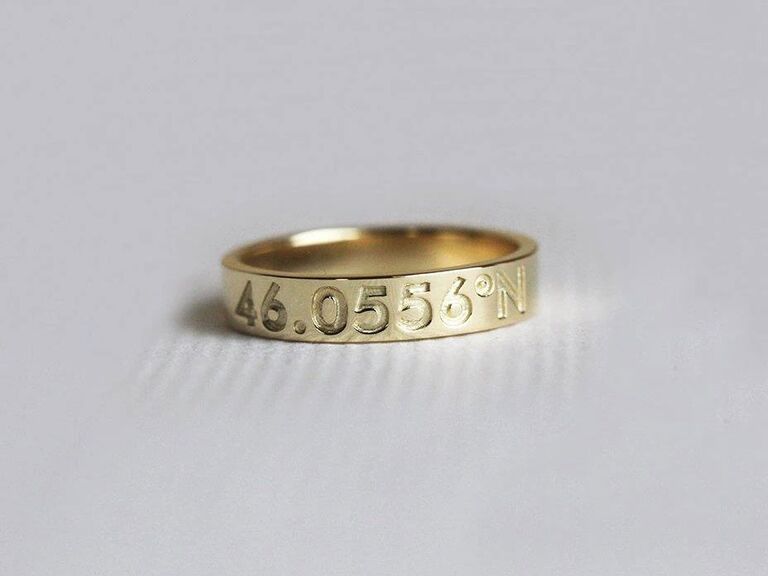 This personalized promise ring is boldly engraved with your custom coordinates. Choose from 14- or 18-karat yellow, white or rose gold or sterling silver. The band is available in a wide range of sizes (2 to 13), including half and quarter sizes, so finding the right fit for you and your beloved should be easy peasy.