The Complete Guide to Chilean Wedding Traditions
Learn what makes Chilean weddings so rich and unique.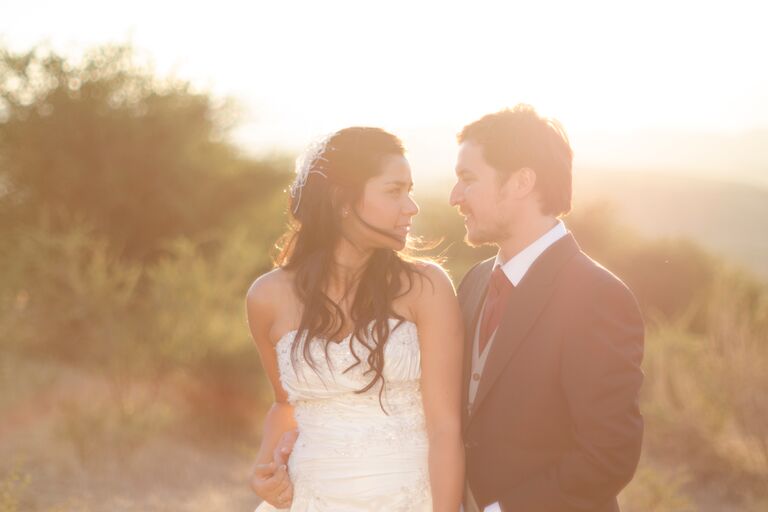 Juanpablo San Martin/Getty Images
Chile is a beautiful country with diverse terrain: dramatic mountain peaks, sparkling lakes and stunning coastlines. A land of contrasts, it is home to deserts and tundra, mountains and islands. This diversity in landscape also leads to diversity in culture, which makes for interesting customs.
Chilean culture is influenced by a blend of indigenous culture, huaso folk culture, plus Spanish and Catholic colonial influences. All of these elements come into play in Chilean weddings, which are warm and festive occasions full of fun celebration.
"Chilean weddings tend to be traditional and often follow a similar format: church ceremony, followed by a reception with a cocktail hour, dinner and dance floor that goes all night," says Cintia Coehlo. "The presence of close family, friends and sometimes coworkers is very important."
We spoke with Cintia Coelho, owner of Destination Wedding Chile, a wedding planning service specializing in destination weddings in Chile since 2014, to learn more about Chilean wedding traditions.
A Brief History of Chilean Wedding Traditions
Like many South American nations, Chile's culture is inextricably linked with a period of Spanish colonization that started in the 16th century, with many customs holding strong today. With this Spanish influence came a strong tradition of Catholicism, which continues to be prevalent in modern Chilean weddings, many of which take place in a church.
But Chile's culture still draws on uniquely indigenous influences, like the huaso culture of central Chile, a folkloric culture similar to American cowboys. With so much geographical difference, the northern and southern parts of the country have distinct traditions of their own, along with other regions like the Araucanía region and Easter Island.
After enduring a harsh dictatorship from 1973 until 1990, Chile has experienced a period of economic and cultural prosperity and currently enjoys a current status as one of the most developed nations in South America. As such, many of Chile's current wedding traditions are heavily influenced by Western culture. Chile legalized same-sex marriage in 2022, so gay and lesbian couples are now officially recognized.
Chilean Pre-Wedding Traditions
Engagement Rings
It's common for many Chilean couples to exchange rings at the time of their engagement, where they are placed on the ring fingers of their right hands. After the wedding ceremony, many couples will switch the wedding rings to their left hands.
The City Hall Ceremony
Chilean couples will have a civil ceremony prior to the wedding where they are legally married at their equivalent of City Hall. According to Coelho, this ceremony typically takes place one to six weeks before the wedding.
Bachelor and Bachelorette Parties
Leading up to a Chilean wedding, there are fewer pre-wedding events than in the States. However, bachelor and bachelorette parties are considered very important. Brides and grooms will often have several different parties with different groups of friends.
Chilean Wedding Attire
Guest attire for a Chilean wedding is relatively formal; men will typically wear suits and women will wear dresses.
The Bride and Groom's Attire
These days, most Chilean brides opt for a white dress in a similar style to most Western wedding dresses. They will also often incorporate a veil, long train, flower bouquet and other accessories. Similarly, some grooms will choose a Western look like a tuxedo or suit. Others will wear huaso, traditional cowboy clothing made of colorful ponchos, cowboy boots and straw hats called chupallas.
Chilean Wedding Ceremonies
According to Coelho, Chilean weddings can take place in three settings: the aforementioned city hall ceremony, a religious ceremony in a church or a secular symbolic ceremony. In recent years, more couples have begun opting for destination weddings, both inside and outside the country. An interesting note is that regardless of which ceremony is chosen, Chileans almost never have wedding rehearsals and rehearsal dinners.
Church Ceremonies
Chile is a predominantly Christian country, with just over half of the population identifying as Catholic. Accordingly, many couples choose to get married in a church with a Catholic ceremony. The traditional Catholic ceremony is a full mass that includes readings, rituals and communion for all in attendance who are eligible. Guests will often stay standing for the entire service.
Los Padrinos (The Godparents)
Most Chilean and other Latinx weddings do not have a wedding party that includes bridesmaids and groomsmen. Instead, the wedding party consists of the padrinos—the couples' godparents, who are chosen by the couple and will serve as special mentors in their married life.
Venue Ceremonies
For Chilean couples who don't wish to marry in a religious ceremony, Chile's world-renowned scenery means there are plenty of beautiful venues to choose from. "The countryside has many beautiful options for a big day," says Coelho. "Anything from colonial-style estates with sprawling green gardens, to vineyards, where wine-loving couples can enjoy beautiful scenery and serve house-made wine to their guests."
Chilean Reception Traditions
Chilean wedding receptions tend to include lots of food, fanfare and dancing. "Guests expect a good party with a DJ, band or other attractions," says Coelho. "Good food and drinks are also expected." Large guest counts are typical, with 300–400 attendees being very common. And the party goes all night—don't expect to leave before 4 a.m. at a Chilean wedding in Chile. Chilean-American weddings often run quite late as well.
Dancing
Dancing is a highlight of Chilean weddings. Couples will often hire dance troops who wear traditional costumes and perform traditional dances, directing guests on the steps so they can follow along. In addition, there will also be plenty of time for free dancing.
Chilean Traditional Wedding Food, Drinks and Desserts
According to Coelho, a wedding dinner service typically consists of "gourmet food, starting with a cocktail, then hors d'oeuvres, main dishes and dessert paired with Chilean wines." Main dishes often include meats, including large servings of beef or chicken, as well as seafood like fish. These are often served with sides like pastelera (sweet corn paste) or gratin potatoes.
Chilean weddings include expansive dessert tables with cakes, pies, fruit and other treats. Wedding cake is not considered a must; it depends more on the couple's preference. Midnight snacks are common (and help guests sober up toward the end of the night).
Chilean Wedding Drinks
Most Chilean weddings include an open bar all night, says Coelho, which serve cocktails, wines and other drinks. A traditional drink of Chile is pisco, a distilled grape liquor. This liquor is often mixed with lemon juice, simple syrup and egg white in a pisco sour cocktail. Chileans will often drink pisco and pisco sours at special events like weddings. Because Chile is such a prominent producer of wine, most weddings will incorporate a lot of wine, like local Carménères and Cabernet Sauvignons.
Frequently Asked Questions About Chilean Wedding Traditions
How long does a Chilean wedding celebration last?
Chilean wedding celebrations include a civil ceremony and bachelor and bachelorette parties that take place in the weeks leading up to the wedding day. The actual wedding night itself will often last from the evening (6 p.m. or so) through the early hours of the morning, with the last guests leaving around 4 a.m. Put on your dancing shoes, since you'll be in for a long night of fun and dancing!
What are traditional Chilean wedding gifts?
Traditionally, wedding guests would gift material goods either through the mail prior to the wedding, personally delivered to the couple during the wedding, or left at the venue for the couple to retrieve after the wedding. These days, however, most Chilean couples ask for cash, which they add to their honeymoon fund.