The Very Best Wedding Planning Tips on Reddit
For example, hire two wedding photographers. See what was upvoted on the platform.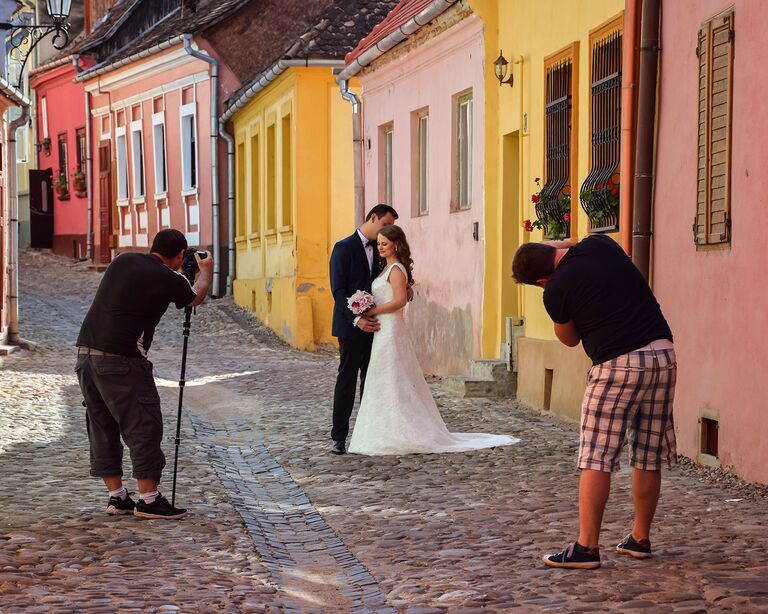 Juan Alberto Casado / Getty Images
Wedding planning questions are common across the internet, but those that go unanswered are often found on Reddit. Whether posing a challenge related to an in-law, sharing specific pandemic questions or dress shopping moments, along with unlikely groomsmen or bridesmaid scenarios, couples and wedding planners have long turned to Reddit for consensus. While there, many have also passed along their very best wedding planning advice and tips, as well as their greatest regrets to help their fellow community members.
Couples aren't the only ones to turn to Reddit for advice. Guests will also flock to the site to pose common questions, whether related to a plus-one dilemma or the ever-popular topic of adults-only weddings. What makes Reddit stand out is its upvoting tool, which gives power to its users to move "up" the chain. This then helps unearth the most highly-debated questions and unique, one-of-a-kind scenarios, making Reddit yet another social media resource while wedding planning.
In This Article:
Wedding Tips From Couples and Guests
A helpful thread to consider is the r/weddingplanning forum, which consists of hundreds of thousands of users and expert advice even around beauty and photography. Read on for our favorite tips and tricks shared by professionals.
Consider this important factor when selecting a color palette.
"In general, dressing people in neons or super bold colors can be a problem," wrote one wedding photographer. "If you want jewel tones, go deeper with the colors on people like a nice darker plum, navy blue, maroon, etc. Lighter pastels generally work well too! Sun and light reflects off of colors and bounces that color back on your skin, or other people. If I were to wear a bright green shirt while shooting, all of my clients would have a green cast to their skin! It's part of the reason so many of us wear black/gray/white while we're working. So any bold color in parts of your decor can have that effect if you're not careful!"
Hire a second photographer (also known as a second shooter).
A professional photographer explained how having another person to capture moments will help layer in additional, unique perspectives throughout the wedding day. While some couples choose to rely on social media for alternate perspectives, having a photographer capture beautiful, high-resolution imagery can be the best addition to your long-term wedding album. Talk to your photography team about the option.
Consider how your photographer edits imagery.
Is your chosen photographer's style moody or bright? That might dictate how you move forward with your color palette too. "Many folks do muted greens/sometimes muted other colors these days," explained the same photographer. "So dressing everyone in green won't wind up with it looking good at all."
Go first with hair and makeup on your wedding day.
A bride loved her hair and makeup trial, and she asked her fellow redditors' advice for how to make it last throughout the day. One wedding photographer chimed in with some helpful advice, including going first on your wedding day (as opposed to last) so you can do a first look and touch-ups throughout the morning.
Get started sooner with dental treatments.
A dental hygienist kindly revealed her professional tips for securing that perfect pout on the wedding day. "I was chatting with a bunch of my patients about getting ready for their upcoming weddings and how their smiles can be brilliant for the photos," she wrote. "I had a few heartbreaking conversations about the realities of getting your smile in shape (mostly timing) as a few patients have weddings in the next few weeks… There wasn't enough time to get their goals to a place they wanted. Thought I'd share some tips on how to effectively and safely get your teeth ready for the photos."
Between whitening and straightening those pearly whites, the hygienist gave some rather insightful background. "If your goal is whitening, you might start to see a whiter smile after setting up your foundation because as enamel strengthens from proper care, it actually become whiter," she shared. "That leads me to this. Whatever you do, DON'T USE WHITENING TOOTHPASTE. It's actually incredible abrasive because it's trying to scrub off stains. What it ends up doing is scrubbing down your enamel and actually weakens your enamel which leads to discoloration."
Wedding Tips From Vendors
Another common thread on Reddit for wedding planning advice is the r/wedding forum, which has over 100,000 users. There are actual threads where couples who threw a wedding will gratuitously share their biggest lessons from planning (Wedding tips I learned from my vendors!); as well as engaged couples seeking counsel (Any advice for someone who has zero experience planning a wedding?). Read on for highlighted tricks on Reddit.
Request your officiant jump out of the frame before your first kiss. That way, your photographer can capture just you in this special moment.
Share two kisses after you're pronounced newlyweds. "You can make sure you get a good picture!" wrote a user. "We also did another dip kiss about [three-quarters] of the way down the aisle so we had everyone's reaction in it.
Test your guestbook pens ahead of time to ensure they work.
Enjoy the various catering options at your own wedding. "Ask your caterer to set aside appetizers from cocktail hour for you and your SO to eat with your meal," wrote a Redditor.
With the influx of communication across inboxes, one creative way to separate wedding planning from work and life is to build boundaries. "Create a designated email address just for wedding stuff," suggested another user.
Stay super organized if you're using spreadsheets. "Number the back of your invitation RSVP cards," suggested another Redditor. That way, you can easily match RSVP cards to your guest list tracker.
Wedding Dilemmas Resolved on Reddit
While the majority of users on Reddit aren't exactly family or relationship counselors, the level of support that comes from complete strangers (coupled with the near anonymity of the internet) is a refreshing opportunity for couples to air specific grievances. Here are a few dilemmas, with resolutions from the community, to help Redditors navigate the big day.
A Family Dilemma
One to-be-wed took to the forums to reveal a family dilemma with her own wedding date. "I really just need a place to rant. My sister is pregnant and she's due 2 months after my wedding date," wrote the bride-to-be. "People are traveling to our wedding (3 hour plane ride) and my dad suggested that I postpone my wedding since she's pregnant. He also reminded me that this 'isn't about me - it's about her.' I've received an outpouring of support from my inner circle but I honestly am so shocked and perplexed and don't know how I'm supposed to feel. The stress my family is causing me is really bringing me down and makes me question why we're even doing this at all. Anyone else experience some crazy family demands/situations? How did you deal with it?"
One user took the father of the bride's words and offered up an alternative solution. "Yes, your sister's pregnancy is about her," replied the observer. "Just like your wedding is about you, not her. Tell your dad to kick rocks and don't postpone the wedding." That response was the most upvoted too.
Guest Cancellation Woes
Another popular thread on Reddit addressed a big wedding etiquette faux-pas: not showing up to a wedding as a guest who already said they were attending or canceling at the last minute. "What would you forgive and what wouldn't you?" asked one bride-to-be. "We're four days until our wedding and we have had a few guests pull out last minute."
One particular response from a stranger (a family member of another couple) was upvoted more than 700 times. "When my niece got married, there were several no-shows with no excuses made," the user replied. "My brother and SIL [sister-in-law] ended up with about 12 prime rib dinners leftover that they had to pay for. So my SIL had the venue wrap all the meals up on cardboard plates, we took them all back to the house, and ate them late that night as 'snacks.' And, even reheated, it was still the best prime rib I've ever had! Just a suggestion for future brides facing the same nonsense. Don't lose your money, and don't waste all that food!" (A note from the editors: some caterers have rules where couples are unable to take home meals due to venue compliance and safety codes. Have this conversation in advance with your vendor team too.)
Wedding Regrets
Under this particular thread, a bride-to-be recalled an unfortunate weather-related scenario on her wedding day. The Pacific Northwest couple thought the temperatures in June, when their wedding was held, would be moderate ("high 70s to low 80s," she wrote). Instead, they ended up experiencing a heatwave that caused rising temps of an astounding 116 degrees Fahrenheit.
"I got married this past June and I really wish we hadn't have had the wedding that we did," she wrote. "There was no ability to move it indoors anywhere and people were miserable. We were unable to find a place that'd rent us a tent, so we did everything we could to give people cool down options - popsicles, neck towels, umbrellas, two misting stations, TONS of ice water - but it didn't really help… Overall it was just a HUGE bummer. We spent so much time, effort and money and I thought it would be my dream wedding. I know there's nothing I can do now but I just feel really sad about it. I wish we'd saved the money for something else." In response, some users consoled her by saying she tried her best while others warned future couples to be aware of possible climate effects.
Such an honest confession, however, prompted a moment of vulnerability among other Redditors. "I regret spending SO MUCH TIME doing pictures," replied another user. "We did the wedding party first offsite, then family on-site. A number of family members didn't show up in time (including father of groom) so we had to re-gather people after the ceremony to get the rest."
"I regret having a big wedding," added another Redditor. "There were so many people there that both sets of parents just insisted on, I wish I had put my foot down on the guest list. Also, we had a traditional reception venue, but in retrospect somewhere less traditional would have been way more fun. And probably cheaper too."
Tips From a Top Planner's Reddit "Ask Me Anything"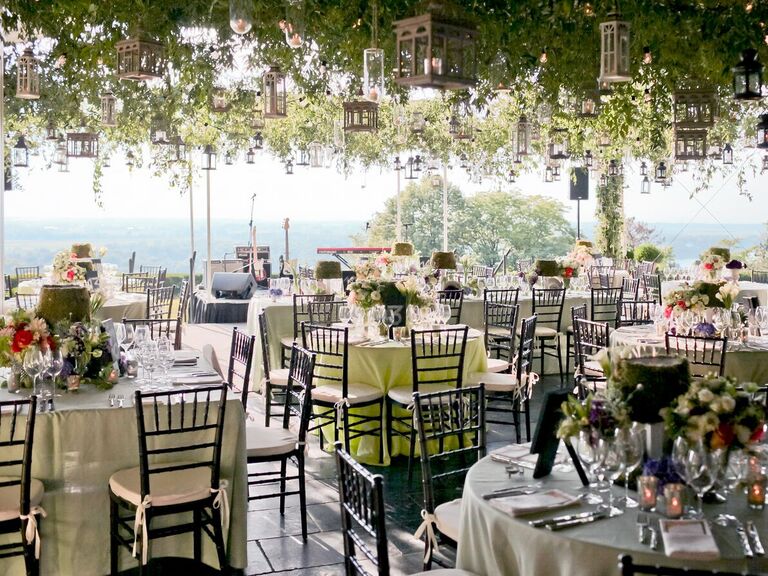 Global wedding planner Marcy Blum previously participated in a 2015 "Ask Me Anything" (AMA) session, an open Q&A forum where a Reddit user can offer to answer other users' questions about everything and anything. This conversation focused on Blum's vast experience as a wedding and event planner (her most recent feat, planning Jennifer Gates' wedding in fall 2021). A rare chance to hear from one of the most sought-after tastemakers, Blum provided her insightful thoughts about everything from wedding favors to wedding reception ideas (including her take on styles of wedding cakes) much of which still remains relevant as couples plan through 2023. Read below for highlights of her Reddit AMA; and everything else.
Q: What's the craziest thing you've ever seen happen at a wedding or party?
A: A long time ago, a very drunken groom punched me when I told him it was time to cut the cake.
Q: What do you think is the most important element of a wedding?
A: Food, music, fun [and] great guests.
Q: What is the most expensive wedding you've ever planned?
A: Let's just say several million dollars—and worth every penny, of course.
Q: Are the celebrities, or well-known people, extra picky about details because they're spending so much? Do you think couples on a budget can still have a great affair?
A: People on a lower budget (by the way EVERYONE has a budget of some sort) can absolutely have a wonderful wedding—the smart way to go about it is to have a smaller guest list if at possible and focus on the facets that will resonate with your guests—cut out all the nonsense items.
Q: What is the one thing a party needs that people usually forget?
A: So many things: inspired seating, enough bartenders, tons of coat check attendants, happy hosts. What is "inspired" seating? It means that the host sits with each person's name and each table and decides what would make the most interesting group of people. Who would want to meet whom? Where should the various groups be placed in the larger room itself? It's alchemy as opposed to algorithm.
Q: What's the toughest wedding people to deal with? Caterers, florists, valets, musicians?
A: Nobody, when I get a hold of them. :) Basically anyone who hasn't received enough information, so we try our very best to make sure the entire team is on the same page.
Q: How do I tell friends and family that we're having a smaller wedding and guest list, and they aren't invited to our wedding?
A: You have to be very careful where you draw the line so that people aren't upset, but if it's clear, people are usually understanding. What I mean is, you shouldn't invite two first cousins and not the third if you don't want to make someone angry or hurt
Q: If you could recommend one item with a value exceeding its cost, what would it be? Wine? Music? Food?
A: Music! Hands down a great band or DJ can make an otherwise lackluster party be a rave!
Q: What are your thoughts on plated versus a buffet?
A: I like buffet stations because they give the guests the most interesting and varied food options. I don't like standard buffets because there are inevitably lines. Don't choose a buffet because you think it's cheaper, that's not necessarily the case.
Q: How do you feel on the cupcakes versus cake versus multiple small wedding cakes trend?
A: For my clients cupcakes have sort of jumped the shark as a wedding cake, but I'm a sucker for a big dessert buffet and guests always go gaga over one.
Q: What are you looking forward to in event planning in the next three years? What exciting changes are happening in the business that are inspiring you?
A: Clearly there are tech innovations happening that will enable us to do some outrageous things at less outrageous costs—innovations in lighting and video technology, for example. Also, I'm truly excited that people have started caring about the food they serve, as well as allowing us to create more and more entertaining and unusual scenarios.
Q: What are your thoughts on favors at weddings? And what is the best tip you can offer to brides currently in the midst of the planning process?
A: I like either really clever favors, e.g. a celebrity couple gave car air fresheners with their photo and signature, or favors you can eat, either when you leave the party and are a bit tipsy or for breakfast the next morning. One of my most well-received favors was a bloody mary mix paired with coffee cake for the morning. My best tip is—and I know it's become such a cliche, but I mean it—stay nice and be kind and don't think you get what you want by being nasty to your vendors, your family or your friends. People remember long after the wedding. There is no pass because you're a bride.