How to Plan a Fun Weed Wedding, According to Cannabis Experts
Your love won't be the only thing lighting up the room.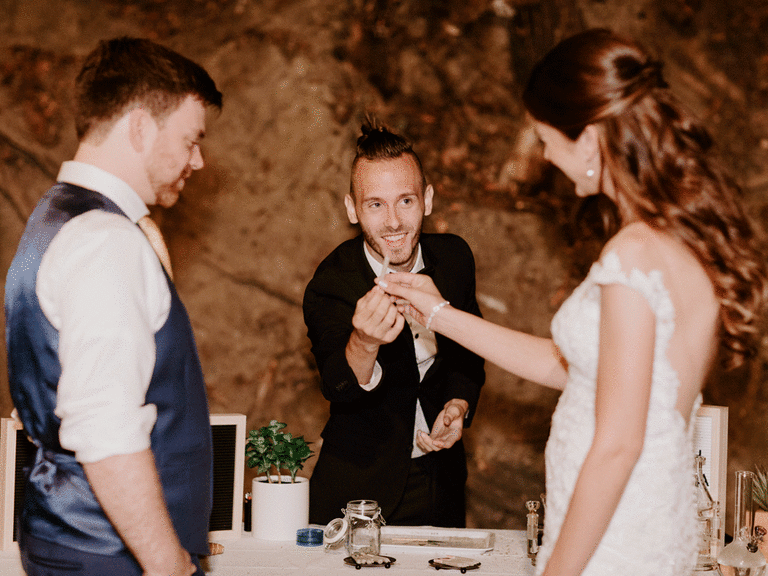 Photo Courtesy of Andrew Mieure | Eichar Photography
Your wedding day is all about what you want, whether it's specific colors, certain themes or even the involvement of cannabis. With the legalization of recreational marijuana in numerous states, throwing a weed wedding comes with a plethora of options. You may need 4/20 wedding ideas for your weed-themed wedding or want to subtly add cannabis to your day. Either way, we've found professional vendors in the cannabis wedding industry who revealed how to (legally) plan a cannabis wedding and the best ways to incorporate the plant into your special day. From food to party favors, see our guide on how to throw a weed wedding.
In this article:
What to Do to Prepare for a Weed Wedding
As you start planning your weed wedding, you'll need to take care of some important logistics so everything goes according to plan. Here's what you need to mark off your wedding planning checklist.
Make sure cannabis is legal in your state.
Before you do any planning, make sure you confirm that your cannabis wedding is in a location where the recreational use of marijuana is legal. Los Angeles, California, Denver, Colorado, Las Vegas, Nevada, and New York City are some of the first recreational marijuana destinations that come to mind, but you should check with your wedding planner and research the legal regulations before you get too deep into planning your wedding since state and local laws vary. Andrew Mieure, owner of Top Shelf Budtending, goes in-depth on other marijuana legal issues. "First of all, you need to ensure that your state is legal specifically for adult-use cannabis, which is 21+ sales and transfers between adults. If not, you can't serve cannabis at an event, private or not. The one exception would be the Farm Bill-compliant hemp products, such as CBD, CBG, Delta-8, etc."
In some states, only medicinal marijuana is allowed, but that doesn't mean you can use this as a loophole to serve cannabis at your wedding. "I've also seen a recent trend where couples provide or attempt to provide cannabis to guests under medical cannabis laws. This is illegal, even if all the guests were medical patients under a medical cannabis program. Adult-to-adult medical cannabis transfers are almost always illegal because single individuals are given a recommendation by a doctor for their specific medicine, which doesn't allow transfer of product," Mieure explains. So if incorporating weed into your wedding day is important to you, go the extra mile to ensure a weed wedding is allowed before putting down a deposit for your wedding venue.
Inform your guests about your weed-themed wedding.
You should definitely let your guests know your wedding is THC-friendly or that it will involve various cannabis-related themes before the big day. By doing so, you're ensuring wedding guests understand the tone of your wedding and give them enough time to decide if they're comfortable with it. "I always recommend putting a disclaimer and consumption questionnaire on every RSVP. So guests know that cannabis will be at the event and allow the couple to gain a better insight into how much [cannabis] product they may need," Mieure says. Chelsi Katz, one of the owners of Irie Weddings and Events, offers another way to inform your guests. "The easiest and most direct way to inform your guests is through your wedding website. Let them know cannabis is being served at the wedding for 21+ guests."
Letting your guests know your intentions for your marijuana wedding is especially important because you don't want anyone caught off guard. "Recently, a caterer and couple were arrested in Florida for adding cannabis to the food at their wedding. The guests were freaking out and calling emergency services because they didn't know they were being fed cannabis edibles. Not only is this extremely immoral, but it's also illegal. They are now facing felony charges. Don't be them––it's not worth it," Mieure warns.
Determine how much cannabis you need.
If you're considering having a wedding weed bar, you'll need to supply the weed yourself Mieure explains. "At this moment, there are no licenses that allow cannabis sales at a private event, so for us to remain compliant, we have to shop with or advise the couple on what products to buy for their wedding. After they complete the legal transaction, they provide us with a legal amount of product to hand out to their guests, based on a 21 [years old] to 21 [years old] or adult-to-adult transfer. We cannot exchange money for a product in any capacity." For the exact amount of cannabis you should get, Mieure's rule of thumb is one ounce of flower per 50 to 75 guests or 10 milligrams of edible product per guest.
When it comes to weed-infused food, the supply rules are different. "If the couple is working with a full-service cannabis caterer, they don't have to supply the cannabis for the event. I make sure we don't go over 20 milligrams. Everyone's endocannabinoid system is different. You don't want anyone to overdose and end up in a fetal position," Chef Jazz, author of More Than a Cannabis Cookbook and founder of Green Panther Chef, says.
Hire weed wedding vendors that are licensed and insured.
Just like you would for your other wedding vendors, ensure that your weed wedding vendors, like your caterer and budtender, are licensed and insured. You want everything to go as smoothly as possible, so don't ask a friend or family member who "knows a lot about weed" to do a professional's job. Take the time to research which cannabis vendors will provide the best experience for you and your guests in a safe manner.
Do a tasting with your wedding weed vendor.
One of the most fun parts of any wedding is doing the tasting for your food and drink menu. The process is the same for a weed-infused food and wedding weed bar. Schedule a tasting for your food at least five months before the wedding so you can discuss with your caterer what dishes you like and if you would like to decrease the dosage. Instead of infusing the food, you can pair your food with different strains of cannabis for the perfect combination, like you would for wedding wine. If you're having a wedding weed bar with infused cocktails, edibles or joints, you should schedule a tasting for those around the five-month mark as well.
How to Include Weed in Your Weeding
Even though you might not have heard of other couples planning a weed-themed wedding, it doesn't mean including weed is difficult. Check out these nine fun and creative weed wedding ideas.
Have weed wedding invitations.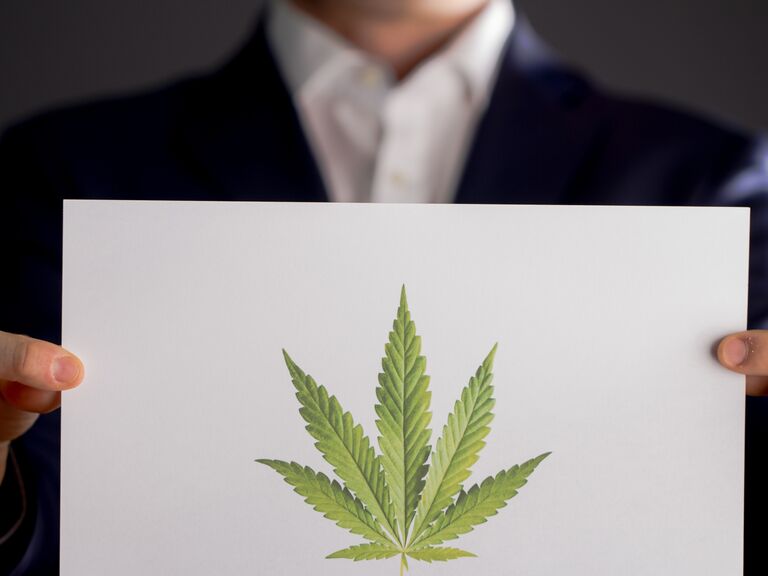 You can be direct with your wedding weed invitations by including illustrations of cannabis leaves or, as Chef Jazz suggests, including a CBD pre-roll, a pre-rolled joint, with your save-the-dates. CBD (or cannabidiol) is in medical marijuana but doesn't have THC (or tetrahydrocannabinol), which gets people "high." Many states have legalized CBD, but you must look up which states don't allow CBD before sending anything through the mail. You and the recipient don't want to get in trouble. If you want an option that's a little tamer, Katz proposes couples buy wedding invitations made of hemp, which is in the cannabis family but not illegal in many states.
Include marijuana in your wedding decor.
Add images of marijuana leaves throughout your reception venue, use green in your wedding color scheme or have lots of greenery in for your table centerpieces. Remember, you can be as on the nose or subtle as you would like for your wedding.
Get creative with your wedding attire.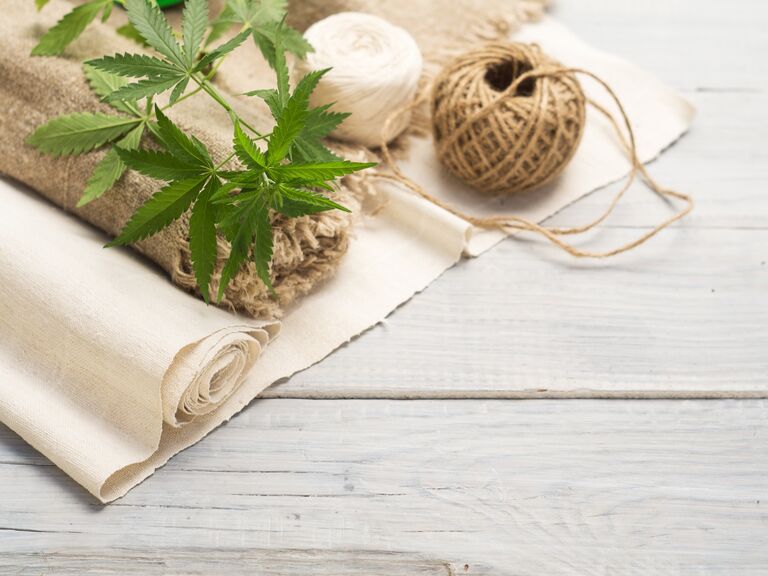 You, your partner or your wedding party can wear different shades of green as a nod to your weed-wedding theme. But if you want to go even further with the concept, Chef Jazz says she's seen some brides include hemp in their wedding dresses. Hemp fabric is breathable, sustainable, soft and has UV protective properties. If you're interested in using hemp in your wedding attire, look for stores selling wedding outfits with hemp already in them or ask if you can get a custom hemp wedding dress or suit.
Add cannabis to your wedding flowers.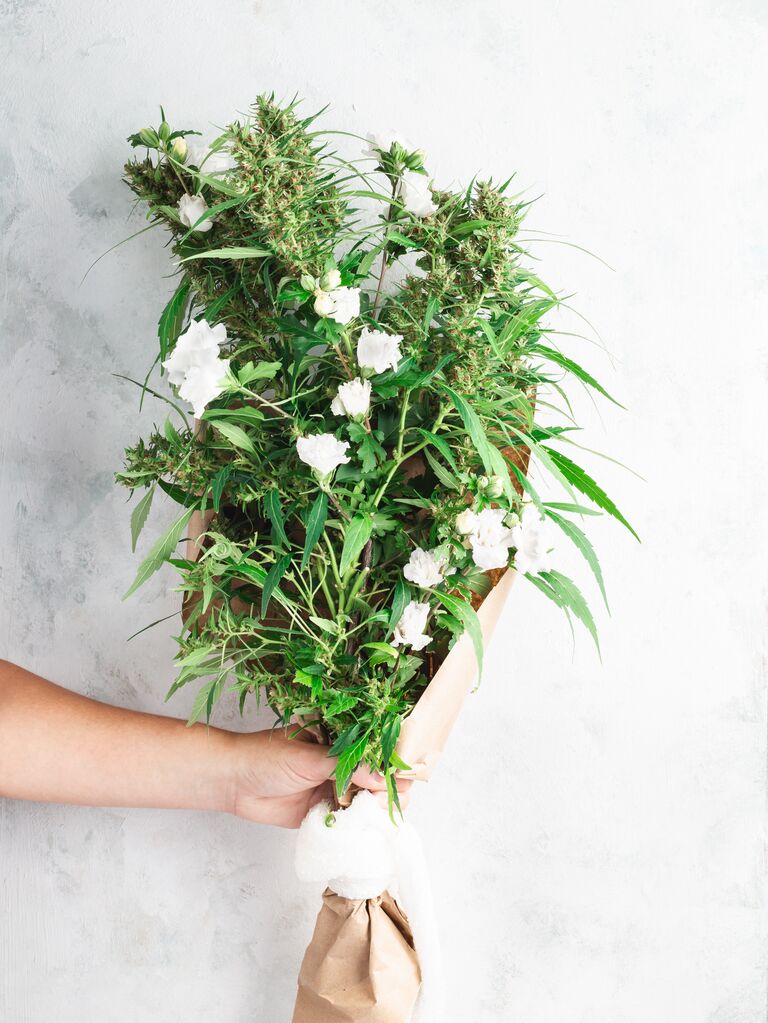 Incorporating weed into your wedding day doesn't mean you need to inhale or ingest it. If you love how the green plant looks, work it into your floral arrangements. Whether you want it as an accent to your other blooms or as the main focus, there are a million ways to work cannabis into your wedding day flowers. Putting cannabis buds in the wedding or bridal bouquet, aisle decor, wedding arch or greenery wall are just a few options to choose from.
Have fun with your food and cocktail menu.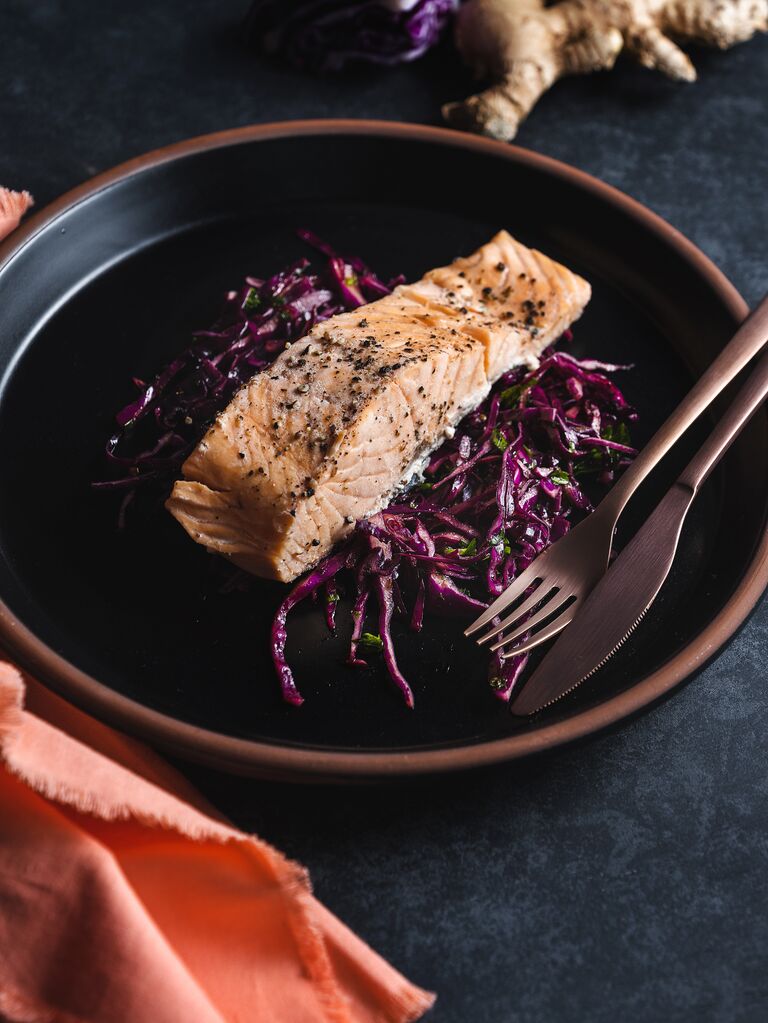 The pros agree—one of the best ways to integrate weed into your wedding is through food and drink. One of the more popular approaches includes marijuana-infused food on your menu. Another possibility? Replace traditional wine pairings with weed pairings so specific cannabis strains bring out the flavor of your food. It goes beyond just the dinner meal, though. Instead of champagne, consider toasting the happy couple with a sparkling cannabis-infused elixir. Or try working the plant into your dessert bar. Low-dose strain-specific edibles are a fun and creative way to incorporate weed into your wedding. But there's one exception to this idea: Homemade edibles. Stick with licensed edibles manufacturers that print their lab results on their products. This helps you and your guests better regulate the potency of the weed.
If you're having children at your wedding, Chef Jazz and Mieure have words of advice. "Clear signage is number one because you and your guests need to know what's in the food. Also, separate the infused food from the non-infused food. I love to color code and label the food items, so guests can tell their kids what colors to stay away from," Chef Jazz says. Also, ask your wedding planner to speak with the servers about which foods not to serve to children. Mieure says there's another way to avoid uncertainty. "I recommend that if you know that kids will be around, to not serve edibles or drinkables since they can resemble non-infused food items, which some people may get confused over."
Hire a wedding budtender.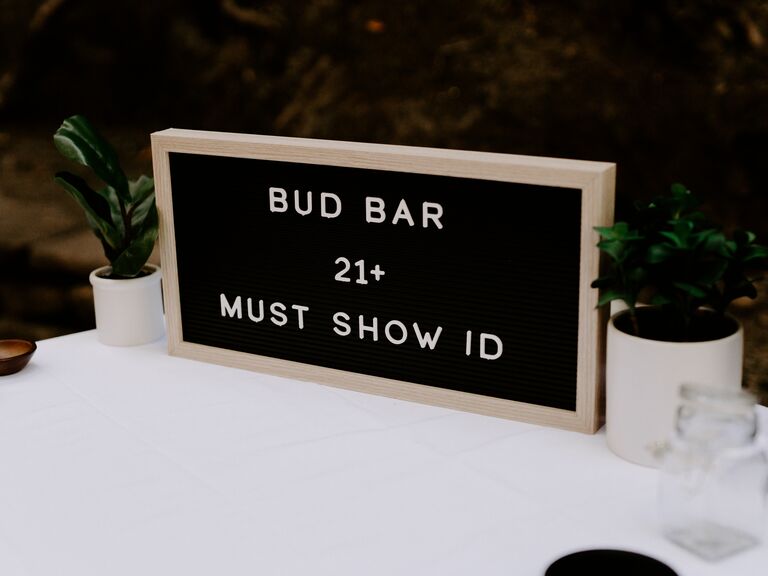 Like your traditional alcohol open bar, an open bar of marijuana can offer guests different strains and edibles. But there must be a budtender to oversee consumption. Mieure urges couples to hire a sober, trained and responsible budtender that enforces ID checks. And you might be surprised, but there is cannabis wedding etiquette. "It's pretty simple. Have your ID out and ready. If the bar is crowded, be patient and wait your turn. Don't grab any product, allow staff to serve it to you. Never share products from the bar with anyone who's under 21. Lastly, go slow, especially if you're also consuming alcohol," Katz advises.
If one of your guests has consumed too much weed, your budtender should be trained to help de-escalate the situation. Mieure gives more background to why some people get panic attacks after ingesting weed. "The negative effects typically manifest in anxiety, panic and, in some cases, passing out. Being in a new area, a place that brings someone anxiety or a place with a lot of flashing lights, loud noises or uncomfortable seating can throw off the 'set and setting' of a guest, making them much more susceptible to cannabis-induced anxiety."
The best thing a budtender or the guest's loved one can do is move them to a quiet location where they are well-fed and hydrated. "Instruct them to watch a show or content that they are familiar with––distraction is a powerful tool. Understand that cannabis is like alcohol in one key way. The only way to reduce the amount of THC in the blood is through time. Anything else is just symptom reduction," Mieure says.
Designate a private area for the adults.
Chef Jazz suggests couples have a separate adults-only area outside so parents can smoke and enjoy themselves outside of the children's eyes. This can be a tent, mobile room or stationary party bus. Also, remember to ensure the smoking areas have comfortable lighting, seating and amenities, like snacks and water.
Finish off the night with weed party favors.
Give your guests the gift of cannabis as a party favor. You can give them anything from a sample of your signature strain, boutique edibles, or a customized box of matches (or lighter). Feel free to consult a professional wedding planner who specializes in this market for more ideas—they've seen almost everything.
Please note: The Knot and the materials and information it contains are not intended to, and do not constitute, legal, financial, tax or medical advice and should not be used as such. You should always consult with your professional advisors about your specific circumstances. This information contained herein is not necessarily exhaustive, complete, accurate or up to date. In addition, we do not take responsibility for information contained in any external links, over which we have no control.