How to Plan a Weed Wedding
Your love won't be the only thing lighting up your wedding day.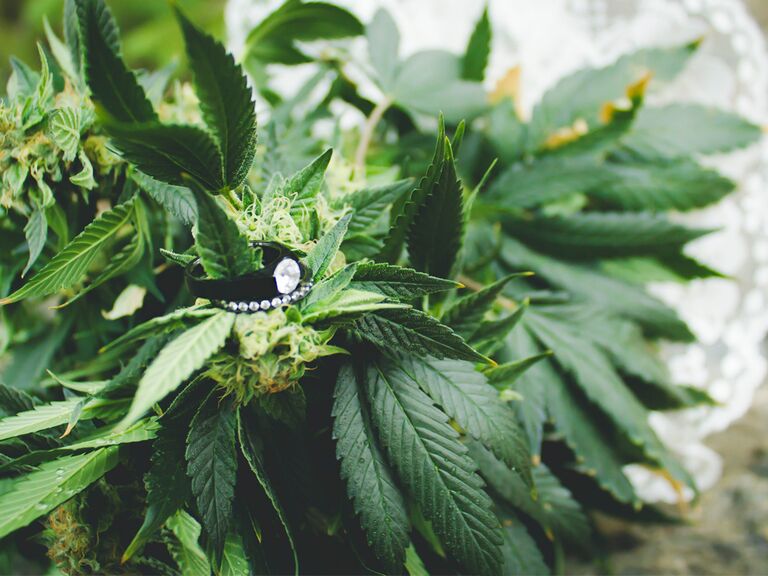 PASIFLORA PHOTOGRAPHY
Your wedding day is all about what you want, whether it's specific colors, certain themes, and even the involvement of cannabis. With the legalization of recreational marijuana in 11 states and Washington, D.C., throwing weed wedding now comes with a plethora of options.
Professional wedding planners in the emerging cannabis wedding industry reveal the best ways to incorporate the plant into your wedding day. From prewedding activities to food to party favors, see our guide on how to throw a weed wedding.
Make Sure It's Legal
Before you do any kind of planning, make sure you confirm that your wedding is in a location where recreational use of marijuana is legal. In some states, only medicinal marjiuana is allowed.
Not sure if your wedding location permits the recreational use of weed? Check for yourself and contact your wedding planner as well to confirm. If incorporating weed into your wedding day is super important to you, go the extra mile to ensure you're in a place where it's allowed before you secure your deposit.
Incorporate Weed Into Your Registry
If you're thinking about having a weed wedding, consider incorporating it into your registry. Niki McDonald, wedding planner and CEO of Love and Marij, tells The Knot that her company has developed a cannabis registry tool, which allows couples to make appointments with their favorite dispensary's top budtender to help them select their signature strain.
Pre-Wedding Festivities
The getting-ready process is typically associated with mimosas and beer, but maybe you'd rather skip alcohol in favor of marijuana. Anything from lighting up in your limo to gifting your wedding party custom bowls to hotboxing your getting-ready room is fair game—the possibilities are endless.
Light Up Your Ceremony
Looking for a meaningful way to incorporate weed into your wedding ceremony? Bec Koop, co-owner of Irie Weddings & Events in Colorado, tells The Knot that there's one popular way couples are doing so. Incorporate a "unity bowl," which is a double hitter glass pipe with two flames to light the single bowl, Koop says. This device allows couples to take their first "married hit" together.
Add Weed Into Your Flowers
Involving weed into your wedding day doesn't have to mean using it. If you love the way the green plant looks, work it into your floral arrangements. Whether you want it as an accent to your other blooms or you want it as the main focus, there are a million ways to work weed into your wedding day flowers.
Get Creative With Your Menu
The pros agree—one of the best ways to integrate weed into your wedding is through food and drink. One of the more popular approaches includes marijuana-infused food on your menu, MCdonald says. Another possibility? Replace traditional wine pairings with weed pairings. "It's not about 'getting-high'—it's about pairing a small hit of specific cannabis strains to bring out the flavor of food, wine and craft beer," McDonald says.
It goes beyond just the dinner meal, though. In lieu of champagne, consider toasting to the happy couple with a glass of sparkling cannabis-infused elixir. Or try working the plant into your dessert bar. Low-dose strain-specific edibles are a fun and creative way to incorporate weed into your wedding.
But there's one exception to this idea: Homemade edibles. "For a large group of guests, our advice is to stick with licensed edibles manufacturers that print their lab results on products," McDonald says. "This will better regulate the potency [of the weed] you guests are ingesting."
Another fun idea? Providing delicious late-night snacks for when your guests have the munchies, says Elizabeth Sheils, a planner at Bridal Bliss Event Planning in Oregon. One of the most fun creations she's seen? Fried chicken with dill pickles and honey mustard on top of a mini biscuit.
Hire a Budtender
Corr tells The Knot that the most popular request she gets from clients is to have a weed bar with a budtender. Just like your traditional open bar of alcohol, an open bar of marijuana can offer guests different strains and different edibles. But it's crucial that there's a budtender to oversee consumption. They'll be able to administer dosing so that nobody makes the mistake of having too much too fast.
Put Some Weed in Your Party Favors
Give your guests the gift of cannabis as a party favor. You can give them anything from a sample of of your signature strain, some boutique edibles, or a customized box of matches (or a lighter). Feel free to consult a professional wedding planner who specializes in this market for more ideas—they've seen almost everything.