Reception Seating Nightmares Solved
by The Knot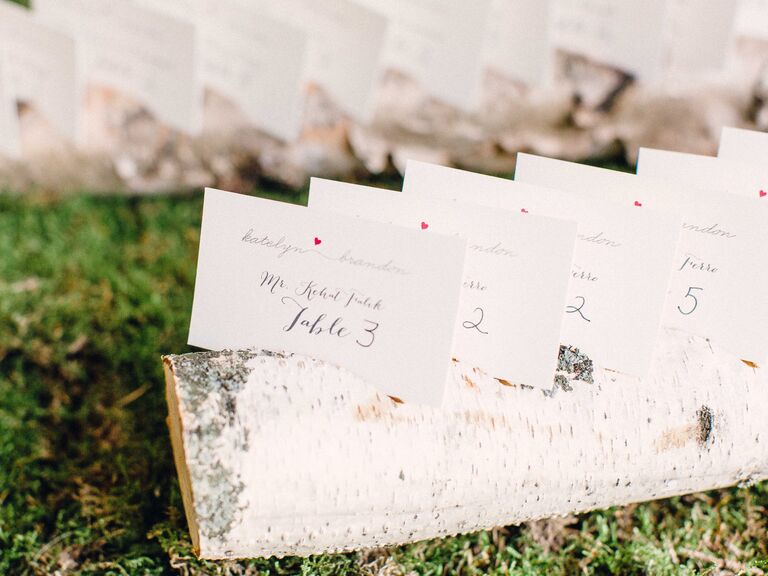 Bradley James Photography
You've spent hours arranging and rearranging your guests at tables, achieving the perfect order. Now you get to sit back and relax, right? Some people might fill you with anxiety, warning you of all the awful dramas that may arise -- yet offering no solutions. Rest easy: We know how you can maintain seating serenity even if an unexpected disaster pops up. David Tutera, host of Party Planner with David Tutera and author of The Party Planner, has solutions to the most common problems.
Seating Nightmare 1: A guest shows up with a date, even though he or she didn't RSVP with one.
Let's say your groom's annoying cousin Jim hooks up with a new girl the week before your wedding and decides to invite her as his date -- without informing you of his plans. This scenario is surprisingly common: Whether it's due to a misunderstanding or it's simply bad manners, somebody you're expecting solo shows up as a duo. To prepare for the possibility, designate a certain table as a "swing table" and add two extra place settings to it. You can quickly bump Jim from the table he was originally seated at and move him and his date to the swing table. If it turns out you don't need those extra place settings, you can just have them removed. "It's much easier to remove a place setting than to set one up," says Tutera. However, if adding two extra place settings increases the amount you'll have to pay, just leave some extra room at a swing table (seat eight people there instead of 10, for example) but don't ask the venue to add the extra settings until you know you'll need them.
In anticipation of such changes, you should make sure that one of your bridesmaids or your wedding planner comes armed with extra table cards, place cards, and a pen that matches the ink of your calligrapher. As soon as you are aware of the party-crashing guest's presence, dispatch the designated bridesmaid to change cousin Jim's table card so that it says "and guest" and gives the number of the new table. She can also create a place card for his date if you're using place cards.
Seating Nightmare 2: One of your guests is a no-show.
Although one less guest is easier to cope with than one extra, a last-minute no-show can still screw up your perfectly planned table arrangements. If you find out that a guest has fallen sick and has sent her regrets, or simply failed to appear, have the caterer or maitre d' remove a place setting. If the guest was at an "important" table -- yours or that of your parents -- you can fill in the other spot by moving someone from another table. This is another instance in which extra table cards and place cards will save the day.
Knot Note: Changes like these are easier to make if you use table cards with envelopes, rather than the kind that have the guest's name and table number on the same card. That way, you can simply put the old card in a new envelope, rather than having to rewrite both the name and table number. This preserves the uniform look of the envelopes on the escort table (rather than having a bridesmaid's handwriting mixed in with the artistry of your calligrapher).
Seating Nightmare 3: Guests wander around trying to find their tables for ages, throwing off your wedding schedule.
The bigger your affair, the trickier it will be for guests to find their tables. The best way to get them sitting down so the meal can begin is to designate a few guides, whether wedding planners, on-site staff, or good friends who aren't in the bridal party, to help get everyone seated in an organized way. "Position the guides around the room holding clipboards with alphabetized lists of guests, along with their table numbers and a map of the room," Tutera suggests.
Another method for simplifying the getting-seated process: Make sure the tables are numbered roughly in order, with even-numbered tables on the right of the room entrance, and odd-numbered tables on the left. One recent trend is for couples to name tables after places that are important to them ("Nantucket," "Mercer Street"). Although it's a great way to add a personal touch to your wedding, the tables should still have a number in addition to a name, says Tutera. "Being told you're at the 'Paris' table doesn't give you any clue as to how to find it," he points out.
Seating Nightmare 4: Your sensitive friend is mad because she's not at a "good" table.
Of course you want to make every guest feel special, like he or she is at the center of the action, but it's inevitable that a few tables will be positioned at the outskirts of the event space. The best way to keep people seated at these tables from thinking they're in social Siberia is to seat a few members of the wedding party there too. The guests at the outlying tables won't feel left out if they're surrounded by bridesmaids or groomsmen, and your attendants will understand that it's one of their duties to help everyone feel included, even if it means they aren't seated as close to you as they'd like to be.
Another way to eliminate the feeling that there are "good" tables and "bad" ones: Don't seat yourselves at table number 1. "There's no rule that says the bride and groom's table must be number 1," says Tutera. It's more egalitarian and also makes more sense to have table 1 placed just to the left of the entrance, with the rest of the odd-numbered tables following it sequentially on the left side, and table 2 in the upper right-hand corner of the room, with the even-numbered tables following it in order. By numbering tables according to where they fall in the room, you do away with the idea that the table number indicates the rank and fun factor of the people seated there.
Seating Nightmare 5: One of the guests doesn't have an assigned seat.
Organizing the seating chart, escort cards, and place cards is a big task, so it's understandable to be anxious that it will somehow get screwed up. The only way to ensure every single guest has a seat and is able to find it? Cross-reference your spreadsheet of confirmed attendees with the alphabetized escort cards and place cards, and double-check your reply list to make sure you haven't mistakenly marked someone as a "no." Finally, make certain the seating chart you give to the planner or maitre d' matches the info on the table cards. "Don't go over it just once or twice," says Tutera. "Go over it four, five, or six times -- organization is key." Don't worry about being a bridezilla on this one. It definitely pays to be overly conscientious.