Everything You Need to Know About Getting Married in Massachusetts
Look to The Knot for local details about getting married in Massachusetts, from choosing your wedding venue to getting your marriage license.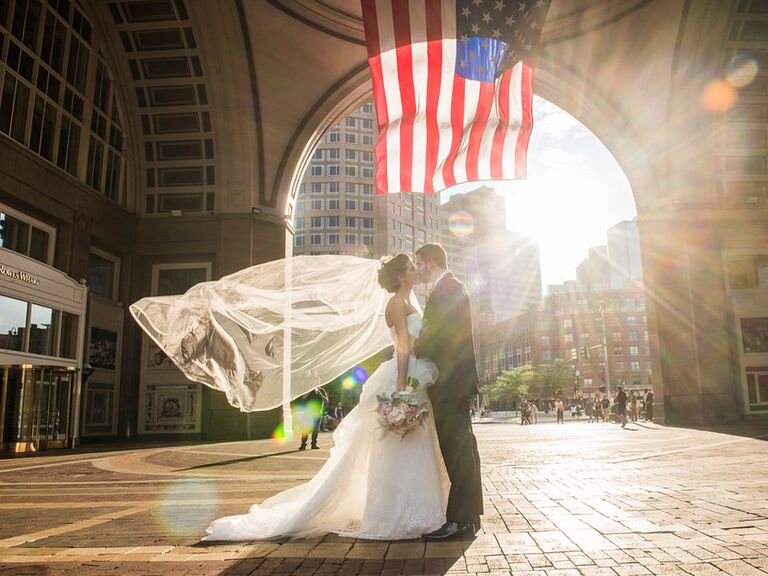 Marina Zinovyeva Photography
Ultimate Guide to Getting Married in Massachusetts
Fragrant and delicate, the mayflower, adopted by Massachusetts as the state flower, is the perfect embodiment of the area's splendour. As one of the original 13 colonies, Massachusetts, also referred to as The Bay State, is home to the first public park and metro system in the country. There's a lot to see and explore in this state, so choosing a wedding venue in Massachusetts may require some hard work. From picturesque beaches and gorgeous forests to charming, quaint towns and bustling cities, Massachusetts offers an amazing array of options for your wedding day.
History and natural beauty intertwine charmingly in Massachusetts. And every season is unique in this state, so getting married in Massachusetts is not just about deciding on a location, but the time as well. From a romantic ceremony in an antique, rustic barn, to a white wedding in a castle set against a snowy wonderland, there's an ideal setting somewhere in Massachusetts for you to discover. Our comprehensive guide to weddings in Massachusetts allows you to discover all you need to know about the best wedding venues in Massachusetts, how to go about obtaining a Massachusetts marriage license, as well as unique ideas for having a special wedding in one of the most popular cities in the state. Follow your wedding checklist to make sure everything is done on time.
Top Wedding Trends in Massachusetts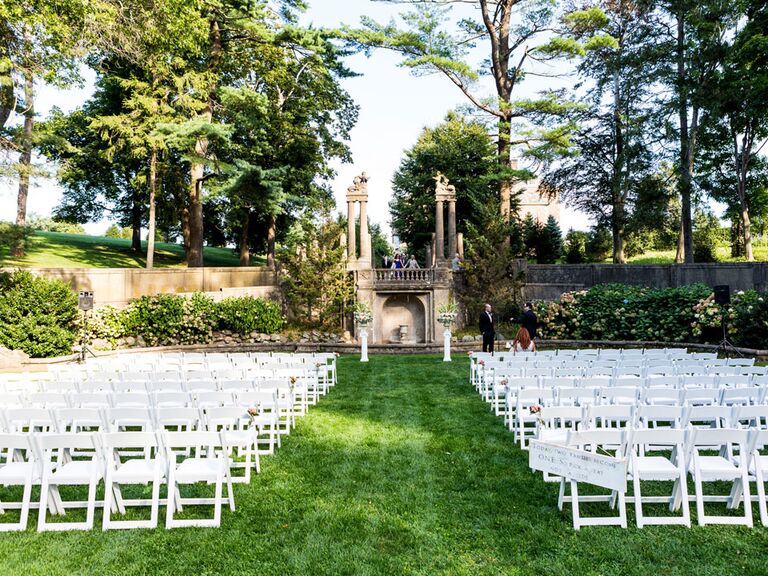 With the incredible diversity of wedding venues in Massachusetts, it's no wonder couples in Boston spend an average of 13 months planning their wedding, according to The Knot 2015 Real Weddings Study. Each couple is unique, and wedding planning differs accordingly, but the same study found that the most popular seasons to get married in Massachusetts are summer and fall, with almost 80 percent of the weddings taking place during these times.
A formal/black tie event is the norm in Massachusetts, with 89 percent of couples in Boston and 79 percent of couples in Cape Cod opting for this kind of setting in 2015. There are so many diverse Massachusetts wedding venues that couples may be torn between choosing an indoor or outdoor wedding, which is visible in the equal split between the two options in Boston. According to The Knot 2015 Real Weddings Study, just 31 percent of the couples who tied the knot in 2015 in Cape Cod opted for an indoor wedding, with 58 percent choosing to take advantage of the stunning outdoor wedding locations the state has to offer.
Massachusetts Marriage Rates and Wedding Costs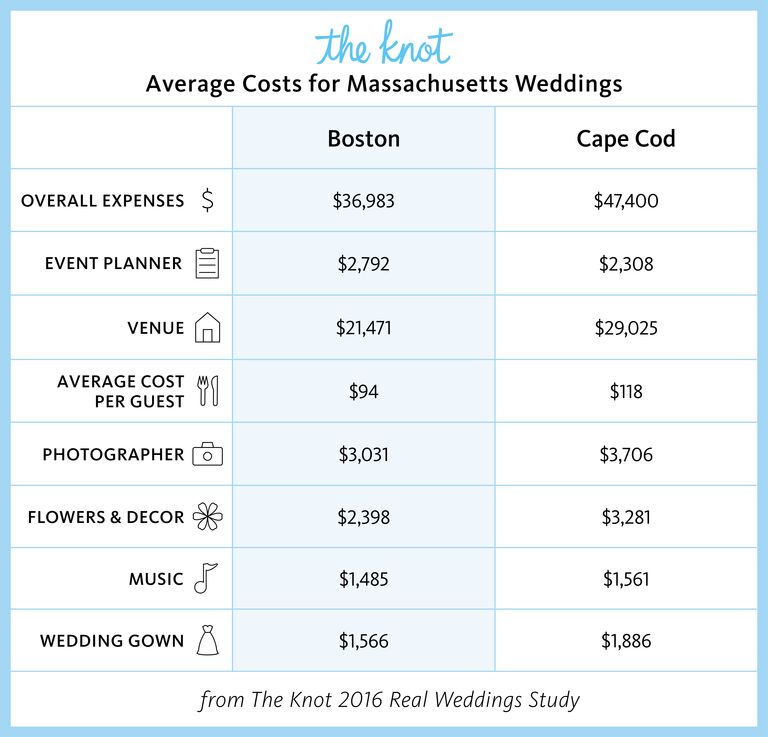 Creating a budget for a wedding and sticking to it is perhaps one of the trickiest aspects of planning a wedding. By having a well-thought-out budget, you can enjoy the wedding day to the fullest, no matter what type of wedding venue you choose. With The Knot Budgeter, you get all the help you need to remain on track financially. Before taking out the calculator and getting started on the budget, read on about the costs involved for couples who choose to tie the knot in Massachusetts, and what kind of budget you're looking at for a wedding in this state, according to the The Knot 2015 Real Weddings Study.
Massachusetts Marriage Statistics
If you were wondering how many people are tying the knot every year in Massachusetts, you'll be surprised to learn the state is well below the national average at 5.6 per 1,000 people. The average cost of a wedding in Massachusetts is a bit higher than the national average, with couples who choose to get married in Boston paying on average $31,760 for their day. Expect to pay more if Cape Cod is the city of your choice, as to-be-weds here tend to pay an average of $45,130 for their wedding, as reported by The Knot 2015 Real Weddings Study.
Working the Budget: Average Costs for a Massachusetts Weddings
By breaking down expenses when planning your wedding, you streamline the interaction with vendors and find success at negotiating rates. The chart above gives you a good idea about the average costs in two of the most popular cities for wedding venues in Massachusetts, which are Boston and Cape Cod.
Top Cities in Massachusetts to Tie the Knot
With such a wide variety of Massachusetts wedding venues across the state, there are multiple options to choose from, ranging from quiet beaches to vibrant cities. The following two locations are the most popular ones for weddings in Massachusetts:
Make It Legal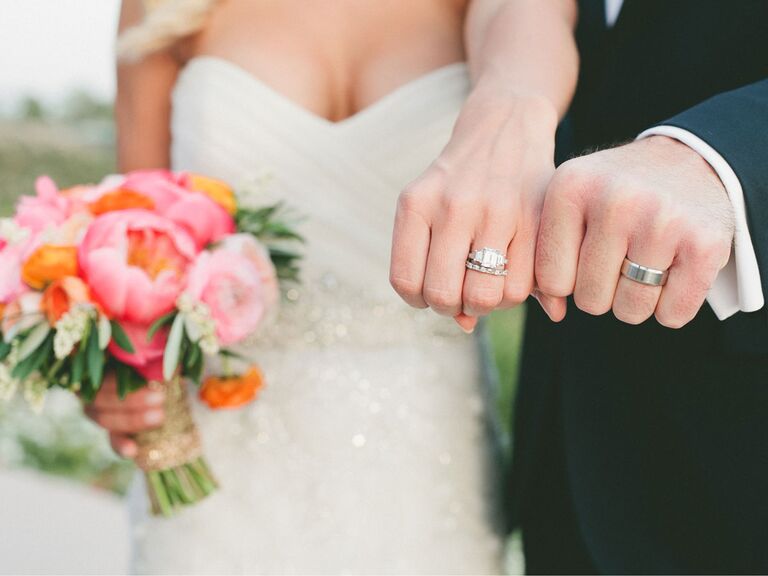 Planning a wedding is not just about picking the flowers and tasting cake—there are also practical aspects involved when it comes to saying "I do" in the Bay State. Take care of the legal details that involve getting your Massachusetts marriage license and changing your name, so you can enjoy your wedding day without a glitch.
The application process for getting a Massachusetts marriage license varies across different cities and towns. Get all the information you need beforehand so you have all the documents required. To get married in this state, minors must have parental consent and court approval, and you need to have a marriage license issued within the Commonwealth of Massachusetts, for which you're required to both apply in person.
Each county clerk office has different requirements and may ask the couple for particular documents. As a rule of thumb, you'll be required to:
Fill out a marriage license application no more than 60 days before the ceremony
Pay the application fee (this varies by town)
Bring proof of age for the couple in the form of a birth certificate, passport or other kind of official document
Bring your Social Security number.
There is a three-day waiting period to receive your Massachusetts marriage license, counted from the day the application is accepted. The license is only available for 60 days, and if you're not married within this period, you need to apply for a new one.
Besides having a marriage license, you also need someone to perform the actual ceremony. In Massachusetts, there are four groups of individuals who can legally marry you:
Resident clergy members registered with the Secretary of Commonwealth
Non-resident clergy members who submit a petition to perform a legal ceremony in Massachusetts
A Justice of the Peace from the state of Massachusetts
A friend or family member over the age of 18 who applied with the Secretary of State's Office for a One Day Marriage Designation
For some of the wedding venues in Massachusetts, you need to apply for a special wedding permit prior to the ceremony. For example, if you plan on having your wedding at a DCR State Park, you need to contact the staff to check availability and complete any of their required permits. In some cases, taking wedding photographs may also require a special permit.
If you're eager to have your wedding in one of the beautiful DCR parks of Massachusetts, such as Borderland State Park, the Willowdale Estate at the Bradley Palmer State Park in Topsfield, or Walden Pond State Reservation in Concord, check for available dates, allowing plenty of time before the ceremony to avoid disappointment, as these are very popular venues. Some of them may have restrictions in place for certain periods, such as between Memorial Day and Columbus Day, due to the number of visitors during that time.
How to Change Your Name After the Wedding Ceremony in Massachusetts
If you've decided to change your name after the wedding, it's actually easy to do so in Massachusetts. Have a look at our guide to changing your name to learn all the details. Massachusetts requires you to complete an application for a Social Security card and provide your marriage certificate to change the name with the Social Security Administration (SSA) and the Massachusetts RMV. You can also streamline the process by using a name change service like HitchSwitch.
It's All About Timing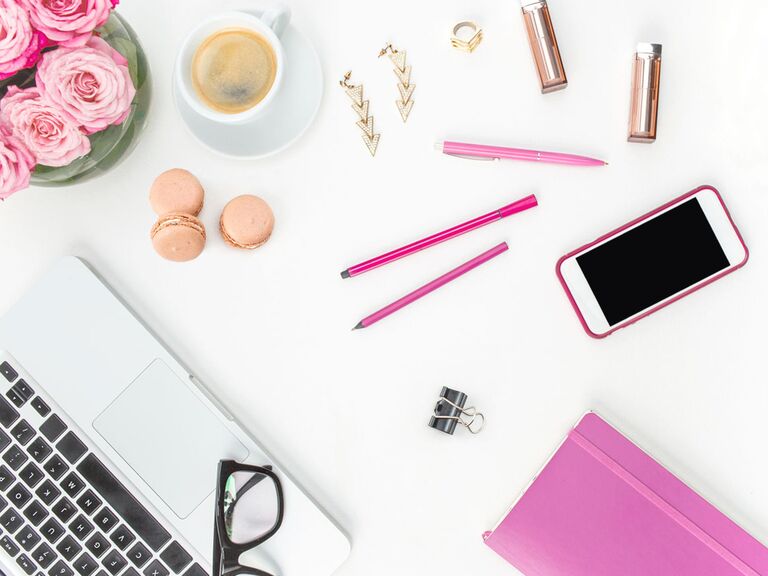 Even though summer and fall are the most popular seasons for a wedding in Massachusetts, winter and spring can also provide an excellent setting, thanks to the multitude of wedding venues that offer indoor ceremonies.
Four Season Wedding Possibilities in Massachusetts
Just 5 percent of the couples who got married in 2015 in Boston and 3 percent of those in Cape Cod chose to do so between December and February. But if you're after warmer temps for your wedding day, but still want to avoid peak season, join the 16 percent of Boston couples and 15 percent of Cape Cod ones who decided to tie the knot in the spring.
There are several reasons most couples in Massachusetts choose to celebrate their love in summer and fall. The typical summer weather in The Bay State averages a high of 80 degrees, with average night temperatures of 60 to 65 degrees, providing a very comfortable setting for an evening ceremony. Summer thunderstorms are fairly frequent, at about 30 per year, but the good news is they generally roll through quickly, so even if one happens on your wedding day, it's not a guarantee for disaster.
Massachusetts Wedding Dates to Avoid
Choosing a wedding date is more than just thinking of a day that sounds really good for your anniversary. Depending on the Massachusetts location you decided on for your wedding, try to avoid weekends when local events take place. This ensures your guests can arrive comfortably without experiencing major traffic jams and that they can easily find hotel accommodations.
Avoid busy weekends and national holidays if you're on a budget, as the prices for everything tend to escalate considerably during those times. Check out our comprehensive guide of wedding dates to avoid in 2016, 2017 and 2018 to make the best choice. And be sure to have a look at the following local events that take place in 2017 in Massachusetts:
Boston Wine Expo (February 2017)
Autorama / World of Wheels (April 2017)
Boston International Film Festival (April 2017)
Boston Early Music Festival (June 11-18 2017)
Boston Book Festival (early October 2017)
Great Guest Experiences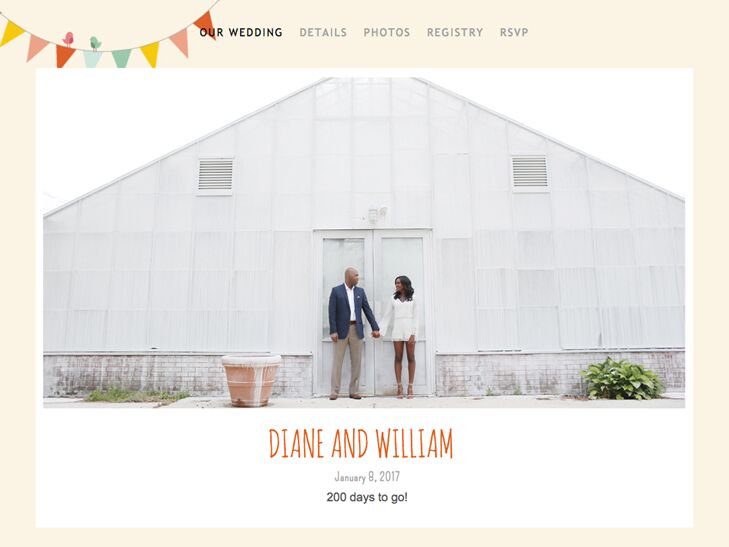 Keeping everyone happy is one of the key ingredients of a successful wedding, so couples should do their best to create a welcoming environment their friends and family will appreciate. With the large selection of Massachusetts wedding venues, it's actually easy to offer everyone a fun experience. A good start is to create your own wedding website to keep everyone updated and informed before the event.
Around Town: What to Do and See in Massachusetts
With diverse activities that range from the vibrant Boston downtown to amazing beaches, peaceful woods and wonderful parks, entertaining your guests before and after the wedding is really simple.
Here's a list of some of the top tourist attractions in Massachusetts:
Freedom Trail
Cape Cod Beaches
Minute Man National Historical Park and Lexington Battle Green
Faneuil Hall
Mayflower II and Plimoth Plantation
Salem's Historic Houses
Whale Watch at Stellwagen Bank National Marine Sanctuary
Old Sturbridge Village
Tanglewood Concerts
Island Life on Martha's Vineyard
Finding Your Way: Massachusetts Travel Info
Finding your way around Massachusetts is easy, especially because you can use the extensive interstate infrastructure that includes I‑95, I‑395, I‑90 and I‑495, among others. The Boston Logan International Airport connects Massachusetts with all other US states, so no matter where your guests reside, they can reach the wedding venue with ease, thanks to the numerous flights available.
Taxi services are available from and to the airports, and bus services are available in all urban areas. Boston and other areas in the state offer countless parking options for guests who decide to drive.
Go Local: Food and Favors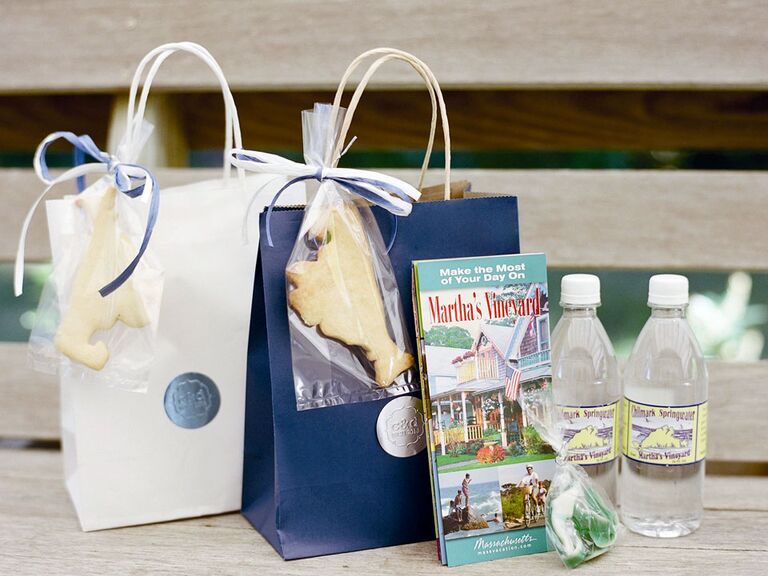 Most of the regional food in North England is deeply rooted in history, so borrow from tradition when planning your wedding menu, whether both of you hail from this area or if you invite relatives from all corners of the country or even the world.
Bring Regional Cuisine and Beverages Into Your Wedding
From fresh Maine lobster to cheese from Vermont dairies, mix flavors and textures to create an authentic yet unique menu. Seafood is highly ranked in Massachusetts, and if you have your wedding in the Boston area, check out Neptune Oyster for fabulous fresh fish and oysters, or the Daily Catch for Sicilian-style seafood and amazing pasta.
For the Cape Cod region, the Lobster Pot serves fresh seafood, while Spanky's Clam Shack is the place to go for fried clams, shrimp and scallops.
Do Your Guests a Favor: Massachusetts-Inspired Take-Home Treats
There are plenty of ideas for Massachusetts and New England party favors, so you're bound to delight your guests with a lobster pop, a bag of Boston baked beans candy or a tin of Boston mints. Get inspiration from history and offer your guests a pack of Boston Harbor tea, or go for a true New England classic in the form of a box of pure maple sugar candy. Bring a touch of understated charm into your wedding with these ideas:
A personalized ornament
University of Massachusetts swag
Lobster-related ideas
Key chains featuring the state and location of the wedding
Check out The Knot Shop for other personalized favors.
Massachusetts City Guides
Massachusetts offers thousands of wedding venues. Some of the most popular ones are in Boston, Cape Cod and Worcester, so have a look at the best wedding venues in Massachusetts to find the right one for you, and then get in touch with local vendors through our wedding vendor marketplace.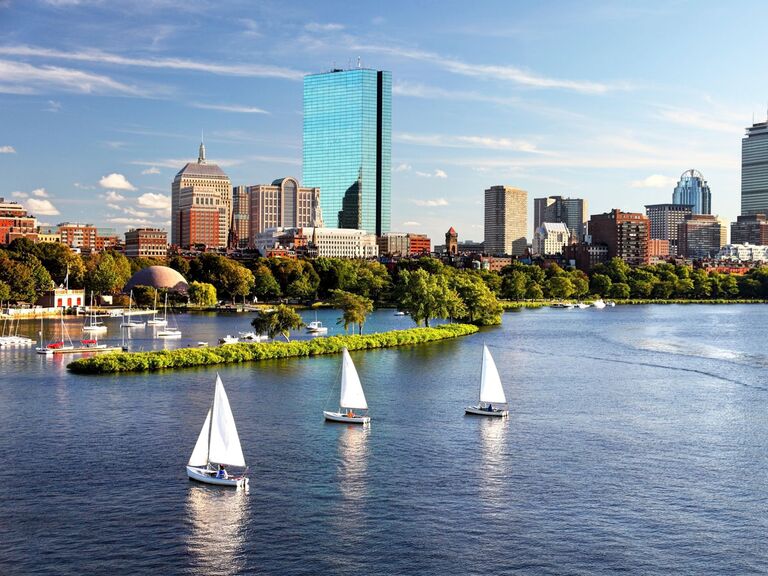 Gorgeous urban settings and countless indoor and outdoor venues make Boston the preferred wedding destination for couples in Massachusetts, according to The Knot 2015 Real Weddings Study. As the largest city in the state, Boston is an attractive choice for weddings, being notable for its cultural vibe and incredible skyline. Fine museums, the world-famous Freedom Trail and some of the oldest neighborhoods in the country are even more reasons to choose the city as the setting for your wedding.
From downtown Boston wedding venues to waterfront weddings and grand mansions, getting married in Boston will mix the best New England has to offer with the convenience of a large city.
For local Boston vendors, check out: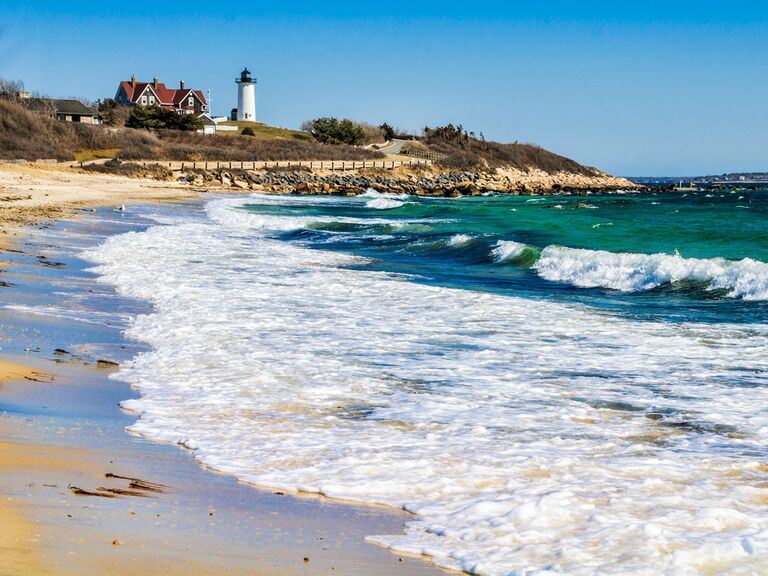 If you're picturing a romantic seaside setting and panoramic vistas, then a wedding in Cape Cod would be perfect for you. Beautiful in all seasons, Cape Cod wedding venues are not limited to the spotless beaches, as other options include ballrooms, golf courses, lighthouses and private mansions.
Cape Cod is an easy drive from any location in the Northeast, making it a popular choice for weddings. From vintage-style weddings to modern receptions featuring local and fresh food, there's something for all tastes in Cape Cod.
For local Cape Cod vendors, check out: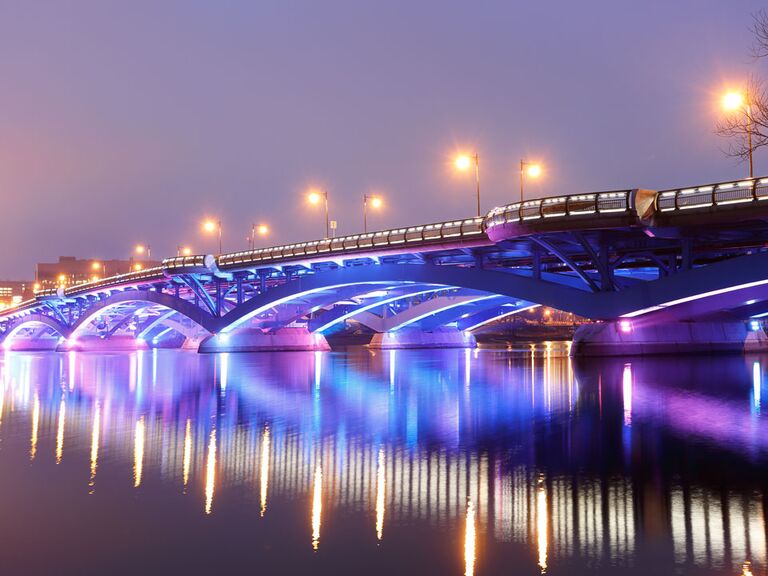 Banquet halls, historic landmarks and rustic farms are just some of the options available if you're looking for a wedding venue in Worcester. The rich history of the city blends with a vibrant culture and foodie scene to create an ideal setting for your wedding.
Named after a city in England, Worcester has numerous ponds and two large lakes that make beautiful backdrops for outdoor weddings. The quiet inns and farms in surrounding towns are other wedding options.
For local Worcester vendors, check out:
Check out more Massachusetts wedding inspiration here.
Don't forget to download The Knot Wedding Planner app—it's a must-have for on-the-go planning.
Download for iOS: Wedding Planner App by The Knot
Download for Android: The Knot Wedding Planner