Trendy Instagram Brand Mejuri Is Launching Men's Wedding Bands and Rings
Prices start at $375.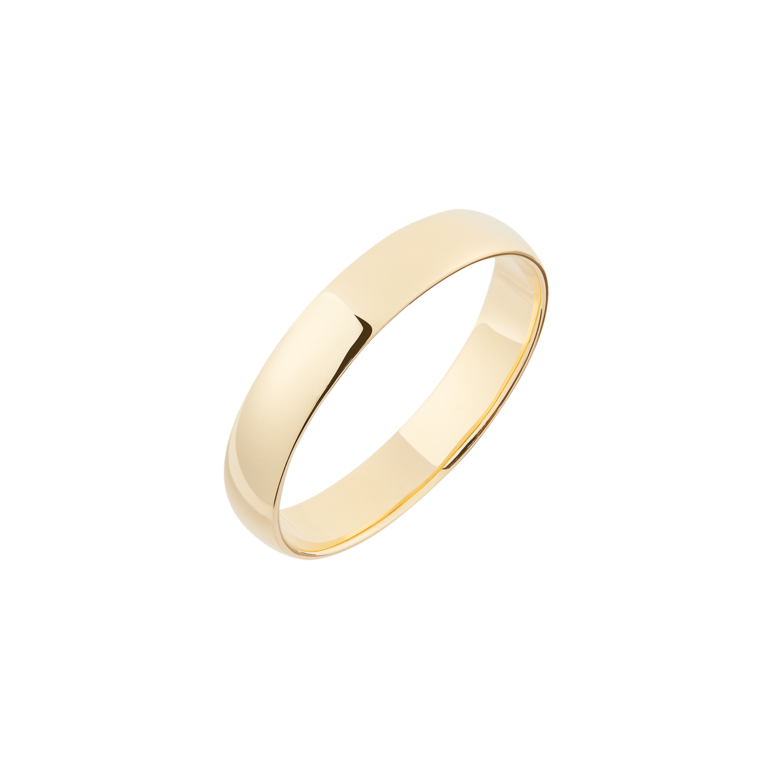 Mejuri
We have included third party products to help you navigate and enjoy life's biggest moments. Purchases made through links on this page may earn us a commission.
Calling all couples to Mejuri's men's department. Fine jewelry brand Mejuri, which you've likely seen all over your Instagram feeds, announced this week that it's introducing men's wedding rings as an extension of its engagement collection.
Mejuri jewelry first launched its weddings and engagement designs in 2018, catering largely to female clients in search of diamond rings and complementary wedding bands. However, the trendy brand tailored to millennials and Gen Z found that its customer base was shopping for one more item in the wedding planning process: men's wedding rings. This week, the Toronto-based company introduced a collection of solid 14K gold rings for men (yellow and white) in a range of sizes with the intent to be inclusive and forward-thinking about the next derivative of its engagement collection.
"It was a natural next step to introduce men's wedding bands," Justine Lançon, Mejuri's Creative Director, tells The Knot. "We wanted to ensure we had a ring for everyone, and after extensive research and dialogue with our customers, we knew selecting a band is a shared decision between couples."
Indeed, the topic of who pays for the groom's wedding ring is also a frequently asked question. Generally, the couple shops together for both wedding bands. You'll probably pay for them together or each buy the other's band as a gift. Or, you can each pay for your own. How to deal with the cost of the wedding bands is really up to the two of you.
Since Mejuri found a gap in the market for men, they wanted to respond to the need with classic designs that also complemented its pre-existing women's engagement collection. In short, the Mejuri couple would purchase rings and jewelry for every step of the wedding process--beginning with the proposal.
"It was important to maintain our brand's overall aesthetic: timeless, luxury pieces for everyday," adds Lançon. "The 14K alloy with the men's collection gives our pieces their subtle, light hue and it is also an active lifestyle's best friend: water-friendly and extremely wearable. The option to engrave ensures that it is a piece you can keep forever, and it resonates with the customer on a personal level."
Such personalization resulted in four different solid gold men's wedding bands that can be further personalized with an engraving. According to The Knot 2019 Jewelry and Engagement Study, 45 percent of couples who purchased an engagement ring in the planning process incorporated custom details into the ring itself. Personalization, indeed, continues to rule. Another interesting stat from the same study found that the most popular metal for engagement rings was white gold with 54 percent of couples opting for this material on the engagement rings. Yellow gold and platinum were both equally distributed at 13 percent.
The best part is that brands like Mejuri are pursuing a model that keeps costs down, meaning its latest men's bands and rings are offered between $375 to $795. "We design focusing on experience first," explains Lançon. "We made our bands comfortable with rounded edges and in two different widths, depending on your preference."
Since all pieces are handcrafted, thoughtful practices are top-of-mind for the retailer. Mejuri has committed itself to creating pieces that are ethically sourced and produced. "Pricing always stems from the cost of creating the pieces and the raw materials we put into making pieces that you and they will wear forever," adds the designer. "Overall, the world of men's fashion is changing and it's clear the innovation and styling applied to womenswear is finally being applied to men's as well. Just as we challenged the assumption that jewelry is meant to be gifted, we're now challenging the design and thoughtfulness surrounding men's pieces."
See the line below and shop it here.