How to Get Legally Married in Mississippi and Plan Your MS Wedding
No Mississippi wedding is complete without a marriage license.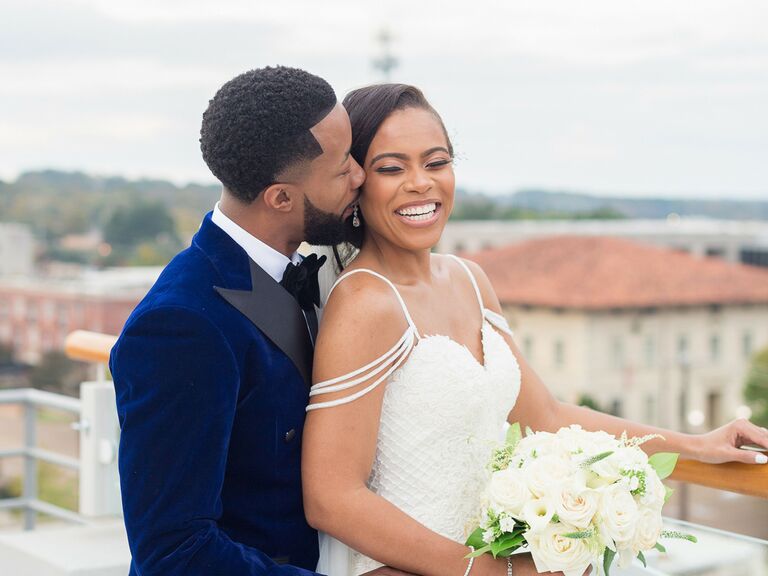 CORISS WATSON PHOTOGRAPHY LLC
Mississippi has Southern charm like no other state—and it's filled with historical monuments and architecture. But with wedding venues in the Magnolia State, how do you actually get a Mississippi marriage license?
Getting a marriage license legally in Mississippi is one of the easiest and least expensive processes in the country. The only major difference is the age that you can get married, which is 21 rather than 18 under this state's marriage laws. But there's no waiting period, blood tests are not required and there are no uncommon supporting documents required to receive your license.
If you or your partner are looking to change your surname, you can do so at the time of application or later on, depending on your preference. There is no time limit to when you can opt for a name change, but it's good to know what you want to do in advance either way.
How to Get Married in Mississippi
Is there a waiting period to get married in Mississippi?
There is no waiting period to get married in Mississippi once you have been issued your marriage license. Your license also does not expire once issued.
What are the legal requirements to get married in Mississippi?
Both parties must apply in person; blood tests are not required for male or female applicants. In Mississippi, you must be 21 years of age to apply for a marriage license, which is typically older than most states that require you to be 18 or older. If you are under 21 years old, you may get married with written parental consent. Your legal guardians will need to fill out a consent form and also provide a valid ID to the County Court.
Both you and your partner need to be present to sign, as well as provide all necessary photo ID and proof of age documents and pay the marriage license application fee to the circuit clerk.
What's considered a common law marriage in Mississippi?
Common law marriages are no longer recognized in Mississippi.
Mississippi Marriage License 101
What do you need to get a marriage license in Mississippi?
In order to receive a marriage license, you'll need to bring the following supporting documents or a combination of some to prove your age and other personal details. On the application, you will need to provide both full names and mailing addresses, names and addresses of you and your partner's parents, age, proof of age, date of birth and county or country of birth if not the United States.
Some of these acceptable supporting documents include past driver's license, school record, birth certificate, baptismal certificate, military ID and marriage records. Check with the county you are applying in for what they specifically require.
If you have been married in the past, you must provide documentation to the circuit clerk's office that your last marriage has ended with proof of divorce. On the application, you will also have to state your number of previous marriages. To prove that your last marriage has ended legally, you must provide the divorce decree, death certificate or marriage record.
How much does a Mississippi marriage license Cost?
The application fee for a marriage license in Mississippi is between $20 to 23, depending on the county in which you procure the license. This is one of the lowest marriage license costs in the country.
How long does it take to get a marriage license in Mississippi?
As long as it will take you and your partner to fill out the necessary paperwork. There is no waiting period, so once you're done, you're good to go.
Can you apply for a marriage license online in Mississippi?
In most counties, you and your partner must appear in person to the county clerk rather than applying online. Both parties need to sign documents as well as present supporting documents, but since there is no waiting fee, it's overall a pretty quick process.
How do you get a copy for your Mississippi marriage license?
You'll need to contact the Mississippi State Department of Health to receive a certified copy of your marriage license; you can request a copy either by phone, mail or online.
How to Plan a Mississippi Wedding
The Different Cities and Areas to Consider for a Mississippi Wedding
From Jackson to Monticello, Mississippi is heavily known for its historical landmarks, buildings and architecture. The birthplace of bluegrass music and home to many iconic stars past and present, there is a little history behind every corner. Decide whether you want to have your wedding inside or outside, and then move to focus on where; the north and northwest part of the state boasts incredible rolling hills, while the Mississippi River and the Gulf of Mexico provide beautiful waterfront backdrops.
What to Look For in a Mississippi Wedding Venue
Depending on what time of the year you're trying to get married in this state, you may want to weigh the pros and cons of an indoor versus outdoor wedding venue. It rains often, and the weather can be a bit unpredictable. Try to find a place that's in a location you really love, suits your budget, and fits all of the guests you want to invite.
How to Find a Mississippi Wedding Vendor
The Knot Marketplace gives you great options for vendors in your wedding destination. Mississippi is full of talented wedding vendors, including DJs, florists, cake bakers, caterers, and much more.
The Best Times of Year to Have a Mississippi Wedding for Good Weather
It rains quite often in the state of Mississippi, but the bright side is that even the winters are surprisingly pleasant and still warm. The general temperature year-round is humid and warm, but rain is more prevalent in the winter months, so avoid those if you want to have an outdoor wedding. Hurricanes are also extremely prevalent and often dangerous in the state because of the proximity to the Gulf, so avoid weddings from June to November if you want to steer clear of hurricane season. The spring months are most ideal for a wedding in this state, allowing for slightly more mild temperatures, less rain and a lower threat of hurricanes impeding your special day.