Everything You Need to Know About Getting Married in Mississippi
Look to The Knot for local details about getting married in Mississippi, from choosing your wedding venue to getting your marriage license.
by The Knot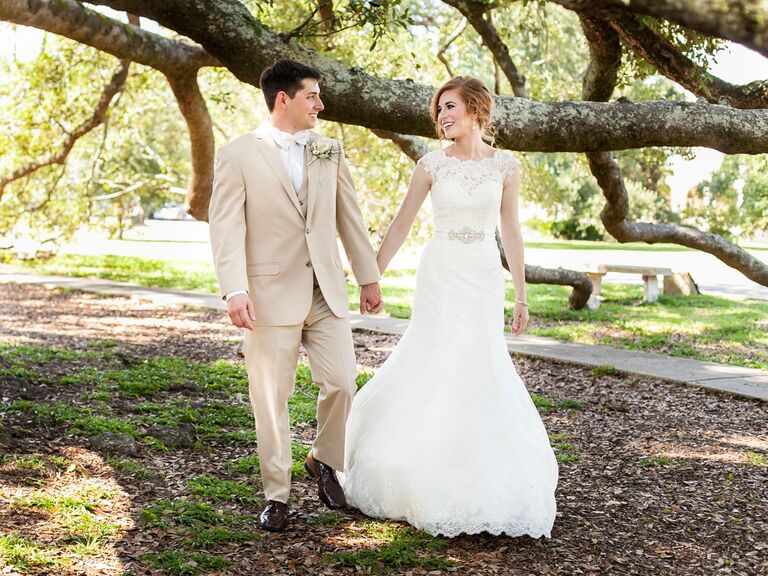 Shannon Lutkins Photography
Ultimate Guide to Getting Married in Mississippi
The subtle scent and delicate appearance of the magnolia, Mississippi's state flower, is the embodiment of nuptial bliss—this state truly has it all when it comes to weddings. From historical sites to wonderful rustic venues, Mississippi has something to suit just about every wedding style. Choosing among the vast array of Mississippi wedding venues can be tough, but it is completely possible to find something to suit your budget and taste.
Whether you dream about hosting your Mississippi wedding by the shore of a lake or in the heart of a vibrant city such as Jackson, our comprehensive guide will help you get all the inspiration you need to plan your day, as well as provide the practical information that makes the wedding happen—from getting your Mississippi marriage license to having a special family member or friend ordained for an unforgettable ceremony. Follow your wedding checklist to make sure everything is done on time.
Top Wedding Trends in Mississippi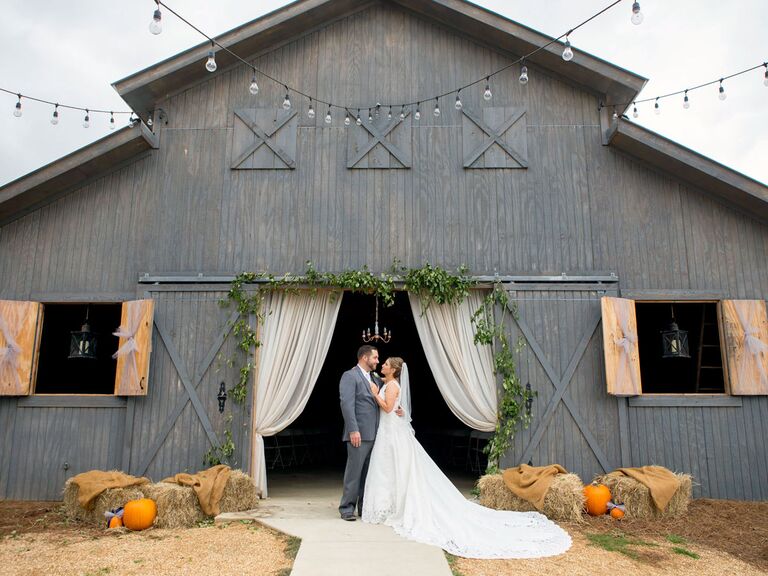 Rustic and romantic have been key highlights of weddings in Mississippi for years, but to-be-weds can also opt for an urban setting that combines the charm of a traditional Southern wedding with more modern trends. Traditions are big here, so incorporate them into your Mississippi wedding for an authentic touch.
The groom's cake is one such tradition, which is intended as a gift for the groom from the bride. Think of it as an accent piece to the couple's wedding cake, but something suited to the groom's personality. If the groom is into doughnuts, the cake may be made of those for a unique wedding accent. For brides, parasols are often seen at Mississippi weddings, not just to provide shade during a summer wedding, but also as a prop for an authentic Southern wedding. Incorporating local flowers such as magnolias, daffodils and azaleas is another wedding trend in Mississippi.
Additionally, don't be surprised to see details like these pop up in Mississippi weddings:
Personalized or sentimental handkerchiefs
Southern-themed drinks that include whiskey or bourbon
Non-alcoholic beverages such as sweet tea and lemonade
Jumping over a broom, which is thought to bring good luck to the bride and groom
Bright colors to complement outdoor summer weddings
According to The Knot 2015 Real Weddings Study, to-be-weds in this Southern state spend 9.3 months on average planning their event. The same study found that 69 percent of the total weddings in Mississippi take place in spring and summer, and 70 percent of them are a semi-formal or formal black-tie event.
Mississippi Marriage Rates and Wedding Costs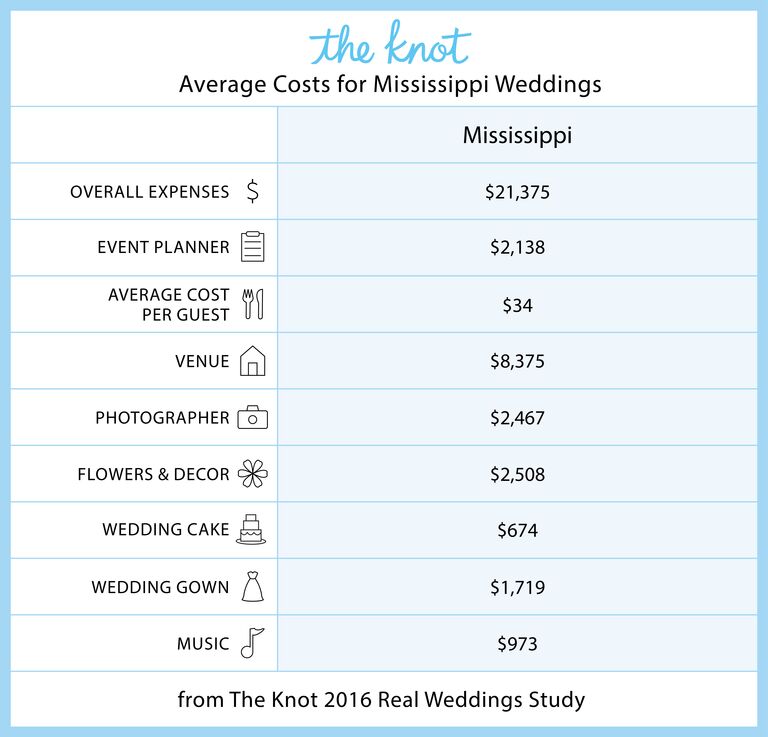 Planning a wedding can be a lot of fun, but affording it is another story entirely. No matter which type of wedding venue you choose or what type of theme fits your personalities, make sure you've created a budget and that you're sticking with it.The Knot Budgeter can help keep you on track! But before you take that important step, here's a little background info on how many couples are tying the knot in Mississippi, plus what you can expect to pay for common wedding costs in Mississippi, as reported by The Knot 2015 Real Weddings Study.

Budget plays an important role in planning a wedding, and sticking to it can truly be an all-consuming task. According to The Knot's 2015 Real Wedding Study, couples spend $19,848 on average on their weddings, which is well below the national average. Grooms-to-be spend an average of $5,716 on wedding rings, approximately the same as the national average. Couples spend just $135 per guest for their weddings in Mississippi, which is about $100 below the national average. With The Knot Budgeter, you can get all the help you need to determine your wedding budget as well as ideas that will help you stick to it.
Mississippi Marriage Stats
So how many couples are actually getting married in Mississippi? Turns out the marriage rate is 6.9 per 1,000 individuals. On average, couples are engaged for 12.9 months before tying the knot.
Budget Breakdown: Average Costs for Mississippi Weddings
Getting a sense of what you'll pay for your wedding day expenses will make it easier to budget and negotiate with vendors. Having a base budget is essential, even if the numbers change as the planning progresses. Above you'll find average costs for planning a wedding in the state of Mississippi.
Top Cities in Mississippi to Tie the Knot
Mississippi is home to numerous wedding venues that cater to all tastes and preferences, so no matter which one you choose for your ceremony and reception, it is bound to provide the happiest memories for you and your guests. However, the following three places stand out as the most popular wedding destinations in the state:
Make It Legal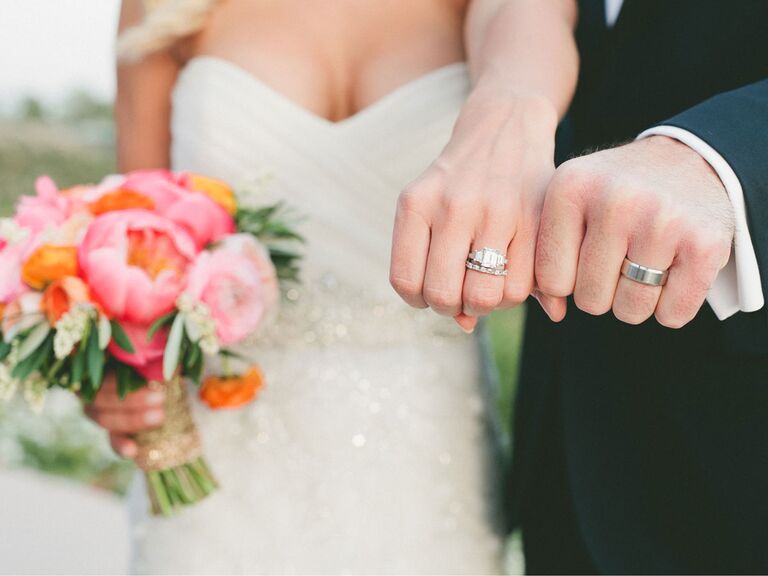 While we hope that planning your wedding feels like it's filled with fun events like cake tastings and finding the perfect DJ or band, there are some strings attached to tying the knot in the Magnolia State. Understanding the ins and outs of not only getting your Mississippi marriage license, but also taking care of details like permits and changing your name(s), is equally important in the weeks and months leading up to saying "I do."
Getting a Mississippi Marriage License: The Basics
To get your marriage license in the state of Mississippi, you need to be eligible for getting married in the state, collect the required documents, fill out an application and submit everything to a county clerk. The rules may vary from one city to another, so reseach any extra possible requirements before submitting the application. You do not have to be a Mississippi resident to get married in the state, which makes it great for a destination wedding.
To get married in Mississippi, both parties need to be at least 21 years old. With consent from parents or guardians, one can get married at 15 if she is a female or 17 if he is a male. To apply for a marriage license, you need:
A government-issued ID (a driver's license or birth certificate) to prove your identity or age
Proof of divorce if you or your spouse-to-be have been divorced in the last six months
Naturalization papers for naturalized American citizens
Pay a fee (required at the time of application, and it varies by county)
Permits and Other Important Legal Requirements for Mississippi Wedding Venues
Some venues such as national parks and historic buildings require applying for a permit. Do so ahead of time, as these places are often booked months and years in advance. If you want your wedding at a national park, for example, you need to obtain a special use permit and pay a fee. Most parks and national recreational areas have their own requirements about the number of guests that can attend and noise regulations. To obtain a permit, you generally need to have a planning meeting with venue officials to discuss options.
Once you have the site set, you need someone to marry you. There are many options for wedding officiants in Mississippi, including members of clergy, mayors, judges of the state and local Board of Supervisors members. For an ultra-personal touch, if you would like a family member or friend to marry you, they need to become ordained for the day.
How to Change Your Name in Mississippi
If you decide to change your name after the wedding, the process in Michigan is pretty straightforward. Check out HitchSwitch professional name change service or follow The Knot's simple guide to changing your name. Notify the Social Security Administration of your new name by providing them with proof of a name change (your marriage certificate), proof of identity such as a US birth certificate, Mississippi driver's license or military ID card. You will receive the Social Security card in about 10 days.
To change your name on your driver's license, car registration, ID card and title certificate, you have to provide your local DMV office with proof of name change.
It's All About Timing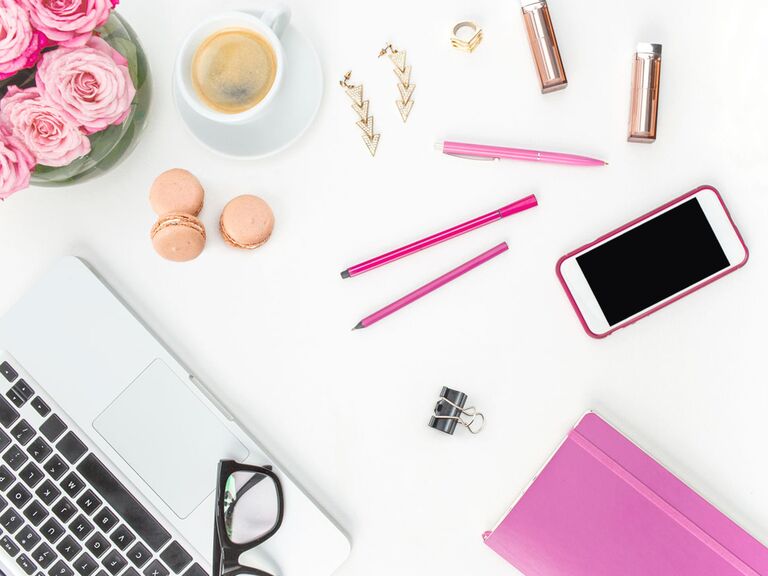 As one of the most popular Southern destinations for weddings, Mississippi has ideal weather conditions throughout the year. Even though 35 percent of the couples who tie the knot in Mississippi do so in spring and 34 percent choose to have their ceremonies in summer, according to The Knot 2015 Real Weddings Study, winter and fall are also full of possibilities for amazing weddings in Mississippi. Keep in mind that summer can get hot and sometimes humid during hurricane season.
Four Seasons in Mississippi
Its proximity to the Gulf of Mexico makes Mississippi warm year-round, and there is also some welcomed moisture in the air provided by the Mississippi River. Springs in the state are mild, with numerous days in the 70s and 80s starting in March. Summers are warm indeed, but not quite as sultry as in other states in the area. Most of the time, daytime temperatures reach into the 90s, but the humidity may make temperatures feel higher.
Brief but severe thunderstorms are the norm during summertime, and the coastal regions are often affected by hurricanes from June to November. Winters are generally short, and temperatures rarely reach freezing.
Mississippi Wedding Dates to Avoid
Depending on where you get married in Mississippi, there are some important dates you may want to avoid in order to make sure that your wedding guests are comfortable and can easily find a place to stay. Ask your wedding planner or venue for tips about how to avoid major traffic times or local events that might make your wedding weekend more difficult for guests and more costly for you.
If you're on a tight budget, try to avoid common national holidays and busy weekends that tend to inflate the cost of everything! (We cover these dates for 2016-18 in our comprehensive guide). Additionally, here are some nationally-recognized festivals and events you may want to note for 2017:
Jackson Rhythm and Blues Festival in August
Mississippi Blues Marathon in January
Spring Natchez Pilgrimage from mid-March to mid-April/ Fall Natchez Pilgrimage in late September to mid-October
Rivergate Festival in mid to late April in Tunica
Mississippi Delta Blues & Heritage Festival in late September
Canton Flea market in mid-May and mid-October
Great Guest Experiences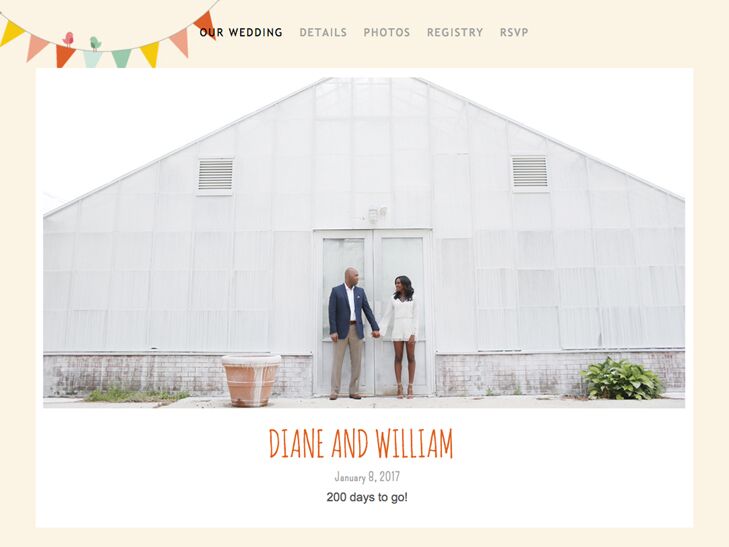 Helping your guests feel comfortable and welcome is one of the key ingredients to wedding success. With such a wide variety of unique wedding venues in Mississippi—from rustic sites to bustling cities—there are so many places for a celebration that is a true reflection of your couple style while also making it fun for your friends and family. No matter where you choose to get married, giving your guests a great experience starts with you creating your very own wedding website. It's a great way to keep everyone connected and informed.
Around Town: What to Do and See in Mississippi
From incredible boardwalks through nature and Civil War–era sites back to the bustling cities, there are lots of things to do and see around Mississippi both before and after your wedding. Some of the most popular attractions of the state are the Vicksburg National Military Park and the Old Mississippi State Capitol, which are sure to thrill any history buff. Elvis fans should not miss the famous Elvis Presley Birthplace & Museum, and those who love nature will enjoy the Gulf Islands National Seashore.
Finding Your Way: Mississippi Travel Info
With Jackson as its capital, Mississippi is a state that offers easy connections to other US states and international destinations as well. The largest airport in the state is Jackson-Evers International Airport, but Gulfport-Biloxi International Airport is also easily accessible.
The easiest way to navigate the state is by car. Buses and trains are available, but keep in mind that some of the routes have been discontinued after Hurricane Katrina. Renting a car is often the only possible option for some venues. There are four major interstate highways in Mississippi, with the I-55 running north-south from New Orleans to Memphis and directly through Jackson.
Go Local: Food and Favors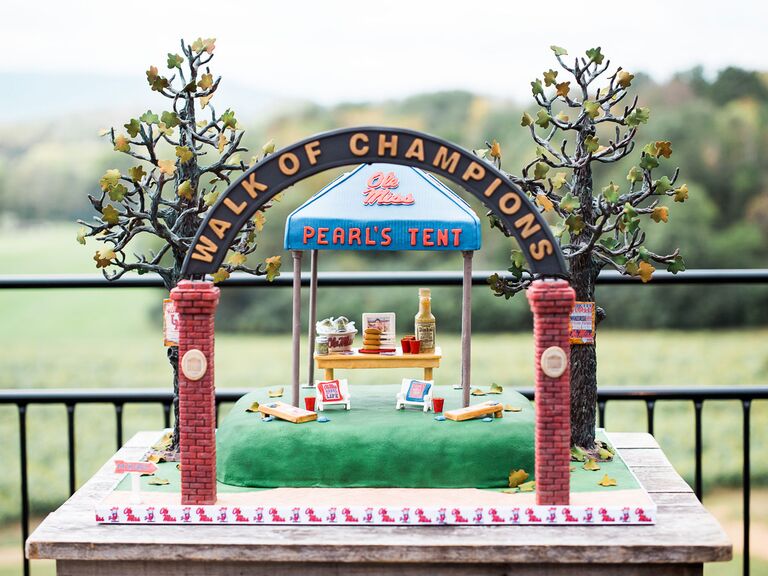 Whether you come from two born and bred Mississippi families or are bringing in relatives from all over the country (or world), embracing the state's unique elements will help make your wedding memorable for all who attend. You certainly can't go wrong with serving up a little Southern comfort when hosting a wedding in Mississippi, but don't limit yourselves. From rustic menus to cosmopolitan ideas that blend traditional foods with contemporary tastes, there is something for every palate. Consider these ideas for bringing the food and culture of Mississippi to your wedding celebration.
Mississippi Flavors: Unique Regional Foods for Your Wedding
Fried chicken and mashed potatoes are perhaps the most recognizable staple of a Southern wedding, accompanied by sweet iced tea, lemonade, cornbread and biscuits. Another quintessential Southern dish is shrimp and grits, which you can easily source given the abundant seafood outlets in the area. Mac and cheese may not be your first idea for a go-to wedding meal, but this classic is prominent at Southern weddings—and few things are more comforting. Bring a touch of this down-home inspiration into the dessert too by opting for red velvet cake or cupcakes or even pecan pies. Have a richer sweet tooth? The simple but memorable Mississippi mud pie won't disappoint.
Do Your Guests a Favor: Mississippi-Inspired Take-Home Treats
What better way to remind guests of the fun they had on your wedding day than by giving them something specific to the state of Mississippi. A good place to start is Mississippi Gift Company, with its seemingly endless options for state-shaped ornaments, pottery and baskets for late-night sweets, plus local sports team memorabilia. Ready for more? Try these other ideas for bringing Mississippi charm into your wedding:
Package pecans in boxes or bags that reflect your wedding colors.
Appeal to the senses with candles from SoDelta Candle Company in several very-Mississippi scents, like cotton, magnolia and sweet tea.
Send guests home with Oxford Falls Wake Up Crabby Bloody Mary Mix (made with real shrimp and crab!). How does that sound for day-after brunch?
Get extra-personal with flour sack kitchen towels hand-printed by a local artist with your wedding theme or a thank-you note to guests (HiYall.com). There's a party gift ordering option with weddings in mind, so you can buy in bulk—personalized tags and ribbons are included to complete the look.
Gift jars of sweet potato butter from Sweet Potato Sweets (Vardaman happens to be the sweet potato capital of the world!)
Out-of-town guests might enjoy taking the Southern taste back home with packages of Delta Blues Chili or Mississippi Bayou Gumbo mix from Ala Carte Alice.
You can't go wrong with a sweet treat, like assorted chocolates and candies from Robicheaux's Specialty Candies or Darby's Famous Fudge.
Check out The Knot Shop for other personalized favors.
Mississippi City Guides
From traditional banquet halls for an indoor wedding to a beautiful barn with a rustic touch for an outdoor ceremony, you can find your ideal venue as well as all the Mississippi vendors you need to host your event. Have a look at our ultimate wedding vendor marketplace to search for the best vendors in the state. Below you will find information about the largest cities in Mississippi where you can host your wedding.
Jackson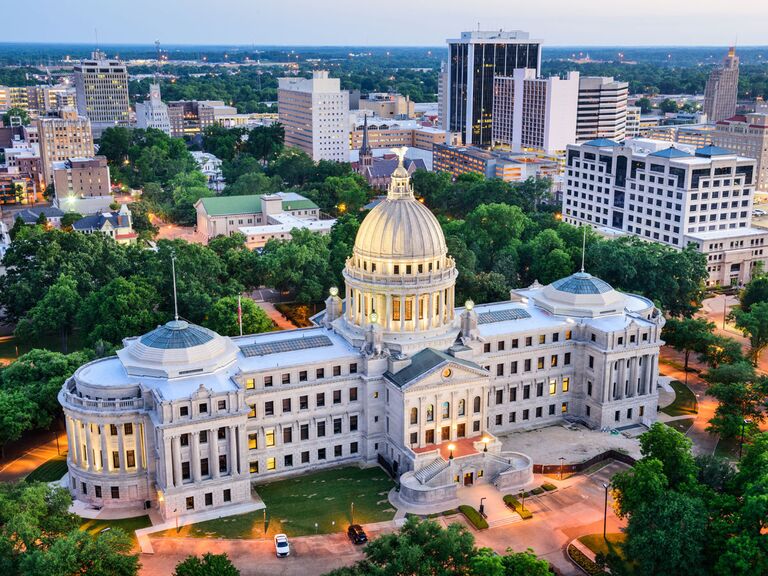 A Jackson wedding incorporates a magical blend of Southern romance with the energy of a vibrant city. As the largest city in the state, Jackson is also known as the "City with Soul," mostly because of its very friendly people. Whether you are a music lover who wants to experience some of the best jazz and blues there is or a history buff who wants to explore relics of the Civil War, Jackson truly has it all.
For local Jackson vendors, check out:
Gulfport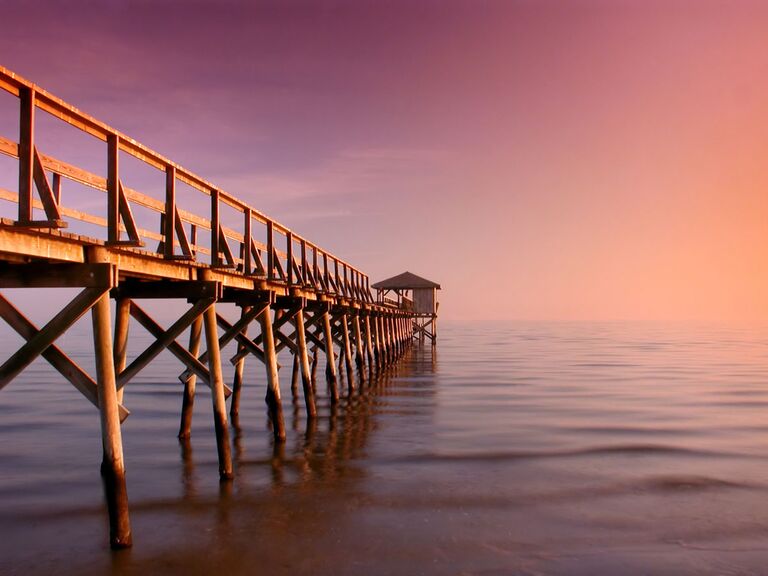 Welcoming guests with a wonderful blend of dining choices, casinos and museums, Gulfport is an outstanding location to host a wedding, as it can provide the couple and their guests with a mix of excitement and adventure. The second largest city, Gulfport has its own airport and is easy to reach from Jackson by car. The proximity of the beach is another perk of a Gulfport wedding, for its beauty, cuisine and available activities.
For local Gulfport vendors, check out:
Biloxi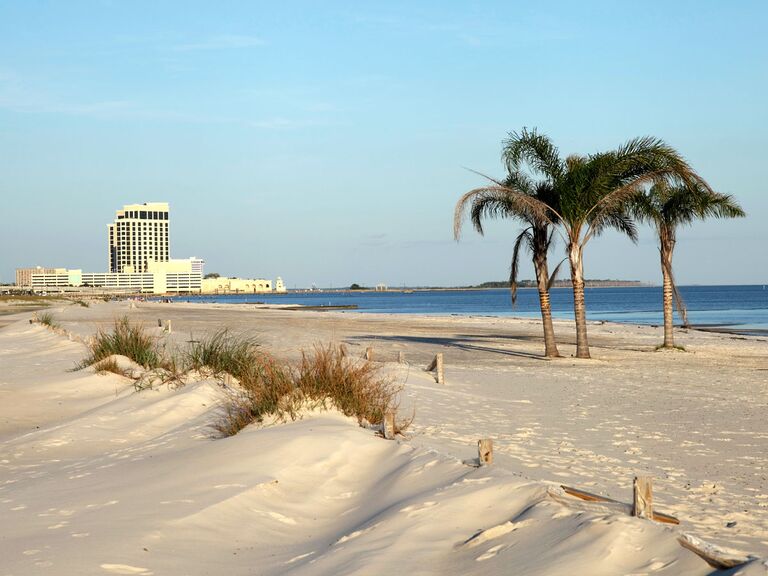 The fifth largest city in Mississippi and part of the Gulfport-Biloxi metropolitan area, Biloxi is home to a stunning beachfront that lies on the Mississippi Sound and has a rich history that goes back to colonial times. The famous Biloxi Lighthouse makes a stunning setting for first-look photos, and the numerous casinos in the city can provide endless fun to your guests before or after your wedding.
For local Biloxi vendors, check out:
Check out more Mississippi wedding inspiration here.

Don't forget to download The Knot Wedding Planner app—it's a must-have for on-the-go planning.
Download for iOS: Wedding Planner App by The Knot

Download for Android: The Knot Wedding Planner
Disclosure: This post contains affiliate links, some of which may be sponsored by paying vendors.