42 Date Ideas in Chicago for Couples Looking to Spice Things Up
From delectable restaurants to adventurous outings, you definitely won't be bored in Chi-town.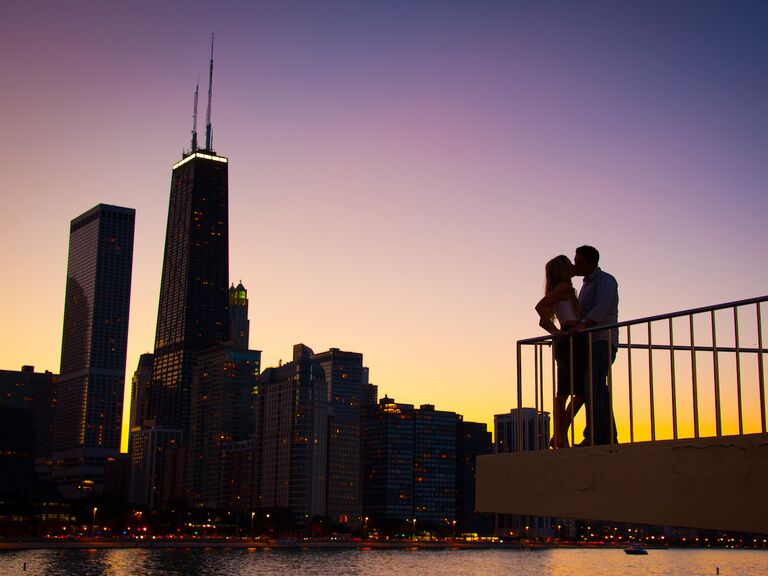 Photo: Matty Wolin / Shutterstock
We have included third party products to help you navigate and enjoy life's biggest moments. Purchases made through links on this page may earn us a commission.
Regardless of where you live, it's possible to find a plethora of fun things to do. But the Windy City takes it up a notch—a boon for couples. Chicago has an array of date night restaurants for any taste, from casual to upscale.
But Chicago date ideas extend way past a dinner out. The city is full of parks, outdoor music and under-the-radar cool street art. On days when the Windy City is living up to its nickname, there are still plenty of boredom-busting activities for couples. Foodie tours, museums, dance classes and cocktail-mixing lessons allow you and your person to try something new together. Whether you're visiting for a couple of days or you're a current Windy City resident looking for romance, opt for one or many of these fun Chicago date ideas.
Chicago Date Ideas In this Article:
Fun Date Ideas in Chicago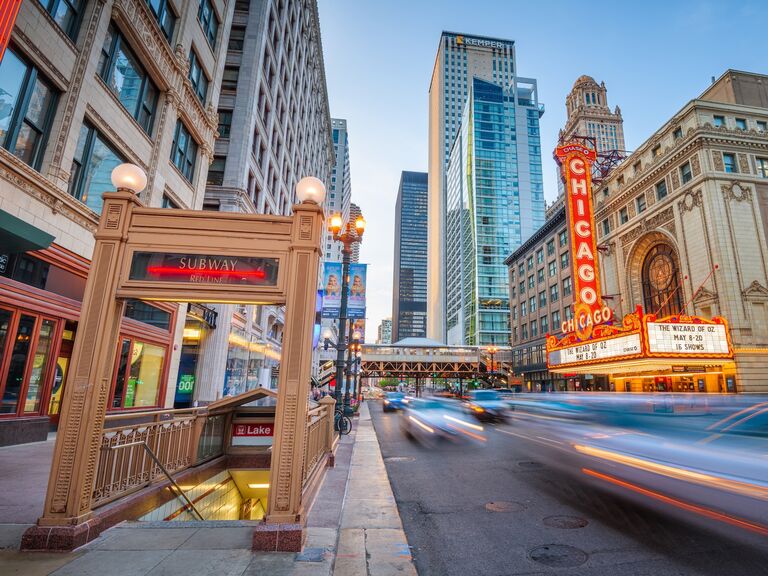 If variety is the spice of life, Chicago is a hot-hot-hot city. From murder mystery parties to donut tours, plenty of fun couples activities ensure you never fall into a date night rut.
Sip and Paint
There are tons of museums for viewing art in Chicago, but why not make your own? Sip-and-paint studios rose in prominence in the past decade, and they've become a mainstay. Exhibit A: Sip and Paint. You don't need to rival Picasso to attend. The beginner-friendly, in-studio classes provide step-by-step instructions that help you get your creative juices flowing. The end result? Something to hang in your home to remember your date by.
4412 N. Milwaukee Avenue, Chicago
Host a Murder Mystery Party
Grab some couple friends for a group date that brings the game-night staple Clue to life. This unique date night idea, organized by The Murder Mystery Co., is also perfect for an engagement party (there's even a "'Til Death Do Us Part" theme for people with a sense of humor about their big day). The live-action "whodunnit" combines mystery with comedy for an event you'll be talking about during dinner dates for months to come.
Embrace Your Inner Pinball Wizard
Gamers can put the consoles down and get their eyes off their screens at this super cool arcade bar. Throwback meets modern day at Logan Arcade Bar, where couples can engage in friendly competition during pinball and fighting games—the loser buys drinks. The good news? Drink specials are aplenty at Logan Arcade Bar. Monday through Friday, happy hour includes discounts on craft beers and non-alcoholic beverages like craft sodas.
2410 W. Fullerton Avenue, Chicago
Shake Up Date Night With a Cocktail Class
Mix things up together by learning the art and science behind cocktail making—because, yes, there is one. Hollow Leg will teach you together in a private or public class. Spend two hours learning something that will help you up your party-hosting game. Hollow Leg provides the ingredients, many of which are housemade or locally sourced. People living the zero-proof lifestyle and those who love them can also learn how to make non-alcoholic sippers.
948 N. Western Avenue #2, Chicago
Enjoy a Sip of History on a Prohibition Tour
Chicago is full of contemporary and turn-of-last-century history. For example, Wrigley Field, built in 1908 for the lovable Chicago Cubs, is iconic. But one piece of history—life during the Prohibition Era—is still a bit secretive. Chicago Prohibition Tours is cracking open the speakeasy door and revealing what happened when people had to clink cocktail glasses secretly. The first-of-its-kind tour takes you to various speakeasies and, of course, includes adult beverages.
27 N. Upper Wacker Drive #126, Chicago
Take a Dance Class
Whether you're prepping for your big day or simply want to learn some new moves, a dance class is a fun way to spend a date in Chicago. Ballroom Dance Chicago is one of the most popular spots to hit a different kind of dance floor. Learn ballroom, salsa and swing during private lessons or with other couples in a group setting. Classes are also available online should visitors want to continue to learn new moves after they head home.
4039B N. Ravenswood Avenue, Ste. B, Chicago
Foodie Date Ideas in Chicago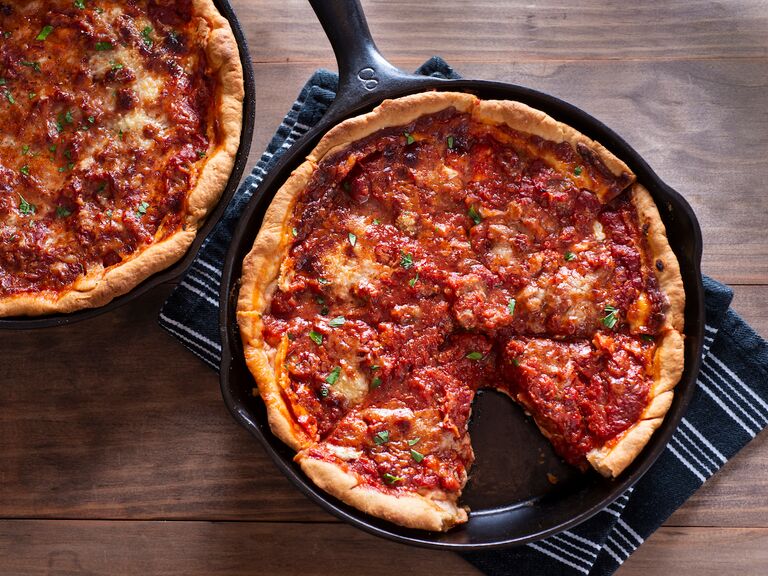 Chicago is a date night restaurant haven. From casual joints perfect for first dates to white tablecloth settings designed for celebratory affairs, the Windy City has it all. Locals and tourists alike can also take small bites of Chicago's foodie scene with specialized tours.
Book a Food Tour
Chicago has plenty to see and eat. If you're on a mini-moon or a weekend getaway, you may feel time-strapped. But you can walk and chew hot dogs at the same time. The Chicago Favorites Ultimate Food and Walking Tour allows you to eat your way across the city. The tour, a product of Bobby's Bike Hike Chicago, combines local landmarks, historic architecture and culinary delights on a 1.5-mile walk. Celebrating something? You can upgrade to three pours of local craft beer. The Wrigley Building, pizza, ketchup-free hot dogs and the Bean are all on the itinerary.
Two Words: Donut Tour
Here's the deal: The super-popular (for obvious reasons) Underground Donut Tour is a must for those with sweet tooths. For more than four hours, you'll peruse French Market stalls, stop and stay a while at donut shops throughout the Chicago Loop, and sample some of the Windy City's most delicious donuts. Guides will also teach you a thing or two about Chicago. In the end, your stomach and taste buds will adore you as much as you love one another.
Eat a 12-Layer Cake at Moody Tongue
You'll want to save room for dessert at the world's only brewery with two Michelin stars. Moody Tongue, a hip and happening South Loop joint, is as known for its 12-layer chocolate cake as it is for its lauded beer menu. The beer menu is something to write home about, though. Expect unique finds like sliced nectarine IPAs and bourbon barrel-aged, 12-layer cake imperial stout inspired by the aforementioned dessert. Oysters make for a delicious app that complements many of the taps.
2515 S. Wabash Avenue, Chicago
Take Flight at City Winery
Wine flights are on the table at City Winery. But the foodie and oenophile destination offers several other experiences, too. Learn about the winemaking process on a tour of the working winery. Live music and comedy shows are also mainstays at City Winery, and a garden patio is perfect for al fresco wining and dining come summer. Shareable dishes like burrata and charcuterie pair well with wine and a night out for two. For a truly romantic memory, work together to create your own label—or even your own personal vintage. City Winery can help you do both.
1200 W. Randolph Street, Chicago
Celebrate at Maple and Ash
The lauded wine menu at Maple and Ash is more than 100 pages long. It includes pairings and all sorts of bubblies, including Champagne. Not to be outdone or too well done (unless you like it that way) is the steak. Bone-in filet mignons, 28-day dry-aged, bone-in rib-eyes, and 32-day dry-aged, bone-in New York strip steaks are all options here. As you might expect, Maple and Ash's dishes and wines are served in an elegant setting with white tablecloths and hefty price tags. Save this upscale steakhouse for a truly special affair.
8 W. Maple Street, Chicago
Dine at an Oyster Bar
Some people clink glasses. Others toast with half shells. You can actually do both at Venteux Brasserie, Cafe and Oyster Bar, an upscale but approachable eatery. East and West Coast oysters are available—couples can enjoy mixing, matching and playfully debating which coast has the best. The comprehensive wine list has plenty of bubblies, considered the ideal companion to oysters. The ambiance is decidedly vintage French bistro. Think dark wooden and red-cushioned walls and furnishings, dim lighting and candlelit tables. It's a bit brooding but completely warm and romantic.
224 N. Michigan Avenue, Chicago
Good First Date Ideas in Chicago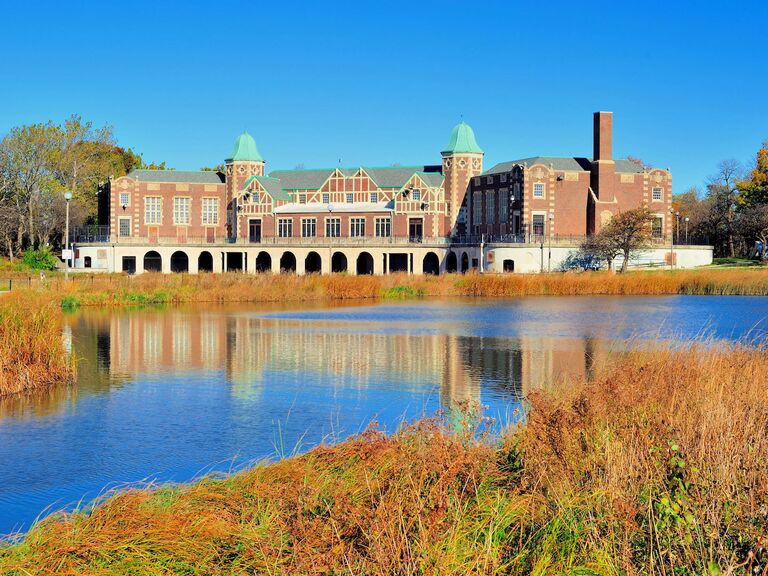 First impressions aren't everything, but they sure do mean something. The right activity and location can ease nerves and spark conversations. From parks that showcase Chicago's four seasons to a legendary drive-in restaurant, these are some of the best things to do on a first date in Chi-town.
Have a Retro Experience at Superdawg
First dates often call for something laid-back—you're still getting to know one another, after all. But you also want a touch of cool. Superdawg serves up both. No need for tables in these parts—car hops deliver the food at this circa-1948 drive-in. The Chicago-style hot dogs served with French fries and all the acceptable condiments (golden mustard, Spanish onions and a hot pepper) are the stuff of legends. Supershakes and Supermalts make for a sweet treat. (One drink with two straws is optional but totally wholesome and recommended.)
6363 N. Milwaukee Avenue, Chicago
Hop Aboard a Swan Boat
First dates call for getting to know one another. An afternoon on the lake at Humboldt Park provides ample opportunity. Wheel Fun Rentals provides the only chance in the city to ride a swan boat. Pedal together—or just float—as you chat about your favorite foods and activities. This date idea is seasonal for obvious reasons and typically begins in April. Adventurous pairs may consider renting a quad, chopper, Deuce Coupe or kayak for their second date.
1301 N. Humboldt Drive (Next to Boathouse Cafe), Chicago
Let New Love Bloom at Garfield Park Conservatory
Garfield Park Conservatory is an oasis from the sometimes-frenetic pace of the Windy City. It boasts one of the nation's largest conservatories, and the stunning blooms are more dramatic than even the best floral arrangements. Ditch the obligatory dozen roses and opt for acres upon acres of indoor and outdoor gardens featuring exotic plants, graceful palms and abundant ferns. The early pairs get the worms (or tickets)—advance reservations are highly recommended. Bonus: Admission is free.
300 N. Central Park Avenue, Chicago
Catch a Flick at Music Box Theatre
Movie dates tend to get a bad rap for a first outing. They can be a bit cliche, and you can't speak to your date. But the Music Box Theatre isn't any old cinema. The circa-1930s space is a haven for indie, cult and classic films. It plays host to festivals and series, like The Princess Bride Valentine's Show. A dog-friendly lounge and patio allows people to sit back and watch vintage VHS tapes from the theater's massive selection.
3733 N. Southport Avenue, Chicago
Grab Some Brews
Metropolitan Brewing offers brews with a side of river views. The industrial-style tap room pours seasonal and year-round German-lager-style beers. A garden patio offers opportunities to sip and chat al fresco, giving way to stunning city and waterfront vistas in the process. Outside food is welcome, but there's a taco menu that pairs perfectly with the beers. Bonus: Dogs are welcome if you need your fur child's approval before committing to a second date.
3057 N. Rockwell Street, Chicago
Take a Trip to the Zoo
The sprawling 35-acre Lincoln Park Zoo may take an entire afternoon to get through, giving you and your date plenty to chat about along the way. The zoo's story begins with a pair of swans in 1868. Today, the fourth oldest zoo on the continent is full of animals and gardens. Get a kick out of the penguins, or squeeze each other's hands when spotting lions and bears. PS: Admission is free.
2001 N. Clark Street, Chicago
Anniversary Date Ideas in Chicago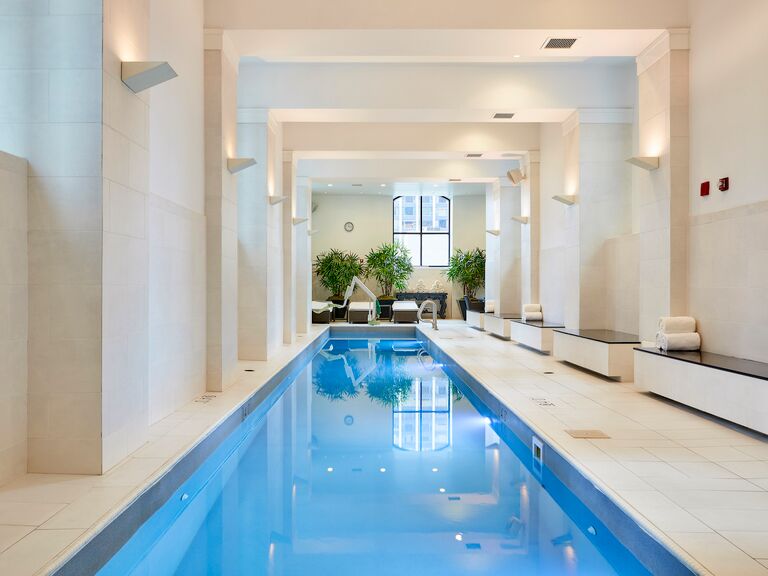 Anniversaries call for something special—no pressure. But if you're tasked with finding the place to go, you may find yourself hitting a mental roadblock or feeling overwhelmed. Chicago is filled to the brim with romantic date ideas, whether you want a luxe-but-low-key couples massage, a multi-day getaway or staycation, or a place to pop some bubbly.
Book a Couple's Suite for a Spa Day
Waldorf hotels have a reputation for being extra luxe. But you don't have to be a hotel guest at Waldorf Astoria Chicago to indulge in spa treatments that align with Waldorf's name. Couples can spoil themselves with an absolutely otherworldly 60- or 90-minute massage. The intimate experience takes place in the couple's suite, so the two of you can breathe and bond in peace. Guests of the hotel can book a massage in their room—consider it a special kind of room service.
11 E. Walton Street, Chicago
Pop Some Champagne
Anniversaries are celebrations by nature. And for some, celebrations and something sparkling go hand in hand. Pops for Champagne has more than a handful of bubbly beverages to choose from, such as bottles and glasses of Champagne, prosecco and Moscato. Champagne and sparkling cocktails also make the menu. Non-alcohol drinkers can raise a glass of a spirit-free drink to the past, present and future. Pops for Champagne's crisp white walls, tasteful and colorful decor, and sparkling string lights give the spot a swanky—but not snobby—ambiance.
601 N. State Street, Chicago
Enjoy a White Tablecloth Dinner
A celebration calls for an elevated affair, and Ever provides it. The restaurant, considered one of Chicago's finest and most romantic, is co-helmed by Michelin-starred chef Curtis Duffy. Reminisce as you nibble your way through an eight to 10-course tasting menu emphasizing surf, turf and seasonal produce. Wine pairings are also available. The two- to three-hour experience allows you and your person to stop and stay a while, blocking out the hustle and bustle of the city and life that awaits you after digestives and dessert.
1340 W. Fulton Street, Chicago
Opt for a Spa Retreat
The idea of a "spa retreat" often evokes wanderlust. But you don't have to jet off to a far-flung location to enjoy one. Allyu Spa offers day retreats right in the River North neighborhood. Spa package options include ones with side-by-side couples massages and hot-stone pedicures. You can also indulge in a little alone time with facials in separate rooms, allowing you to strike the perfect balance between together and alone time.
600 W. Chicago Avenue, Chicago
Make a Great Escape
Sometimes, you simply need to escape the walls of your home. An anniversary provides the perfect excuse, and JW Marriott Chicago is the ideal setting. The luxury hotel has an appropriately named couple's escape package. Enjoy overnight accommodations in hotel rooms that draw inspiration from the bygone era but boast modern amenities like WiFi and flat-screen TVs. Book treatments in the spa, like a luxe couples massage. Should you want to venture out, Millennium Park is a mile away.
151 W. Adams Street, Chicago
Raise a Glass, Gatsby-Style
Situated in a basement, Watershed Bar has a Gatsby vibe but holds onto its Midwest charm. The River North haunt's cocktail menu reads like a TV show's IMDB profile, with cocktails named "Episode 1," "Episode 2," and so forth. A staff member can also share rare spirits served from a tableside beverage cart. There are non-alcoholic beverages, too. Clink glasses to your greatest moments with your drinks of choice.
601 N. State Street, Chicago
Rainy Day Date Ideas in Chicago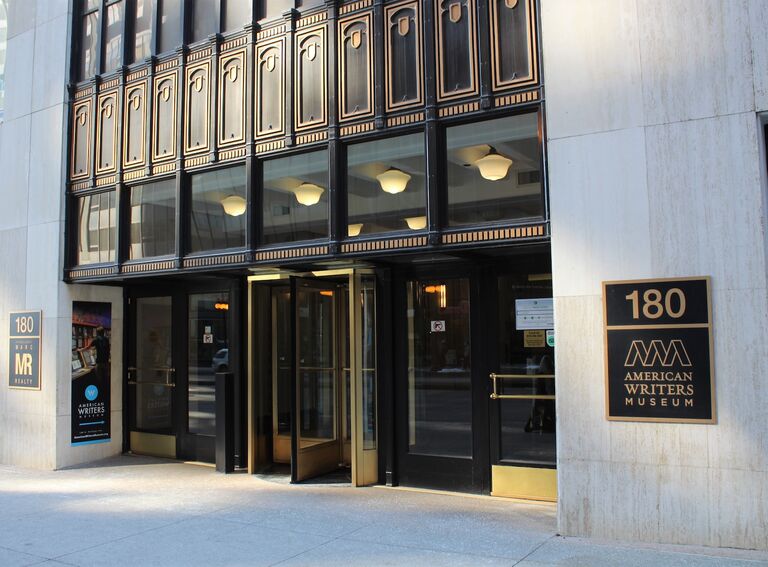 The Windy City has its share of rainy days. And even when the sun is out, chilly weather can call for an indoor date. Don't let it rain (or snow) on your date. These fun couples activities are perfect for when Mother Nature isn't on your good side.
View World-Class Art
The Louvre is thousands of miles across the Atlantic. But you can find impressive art from ancient to modern times at The Art Institute of Chicago. Situated in Chicago's Grant Park, the museum is one of the world's oldest and most popular, welcoming more than 1.5 million people each year. You and your date can be two of them as you browse contemporary works, pieces from ancient Africa and Greece, and an impressionist art collection only trumped by Parisian museums.
111 S. Michigan Avenue, Chicago
Be Wowed by Science
A visit to the Museum of Science and Industry, the largest science museum in the Western Hemisphere, is nothing like your boring high school physics class. It's home to an expansive and impressive collection of items that make instant conversation starters on a date. The 14-acre museum includes a 40-foot tornado, a 727 airplane you can climb, and even a 3D beating heart (now that's romance).
5700 S. Dusable Lake Shore Drive, Chicago
Head to an Escape Room
Yes, escape rooms are still a thing—and they make for unique and fun dates, especially with couple friends. The Escape Game Chicago has five different escape rooms to choose from. You, your date and the rest of your crew can make a prison break, complete an art heist, hunt for an inheritance, save the world or head on a mission to Mars. The exhilarating games put you on the same team and serve as a fun lesson on working together (with plenty of laughs along the way).
42 E. Ontario Street, Chicago
Have a Game Night Out
Board games make for a fun couples activity during a night in. But you can also play them without having to cook or clean dishes. The Bonus Round Game Cafe has 300 board games in stock, so it can be a go-to rainy-day boredom-buster. Wing It, Fun Facts, Concept and Fog of Love will get your competitive, romantic and creative juices flowing as you sip on espresso, libations or mocktails and nibble on snacks.
3230 N. Clark Street, Chicago
Embrace Your Inner-Hemingway
Fancy yourself an amateur poet (at least on anniversaries and Valentine's Day)? Love curling up with a good romance novel? Just looking for something new? The first-of-its-kind American Writers Museum makes for a unique indoor date idea. The museum celebrates all writing genres with unique exhibits and artifacts like vintage typewriters, a word waterfall and word games. A surprise bookshelf will turn the date into a multi-sensory experience with items focusing on sights, scents and sounds connected to a literary work.
180 N. Michigan Avenue, Chicago
Go Bowling
Bowling makes for a low-key, laid-back way to spend a rainy day that also goes easy on your wallet. It also gives you a chance to embrace your competitive side while having fun and chatting. Diversey River Bowl's concert-level speakers allow you to sing and dance as you attempt to get a strike (or at least knock over one pin). Refuel and rehydrate at the restaurant and bar that features casual comfort-food fare like pizza, pasta, soda (or shall we say pop?) and beer on tap. Cosmic Bowling on Friday and Saturday nights turns the alley colorful and makes for a fun alternative to a nightclub.
2211 W. Diversey Parkway, Chicago
Outdoor Date Ideas in Chicago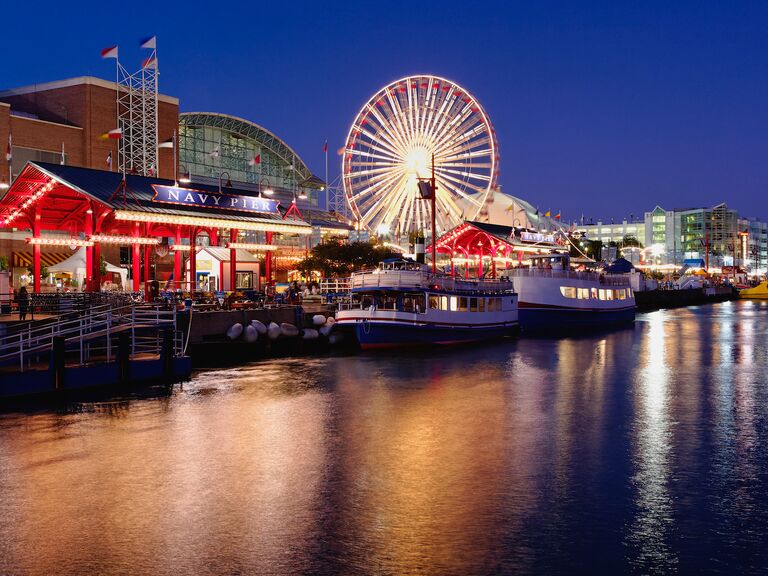 Don't let the moniker "The Windy City" fool you. Chicago has its share of gorgeous days. Embrace them by taking to the streets (or sand) and exploring the city with these fun outdoor activities for couples.
Enjoy a Dog-Friendly Beach Day
Whether you're a family of three already or you need your dog to meet your prospective new partner, Montrose Dog Beach is a great way to spend time together. Take turns throwing the ball for your pup—they're allowed in the water, provided there's no swim ban in effect. Or, simply enjoy a quintessential long walk on the beach, Fido in tow. Access is free, but a tag is required, including for non-Chicago residents. (Non-Chicago residents are welcome but need to obtain a dog tag from a list of veterinarians approved by the beach, and many require an appointment.)
4697 Lawrence, W. Wilson Drive, Chicago
Walk Navy Pier
The iconic 3,300-foot-long Navy Pier boasts plenty of attractions. But arguably, the stunning Lake Michigan vistas are the year-round draw. The lake is gorgeous and ethereal even when it's frozen. Lake Michigan aside, there's something for everyone along the pier. Win your date something special by owning the arcade, dine at one of the many restaurants, or have a quintessential romantic moment atop the postcard-perfect Ferris wheel.
600 E. Grand Avenue, Chicago
See Art Al Fresco
Indoor museums are perfect for rainy days or any day, really. But when the weather is warm and sunny and the outdoors beckon, there's unique outdoor art to be viewed in Chicago. Specifically, the area of 16th Street from the Chicago River to Pilsen's Western Avenue is full of vibrant street murals. Take in the colorful work along the walls of an old railroad embankment. Over the years, renowned street artists like ROA and Sheryo have left their marks along the al fresco gallery.
16th Street from the Chicago River to Western Avenue in Pilsen
Hear Live Music in Millennium Park
The Bean brings tourists to Millennium Park in droves. But live music events take center stage for locals and visitors alike come spring and summer. A summer concert series brings an eclectic mix of artists to the park. Acts span genres—country, R&B, pop and disco are all usually in the mix. Picnic blankets and baskets are welcome. Pack a dinner for two and snuggle up (or boogie) as you listen in and sing along together.
201 E. Randolph Street, Chicago
Explore Grant Park
The behemoth Grant Park is 319 acres in the Loop community and actually includes the aforementioned Millennium Park. It showcases Chicago's four seasons. Expect pops of colorful foliage come fall, bare and peaceful landscapes in the winter, and lush and highly populated grounds every spring and summer. It's home to the renowned Chicago Blues Festival and Lollapalooza. Plenty of museums, like the Shedd Aquarium and Museum of Natural History, are also located within the park—ideal for ducking into if the weather turns sour. In short, there are options aplenty for a date in Grant Park, but even a simple stroll will leave you feeling rekindled.
337 E. Randolph Street, Chicago
Traverse the Chicago Riverwalk
The Chicago Riverwalk, a lively public space, boasts plenty of fun things to do—including free ones. Adventurous pairs can rent a kayak in The Cove from Dearborn to Clark and sail through the Chicago River. The world-famous architecture is a sight to see as you take a romantic stroll. Ditto for the floating wetland gardens and bird-watching opportunities from Wells to Franklin. Rest weary legs in the tree-shaded River Theater cove.
Riverwalk, Chicago
Winter Date Ideas in Chicago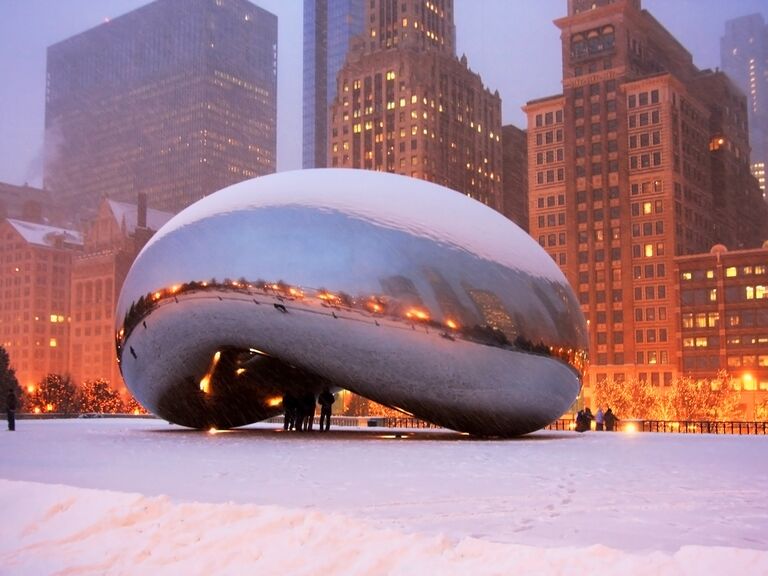 Chicago is home to four seasons, including freezing winters—the colder months are truly cold in these parts. But there's no need to hibernate. Winter in Chi-town calls for indoor date ideas and romantic outdoor outings that embrace the elements.
Skydive Indoors
The colder months can bring about cabin fever and boredom. Bust it with a dose of adrenaline. IFLY Indoor Skydiving allows for free-falling experiences in Lincoln Park. Don't worry—instructors will provide training and hands-on assistance as needed, and you'll have one another. Each skydiver gets two chances at a 60-second free-fall at wind speeds up to 80 mph. The small-group setting (12 people at a time) allows for a more intimate experience.
800 W. Scott Street, Chicago
Go Ice Skating
Millennium Park is known for its summer concerts and gorgeous botanicals in the warmer months. But when the temperature dips, it becomes a place to engage in a quintessential winter activity: ice skating. Rinks are nice and all, but there's something romantic about holding hands as you slip, slide and maybe attempt to impress your date with an axle. McCormick Tribune Ice Rink is typically open from mid-November through March. Admission is free, but reservations are required. Hot cocoa is not mandatory, but it's highly recommended.
201 E. Randolph Street, Chicago
See One-of-a-Kind Performances
The Neo-Futurists offer a theater experience well off the Broadway beaten path. Each performance offers something different. Some are so funny you'll laugh for days, while others have a more brooding appeal—all are bold and one-of-a-kind. The avant-garde-style acts will spark conversation, making post-performance dinner or drinks a must even if they weren't initially part of the date. It's a perfect spot to help couples break out of hibernation.
5153 N. Ashland Avenue, Chicago
Cheer on a Local Tea
A trip to the iconic Soldier Field to see the Bears in the winter isn't for the faint of heart. But those who dare to brave the cold are in for a memorable experience at the nearly century-old stadium. If sitting outside for three to four hours on a wintery Chicago afternoon or evening gives you literal chills just thinking about it, opt for a Bulls game at the United Center instead. Just seeing Michael Jordan's number hanging from the rafters is enough to give anyone goosebumps.
1410 Special Olympics Drive, Chicago
1901 W. Madison Street, Chicago
Get in the Holiday Spirit
Though many consider Macy's Thanksgiving Day Parade in New York the kick-off to the holiday season, Chicago has other ideas. The iconic Magnificent Mile gets a visit from Kris Kringle the weekend before Thanksgiving for the renowned Magnificent Mile Lights Festival. No need for bah humbugs about waiting until you have turkey to break out the lights—it's never too early to get extra merry, especially with a date. Take in a parade led by Mickey and Minnie Mouse, shopping, live music and about 200 trees illuminated with twinkling lights.
North Michigan Avenue
Peruse Contemporary Art
Situated near Chicago's Water Tower, the Museum of Contemporary Art Chicago opened in 1967 and is one of the largest spots in the world to view modern art. Impress your date by finding a Warhol—yes, Andy Warhol's works are part of the museum's permanent collection—and learn more about postmodernism, pop art, minimalism and more. The gallery-style museum is full of works from diverse mediums, including painting, video, photography and sculpture. It also celebrates dance, theater and music.
220 E. Chicago Avenue, Chicago