The Definitive List of the Most Romantic Restaurants in San Diego for Every Occasion
Whether it's Valentine's Day, date night or an anniversary celebration, these spots are cool, cozy and delicious.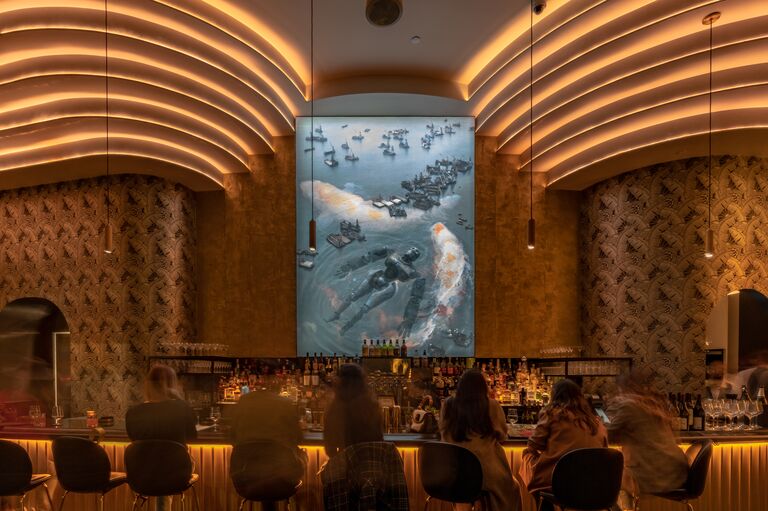 James Tran / Animae
We have included third party products to help you navigate and enjoy life's biggest moments. Purchases made through links on this page may earn us a commission.
San Diego's prime location in Southern California offers plenty to do, from amazing surfing and beaches to plenty of spots to see the region's adorable sea lions. But because of the city's natural surroundings, it's easy to forget that its food scene is one of the best in the country—and comprises far more than just beach bars serving fish tacos.
At some of the most romantic restaurants in San Diego, you can enjoy an intimate meal paired with a tarot card reading; a jazz brunch from the top of a skyscraper; and sushi in a small restaurant with room for just nine lucky guests. San Diego's Little Italy neighborhood has plenty of authentic Italian cuisine, and if you're in the mood for seafood, well, you're in the right city. Here are the 21 most romantic restaurants in San Diego for a date night, Valentine's Day, special occasions and everything in between.
The Knot's Top Picks for Romantic Restaurants in San Diego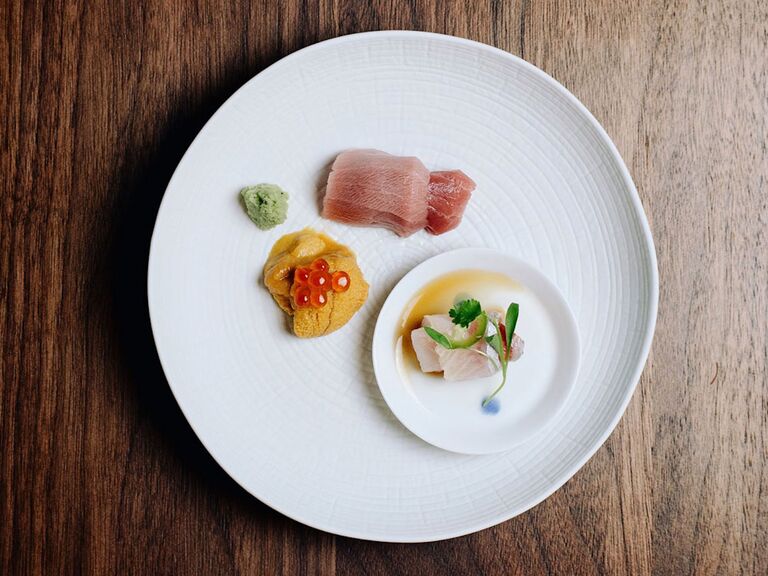 San Diego has so many restaurants that it can be hard to know where to start your search. Our cheat sheet below features the best of the best to help you out.
The Most Romantic Restaurant in San Diego: Starlite
Favorite Affordable Date Night Restaurant in San Diego: Seventh House
Best Romantic Italian Restaurant in San Diego: Catania
Romantic Restaurant with the Best Ocean View: The Marine Room
Cozy Valentine's Day Restaurant: Himitsu
Cesarina, Point Loma
Cesarina is a Michelin Bib Gourmand restaurant, with an interior that feels like you've stepped into a sunny Italian cafe in the middle of spring. The vibe is colorful and mismatched, with a build-your-own pasta menu that ensures everyone can find something they like. It's a great place for a first or second date when you want to feel like you're having an afternoon picnic in Sicily. All pastas are homemade, with lots of vegan options.
4161 Voltaire St, San Diego, CA 92107
Himitsu, La Jolla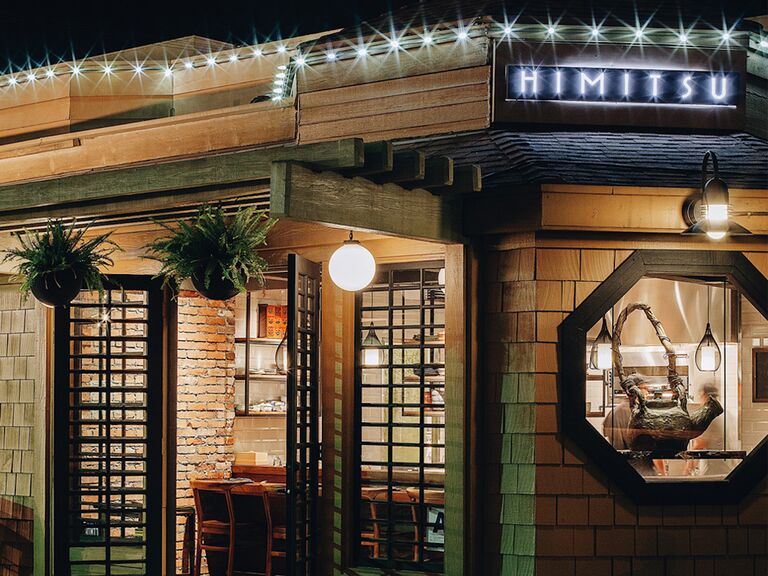 Himitsu means "secret" in Japanese. It's a fitting name, considering the tiny restaurant sits on a nondescript road in La Jolla. But don't be fooled: It's one of the most romantic restaurants in San Diego for sushi, with a counter that serves just nine guests. It feels cozy and exclusive, and you'll impress your date with how in-the-know you are when the chefs serve up stellar sashimi ranging from Japanese sea perch to seared toro. It's an excellent place to celebrate Valentine's Day in San Diego, but make sure to reserve a table far in advance.
1030 Torrey Pines Rd G, La Jolla, CA 92037
Tahona Bar, Old Town San Diego
Tahona Bar is the perfect place for an educational dinner date, as it offers something you won't find at many romantic restaurants in San Diego: guided mezcal tastings. After learning all there is to know about the smoky libation, you can dig into a creative dinner with options like mole flights and tempura squash blossoms. If the evening is going well, you can turn up the romance a notch by stepping into the bar's unmarked speakeasy, Oculto 477. The moody and intimate space is reservation only and a great place to chat late into the evening.
2414 San Diego Ave, San Diego, CA 92110
Vessel Restaurant and Bar, Point Loma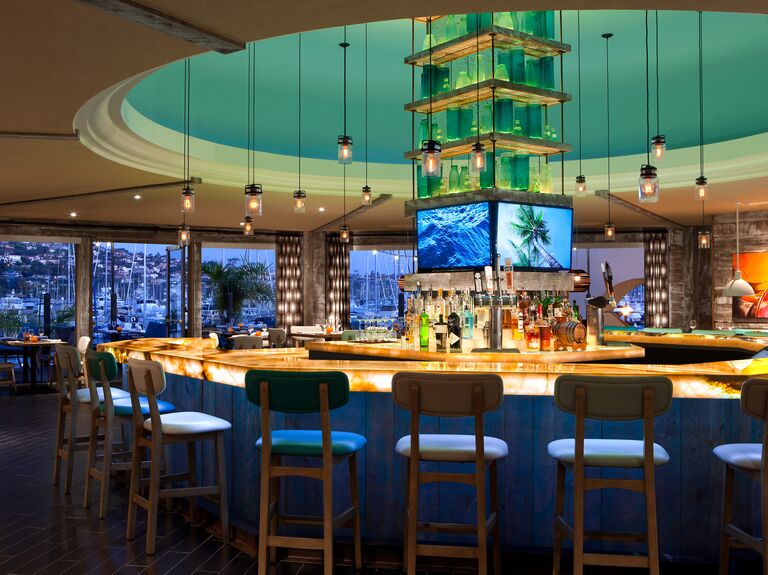 Vessel Restaurant's main claim to fame is its posh, 360-degree cocktail bar looking out on the Point Loma peninsula. But what makes it one of the most romantic restaurants in San Diego is its nightly outdoor bonfires, where diners can snuggle up while roasting s'mores and watching the sun set over the marina. It's heavy on seafood with a modern twist, but it's also a great after-dinner stop, especially if you pair your s'mores with a chocolate martini.
1551 Shelter Island Dr, San Diego, CA 92106
Water Grill, Gaslamp District
If oysters are an aphrodisiac, then Water Grill is the best upscale restaurant to choose when you're ready to take your romance to the next level. The inviting restaurant is styled in deep natural tones and usually has about 10 different oysters on the menu each day (along with information about their provenance, which should please eco-conscious eaters). Though it's known for its extensive raw bar (and thoughtfully paired cocktails), there are plenty of other seafood options as well.
615 J St, San Diego, CA 92101
The Marine Room, La Jolla
The waterfront Marine Room is known for being one of the most romantic restaurants in San Diego, with huge glass windows that look out on the La Jolla shoreline. But what makes it truly exciting is that during high tide, the waves crash against the windows, creating a dramatic show for anyone lucky enough to snag a table. The menu is heavy on California seafood, with a 33-page wine list sure to include something for every palate.
2000 Spindrift Dr, La Jolla, CA 92037
Mister A's, Downtown San Diego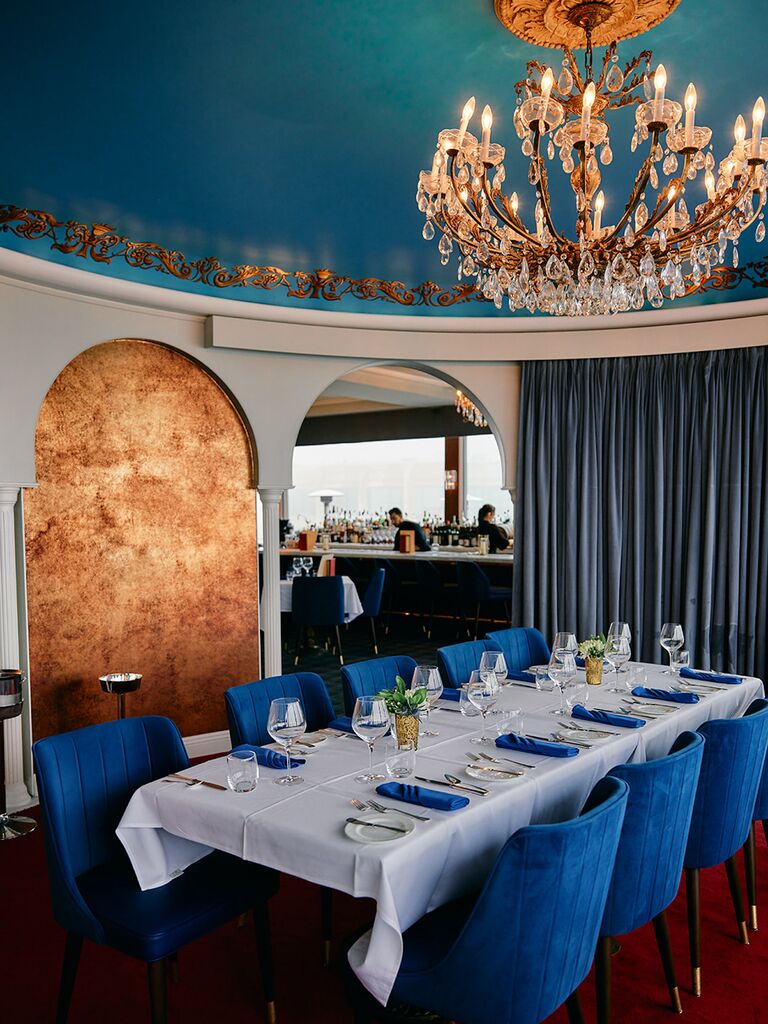 Mister A's has an atmosphere that will always offer a little bit of extra romance, thanks to its position on the 12th floor of a downtown skyscraper. It has phenomenal views of the city and a beautiful outdoor lounge area. It's always impressive and always a good choice, especially for a romantic restaurant in San Diego with a view. For an unexpected date idea, make reservations for a Saturday jazz brunch and enjoy an elegant morning of French beignets, white cheddar omelets, Creole bloody marys and other decadent dishes.
2550 Fifth Ave 12th floor, San Diego, CA 92103
Catania, La Jolla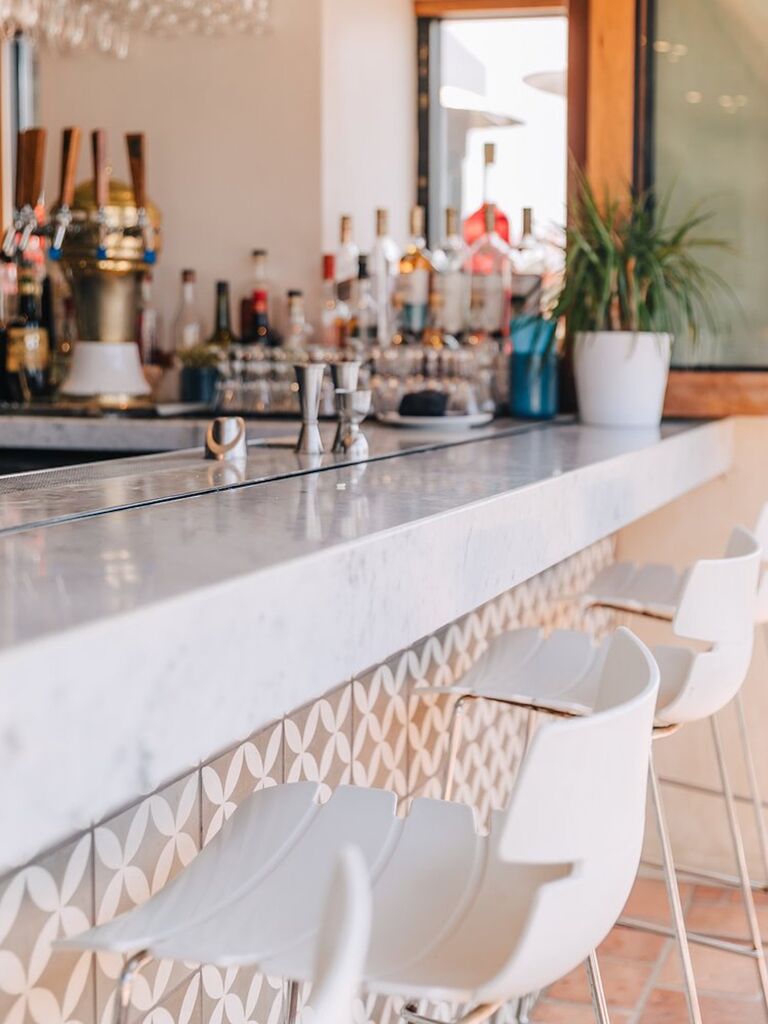 You can't make a bad choice at Catania, arguably the most romantic Italian restaurant in San Diego. All the pizza, pasta and desserts are homemade, and it's won several area awards for its cuisine. During the day, the restaurant's patio is a popular place for chic, elevated Italian food (paired with a spritzer), but in the evening, it becomes a romantic spot for an al fresco dinner. While it's easy to fill up on dishes like sweet corn tortelli and wood-fired blackberry and pancetta pizza, try to save room for dessert: the Nutella semifreddo is hard to resist.
7863 Girard Avenue #301 F3, La Jolla, CA 92037
Moe's Steakhouse, Mission Beach
Moe's Steakhouse is the epitome of old-school luxury and one of the best romantic restaurants in San Diego for a decadent dinner paired with hearty, impressive cocktails. It feels rich and sleek—the kind of place where Frank Sinatra would have gone for a bourbon cocktail. It's known for steaks, including Japanese Wagyu, but the shrimp and crab bucatini is also an excellent choice.
3768 Mission Blvd, San Diego, CA 92109
Seventh House San Diego, North Park
It's hard to know where to start with Seventh House, but in a good way. The space is quirky, eclectic, luxurious and has a vaguely Art Deco, 1920s theme—in other words, it's fantastic. It's perfect for a fun San Diego date night as it not only has whimsical adornments, but also money-saving specials offered throughout the week. Tuesday brings half-priced wine bottles, and a three-course date night menu for two is offered for $70 every Wednesday. Oh, and free tarot card readings start every night at 6 p.m.
2835 University Ave, San Diego, CA 92104
The Smoking Goat, North Park
There's no better cozy restaurant in San Diego than The Smoking Goat, a French-American bistro with exposed brick walls, moody lighting and oversized chandeliers aplenty. It's heavy on French farm-to-table cuisine, and it's most definitely a go-to date night spot in the area. The menu is small but heavy on shareables like baked brie with pistachios and cranberries and truffle fries with pecorino romano and mustard aioli.
3408 30th St, San Diego, CA 92104
Starlite, Mission Hills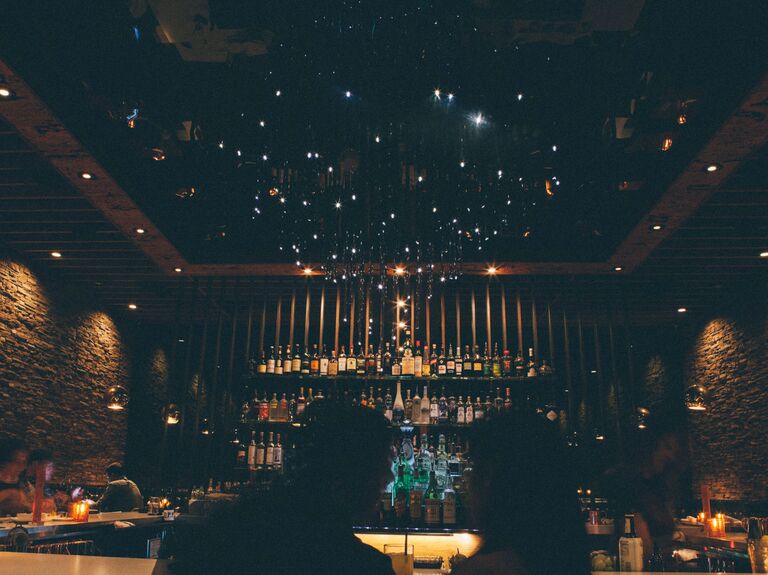 Romance, thy name is Starlite. From the subtle twinkle lights hanging from the ceiling to the black leather booths and sunken central bar, Starlite embodies the perfect romantic restaurant. It's modern and chic, as you'd expect of the city, but thanks to moody lighting and smart design choices, every table feels private. It's 21 and over only, and there's even a nightly playlist made available to guests in case you want to recreate the mood for your next at-home dinner date. Come for dinner, or drop in after dinner for a glass of cava and a slice of the restaurant's signature lemon-ricotta cake.
3175 India St, San Diego, CA 92103
Lumi, Gaslamp District
Lumi is a hip and romantic restaurant in central San Diego. It offers a rooftop dining experience with an intimate ambiance, perfect for a special date night or Valentine's Day. It's known for innovative Japanese cuisine and sushi, featuring traditional Japanese flavors with modern twists. Dishes are a work of art unto themselves, and the on-site DJs do an excellent job setting a lively mood.
366 Fifth Ave, San Diego, CA 92101
Mille Fleurs, Rancho Santa Fe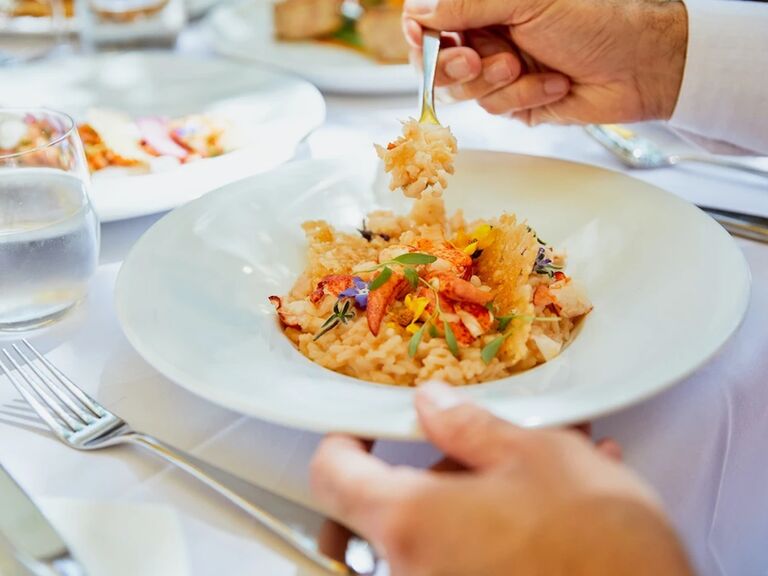 Mille Fleurs is a downright charming restaurant just north of the city with a warm atmosphere that's reminiscent of a romantic country retreat in France. The menu combines French and Californian cuisine, with seatings both in the open-air courtyard and the cozy indoor space, which feels a bit like sitting in someone's dining room. There's even a resident pianist from 8 to 11 p.m. every Friday and Saturday evening. The menu changes seasonally, with a dessert menu almost as big as the dinner menu.
6009 Paseo Delicias, Rancho Santa Fe, CA 92067
Bali Hai, Point Loma
Bali Hai is one of the most romantic restaurants in San Diego with waterfront views on San Diego Bay. It's adorned with tikis, exotic plants, waterfalls and torches, but it has an old-school glamor that keeps it from feeling cheesy or overdone. It's not a tiki bar—it's a timeless escape into Polynesian cuisine, with a creative menu served both indoors and outdoors. The honey cashew shrimp is one of the best seafood dishes you'll find in Point Loma.
2230 Shelter Island Dr, San Diego, CA 92106
Wormwood, Normal Heights
Wormwood is a unique and romantic San Diego restaurant dedicated to all things absinthe. It draws inspiration for its food and drink from Paris' bohemian era, with a space adorned in greenery and flowers. The menu features dishes such as fruits de mare, Wagyu tartare and duck confit, all prepared with creativity and attention to detail. It's one of the most sophisticated and romantic restaurants in San Diego, and it provides a great date night activity: learning about and trying absinthe.
4677 30th St, San Diego, CA 92116
Born and Raised, Little Italy
Born and Raised is a renowned steakhouse and cocktail lounge that makes the perfect place for an elegant date night in San Diego. It harkens back to the golden age of glamor, thanks in no small part to the romantic rooftop bar—it has stunning views of the city skyline with gold detailing and ambient lighting. The menu focuses on prime steaks and classic steakhouse dishes, all prepared with high-end ingredients. It's not an inexpensive place for a San Diego date night, but it's a great choice for a special occasion when you're ready to splurge.
1909 India St, San Diego, CA 92101
Havana 1920, Gaslamp District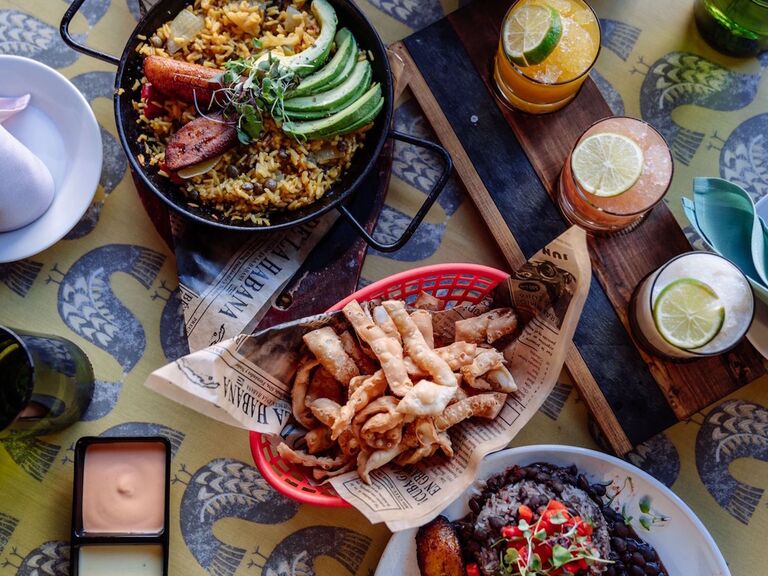 Everything you need to know about Havana 1920 you can get from the name. It's a cozy and low-key Cuban restaurant styled after Havana in the 1920s. Tables and booths are spread out into various nooks, and it feels akin to being on a Caribbean cruise bound for Cuba. The outdoor patio is lively and fun, but the dining room is the better choice for a date night, as it has live music in the evenings. The menu is extensive and authentic, so order a variety of dishes to share and explore together. There's also an excellent cocktail and coffee menu.
548 Fifth Ave, San Diego, CA 92101
Tom Ham's Lighthouse, Harbor Island
For one of the most romantic restaurants in San Diego with waterfront views, book a table at Tom Ham's Lighthouse. It's in a historic lighthouse building that has been a landmark in San Diego since the 1970s. The architecture and maritime-inspired decor make it one of the most unique waterfront restaurants in San Diego, and the fantastic seafood dishes make it one of the tastiest. Expect seafood classics like oysters, crab legs and lobster set against beautiful views of Coronado Island and San Diego Bay.
2150 Harbor Island Dr, San Diego, CA 92101
Animae, Marina District
Animae offers a twist on a traditional Japanese steakhouse, infusing it with an eclectic California vibe. At first blush, you'll notice the rich gold tones and Art Deco decor, but it doesn't take long to pick up on quirky details like robot-themed art and neon-colored cocktails. It's one of the few romantic restaurants in San Diego serving the A5 grade of Wagyu beef. All of the menu items—desserts and cocktails included—are an aesthetically pleasing explosion of color, texture and taste. You can't make a bad choice at Animae.
969 Pacific Hwy, San Diego, CA 92101
Top of the Market, Downtown San Diego
Top of the Market is known for being one of the tastiest fine-dining restaurants in San Diego, with high-end elements like white tablecloths and cozy leather booths. It's known for sustainable and locally sourced seafood, along with great views of the famous USS Midway and San Diego Bay. There are three great places to sit at this romantic San Diego restaurant: inside next to the floor-to-ceiling window; outside on the heated patio overlooking the water; and inside at the "exhibition counter," where you can watch chefs in the impressive open kitchen work their magic.
750 N Harbor Dr, San Diego, CA 92101