Napa and Sonoma Valley Honeymoon: Weather and Travel Guide
by the knot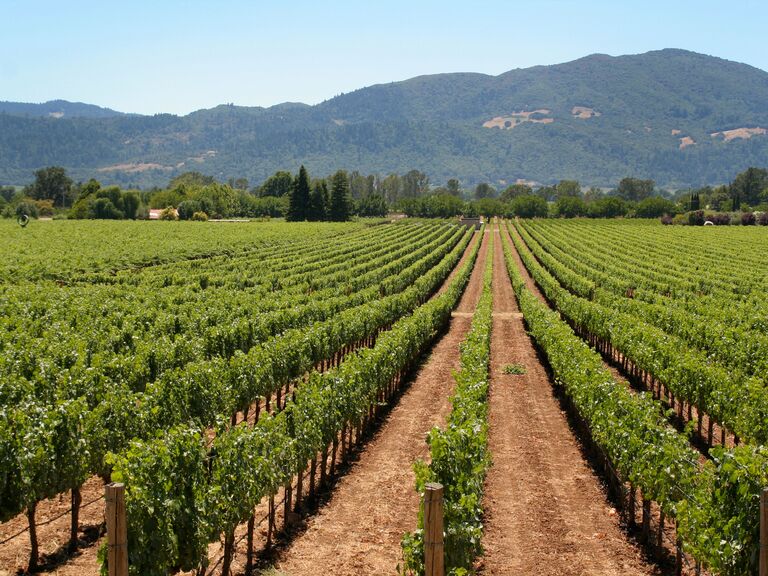 For stateside romance, few places can beat the rolling hills and world-renowned vineyards of California's wine country, an hour and a half north of San Francisco. Come here for a quick getaway or a more involved trip spent sniffing wines, strolling the coast, and surrendering to spa treatments and hot springs.

Before You Go: Need-to-know info
Language: English
Flight time: 6 hours from New York City; 2 hours from LA; plan on a 1 1/2 hour drive once you land in San Francisco
Getting around: Car

When to Go: Napa and Sonoma at their best
Best weather: August to November
Best prices: December to March

What to Do:
Grapes: More than 400 vineyards dot Napa and Sonoma valleys, including Beaulieu Vineyard, Sterling Vineyards, Domaine Chandon (owned by Möet-Hennessey – Louis Vuitton), Kenwood Vineyards, Benziger Family Winery, Stag's Leap, Blackstone, Sutter Home, Korbel Champagne Cellars, and Roederer Estate. Visit large wineries for impromptu tours and tastings, but keep in mind that boutique wineries may require reservations. Venture underground too, below Rutherford Hill in Napa Valley, for some of the largest wine caves in America. Or see the valley by train during a three-hour brunch, lunch, dinner or theme ride from Napa to St. Helena and back on the Napa Valley Wine Train.
Hot springs: The town of Calistoga is famous for its hot springs and spas. At the Indian Springs Resort and Spa, make an appointment for a volcanic mud bath but then arrive early to swim in the Olympic-sized, mineral spring pool kept at 90 to 102 degrees Fahrenheit (it's said to feel like a giant vat of warm Perrier) and sip the house specialty – citrus- and cucumber-infused mineral water.
Antiquing: In Sonoma, try the town of Petaluma, Sebastopol's Antique Row (hundreds of dealers along the Gravenstein Country Highway), and the Collective Shops of Healdsburg. In downtown Napa, visit Alice's Napa Vintage Market.
Romance: Take in panoramic views of wine country, even San Francisco and the Sierras on a clear day, in a tranquil hot-air-balloon ride.