The 15 Hands-Down Most Romantic Getaways in California
From Big Sur to resorts big on relaxation, the Golden State is a couple's dream.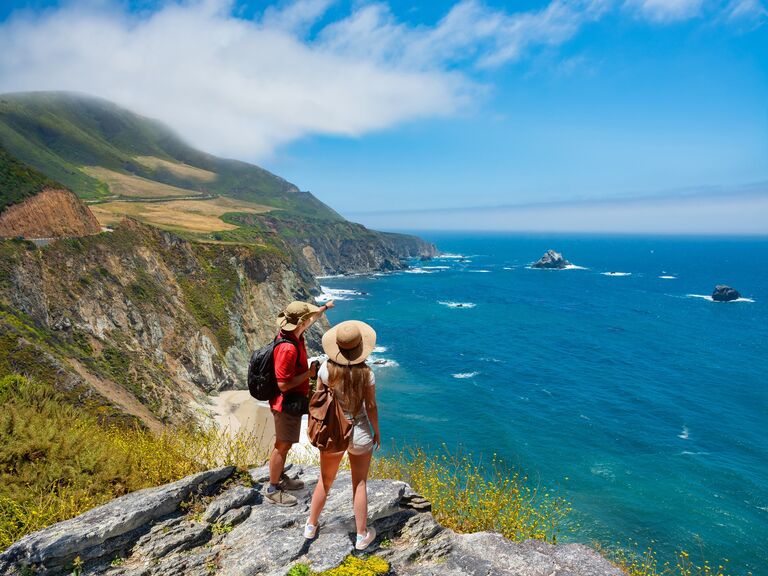 MargaretW / Getty Images
We have included third party products to help you navigate and enjoy life's biggest moments. Purchases made through links on this page may earn us a commission.
The possibilities for romantic getaways in California are as varied as the state itself. Whether you're looking for a short couple's getaway or a longer California honeymoon, the Golden State is full of adventures. Seafaring types exploring the US can enjoy beach resort towns and coastal cities like Malibu and Big Sur, two of the most noted places to visit in California. Urban centers like Los Angeles and San Francisco are packed with best-in-class culture and breakthrough technology, while foodies may prefer venturing north to Sonoma and Napa Valley, where America's culinary and wine industries reign supreme.
Though the state has its share of high-end destinations thanks to local Hollywood clientele, there are plenty of affordable couples getaways in California, too. Try a camping trip through Yosemite National Park to experience our nation's hallowed sequoia trees and otherworldly granite cliff views, or hike the trails in Joshua Tree National Park to witness the unexpected vibrancy of the desert up close. And of course, California's coastline is a hub for surfers of all abilities and ages. Whatever your idea of a vacation is, you'll find a romantic getaway in California that hits all the notes.
Big Sur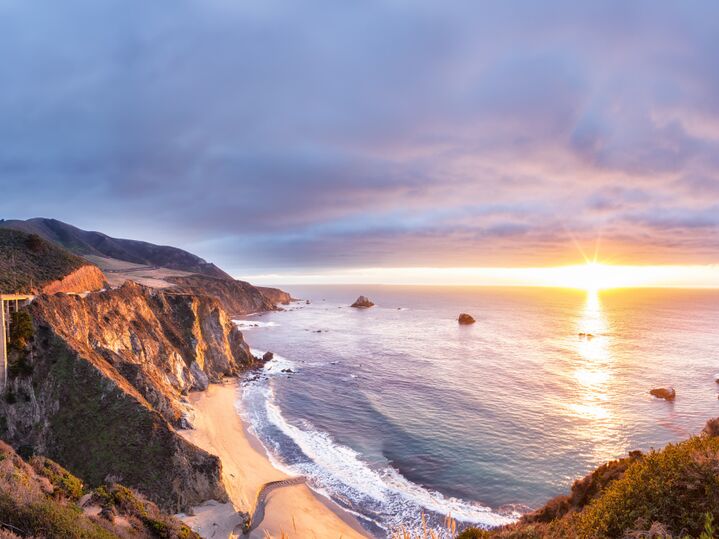 Big Sur's rugged shoreline swaps white sand for jagged cliffs, which offer some of the Pacific Coast Highway's most iconic views. Aside from the bluffs, you'll spot redwood forests and even whales through the misty fog as you drive or sail along California's central coast hotspot. Besides being a historic home to beatnik poets like Jack Kerouac, Big Sur is also a prime California location for couples seeking to recharge through hikes, swims, and stargazing. April through October is prime time for weather and travelers, and some businesses close or have reduced hours in the off-season, so check before you visit.
Things to do: Visit Bixby Bridge and park at Castle Point Lookout, situated along the ocean side of the bridge's north end, at "Golden Hour" (aka sunset) for a memorable snap. When the tide is high, head to McAway Falls, where the 80-foot tidefall looks like it's descending straight into the Pacific ocean. Vacationing couples can find amazing views at Julia Pfeiffer Burns State Park or Point Sur State Historic Park, home to a 40-foot lighthouse atop a 361-foot rock. After a day or two of exploration, indulge in a massage and soak in the natural hot springs at Esalen. For fine dining, Nepenthe offers an approachable American menu, cliffside views, and a history of impressing the likes of the late Liz Taylor.
Where to stay: Post Ranch Inn; Ventana Big Sur; Big Sur River Inn; Fernwood Resort; Big Sur Lodge; Glen Oaks Big Sur
Malibu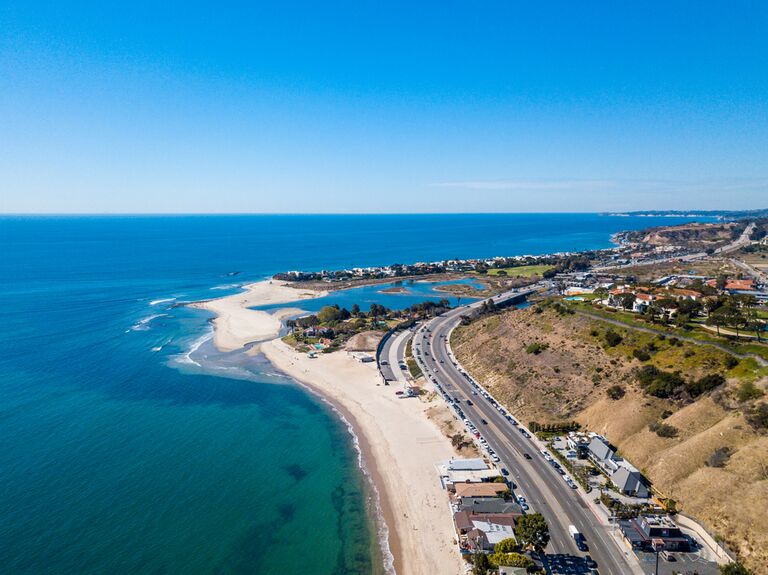 When it comes to romantic getaways in Southern California, look no further than Malibu for a weekend excursion. The surfer haven is a true stargazing destination (in the figurative sense, it's a favorite place of celebs; in the literal one, the clear skies are perfect for constellations) with the holy vacation trinity of sand, sea, and sunsets readily available. (We like to see them at El Matador State Beach, though it's far from the only shoreline in town.) Though Malibu can get congested, there are opportunities for more secluded experiences. Trade flip flops for hiking shoes and walk hand-in-hand along trails like Solstice Canyon Trail, or get your heart pumping with the Rising Sun Trail with views that give way to the water.
Things to Do: The public beaches are gorgeous (and dog friendly!), but for a more intimate experience, get access to a quieter one loved by Tom Hanks during a private Beaches and Mansions tour. Learn to surf or go horseback riding through a canyon during an epic Malibu sunset. Nobu Malibu, a sushi restaurant, consistently ranks atop the best restaurant lists.
Where to Stay: The Surfrider Malibu; Calamigos Guest Ranch and Beach Club; Hotel June Malibu; Nobu Ryokan Malibu; Malibu Beach Inn.
Jedediah Smith Redwood Forest National Park
You may have sung about the Redwood Forests back in grade school — now see them in person during one of the most romantic getaways in Northern California. The region may be home to big metropolitan areas like San Francisco. But the Redwood Forests offer a serene escape from it all, making it a popular spot for San Fran couples searching for "couples getaways near me." Hike trails for people of all experience levels, spot an elk, or visit a winery. And yes, you can have a beach day, too.
Things to Do: Who said Hollywood gets all the close-ups? Fern Canyon is noted for being part of the scenery in Jurassic Park and has a beginner-friendly 1.1-mile trail. (No T-Rexes, we promise.) It's also near Gold Bluffs Beach, a pet-friendly spot with dunes and driftwood, and Lady Bird Johnson Grove, named for the former First Lady. Take in a sunset at Redwood Creek Overlook, which is situated 1000 feet above the Pacific Ocean. You'll also be near the Russian River Wine Trail, where pinot noir is a beauty all its own. Experience both on a small-group tour.
Where to Stay: View Crest Lodge; Lost Whale Inn Oceanfront Bed & Breakfast; Turtle Rocks Oceanfront Inn; Roosevelt Base Camp; Fern Hook Vacation Cabins.
Napa Valley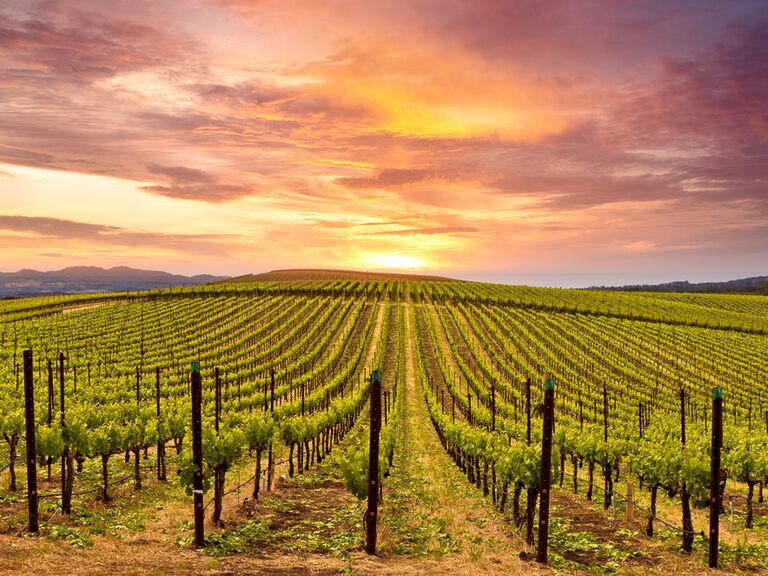 Millions flock to Napa Valley each year to sip, swirl, and savor the boldest cabernet sauvignon that the noted California region makes. But though red vino may be the big draw, Napa offers plenty of other experiences, making it one of the most romantic getaways in the state. Michelin-starred restaurants aren't hard to find here, and many also provide a side of sprawling vineyard views or wine pairings. Fantastic shopping and luxury accommodations are also par-for-the-course, but quaint and secluded options can also be easily found, making the trip a possibility for many budgets and tastes.
Things to Do: When in Napa, stop and smell the wine. The Napa Valley Wine Train is famous, but small-group tours provide a more intimate experience for couples looking to savor one another's company. Learn more about the art and science of winemaking by taking a class (a romantic stroll through an idyllic garden is included). The wine trail tends to take center stage, but Napa is also home to a buzzing downtown with plenty of shopping and a thriving foodie scene. The behemoth Oxbow Market is full of local produce to take back to your rental and cook, or grab a meal and enjoy it on the riverside deck. Morimoto Asia Napa by Iron Chef Masaharu Morimoto and Michelin-starred Compline Restaurant are other downtown favorites. Combine food and wine experience with a small-group tour of the downtown area.
Where to Stay: The Inn on First; Dr. Wilkinson's Backyard Resort & Mineral Springs; Solage, Auberge Resorts Collection; Napa Valley Marriott Resort & Spa; Four Seasons Resort and Residences Napa Valley.
Sonoma Valley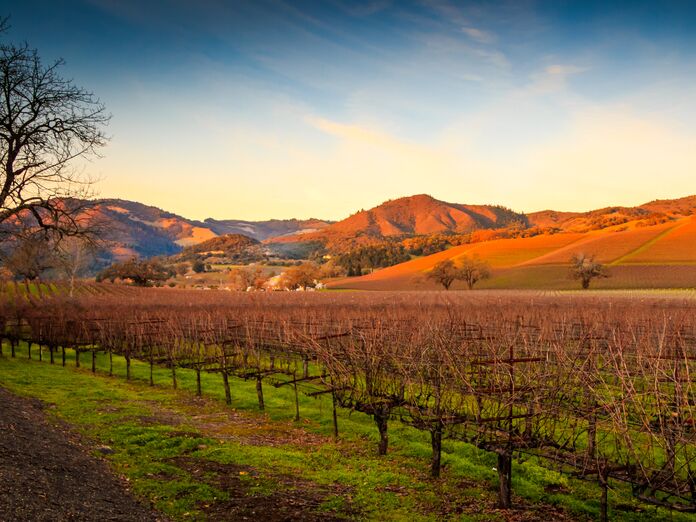 Napa tends to get the lion's share of the attention, but less than 25 minutes away lies another region worth your time. Sonoma is like Napa's laidback cousin, noted for its pinot noir and buttery chardonnays. Smaller than the Valley, it's perfect for a short romantic getaway in California. Sonoma also provides plenty of opportunities for other adventures that don't include wine at all, from culinary experiences to biking, hiking, and ziplining. (In fact, please do not drink wine before trying that one.)
Things to Do: Turn wine tasting into another kind of adventure by hopping on an e-trike. Combine food with wine on a farm-to-table foodie tour. Or safely kayak or bike through the vineyards (with or without kayaking, and definitely without drinking!) on a daytrip with Getaway Adventures, which offers packages for honeymooners and anniversary travelers looking for a romantic getaway in California. Bodega Bay also gives a taste of the water, but those who prefer land to sea can hop aboard a horse. Like Napa, Sonoma has its share of memorable restaurants, from The Girl & The Fig with its idyllic garden patio to Michelin-starred SingleThread Farms, which grows much of its own menu on-site.
Where to Stay: SingleThead; MacArthur Place Hotel & Spa; The Lodge at Sonoma Resort, Autograph Collection; Lodge at Bodega Bay; Fairmont Sonoma Mission Inn & Spa.
Mendocino County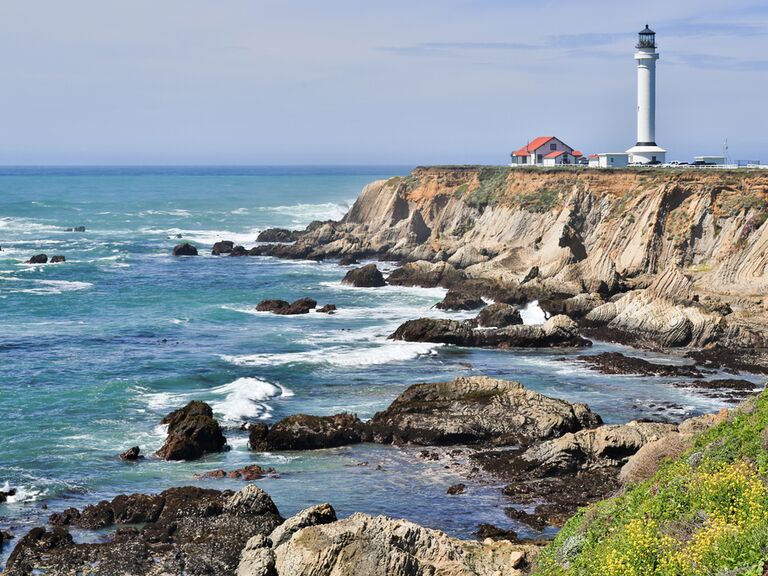 Mendocino County is a somewhat under-the-radar gem, but it's one of the best places to visit in California. With its seemingly untouched terrain, the NoCal coastal community offers a small-town charm the Golden State isn't exactly renowned for having, while its cliffs exude the type of Big Little Lies drama that people tend to remember. Mendocino Headlands State Park offers trails, beaches, and stunning vistas. (Don't forget your SPF!) You'll also find spatterings of restaurants to write home about and warm accommodations ideal for couples looking for "romantic hotels near me" (or as far away from their hometowns as possible).
Things to Do: Mendocino is a fantastic couple's getaway for outdoorsy types. Montgomery Woods State Park has quintessential redwoods, and Russian Gulch State Park offers gorgeous coastline views, along with the sprawling, 47-acre Mendocino Coast Botanical Gardens that provides chances to view canyons, wetlands, coastal bluffs, and a closed-cone pine forest. Step back in time to the 19th century on a walking tour of the county's village, designated as a National Historic Preservation District. Art lovers should make a pit stop at Mendocino Art Center, a gallery within walking distance of Main Street with exhibits and classes, in case you don't want to spend all your time on the trail.
Where to Stay: Nicholson House at Beaujolais Mendocino; Mendocino Hotel & Garden Suites; Seagull Inn Bed & Breakfast; Charming Caspar Cottage; MacCallum House Inn; Headlands Inn Bed & Breakfast
Death Valley National Park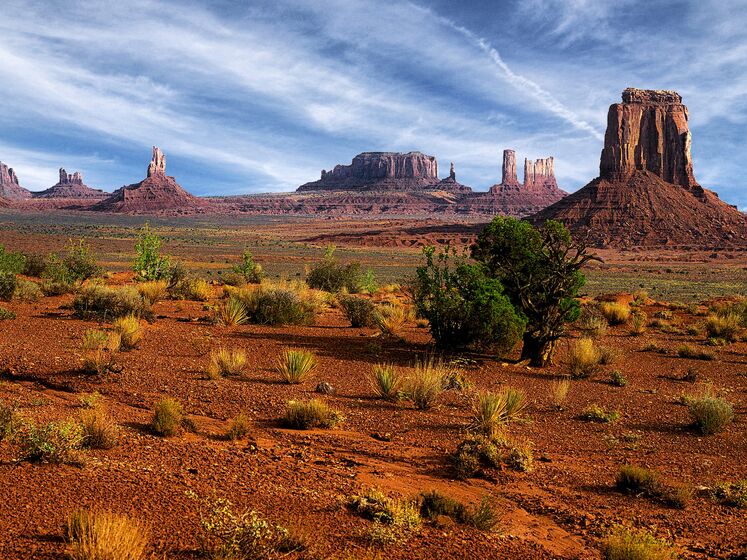 'Til death do us part, right? Though the name may not scream "romance," Death Valley National Park is one of the more affordable romantic getaways in California, with gorgeous views and access to nature that can't be beat. Park fees are $15 per person or $30 per vehicle, and one visitor pass is good for seven days. Visiting during the spring, fall, and winter months is possible, but in the summer, Death Valley National Park is known for being the hottest place on earth, getting close to 120 degrees in July and August — which means you'd be turning the heat up on more than just your romance. Plan accordingly.
Things to Do: Head to Badwater Basin, a salt flat with the distinction as the lowest elevation in North America (-282 below sea level). From there, a quarter-mile hike will lead you to Death Valley's famous polygon salt formations. The one-way Artists Drive takes you through a rainbow of colorful terrain. Devils Golf Course isn't a real spot to work on your swing, but a vast expanse of eroded rock salt with jagged spires. (The joke is that only the devil could play on it.) Stay quiet as you explore, and you can hear pops of tiny salt crystals bursting in the heat. Afterwards, the Furnace Creek Campground offers a taste of civilization, including an actual golf course.
Where to Stay: Furnace Creek Campground; Sunset Campground; The Inn at Death Valley; The Ranch at Death Valley.
Santa Barbara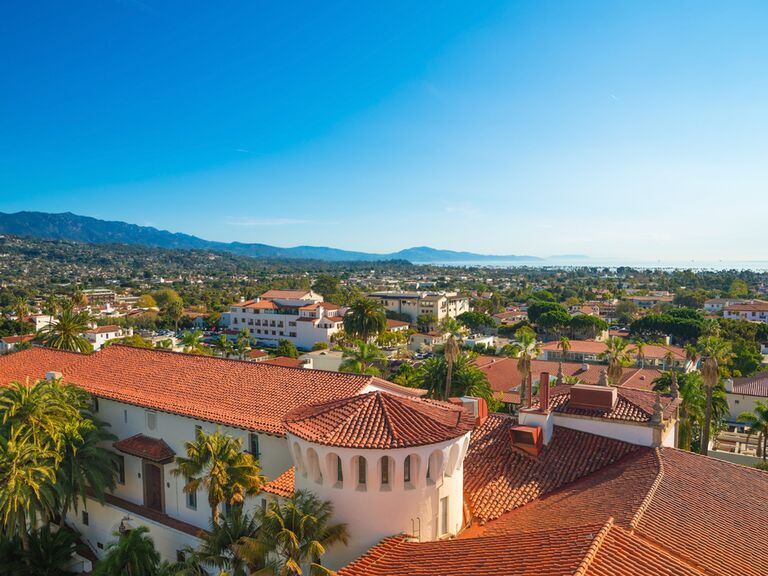 Nicknamed "The American Riviera," Santa Barbara offers a seaside escape and resort-like feel comparable to the Mediterranean. It boasts some of the most beautiful California resorts for couples, and there's plenty to do in this palm-tree-lined coastal city, which offers vistas of the Pacific Ocean and Santa Ynez Mountains. From art galleries to water sports to simply sticking toes in the sand and enjoying the most romantic sunsets, Santa Barbara offers adventure, rest, relaxation, and plentiful opportunities for romance.
What to Do: Resort-style offerings include parasailing with dolphins, horseback rides on the beach, or simply playing with rescued equine friends. Take in 18th-century architecture and beautiful blooms at Old Mission, a mainstay on routes for trolley tours. For a more intimate experience, spare-no-expense couples can take a private tour that includes a trip to the nearby Danish village of Solvang, which is full of unique eateries and rare wine finds.
Where to Stay: Rosewood Miramar Beach; The Ritz-Carlton Bacara, Santa Barbara; Santa Barbara Inn; Harbor View Inn; Courtyard by Marriott Santa Barbara Goleta; Hotel Californian.
Ferndale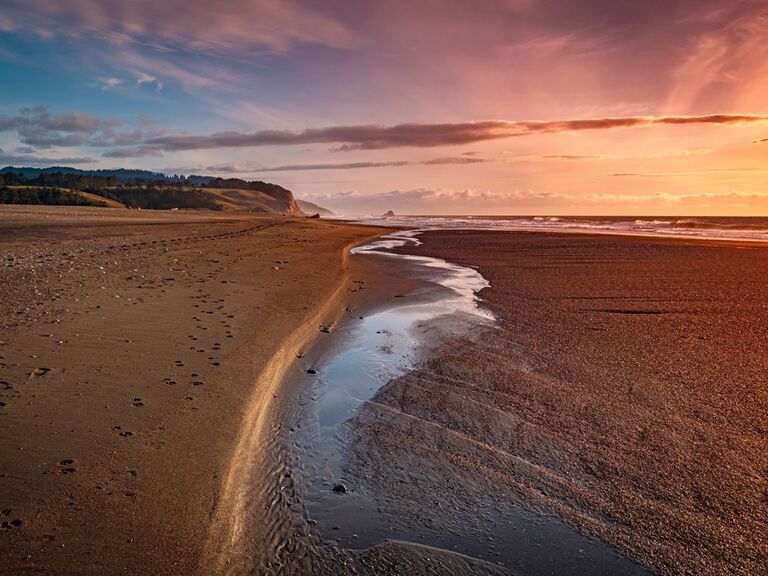 About 12 miles from Oakland, Ferndale's peaceful and picturesque setting feels like a world away from the concrete jungle. Walk hand-in-hand down Main Street, where hundreds of restored Victorian buildings offer a charming turn-of-last-century backdrop. Its proximity to the ocean (just 5 miles) is another perk, as is the ability to watch the seaside sunset without the crowds of other popular spots. Plenty of quaint bed and breakfasts add to its idyllic appeal, making Ferndale one of the most underrated options for people on the hunt for top California weekend getaways for couples.
What to Do: Perfect for busy couples in need of a tranquil and affordable romantic getaway in California, Ferndale calls for self-guided tours and unstructured strolls down quaint streets. Simply take a walk through the Victorian village for historic "gingerbread" architecture, or take a drive along the coastline to clear your head. Humbolt State Park is another worthy route that ends with ample opportunities to stretch your legs together while enjoying a peaceful natural setting.
Where to Stay: Gingerbread Mansion Inn; Victorian Inn; Shaw House Inn; Hotel Ivanhoe; Ye Olde Danish of Ferndale; Redwood Suites.
Lake Tahoe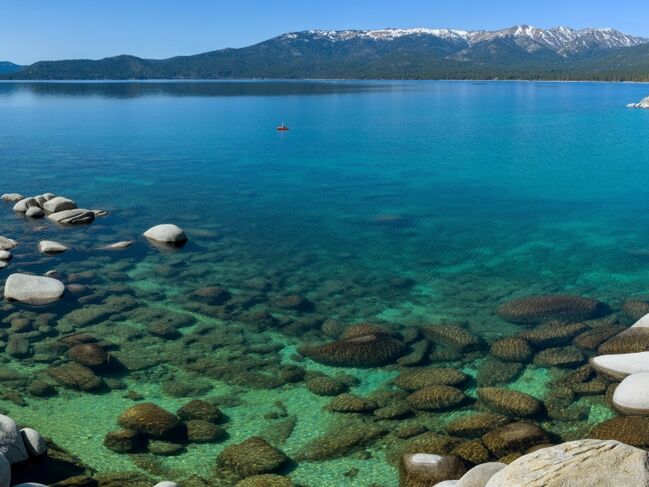 Lake Tahoe is one of the most popular spots for a romantic getaway in California. Though travelers may associate the Golden State with sunny skies and sandy shores, Lake Tahoe boasts the best ski resorts in California — yes, ski. Though noted and named for its pristine freshwater lake, Lake Tahoe is situated 6,000 above sea level in the air in the Sierra Nevada Mountains. It's a lauded pick for California romantics searching for "couples getaways near me," but it's also perfect for out-of-state mini-mooners looking for a weekend full of crisp air.
What to Do: Some of the most romantic ski resorts in California, like Heavenly and Kirkwood, offer a chance to hit the slopes and then warm up with hot cocoa and a side of snuggling. But aside from descending snowy mountains and soaking in a sauna, couples can sail on the glistening lake or hike trails with otherworldly views at Emerald Bay State Park. View it from above on a helicopter tour. Sport fishing, kayaking, and snowshoeing are other ways to take in Lake Tahoe's natural beauty.
Where to Stay: Marriott's Timber Lodge; The Ritz-Carlton Lake Tahoe; Postmarc Hotel and Spa Suites; Marriott Grand Residence Club, Lake Tahoe; The Landing Tahoe Resort & Spa; Tahoe Beach and Ski Club; plenty of opportunities for four seasons of camping in Lake Tahoe.
Half Moon Bay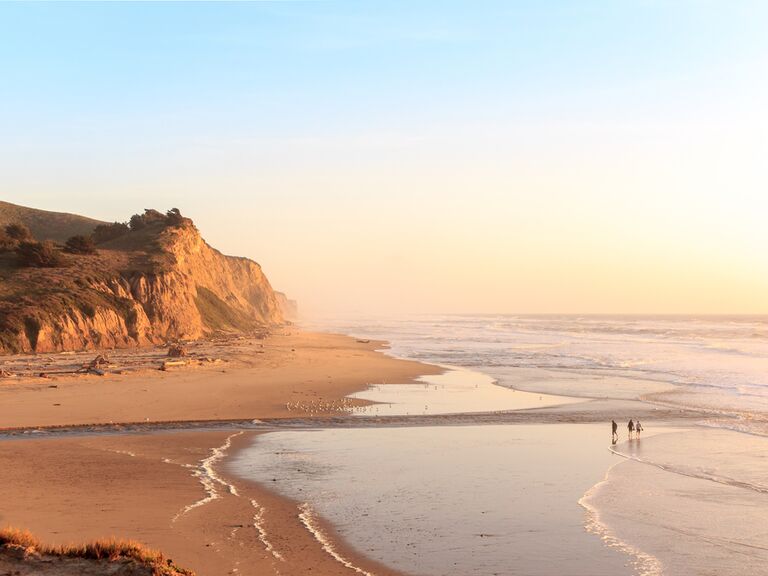 A favorite weekend escape of San Francisco couples seeking "romantic getaways near me," Half Moon Bay offers laidback vibes, small-town charm, and coastline vistas that look straight out of a coffee table picture book. (The backdrop has become a popular spot for destination and semi-destination nuptials, and can be seen across many an Instagram story.) But Half Moon Bay also makes for a gorgeous locale to celebrate an anniversary or simply put life on pause and focus on one another.
What to Do: Take a scenic nature walk, then grab lunch and craft cocktails and beer at the getaway spirit at Half Moon Bay Distillery. A scavenger hunt will help you uncover the history of this under-the-radar California gem, and Main Street is a perfect spot for lunch at a table for two or retail therapy. Half Moon Bay Golf Links provides a chance to work on your swings in between beachside strolls.
Where to Stay: Half Moon Bay Inn; Mill Rose Inn; Beach House Hotel Half Moon Bay; Half Moon Bay Lodge; Cypress Inn.
Paso Robles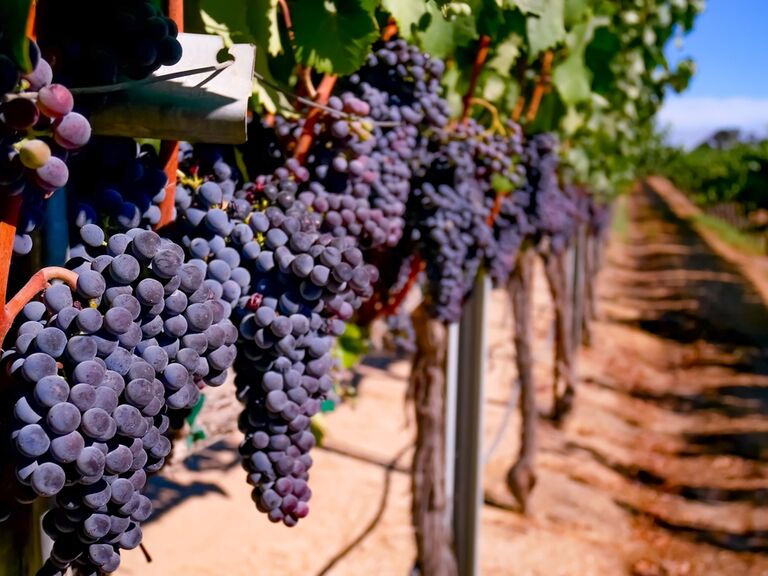 Another off-the-beaten-path gem is Paso Robles, a wine town with some of the best vineyards in the country, along with spas and forest paths that make this romantic getaway town unique. With a name that translates to "pass of the oaks," this woodsy small town also boasts quaint inns and motels for those on a budget, allowing Paso Robles to provide an affordable getaway for couples hoping for a romantic long weekend and beyond.
What to Do: Indulge guilt-free during a wine-tasting tour that lets you hop on and off at will, or cruise through wine country in a sidecar made for two. Learn about the city's history as you tour it by foot or with a trip to the Paso Robles History Museum. Explore a farm or combine bird watching and vino on a wings and wine tour. Hiking and horseback riding adventures are also available for couples looking for zero-proof ways to toast the California spirit without spirits.
Where to Stay: Summerwood Winery & Inn; Allegretto Vineyard Resort Paso Robles; Paso Robles Inn; Adelaide Inn; Courtyard by Marriott Paso Robles; The Inn at Croad Vineyards.
Carmel by the Sea
This coastal village packs a ton of luxury and natural beauty into 1.06 square miles. The all-inclusive resorts for couples offer cozy beds, golf courses, and of course, gorgeous views of the ocean. There are also plenty of boutique romantic hotels for a charming escape. Outside of the accommodations, Carmel by the Sea offers plenty of spots to explore indoors and out, including galleries showcasing local art, paths for bird watching, and a rich array of marine life.
What to Do: Dr. Seuss meets Disney with Carmel-by-the-Sea's fairytale houses that look like they've been copied and pasted from a child's imagination. You can embark on a self-guided tour to take in the homes at your own pace or a 2.5 electric bike excursion. Make sweet treats with your sweetheart (or pretend you're about to win The Great British Bake Off) during a macaron class. Small-group food and cultural tours serve history and delectable eats with local flavors.
Where to Stay: La Playa Carmel; L'Auberge Carmel; Carmel Mission Inn; Pine Inn; Carmel Valley Ranch. Airbnbs also offer unique rentals.
Yosemite National Park
The main draw is the iconic park lauded for its views of granite cliffs and sequoia trees. And yes, this iconic nature preserve is far better in person than it is on a postcard (though those photos are beautiful, too, so go ahead and DM them to family and friends back home). But there are tons of other ways to enjoy a weekend getaway in Yosemite. The village offers galleries, restaurants, shopping, and museums packed with experiences that make spending a long weekend here worthwhile. Hotels and campgrounds offer accommodations right in the park for a unique stay.
What to Do: A trip or two to Yosemite National Park is a no-brainer. First-timers will want to be sure to visit Tunnel View for a quintessential view of Bridalveil and El Capitan and Half Dome's granite cliffs. The vista alone makes Yosemite National Park one of the most gorgeous California getaways for couples. Explore if by Jeep or foot. In the village, Ansel Adams' black-and-white photography is on full display at a gallery bearing his name. Yosemite Museum Gallery offers an eclectic mix of works.
Where to Stay: The Ahwahnee; Yosemite West High Sierra Bed & Breakfast; Curry Village; Yosemite Valley Lodge.
San Francisco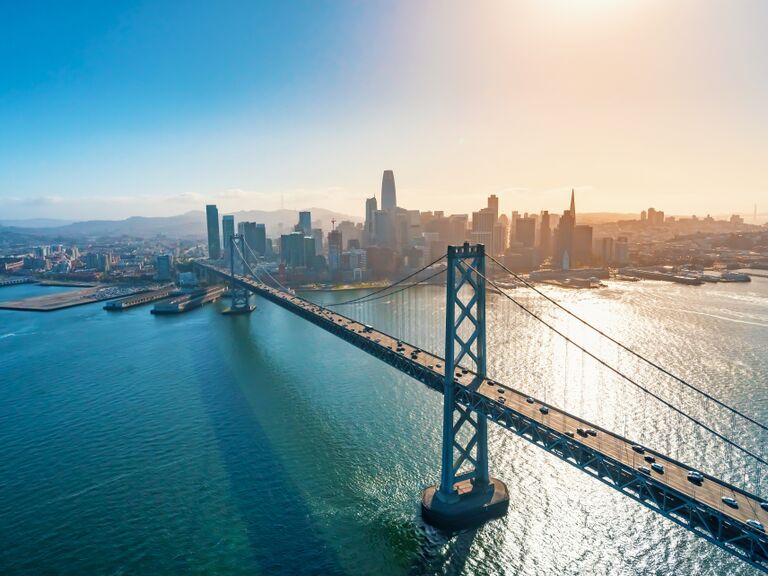 For couples looking for a cosmopolitan getaway, San Francisco represents a true destination—especially for out-of-state visitors who don't often get to experience its charms. From bucket list sights like the Golden Gate Bridge to an unforgettable foodie scene, the city is a cultural hub that draws millions of visitors each year. It's also an easy home base for couples looking to explore many California hot spots like Napa Valley and Sonoma. San Francisco's vibe is a little less glitzy than LA — it's home to Silicon Valley, an innovation capital. But its waterfront views make it just as picturesque, and an emerging retail season is bringing Hollywood style to the forefront of its streets, too.
What to Do: Ride in a colorful '60s-inspired van that looks more than a little bit like Scooby Doo's Mystery Machine, and see Mission, the Castro, and North Beach on the San Francisco Love Tour. Combine a trip to Fisherman's Wharf with a jaunt to Alcatraz, the prison that was once home to Al Capone. Eat your way across the city on a foodie tour. Visit Chinatown for an authentic taste of Asian American home cooking.
Where to Stay: Omni San Fransisco; San Francisco Mariott Marquis; Hotel Emblem San Francisco; Beacon Grand, a Union Square Hotel; Argonaut Hotel.