15 Ways to Show Your Wife Some Love on National Wife Day
Anyone down for making this a weekly thing?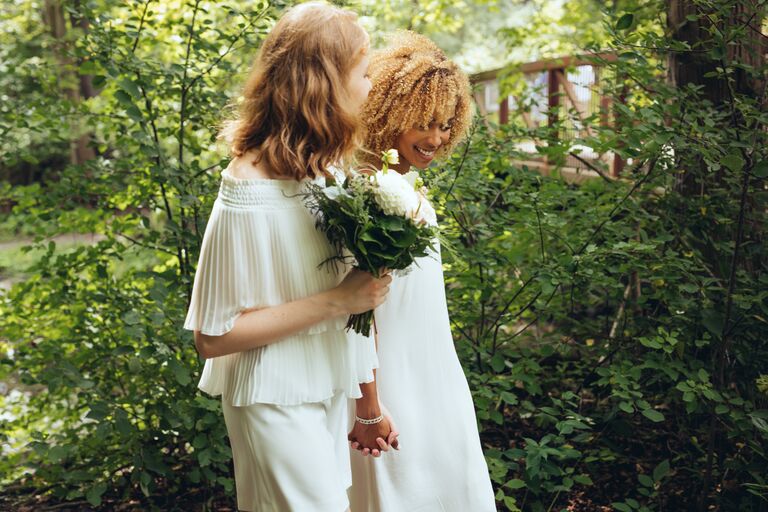 Photo: Getty Images | kate_sept2004
It seems that there's a social media holiday out there for just about everything these days. From National Chocolate Chip Cookie Day to National Siblings Day, there's truly a "day" for it all. And, TBH, it can be tough to keep track of them. We happen to think one day in particular deserves to be earmarked, though, and it's National Wife Day, naturally.
Also known as Wife Appreciation Day or National Wife Appreciation Day, National Wife Day is celebrated annually on the third Sunday of September each year. While many partners might be completely oblivious to this "holiday" and others might catch on and honor their wives with a last-minute social media post, we know that isn't everyone's style. So, we've rounded up some of our favorite ways to show your wife a little extra love on this celebratory day.
Here are 15 ways to show your wife how much you love and appreciate them on National Wife Day.
In this article:
What is National Wife Day?
Essentially, National Wife Day is a day that's all about, you guessed it, your wife. Sure, there are the more obvious days to give your wife a little extra TLC, like their birthday and your anniversary. But it's also kind of nice to have this often unexpected day to throw into the mix. After all, who doesn't appreciate being appreciated? (Anyone down for making this a weekly thing?)
When is National Wife Day?
This year, National Wife Day is celebrated on Sunday, September 23rd, as it is held annually on the third Sunday of September. It's probably a good idea to put a recurring reminder in your phone for each year since the date it falls on will vary!
The best part is that National Wife Day just so happens to be during (in my humble opinion!) the best time of year—where, for much of the country, fall is beginning to make its appearance and there are just so many more opportunities for fun events.
15 Ways to Appreciate and Celebrate Your Wife
Scratching your head over how to celebrate National Wife Day? We've got you covered. From super-romantic surprises to little actions that speak to her love language, here are 15 of the best ways to observe this oh-so-special day.
1. A Day of Relaxation
For many, Sundays are a day of running errands and prepping for the week ahead. But on National Wife Day, wipe their to-do list clean and encourage your love to have a day of nothing but relaxation. Whether that means cozying up with a good book, taking an hours- long bubble bath or napping the day away, let them take the lead in how to spend their day of total leisure.
2. A Cozy Night-In
If couch cuddles and movies are their thing, surprise them with a comfy, sweet movie night-in. Stock up on popcorn, snacks and your wife's favorite beverages, and gather your coziest blankets to create the perfect setting for snuggling up and watching their favorite movie or series.
3. An Ode To Your Wedding Day (or Night!)
Cue up your wedding song, recreate the entrée or appetizer from your big day or pull out your wedding album for a walk down memory lane. Finding little ways to look back at your wedding day (or night) throughout National Wife Day is not only appropriate, but pretty darn adorable, too.
4. A Sentimental Surprise
If they fancy surprises, find a way to catch them off guard with something sentimental. Be it having a favorite wedding photo finally framed and hung, having their wedding and engagement rings cleaned, grabbing their favorite takeout for lunch—find something you know they'd love to be surprised with, then pull it off!
5. Their Favorite Treat
If they love brownies, find them the best brownie in town. Is your wife's favorite indulgence candy bars? Grab some of their favorites at the local market. A little sweet treat can go a long way on National Wife Day.
6. Make Them Breakfast in Bed
This is a classic for a reason! Get up a little early to whip up a breakfast with all the fixings and then serve it to your love in bed. A lazy Sunday spent cocooned in the comforter and eating pancakes? Now that's the stuff National Wife Day dreams are made of.
7. A Romantic Weekend Away
It will take a bit of planning, but a romantic weekend away is definitely something your wife will appreciate. Whether it happens in real-time, or your gift to them is revealing the itinerary for an upcoming trip, whisk them off to someplace they'll love—it can even be a swanky staycation in a local hotel. (Bonus points if you pack their bags, too!)
8. Shower Them With Flowers
Surprise them with a bouquet of their favorite fresh blooms, or even go all out and recreate their wedding day bouquet. If they have an affinity for florals, you can't go wrong showering them with flowers.
9. A Surprise Act of Service
If they're always finding ways to give back to others, consider doing a good deed like volunteering at a local organization or making a donation to their favorite cause in their name. Remember: Gifts don't have to be objects, and your time is the most valuable gift of all.
10. A "Yes" Day
"Yes" days are not just for kids! For a fun day to remember, set any negativity aside (and possibly set some ground rules!) for a day where you say "yes" to anything your spouse asks. Release inhibitions and embrace a schedule-free day of fun, wherever your love's wishes take you.
11. Plan a Day With Their Besties
If it's been a while since they've had some quality time with their friends, planning a day out with their besties is an awesome way to show your wife you love them, that you want them to have fun and that the fun doesn't have to just be with you. It's a great way to share the love!
12. A Handmade Gift
If you know the way to their heart is through creativity and something handmade, then get in touch with your crafty side and whip them up something special. Some thought starters they might love include painted mugs, a personalized keyring, beaded necklace or photo album.
13. Take Them Shopping
Most of us do the majority of our shopping online these days, so the thrill of retail therapy can be hard to come by. When was the last time you actually went shopping with your wife? A trip to the mall or shopping center with the instructions to pick out something they love could be a great way to celebrate National Wife Day.
14. Write Them a Love Letter
We live in a world of texts and emails and, sadly, handwritten anything is pretty hard to come by these days. If your wife has a soft spot for timeless traditions, write them a handwritten love letter that they'll adore right now—and cherish forever.
15. Plan a Spa Day
Everyone can use a bit of rest and relaxation, so if you're stumped on what to do, you really can't go wrong with a spa day. Whether it's an at-home drawn bath and personalized massage, or an afternoon spent at a luxurious local spa, a little pampering always goes a long way.